Mt Washington (6,288 feet), Mt Clay (5,533 feet), Mt Jefferson (5,716 feet). Coos County, NH. 2020-09-03 (Thursday.)
Via Jewell, Gulfside, Westside, Trinity Heights Connector, Jefferson Loop, Clay Loop, Jewell Link. Approx 14-16 miles round-trip.
Temps ranged in the low to high 50s, and into the low 60s throughout the day, and depending on mountain. Winds were negligible, about 2-3 knots at the Mount Washington Observatory. Sunny with clouds in the morning, progressing to over/under cast as the afternoon chugged along.
Trailhead: 0800. Washington summit: 1130. Mt Clay summit: 1430. Mt Jefferson summit: 1530. Car: 1945. 
Changing plans for the weather isn't always a bad thing.
Coming down from the mountain this afternoon, I was reflecting on how I didn't feel like I'd been spontaneously laughing all that much lately on the hike out of any given mountain. Last one I can recall off-hand is when I was finishing my Pemi loop. Then again, the weather wasn't giving me much at the time to laugh about — the wind had picked up, and clouds were well and truly parked all around me. Meh.
So what about the weather?
I'd initially been thinking I'd hike up Jefferson from the Castles — the ravine and the ridge. I had three mountains left on my summer 48 list: Washington, Jefferson, and Adams. But aside from that, I'd have a third 48 if I just did Jefferson. And after reading about the Castles, I was a bit curious to see what the hullabaloo was about.
But then, things changed. I've long held that you should leave room for Washington. The weather changes on a dime, and if a really good day comes along, I think it's smart to ditch any prior plans and go hike up the old rock pile. Next chance you get, the weather almost certainly won't be as nice. And on that, I knew I wanted to hike up Jewell — something that's been on the list for way too long. 
Seeing the forecast from Tuesday night, I had a sense that things would change, so I started crafting plans. One thing I really wanted was to close-out Gulfside on my redlining spreadsheet. I figured I could add a few other things as well, like the Clay loop. While I was ascending the trail, my sense of the weather told me that if I moved smartly, I could bag a couple other things, too. And that's when Westside and Trinity Heights got added.
Speaking to my essay on pre-planning the heck out of your trip, so as to avoid surprises, how does this reconcile? Yes, there was a certain amount of seat-of-the-pants flying. But on that, the day was particularly clement, and I knew the winds weren't forecast to kick up until late at night. And there's the fact that I study the maps near-constantly, and the AMC book, too. What can I say, other than I typically have no clue what happened on Seinfeld last night. But that means adding on a trail or three for the redline becomes a lot more reasonable, especially on a warm day with virtually no wind. So I felt pretty comfortable about it. Knowledge is power.
Plans change, but the trails? Yeah, they're still bumpy in the usual places.
Unusually, I got an early start in the morning. Huzzah! Finally! Getting to the trailhead, I had a lot of expectation as I set off. The sun was still hanging low, glistening off all the early morning dew drops. (Except it was moisture lingering from last night's showers. Same visuals.) Jewell was described in the AMC book as being one of the easiest ascents of Washington from the west side. I have no argument against that assertion, especially as it took me about 2 hours to get above the trees. (I will admit I was moving fast.) It was quite the morale booster when I got that initial view. And under (reasonably) blue skies… a rarity on Washington!  
That said, I'll break down the trail into three parts: more-or-less equal in terms of elevation, unequal in terms of the end-to-end of my trip (only because most of my day was above treeline.) Low down, the trail was very easy-going, with the surface mostly dirt. In the middle, things got spirited. The grade pitched upward quickly and I made quite fast elevation change. And that change was on the backs of numerous large stones. In many places, they worked as steps pretty well, and I continued making good time. Above treeline, things devolved into the gigantic field of mechanically eroded rocks that take forever to walk around, over, and on. In some areas of Crawford Path and Gulfside trail, I actually made good time, rock hopping with almost reckless abandon. In other areas, things slowed down massively. More than once, Daniel Webster Scout trail came to mind. And then there were places like Monticello Lawn where things were unexpectedly smooth and pretty easy going. It was strange. 
Of buildings on top of mountains
I hiked out Westside trail to Crawford Path, having the unique experience of having to duck under the Cog Railway, and then a bit later, meeting a random AT hiker along the way. Conversation was nice, and we hiked at a complimentary pace. At the summit, the sign didn't have a crazy-long line, so I waited the few minutes for my turn. The last time I took a selfie there was in the snow, which is an indication of what the line has been historically in warmer weather. Today was truly unusual, because the summit felt like anything but crowded. Inside the summit building, I had a quick look at the MW-OBS display and saw they confirmed the unusually light breeze that I'd noted. Not even enough to fly a kite, let alone blow cars off the auto-road. The canteen was open, so I got a whoopee pie (this is becoming a tradition) and a few other snacky things, and then had a sit-down lunch, chatting with the AT hikers. It was nice. 
Then it was time to head back down, heading over to Clay and in the general direction of Jefferson. The blue skies I enjoyed on the way up were disappearing fast. I wasn't worried about rain, but the view was tightening up. We hiked together for a spell — one of the hikers wanted to know what to expect out to Mahoosuc Notch, and as I'd been out on Madison and in the Notch recently, he got his money's worth. His laugh when I mentioned the PUDs on Moriah suggested that he's seen a lifetime's worth already, and isn't looking forward to more. Everyone was happy to hear about Maine and its lyrically beautiful scenery. 
I took the loop up over Clay's summit, and took in what views I could. When all you have is holes here and there, you make do, trying to build a more complete mental picture in your head. It wasn't perfect, but it worked. All day, I was keeping track, and it amounted to a bit of the Osceolas, Carrigain, the Willey Range, the Twins and the Bonds, Waumbek and Starr-King, and of course, Monroe and Eisenhower. I pressed onward. My plan was to turn around at Sphinx, figuring that I could dash out there on my next trip, when I planned to hike up Jefferson. 
What's that thing about best-laid plans?
So there I was, at Sphinx. And my AMC map, with the mileages listed, betrayed me. I saw that it was "only" about a mile or so more and then I'd nail the summit. And I could get the loop trail, and knock out the last bit of Gulfside trail that I needed. I rationalized everything by telling myself that I could just hike Jefferson like any normal person. The summit isn't much to write home about, and the trail junctions on the northeast corner made it feel a little more weird than I'd have preferred. And it's a very rocky climb getting up that last bit. Time to hike the second half of the loop, and grab that last bit of Gulfside trail.
And that's where things got strange.
There's a point, around the Six Husbands trail junction, where you can gaze down into the abyss of the Great Gulf. Even with clouds, you can see enough of Adams' hulk, and the vastness of the gulf, defined by New England's biggest mountains. Wow. I just couldn't turn away. The cliff walls just sank into oblivion, the mountains sat there, immovably. And the gulf isn't a small space. They say that as you stare into the abyss, the abyss stares back. I'm not sure there's anything wrong with that line. For me, yeah, it certainly got my attention all day, and I'm still trying to decide what about it was tugging so hard at my head. Even looking at the photos, I'm brought back to that same spot in my mind.
Coming back to Jewell, I noticed a small sign midway there. "Spring" with an arrow pointing west. And the most overgrown trail that lead to the thinnest trickle of ice-cold water. No kidding, this was very noticeable for how cold it was, even though there wasn't much coming out of the ground. The side trail could be followed, but it's one away from being an outright bushwhack. 
I got back to the trail, starting to really hustle at this point. It was getting on to sunset, and even though it was blotted by clouds, the sun made a difference, sneaking underneath at the edges, sending some last golden rays down to light my way. I got back to the car just as darkness was well-and-truly falling, just on this side of needing to break out my headlamp. I gave a fellow hiker a ride back to her car, parked at Edmand's Path, before heading back home. It was a very long day, but highly productive. 
Oh, I nearly forgot. There was a moment, where the trail turned back from rocks to dirt, and I started tallying the trails I'd bagged today, thinking about the peaks, and all the really nice people I'd met. Without being able to do anything about it, I started to spontaneously laugh out loud. 
As always, stay safe out there.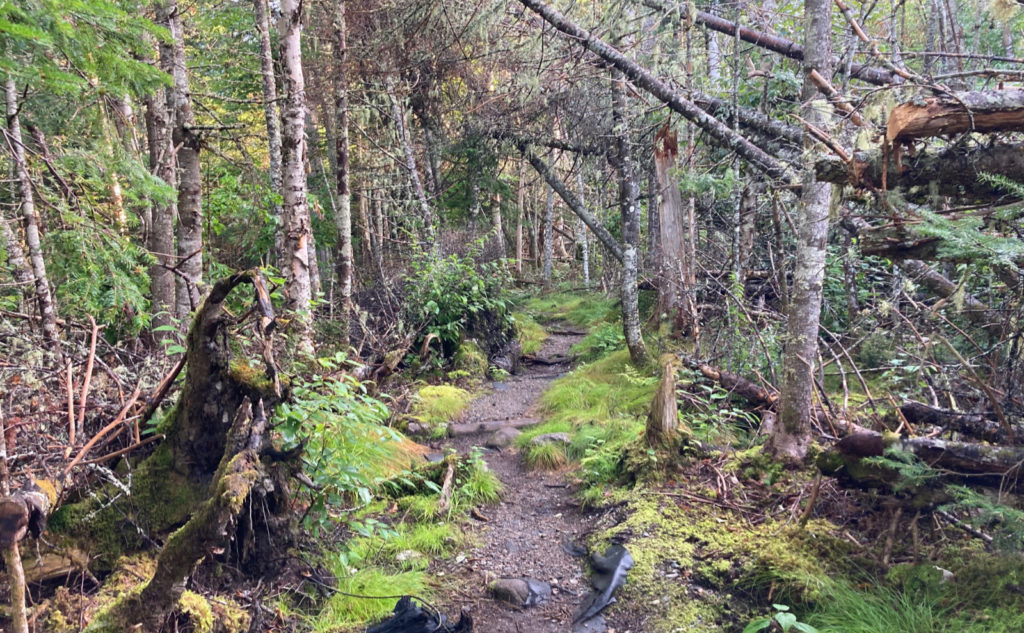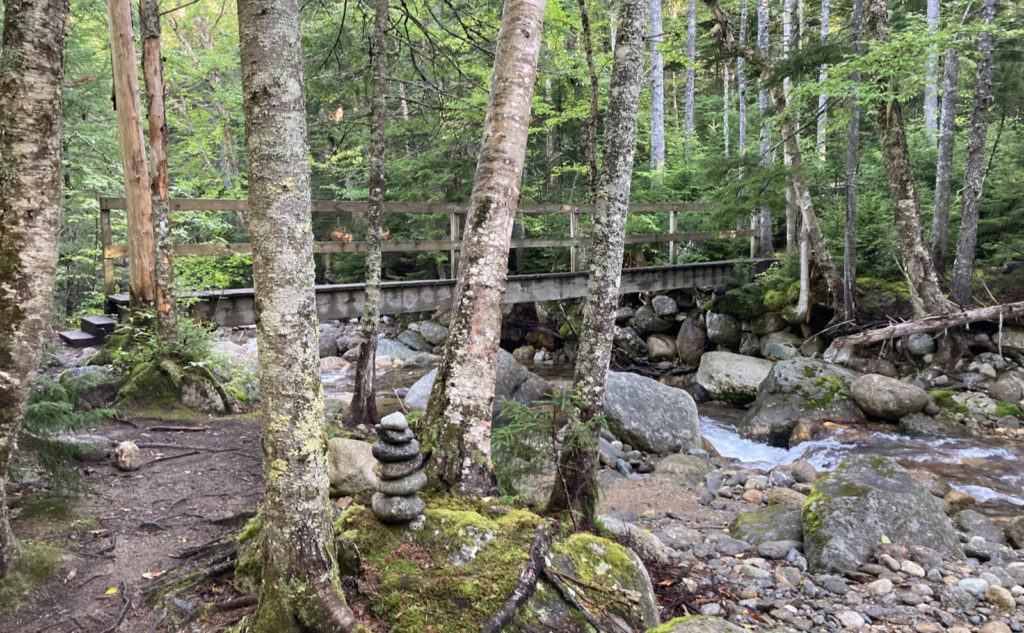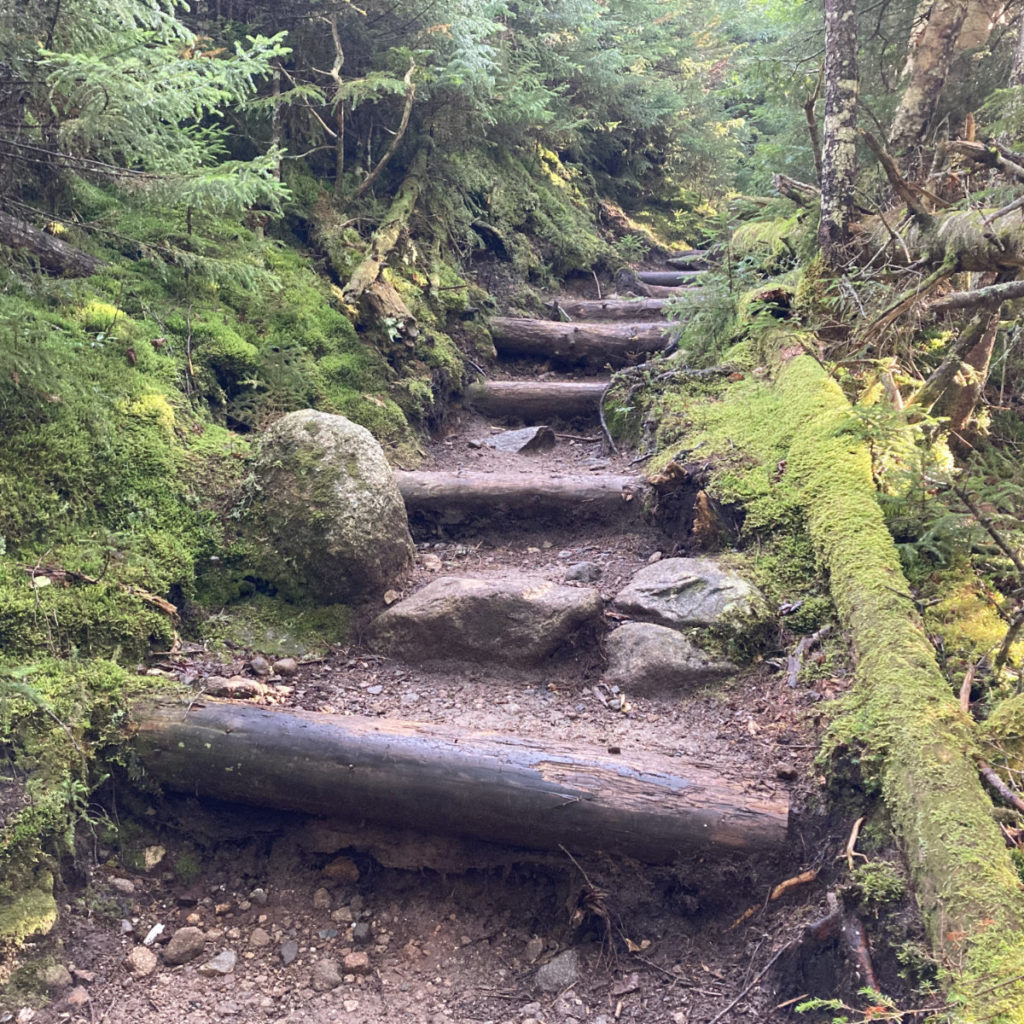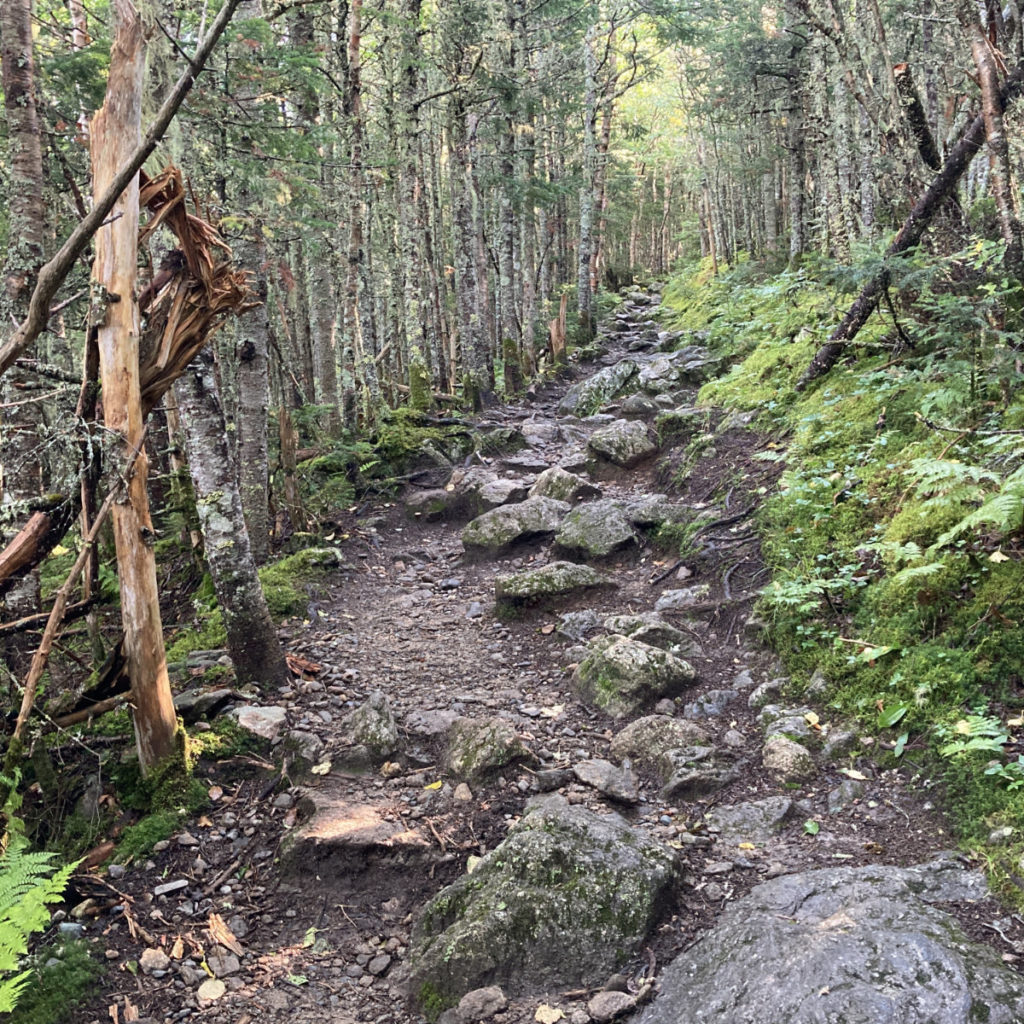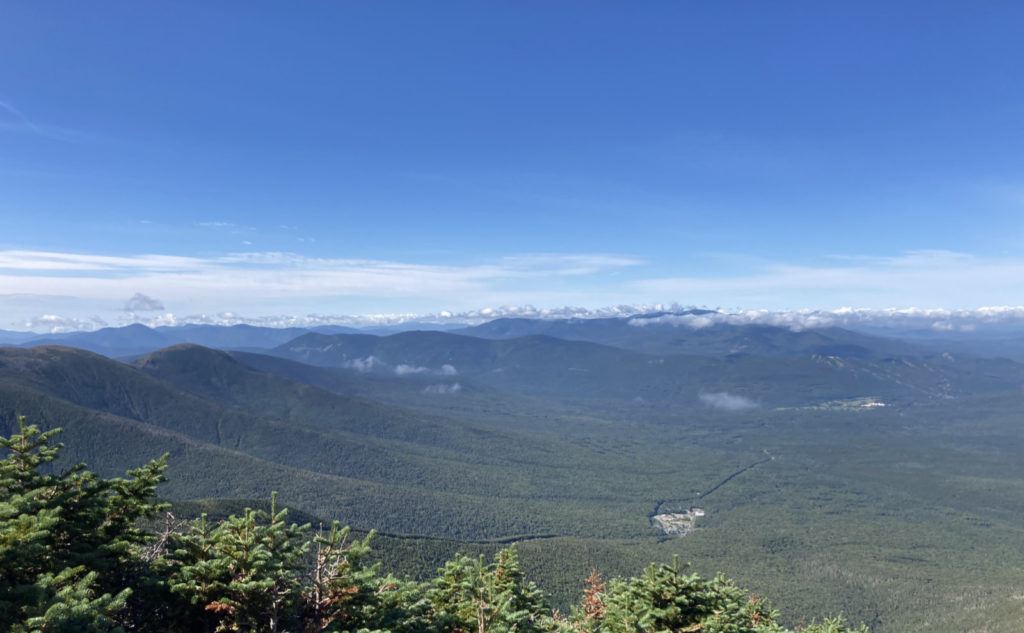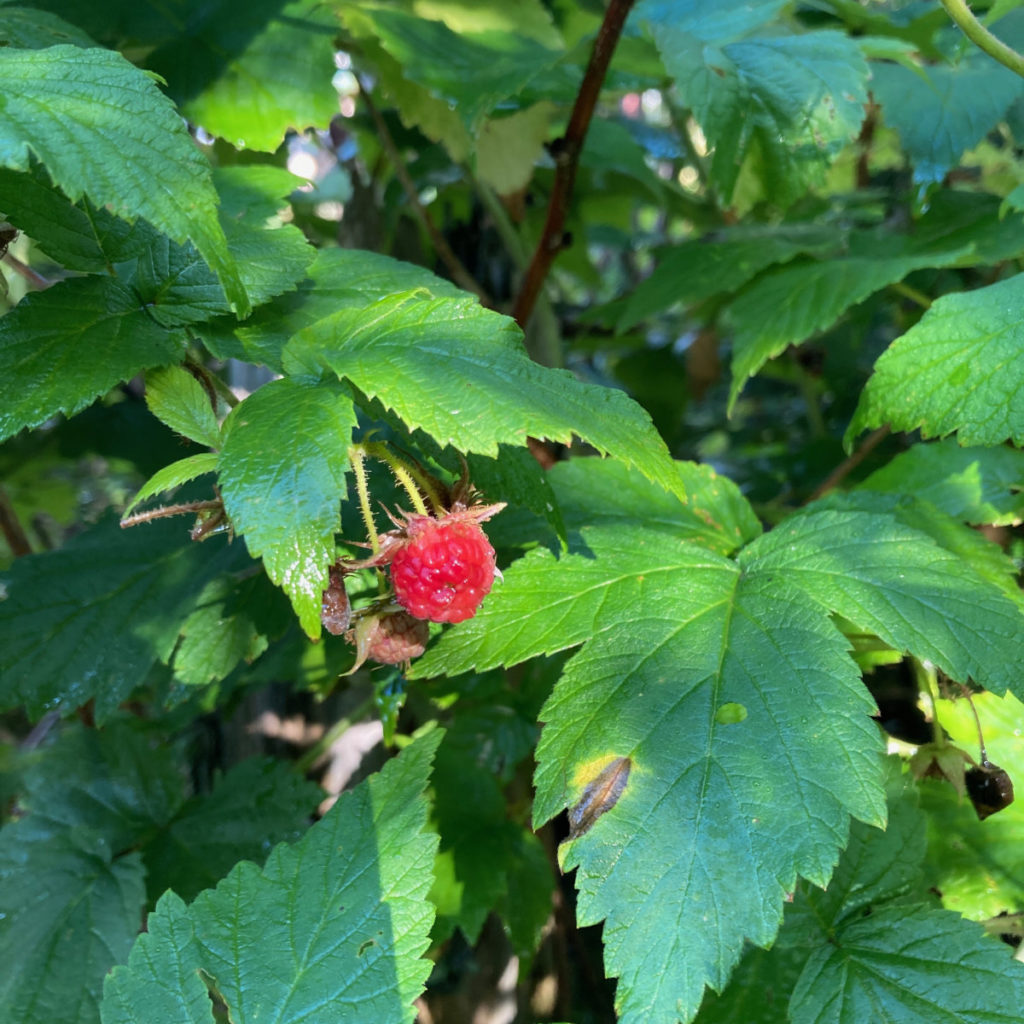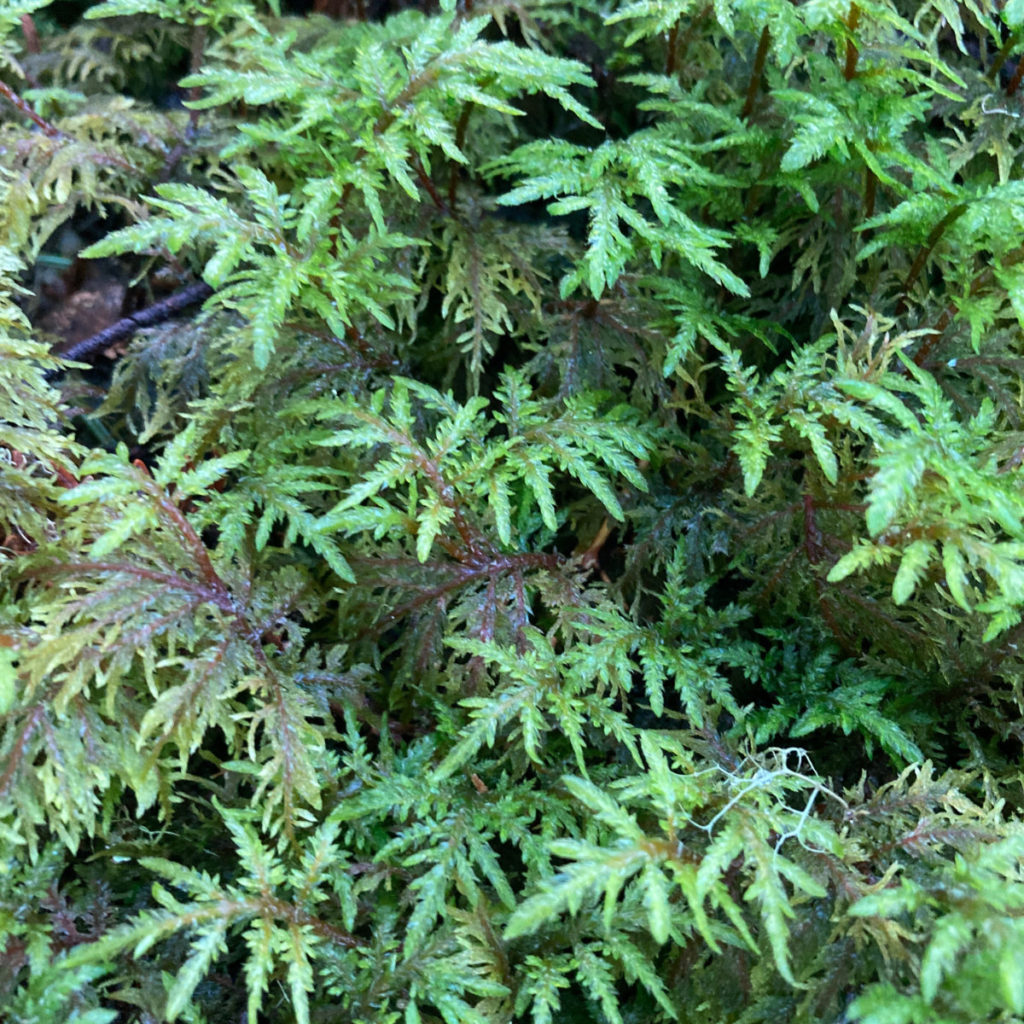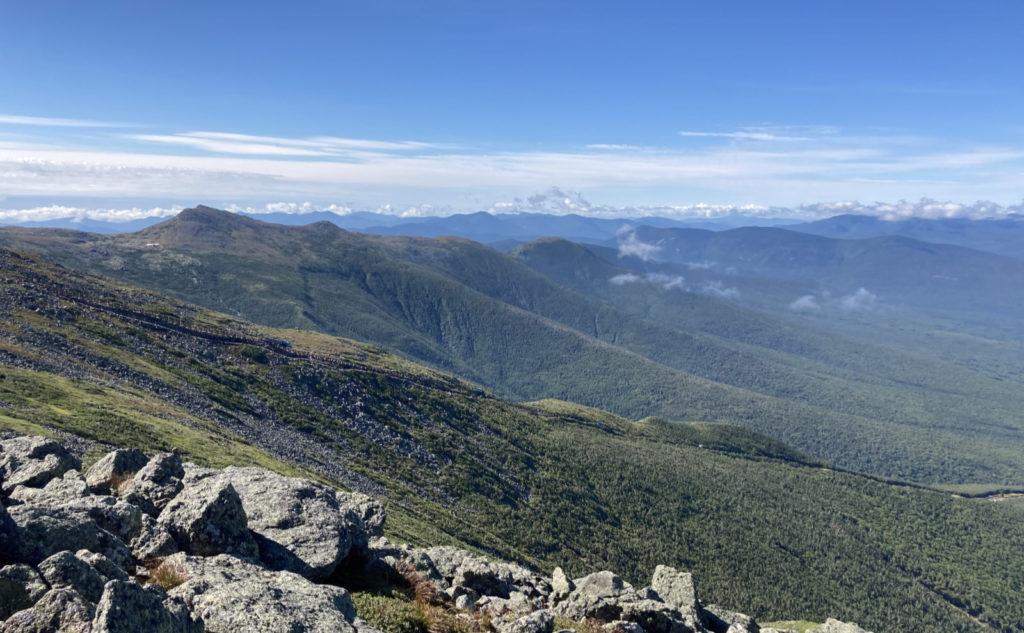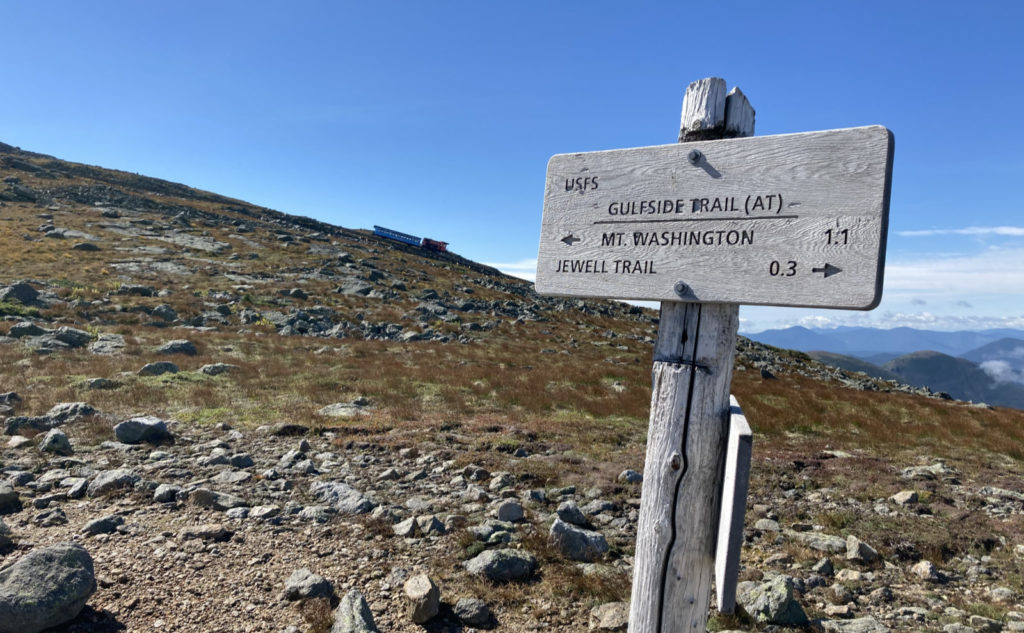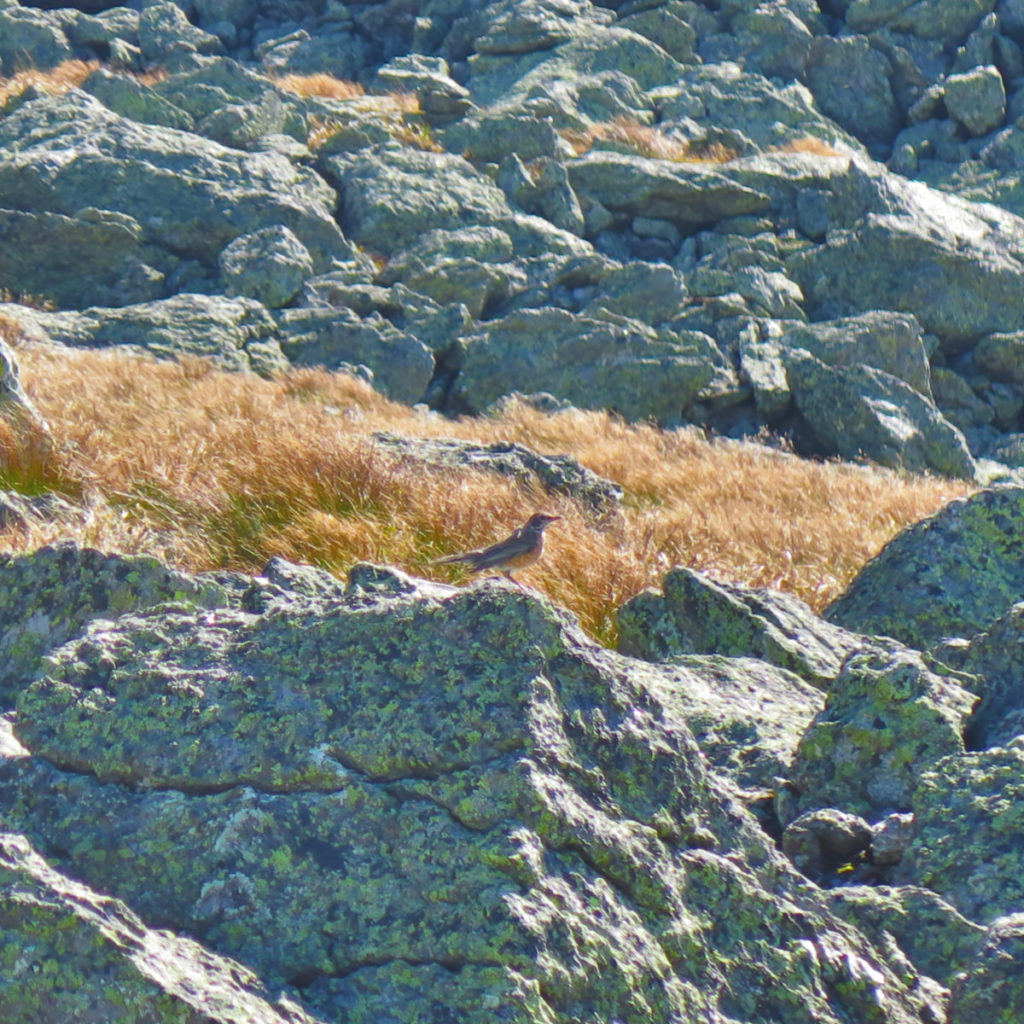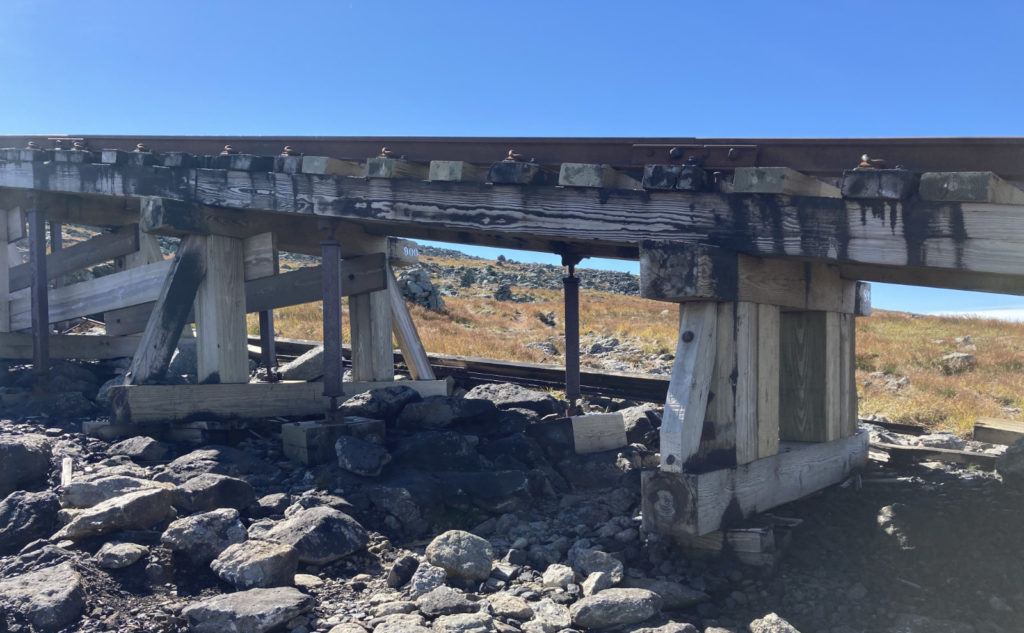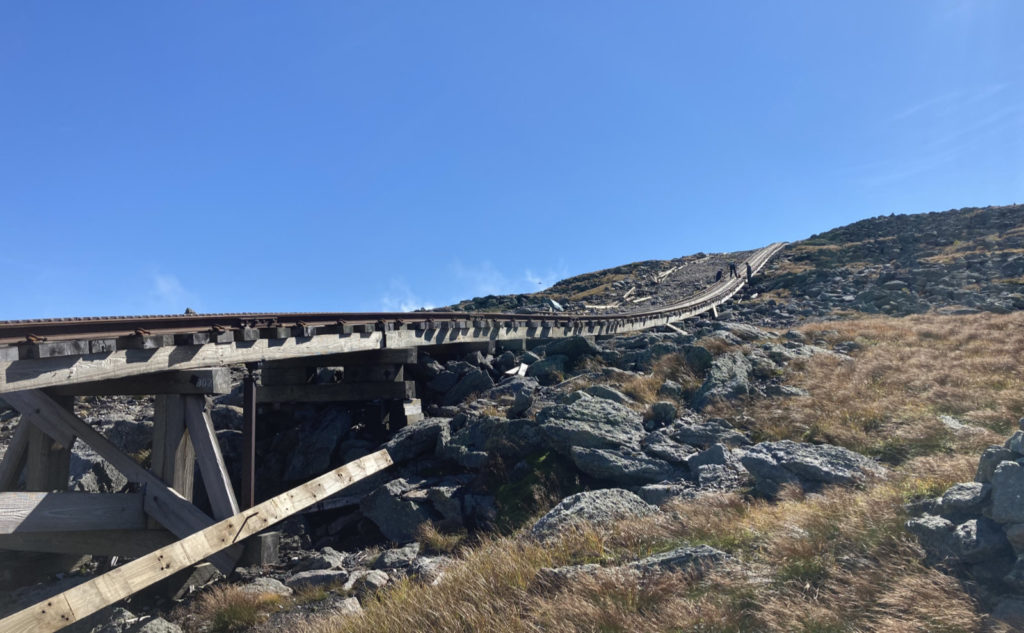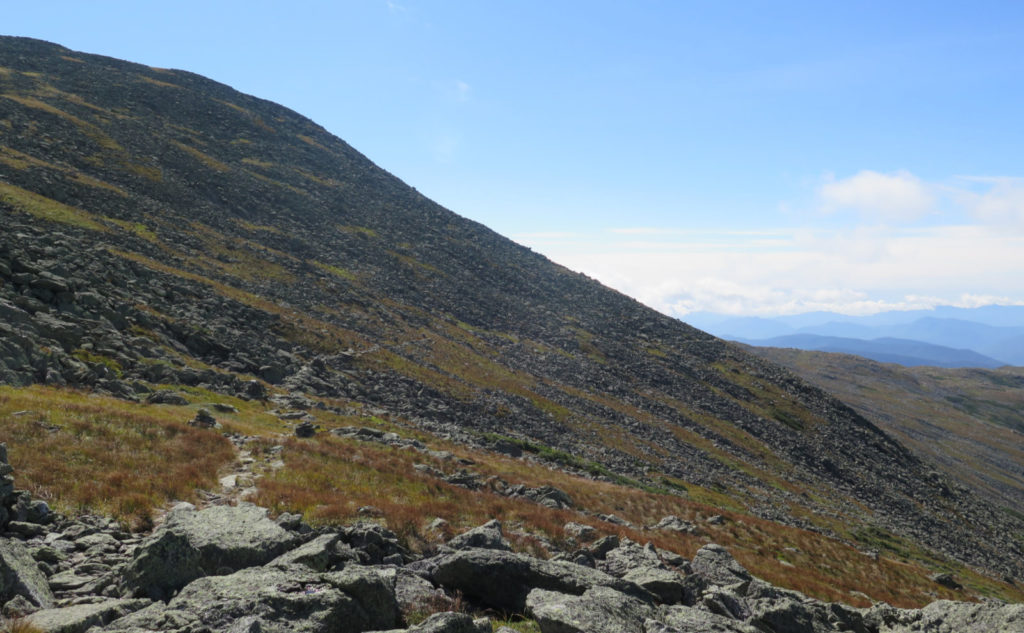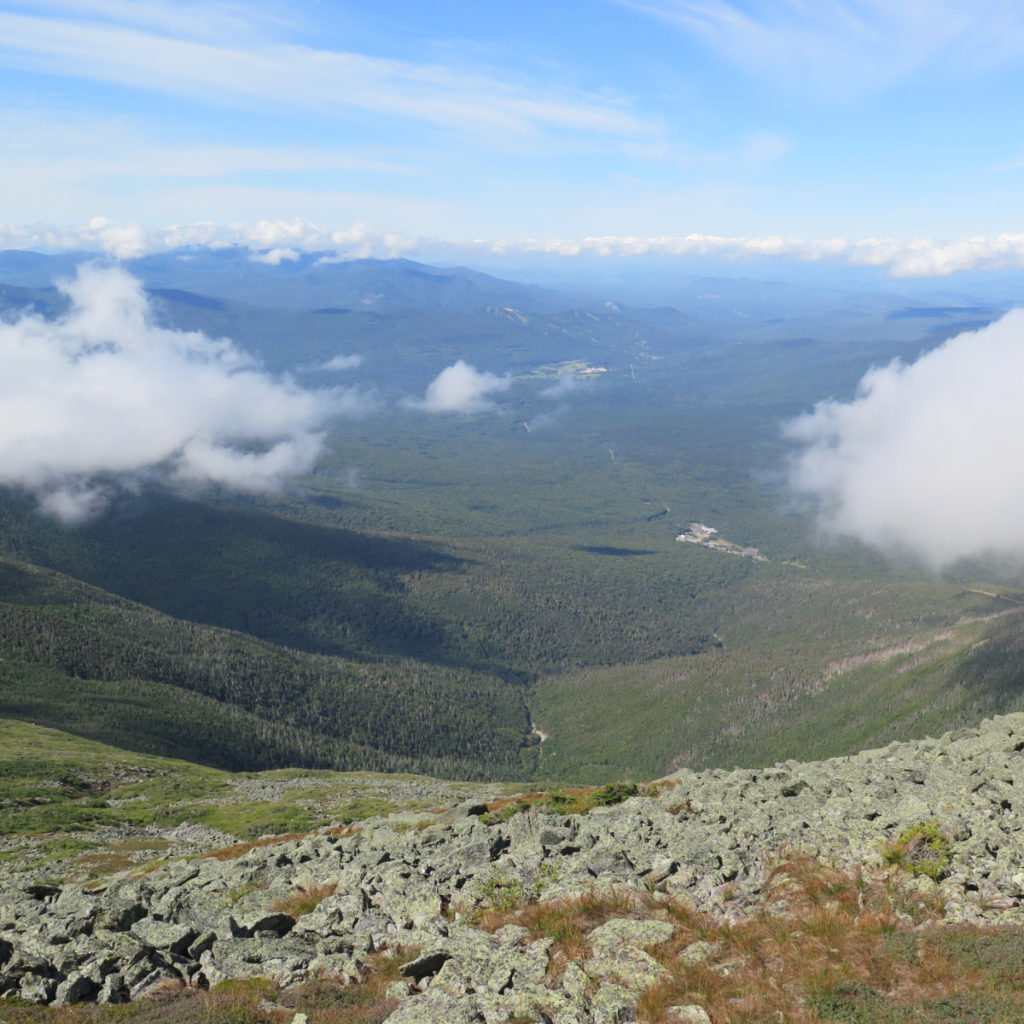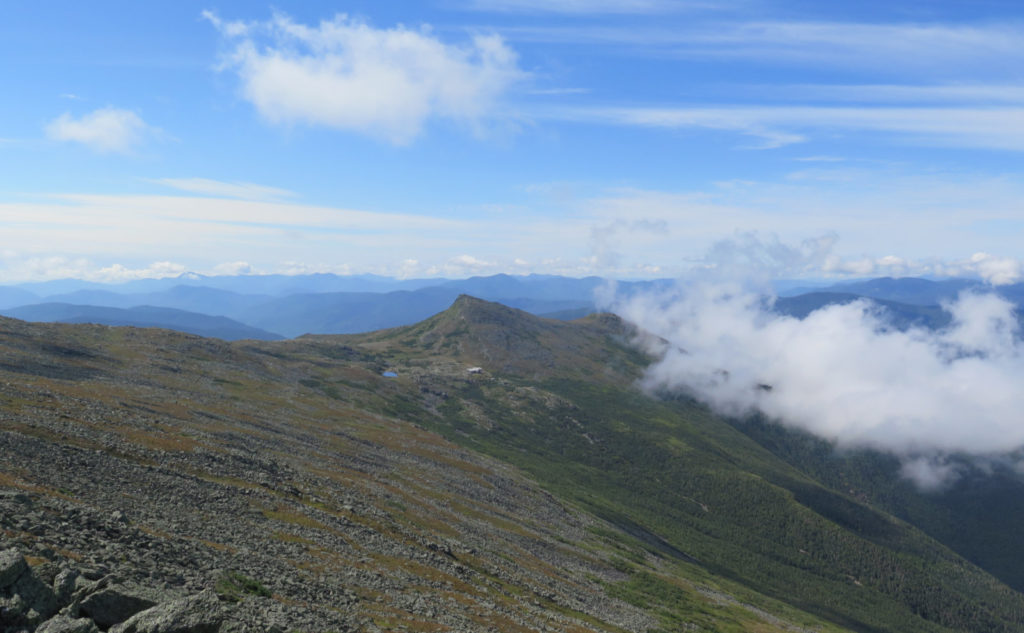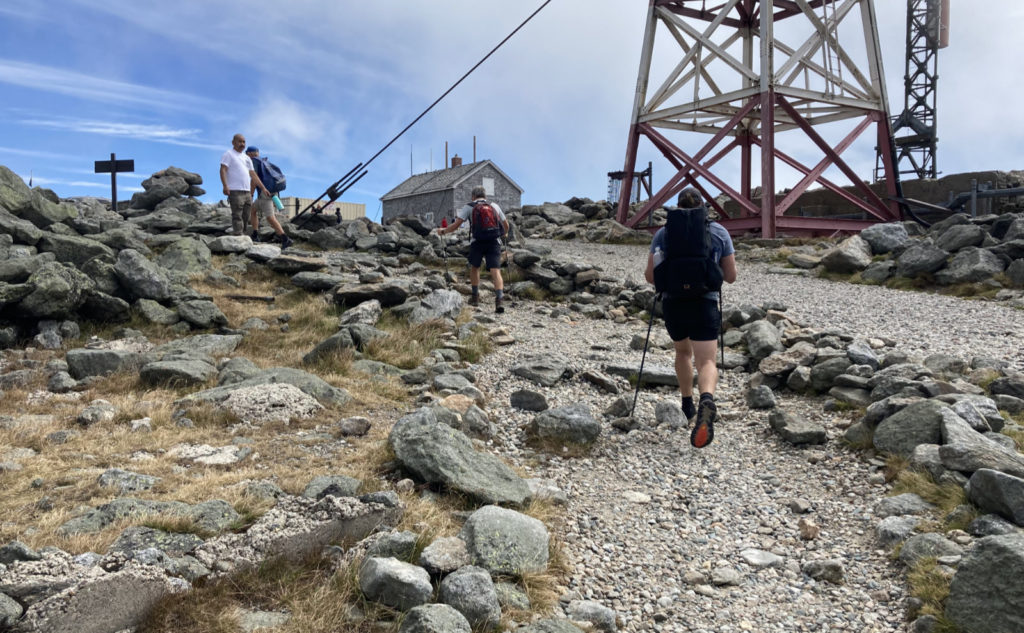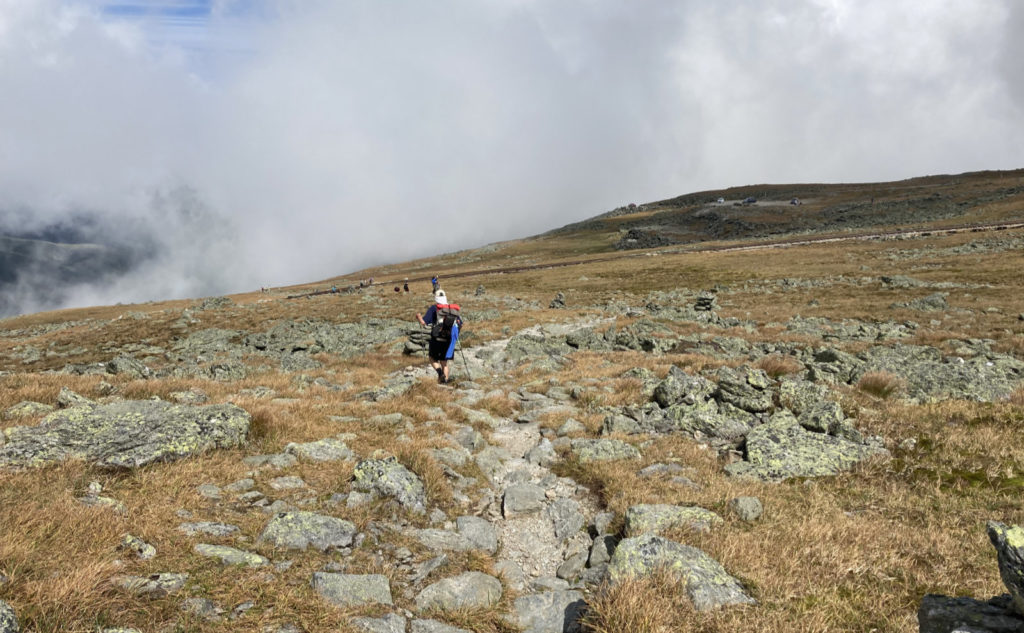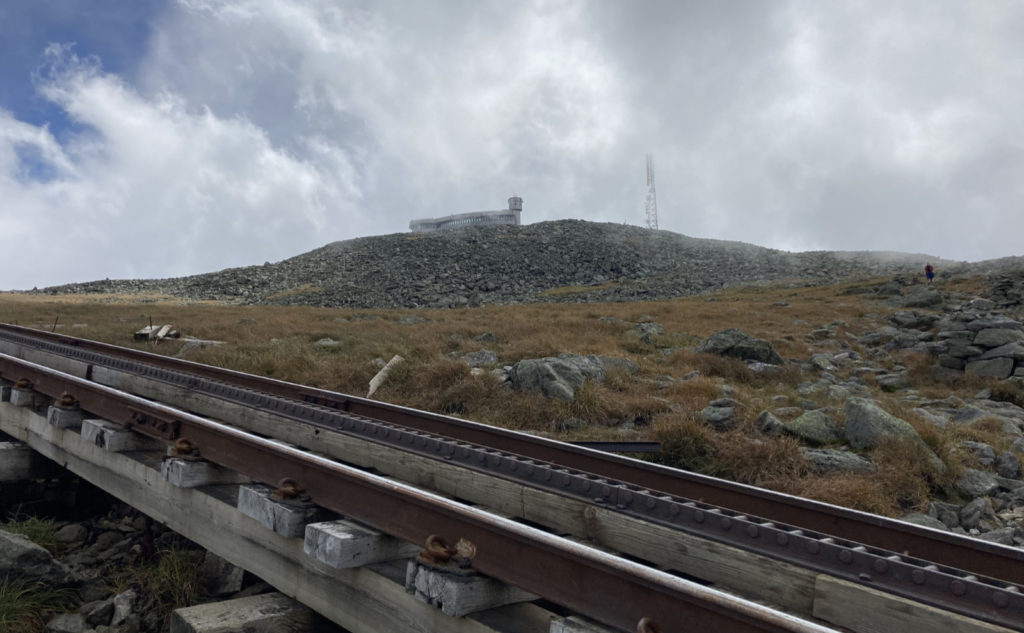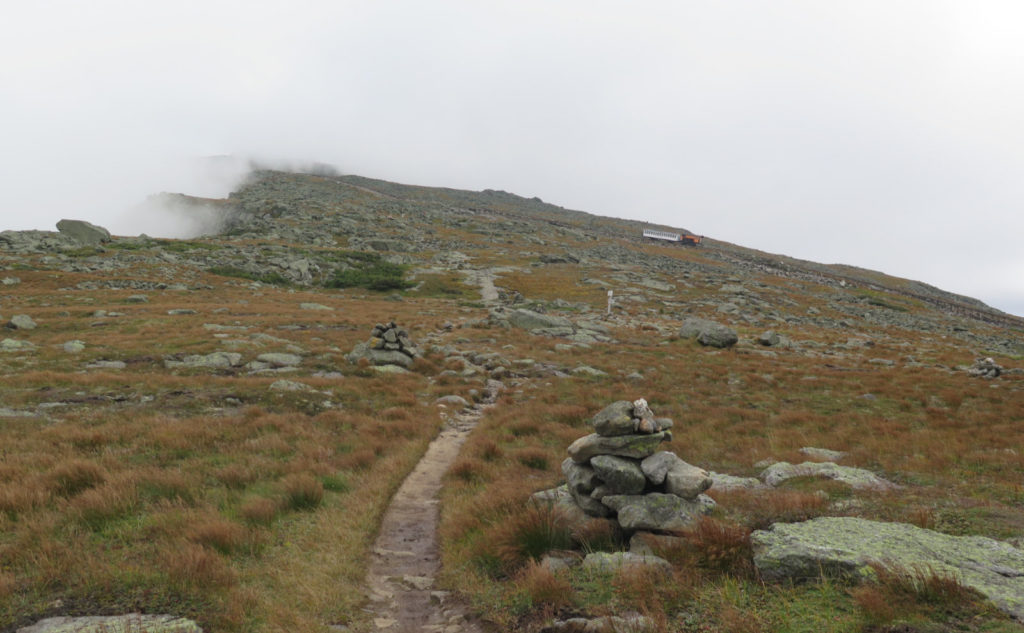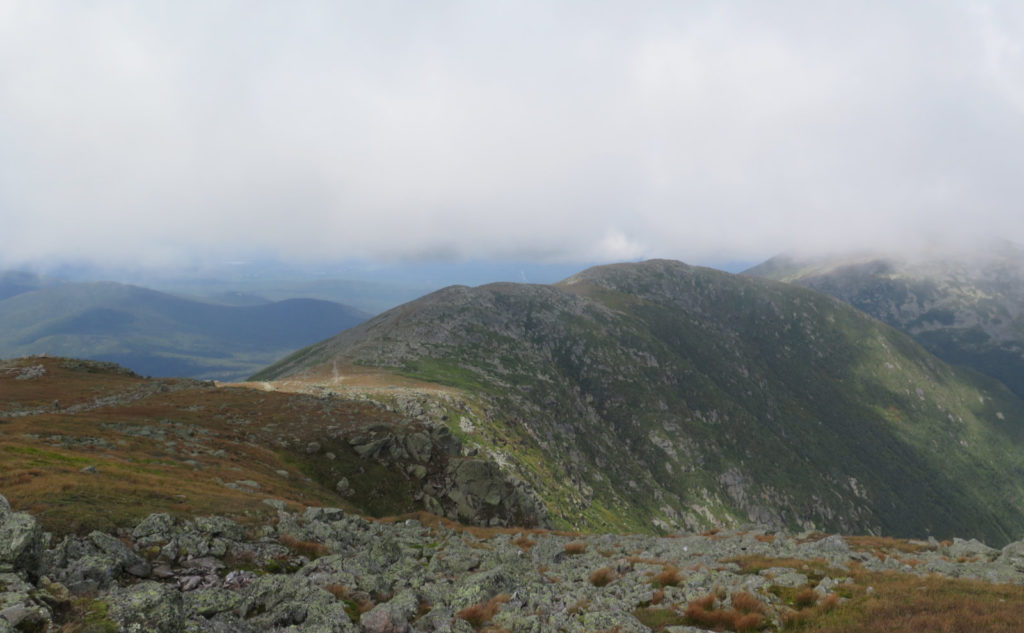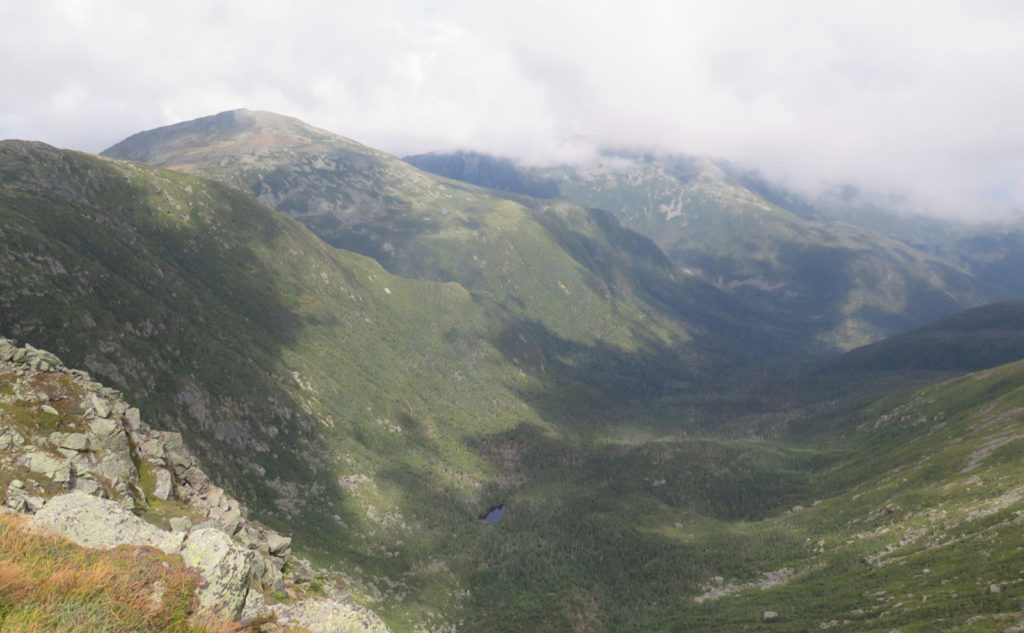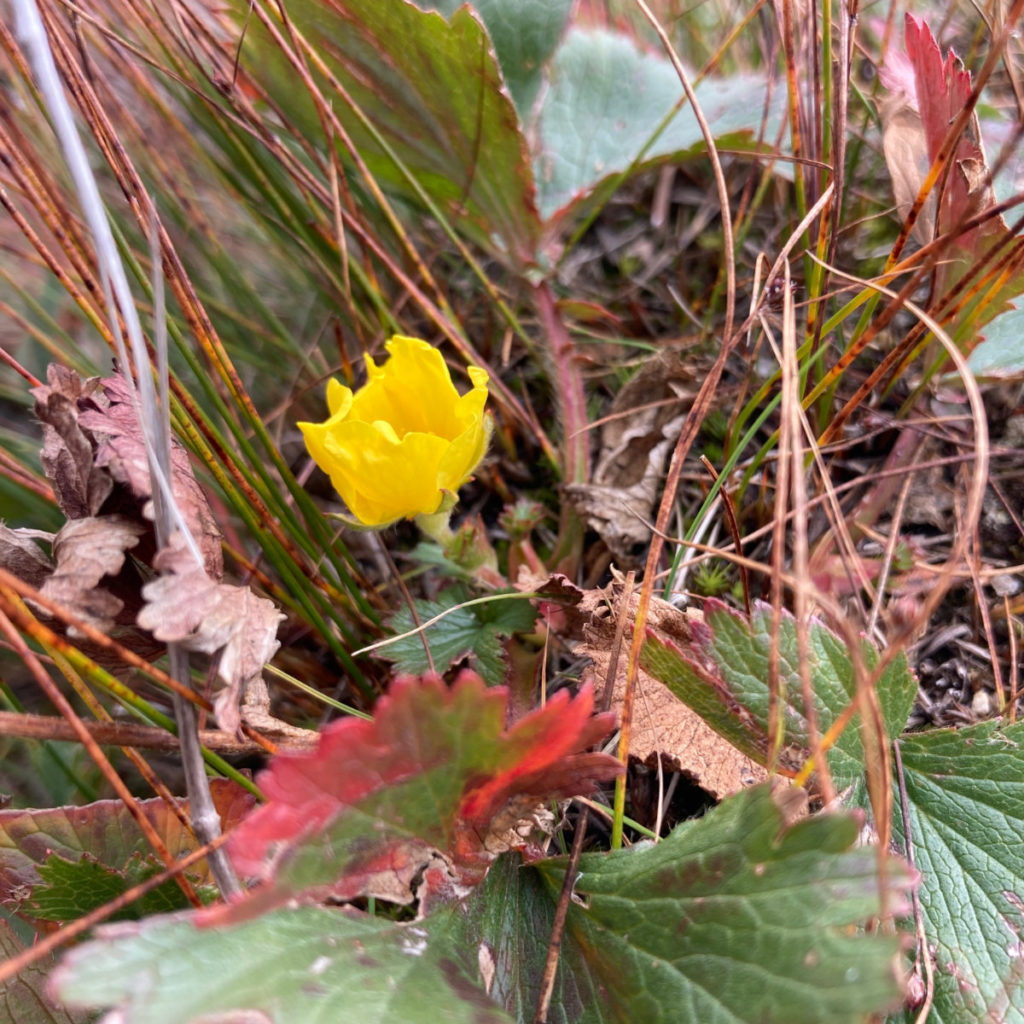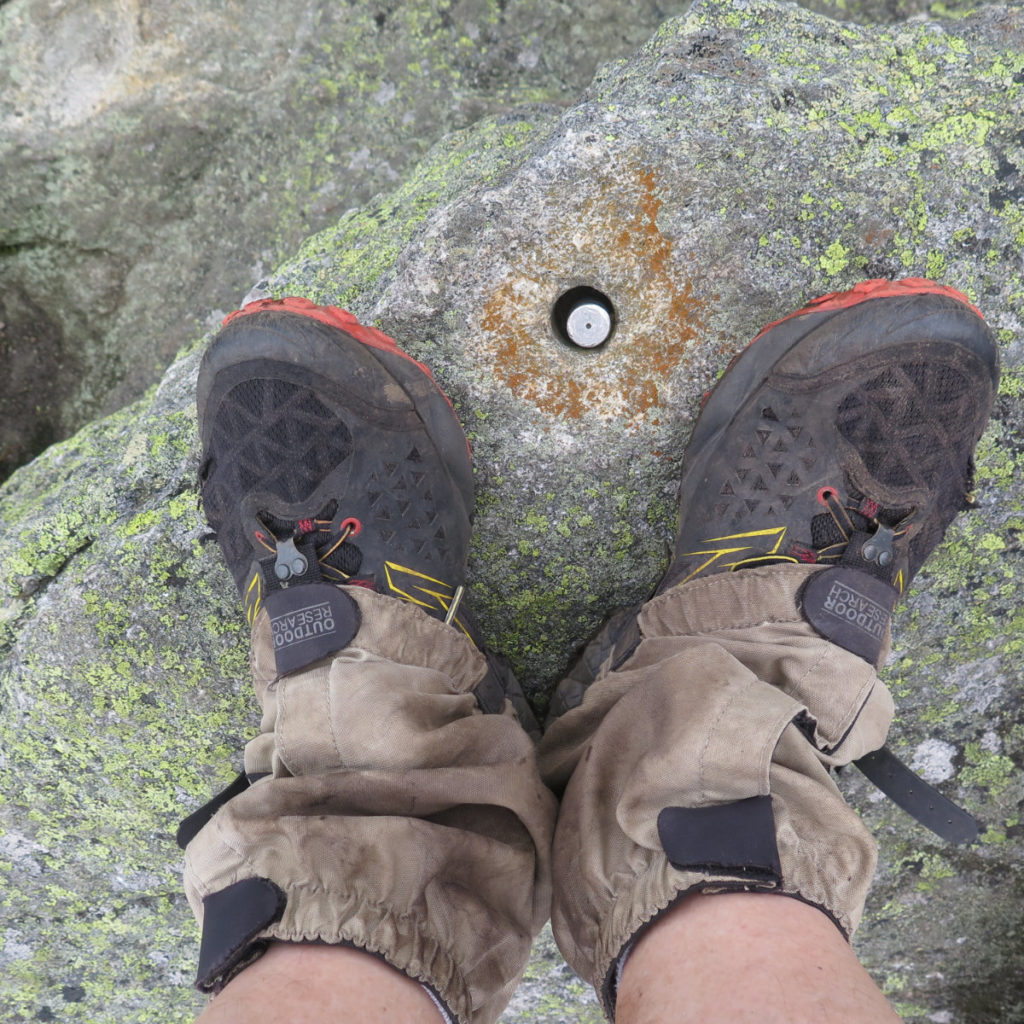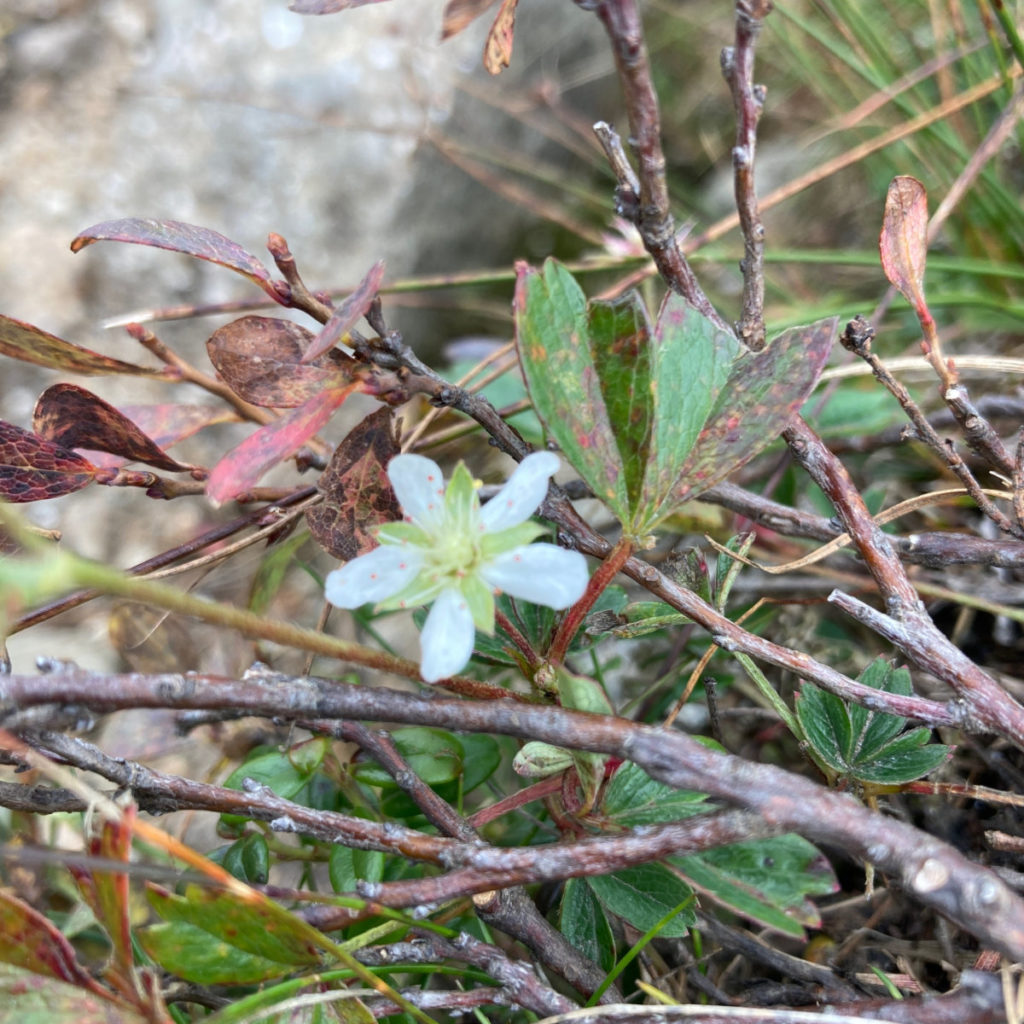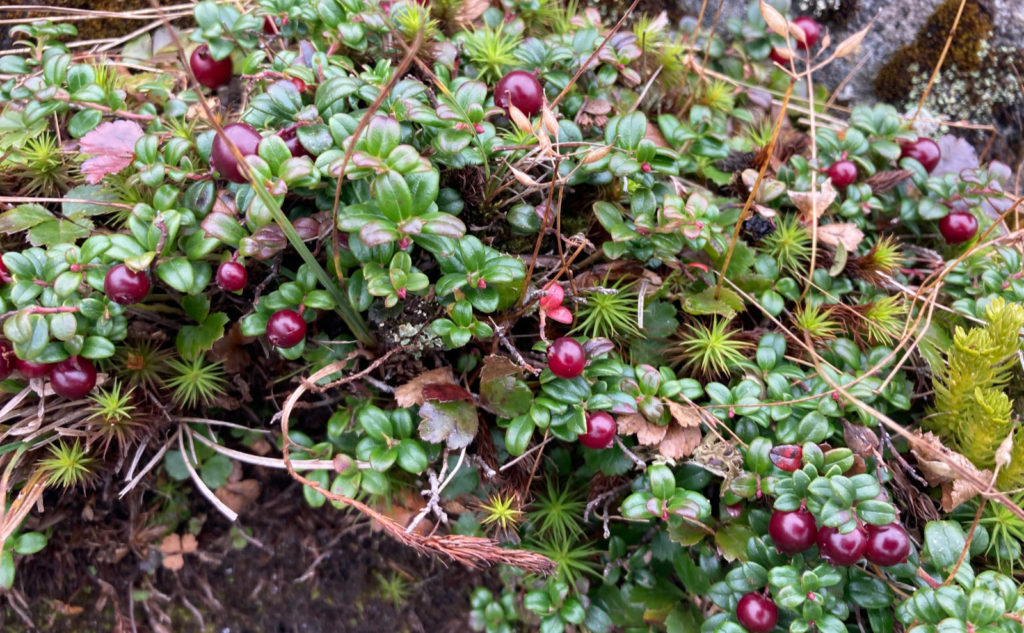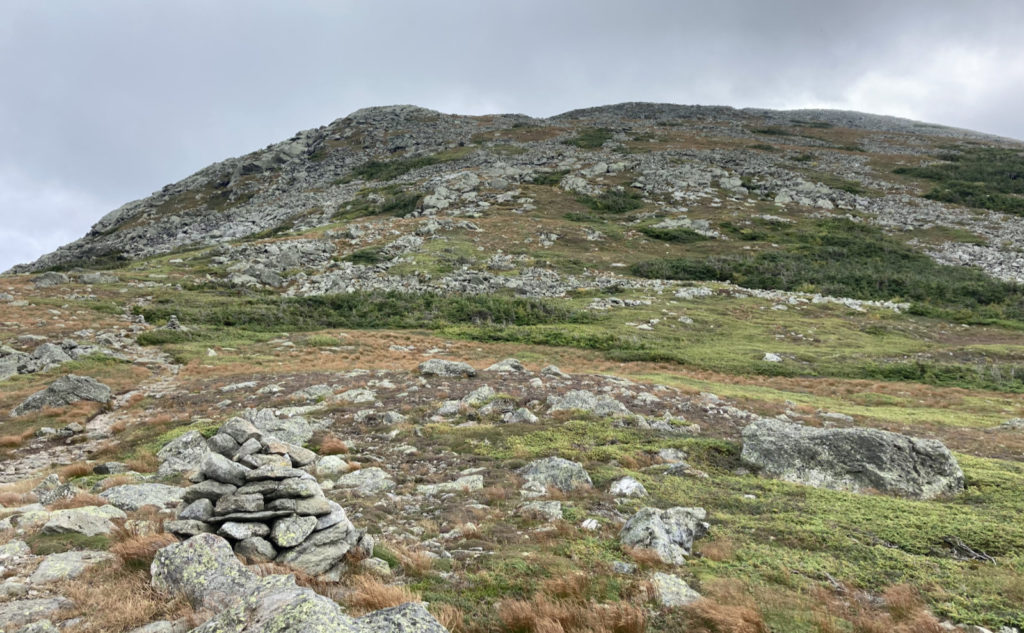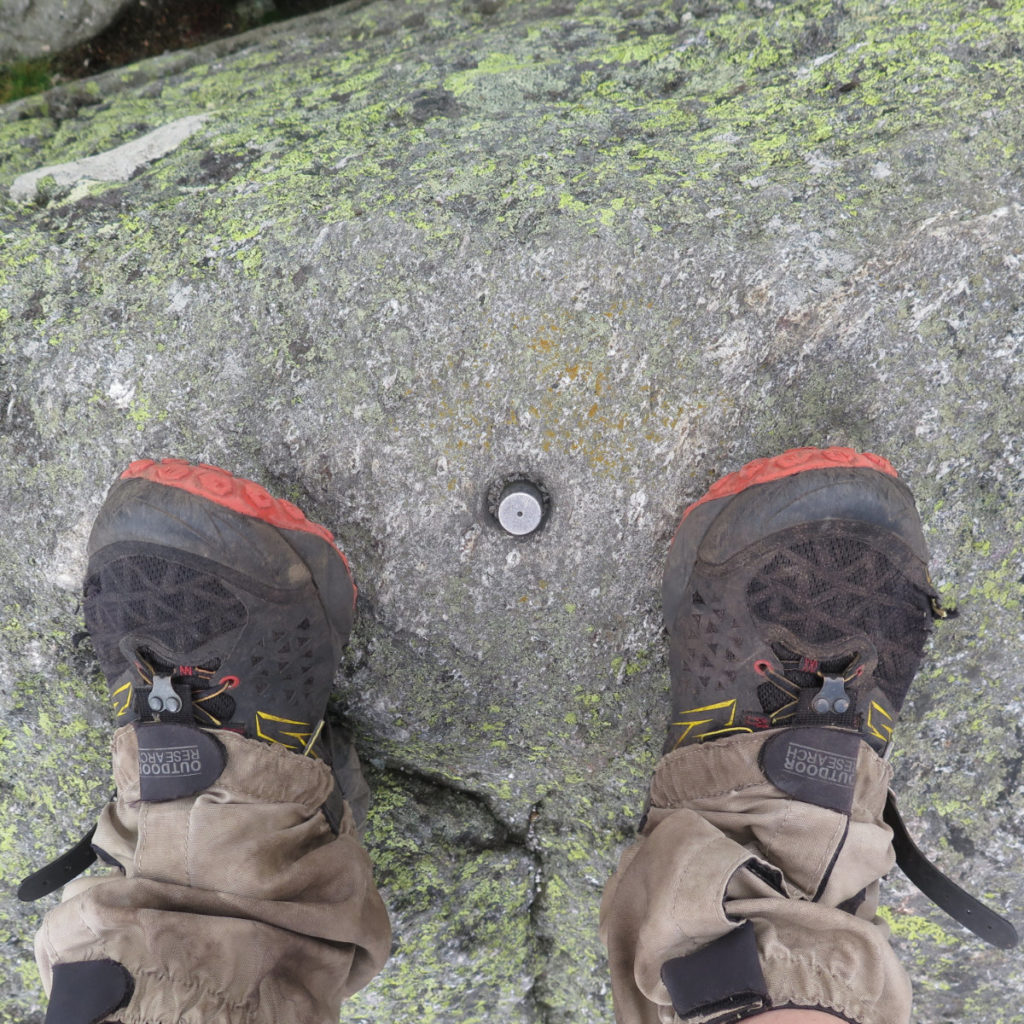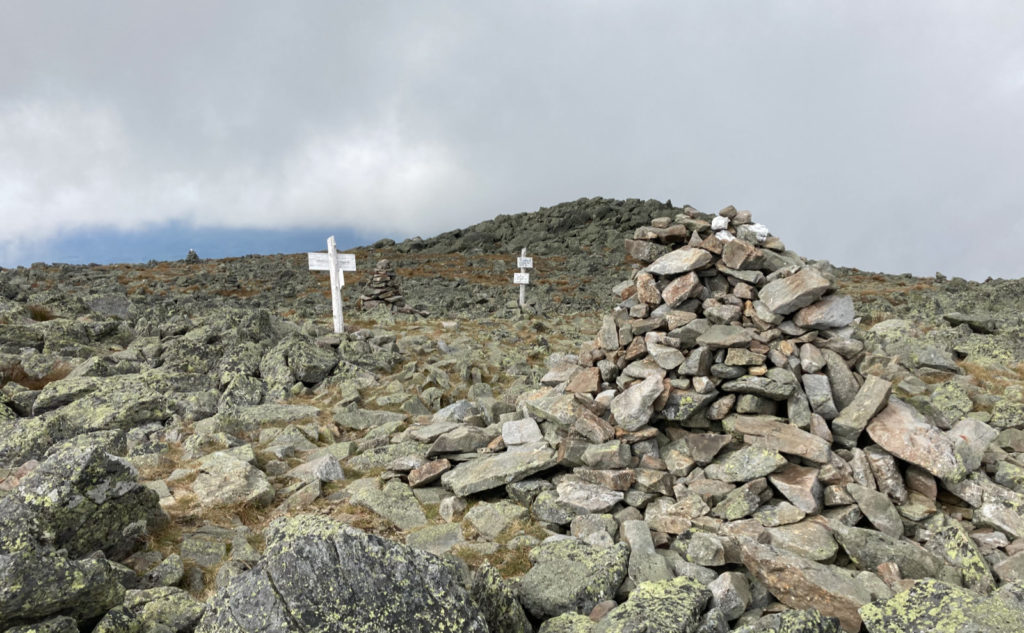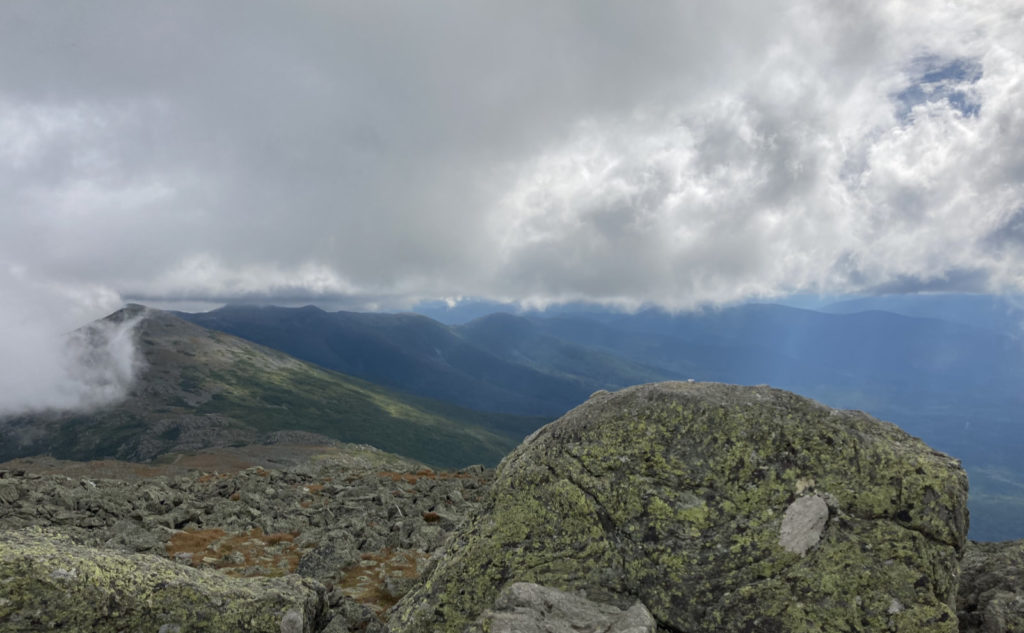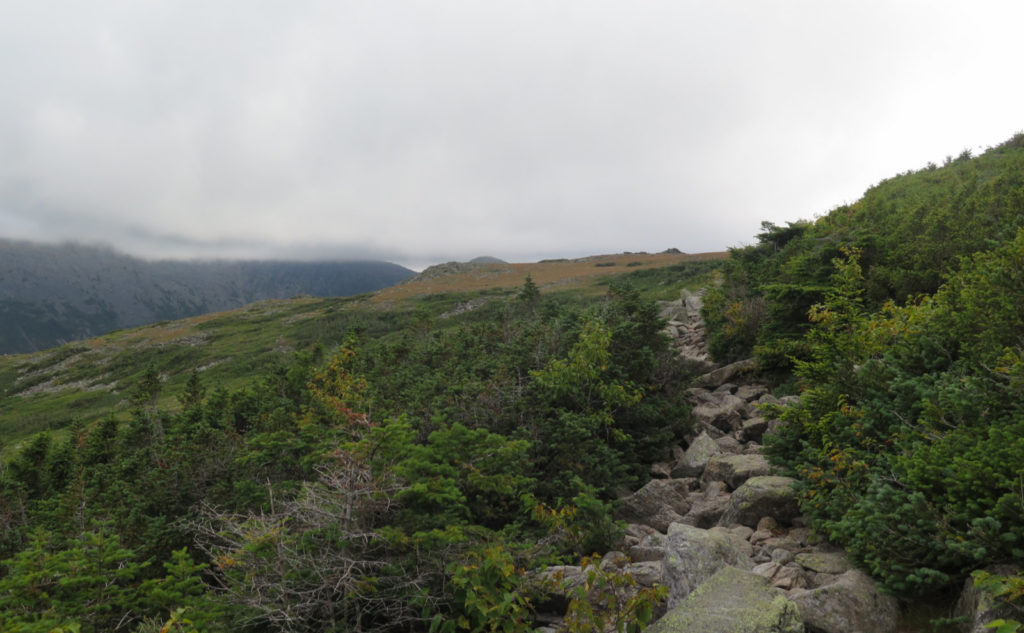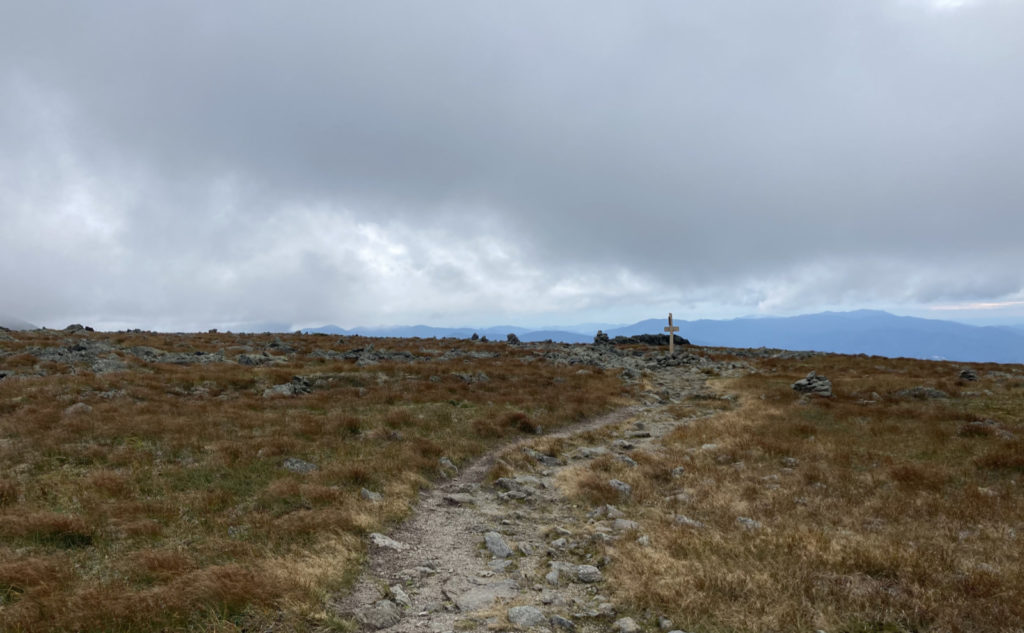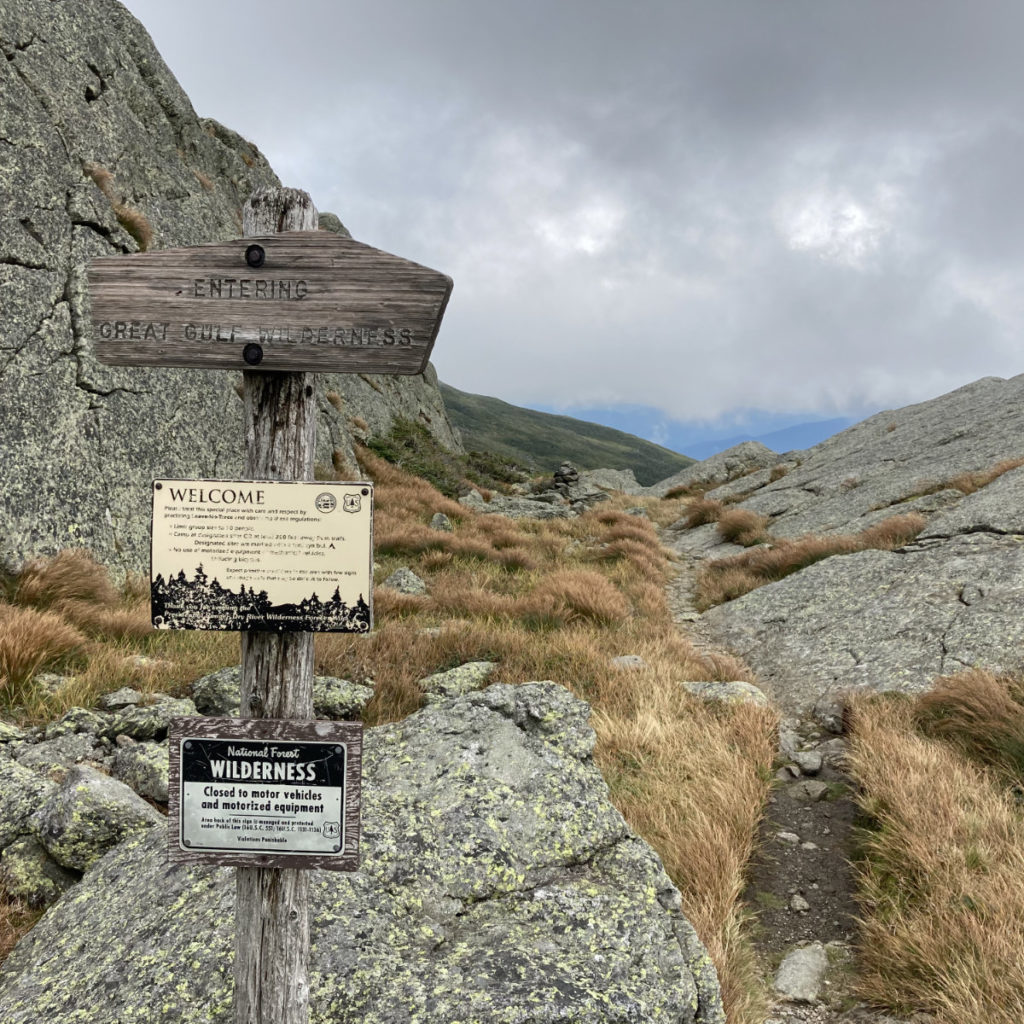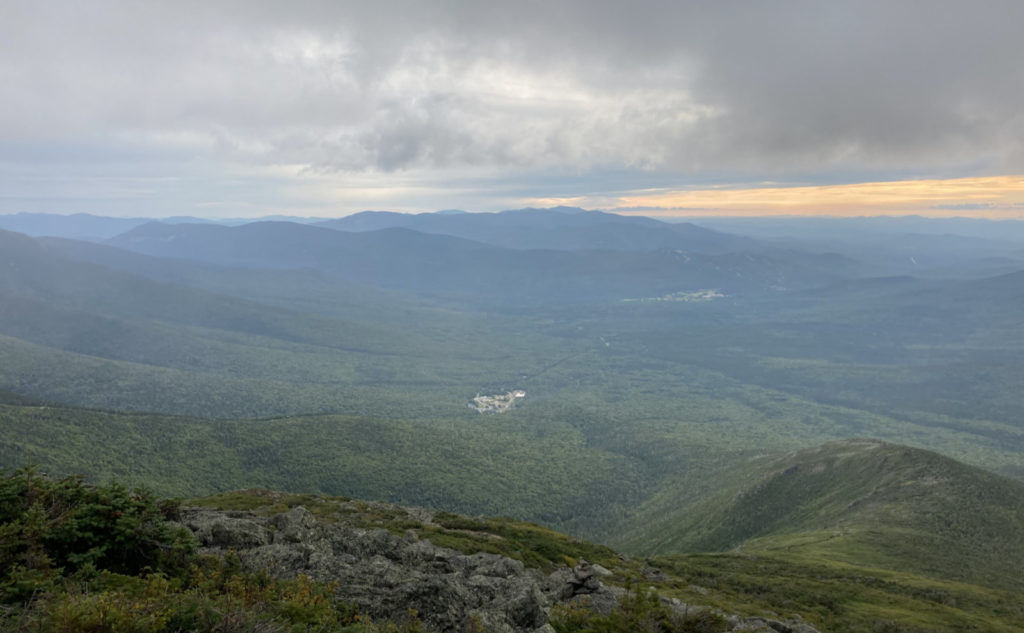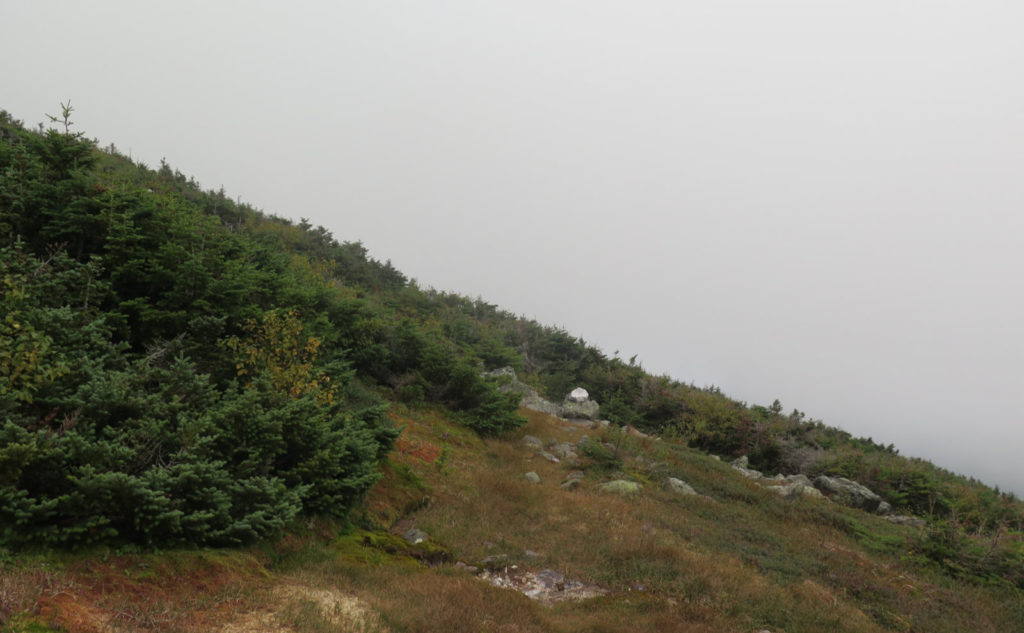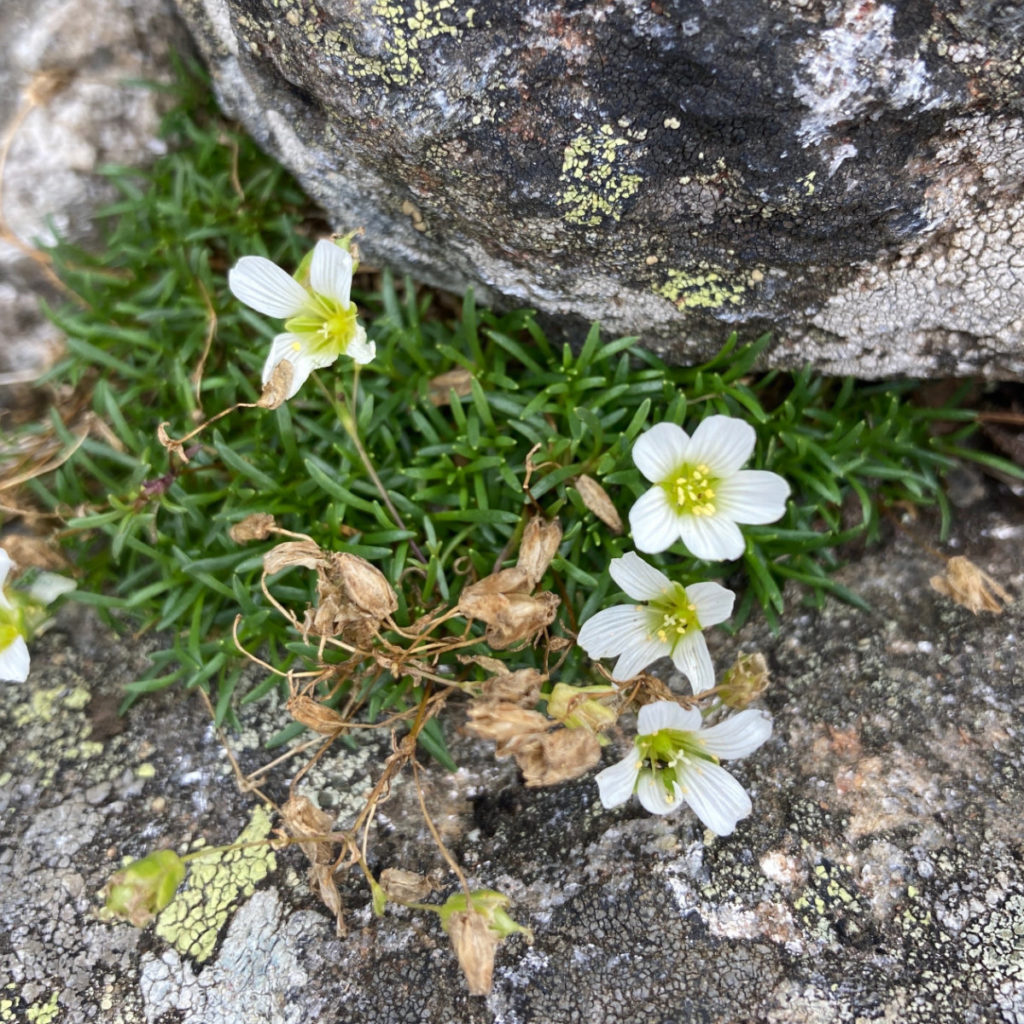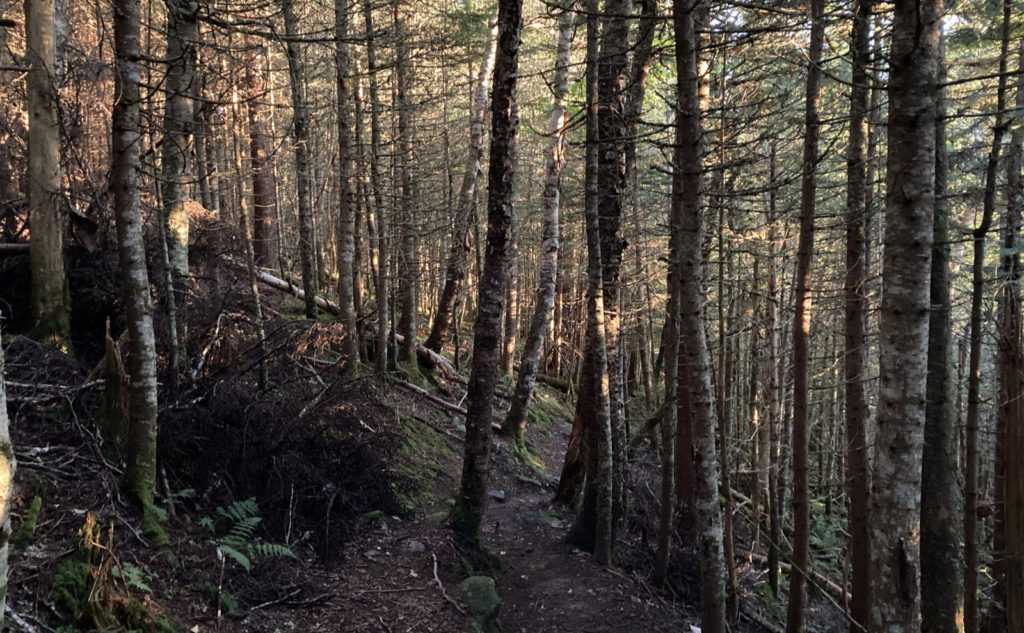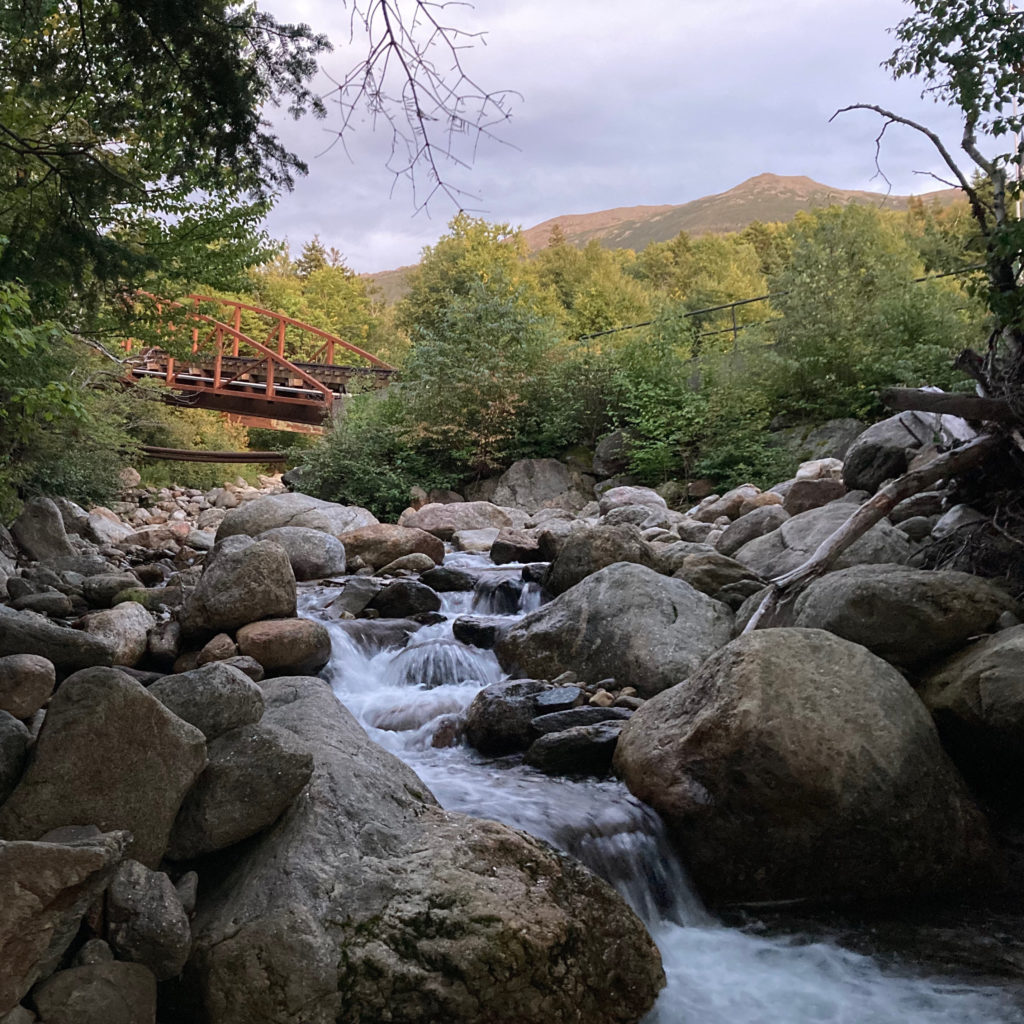 Nuts and Bolts: Jewell is accessed from the Ammonoosuc Ravine trailhead, on Base Station Road, off of route 302, in Bretton Woods, nearby Fabyans. Park, then walk back out, and cross Base Station Road. The trailhead will be in the woods "right there". Trailhead sign is just within the trees, but it's not terribly hard to find. Most blazes are non-existent, except for on the AT, where they're less existent. Instead, look for cairns, and pay special attention at trail signs and junctions,