Ammonoosuc Ravine Trail to just shy of the Lakes of the Clouds hut. Approx 3 miles, 2,500′ total elevation gain.
Weather was a balmy 22-25 dF throughout the day. Light wind throughout. Cloudy. Overall, pleasant.
Trailhead: 1030. Turnaround: 1330. Car: 1530.
Disappointment? Depends on what your goals are. I mean, I had a good day out… 
On the drive up, I was hopeful that I could summit Washington. While the views would likely be non existent, the weather was forecast for relatively clement conditions — modest wind, modest temperatures — so I decided to give it a shot. The reports on the storm snow totals showed it mainly kept to the south, so again, I was hopeful the trail wasn't in terrible shape. And yet, having boots on the ground is where you really find out what kind of day you're going to have. I elected to park at the Cog Railway so I could trim off a bit of the hike and maybe improve my chances of summiting. Besides, I'd not hiked that spur yet, and the USFS trailhead parking area was "lightly plowed".
All told, it wasn't bad. There was a few inches of very dry powder on the ground in the lower elevations, but it wasn't deep enough that my light crampons left me wanting. For the span from the trailhead to Gem Pool, the way going was modestly more strenuous than if the trail was well broken-out, but it wasn't unreasonable. I made good time.
Somewhere along the way, I noted several tracks. A rabbit, maybe a marten or a squirrel. And then, something much bigger… I'd not, until now, seen any indication of a bear. No scat, neither hide nor hair, nothing. But there were, rather undeniably, footprints in the snow, rather larger than your average squirrel; indeed, they were rivaling mine in width, if not length. The ursine wanderer had come out of the woods, walked up trail a bit, then back into the woods, re-emerging briefly near Gem Pool before heading back into the woods. I was ecstatic to see them finally, and scanned the area in hopes that I might see the beast. But it was not to pass. I suspect the berries were sweeter along the brook. Still, it was energizing, and it made me think that the forest is pretty healthy right now.
The snow is very dry, light, and fluffy. There's no consolidation whatsoever at this point. I changed into my snowshoes at the pool, which helped a bit, but it was still notably harder passage on the uphill. With the steep grades, there was a lot of slipping back downward with almost every step. After awhile, it became clear that I needed to move the goalposts. I thought making it to the hut would be good on its own, but no matter what, summiting was probably not an option, at least not in the daylight. Hiking down an unbroken trail at night wasn't up for discussion. But hey, I was outside having fun. Type II fun, but fun nonetheless.
I got to the right turn at the upper cascades, and a bit after, passed the sign at the edge of the alpine zone. And that's when I moved the goalposts back even further. Snow up there had been drifting a lot, and finding blazes became difficult. I was consulting the GPS almost minute-to-minute, and even still, took a few wrong turns. Some deep postholing into spruce traps and occasional drainages brought a measure of frustration. Any sag or step up a ledge, meant tromping through a very deep drift.
I began evaluating what it would take to just draw a line in the snow and turn around. My GPS showed I was around a quarter of a mile from the hut, and it was half past one. Turning around at that point meant I'd likely make it down to beyond Gem Pool with a good amount of daylight left, leaving a mostly flat walk in the dark back to the car should that be necessary. As it happened, I was back at the car with about half an hour of daylight to spare. I stopped at the Bretton Woods market on the way out for a quick snack to end the day.
On the way down, I met a hardy soul on his way up. He mentioned trying to place his steps in concert with mine, so we might make a better trail, and on the way down, it did feel like a decent monorail was evolving. I'm hopeful that the weekend will bring a few more trampers out, and by next week, I might return to finish the hike. I got a couple glimpses of the summit, but there's nothing like standing on top. Hope springs eternal…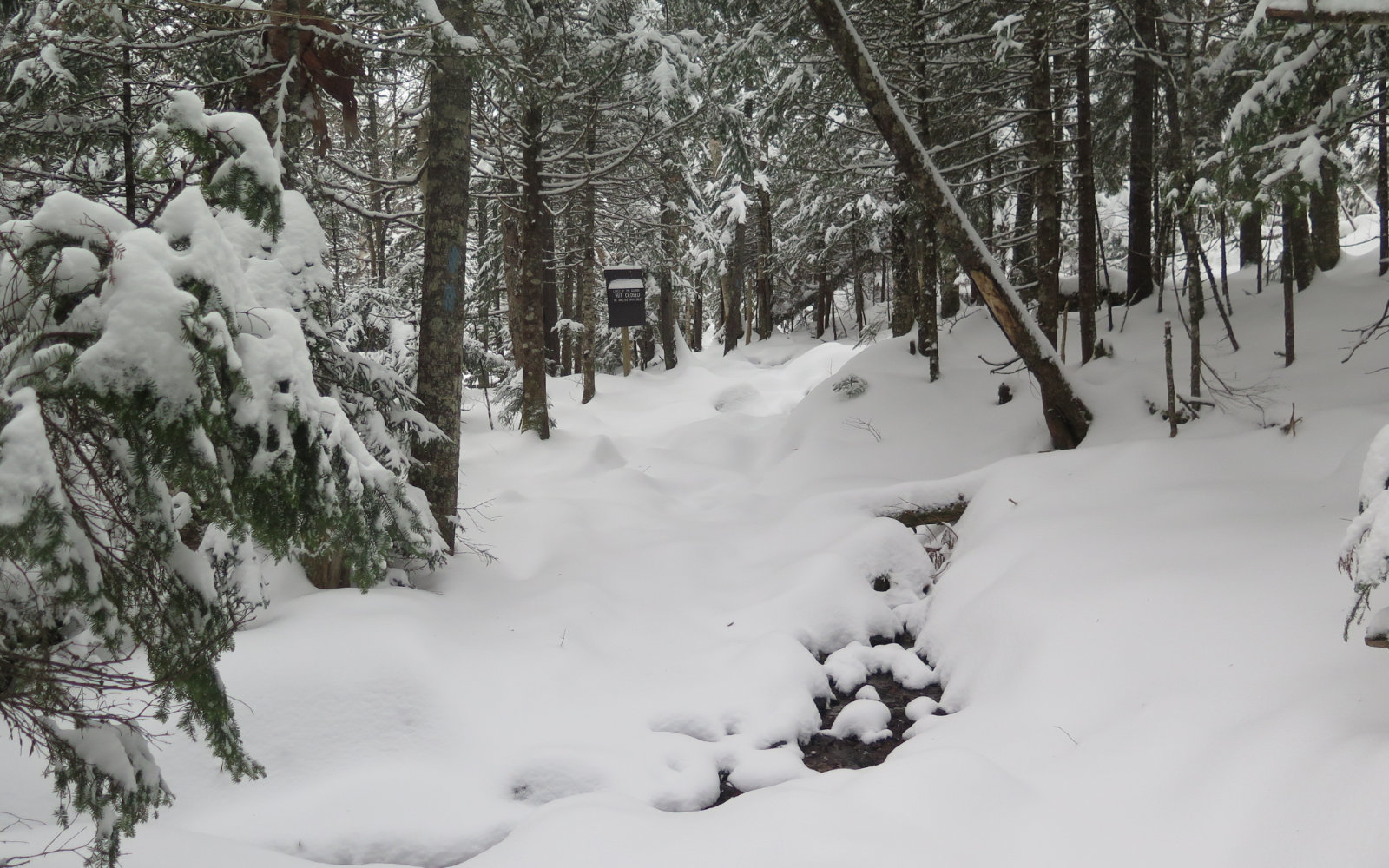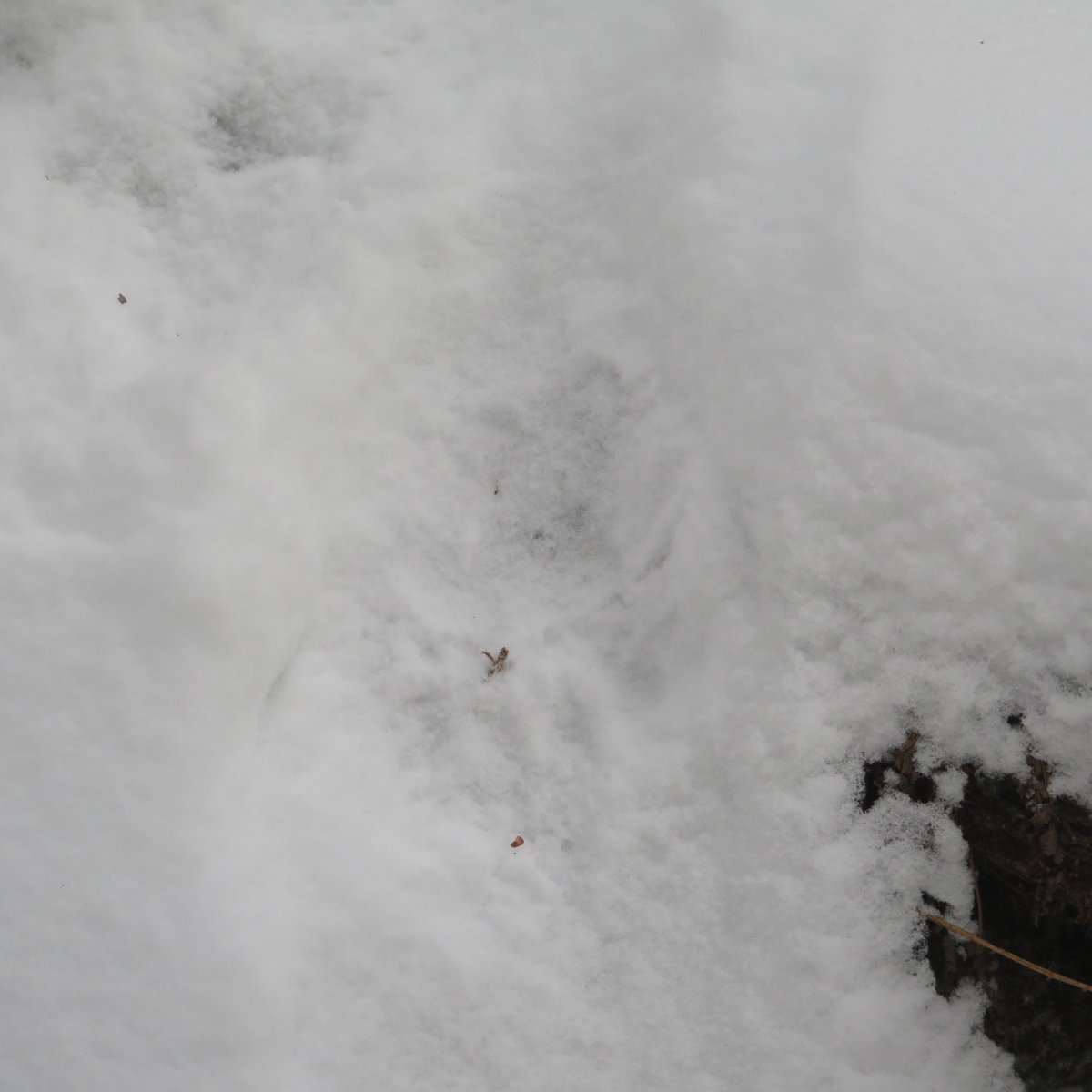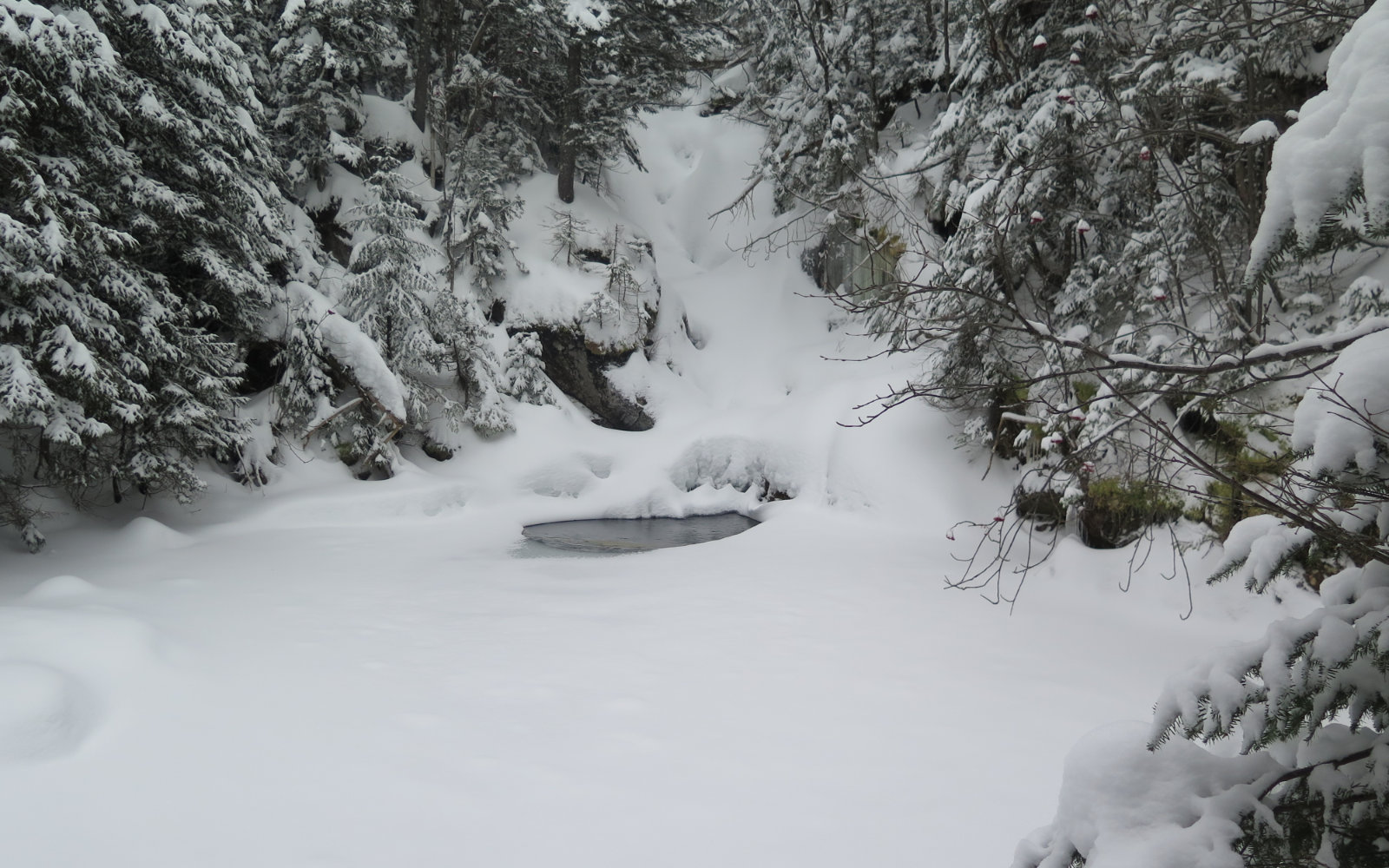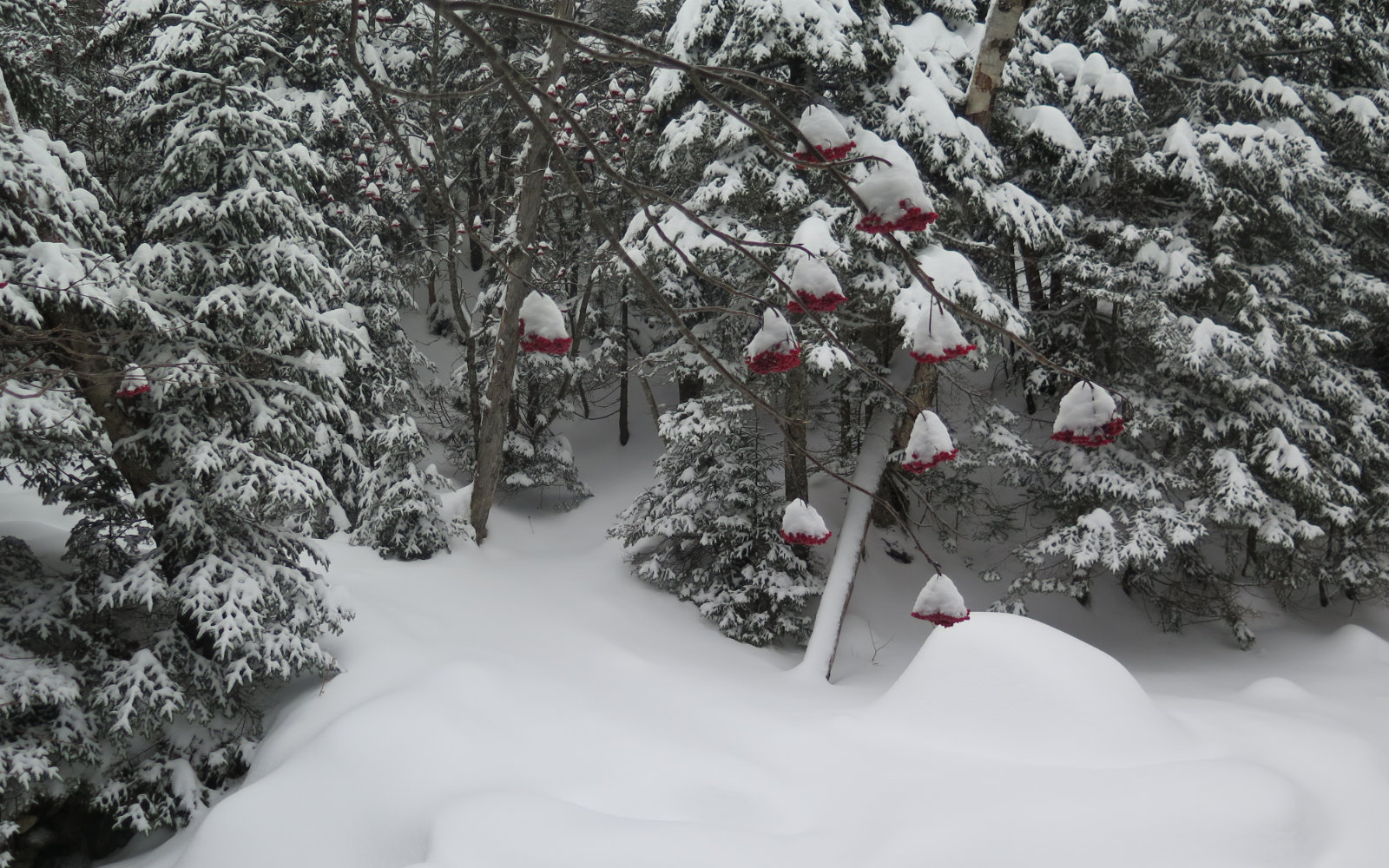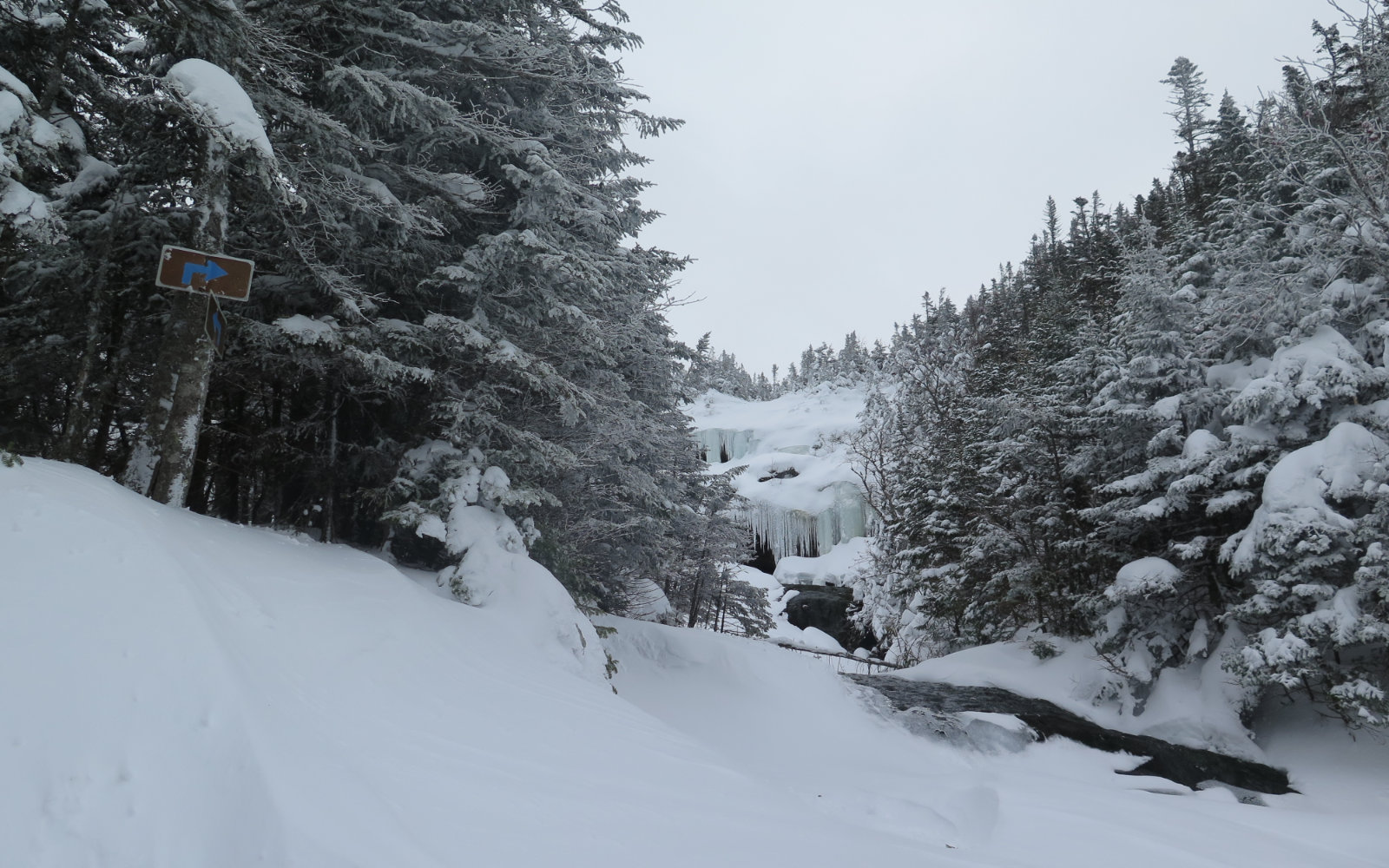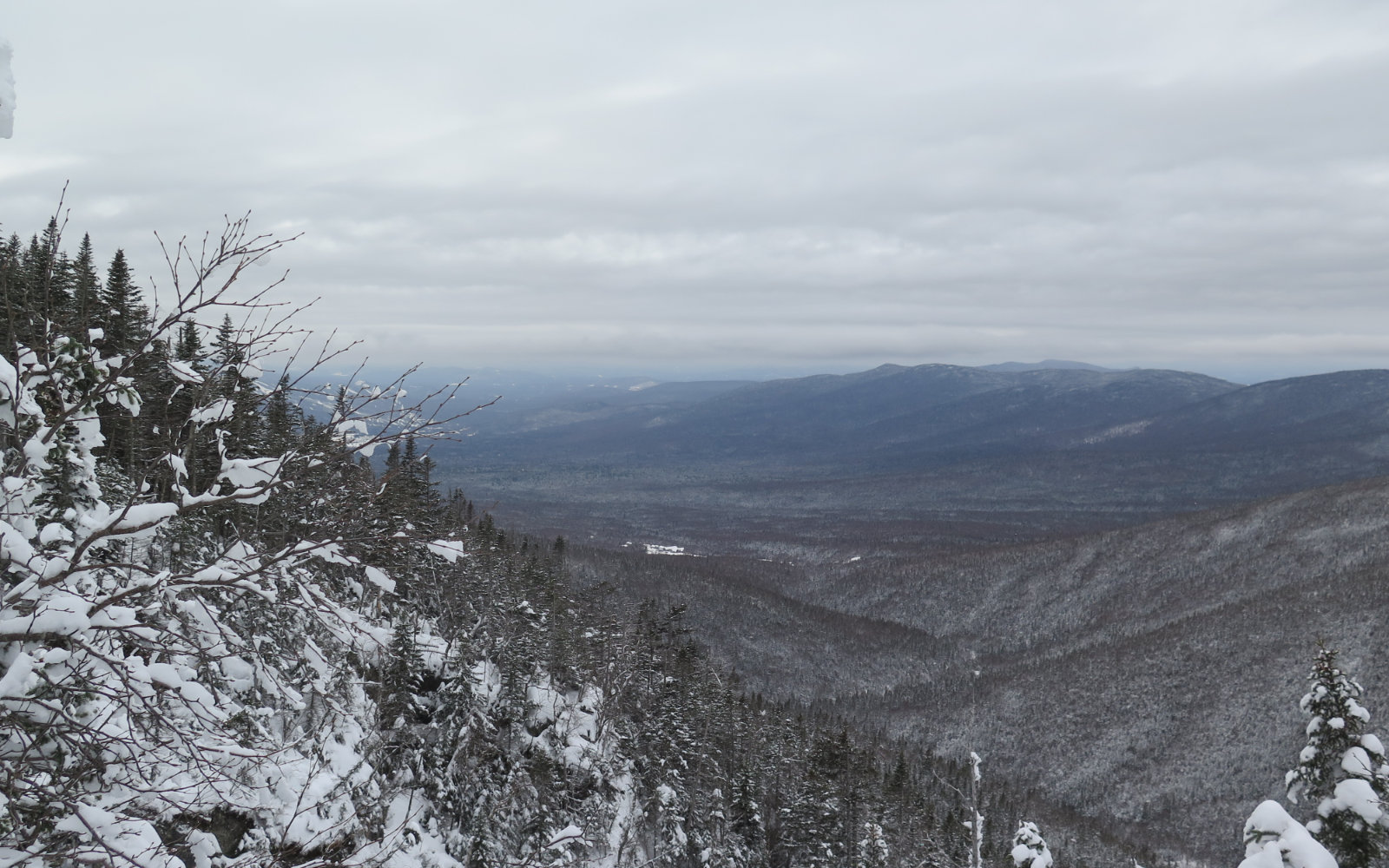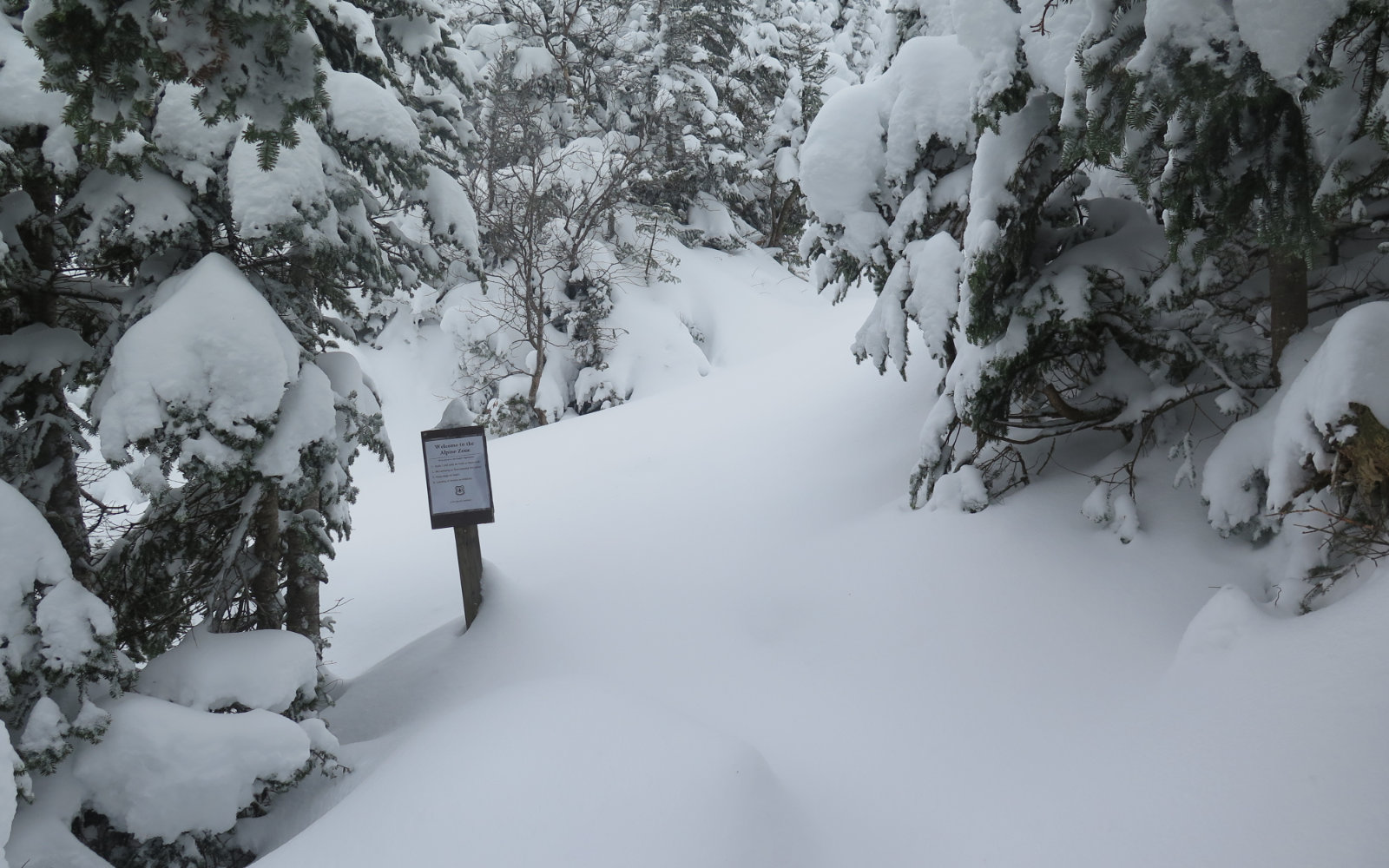 Nuts and Bolts: Parking at the Cog Railway is nice and clean; they're doing a good job of plowing. Bring $10/person in your party for the use fee. If no-one is in the building, there's an iron ranger outside. Climb out of the parking lot to the right as you face the mountain, and find the trailhead on the opposite side of the grey hut with the railroad crossing sign on its side. It's not too hard to find, but it is at the edge of the trees, so just keep your eyes peeled.
Safety: Obviously, you're on Mt Washington, home to some of the worst weather on earth. Know that even good weather can turn on a dime and become a nightmare. Visibility can drop to almost nothing in a matter of a few minutes. Show up equipped for the worst, and have a good bail-out plan, and know that the various buildings on the mountain are closed for the season. Conservatism is the order of any day up there; when in doubt, turn around. There's a lot of drifting snow, and plenty of opportunities to lose the trail, as I did more than once. Beware of where you are, where you're going, and where you've been, in case you do need to beat a hasty retreat. Remember that there is no shame in turning around. You can always come back another day, in more clement weather.
If you enjoy reading these posts, please subscribe — stay in the loop! Your email will only be used to alert you of new posts — typically 1-2 times per week. I will not use or share your email for any other purpose without your express permission.