Mt Washington (6288 feet). Crawford's Purchase, NH. 2019-12-18 (Wednesday.)
Via Ammonoosuc Ravine trail, Crawford Path. 9.2 miles round-trip, 3,800 feet elevation gain.
20 dF at the trailhead, 5 dF at the summit. RH ranged from about 50% at the trailhead to 100% at the summit. Winds were negligible in the trees, from the west at about 10 knots at Lakes of the Clouds hut and vicinity, steadily rising to 35 knots at the summit. Dew point was 0-5 dF throughout. Cloudy with a very brief period of hazy sun and a tiny hole of blue sky, degrading to snow flurries in the afternoon. In short, the old rock pile was being itself.
Trailhead: 0910. Summit: 1250. Car: 1455. 5 hours, 45 minutes.
A bit crazy, sure. Overextended, maybe. Happy, yes.
I really wasn't expecting this. It feels like every time I checked the Higher Summits Forecast recently, hopes for nailing down Washington have been torn asunder by hurricane force winds. But then last night, I saw a hole. I'd have to be very organized, and tight in execution. Oh, and the snow we got the other night would have to be cleaned up over more than 100 miles of driving by the time I hit the road. No biggie, right? Right!
So it wasn't a perfect drive up, but I did find myself at the trailhead shortly after nine. It's the earliest start I've had in quite awhile, which just on its own put a spring in my step. I parked at the Cog Railway station again, with the aim of a speedy hike to the summit. The forecast for the evening included increasing winds and decreasing temperatures — hurricane force, with gusts past the century mark. Yikes! So the emphasis was on getting up to the summit as quickly as I could, then get back down. As it happened, the day wasn't particularly photogenic, so that played into my favor, too. No sense in hanging around, trying to get the perfect shot, if it isn't there to begin with…
The recent snow storms have mainly given the southern parts of the state a taste of the lash. This was good, because I didn't have to contend with a lot of snow on the trail, and more than that, I could hike in lighter crampons instead of heavier snowshoes. But my recent aborted trip up Ammo was on my mind. Would I encounter more deep drifts higher up yet again? I set out, and before long, was breaking a sweat, as usual. I made fresh tracks to the trail junction, then saw someone was ahead of me wearing microspikes. It was fluffy powder with a crunchy base, so I made good time.
I got to Gem Pool within the hour, and that, of course, was where the real climbing started. It's taken a couple trips, but I've come to realize you get a freebie for the first couple miles, and then you get decked as you ascend the ravine. But aside from the steepness, the trail really wasn't that bad. There were several sections where the powdery snow sat atop hard ice, but my crampons did the trick. Really, the hard part was schlepping myself and my pack (with extra winter gear, of course) up that steep grade. Passing the upper cascades, I was given to think of the icicles hanging everywhere as almost like a pipe organ. Weird, perhaps, but there it is. Even weirder, just after entering the Alpine Zone, I looked over and saw an unexpected hole in the clouds emerge, showcasing the observatory towers against a cobalt-blue sky for a moment. Energized, I pressed on.
Shortly after that, I got to the point that gave me fits last time. That bit where, no matter what I did, I just couldn't seem to stay to the trail. But that guy ahead, with the microspikes, seemed to have the magic. I put my faith in his footsteps. As it turned out, it wasn't a bad plan. I got through that maze of those stunted trees, and lo and behold, the Lakes of the Clouds hut came into view a few minutes later. It wasn't a perfect view, but this time, I had a minimum of haze between me and it on the approach, and actually, a little sun poked through. Coming around the front, I was amazed at the sheer volume of snow piled up in its "courtyard", and then… I met the guy who'd been ahead of me.
We chatted a bit, and then I invited him to join me heading up Washington. He'd planned on "only" summiting Monroe, but gave it a little thought before declining. I think it was a good choice, given some of the reservations he'd communicated. I've said it before… the mountains have been there for thousands of years. They'll be there when you come back tomorrow, for varying definitions of "tomorrow". If a hike doesn't feel right, head back down to the car. (On Washington especially!)
So funny thing about Crawford Path… I remembered a few more cairns. When I reflect on today, "hardest hike I've done" comes to mind, and entirely from Crawford Path. The bottom half was OK — I was able to go from cairn to cairn, and the wind wasn't that bad. But around the halfway mark, visibility drastically shrank. For awhile, I could barely see two cairns ahead, and I'd get dizzy, because the white of the fog and snow was indistinguishable from the white of the snow. Up could be down, down could be up, and sideways? Who the heck knows? It was almost claustrophobic, and very disconcerting. Not at all in recent memory have I felt this kind of physical reaction to trail conditions, and I'm having trouble dredging anything from my long-term memory, too. More than a few times, I questioned whether I should go on. But ultimately, I was able to muddle my way through.
With about three quarters of a mile of trail to go… lo and behold, is that blue sky I see? Yes! And wow, the towers against an even more blue sky. I was tired at that point, but it was a huge lift to see that, even briefly as it was. But then…
In the uppermost bit, the terrain gets very rocky, and there wasn't enough snow to smooth everything over. It felt like the last half mile took forever, and sapped strength and will from me wholesale, as I had to trudge through rocks and boulders that were neither sufficiently covered to just walk across, nor sufficiently visible to avoid. Wow, it was slow going, and pretty demoralizing.
Finally, I looked up and maybe 100 feet away, saw the hazy outlines of the buildings themselves. Huzzah! I crossed the summit area against a biting wind, and somehow managed to find the summit sign. Visibility was exceedingly short, and disorientation was still a huge issue, so having touched the sign, I felt no more need to stick around. But where was Crawford Path? It took a couple minutes to figure out where I came from, but I got there.
Happily, once I started descending in earnest, either the wind let up a little, or at least I got into the lee of formations that were able to block it somewhat. And on the downhill, I was able to make a lot of time. It was four hours up, but only a little over two down. Somehow, I was able to almost ski down some of that ice (evidently, today I learned you can ski in crampons) and without falling, no less! At Gem Pool, I realized I was making good time, and became eager to see if I could keep my outing to within half a dozen hours. Maybe? I picked up the pace.
Finally, I saw the trailhead sign in front of me. Woo-hoo! I did it! Washington is on my autumn 48 list, and also fills in December on my grid list. With three days to spare!
…And as a footnote, as I write this post, outside, the wind rages.
Overall, it was a good day. I might have extended myself more than I should have when the visibility shrank to basically nothing, with no landmarks to follow through a featureless void. On the plus side, I had the tremendous fortune to be on an amazing mountain with tolerable weather. Not perfect, and the views were luck-of-the-draw and the textbook definition of ephemeral. But still, a good day to be outside.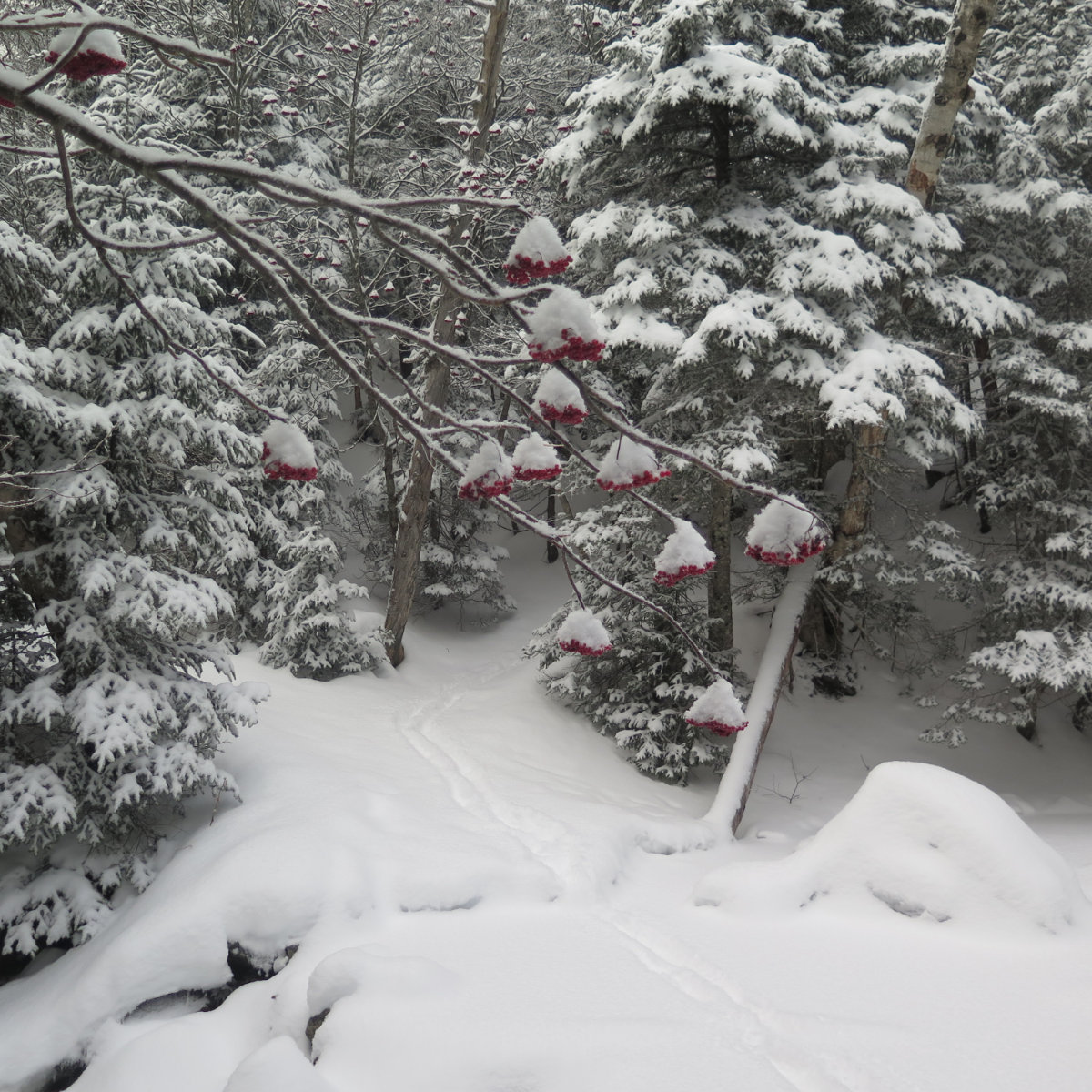 Mountain Ash. And yes, that's the trail in the background.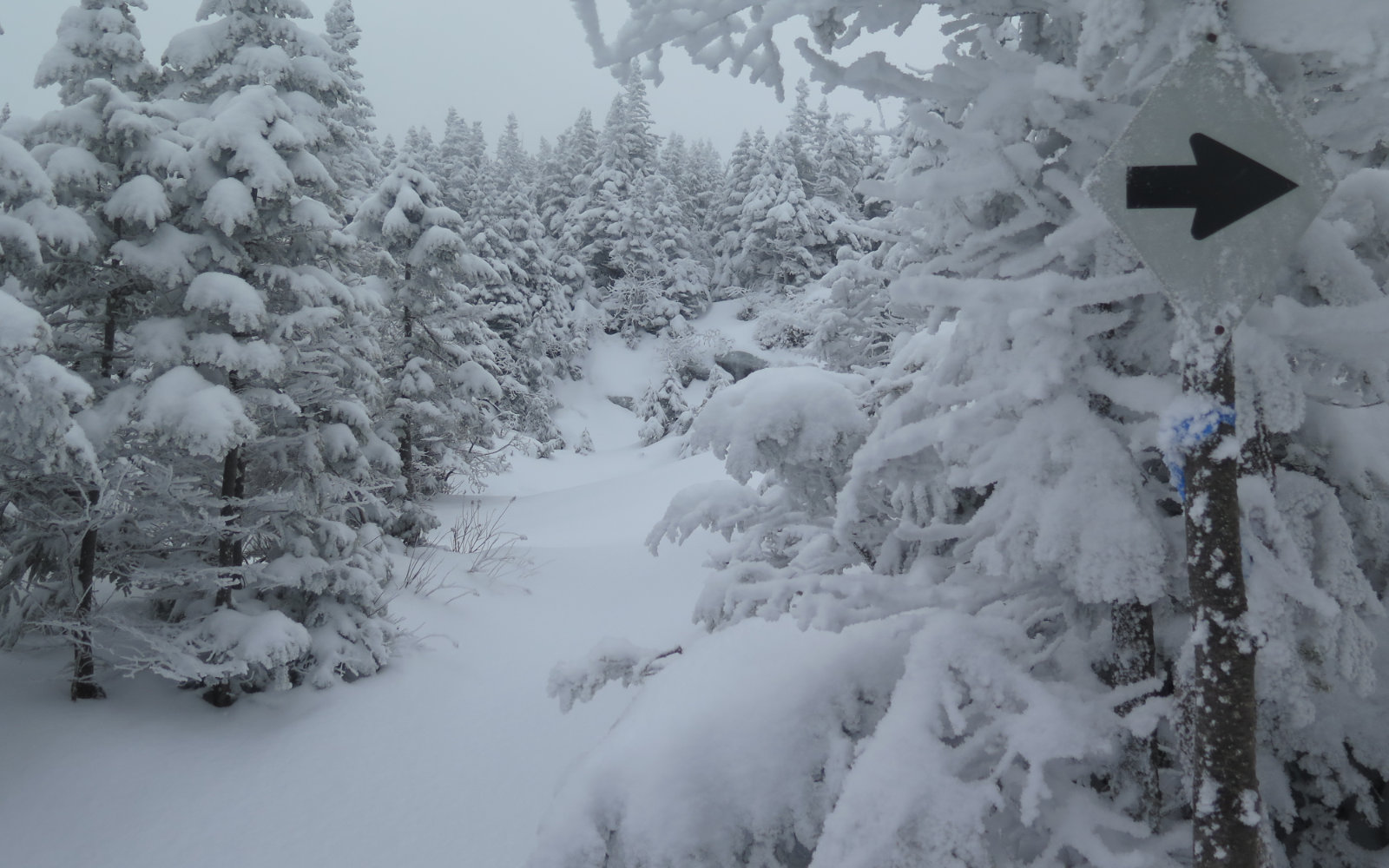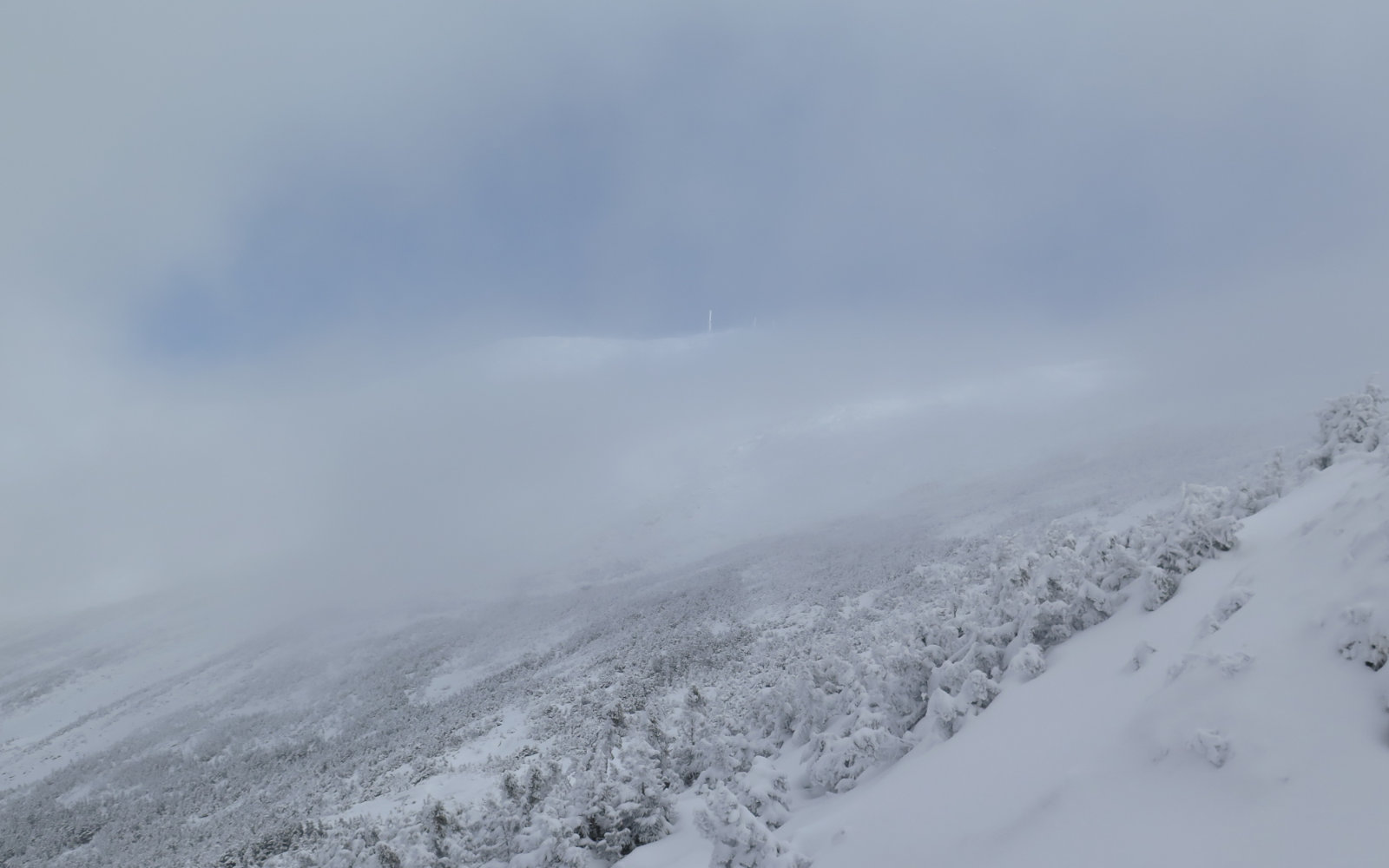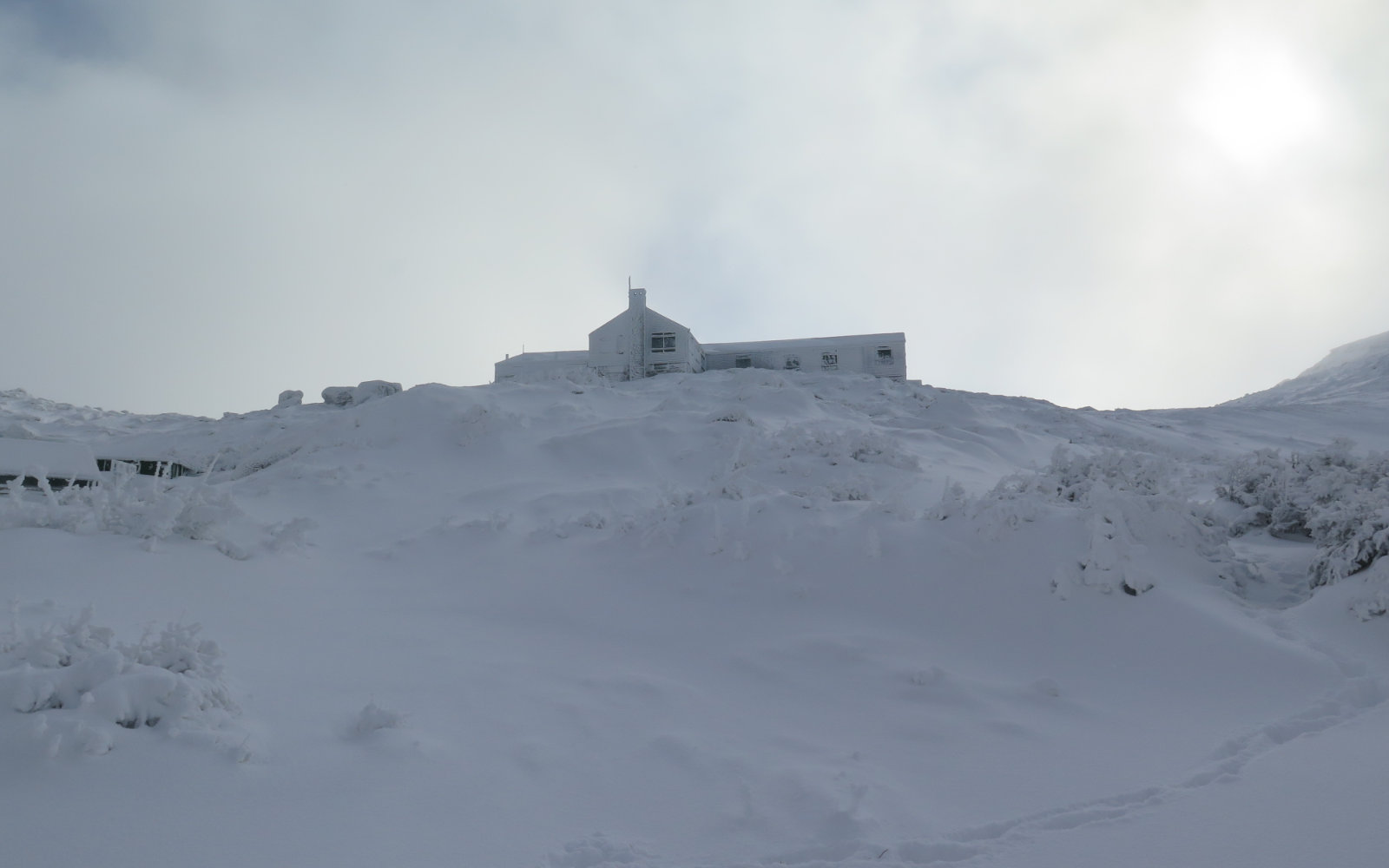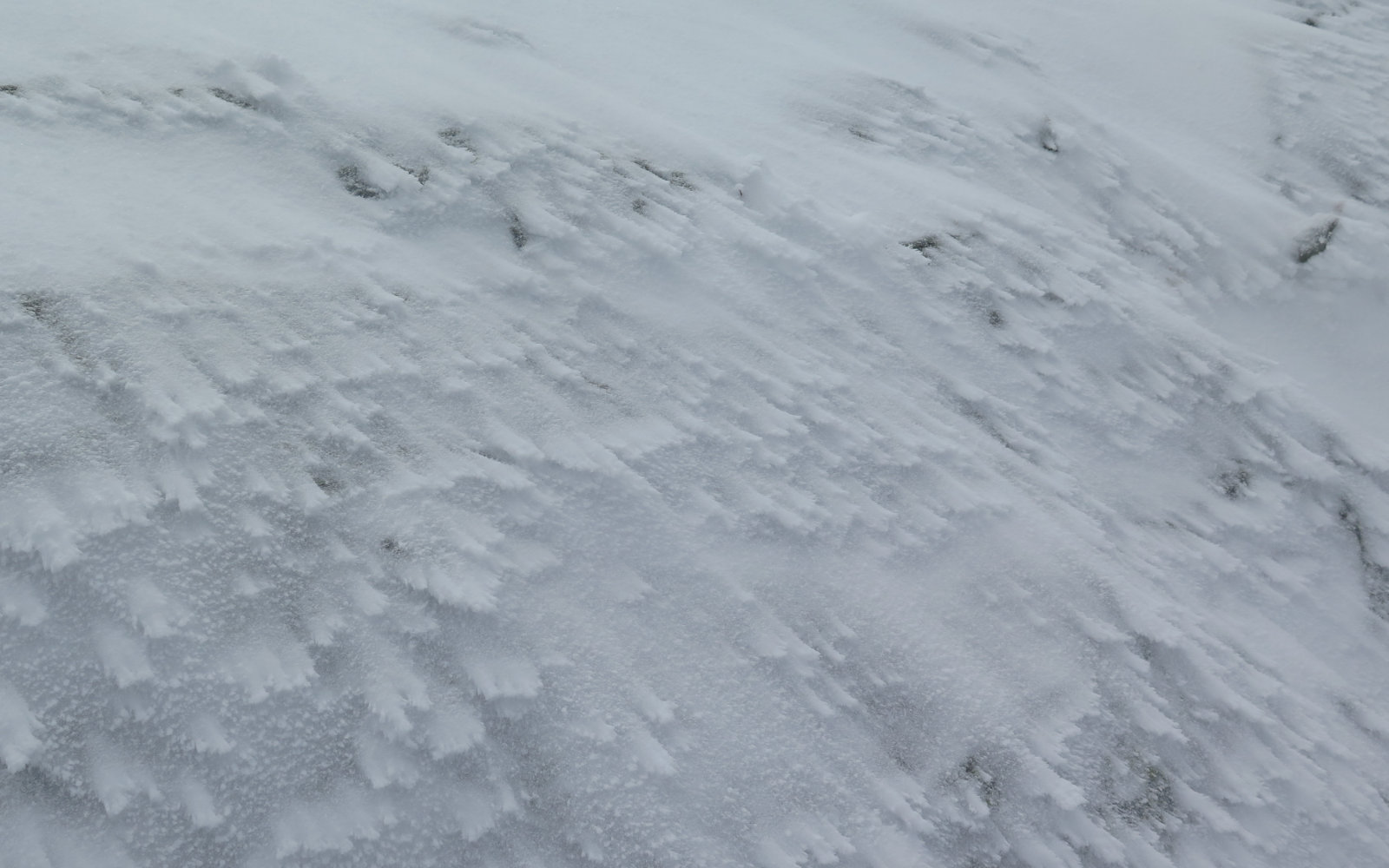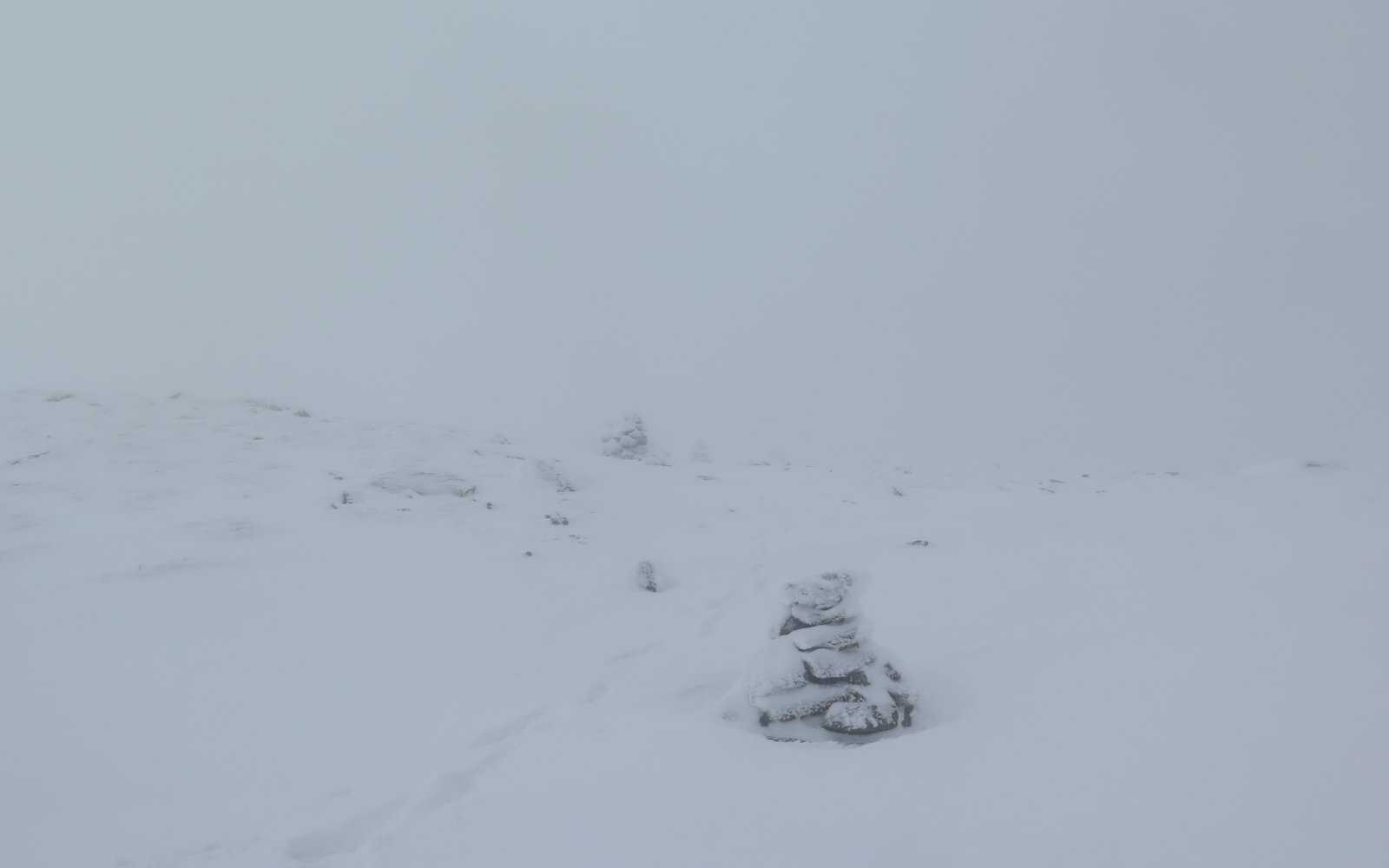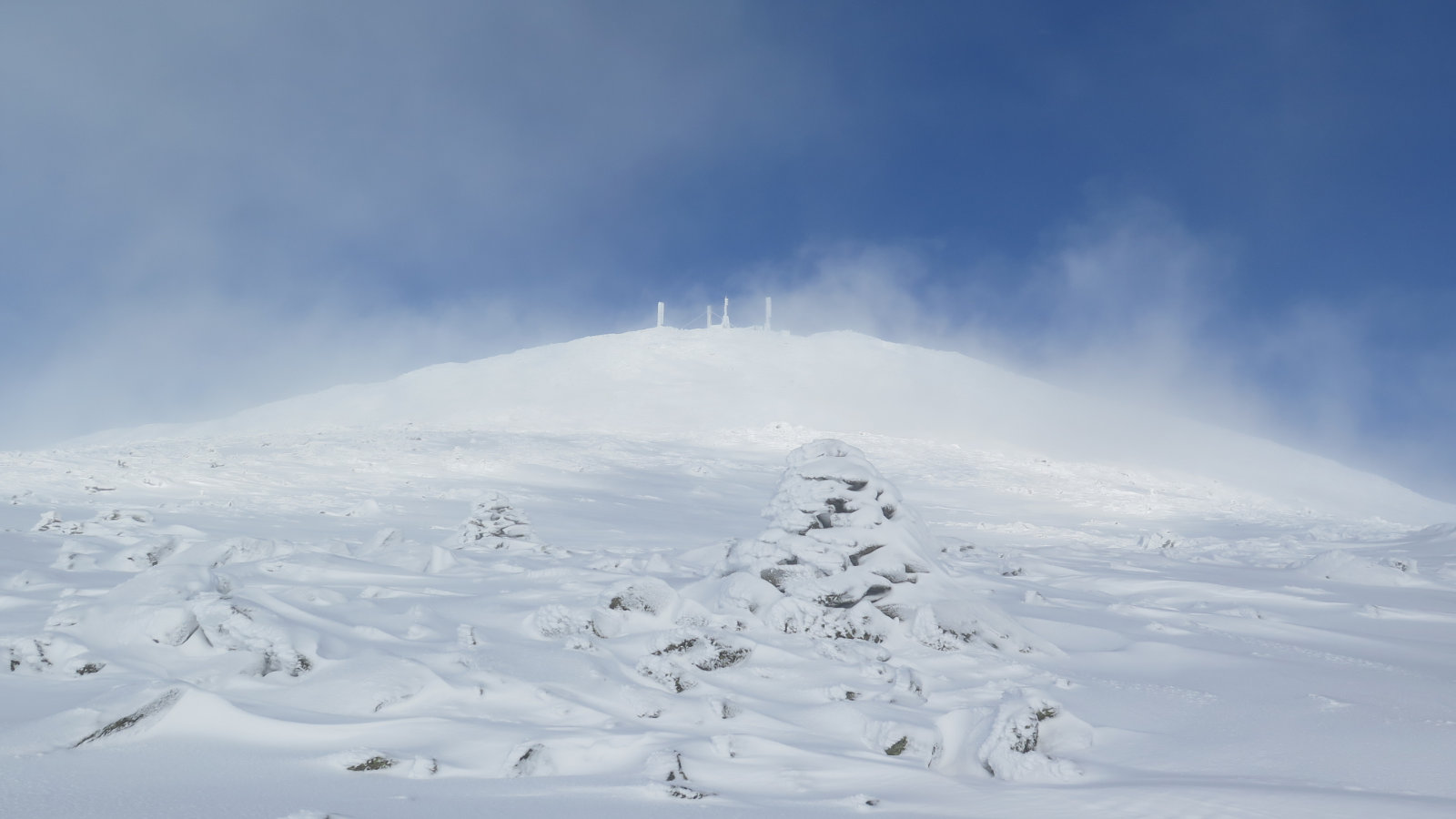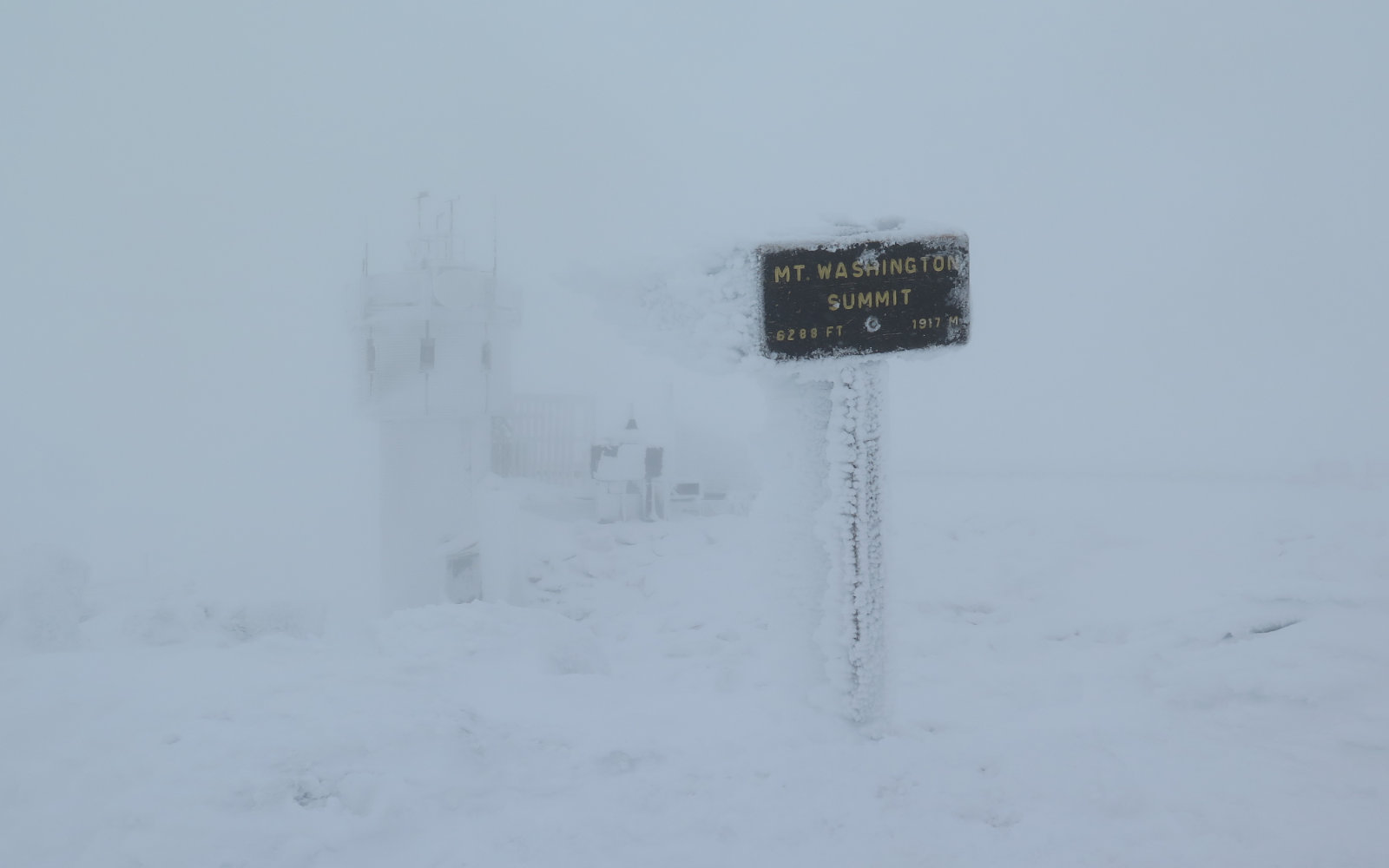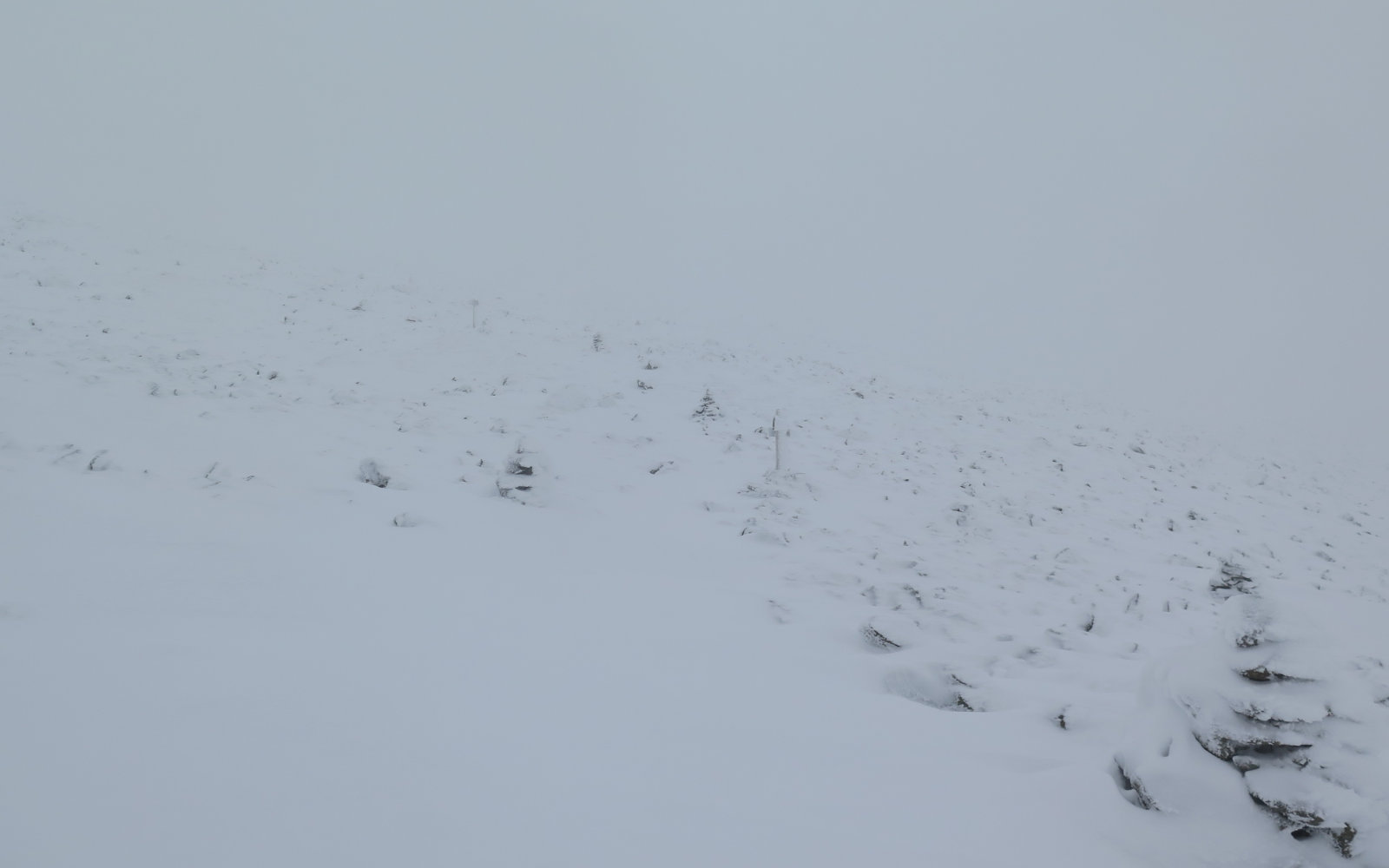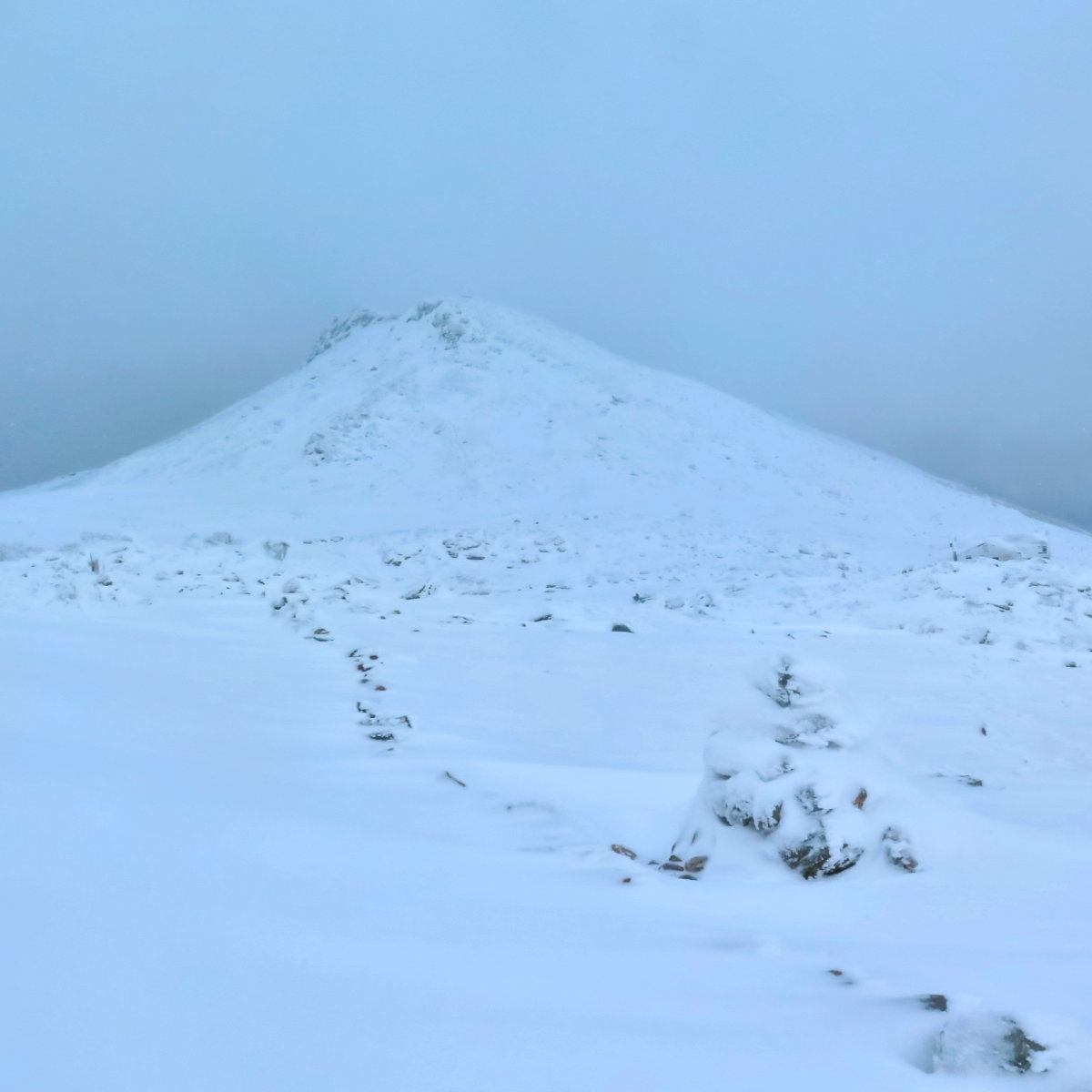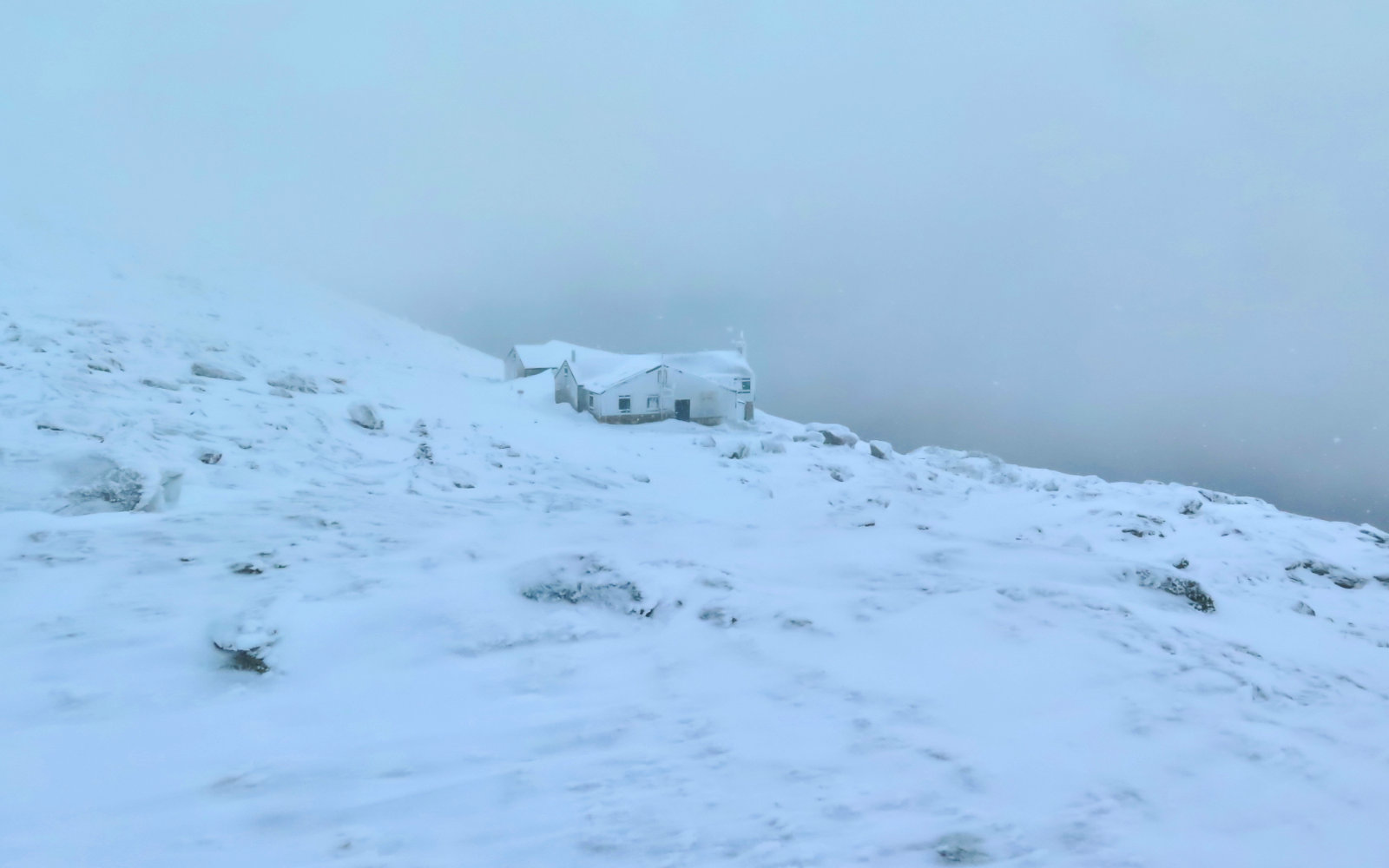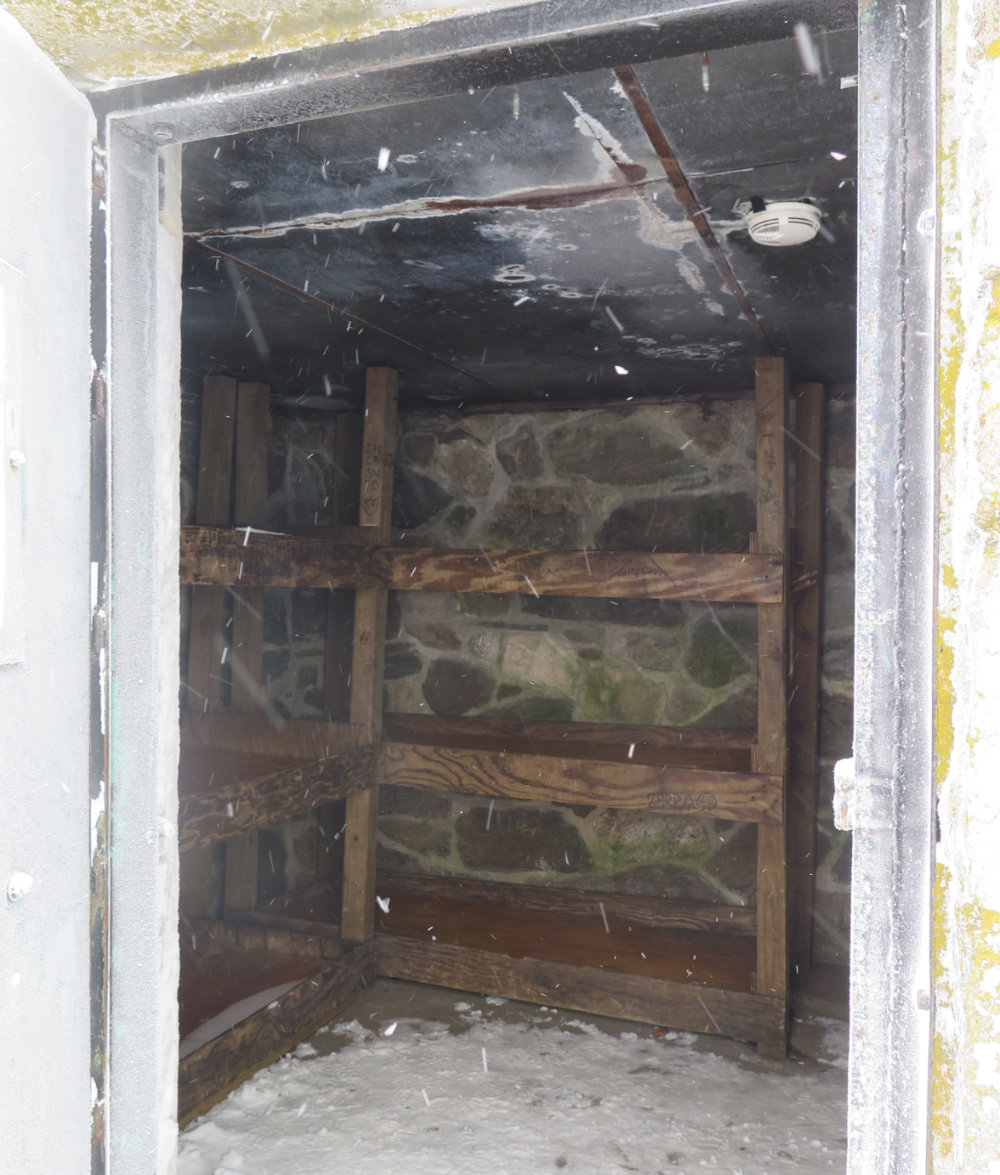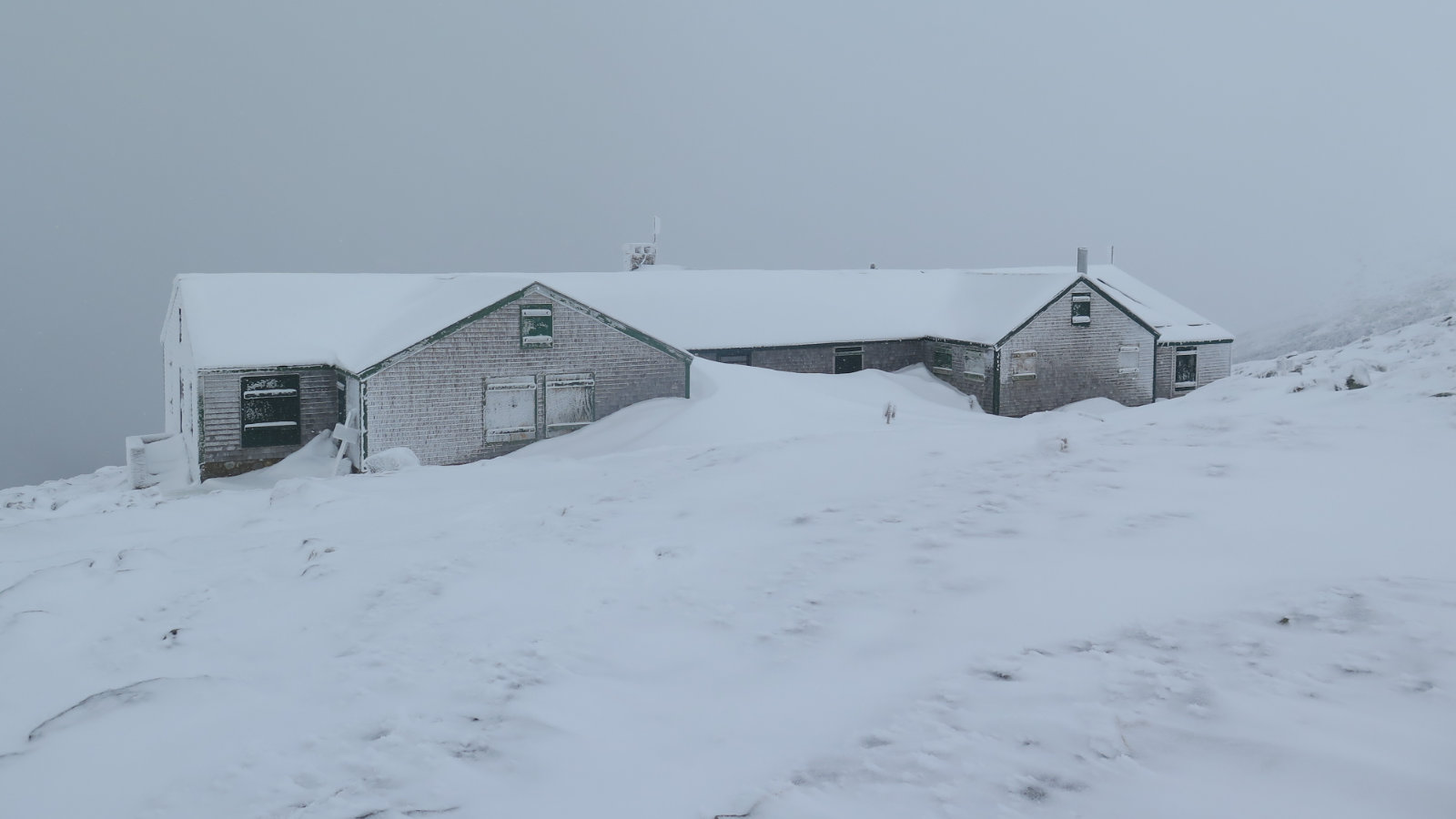 Nuts and Bolts: Parking at the Cog Railway is still $10. That being said, if you're hiking in these shortest days of the year, it could be totally worth it. I know it was for me. If you're done before 3PM, the station building should still be open, and they've got drinks, snacks, and bathrooms with warm, running water. The significance of that creature comfort can't be overstated. Beware on the drive out, the crown of the road on the big hill heading down can pull your vehicle toward the side if the plowing isn't down to the actual pavement. You'll build up more momentum than you'd prefer. Don't ask how I know.
Right now, the trail is "broken", but it's all very dry, very fluffy powder snow that hasn't for a moment become even slightly consolidated. It'll just slide out under your boot if you're not paying attention. And it'll do so even if you are paying attention. If you have the option to wear a more aggressive crampon, it'll probably do you well.
On my trip down, I saw several stretches where my footsteps, left only an hour earlier, were completely wiped away by the wind. With the forecasted high winds tonight, don't assume the trail will be there come morning, let alone this weekend. Adding insult to injury, there were snow squalls on the drive home. Some cairns are lower to the ground, and so may be obscured by drifting snow. If you're not experienced with above treeline travel, consider hiking a different mountain, or bring someone along who is. Mt Washington trail conditions can turn on a dime without notice. Visibility can be fine one moment, and zilch the next. Always have a backup plan. And a backup to the backup. (None of which should be "I got my cell phone. What could possibly go wrong?!")
The trailhead is behind the grey building with the railroad crossing sign on its side. Approach from the left, near the station building, and you'll see a driveway leading uphill and to the right. Blazes are blue on Ammonoosuc Ravine trail, and usually where you'd want them until you get past the upper cascades. Beyond that, there are a few pieces of blue surveyor's tape tied to odd tree branches, but painted blazes are quite a bit more scarce.
If you enjoy reading these posts, please subscribe — stay in the loop! Your email will only be used to alert you of new posts — typically 1-2 times per week. I will not use or share your email for any other purpose without your express permission.