Thoreau Falls. Crawford Notch, NH. 2021-08-10 (Tuesday.)
Via Ethan Pond, and Thoreau Falls Trails. Approximately 10.5 miles round-trip. (Includes the Ethan Pond Shelter spur.)
Temps were in the mid-80s for much of the day, cooling off by evening. Winds were nonexistent. Overcast with occasional sunny breaks throughout.
Trailhead: 1340. Thoreau Falls: 1730. Car: 2000.
A Tale of Two Trails?
Two years ago, around this same time, I semi-randomly ended up hiking around Zealand Falls, and then went out to Thoreau Falls. It was an enchanting day, one that I'll remember forever. One thing that stuck in my head was that I never got as far as the second half of the trail. It was a very lazy day, and while I got a lot done (just hiking the Zeacliff Trail was an arduous stretch in itself) at the same time, the day just wasn't long enough to fit in what was east of Thoreau Falls. 
Of course, when you're rehabbing an injury, the sections of trail that have tight contour intervals are precisely where you should head, right? No!
Naturally, I found myself at the trailhead. You can atone for a lot with athletic tape, ice, and foam rollers. 
On health and hiking…
A quick sidebar, because I want to point out: listen to your body! I was probably a bit on the edge here, but at the same time, turning on my heel and heading back to the car was always an option. Live for the moment, but don't forget that the piper will always be paid, sooner or later. Screw this one up, and the fee will be a pound of flesh, if you're lucky, so be smart. In my case, a lot of hydration, rest the next day, and no small amount of stretching was the cost of my exuberance.
The AMC book is fairly accurate in describing the trail. Between it and looking carefully at the topo maps, I wasn't left feeling unprepared for what I saw and felt once my boots hit the ground. The round trip is still about ten miles, and there's no small amount of elevation gain. But it's a fun hike, if a bit spirited at times. Oddly, it's very much on the AT — that much was blatantly obvious by all the thru-hikers I encountered throughout the afternoon. And yet, many times, I felt as isolated as when I was standing at Stillwater Junction. 
And so it began…
Starting out, there was much elevation gain up some log stairs. The logging history of these woods was plain to see in terms of the overall smoothness and width of the track. I could easily see how the timber barons once plundered this area for all it was worth. Those days are in the past, and thankfully, the plunder transformed itself into tourist dollars from people who want to see these trees intact. I'm OK with that.
It was strenuous going, and at times felt like it was taking forever. I got to the top of the Kedron Flume Trail, which was the first landmark that I was nearing the top. Memories of that unexpected trip gave me a little laugh… everything ended fine, but wow, what a finish to the day. Then I came to the Willey Range Trail, and all kinds of memories of time spent over there. Such fun outings on a very classic trio of peaks. 
Getting over that hump…
Finally, the grades eased, and I was on the flatter bit. Mileage came easier, although I was constantly stopping. In very stark contrast to what I saw on the hike up, passing through fairly open forest, I was now seeing a more closed-in forest, but the footpath was lined with asters, almost to the exclusion of everything else. Sure, there were bunchberries, occasional blue bead lilies, and an odd dewdrop here and there. But the show truly belonged to those asters, out in force and looking good. 
The way going was on the boggy side, and to that end, I crossed over a lot of bog bridge. There was moss in abundance in places. Oddly, I never found any Indian pipes. Weird. And then it was rocky and rooty for a spell, which slowed things down no small amount. With the plantar fasciitis, it wasn't particularly comfortable, and I thanked myself for swapping out my insoles for PF-specific ones.
And then, just to the north, I saw the forest open up a little. I'm still trying to figure out how I did it, but I totally missed the signpost for the shelter on my way to the falls. Looking back, there was a slight bend and some vegetation, but I could also have been lost in thought as sometimes happens. Beyond that signpost, though, was Ethan Pond (named for Ethan Allen Crawford, of obvious fame). The trail was close enough, and the trees thin enough, that here and there, I could snatch enticing views. 
Meeting new friends…
Carrying on, next stop was Thoreau Falls, and it was still quite a bit distant. I fell into a rhythm, hiking along, occasionally stopping to view some particularly stunning flowers. It wasn't particularly smooth, and there was no shortage of muddy bits. But hey, the forest was working its magic. It had been ages since I was on the AT, and here I was. I passed a few thru-hikers along the way. One couple in particular, from Connecticut, were stopped, she with a nasty hole in her shoe where the seam blew out. 
I keep a few repair items in my pack, so when the question "got any duct tape" was asked, my reply was "probably". And of course, that was the one thing I didn't have, but I did have some Gear Tape, which was the next best thing. They shared some stories of their trip up from Springer Mountain, which was everything I needed to hear. We sat there for probably about 20 minutes, just chewing the fat. I wasn't making mileage, but at the same time, you meet the nicest people on the trail.
Moving along, I passed the junction for Shoal Pond trail. I was getting close. The sun was shuffling along, and while it wasn't terribly late, you know that the day isn't young anymore. I was energized by nearing the falls, and even more so as I got to the wooden bridge over the North Fork of the East Branch of the Pemi. Yeah, say that three times fast. Walk carefully over that bridge, because it's getting a bit old. Sturdy, but still showing its years. 
The prize! The falls!
And then I was heading down that very quick tenth of a mile to the falls itself. The sound of the water was ever present, the view ahead opening wider. Rock ledges, water washing over, the unparalleled vista looking out to the Bonds. Wow! I noodled around a bit, looking out at the long view, looking around at the deposits made by higher water. There were small pockets of alluvium here and there, stones deposited in order according to their size by the passing flow. 
I spied a couple of shallow potholes with some alluvium in them, and if I'd looked a bit more, I'd probably have found a few more. It's always fascinating to see how water and a little grit, coupled with a lot of time, can carve out the hardest of rock. There's one that's above the water's flow, and if that doesn't speak to just how much that river can rage, I don't know what does. It's pretty cool how much the landscape can talk, if you only just look and listen. 
Turning back for home…
And then it was time to turn back. I didn't miss the signpost for the shelter, and wow, that detour was well worth it. The shelter itself is fairly standard, although it's probably due for a little attention. The pond? Magnificent. Just… magnificent. Along the way, I spied more than a few stealth campsites. I made mental notes. Who knows, maybe when it's my turn to hike the AT, this'll come in handy. 
I drove home quite sore, but the happiness of the day pushed that to the background. Between last week and this, I got two more trails knocked off my redline list, which was nice. It was a lot of mileage, and maybe a small bit more than I should have, or perhaps on less strenuous terrain. It certainly wasn't hiking up Washington or Adams, nor was it as forgiving as Waumbek. But it was on the AT, and that was huge and restorative. It was everything I needed. 
As always, stay safe out there.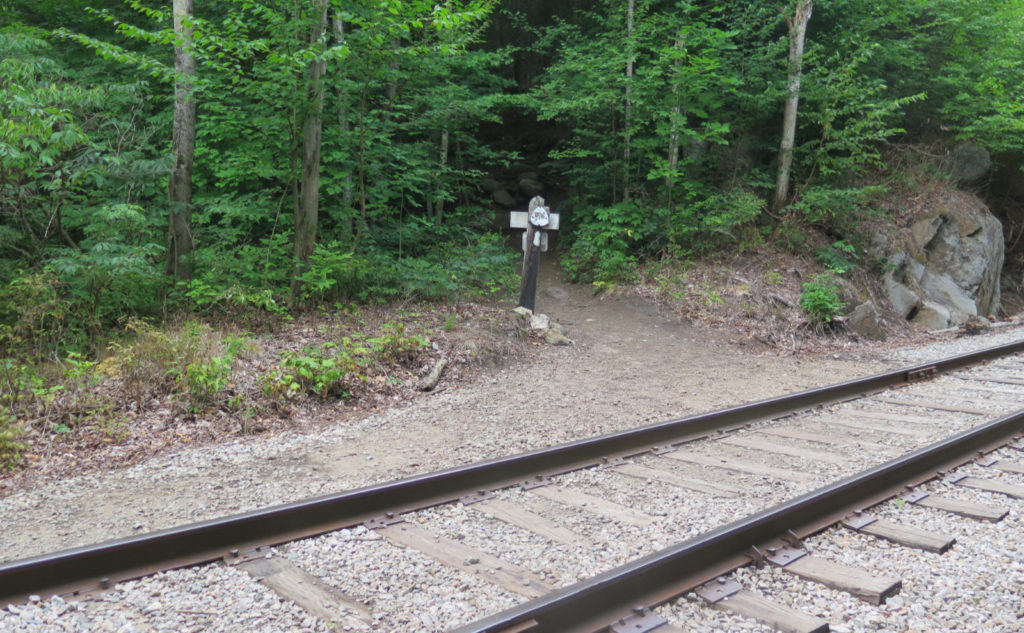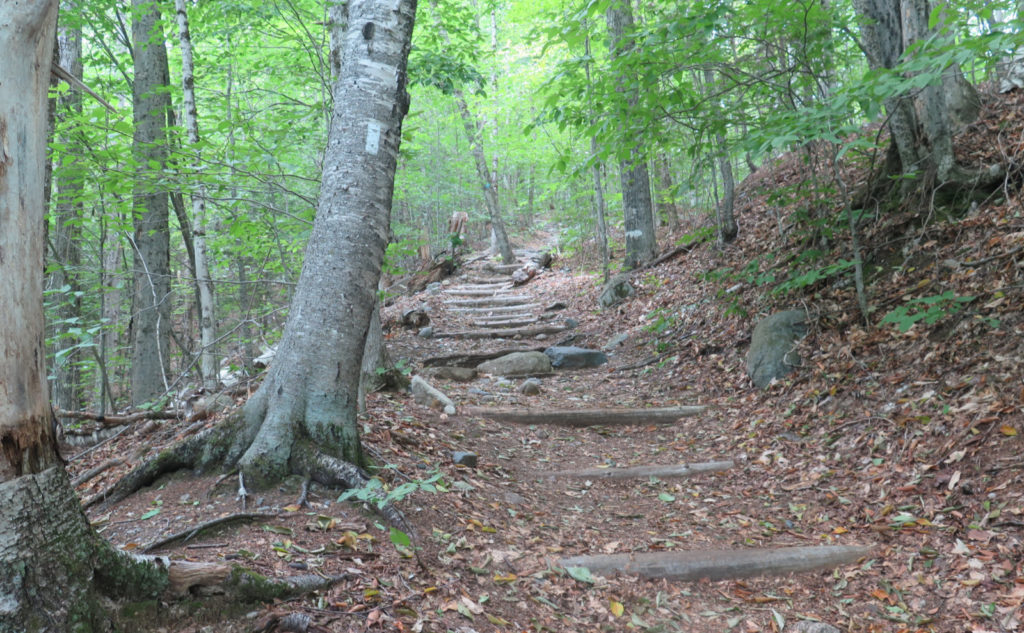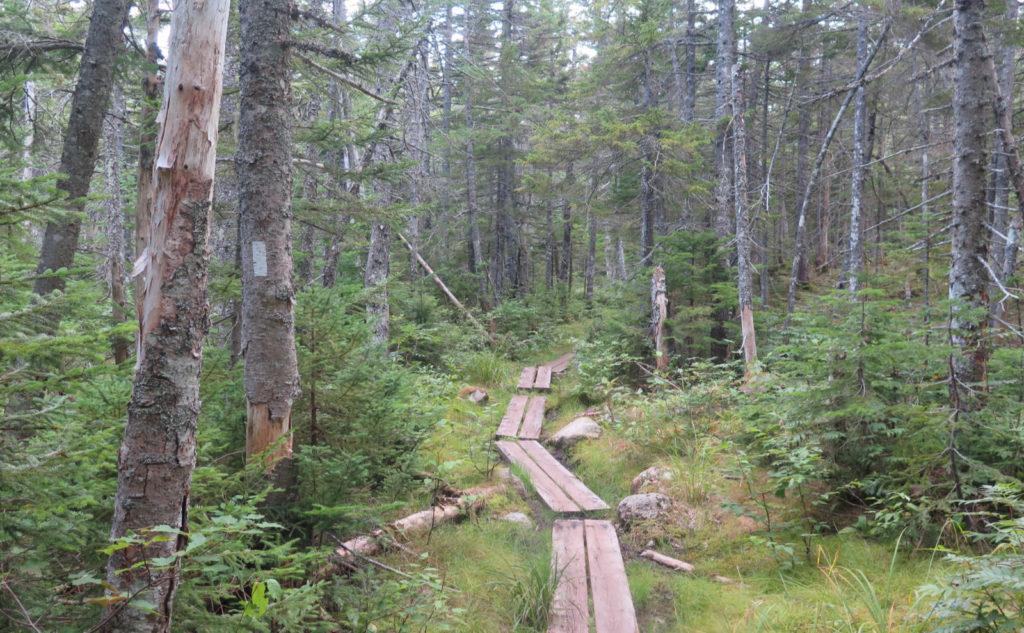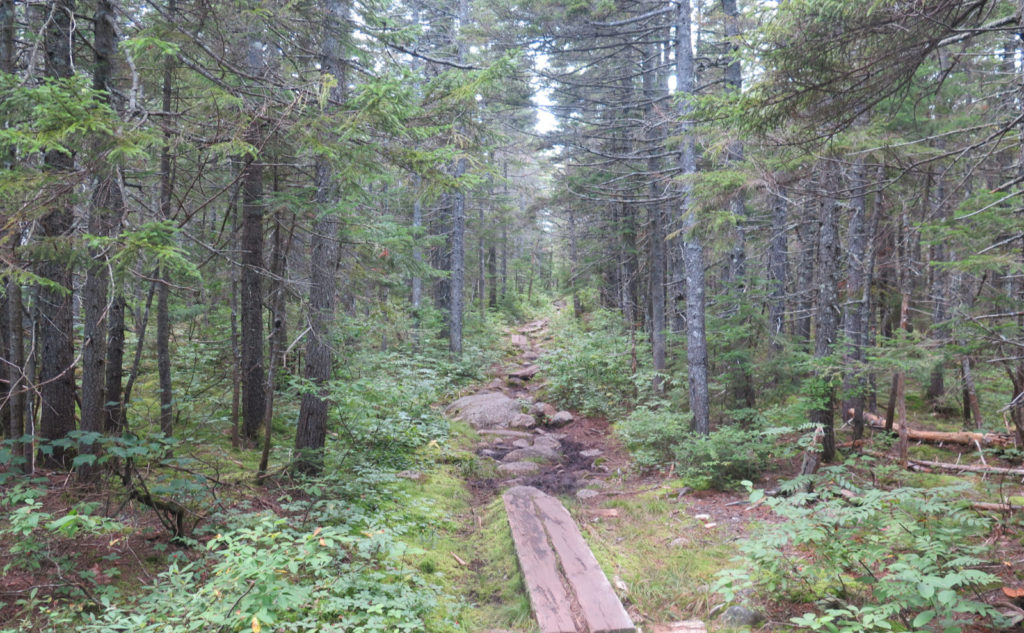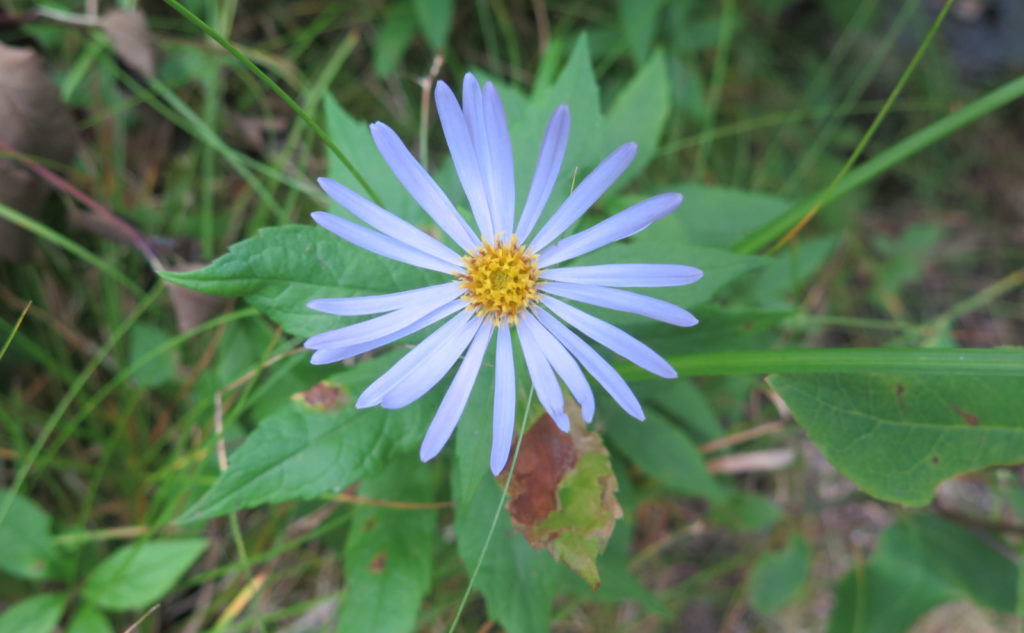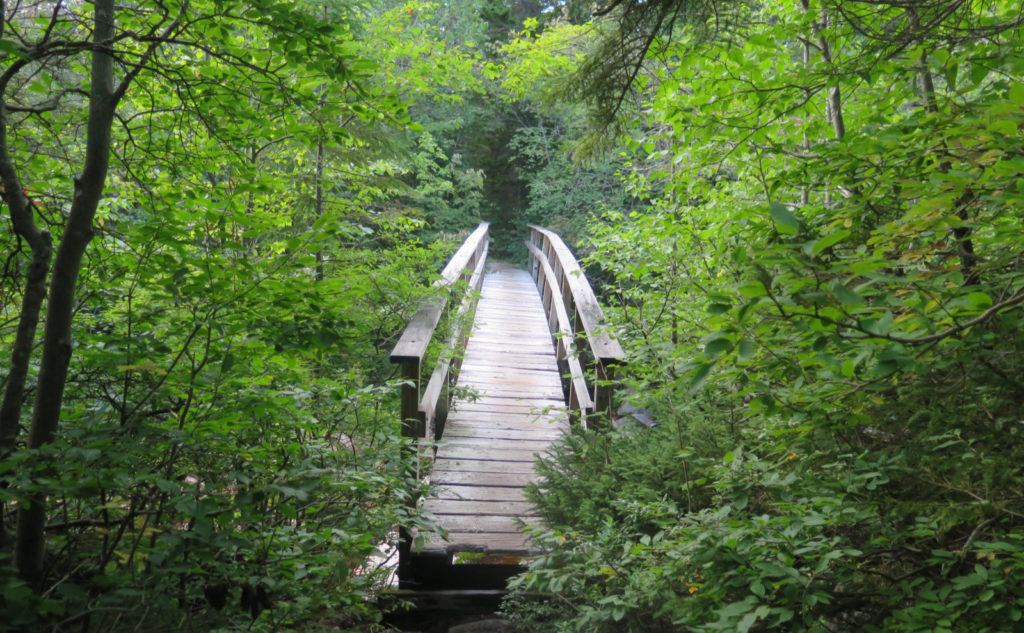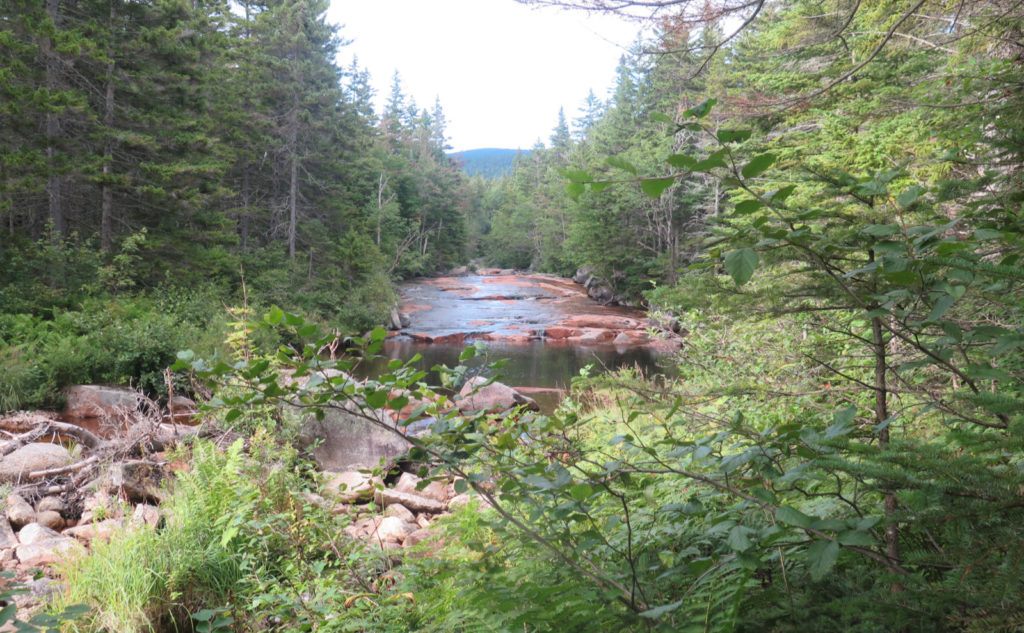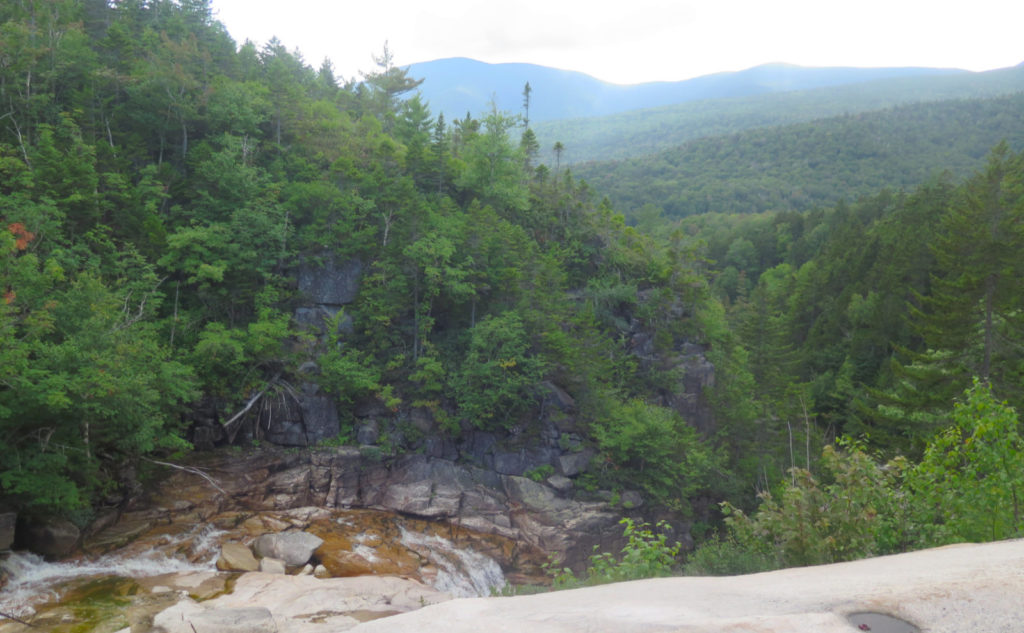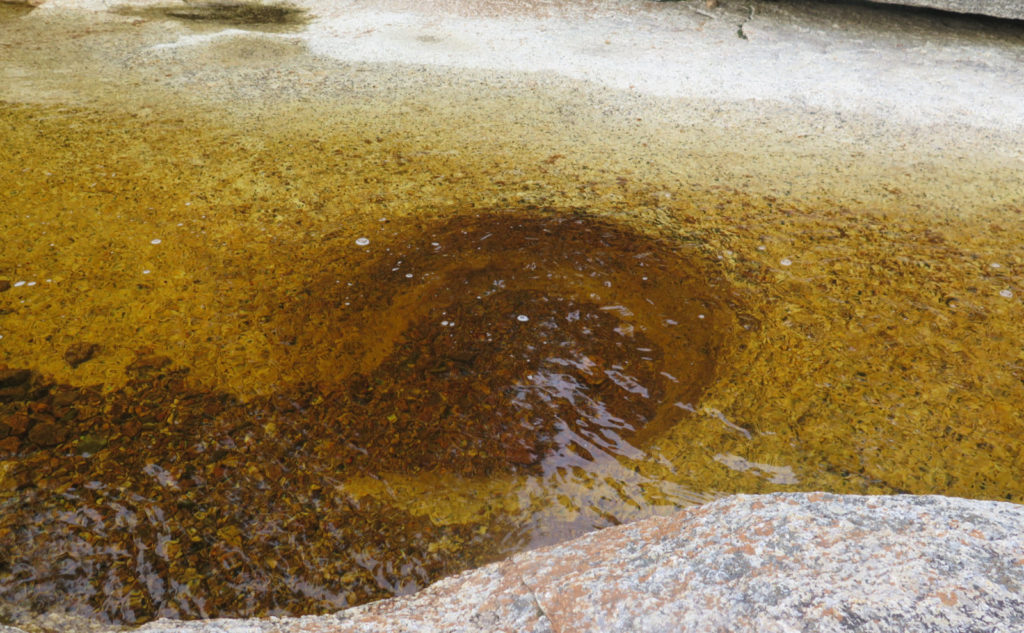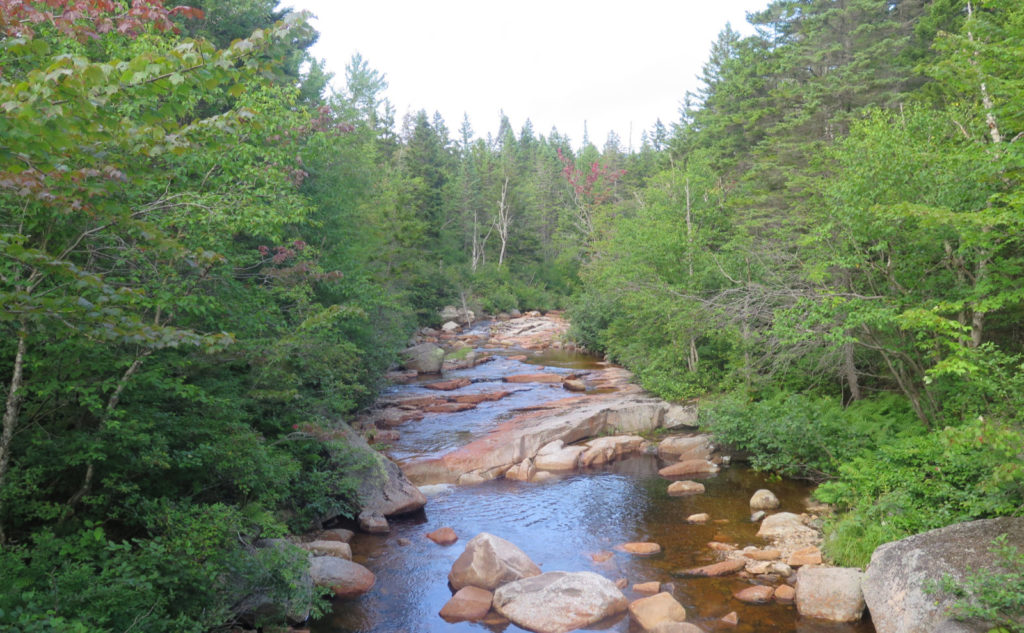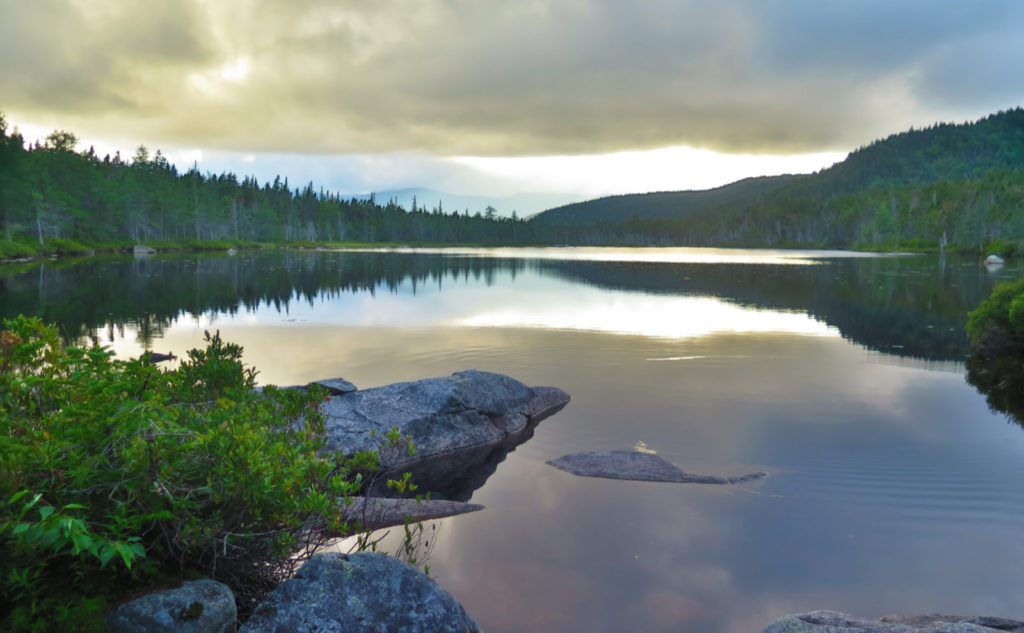 Nuts and Bolts: Easiest from the south is to head up to Twin Mountain, then turn onto route 302 and follow to Crawford Notch. Drive past the AMC Highland Center, pass the Willey House, and shortly after that is the trailhead. Note that for completeness sake, you might park by the roadside and hike up the driveway. The kiosk is at the pavement's end, although there's a white (NHDP) trail sign by the side of 302. (Across the road is a brown metal Appalachian Trail sign, at the trailhead for Webster Cliff Trail.)
The "upper trailhead" is at the top of the driveway. Note that the Ripley Falls trail peels off pretty soon, so watch the signs. Overall, if you're heading up fast enough to break a serious sweat, you're probably on the right trail. Blazes are white, as you're on the Appalachian Trail until you break off for Thoreau Falls. This isn't the most blazed section of the AT, but it's pretty easy to figure it out.
Safety Warning! Thoreau Falls is magnificent, but can be dangerous without much warning. The drop is very significant, and the consequences of being swept over the edge are grave. It's easy to walk closer to the point of no return than one should. Wet rock is slippery, and moving water pushes harder than you'd think.
Similarly, if you're planning on continuing south on the Thoreau Falls trail, you'll have to cross the river, and clamber over some rocks with sketchy footing. In high water, a safer crossing might be found upstream. It may also be more prudent to turn back and return another day, when conditions are safer.
If you enjoy reading these posts, please subscribe — stay in the loop! Your email will only be used to alert you of new posts — typically 1-2 times per week. I will not use or share your email for any other purpose without your express permission. And feel free to share via social media using the buttons below. 
Find me in the mountains, on this blog, or on Twitter: @Protean_Hiker