A trifecta of summits
Mt Tom, Mt Field, Mt Willey, Crawford Notch, NH. 2018-04-28. (Saturday)
Via Mt Willard Trail, Avalon Trail, A-Z Trail, Willey Range Trail, Kedron Flume Trail. Approx 8.4 miles.
50 dF +/- at the trailhead, 58 dF at Mt Field summit, with negligible winds.
Mix of clouds and sun. 
Trailhead: 1015; Mt Tom Summit: 1240; Mt Field Summit: 1410; Mt Willey Summit; 1530; back at car: 1930. (Approx. 9.25 hours.)
"In the future, I'll remember to…" 
I'd had a late start to the morning, not arriving at the trailhead until mid-morning. At the first major water crossing, I had a "thought provoking experience" sufficient to include "so, what are you going to do on the way back?" I should have known then. But I made my way down the trail, and all seemed good. Before long, I was on the summit of Mt Tom. The weather was great, even though the snow on the trail was awful. Spring conditions, wet "mashed potatoes" for snow cover, but I made decent headway.
The three summits were treed-in, but there were outlooks here and there. The views were spectacular; somewhat fogged-in to start, but as the sun rose and burned that fog off, the day just kept getting better.
Finally, Willey. I'd kept bumping into a small group of women and their son, and they were friendly, so we kept conversation going. At Willey, we enjoyed a short time eating snacks, and feeding a grey jay that was happy taking food from our hands. Wow! But the question remained: how to get back. Going back the way we came offered the chance to bag Avalon, but it meant the sketchy water crossings would be revisited. Oh wait! we can hike the Kedron Flume trail to 302, and then hike up the road to the AMC Highland Center. OK, this is it, we're doing it.
On the charity of others, #1:
Three in the group of five didn't have Microspikes. It was that kind of day out where the snow was slippery beyond words, and the shady spots had ice galore. So besides the fact that these people were crazy nice and fun with conversation, I wasn't going to ditch them, because the way down was going to be interesting, no matter how they sliced it. Unquestionably, there was no small amount of work to get where they were, but that also meant the reciprocal.
I've spent a lot of time thinking about cognitive traps, logical fallacies, and other pitfalls in critical decision making. So their safety on the way down was on my mind. I was wearing crampons, so my footing was assured; hell, I could have run down the mountain had I wanted to. But to me, it wasn't a question as to whether to leave them in my dust, and this was even after I ran some mental risk assessment scenarios. A call to a rescue agency wasn't in the cards if I had a say. I mean, that's just silly.
It was slow going. The ladders were iced over and so nearly entirely useless. Many places, mild bushwhacking was needed to get past an icy section. But it was steady going — if not a bit treacherous in places. By around 1900, I was starting to get antsy; we had perhaps three headlamps between us. (I was, as always, loaded for bear.) Mental scenarios started to take in needs for lighting the way and how I'd attack that problem. We did get past Kedron Flume much easier than I'd have guessed, which was nice. And at last, the woman scouting the way shouted that dry ground was ahead, and then the trail signs that showed we were near the end. Finally, we were at the Crawford State Park hut. And it was still (barely) light out. At least one of my mental scenarios didn't have to be put into action. It was a lot of inventiveness to get there, but we were safe.
On the charity of others, #2: 
On the road, walking back to the Highland Center, a trail angel stopped and gave us all a lift. It was cramped in her car, but we all fit. She was on Twin Mountain Fire, well versed in hiking, and so saw us, and recognized what needed to be done. "It would have been a long walk back" were her words. But it was nice seeing someone else who was as adamant that people have a good time in life, and was charitable with her time and resources. Awesome.
So it was a "flawed" day out — things weren't perfect. But then again, if you think about fun, it's a rare "garden variety" party that gets remembered, even though they're massive fun. The trip that has a small bit that goes somewhat sideways? Maybe not as fun in the moment, but years later, you remember it, and think what a good time you had. And really, that was it for me. Yeah, there were parts of the trail that sucked. Icy, wet, slippery leaves, whatever. But the company was great, and for all their being upbeat, it kept things manageable.
I've noticed that some people tend to think they're unable to bring something to the table. But as far as I'm concerned, it's all about attitude. And if someone has a good attitude, I'm happy to tramp around almost anywhere outside with them. And that was exactly what we had today. Maybe suboptimal trail conditions, but a lot of good attitude.
I hadn't quite planned out the day in terms of reading up on the Kedron Flume trail, and next time, I really will be doing more of this. I have a sense that had I known, we'd probably have gone back via Mt Avalon, and faced the water crossing. In hindsight, it was the lesser of two evils, and one that was all of around an easy downhill hour's hike from the car. But in terms of what you get out of a given "safe" misadventure, this one wasn't bad. It was a hard day, but despite the challenges, I think I'll be looking back at this one favorably.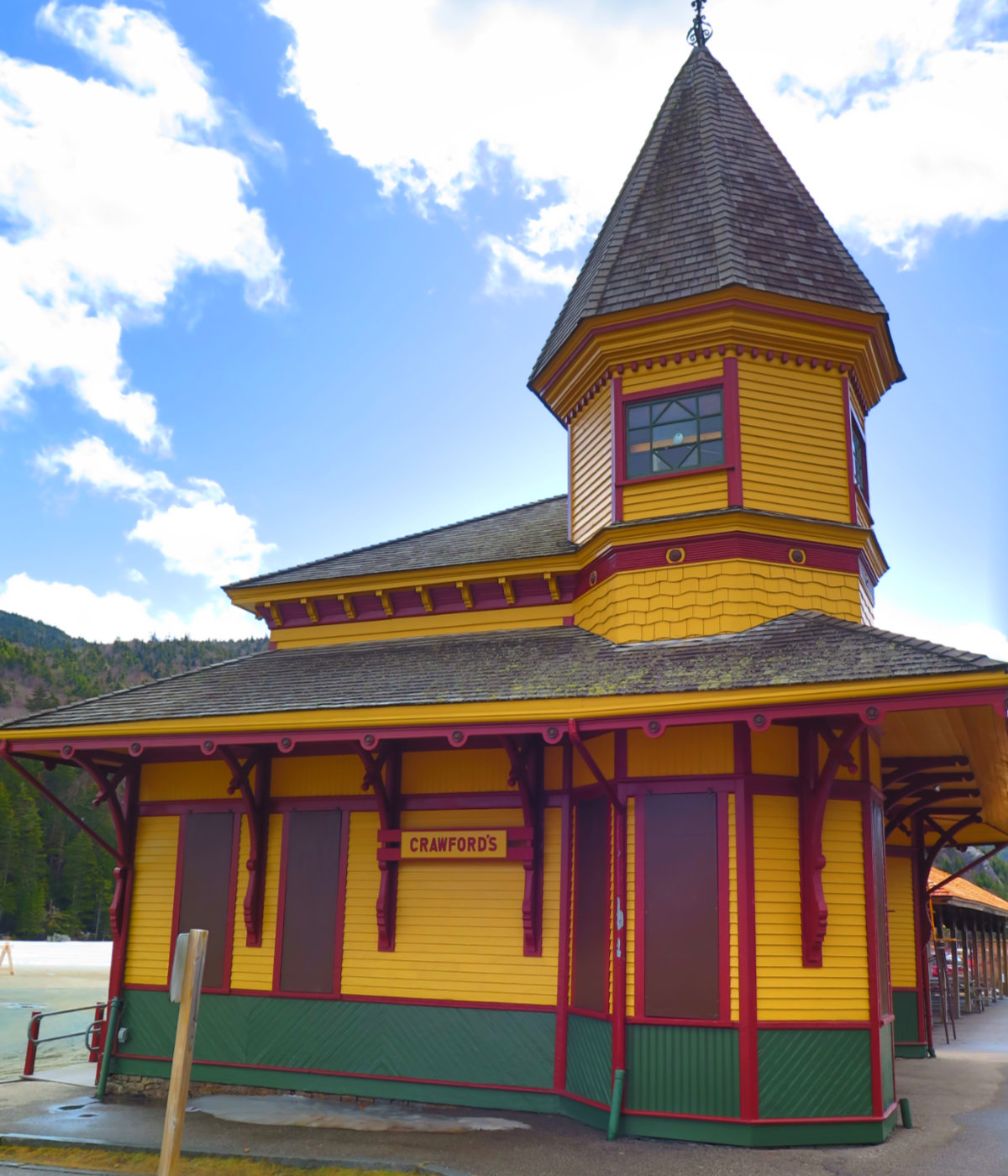 The trailhead isn't necessarily obvious: start out near the Crawford Notch train station. You'll see the sign from there.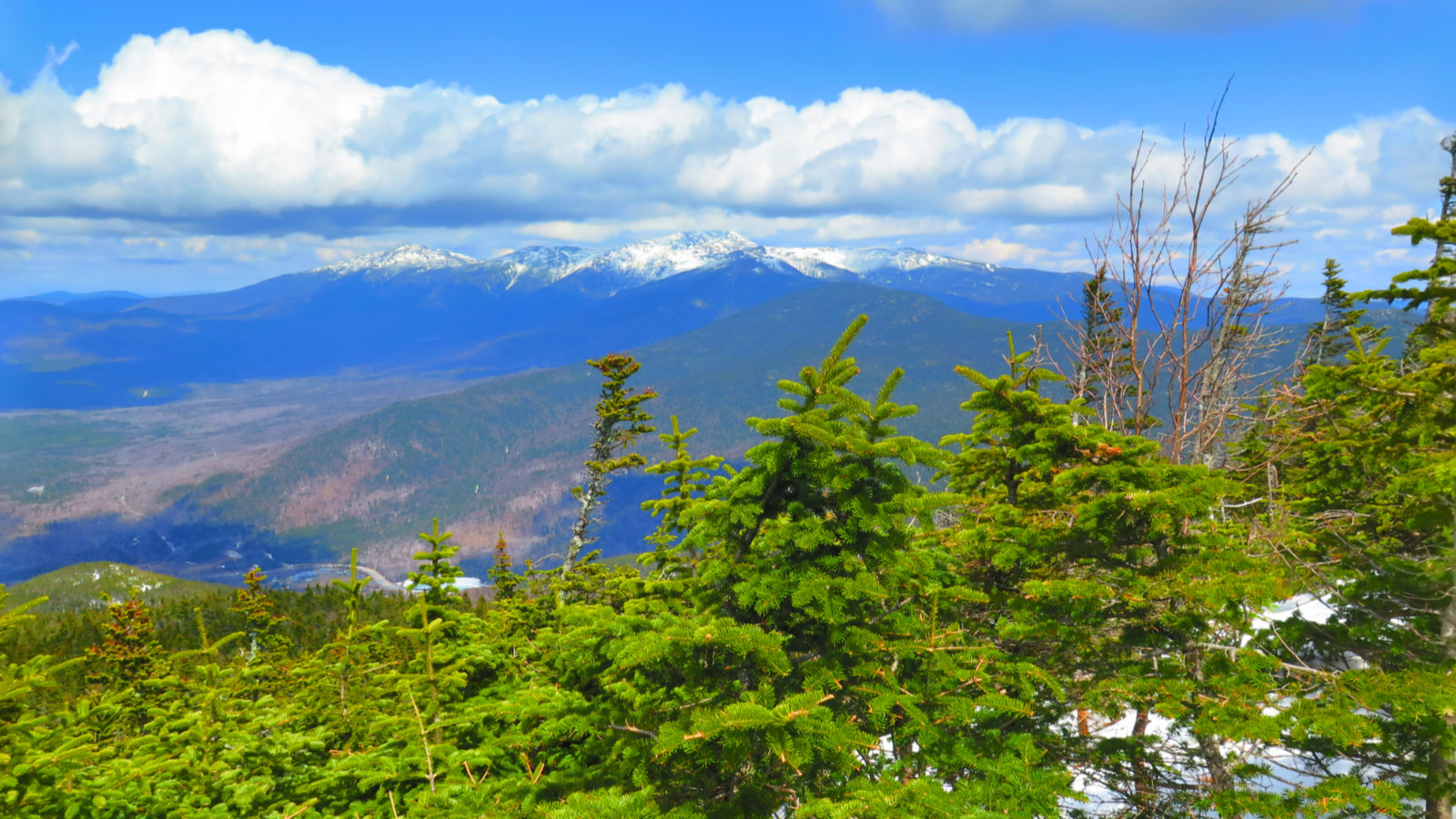 If it's any measure of the weather, you could see "the rockpile" from the summit.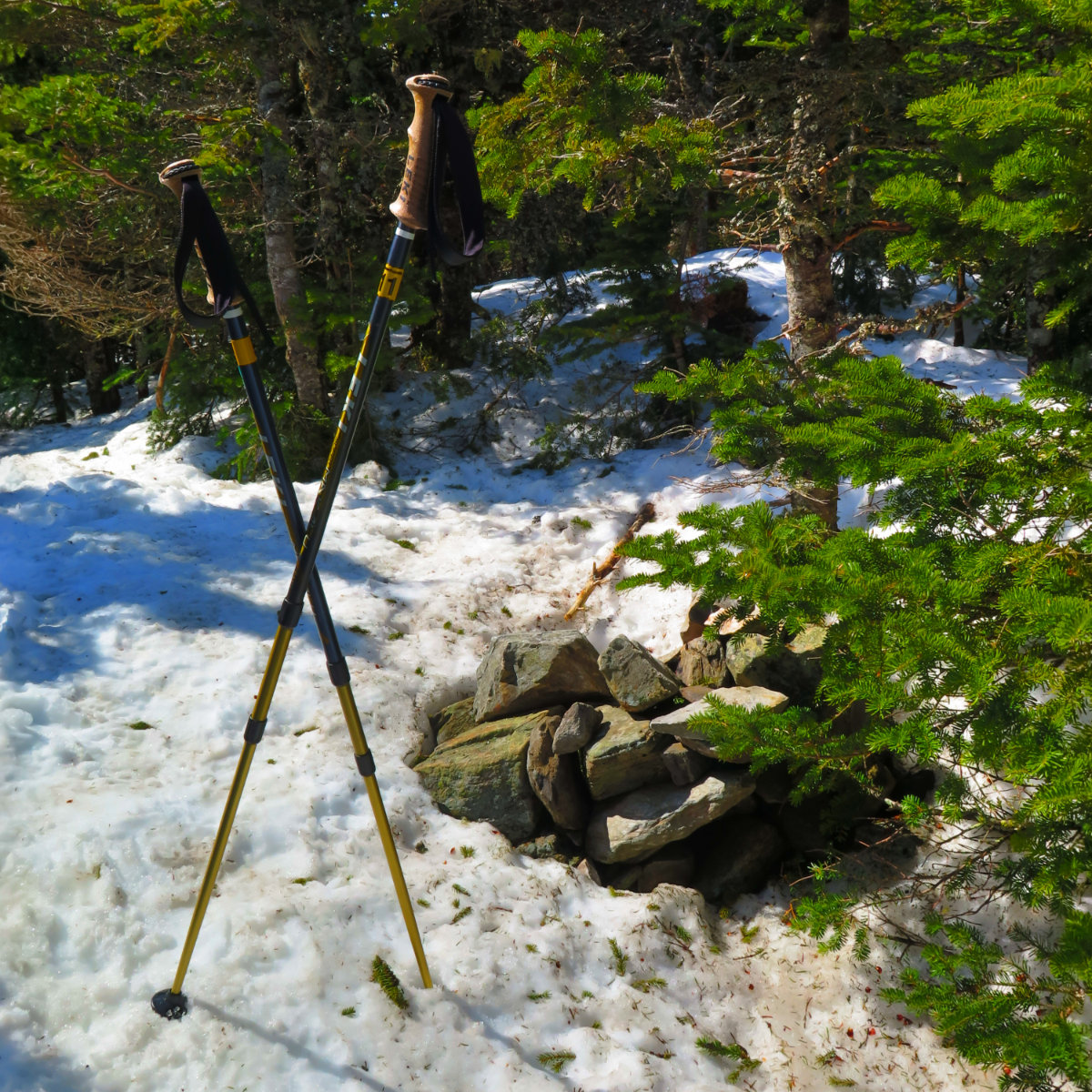 A tiny summit cairn on Willey — that was about it, except for a Grey Jay that was happy eating food from out hands.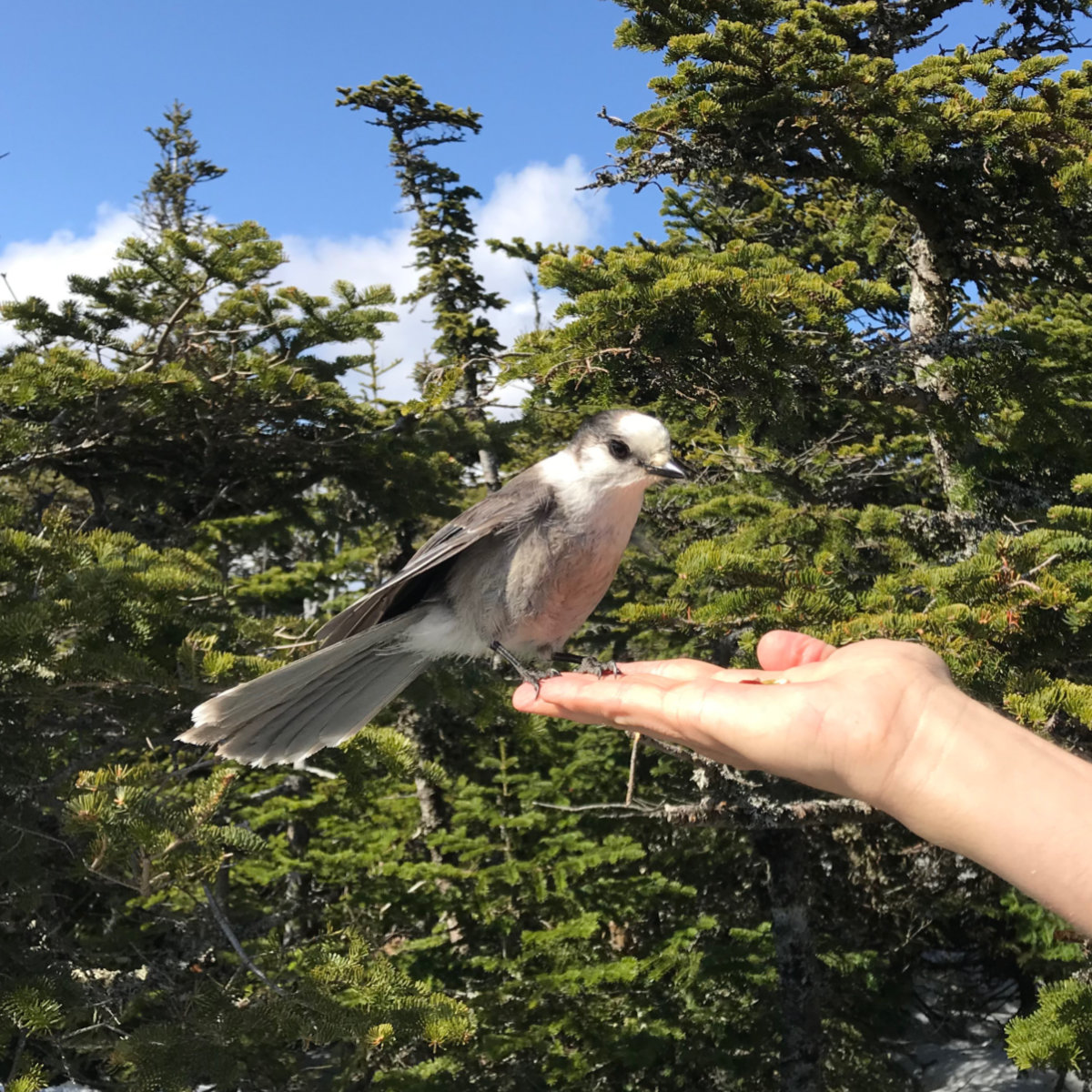 …and there he is! Don't ever equate "bird brains" with low intelligence, because this guy knew how to get a full belly.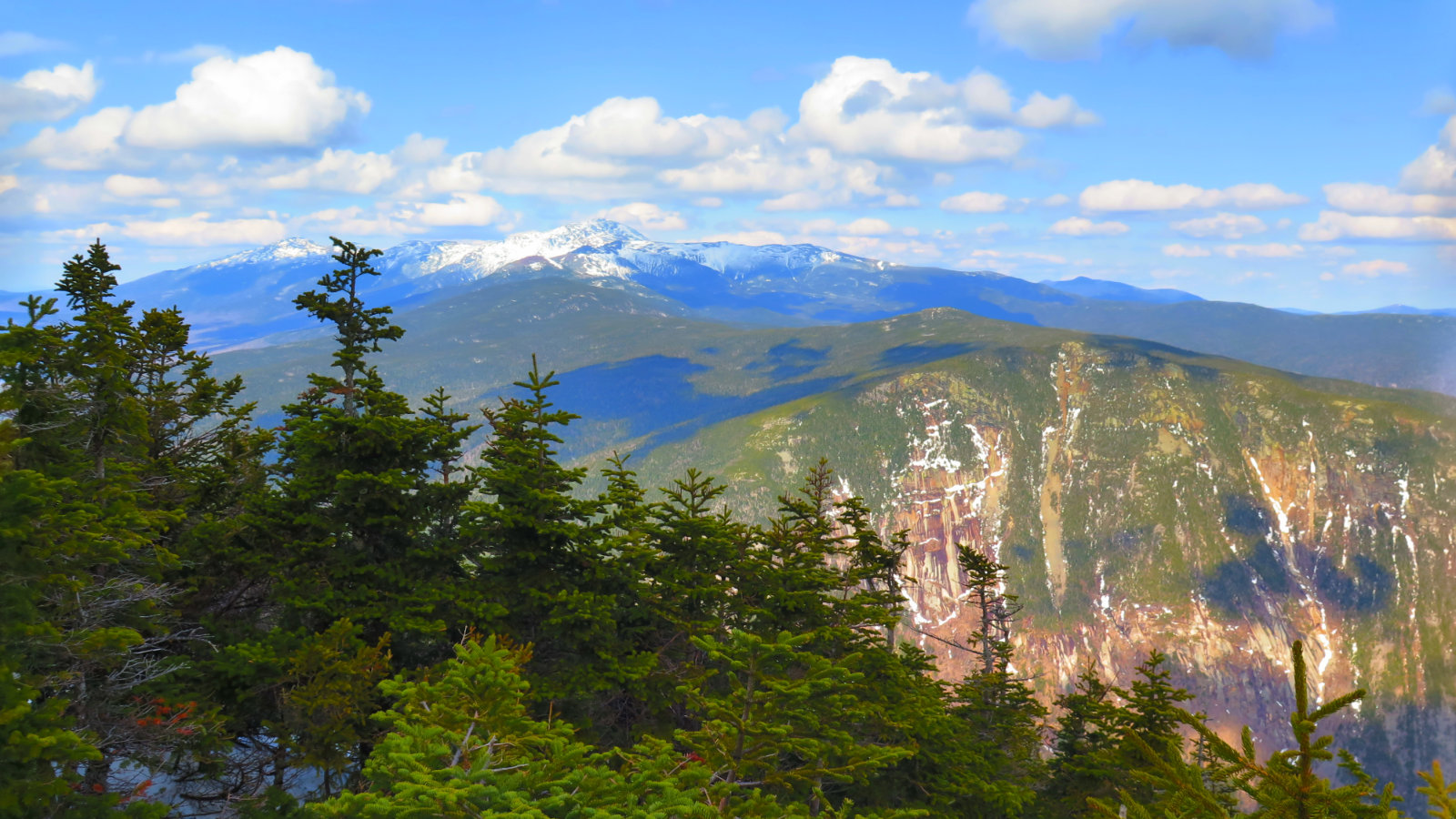 The huge cliffs of Mt Webster. A stunning foreground to a stunning background.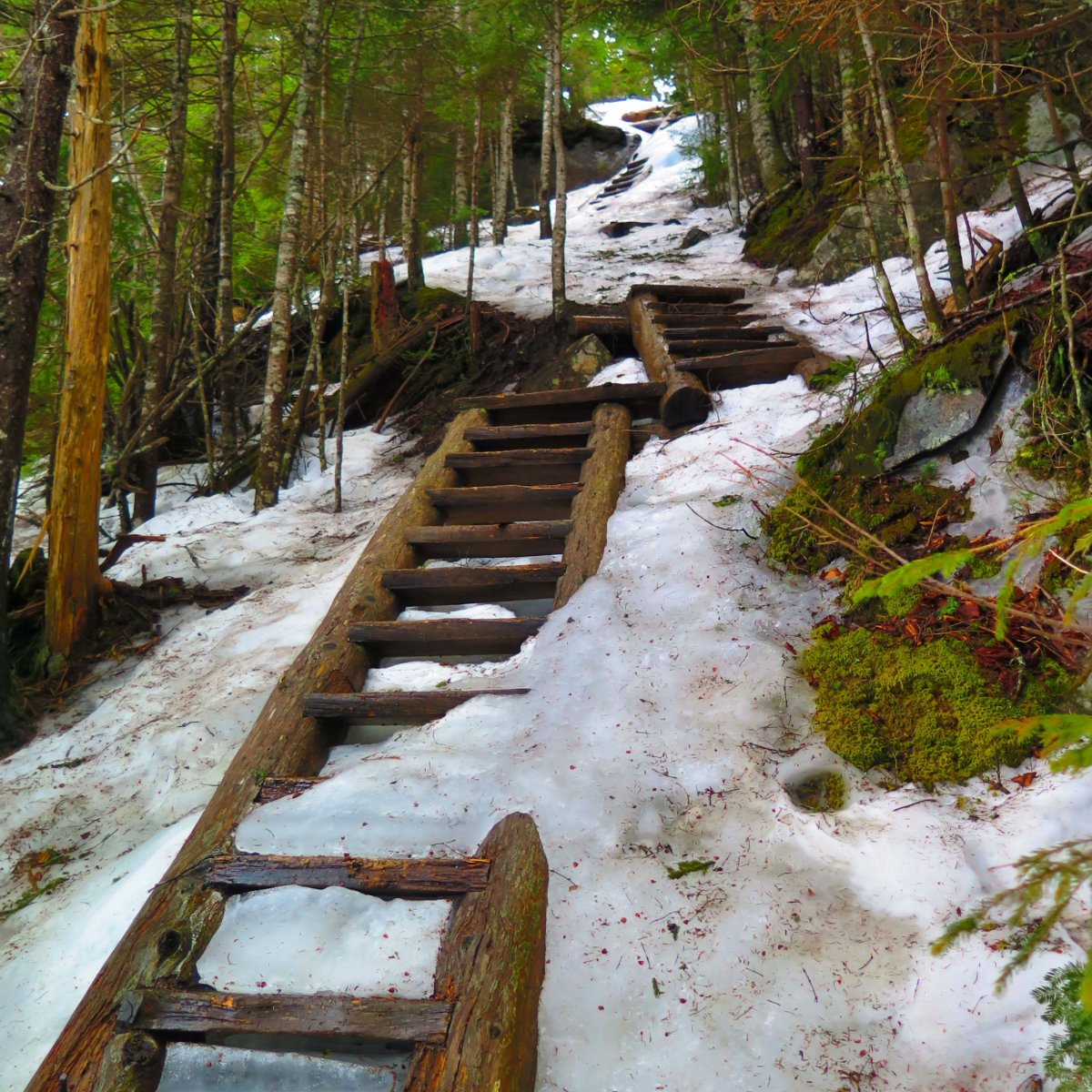 The ladders, all iced up for the next few weeks.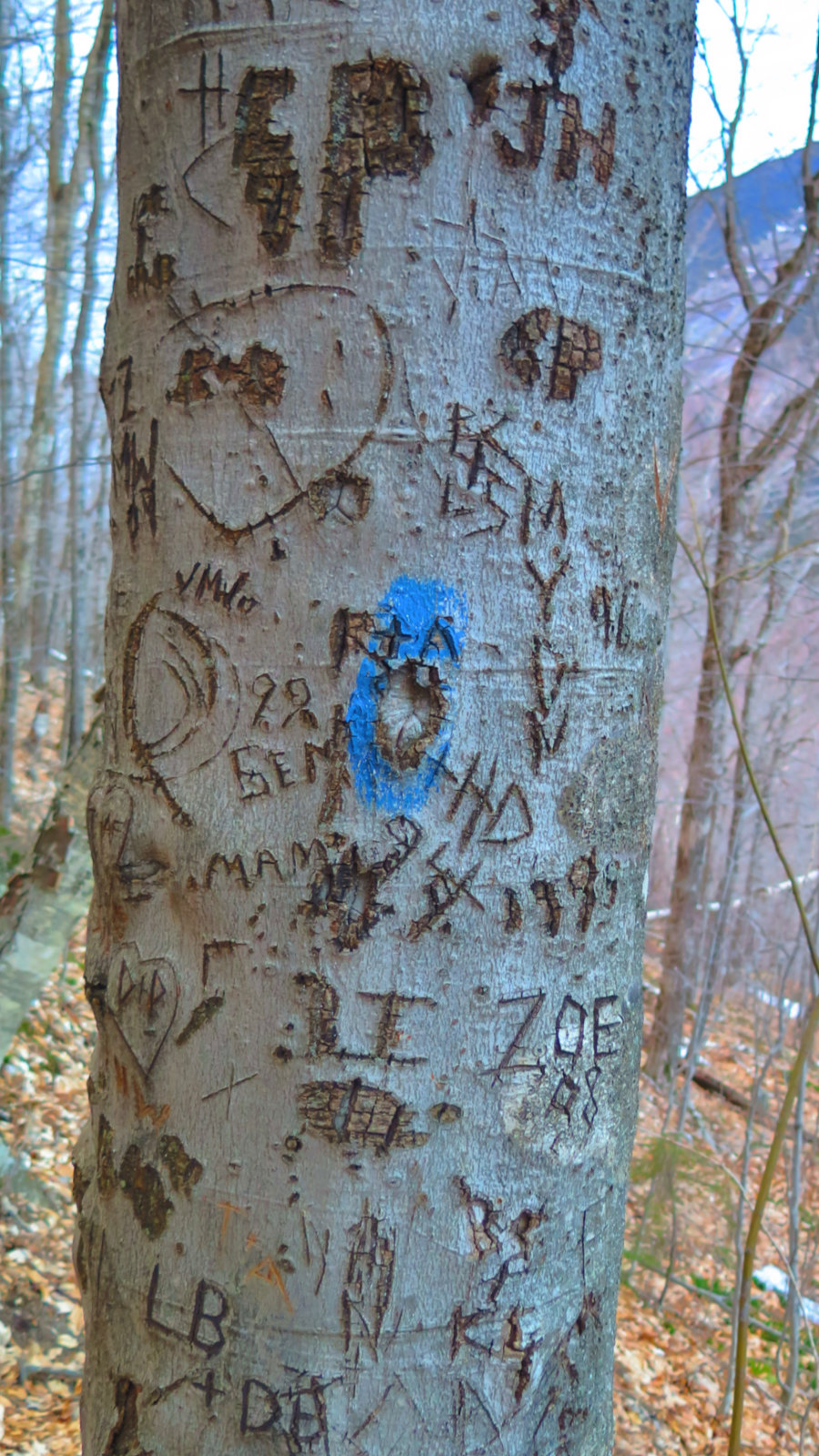 I see these from time to time; a dead-letter-box of sorts, where people exclaim whatever thoughts are on their minds. As effective as a blaze. 
If you enjoy reading these posts, consider subscribing. Your email will only be used to alert you of new posts — typically 1-2 times per week. I will not use or share your email for any other purpose without your express permission.