Cooley Hill (2,480 feet) Cole Hill (2,645 feet). Easton, NH. 2021-08-31 (Tuesday.)
Via Yellow Trail up. Includes a descent via Red Trail, and the east half of Blue Loop. Approximately 6 miles round-trip.
Temps in the low 80s all day. Winds were negligible. Sunny with a combination of upper level stratus clouds and mid-level cumulonimbus clouds throughout. Very clement.
Trailhead: 1430. Cooley Hill summit: 1615. Cole Hill summit (via Red Trail) 1710. Car: 1800.
A witch, some sprites, all kinds of delight!
Sometimes things work out in unexpected ways. I was kicking myself for yet another late start (man, this is a pattern!) as I arrived at the trailhead well after 1300. But then I met a trail maintainer near the parking area, and we got into talking. I might have mentioned once or thrice, you talk to the locals, you find stuff out. In passing, he asked if I was going to see the witch. Hrmmmm…
I could have stuck around and chewed the fat for at least a couple hours more, but that's not how you make miles. After a long bit of conversation, we parted ways, and I headed uphill. I'd really enjoyed myself on Cooley Hill last December, and so this morning, I was excited that I'd be heading back, but coming from the opposite side. I wasn't disappointed in the slightest!
Before we get too far…
Props need to go out to the folks at the Ammonoosuc Conservation Trust, and especially their trail maintainers. For most of the trip, I hiked on almost sculpted trails. It was heavenly. The trails serve hikers, but also mountain bikers and backcountry skiers. Blazes were everywhere, and it was only in a few spots where I felt the trail was getting a tad overgrown. Blowdowns? Not a one. Mud? Nope. Truth and beauty? Everywhere.
The one thing I'll mention is that there were switchbacks. Hoo-boy, almost endless switchbacks. On the one hand, the way going was quite mild, and especially with my plantar fasciitis still giving me grief, that was welcome for sure. But at the same time, upward progress seemed a little slow at times. You can't have one without the other, so I remain sanguine.
You can't beat the views. The summit isn't bald by any stretch. That said, there are a few vistas. It was a bit hazy today, not at all a curve-of-the-earth day, but the views were still quite spectacular. This is one to do in the wintertime, because on a bluebird day, you're not going to have enough fingers to count the major peaks that you'll see. Trust me on this. As it was, everything from Garfield to South Kinsman was there, as were both Twins. To the west? I might have seen Mansfield (haze was an issue, and looking west in the late afternoon helped nothing in that regard) but I know for sure I saw Camel's Hump. 
Who says things are always straightforward?
And so there was this oddity. I was in the green tunnel, and all I could hear was jet engine noise. Breaking out into the open, it took a moment, and then I found what I was looking for. There were a couple military jets cutting up the sky, likely F-22s. Wow, they're loud, and it's a very intrusive sort of loud. The roar of a swollen river in springtime could be louder, but nowhere near as jarring. There was absolutely no ignoring the sound of their engines. On the one hand, they need to train, but at the same time, you'd think they'd do as well over the ocean or something. I'm given to wonder if it affects wildlife. It was that loud. 
Speaking of oddities… there's that witch. Or something. By one of the vistas (and seriously, it's one of the best in the Whites) there's a figure made of brush, with some wooden birds flying about. And off to the side, a small cluster of houses for forest sprites. I said hello, and then kept moving. Given that my day was full of wonder, I'm going out on a limb and guessing these are benign spirits, watching over the forest.
Summits!
I skirted around the summit of Cole Hill, and then traversed a very gentle col. It was around here that the trail was mildly overgrown, but really, that just meant stuff brushed the outside of my ankles here and there. I made quick time over to Cooley Hill's summit, and saw that old fire tower foundation. Neat! No views, so I turned around and made for the views. 
On the way back, I decided to take the Red Trail, which traverses the summit of Cole Hill. This is totally worth it, as just below the summit, you've got another very fine view to the east, with a couple log benches so you can rest your bones as you enjoy the view. Further down, I made a swing over to the western side of the Blue Loop, but alas, the views aren't quite as nice. I could steal long glimpses through branches, but that was about it. That said, I did see Camel's Hump. Back on the east side, I took the Blue Loop back to the trailhead, avoiding a lot of the switchbacks. It wasn't a tough descent, which was nice. My feet were starting to get tired at that point. 
Near the trailhead, I stopped to see the remains of the tree that maintainer had been working on earlier. A cute little drawing of a fox on a stump. Nice. And back at the car, he'd left a note of appreciation for my blogging. Y'know, this is why I do it. On one hand, a basic post takes me a couple hours, maybe as many as three. If I research it, extra innings for sure. This is most certainly a labor of love — I get no ad revenue or anything. But every so often, I connect with a reader, and that's what makes it all worthwhile. Thanks for your kind words. It was already a lovely outing, and then it got kicked up at least another notch. 
As always, stay safe out there.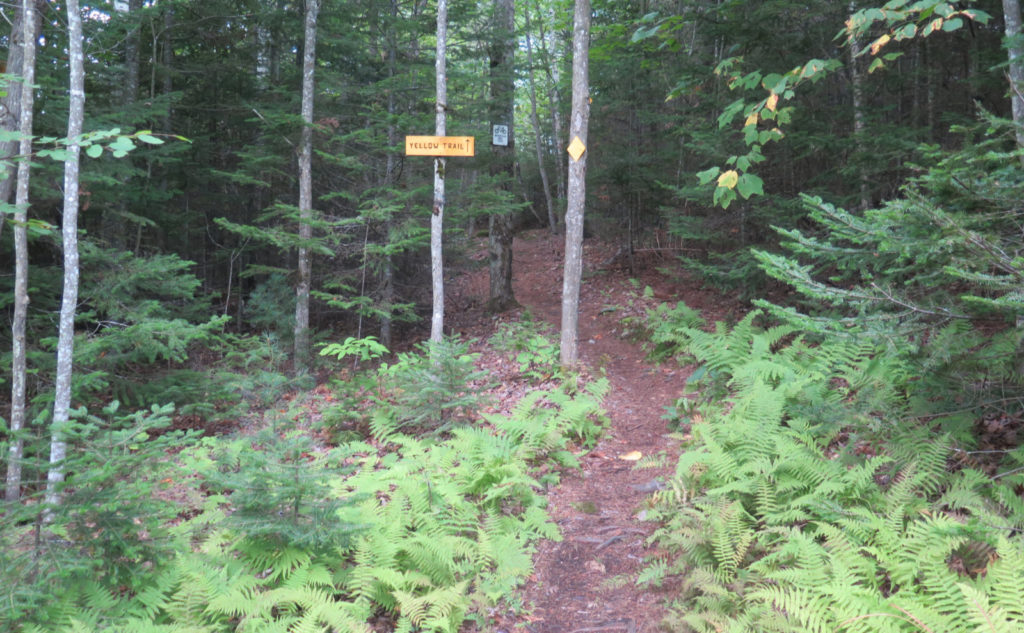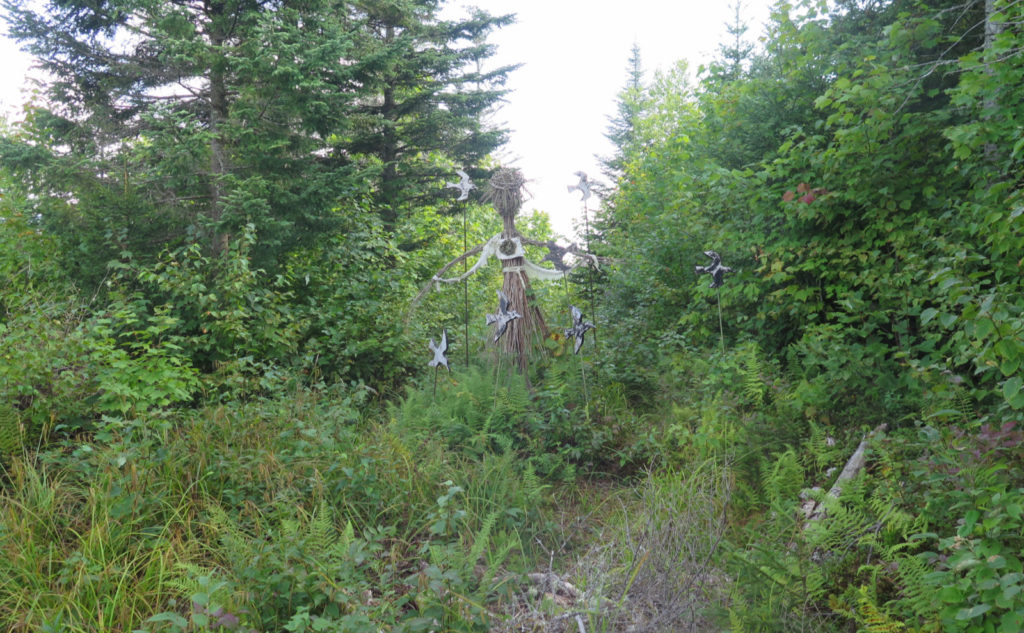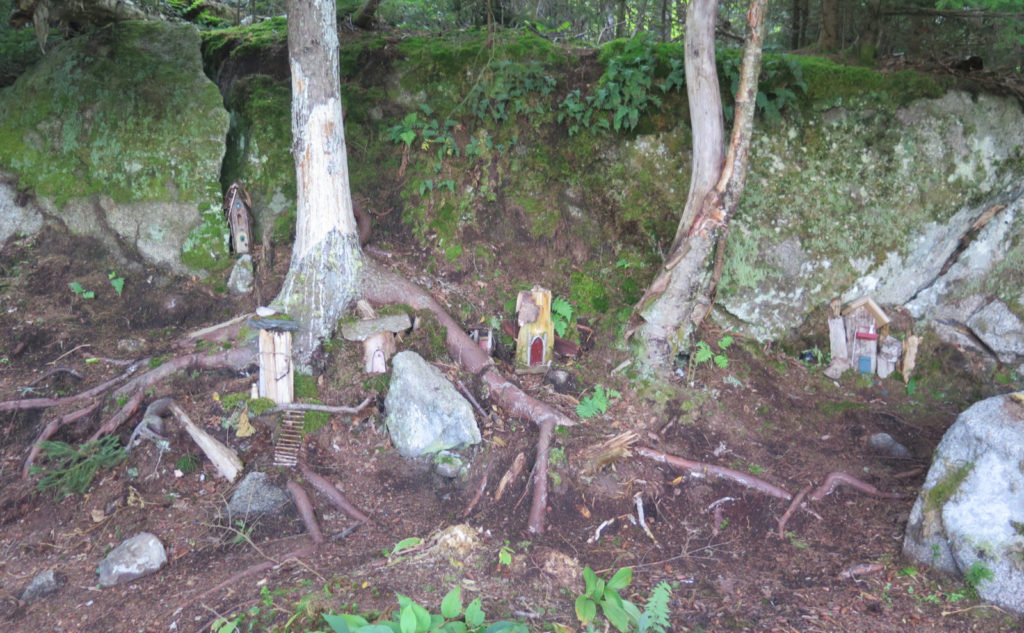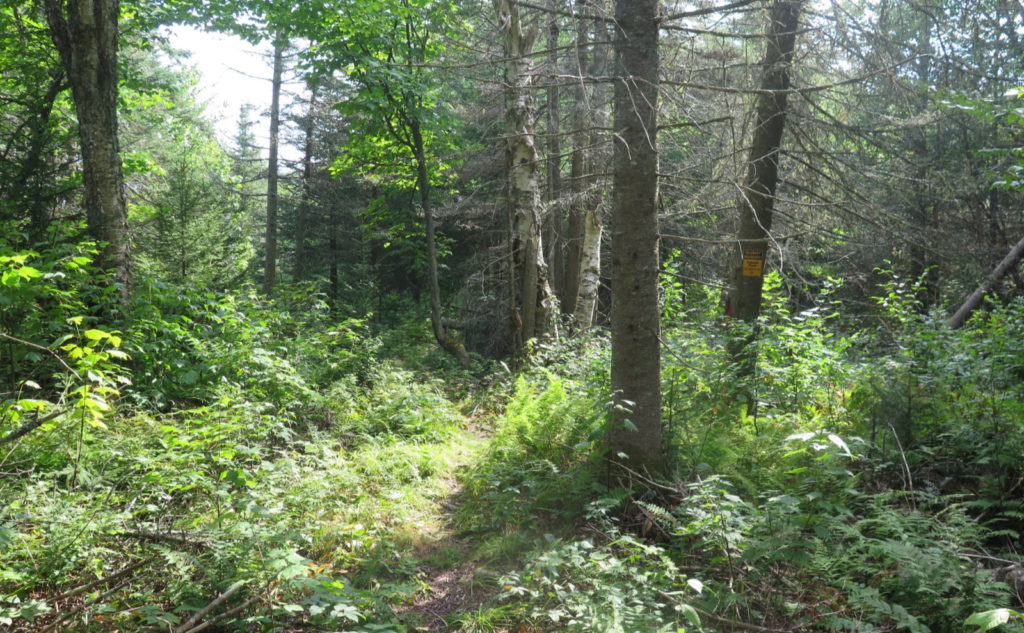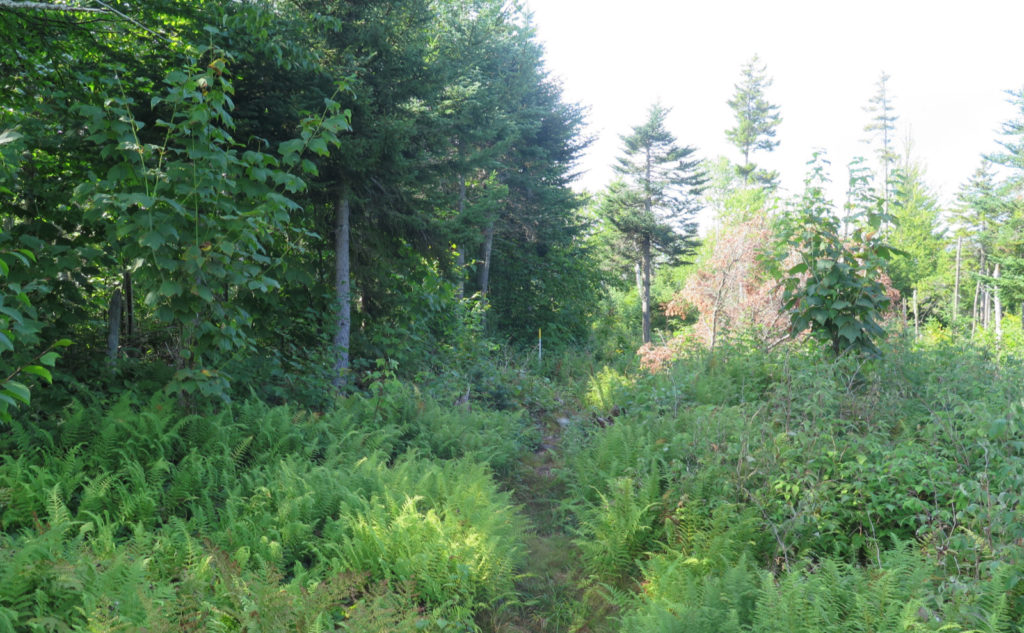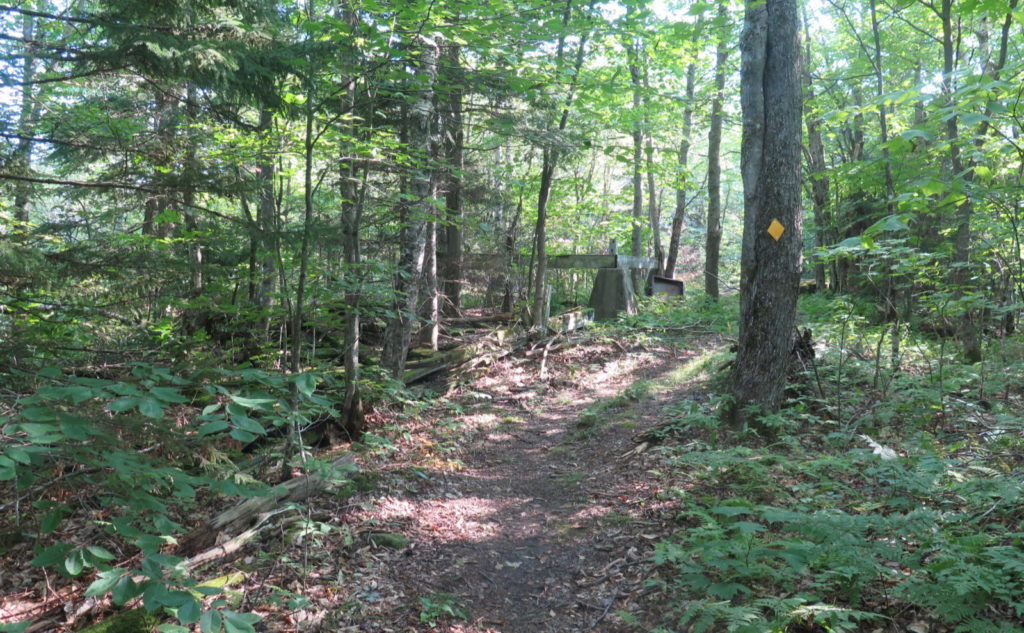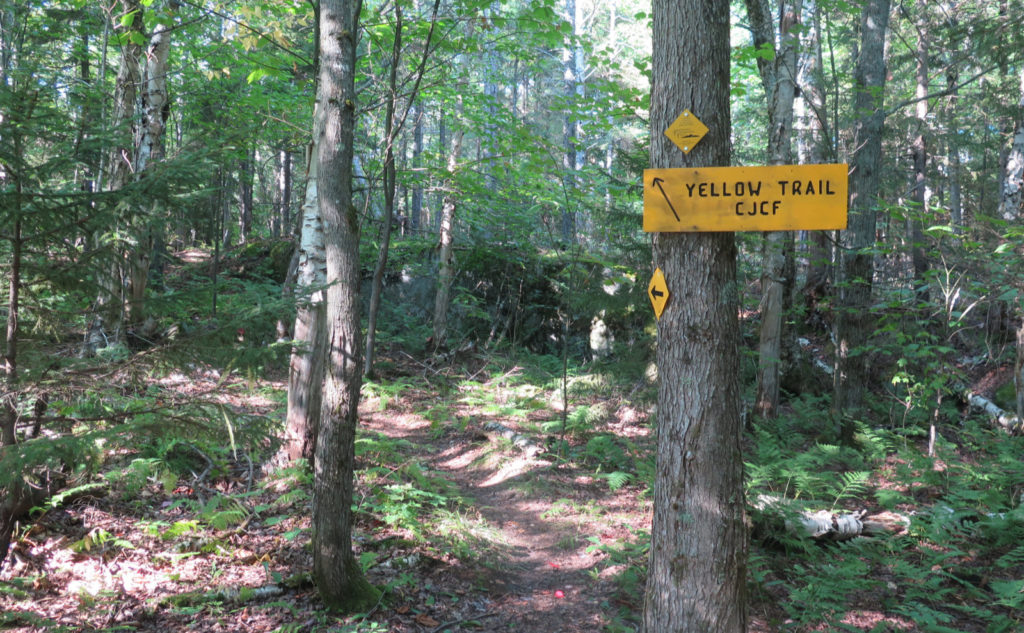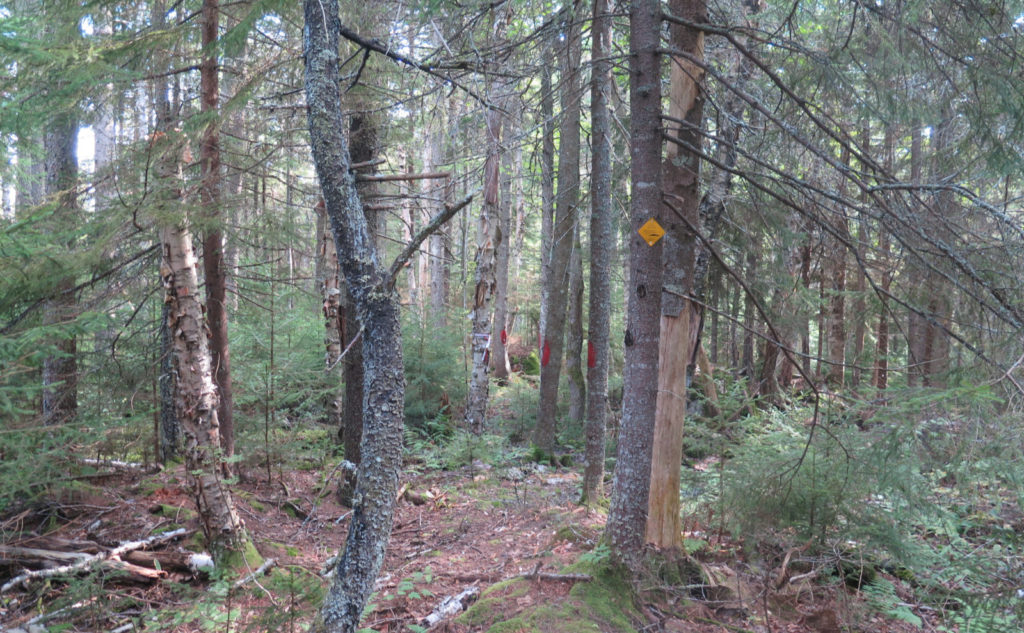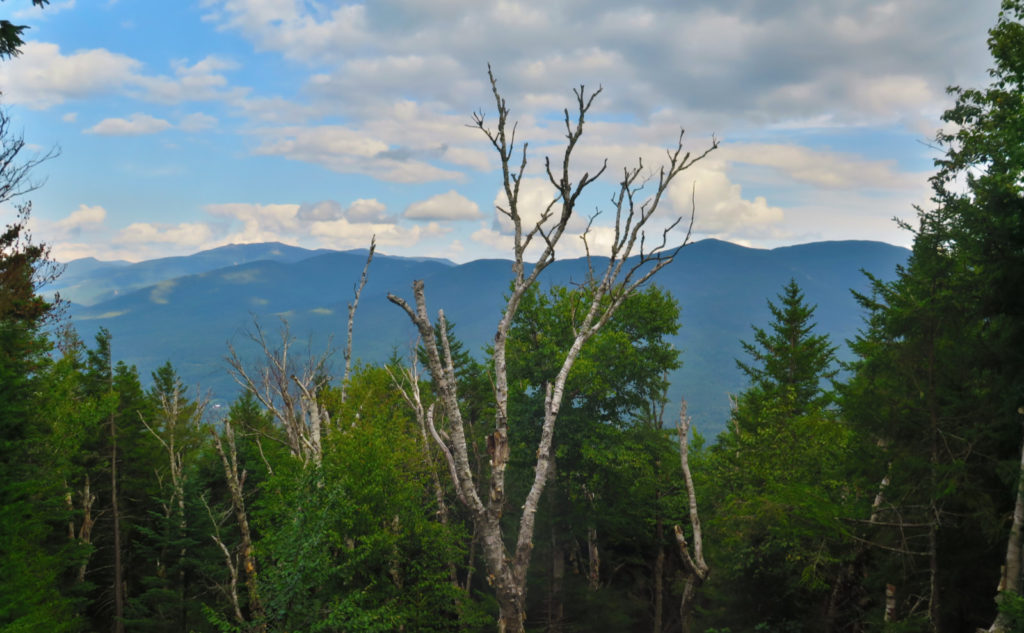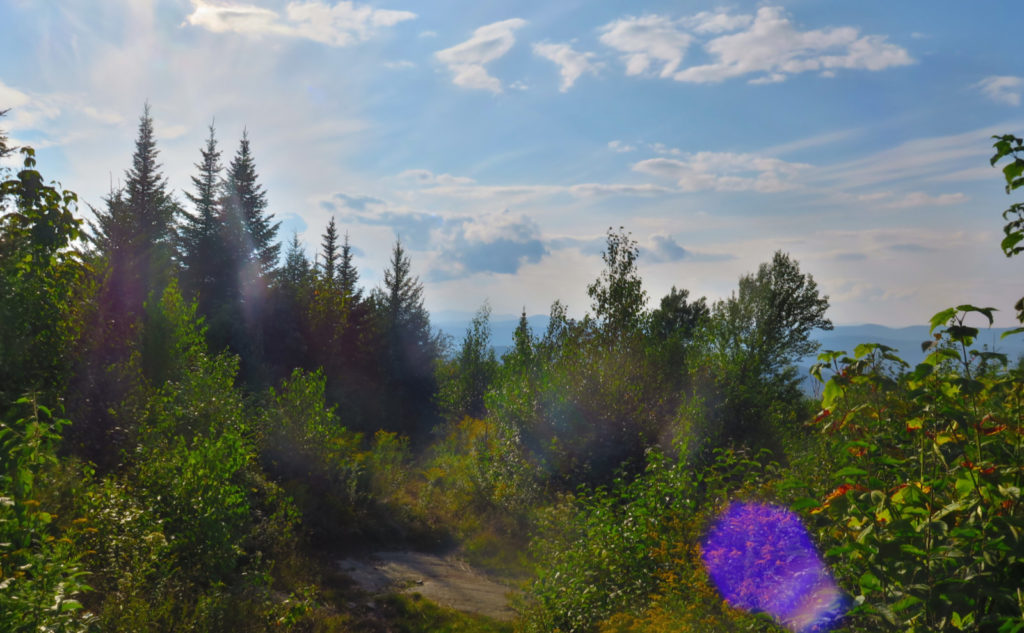 Nuts and Bolts: I think half the beauty of this trail is that you've got to find the trailhead first. And yep, it's not even remotely in service to a 4,000 footer, so it's also got that. The locals effectively have a hidden gem in their pocket. If you want to share in its beauty, you gotta look. Drive up to Franconia Notch, and take Exit 38. Your destination is shortly after the intersection of Jericho Road and Trumpet Round Road in Sugar Hill. (Basically, the end of Trumpet Round Road.)
Note that Sugar Hill was incorporated in the 1960s — it's the newest town in the Granite State. As such, your GPS might have it as Landaff, or Easton, or maybe even Lisbon. I can't think of anywhere else I've spotted a Trumpet Round road, so I think it'd be a safe bet that if you put that intersection into your GPS, you'll probably get there. Google Maps has the trailhead at 79 Trumpet Round Road in Sugar Hill, NH, and it works fine in Apple Maps. So there's that.
On the approach, keep your eyes peeled. The ACT has done a lot to post signs, and they're relatively conspicuous, albeit on the small side. But they're unmistakable, so just watch for them and you should be OK.
The roads in the area are quite steep. The town of Sugar Hill is very appropriately named. If you plan on doing this hike in the wintertime, know that the presence of any ice may make things far more exciting than you want, so unless you have a rock-solid relationship with your insurance adjuster, take things conservatively. That hill has been there for 10,000 years, and I'm pretty sure it'll be there for at least a few more. The trail will happily wait for you.
Park at the gate, and of course, be especially mindful — it's a small spot. The trailhead itself (kiosk, etc) is a few dozen yards past the gate. Blazes are the color of whatever trail you're on (yellow, blue, red) and there are a lot of them everywhere. Know that the area is shared with hikers, mountain bikers, and (in season) skiers. Hikers have the right of way, but sometimes it makes more sense to step to one side if a guy on a bike has momentum. Be an ambassador for the sport, and don't ascribe to malice what can more easily be given over to simple physics. (AKA "Be cool.")
IMHO, while sometimes we'd prefer a pristine experience, the fact that there are so many stakeholders using these trails means there's a lot of interest in keeping things well maintained. Could it be a drag moving to the side for a bike? Sure. But wow, those trails are heavenly, and in light of that, sharing ain't bad. Again, be cool.
On that note… The Ammonoosuc Conservation Trust depends on donations. If you enjoy those trails, please consider tossing a few shekels their way.
If you enjoy reading these posts, please subscribe — stay in the loop! Your email will only be used to alert you of new posts — typically 1-2 times per week. I will not use or share your email for any other purpose without your express permission. And feel free to share via social media using the buttons below.
Find me in the mountains, on this blog, or on Twitter: @Protean_Hiker