Sawyer River Trail to Hancock Notch Trail junction.
Livermore, NH. 2020-30-17 (Tuesday.)
Via Sawyer River trail. 5 miles round-trip. No significant elevation change — about 250 feet total over the entire trip. This one is as flat as things can get.
35 dF at the trailhead, negligible winds. Overcast throughout, with light to moderate snow flurries.
Trail was very firm with a slight layer of softer snow on top. Water crossings were unremarkable. Snow bridges were intact, and navigated without issue.
Trailhead: 1240. Car: 1450.
Sometimes, it sneaks up on you.
I'd originally thought I'd circle around and finish the Greeley Ponds trail hike I started last week. But me being me, I neglected to remember that I tried something similar in the same neighborhood last year, and was thwarted by a gigantic snow bank. This time around, it was far easier finding the trailhead, but the snowbank was still closer to the roadside than I'd have preferred. Adding to that, the snow I'd have had to park on, plus the drop off of the shoulder, would have meant getting out would almost certainly require a tow truck. So mildly frustrated at forgetting this tiny detail, I discarded that plan and set about figuring out what to do. I continued on the Kancamagus toward Conway, figuring something would pop up.
And it did. It took doubling back, but I spotted the Sawyer River trail sign as I passed by, and thought "why not." (I must confess, a huge selling point was that the parking was very much off the shoulder, and looked like I could get back out without assistance. Such is life in winter, right?) As for the snow that gets in the way of parking? I keep reminding myself that this is the last week of winter. (Coincidentally, I'm reminded that I will have only hiked up a single mountain this winter. I have thoughts about that.)
I'm going to take a moment and bring this back to one of my essentials. Yes, this tossed most of the trip planning out the window. But if you consider that I spend a lot of time looking at maps as a general matter of practice, knowing where I was and seeing "Sawyer River", I wasn't exactly going out on a limb. And besides, there was no intention of summiting anything, so regarding risk, there wasn't a siren sitting somewhere dangerous, singing to me. I had a lot of freedom to turn around anytime with no hit to my pride.
So if I'm suggesting anything to you, my reader, it's to make the mountains a regular topic of study, so you might gain some flexibility when your plans abruptly change.
That said, I did look at the topographic map and at least do that bit of preparation before actually putting boots on trail.
With all that in mind… I set out. Today I finally wore snowshoes. All throughout my convalescence, I'd been wary of stressing my ankle unduly. But my last PT session, I really blew things out, and my therapist gave me the go-ahead to increase the level that I'm challenging myself. (He's also planning on formally discharging me in a couple weeks — yippee!) It was a bit odd, starting out, but that lasted for all of a quarter mile or so before things started feeling natural again. That much of the day was unbridled wonderfulness. Plain and simple.
The first half mile or so was along a bog-standard footpath. After climbing over a snowbank at the parking area, I crossed a small clearing, and found the trail on the far side left, dropping down at a pleasant grade for a short bit. A couple minor water crossings… OK, one will be wide and non-trivial in the springtime, but today, the snow bridges were rock solid. Just beforehand, though, was a lovely cascade dropping over several flat rocks.
But then, I saw a few odd signs, and the trail widened out considerably. I was at the point where things started to feel strangely familiar. Not in the sense of having been there in the flesh, but while I was stuck not doing much at all but sitting with my foot elevated, I read a couple books on the logging railways. And the Sawyer River area had a very interesting one. The head of the company logged with a somewhat light hand, extending his operations over several years beyond the "hoover everything up as quick as possible" timber barons like JE Henry.
In any case, the rail bed was there, unmistakable. At the moment, the passage of snowmobiles is still very evident, and it made my passage very easy. When they say "Land of Many Uses", don't forget the Whites are a National Forest, not a park, so yes Virginia, motorized vehicles are allowed in certain areas. Stay alert, and remember to be a good ambassador for the sport. The folks riding their sleds have just as much claim to these lands as hikers. (Put another way, "don't make them make a rule.")
About halfway along, I crossed a bridge over Meadow Brook. That area is pretty boggy, and on another day with less cloud cover, I might have had a better view of Mt Huntington and its nearby hills. In the warmer months, I have a sense there'll be a lot of interesting plants to see, too. As it was, I had the brook, babbling as it would, keeping me company. I pressed on.
Nearer the junction with the Hancock Notch trail, I came across a group of students from the Holderness School, out on their "outback" backpacking trip. Apparently, they spend several days out in the woods, including a 3 day solo segment, and today was one of those days. Neat! A few minutes later, I was at the junction, and decided that was a good place to turn around. It felt right.
Coming back was unremarkable. I spent a little more time at the Meadow Brook brook just because the view seemed a little better. I'm looking forward to returning in the summer, because my overwhelming impression is that there will be a lot of very interesting plant life to look at around there.
For a day that ended up nothing like I'd planned, it turned out well. There were points when it seemed like "just another walk in the woods" but then I thought about the old railway, and the boggy bits really screamed "wildflowers" at me. So perhaps it wasn't surprising that on the drive home, the trail's full effect finally hit me. But that wouldn't be the first time that's happened.
As always, stay safe out there.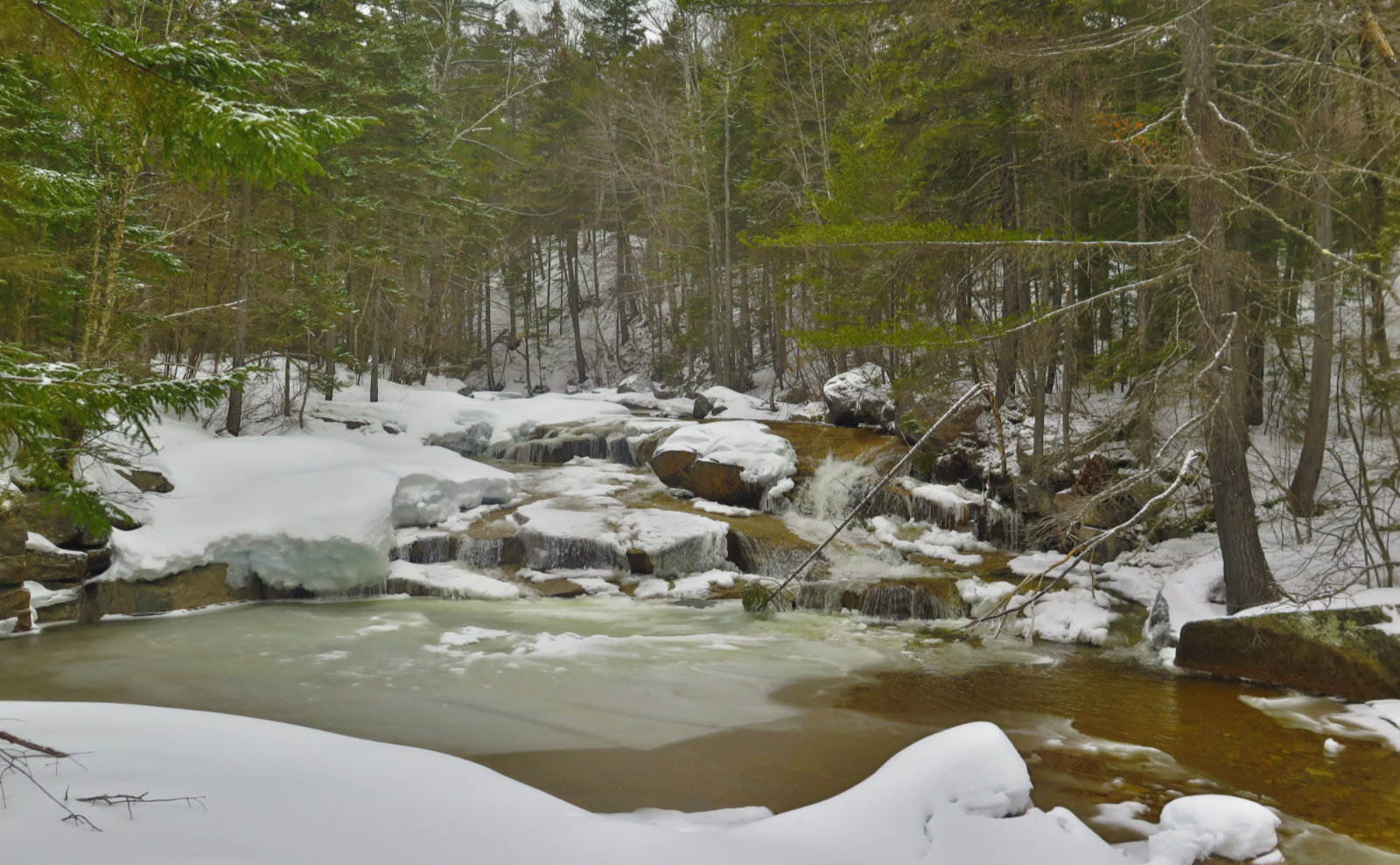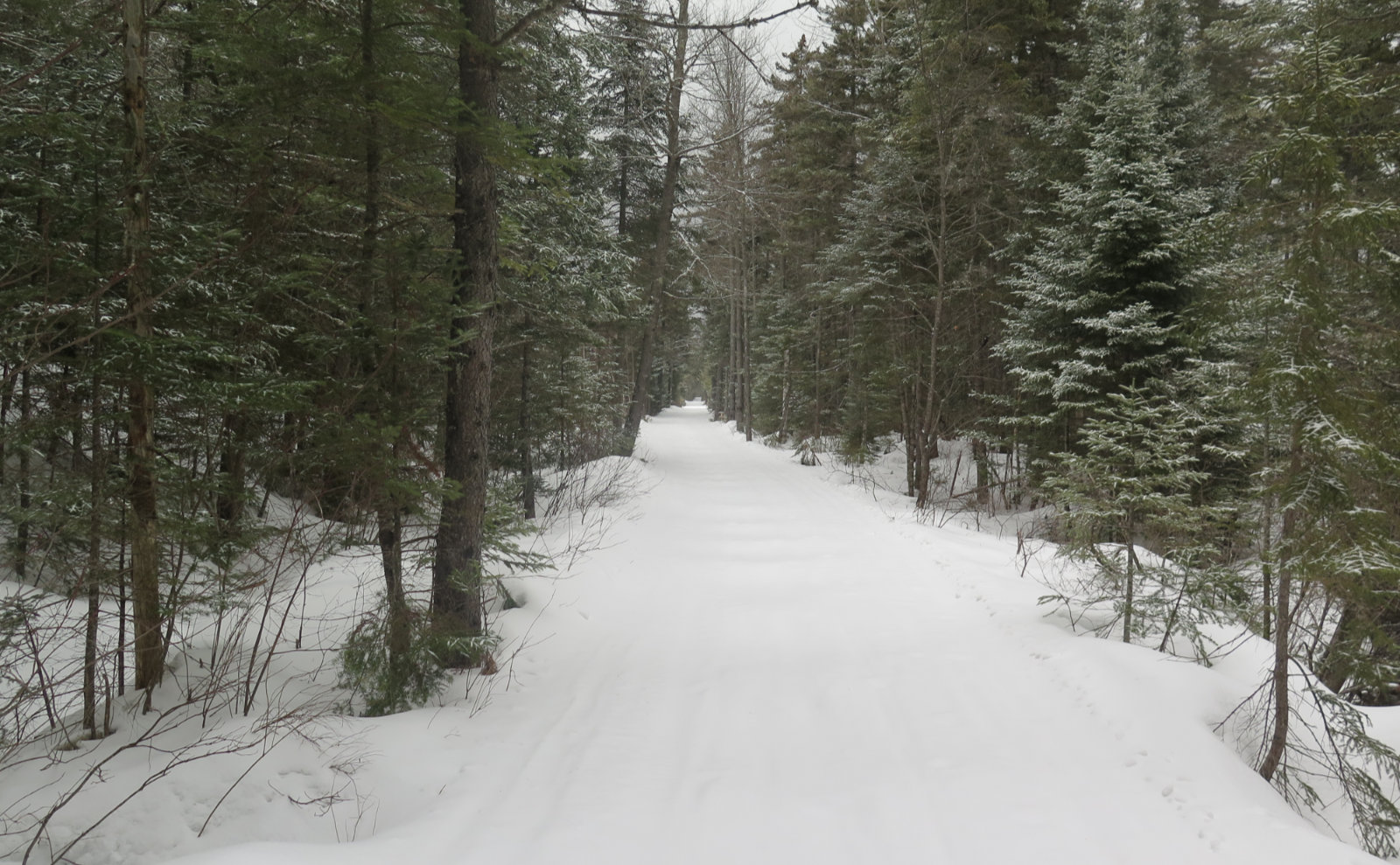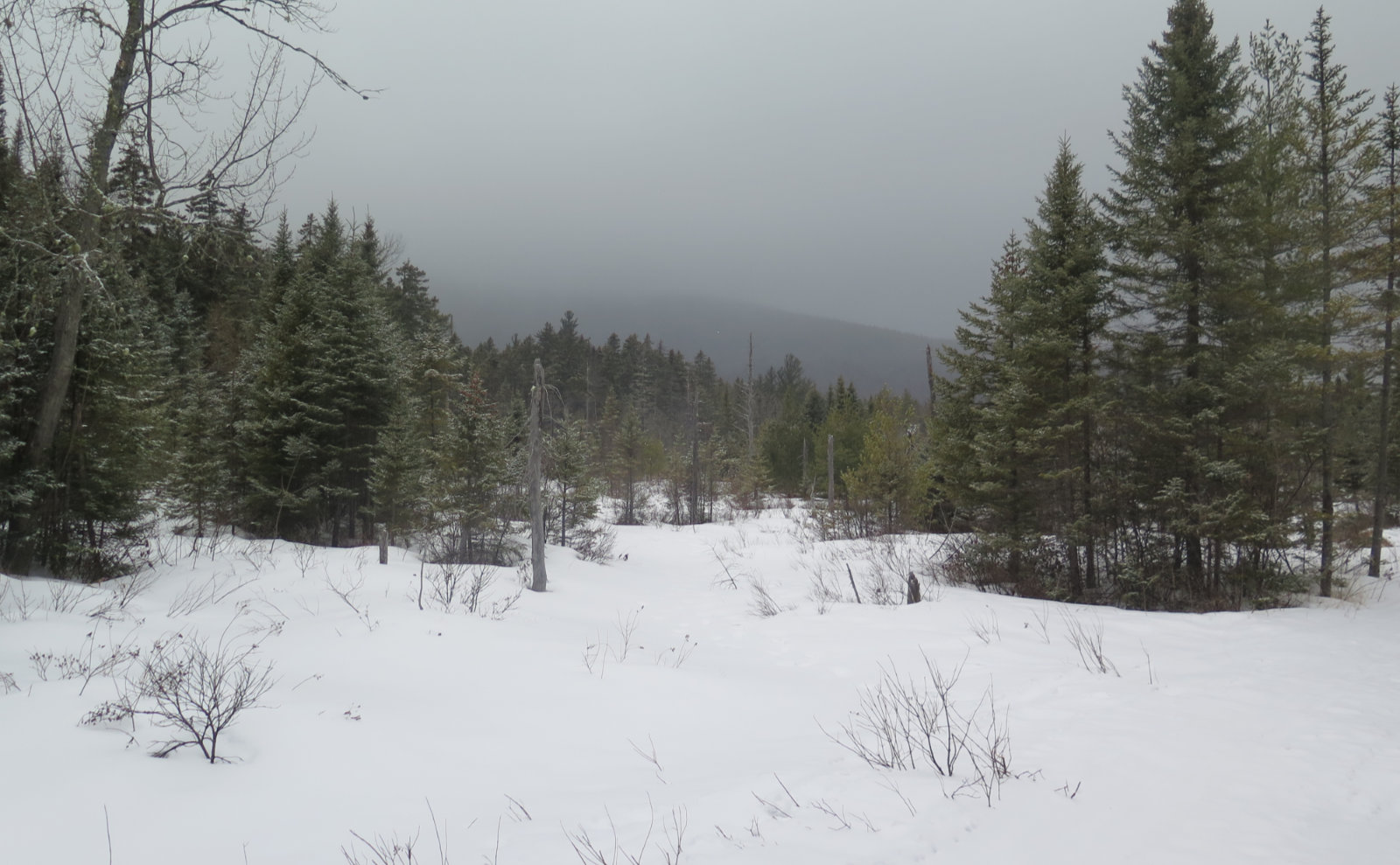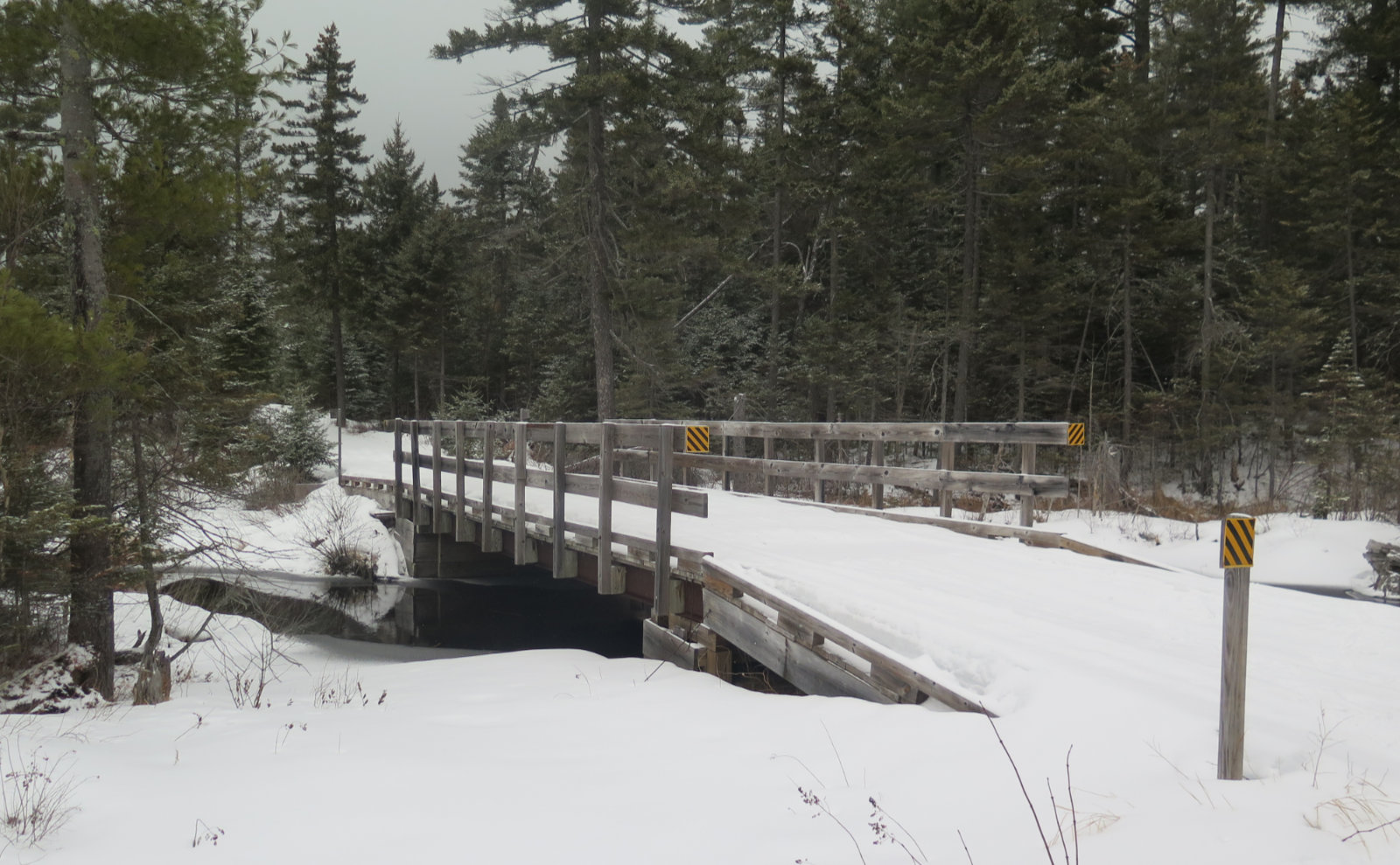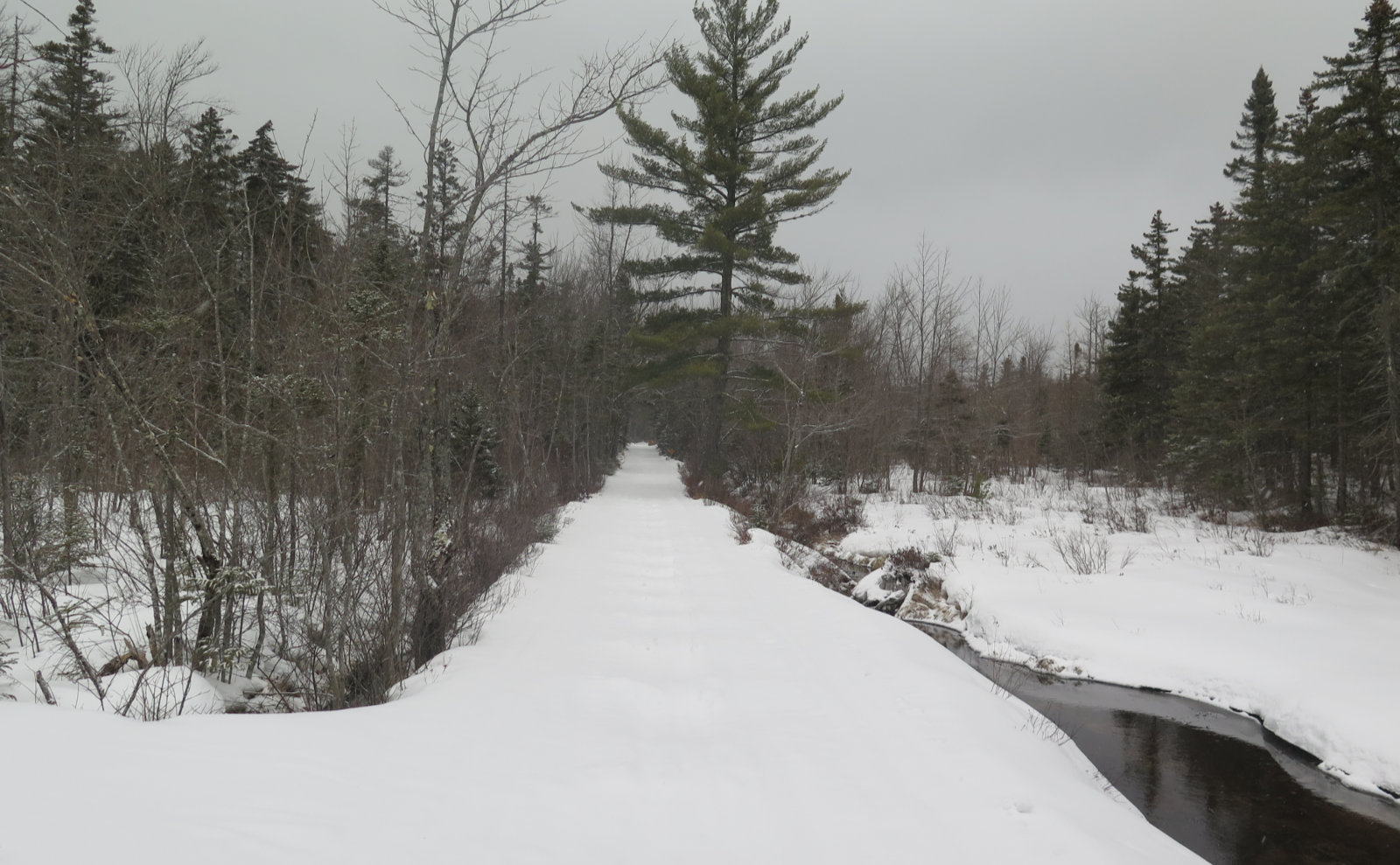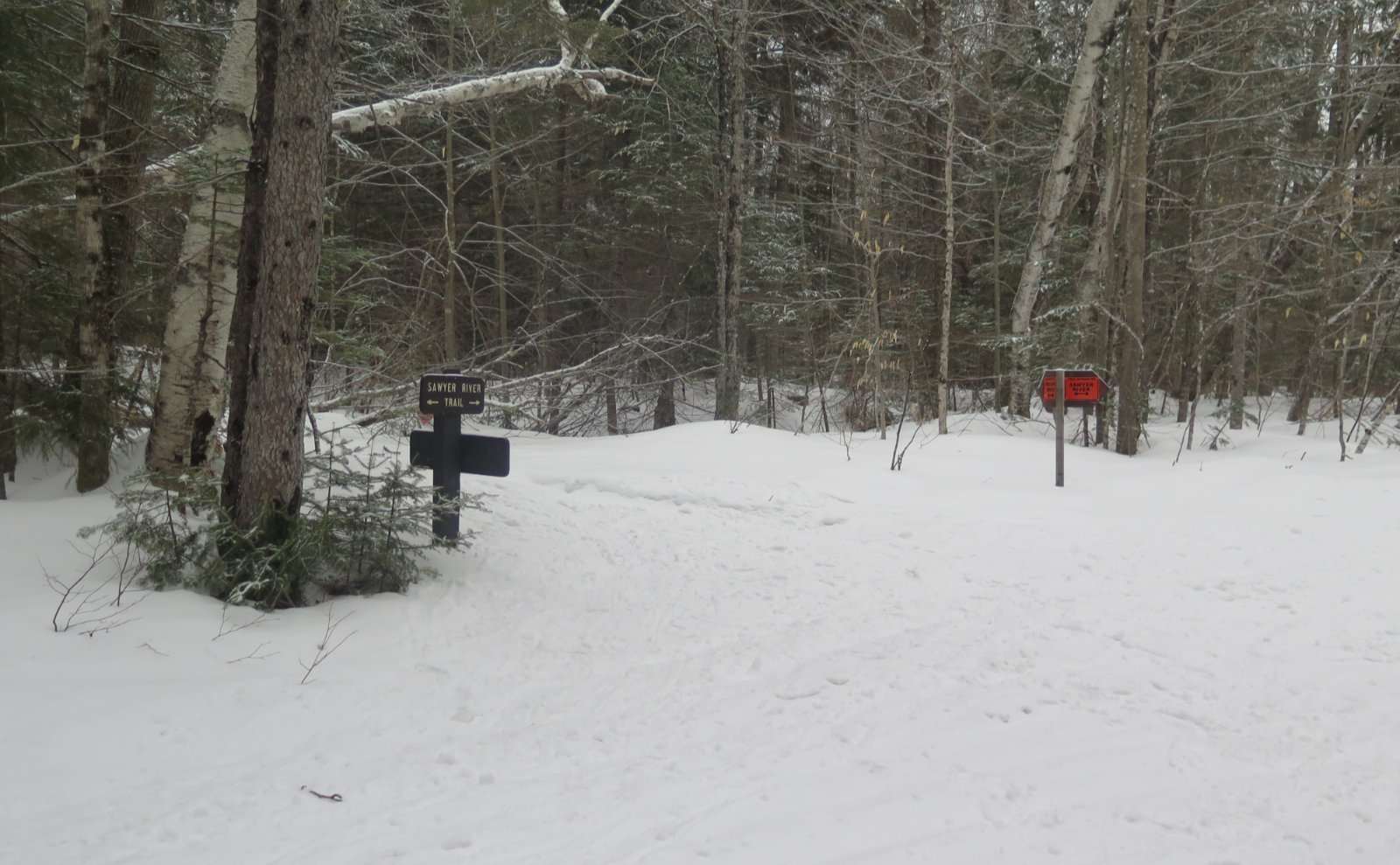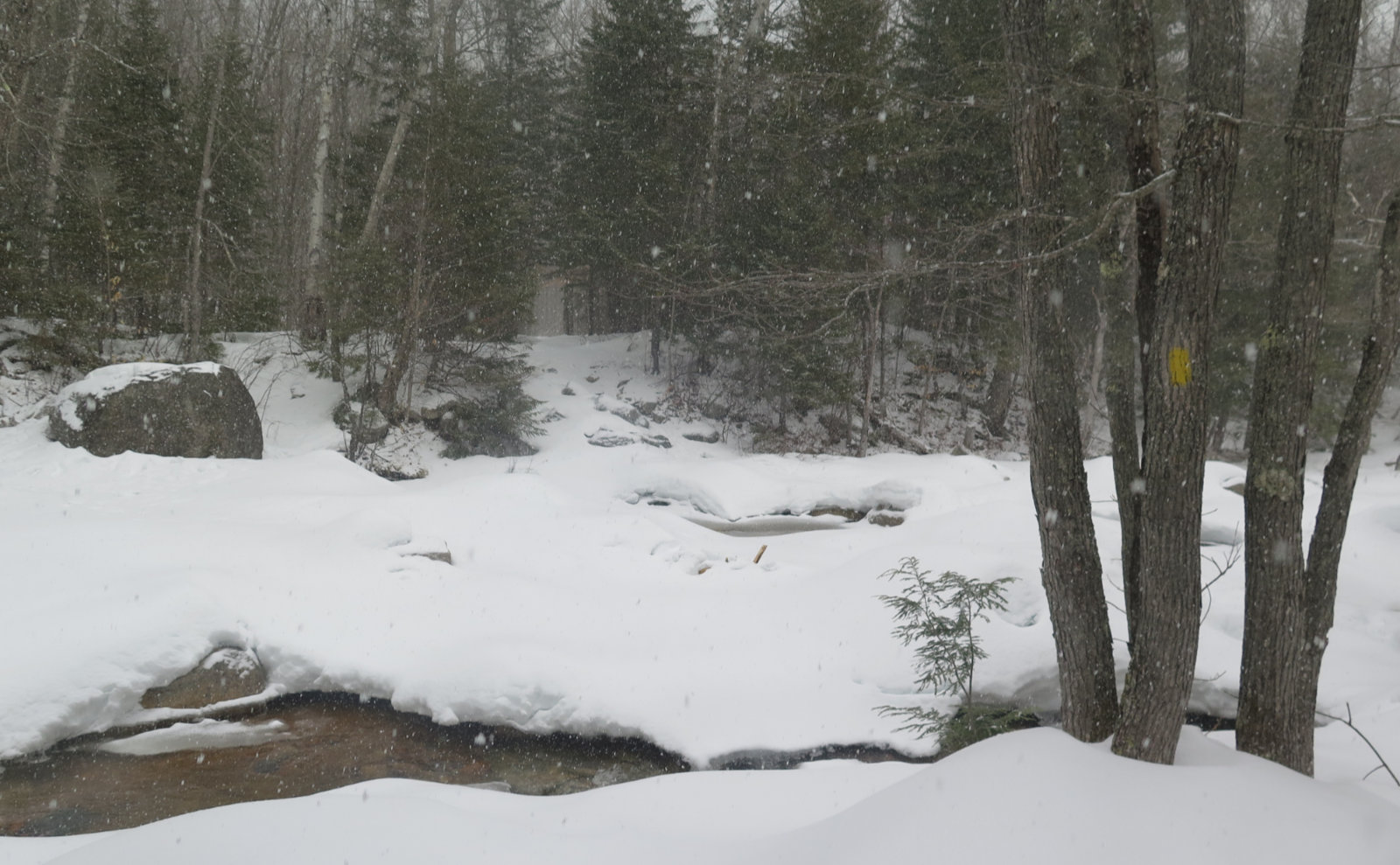 Nuts and Bolts: Find the trailhead on the north side of the road, about a mile beyond Kancamagus Pass, and half a mile or so past Livermore trailhead. If you get to Sabbaday Falls trailhead, you've gone a couple miles too far. You're looking for a small trailhead sign, so keep your eyes peeled. Blazes are yellow until you get to the rail bed, at which point, you won't need them. Just walk almost dead straight at that point and you'll do fine.
If you enjoy reading these posts, please subscribe — stay in the loop! Your email will only be used to alert you of new posts — typically 1-2 times per week. I will not use or share your email for any other purpose without your express permission. And feel free to share via social media using the buttons below.
Find me in the mountains, on this blog, or on Twitter: @Protean_Hiker