Mt Carrigain, Livermore, NH. 2018-28-05. (Monday)
Via Signal Ridge trail. 
Approx 10 miles roundtrip on trail, plus 4 miles roundtrip traversing Sawyer River Road.  8 hours. 
55 dF in the morning, with negligible winds. 65 by afternoon. Cloudy, with sunny breaks by late afternoon. 
The mountain has a well deserved place as the final hike of many quests to bag the 48. I have little personal experience to base this on, but I understand the views are superlative from the ridge. The weather conspired against me today. Some would be upset about this turn of events, but I remain sanguine. The mountain has been there for thousands of years. It'll be around for a few more months, I'm sure.
Due to work commitments last week, I mainly "took a zero" from hiking, with the exception of a quick trip to Temple in order to not go completely nuts. Driving to the mountain, I felt more than a bit out of sorts. There's a lot to say about momentum. But there's at least as much to say about the power of the mountain to overcome head games. It wasn't long before I felt back at home.
So, the bad: Sawyer River road is closed. From everything I've heard and read, this isn't going to change. If you're waiting for the Forest Service to open the gate, just hike. There's a lot of storm damage, and it's not going to be fixed without a lot of time and treasure being spent. Given the historically glacial pace of Federal projects, it's safe to say that this is going to be awhile. But the good news is that the road is in great shape from the standpoint of foot traffic: it's an improved dirt road, with no real elevation change. With only modest effort, I was at the trailhead within 45 minutes. No big deal.
The good: Green tunnel is in effect! As much as I enjoy an ice-blue sky framed by bare branches reaching into the heavens, the cover of leaves was a comforting cocoon. I'll be ready for the change of seasons again come autumn, but I live around here because we do indeed get all four seasons in ample supply. Hello stranger, great to have you back!
The ugly: The second half of the trail. While Signal Ridge itself is a stunning stretch of the trail, the rest of the second half is harsh, with slow going due to very rocky footing. It got me thinking why I like winter hiking: I walk over obstacles I'd otherwise have to deal with. There was a brief bit where the uphill was a nearly civilized stone staircase, but that was the outlier. I made fantastic headway in the lower stretches. North of about 2500 feet, things went remarkably slower. But I don't go to the mountains for streets paved with gold.
In spite of the bad and the ugly, I had an awesome time. Within about 100 yards of my car, the head games evaporated as the trail worked its magic. I like to think of the trail as a portal into the innermost reaches of the soul, and to that end, a lot of calm was achieved. Carrigain isn't in the "wilderness" by the USFS definition, but it's far enough off the beaten path to offer some measure of isolation without an incredibly long walk. There is some mud down low, but it always seemed there were perfectly positioned rocks, logs, roots, or what have you to step on.
I saw a number of very friendly faces, including a couple pups who were living the dream. As always, people at various points in their quest for the 48. One guy who had done 47, and he and his chum were planning on celebrating by spending a night on the summit of 48. (Huzzah!) A few who'd spent last night on the summit under an unexpectedly moonlit sky, with suitable feelings of awe. I can't say I wasn't jealous. Smiles abounded, as happens in the Whites.
The celebrated tower, by the way, is under renovation, and as such, the stairs are blocked off above the first few. You'll have enough to sit and enjoy your lunch, but not enough to appreciably change the view. Here, though, active construction does appear to be happening. Let's hope.
Note: On the way up, at about 1.6-ish miles, the trail bifurcates. If you're staying on Signal Ridge, stay to the left, paying no heed to the (easily crossed) blowdowns that make this look counter-intuitive. While I saw about 8-10 yellow blazes on the lowest stretches of the trail on the way back, I can't say the trail was that well marked on the way up, and at this fork, there's no apparent sign.
There are three easy water crossings in rapid succession afterward, where you might get the soles of your shoes wet if you're hasty. Thanks to my water purifier, I can happily report it's ice cold and delicious. A perfect reprieve on a warm day.
Also, if on the way back, you cross a small bog bridge (technically known as a Type 1 puncheon ) you've gone off Signal Ridge trail and are on Carrigain Notch trail. A minute or so of backtracking gets you back. Or just carry on in a southerly direction and end up in the same place. (Check your map and/or GPS to be sure.)
EDIT: Visitor Jack Meyer has pointed out that the bifurcation is where the trail was relocated. His comment, below, outlines the new route. (Thanks, Jack!)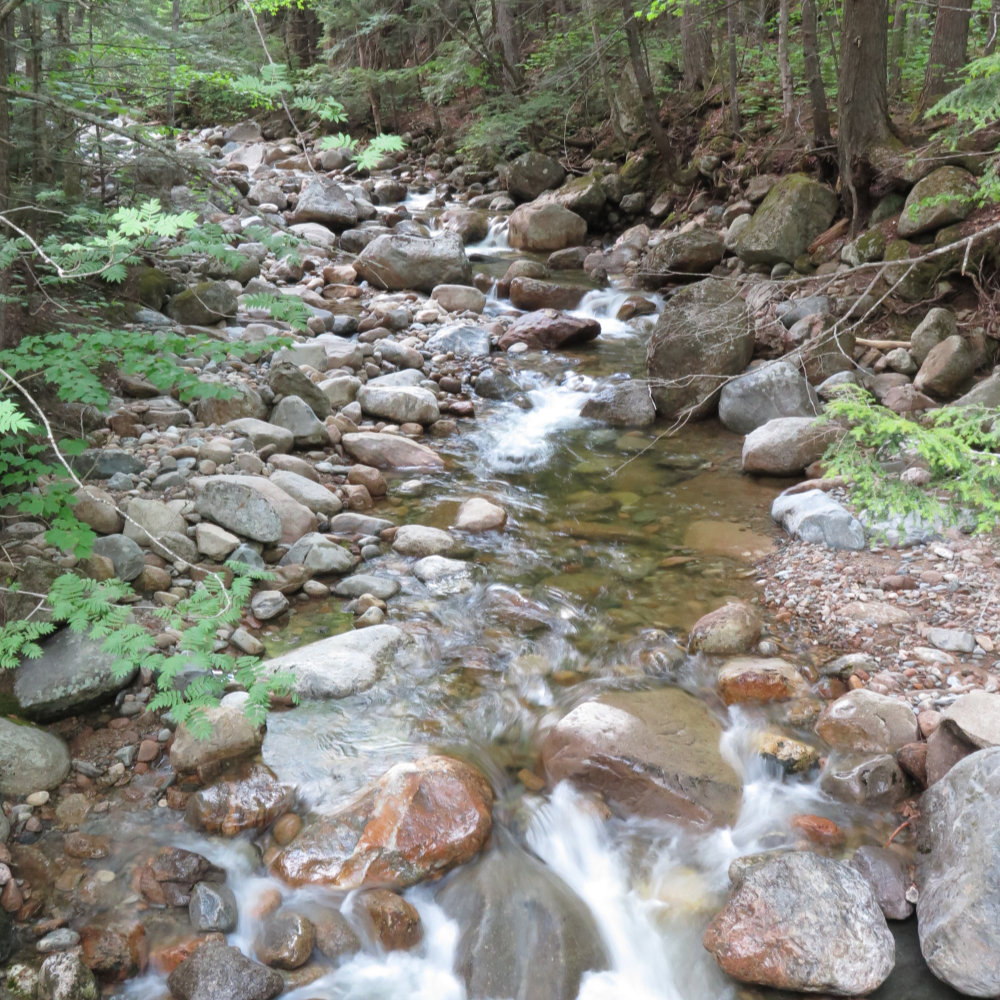 Carrigain Brook. Which should indicate how "treacherous" the water crossings were today.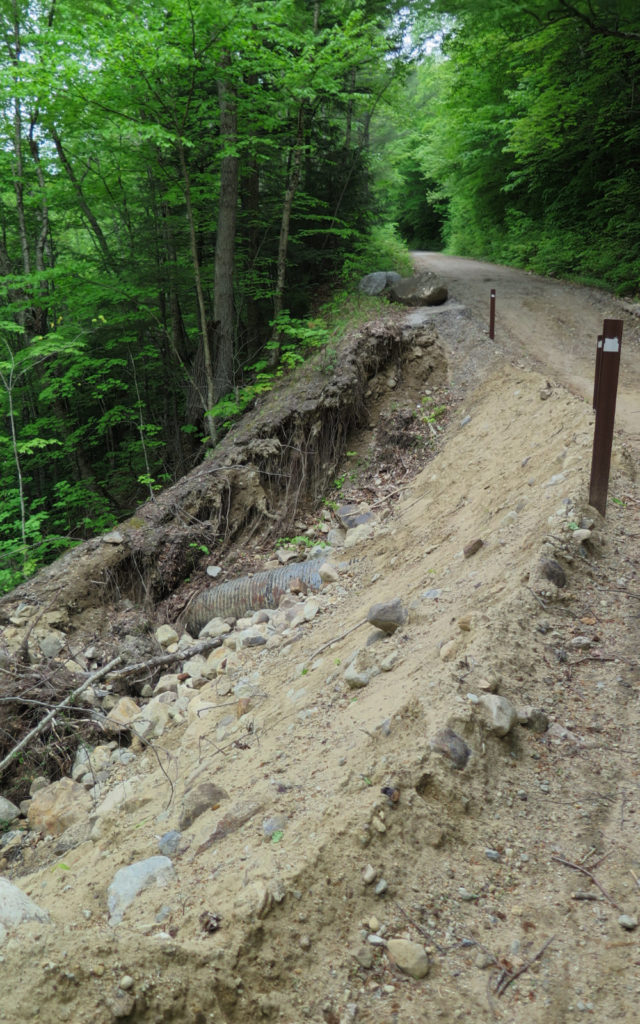 Damage to Sawyer River Road. While almost anyone with experience driving on dirt roads could manage this in clear weather, near-vertical drops are a penalty for poor judgement.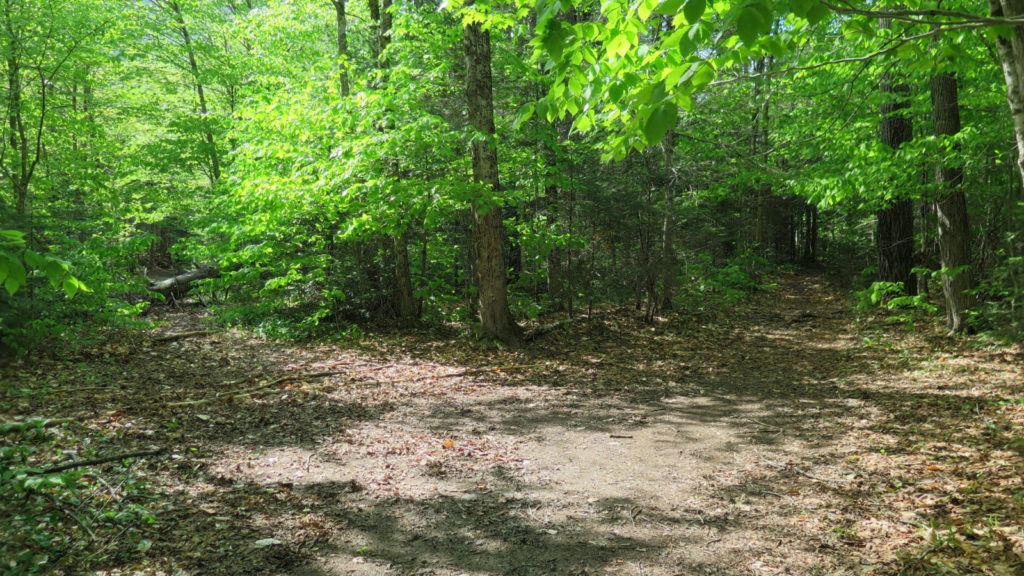 The bifurcation of the trail. Desolation to the right, Signal Ridge to the left. Note the minor blow-downs on the left. Ignore them. They're easily crossed.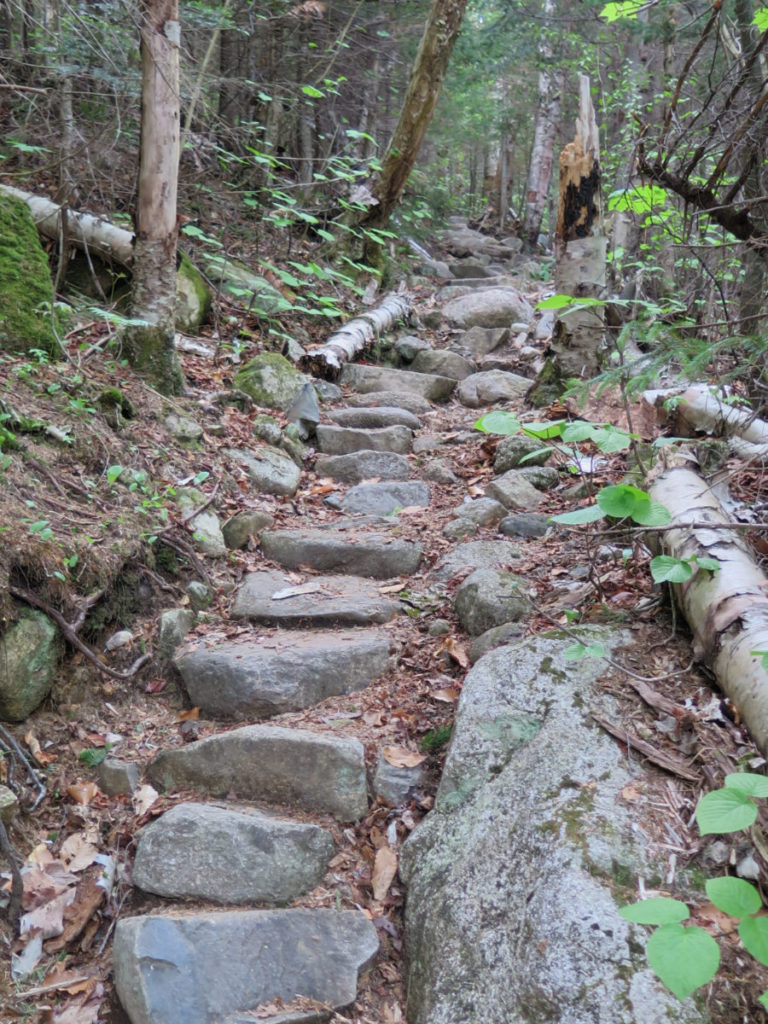 What I wished the second half of the trail was.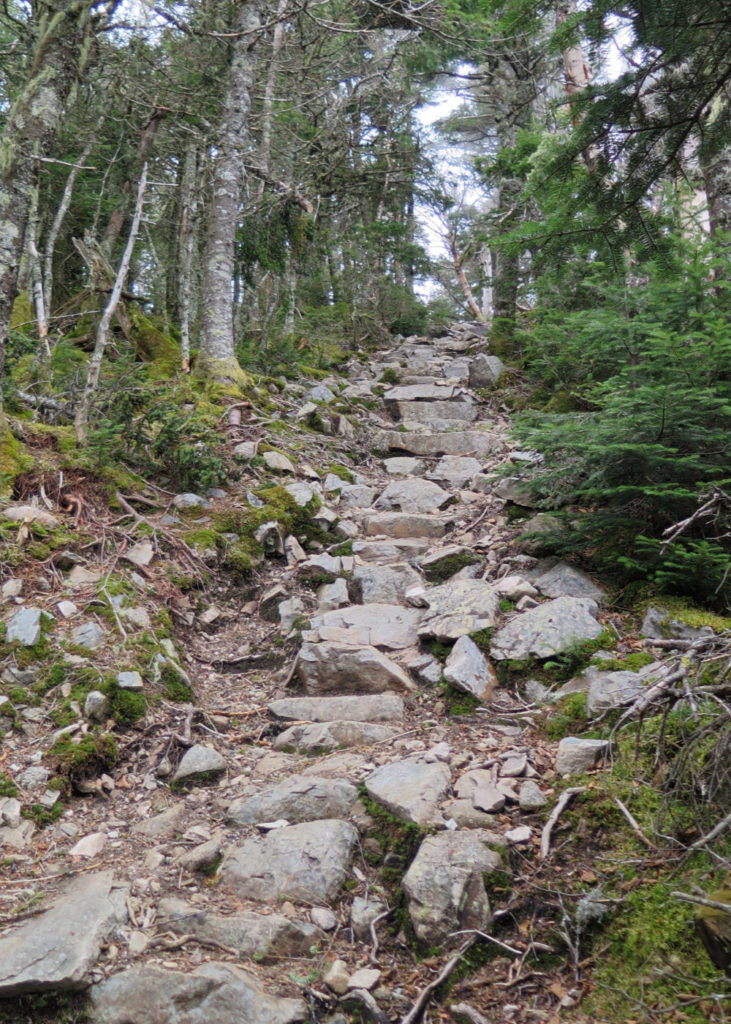 A nicer example of what it ended up being, for the most part.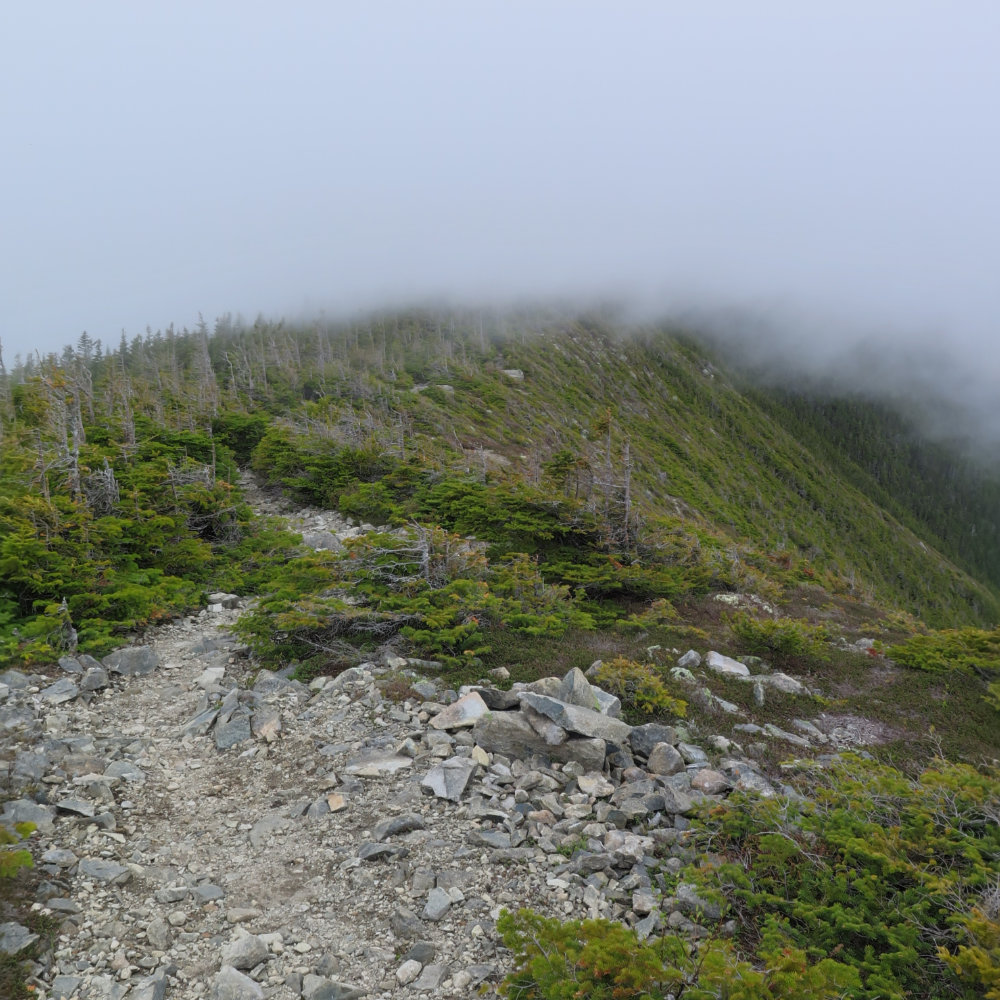 Even shrouded in cloud, Signal Ridge is breathtaking, and a reason to come back.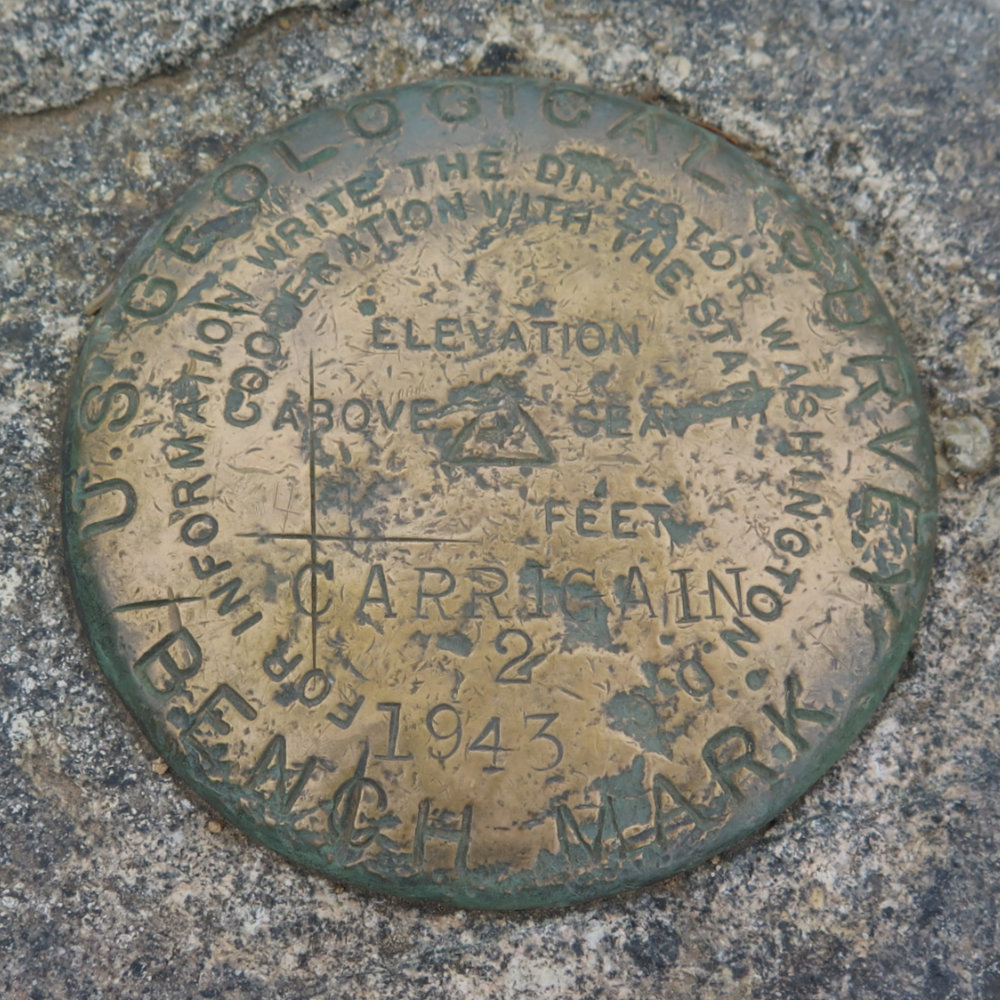 Victory!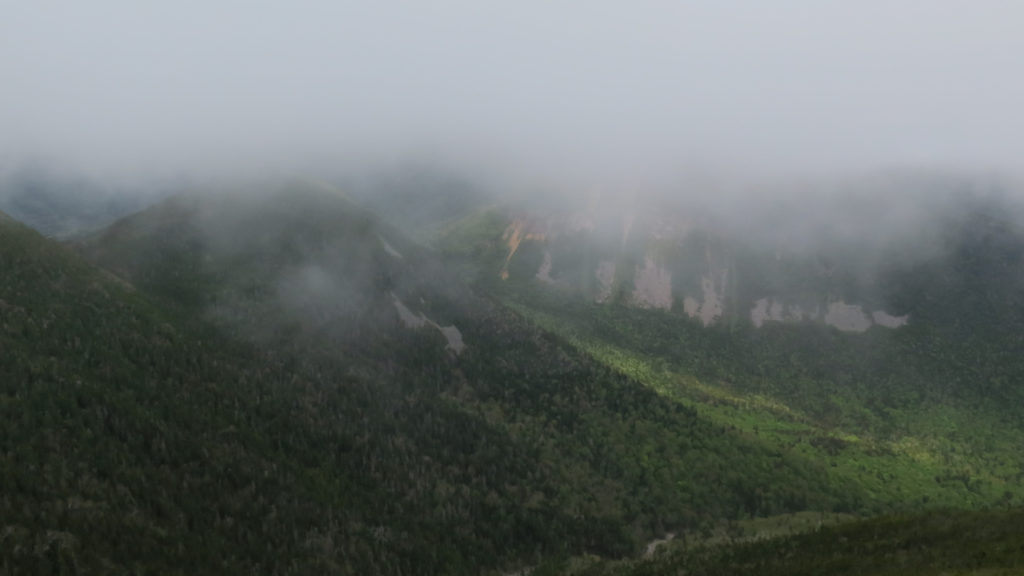 My one and only good view of Mt Lowell, and another reason to come back. 
If you enjoy reading these posts, consider subscribing. Your email will only be used to alert you of new posts — typically 1-2 times per week. I will not use or share your email for any other purpose without your express permission.