Goodrich Rock. Livermore, NH. 2021-04-08 (Thursday.)
Via Greeley Ponds Trail and Goodrich Rock Trail. Approx 6 miles round-trip.
70 dF at the trailhead, 75 dF at the summit. Windless. Sun and clouds throughout.
Trailhead: 1300. Goodrich Rock: 1500. Car: 1700.
Green on Greeley to Goodrich.
Last week, I decided to hang low due to an ingrown toenail that's been giving me grief. It's been slowly resolving itself, but not to the point where I felt like tussling with my toes on something tall today. Instead, I looked back in order to look forward, and realized that I'd left Goodrich Rock undone. I need it for my redline, so there it is, decided. I'm glad things turned out this way. The high peaks are glamorous, but there is plenty of glamorous stuff to go around. It's not the exclusive province of the better known locales. In other words, go to Goodrich. Thank me later.
I got a comfortably late start, having a quiet breakfast, and a thoughtful cup of coffee. Getting to the trailhead in early afternoon, I had the entire drive up to notice the day wasn't going to be cool. Indeed, it's early spring, feeling a lot like it's outright preparing for summertime, instead of waking up from winter. Crossing the parking lot over to the Livermore Road trailhead, I noticed a couple of corvids — they were on the edge between crows and ravens in terms of size. I'll go with ravens, because they just seemed a little bigger. They didn't seem to mind my being around, so I watched them for a short spell, as they went nattering about. 
Truck roads… trails… same thing!
Hiking down the truck road, the trail was wet. Not outright puddles, but the snows have melted, and the dirt isn't solid. Not quite mud, but on the cusp. I think the presence of a lot of aggregate in the roadbed was keeping it from being muddy. It was nice not needing traction, bare boots doing just fine. Occasional packed snow becoming ice slowed me slightly, but the top was soft enough to offer good enough footing. I made quick and easy time to the junction.
And then, I was looking up. Yep, up. It's not a rough trail by any stretch, presenting as a narrower truck road for much of its length. That said, there's a lot of up before things level out, and while it wasn't the hardest hiking I've ever done (I'm thinking of Tripyramid, which was almost within arm's reach throughout the afternoon) it still slowed me down measurably, and got the heart beating quicker. High white clouds overhead, with large holes showing a deep azure sky kept my mood up as I ascended. And of course, spring hiking. I love winter, but I love all four seasons, so the warmer weather is certainly welcome. 
A bevy of big boulders!
I passed the lowermost of the Davis Boulders, just off the side of the trail, and wondered at the immense forces that brought it to this resting place. Continuing up, I found more boulders, two or three at a time, each massive in size, just sitting there, expressing their bulk and heft. There was an inexorable quality to them, a quiet, unspoken "I'm where I'm going to be now, don't bother to think otherwise."
I passed by a large rock, with a huge cleft. The trail officially passes through this void, but trampers had made a bypass. Then a short hop across some stepping stones. And then… wow.
When I was in college, I went rock climbing at Rumney a few times. If you've ever seen the Waimea crag, you know the kind of awe. Goodrich isn't even close to Waimea in size, but it's still one of the biggest glacial erratics in the Granite State, whereas Waimea is an outright crag. The two are fundamentally different structures, but where they're alike is in being very large exemplars of their kind. (And for the record, I was never good enough to climb anything at Waimea, though I did bag a few other things up there.) 
Massive monster!
So I came around this corner, and there was this thirty foot tall monstrosity just sitting there. It took me a few moments to gather my thoughts, just sitting under part of its massiveness. No kidding, I had to just stand there, next to it, taking it in, wrapping my head around it. Not the least, but when they talk about mile-thick glaciers during the last ice age, most of that is purely academic. Then you think about what it took to haul this glacial pebble into its present place of repose. That's mile-thick ice. Wow.
Going around back, there's a tall wooden ladder. It's pretty sturdy, and in moments, I was on top. Views were attenuated, but I could see Sandwich Mountain nearby, which was quite nice. It complimented the broken-up views I had of Tripyramid on my way up. I looked around, contemplating the boulder I was standing on. The rock itself isn't even on top — it sits off to the side of a shoulder on East Osceola, and the summit of that mountain is still a very serious amount of climbing to do, with no trail to the summit from this side. 
Memory mishap…
Back at Greeley Ponds trail, I turned north, heading up to the Timber Camp trailhead. My fault for forgetting I'd already done this stretch last year, but then again, on a beautiful day, who cares? Interestingly, just about as I hit 2,000 feet, which was very near height-of-land, the trail got unmistakably snowy, all the way to, and beyond the Timber Camp trailhead. It was weird, because the air felt cooler, and not just because of the snow. Descending, I hit a spot where a slight breeze brought in noticeably warmer air, and that made me wonder if the snow is persisting only because of an air current. I was certainly higher up at Goodrich Rock, with nowhere near the same amount of snow. (Indeed, for all practical purposes, it was pretty much bare earth in most places.) 
And then that was it for my day's goals, apart from the persistent "have a good time." Returning to the car, I appreciated the fact I was on the downhill for practically the entire way. The afternoon light got a bit more golden, and then it was a drive home, with enough sun left to see the mountains on the way out. Not a bad way to wrap up a nice hike, on a nice trail, to a stupendously amazing rock.
As always, stay safe out there.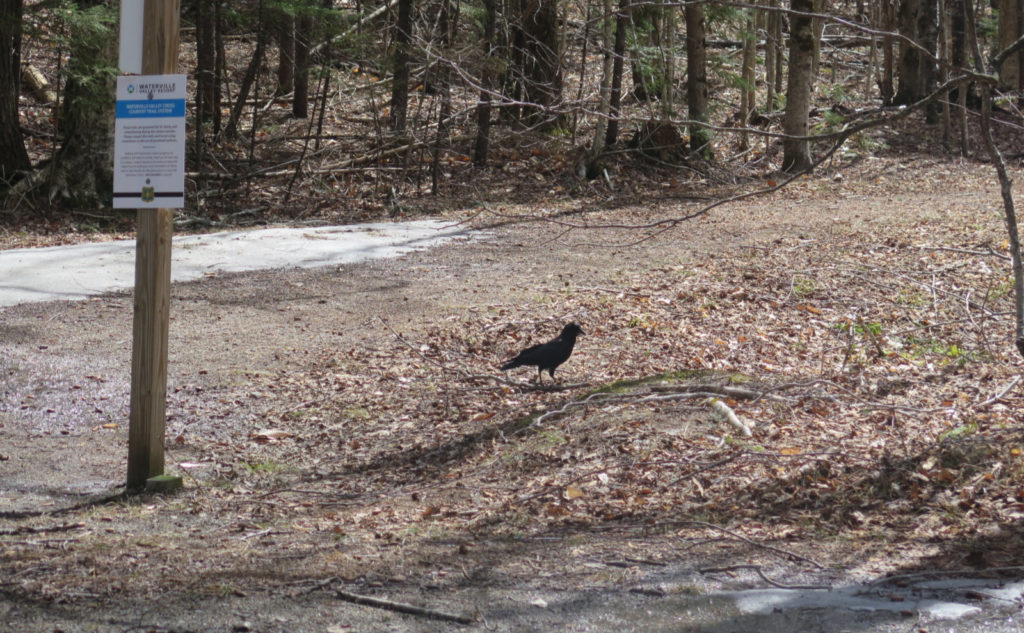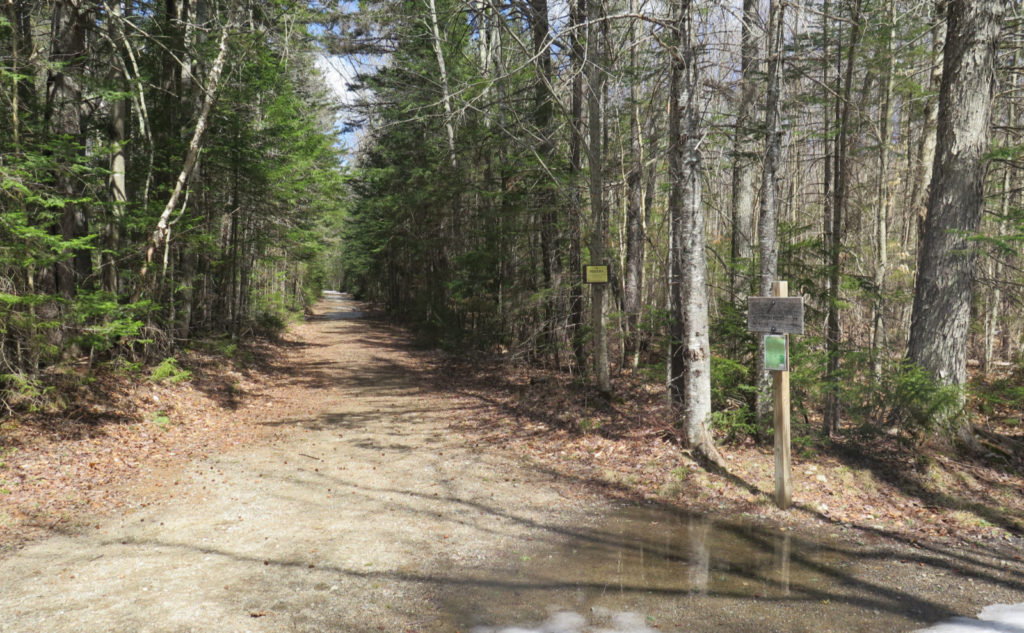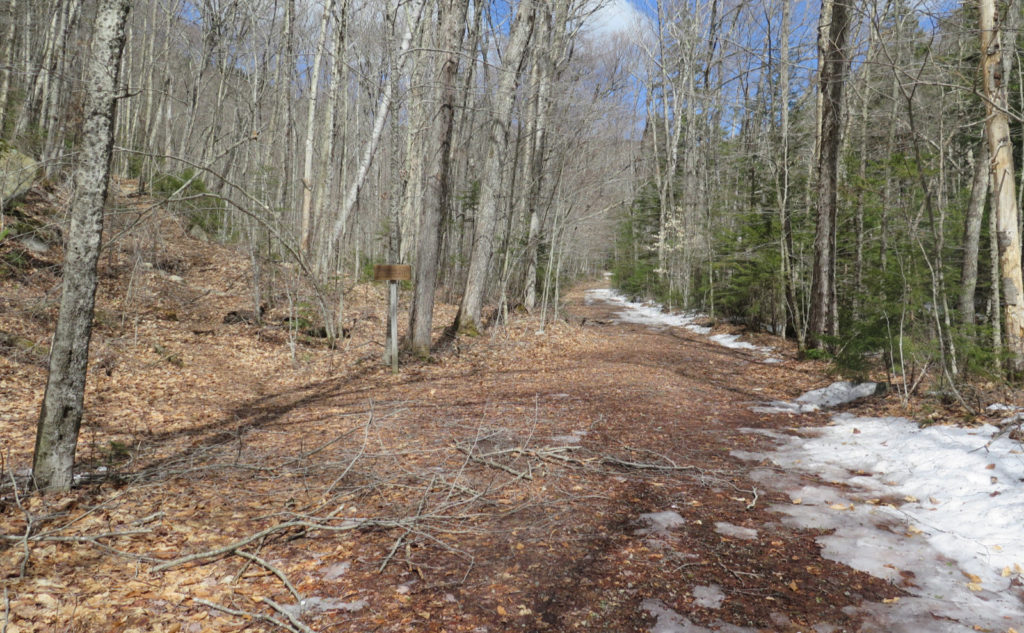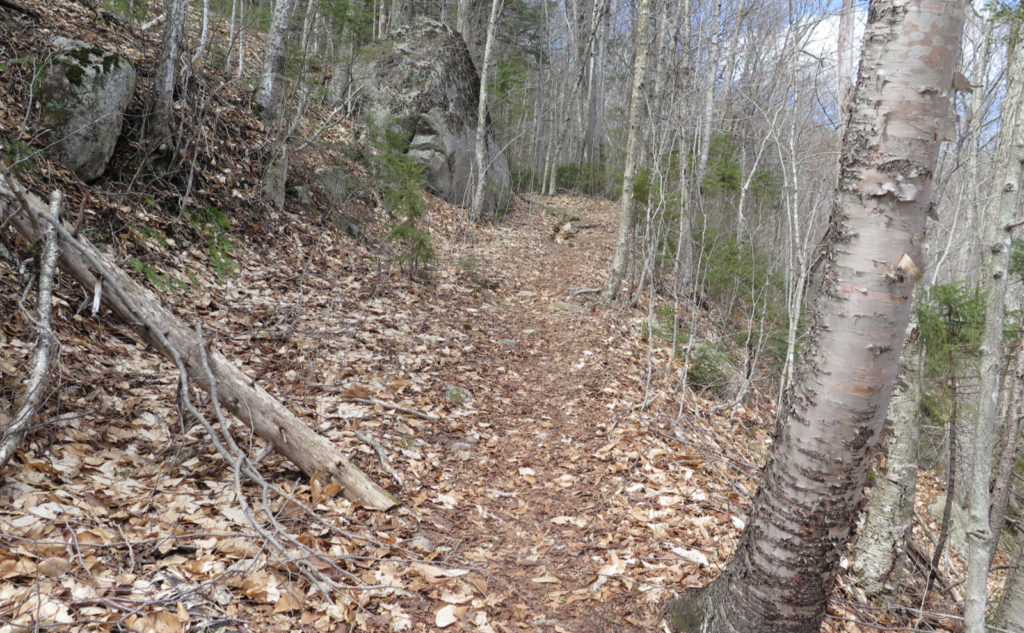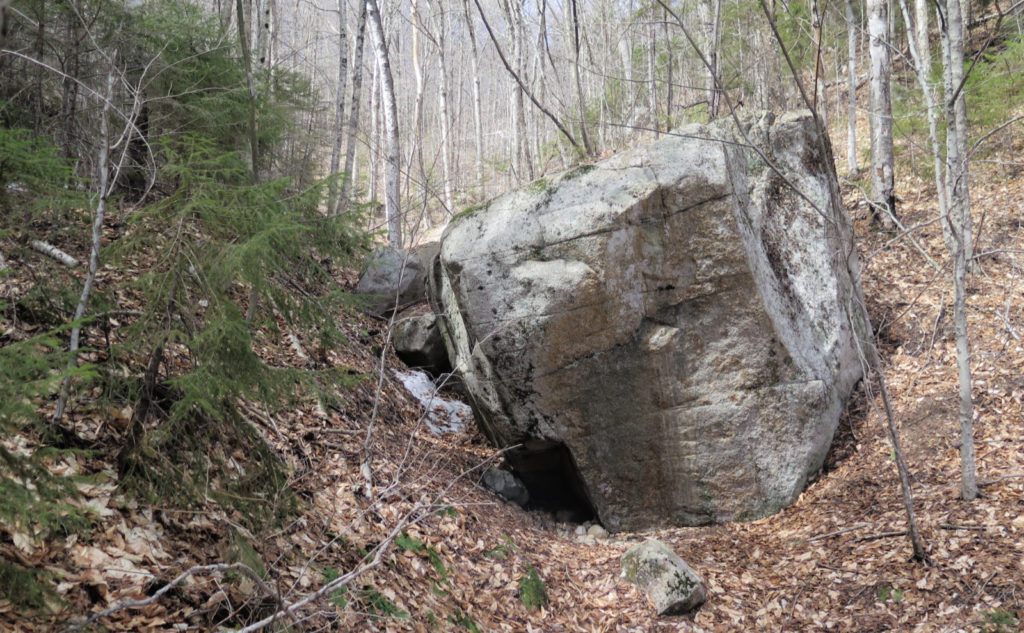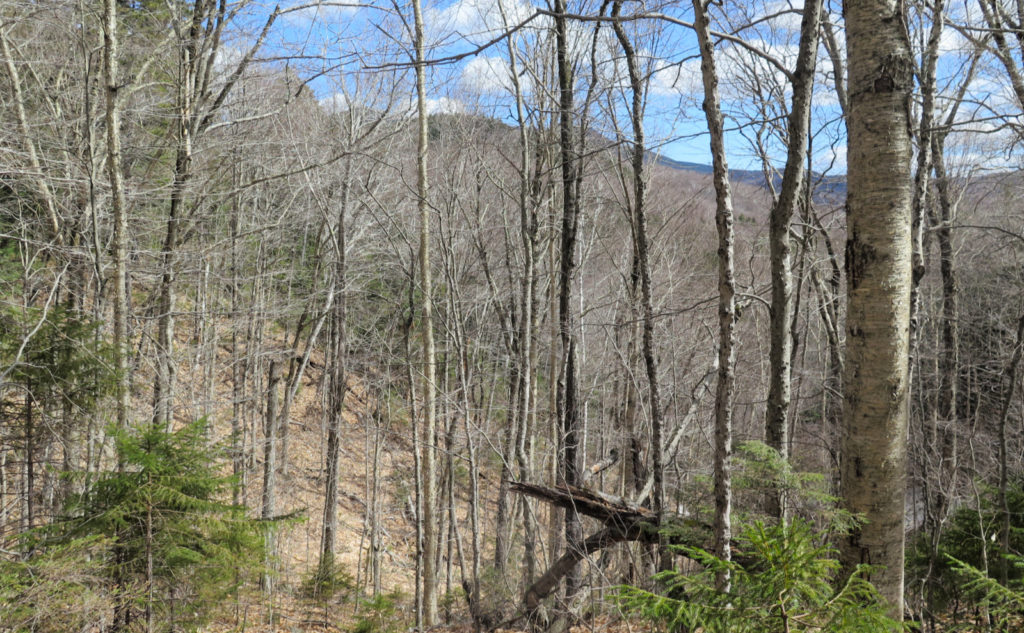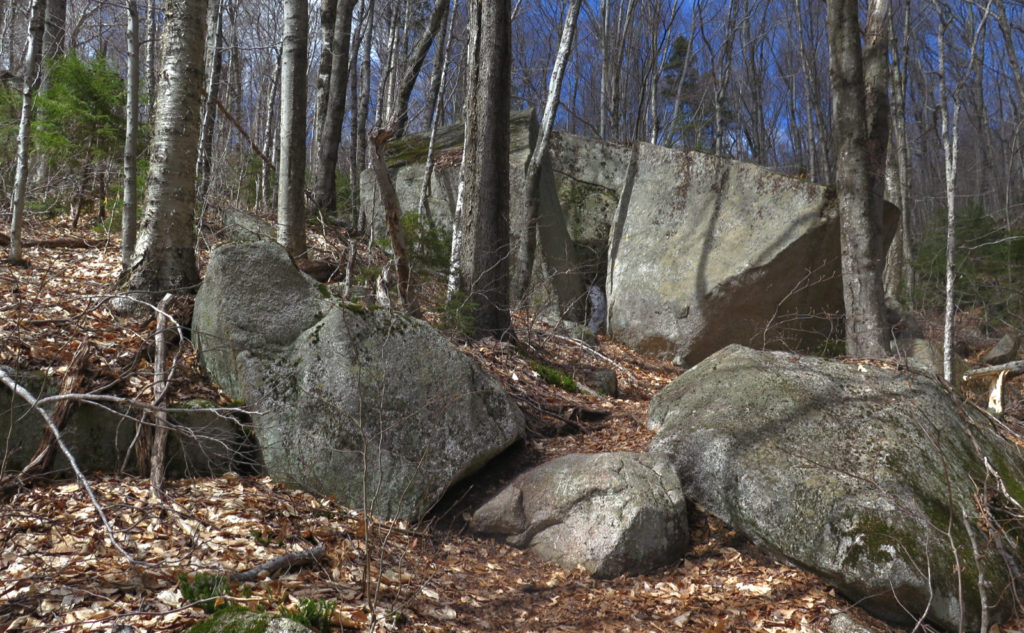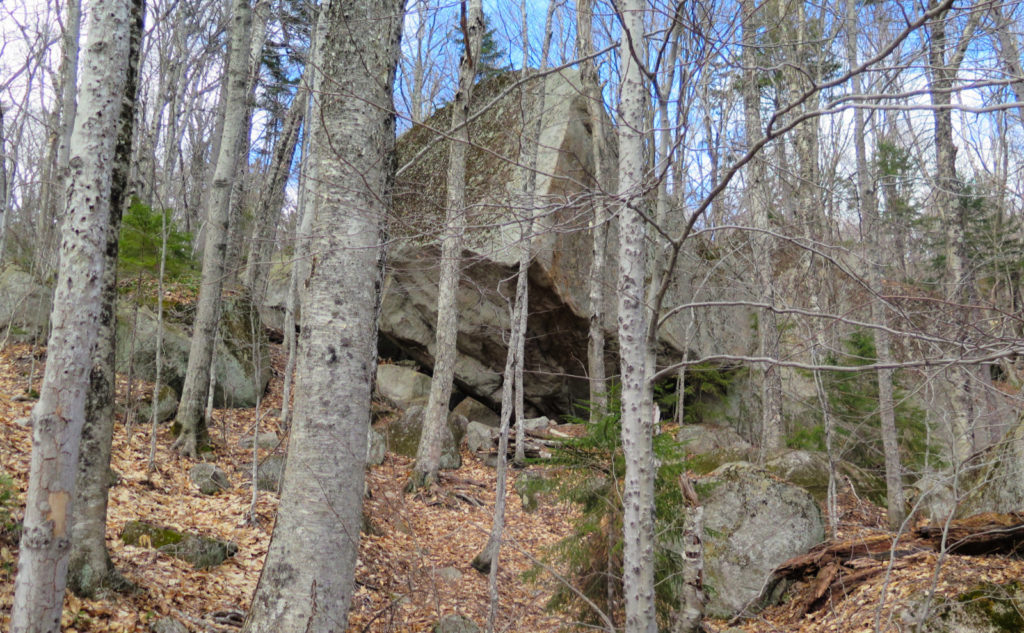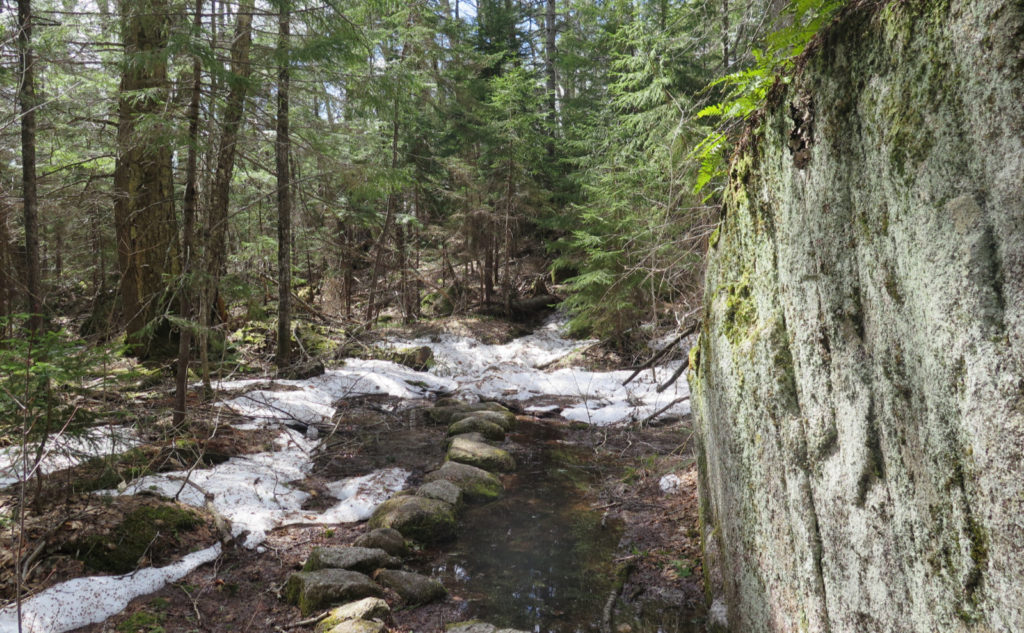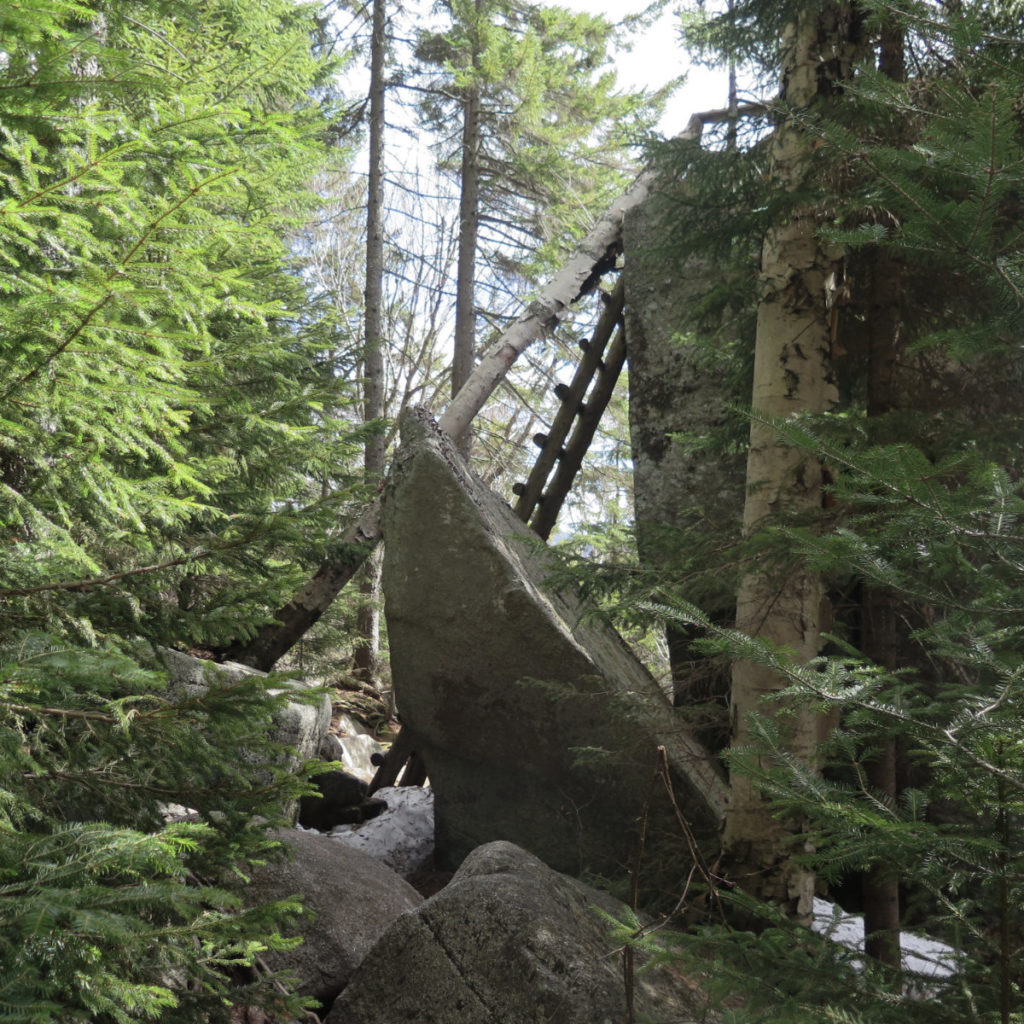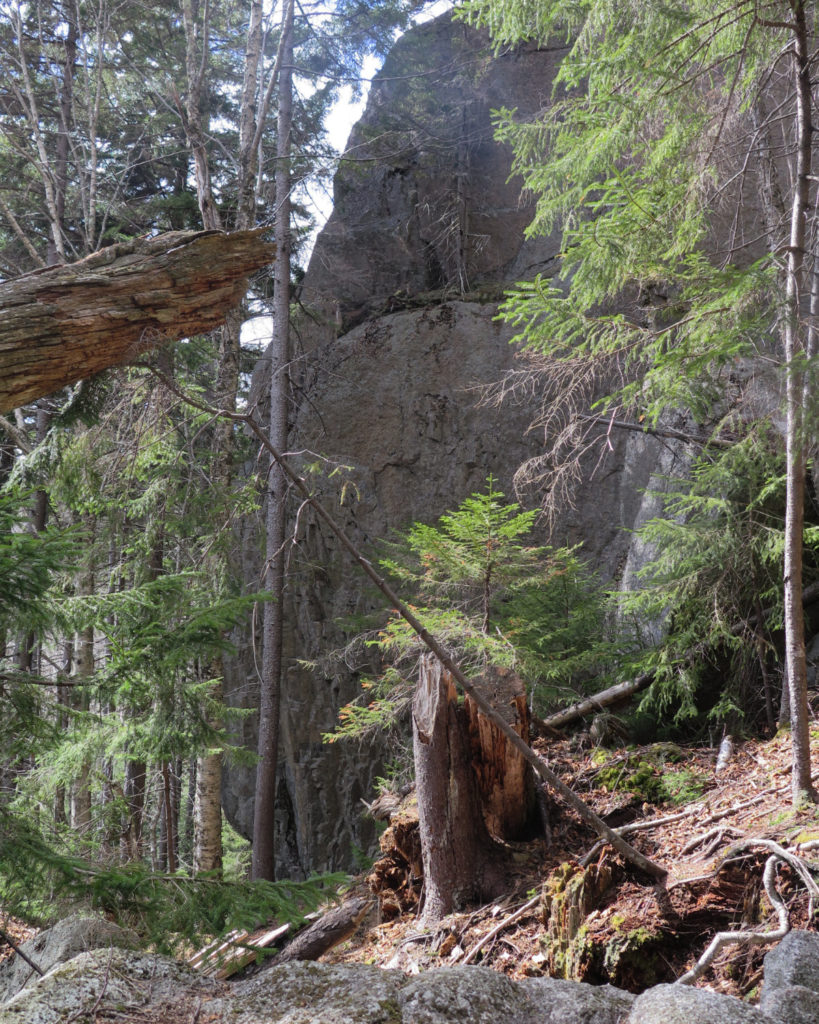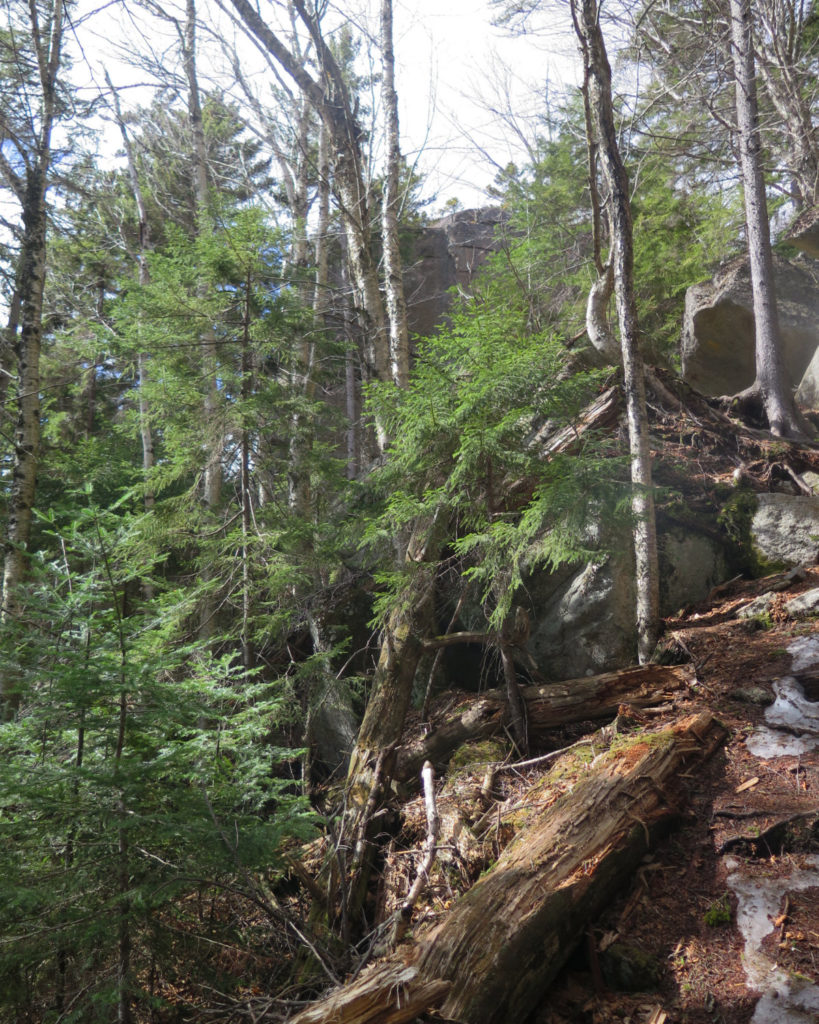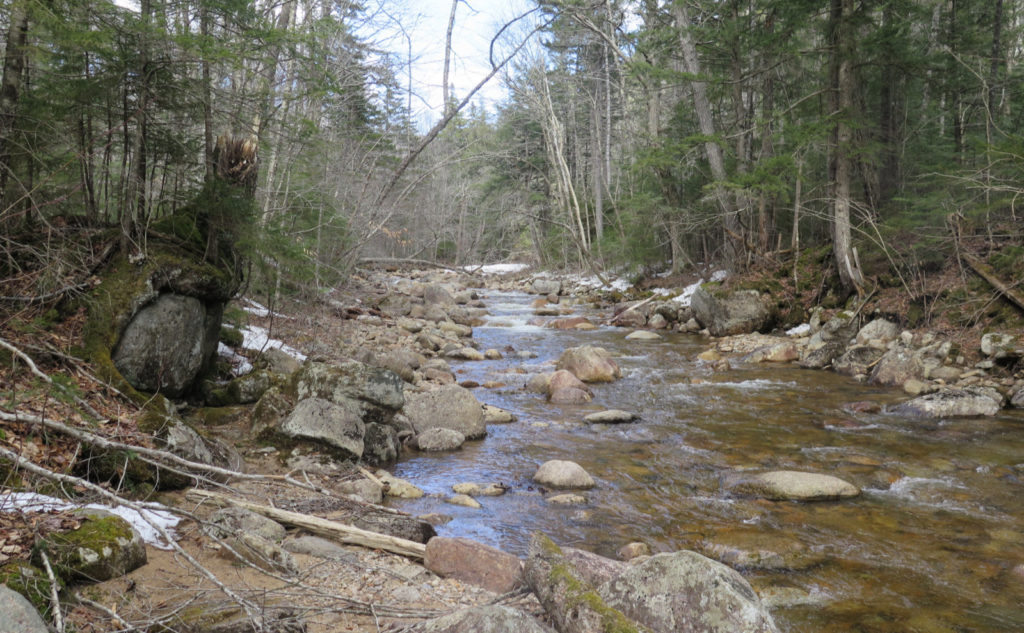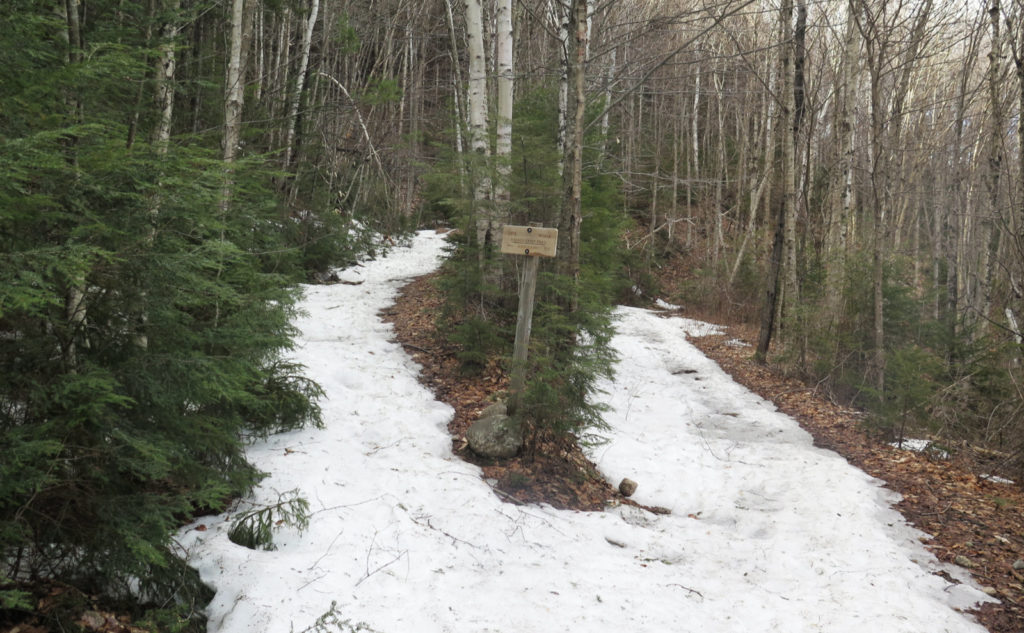 Nuts and Bolts: From 93 north, get off at the exit for Route 49 and Waterville Valley. Turn right, and follow that for a few miles — shouldn't be ten minutes. At the ski area sign, turn left, and then at the fork, head down and to the right. Shortly afterward will be a small bridge on the right. For the next short while, Tripoli Road should still be closed, but after that, watch out you don't go too far; the bridge is small, short, and unremarkable. Just after crossing that bridge, spot a large WMNF sign with "LIVERMORE" beneath. Park. Composting toilets are on the left side of the parking area, the trailhead is on the right. The kiosk is easily visible from the parking lot.
Trailhead for Greeley Ponds Trail will be down Livermore Road by about 3/10 of a mile. Goodrich is on the left, a bit less than a mile later. Blazes are yellow and sparse, however, the trail is easy to find and follow, being a fairly wide truck trail for almost its entirety. Note the opening 3/10 of a mile is on the X-C ski trails. Just stay on Livermore, and when in doubt, follow your nose. The overall line pretty much makes sense when you see it.