Sawyer River Trail. Livermore, NH. 2021-04-14 (Wednesday.)
Via Sawyer River Trail. Approximately 3.8 miles one-way. Elevation change was negligible. Return was via the fire roads, and the "front half" of the Sawyer River Trail.
Temps at or very near 60 dF all afternoon. RH ranged from about 45% to 55%. Winds were non-existent. Sun and clouds throughout.
Sometimes it sneaks up on you a second time
When I was crossing the Swift River last year, just around this time, it was a very different situation. Looking back, it was a mere lick above freezing, and snow was still very much on the ground. What a difference a year makes. Or does it?
I've been giving myself a little room, doing easy stuff that is less likely to mangle my feet while an ingrown toenail resolves itself. Cramming my feet into boots that were then clamped like a vise into snowshoes… yeah, that hurts after a bit. But I don't think it's hurt from the perspective of redlining — I'd only done about 2/3 of this trail. As I was about to find out, the last bit was somewhat unexpected, given how the first bit presented itself.
But first, an unexpected delight
The Mountain Wanderer was open. I had to stop in. Anyone would argue I'm not wanting for a good book to read. Indeed, my personal library numbers somewhere around 1,000 volumes. As far as I'm concerned, whomever collects the most books, wins. At a certain point, I'm sure the floors will collapse under the weight of so many tomes, but until then, I'll keep adding to the collection. After then, I'll shore up the floor joists and then proceed as if nothing happened.
A winding drive brought me through the western part of the Kancamagus Highway. The Osceolas kept me company to my right. But then I got to the hairpin turn, and things got weird for a moment. Which is OK. You're never at a loss for things to look at out there. My wandering eye caught some pull-offs that were probably unmarked fire roads. And of course, my imagination lingered. What's down there?
But then I crossed over Kancamagus Pass, and a couple minutes later, arrived at the trailhead. The game was afoot! OK, nothing that dramatic, but it was good to be back on the trail again, back in the Pemigewasset. And notably, one of the less popular stretches.
Stretching my legs, making miles…
Much of the trail was snow-free, in marked contrast to when I was last out here. It was moist in many places, outright wet in a few. Interestingly, not a lot of mud, but then again, most of the trail was on an old logging road. And I say "outright wet" meaning most of that was either a puddle, a short stretch where a nearby brook "crossed the trail" but ran down it for a short spell, or something of that nature.
There was, of course, a notable exception, barely a quarter mile in: crossing the Swift River. Which today, was swift, and loaded with water. It wasn't quite dangerous, but it did demand attention, and try as I might, my socks got wet. Let me state for the record that spending money on socks pays back, in the sense that while they might have been damp, I didn't spend much time thinking about them after the first couple minutes. As I write this, my feet are comfortably soaking in some Epsom salts… what was that about wet socks?
Like last time, I enjoyed swift travel across a very smooth trail. Seriously, I was cruising along, going faster than 2 miles every hour. Not that I was trying to make quick mileage, but when you're not climbing seemingly vertical trails, those miles melt away. I passed through some wide open areas, some wetlands and such, occasionally serenaded by hordes of frogs, occasional songbirds, and not a single whisper of wind. In a word, it was serene.
Breaking new ground
Passing the trail junction with the Hancock Notch trail, I pressed onward into new territory, officially cleaning up from last year. The trail quickly became "a trail", leaving the fire road for a bit as it followed a brief redirect through the woods. Not long after, I was back on the logging road, vaguely paralleling the Sawyer river. I'd expected things to get wet in this stretch, but miraculously, it didn't turn out that way. Instead, at various points, I had the roar of rushing water keeping me company.
And then, I looked to the right, and curiously, saw a metal drainpipe. Looking closer, the embankment of a road just above that. In front of me, the end of the trail… a kiosk, and another trail checked off the list. But probably not the last time I'll be out here. For the effort, this is a gem. At various points, you're surrounded by views of the mountains, slightly attenuated by trees (to be fair, there are better vistas out there) and yet, you're in the middle of a forest, with not a lot of people crowding around. I loved those wetlands in the winter, and they're just as good in the springtime. So yeah, I think I'll be puttering around here again.
Alone?
Driving home, I reflected on the signposts "out there." While I hiked, I did indeed see signs of recent people's passage. Notably, someone had taken a turn on the trail with a dirt bike. I remain sanguine, knowing this is an established route for snow machines, too. "Land of many uses", including motorized in spots.
But all the same, there's a sense of remoteness. It's not quite like being way out behind Carrigain, or in the Wild River Wilderness, but at the same time, you're most certainly not on Franconia Ridge or the summit of Washington. Every time I see signposts in these more remote locations… I dunno. It's like a sentinel, quietly standing there, waiting for a person to come along. How many people really do hike out there, where there's not a popular summit nearby?
As always, stay safe out there.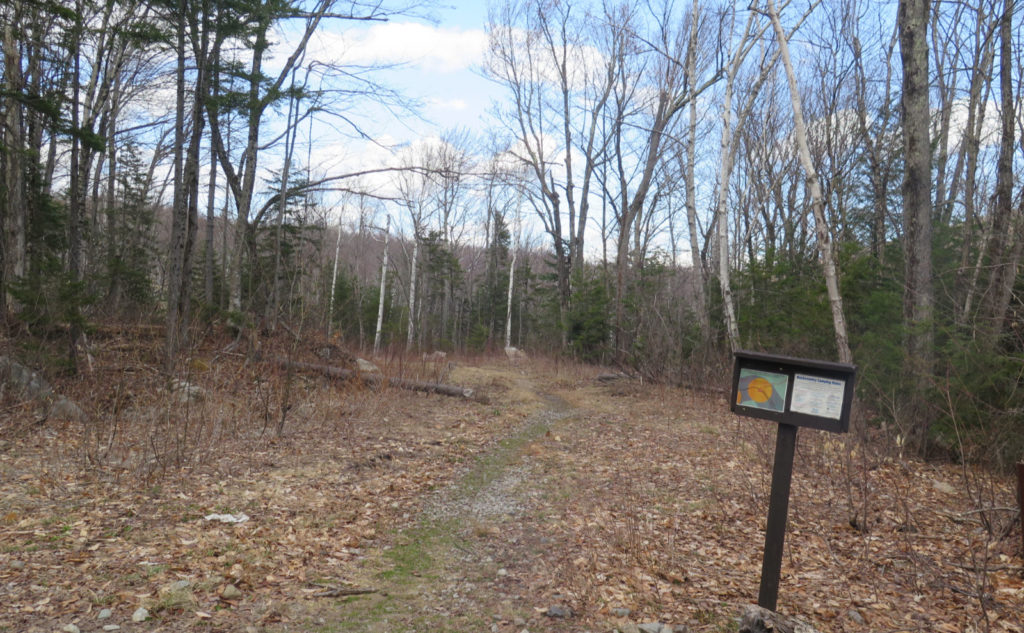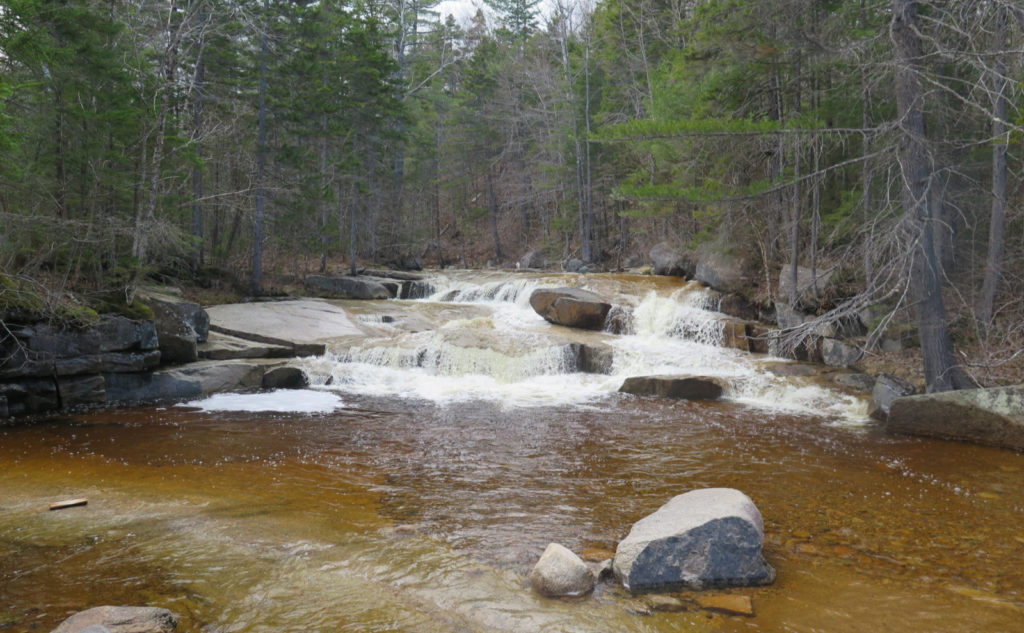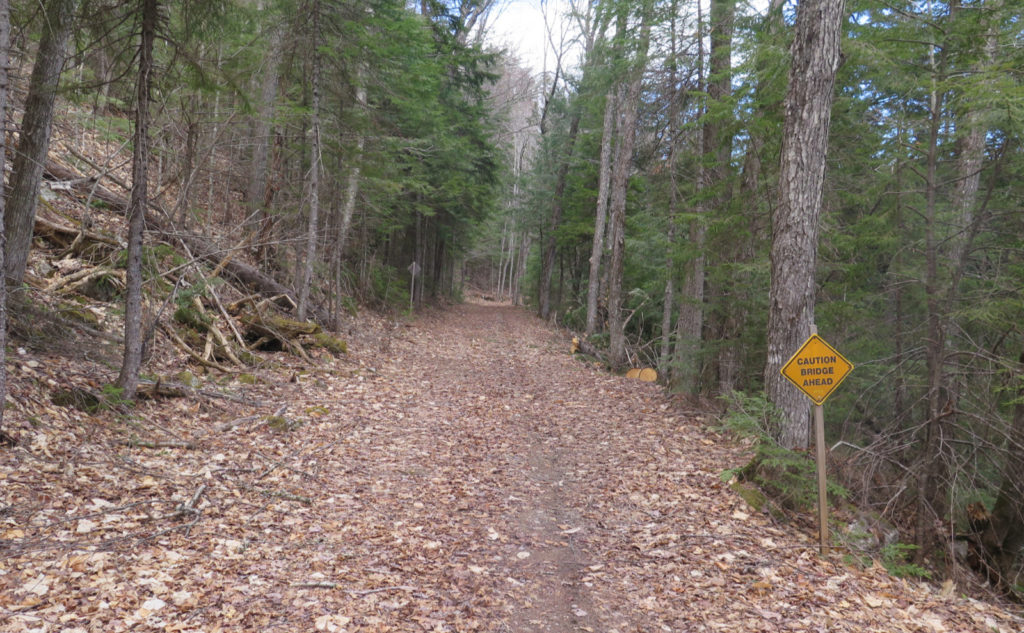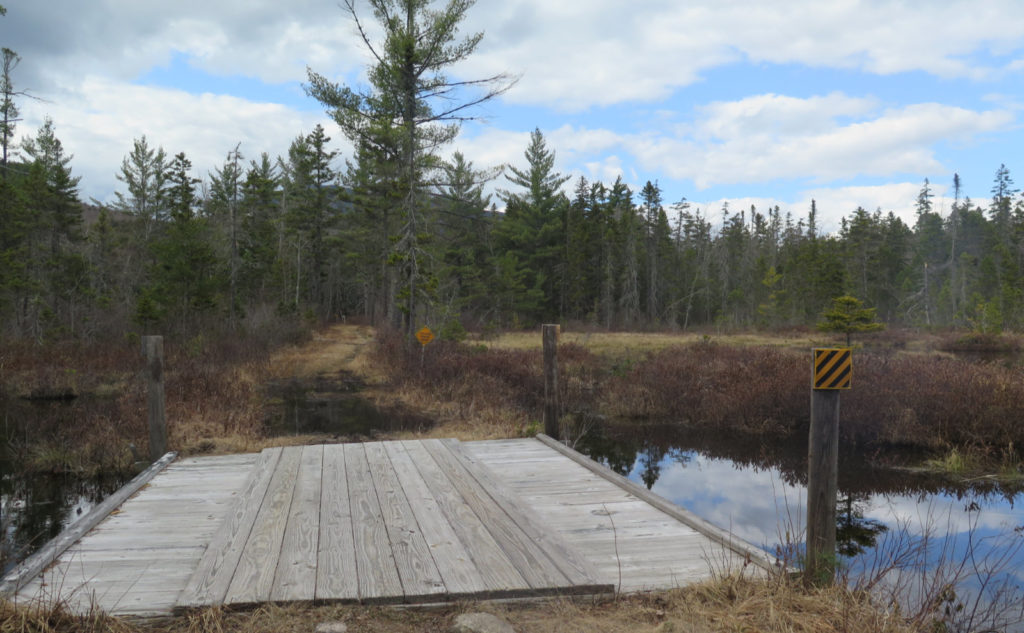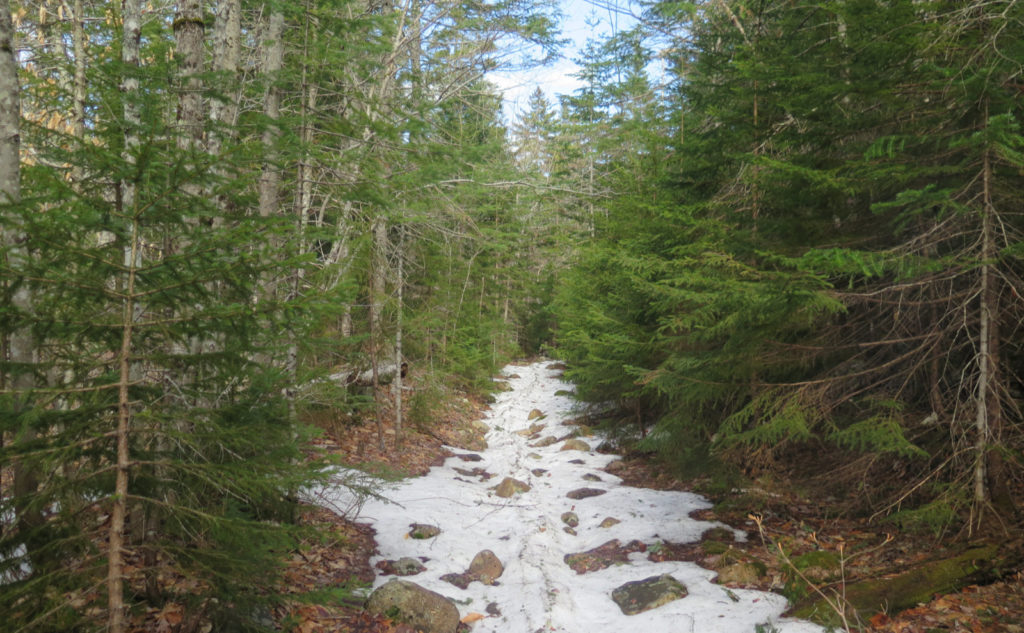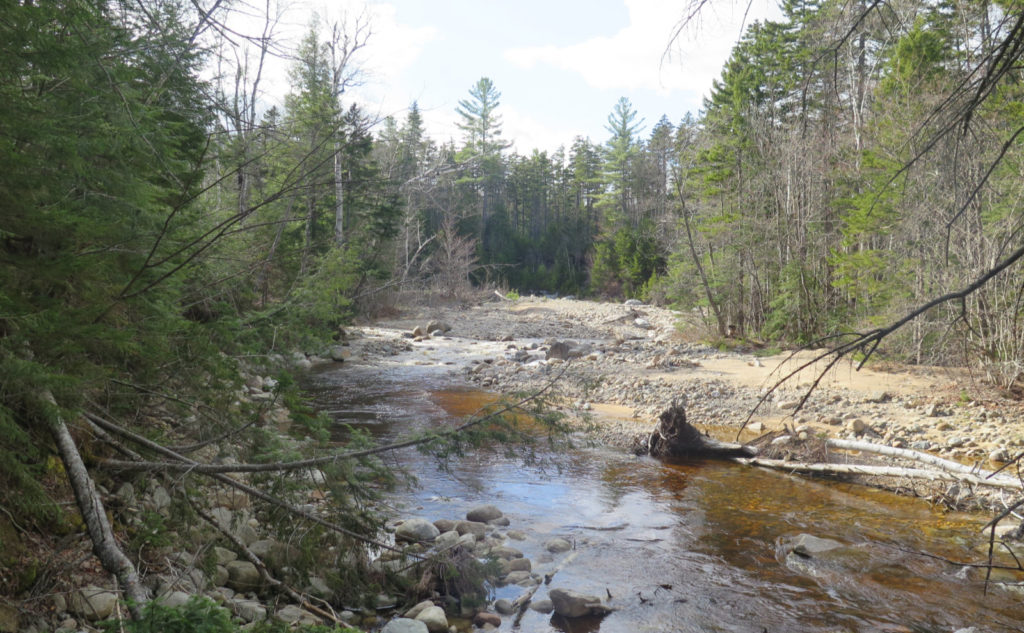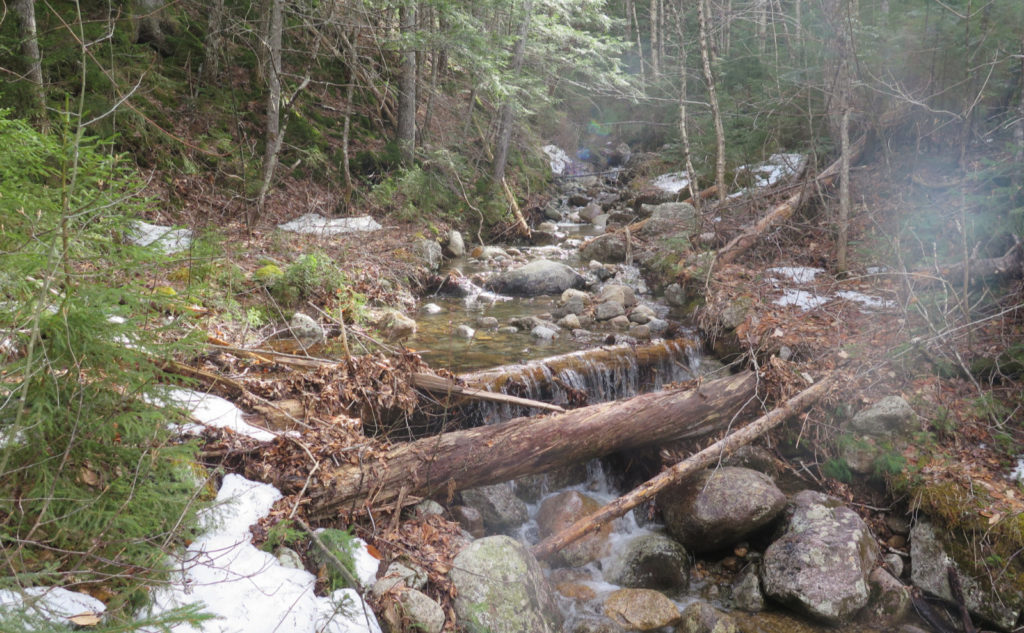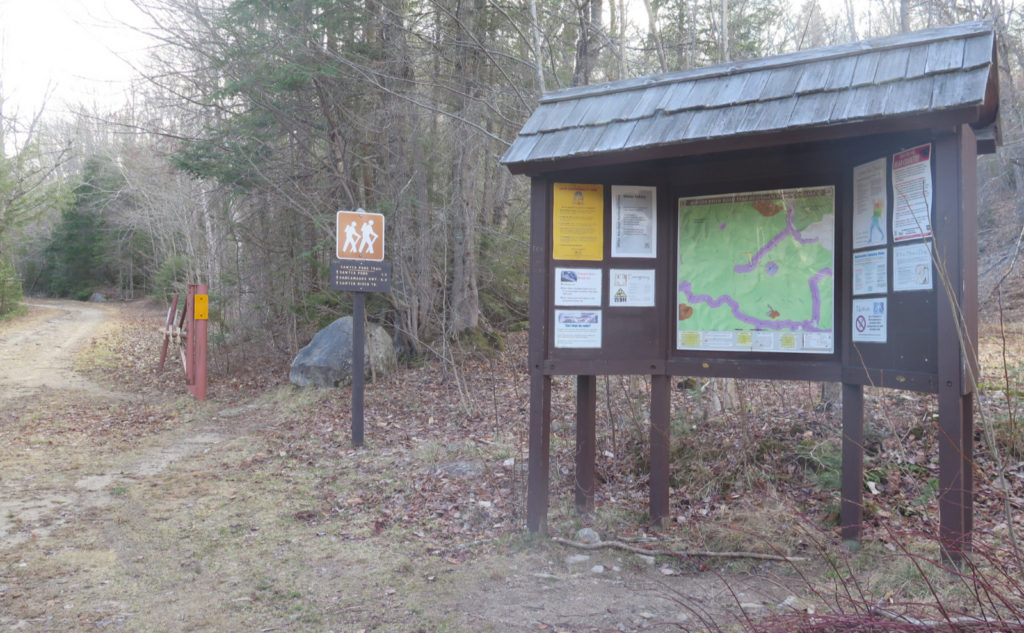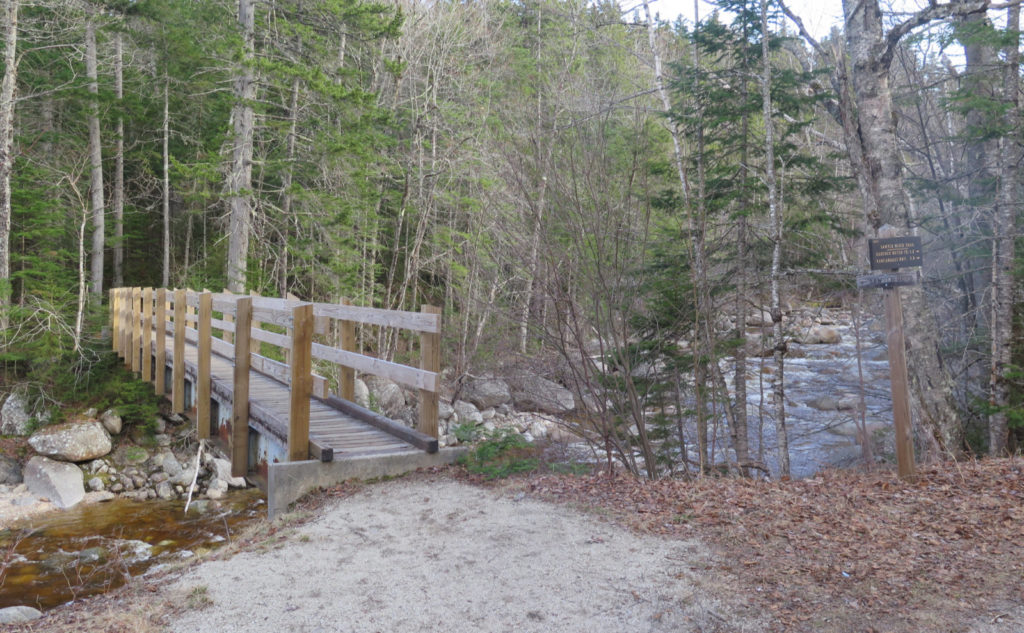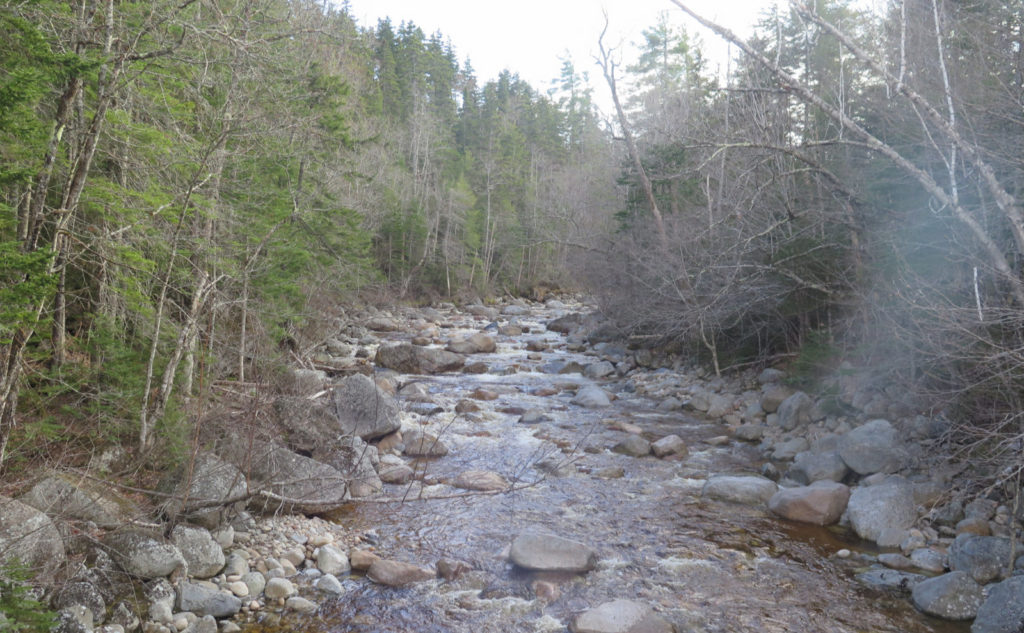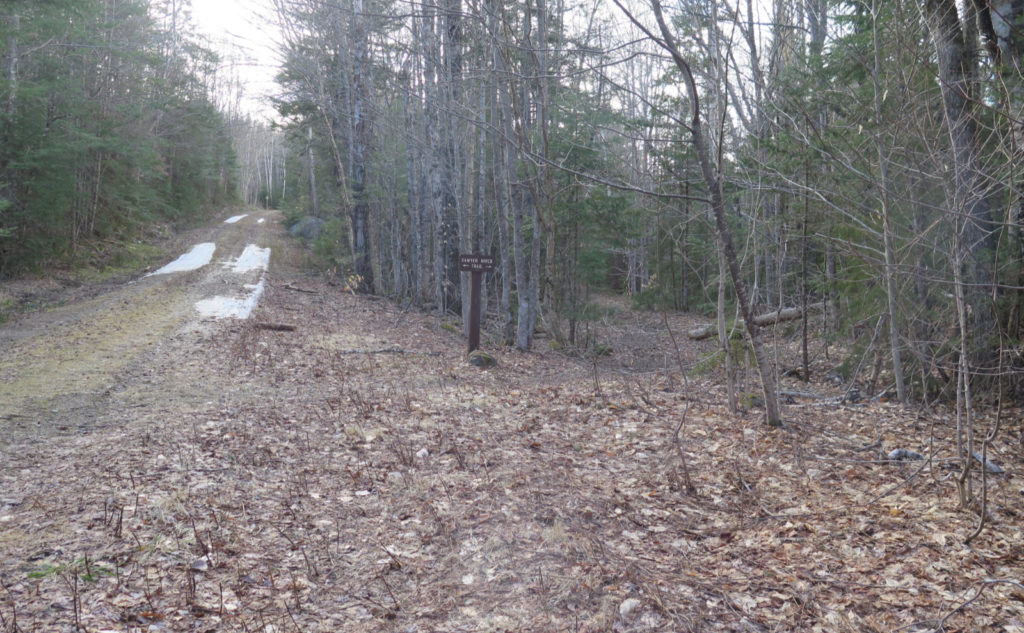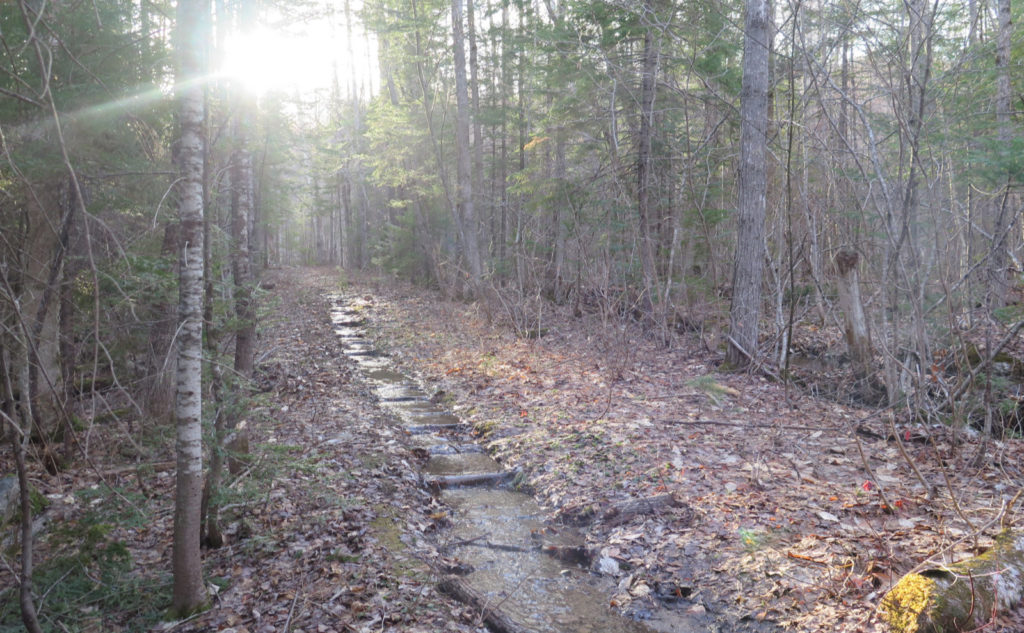 Nuts and Bolts: Head east on the Kancamagus Highway, and on crossing Kancamagus Pass, pay attention. The trailhead will be just a few short minutes later, on the left. You're looking for a small brown sign, set back from the road, with a parking area suitable for half a dozen cars at best.
Blazes are yellow and pretty sparse, but the trail is mostly easily followed, as it runs almost entirely on logging roads with few re-directs. At the moment, there are a few blow-downs where the Sawyer River trail continues at the junction with the Hancock Notch trail. You might think this is an indication that the trail has been re-routed. Check your map carefully: you're probably on the right trail.