Mt Washington (6,288 feet) and Mt Monroe (5,372 feet.) 2022-10-01 (Saturday.) 
Via the Ammonoosuc Ravine trail, Crawford Path, Mt Monroe Loop trail. Approx 10 miles.
Low 50s dF at trailhead, low 50s at Washington's summit. And would you believe it was about the same temperature when I got back to the car? (Seriously, my day didn't deviate more than about five degrees from the time I got to the trailhead to the time I left. Cool!) Winds were negligible, bordering on non-existent. Per the MW-OBS report, visibility was 130 miles. By me, it was certainly a curve-of-the-earth day, with very little haze.
Trailhead: 1130. Lakes of the Clouds hut: 1330. Washington summit: 1430. Monroe summit: 1600. Car: 1845.
Surprises come in big and small packages
In more than a few ways, this was the trip that wasn't going to happen, or at least nothing like it ultimately did. But as often happens, the mountains have a way of imposing their will on your itinerary. And it doesn't hurt if you are utterly incapable of hauling your sorry state of affairs out of bed in a timely manner. Mea magna culpa. As things turned out, it was all for the good, and I'm pleased about that.
My original plans were to hike up from Boott Spur, and take two different paths up and down Bigelow Lawn for my redline. Zip over to bag Monroe, and if I had any gas left in the tank on the way down, nail down the Boott Spur Link trail for good measure. But the more I thought about it, and the more time I let the idea ferment, the more I realized this wasn't as good an idea as I thought. Soon, but not now. 
Parking at Ammo's trailhead, I readied myself and headed up. I'd not been able to get myself into a good headspace on the drive, and those feelings lingered, for sure. Work lately has had its stresses. The clouds that didn't show any signs of going anywhere weren't helping. There was something of an air of resignation about the day. Perhaps I'd be just booking mileage, if even that. I muddled my way upward, not particularly quickly, taking odd stops here and there to do a little exploring. I was in no rush. Occasionally the Cog punctured the stillness with its shrill whistle.
Things have a habit of turning out for the better sometimes.
I was thinking I'd just bag Mt Monroe, and then make a hasty exit. The day felt dreary, the trail was wet and muddy, cloudy skies that looked like that was going to be it for the day. I was feeling a bit aimless and not at all motivated. Then suddenly, the sun started to shine through the trees. OK, so there's a hole in the clouds, and it'll just be a second or two before that goes away. Statistically, the clouds hang out around here more than half the time. It's just a fact of life. 
And yet, it persisted. At Gem Pool, the sun kept shining. On and on, up and up, more sun. There was a point, maybe half a mile down from Lakes of the Clouds, where I realized the sunshine was real, and I was going to have to make a run for Mt Washington's summit. I saw the observatory with just a few tiny wisps of cloud and a whole lot of blue sky. The cosmic broom sealed the deal by sweeping all those clouds away. I needed to be up there.
That getting out of bed thing? Yeah, so I didn't get the earliest start, and with that, not the most amount of daylight left. Now here I was, with some time to make up. From somewhere within, I was just driven to stand on both peaks while the views stretched into infinity. I remember a point where the pain didn't matter, nor did the gobs of sweat, the steep and rocky terrain, or any of that. The weather turned out to be glorious in a way that I hadn't anticipated when I read the early morning Higher Summits Forecast. Not just for October, but for any time at all. With the lifting of the clouds, this became an amazing day and I had to make the most of it. I pushed hard. 
Sweet smell of summit success!
And so it was that I stood on the summit of Washington, along with the hordes that had spewed forth from the Cog and the auto road. (I very obviously have opinions about that.) There was a gigantic queue for the summit sign, and I'm fairly sure no-one in the line was a hiker. In colder months, it's so much easier to just march up to the sign and snap a selfie! (This might count as the only mark against the glorious weather.) Because the canteen was open, I indulged in a whoopie pie and something cold to wet my whistle. This seems to have become a tradition — the pies come from a bakery in Maine, so, fairly local, quite yummy, worth looking forward to.
Noting the time and the amount of daylight left, there was a bit of a mad dash to get over to Monroe. I'd spent more than a few minutes on the summit of Washington enjoying my snack, so I had to make up time. Fortunately, the way down Crawford Path was unremarkable, and despite the rocky terrain and no shortage of stiff and sore legs, my feet knew where to go quite well. Sometimes That Just Happens. Without much ado, I found myself back at the Lakes of the Clouds.
The hike up Monroe is pretty nice on a clement day. You've got views that are shoulder-to shoulder with the best in the world. The path isn't complicated. Although it's far easier from the south, the north side isn't very hard, even if some of it seems ideally suited to mountain goats. And hey, just a sideward glance, and you turn your eyes to Washington, Lakes, and whatever else. What's wrong with that?
Up on the summit, I spent a lot of time just looking around. It's not a big area, but luckily, I only had to share it with a dark-eyed junco who seemed content to forage nearby. And while the summit isn't huge, the views were enormous. Over to Bigelow Lawn (yes, it was occupying my mind all day) but also toward Davis Path, and that row of nearly equally spaced cairns that neatly defines the traverse across the ridge. To the south, I gazed down Crawford Path… Eisenhower, Jackson. Across the Pemigewasset Wilderness, I spied Franconia Ridge and Moosilauke. Out to Mansfield in Vermont, it was truly a curve-of-the-earth day. What a day to be alive on top of a mountain!  
All good things eventually wrap up for the day.
But all the while, the back of my mind was noticing the sunlight was turning that golden hue that heralds the oncoming night. Much nearer to my car back at the trailhead, I spied the sun through the trees, a brilliant orange orb suspended just above the horizon. It had been another mad dash back down, knowing darkness was coming, but also knowing that today, the cosmic broom had come and swept all the clouds away. A day of knowing that once again, the trail provides. 
As always, stay safe out there.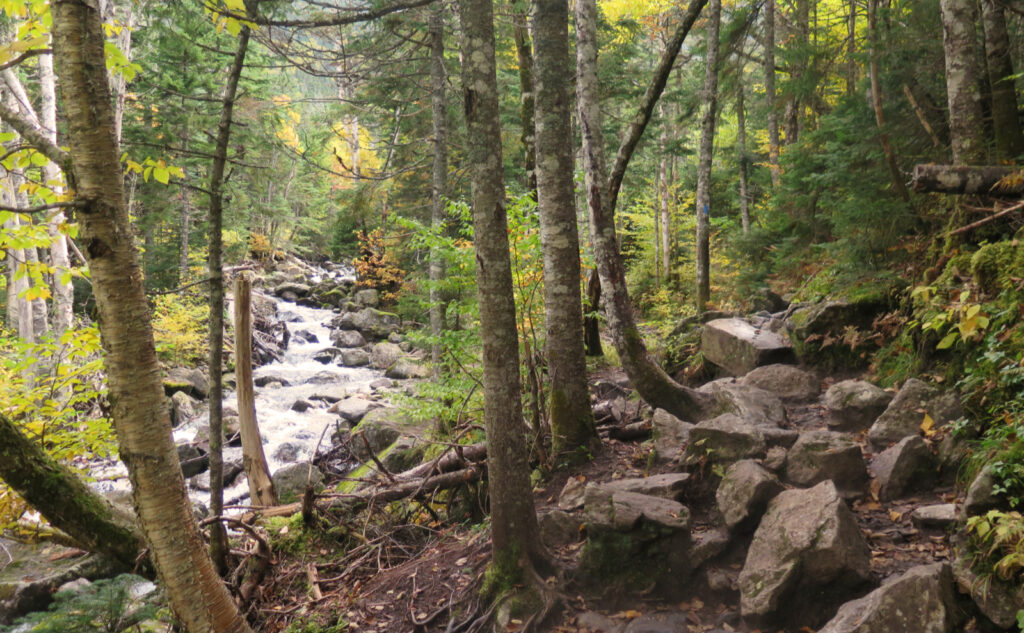 Nuts and Bolts: Not hard to get to Ammo's trailhead. Take the Twin Mountain exit off of 93 and follow into… Twin Mountain. At the junction with Route 302, turn right, following the signs to Mt Washington's Cog Railway. Just before you get to the railway terminus, you should see the sign for the Ammonusuc trailhead. There's parking, but on a clement weekend, expect this to be tight.
Trailhead will be on the north side of the parking area. Blazes are blue before Lakes, white thereafter. Note that the ridge walk follows the AT, and has its standard blazes.
As always, don't be "that guy." Pick up after yourself, and if you find litter, someone else. The mountain will thank you in spades. Trust me on this.
If you enjoy reading these posts, please subscribe — stay in the loop! Your email will only be used to alert you of new posts — typically 1-2 times per week. I will not use or share your email for any other purpose without your express permission. And feel free to share via social media using the buttons below.
Find me in the mountains, on this blog, or on Twitter: @Protean_Hiker
Help support this blog! Visit www.photos.proteanwanderer.com to buy some of my signature images.