Cannon Mountain (4,100 feet). Franconia, NH. 2021-01-02 (Saturday.)
Via Kinsman Ridge Trail. 4.2 miles round-trip. 2,200 feet elevation gain.
33 dF at the trailhead, 21 dF at the summit. RH ranged from about 80% to 97%. Winds were negligible in the trees, about 20 knots at the summit, gusting well into the 30s.. Dew point was in the mid/low 20s. Clouds and fog throughout. No significant views anywhere on the mountain.
Trailhead: 1300. Summit: 1530. Car: 1630.
Ouch. Ahhhh…
Let's not mince words. Cannon doesn't let up until you're at the summit. And even then, if it's windy, it wants another pound of flesh from your hide. But if it's clear, the views are superlative. Just know, every which way up will involve some amount of steep and rugged climbing. I knew Kinsman Ridge trail starts out steep, and keeps up the pressure almost all the way. But there's a difference between knowing, and being in the thick of it, pushing hard. You look at the mileage on the signpost and think one thing, but then the trail says something completely different, and halfway up, you realize that your expectations just went out the window.
OK, that out of the way… I now have my January and winter ascents of Cannon done. 19 left on the winter 48 list. Yippee!
Today wasn't much for memories. It was snowy and foggy, the conditions were a bit crummy, and honestly, there wasn't much to differentiate this trip from the last time I hiked it in the snow. Contrast that with the day I finished my first 48 from the other side, or the sterling July hike on the very same trail as today. You get the picture: sometimes the gods smile, and sometimes you just log miles. Perfect isn't found on every trip, even though every trip we hope for perfection. 
That said, it was relatively warm, and the wind was coming from the far side. For the most part, I was spared the lash, and even though the snow was unconsolidated powder, it wasn't even slightly deep, nor were the rocks icy. I did get outside, which was at least half the point. Since I wasn't able to get out on my usual days off, it had been hanging over my head that I hadn't gotten out for a hike this week. 
There was a single fly in the ointment. At the outlook, lost in thought, I got turned around, and headed back downhill for a spell. I went right when I should have gone left, and heaven knows I should have known this, having been here twice before. I caught it before long, but it's testament to just how fast elevation changes on Cannon. Within a short distance, I'd already gone down at least a couple hundred feet, and then had to make all that up. Arrgh! Just remember folks, "measure twice, cut once", and that goes double when you're in the clouds and don't have the sun for a direction reference. When you get to a junction, stop what you're thinking (you can get back on that train of thought again in a moment) and navigate before proceeding. Riffing on the way my dad might put it, "engage brain before putting feet in gear."
What was more than a bit neat was being in the fog, with the limited views. I could see well enough to navigate, but beyond that, I was in a different world, unable to see the highway, or the ski area, or (until I was just about on top of it) the tower. As far as being able to crawl inside my head and do some housekeeping, it was a productive afternoon. And along the way, I did get to meet some very nice people who were coming down while I was still going up. No doubt, they got home all the better for being outside, too. The miles were hard, but the smiles were abundant. 
To hike on a day like today requires one to be committed, and maybe we should have all been committed. But winter hiking in New England regardless of the weather is its own special breed of insanity. On that score, it was a breath of fresh air, getting back into the asylum. I'll be back again before long, and sooner or later, I'll enjoy those views again. Some things are worth waiting for.
As always, stay safe out there.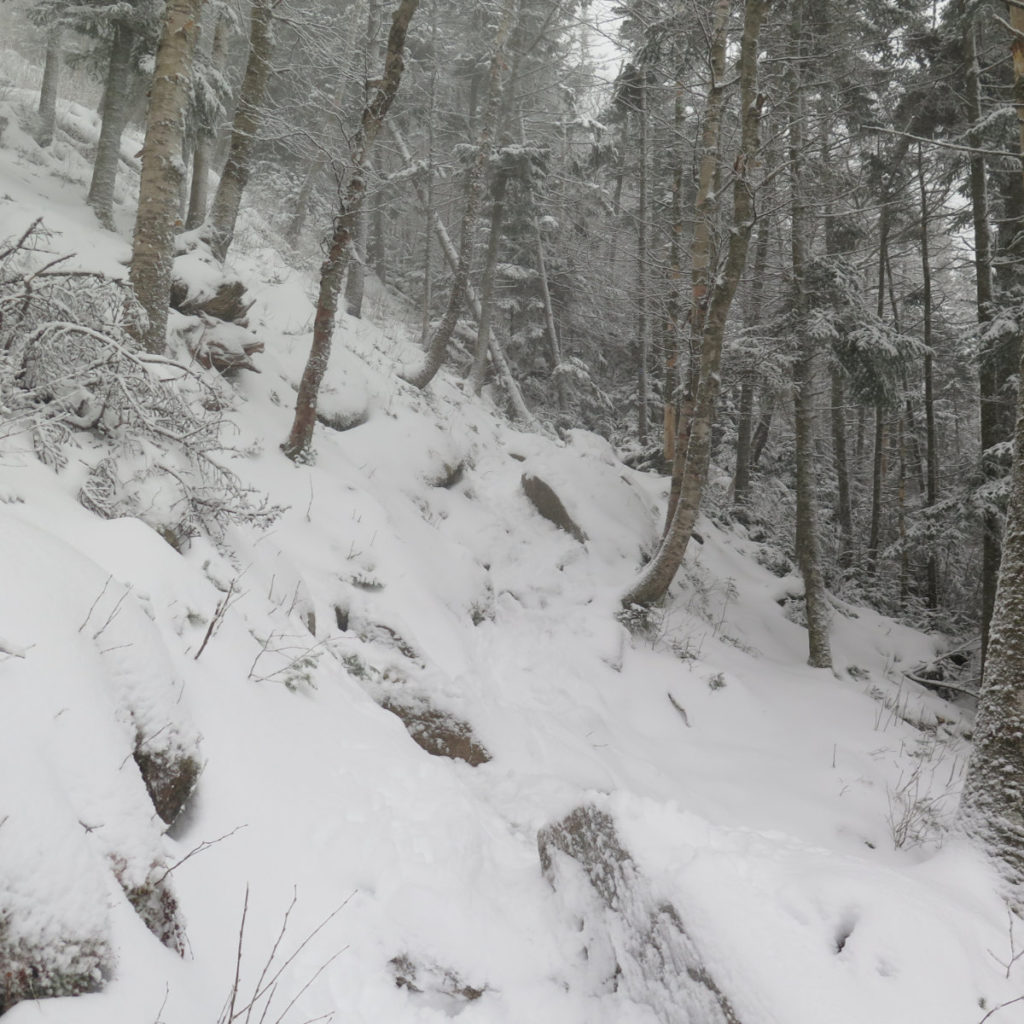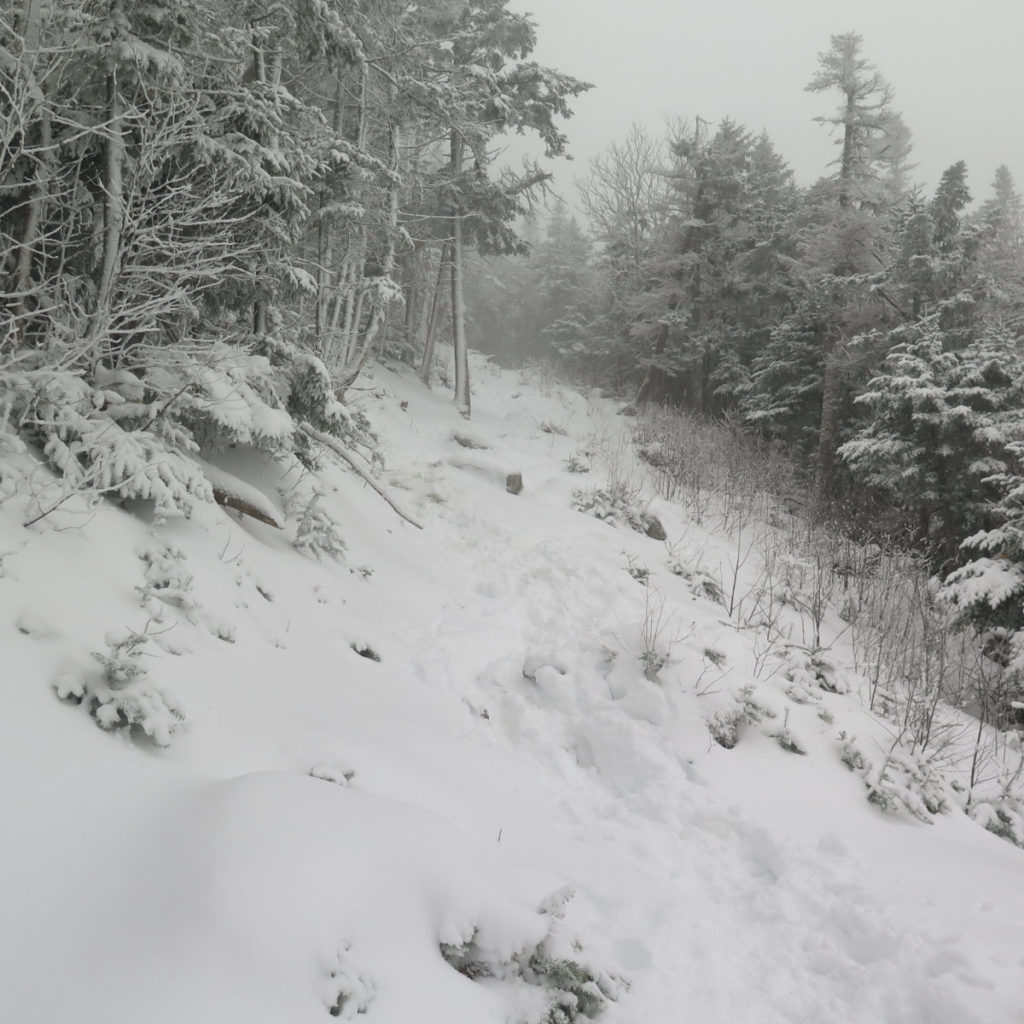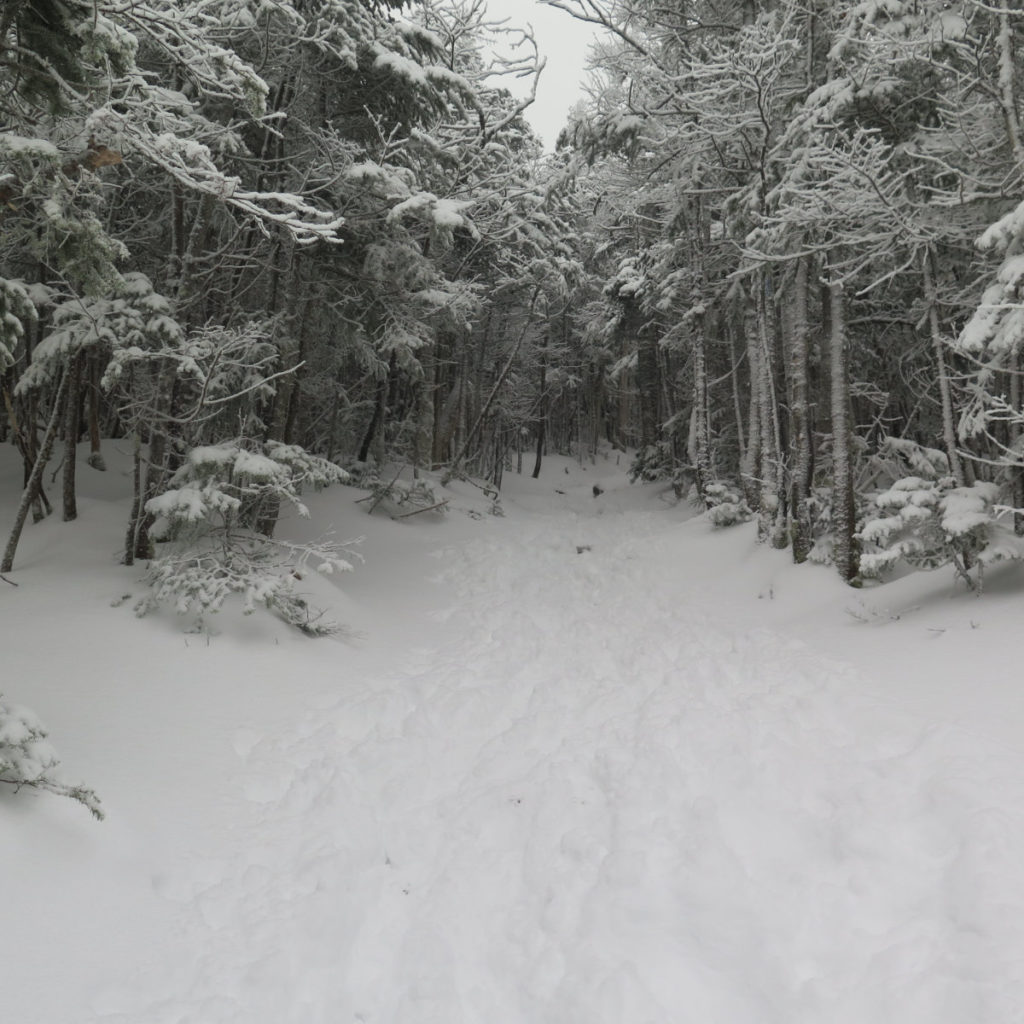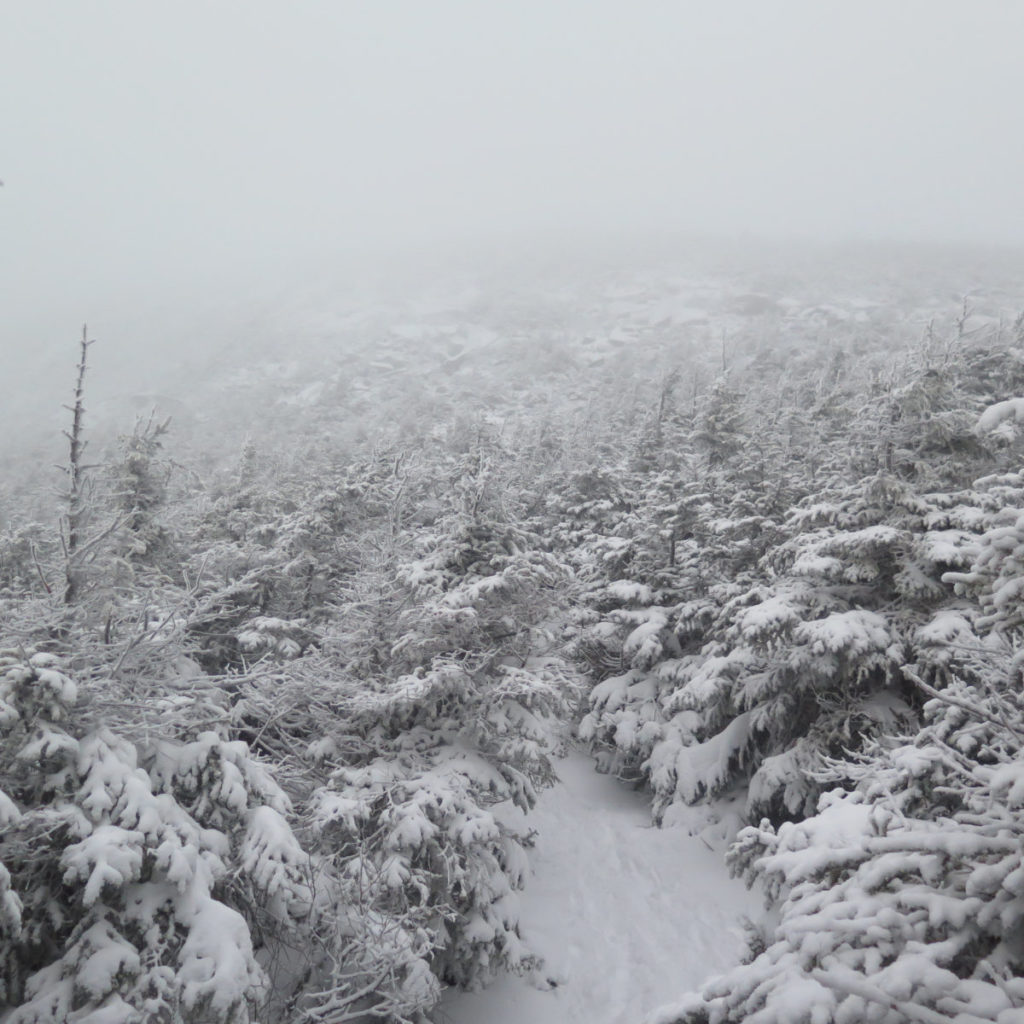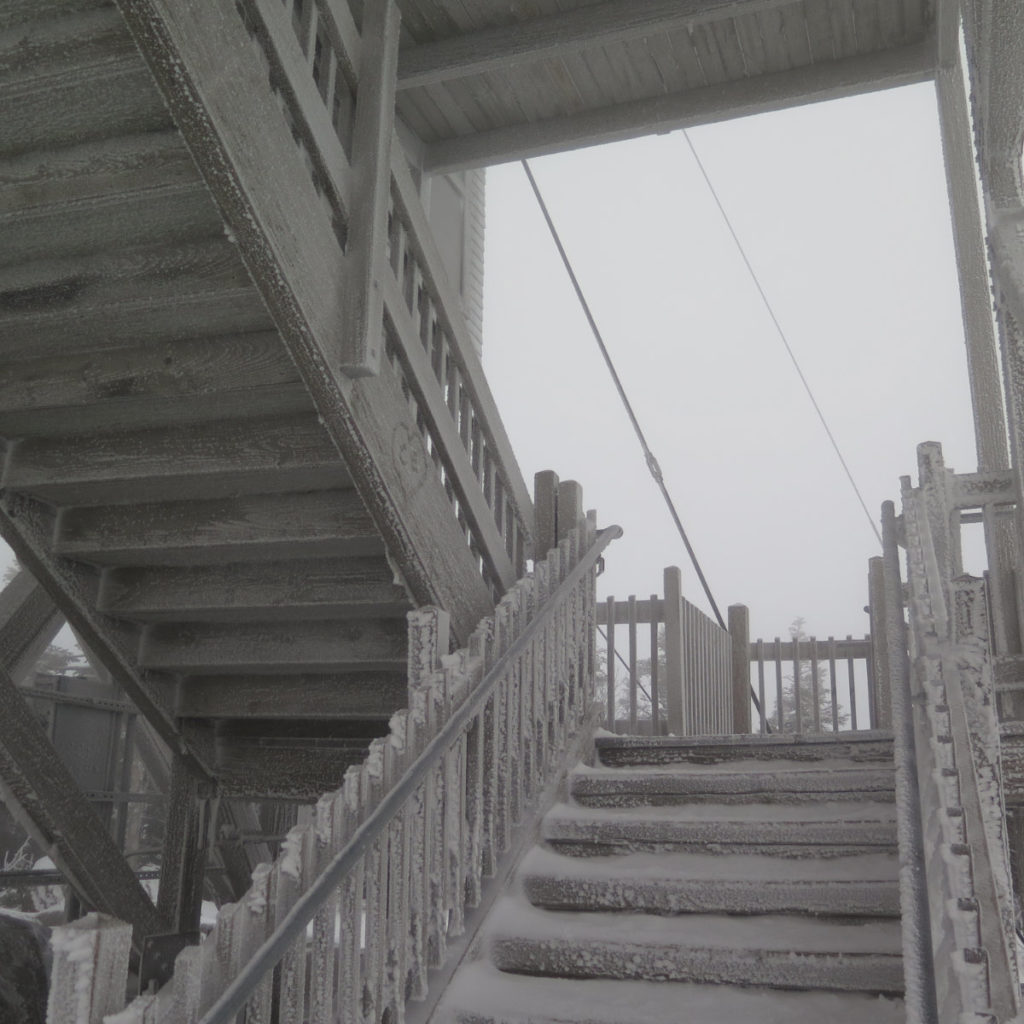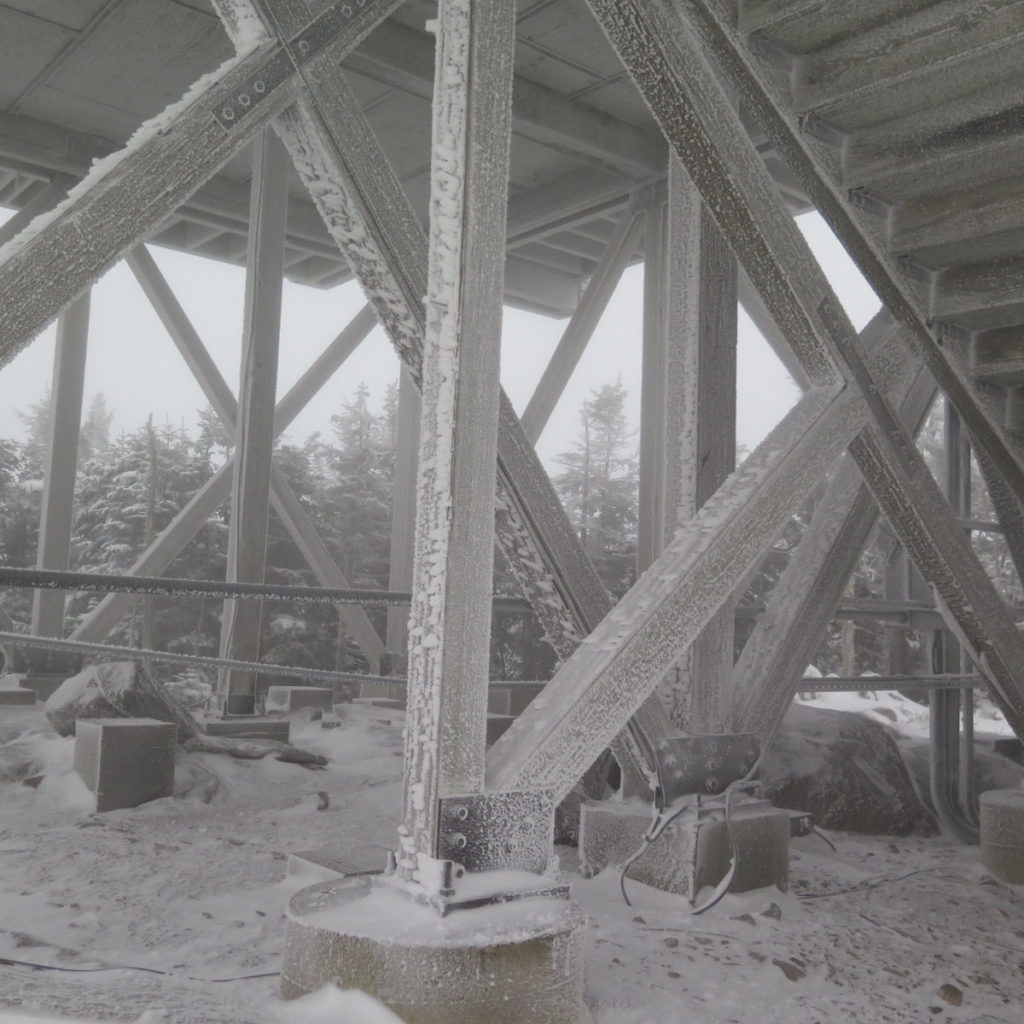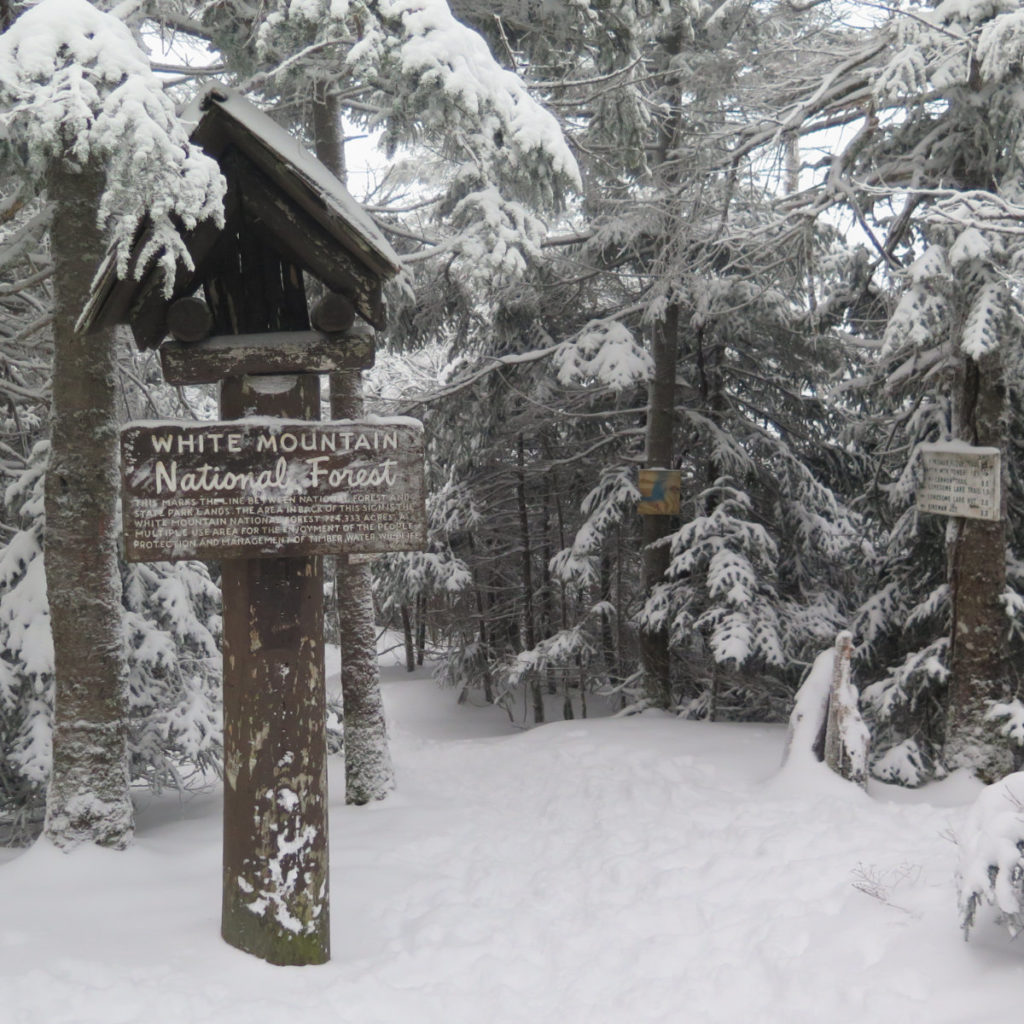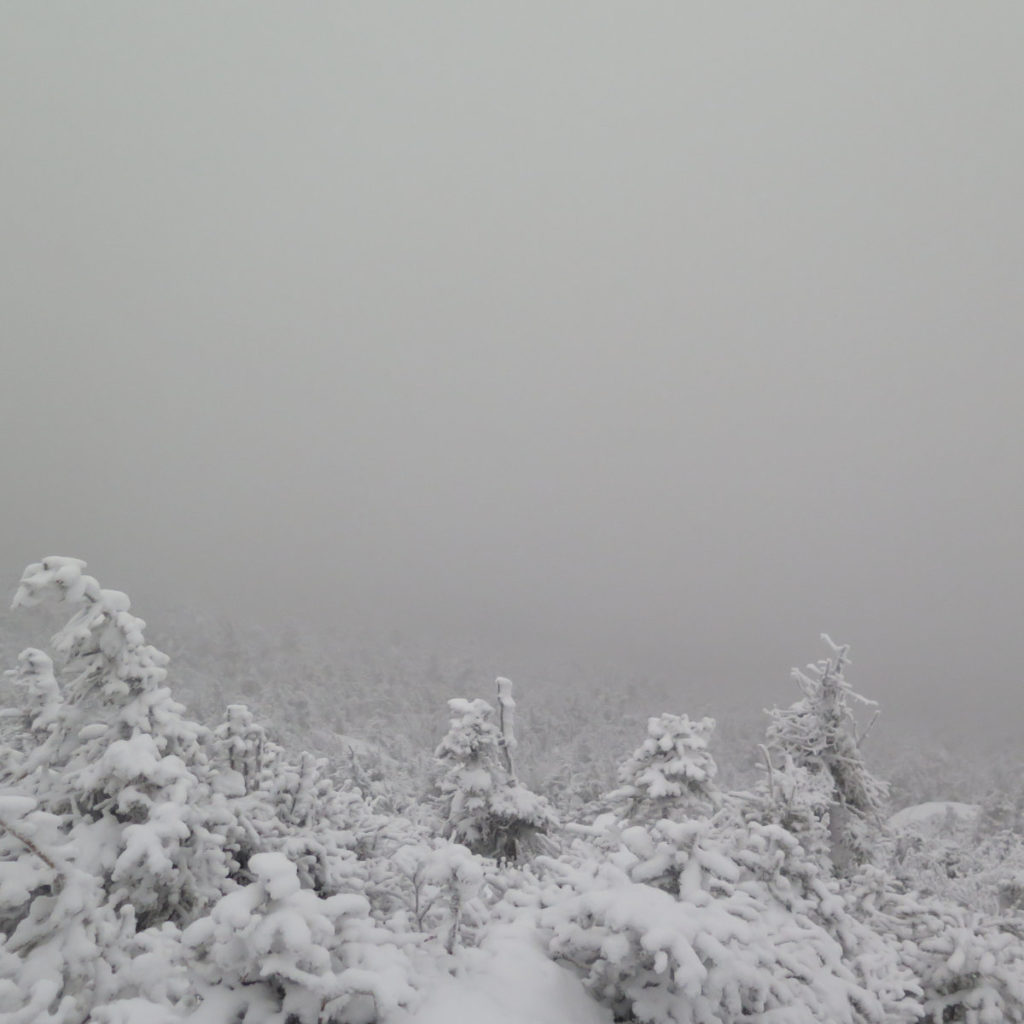 Nuts and Bolts: 93 north to Exit 34B will take you into the Tramway area of Cannon. Keep on the lookout for "Hiker Parking" which, generally speaking, is on the left side, but it's up against the mountain, so you'll have to go into the general parking area more than you expected before making that left. As I write this, it's nominally ploughed for about half its area. Beware, and be prepared to manage that.
Trailhead will be on the far side of the hiker parking area. Look for the small white wooden sign. Blazes are blue and reasonably abundant, but generally speaking, the trail is pretty apparent as it is. Above treeline, there are no real cairns anywhere, so keep your eyes sharp. If you look carefully, the trail will make sense. At the top, you can go right or left to get to the tower, but the wind may have a say on that, particularly if it's coming from the west — in those cases, it's better to go left, and wrap around to the tower. Under its "legs", you'll find the USGS benchmark. Right now, though, it's pretty icy under there, so good luck finding it. 
Regarding the Gaia GPS Map: I included the route from my hike traversing the mountain, returning via the Pemi Trail. In the warmer months, it's a very nice loop, and from the far side of Profile Lake, you can enjoy amazing views of Eagle Cliff. But in the winter, you'd be just as good to do an out-and-back on the Kinsman Ridge Trail. The mountain is steep from any direction and so can be especially unforgiving. Unless you know what you're getting into, it's better to return the way you know; rather than to press on, taking a trail down from the top, sight unseen, with an unclear escape route.