Mt Watatic (1,832 feet). Ashburnham, MA. 2021-06-16 (Wednesday.)
Via Wapack Trail. 6 miles round-trip.
68-72 dF throughout the day. RH was around 35%. Winds were negligible in the trees, about 2 MPH at the summit. Mostly sunny.
Trailhead: 1420. MOUNTAIN summit: 1540. Parking area @ MA Rte 119: 1640. Car: 1750.
What a way to finish!
For a "long" trail, this wasn't a bad time. As far as goal-completion goes, one thing I like about it is that it's attainable without crazy effort. It kept me sane while I'm trying to rid myself of plantar fasciitis, and at the same time, while it wasn't amazing views, there were plenty of moments, plenty of things to come back to. Not the least, there's a crazy abundance of ledgy overlooks that just cry out to have a picnic blanket spread out upon them. You have friends who aren't totally addicted to hiking? Fantastic! Bring them here. Everyone will have a fine outing. I promise.
It was a pretty easy decision to start from the north. It's the longer bit, and I knew from the start that I'd have to hike all the way to the end, meaning the parking lot at the base of the mountain. It would be frustrating to get to the summit, then realize I had to hike all the way back to New Hampshire, only then to turn around and hike back to the car, and then drive back to New Hampshire. So yeah, that planned itself out on its own. 
Planning aside, this is about hiking, no?
The rains we've gotten the past few days made the earliest bit of trail a bit damp. Nothing major; the worst of it contains itself to a thin rivulet that mainly keeps to the middle of the jeep road. At the kiosk, I turned south, and almost immediately, found myself in yet another landscape. If the Wapack has a consistency, it's that the trail comes in many forms. Road-walk, rock ledges overlooking miles of scenery, green tunnel, bog bridge passing little ponds… it's a microcosm of hiking terrain.
And so there I was, crossing a fairly large (at least for the Wapack) meadow. There were indigo, scores of Shasta daisies, violets, some hawkweed… even a few sweet William carnations. (Never knew they grew wild!) A deep indigo sky above with a few puffy white clouds, a single-track trail beckoning me onward… wow, it was picture-perfect.
I arrived at a small junction. As it happens, the top of Emerson Hill is nearby, and someone put a small rustic bench by the trail. As I mentioned, there's plenty to return to — I want to figure out what's on Emerson Hill, for example, and why the bench. Not long beyond, there was the NH/MA line. This represents the third time I've hoofed it across a state border: I've run a half marathon on a few miles of the AT in Hanover, NH and Norwich, VT. There was Mahoosuc Notch last year. And now, the third. 
Everyone must get… stone walls?
It's a small signpost, not easily missed. The junction of stone walls, one of which follows the state line, with the appropriately named "state line trail" running alongside. I thought a fair bit about the hands that built those stone walls that have sat for time immemorial. Hardy souls, with toughened hands that worked this land and made it what it is today. Who were those people? 
It was a tad alarming that I was on Nutting Ledges almost immediately after. Somehow, it felt like I hadn't been on the trail much. And indeed, I'd stopped a lot to take pictures and make observations for iNaturalist. But there I was, on the ledges, with the very open sky overhead. It felt strange, because wow, the summit creeps up on you, and there's not a lot to suggest you've really gone up in elevation.
Pressing on, I found myself with a series of junctions, all within a few yards of each other. There were several concrete footings littered about, evidence of a long since dismantled fire tower. The views weren't tremendous, though to the north, they were plentiful. But just off to the south was a bald shoulder, and it featured commanding views as far south as Boston — which was fairly easy to spot, owing to the low humidity today. It wasn't hard to discern the Prudential building, the Hancock, and the downtown area. 
What goes up must go back down…
I headed down, keeping to the southern leg of the Wapack, and before long, I was crossing a bog bridge that ran alongside a small pond. Interestingly the side of the pond was build up with branches and mud. I'm not sure if this was the work of a beaver, or that of humans. Honestly, I think it could go both ways. A few steps after that, and I was greeted by a metal gate, and the kiosk. I was at the southern terminus.
With that done, I turned around. On the way back, I took the bypass route, that runs to the west and skirts the bulk of the elevation gain. At the "top" end, it follows that stone wall, the one that parallels the state line. It was an interesting stretch. There's an engraved stone with "Midstate Trail", which was pretty straightforward. But a short bit away was another. Four-sided at the base, it tapered to an octagon at the top, with a hemispherical bowl and "BORDEN 1834" carved into the top. In a way, it goes with that old, rusting car I found last week. One thing I've noticed is the Wapack has weird stuff packed away, here and there.
So… it was a good end to a long trail. Technically, this is the first "long" trail I've hiked… I'm not sure the Pemi loop counts, or the traverse from Wildcat A to Moriah. Honestly, does it matter? The Wapack as I took it, in short chunks, offered up a lot to observe. I didn't get to see the various spring flowers as they unfolded in the Whites. But today, I did get to see a lot of different spring flowers — I've never seen carnations up there. (Though there are those tiger lilies in Livermore.) Some of the sections were better than others. But there are many fine views to be had, both long, and up close. And a lot of hidden spots, perfect for a picnic. 
As always, stay safe out there.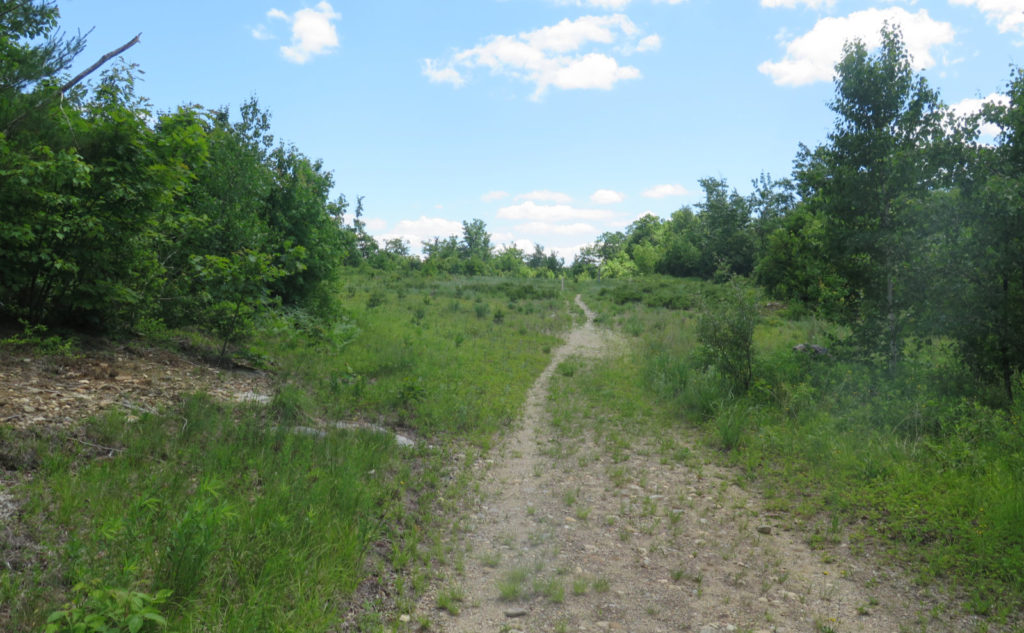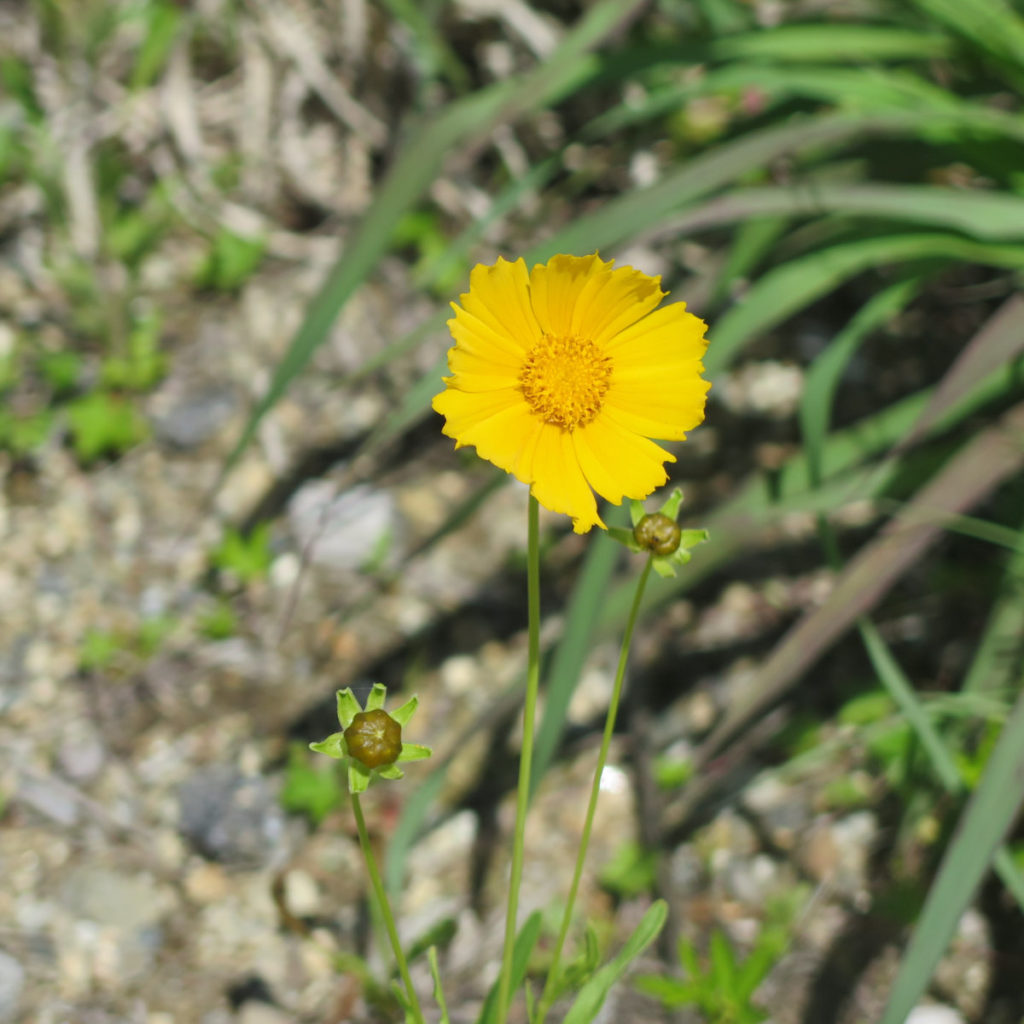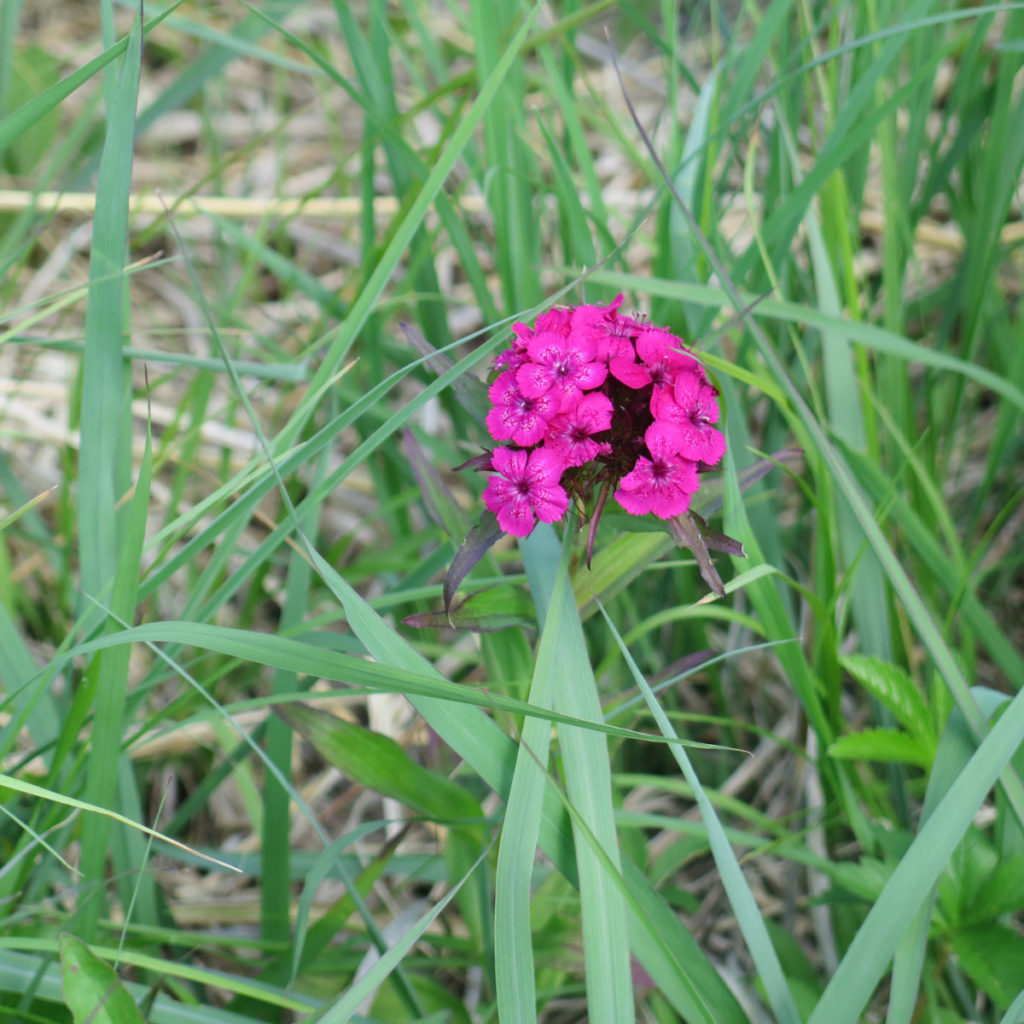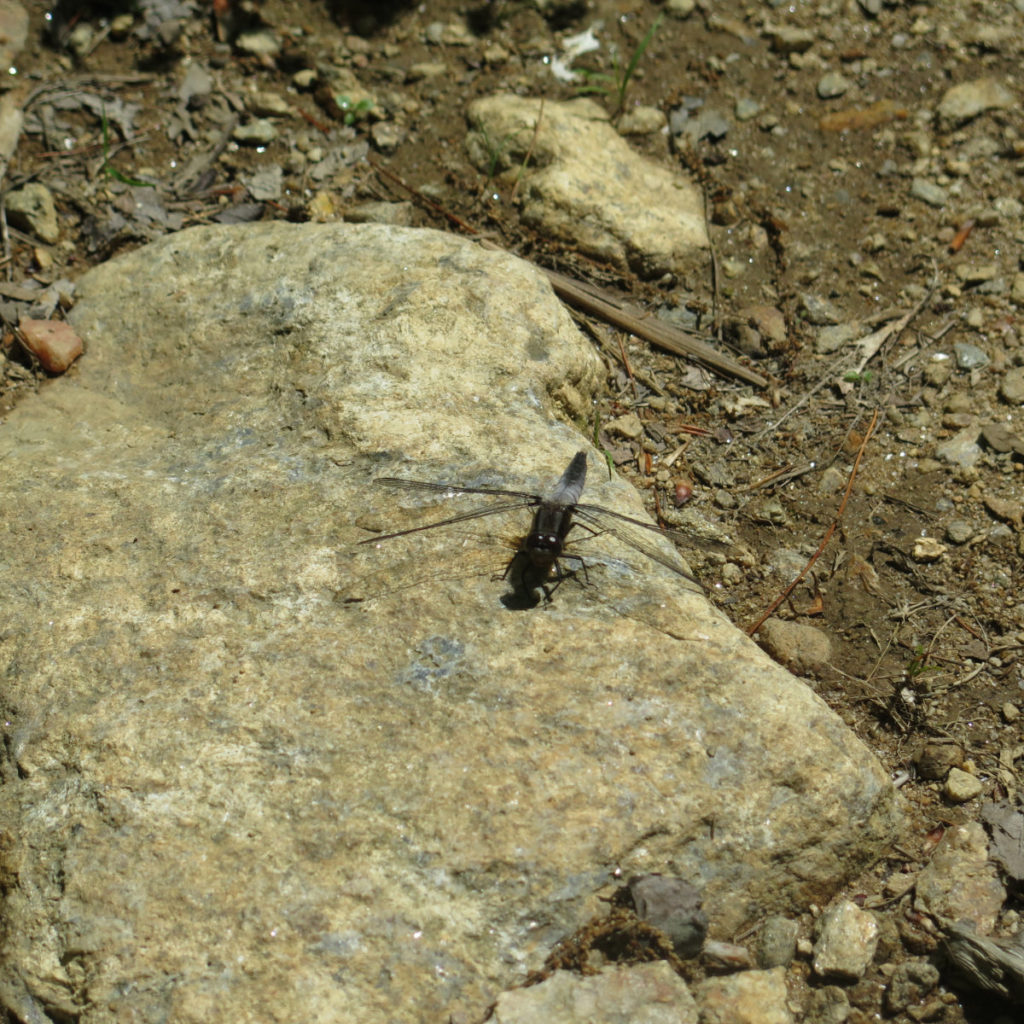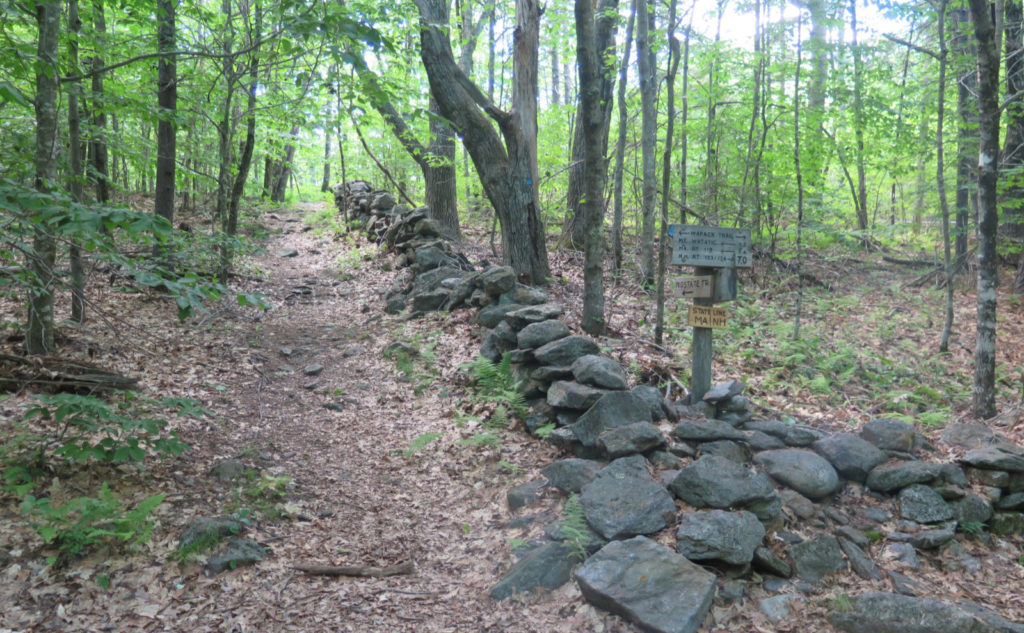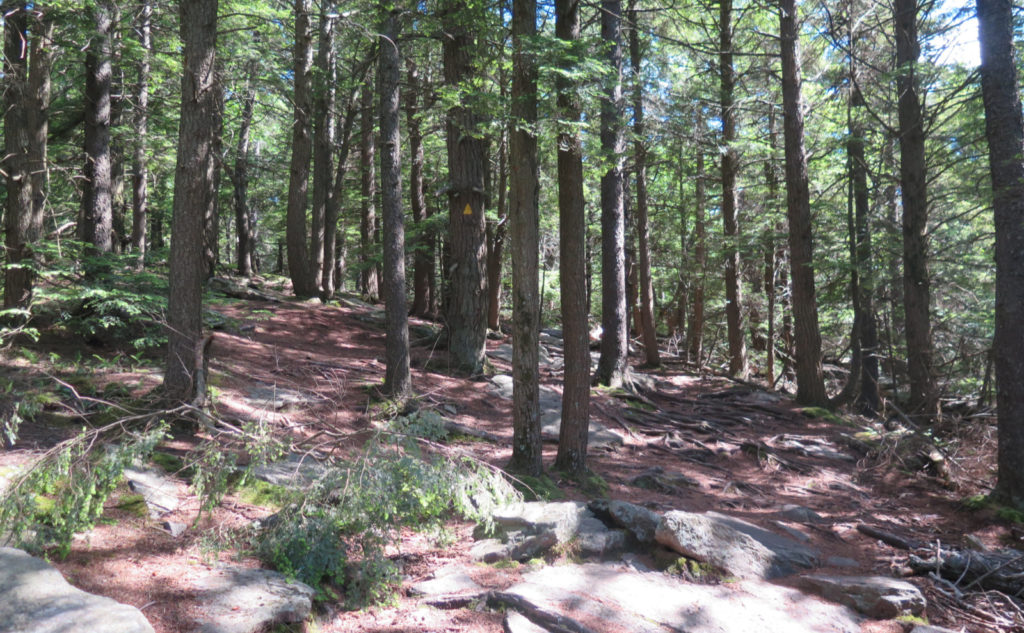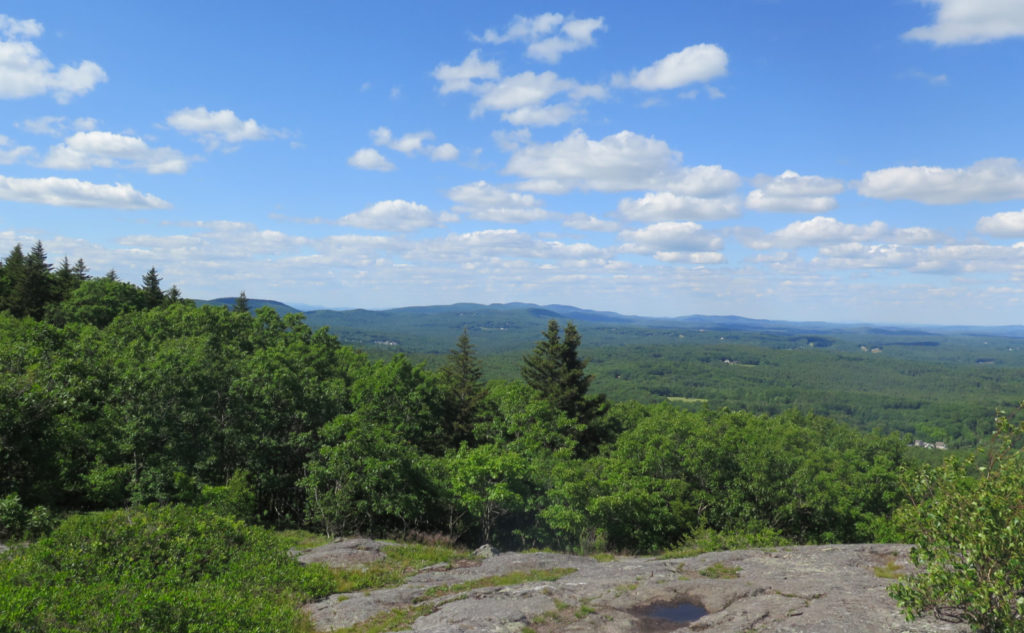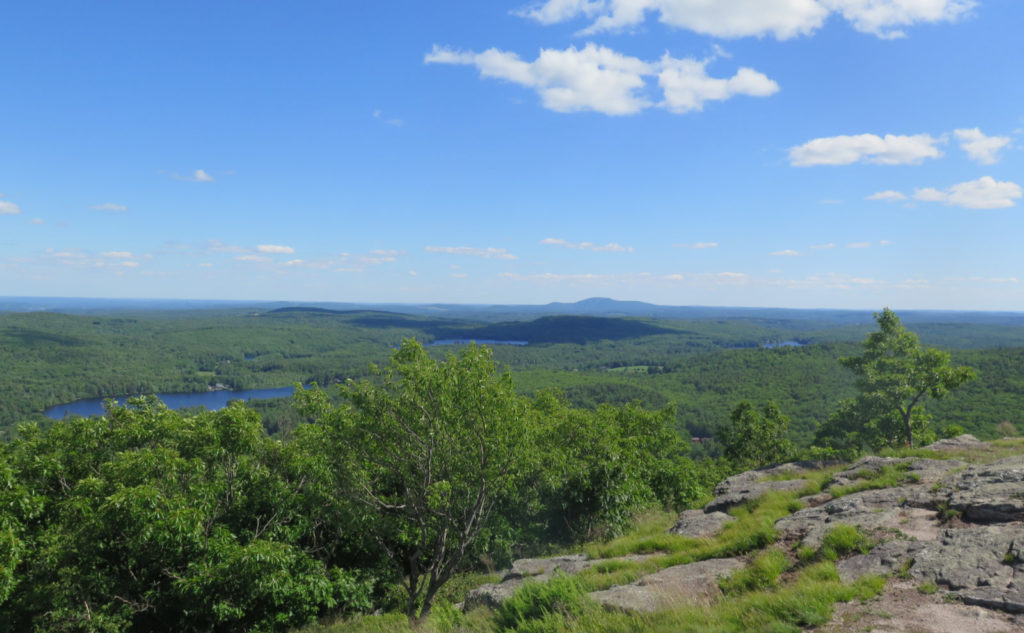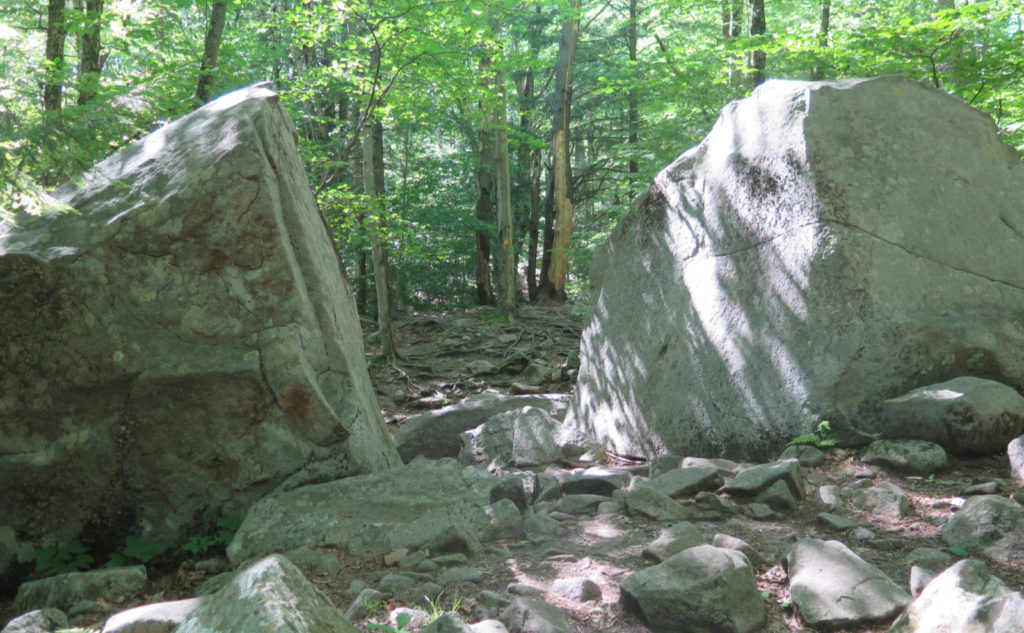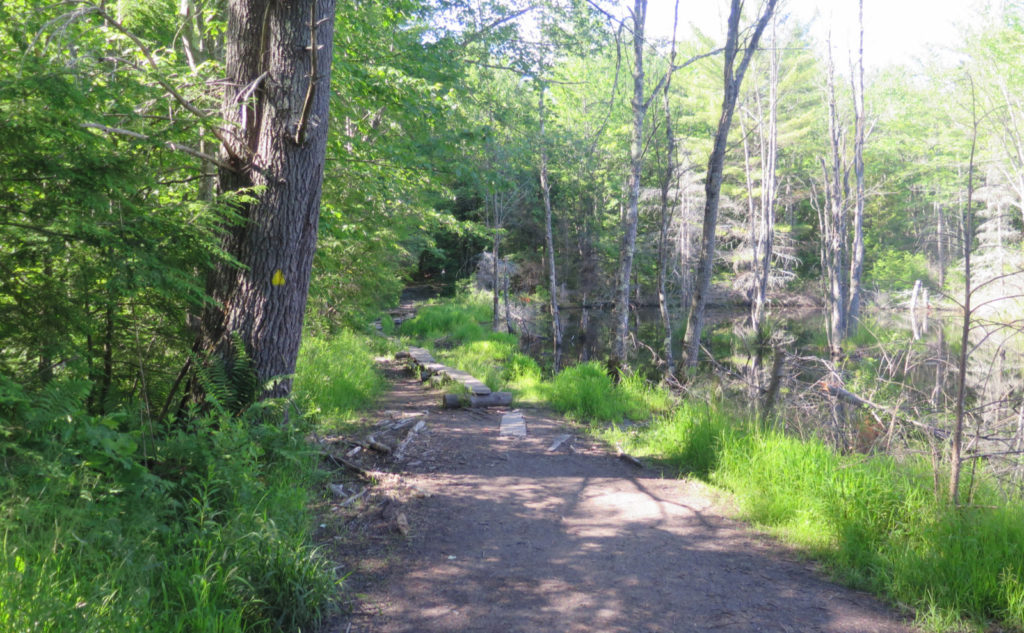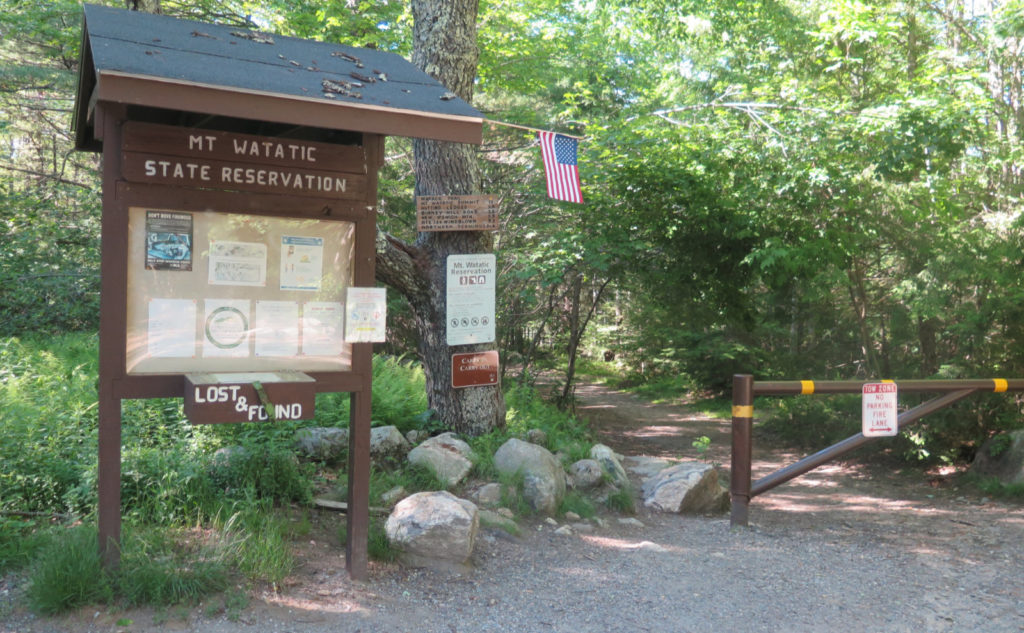 Nuts and Bolts: To hike this as I did, take Binney Hill road, in New Ipswich, and park in the small lot just after the pavement ends. Hike in a few minutes, and the kiosk will be on your left. That's the start of the last leg. The alternate option is to drive to Route 119 in Massachusetts, and the trailhead is in the town of Ashburnham. This variation offers a much quicker hike to the summit — you should be there in about 45 minutes or so, tops.
Blazes are yellow triangles. On the "route 119 side" of the mountain, I found route-finding just off the summit to be a little more thought-provoking than on my approach to the summit from New Hampshire. The forest floor is largely devoid of understory, so the trail isn't quite as apparent, and blazes aren't always easy to spot. Keep your eyes peeled. The approach from New Hampshire tends to self-identify, and while blazes are fairly frequent and obvious, most of the time, you don't need them at all.
And Another Thing: I've collected more than 400 observations for iNaturalist. Today marked the first time I've contributed an observation by sound. I first saw an ovenbird after one flew into my bedroom window, ages ago. I went outside with a shovel, expecting the obvious, but instead, this little fella was sitting on the ground, obviously stunned, but still, shaking it off, and most importantly, very much alive. And for quite a few minutes, I was able to take some pictures. Today, I couldn't actually see the specimen in question, but I could certainly hear it. They have a very distinctive call that carries easily in the forest. Just goes to show it pays to have all your senses activated when you hike!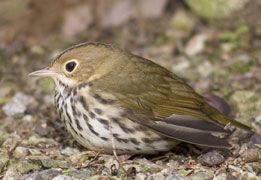 If you enjoy reading these posts, please subscribe — stay in the loop! Your email will only be used to alert you of new posts — typically 1-2 times per week. I will not use or share your email for any other purpose without your express permission. And feel free to share via social media using the buttons below.