Mount Osceola: 4,340 feet. East Osceola: 4,156 feet. Campton, NH. 2020-11-28 (Saturday.)
Via Mt Osceola Trail. Approx 8.4 miles, round trip.
Cloudy, with snow flurries. Temps in the mid/high 30s to the low 40s. Visibility was nil, so too was the wind. Which was nice.
Trailhead: 1000. Osceola summit: 1230. East Osceola summit: 1315. Car: 1600. Approx 6 hours. 2,950 feet elevation gain.
Opportunity, meet outrageous fortune!
Looking back on the spoils of the day, I found myself laughing out loud on several occasions as I hiked back to the car. It had been a good day out, for sure, and on multiple levels. Last night at work, things were crazy in ways that were starting to tear at me a little, so the fact that the trail provided some needed medicine was pretty awesome. Never underestimate the healing power of the trail.
But let's keep the horse in front of the cart…
I got home from work this morning, started to change into hiking clothes, made some coffee, finished getting ready, and then enjoyed that coffee on a shorter time scale than I'd have preferred. But at least I had some killer coffee. I've spent a long time during graduate school perfecting it, and it's something I look forward to. (Pro tip: use a French press, and grind good quality beans yourself, not long before you use them.) Attitude adjusted in no small measure, I checked the Mt Washington Observatory forecast, and then perused New England Trail Conditions to double check things were lining up as expected. There has been some weather lately, right?
Speaking of weather, it didn't escape my notice that of the four times I've hiked these peaks, three of them featured snow. I have no idea what's up with that.
Setting out, I figured I'd hop off at Tripoli Road. The gate isn't that far from the exit, so if it was closed, I could easily recover, make another hop up to the Kanc, and come down from Greeley Pond trail. But lo and behold, the gate was still open! Better yet, the potholes and ruts were pretty low-key. I made good time to the trailhead, setting out from the car by 10. I'd forgotten how easy the grades were on this side of the mountain, and certainly that opening few dozen yards of ultra flat and smooth trail set the mood really well.
Of course, this is a mountain, and mountains have rocks…
Before leaving the house, I did review my earlier report, and especially that part where it said the trail got rocky. Yep, it was indeed. My pace slowed, but not terribly. The easy grades balanced out the rocks for quite awhile. I passed through open forest in a light drizzle that was turning to flakes. But it was quite warm, so I was feeling good, bare-booting it with no problems.
Things pitched upward after a bit, and then I was at the ledgy bits. By now, the flakes had become more insistent, though just short of full-on flurries. White was blanketing the landscape, and honestly, it was nice to look at. Still warm, still happy, I pressed on. There were small groups coming down as I ascended, and here and there, I had the opportunity to share thoughts about the day and the trail with so many very nice people. I don't know about everyone else, but the lack of normal human contact lately with COVID and all, has made even these short interactions all the more special.
Does magic ever happen on the trail? Does it ever, indeed!
There was this spot where I thought a photo was especially warranted, so I paused, and began framing the shot. Which is precisely when someone came around a bend and popped into the frame. Drat. OK, wait a bit. Not the first time. And then…
So regular readers of NETC may have noticed The Teal Goat posting in the cooler months. And now, there was this guy, dressed largely in teal, standing in front of me. The man, the myth, the legend himself, sharing the mountain with me. Wow, hiker royalty! We swapped stories for a bit, until we started to chill, and then went our separate ways. Quite a few times, I've handed someone my card, only to find out that person has been reading this blog already. And that's pretty nice. Meeting someone else whose postings *I* read… wow, that's a rare moment. (I'm sure part of it stems from the fact that I'm not on Facebook.)
Osceola isn't a terribly tough hike, although the footing is quite rocky for a big stretch of the trail. It's not the fastest going, but it's not tough. And so I found myself on the home stretch, then the concrete foundations, of the old fire tower, came into view. And that view! So… much… cloud…
Oh well, you can't have it all. So I turned to the east summit. That initial descent gets you down pretty quickly. At the chimney, I took the easy line down, and then I was crossing the col and heading back up in fairly short time. If anything stuck out past the chimney, it's that this is arguably one of the easiest and shortest cols in the Whites. The summit view from East Osceola is… still locked down by trees. Not unexpected, but this was becoming a day entirely devoid of a long distance view. I turned back after briefly exchanging pleasantries with a couple nice people. At the chimney, I took the straight line up, which was a bit sketchy with the snow, but still doable. 
Views, views, who needs a view?
I think it was just below the summit that I saw a rarity: a small bug crawling in the snow. I'm fairly sure it was a snowfly. But there it was, crawling along. These guys are smaller than a dime, so no kidding, it pays to keep your eyes open, especially when you think there's no view out there. As I've found out time and again, sometimes the best view is at your feet — and that's not at all suggesting "best" means "take what you can get." I don't know anyone who'd tell you that spotting a pink lady slipper in the forest isn't worth the time. For me, that's at least as good as spotting Mt Washington in the distance. Spotting that snowfly was a treat indeed.
I got back to my car fairly uneventfully. But the day wasn't over yet. The Teal Goat left a note and a small (but very appreciated) gift on my car. Dude, I'm buying the first round next time we meet.
Like they say, the trail provides.
As always, stay safe out there.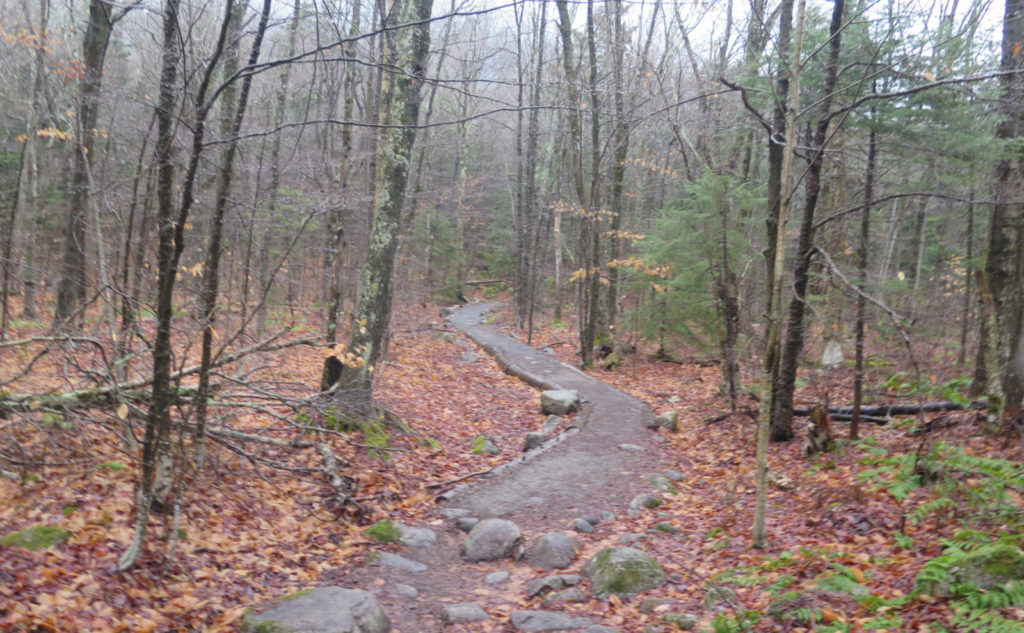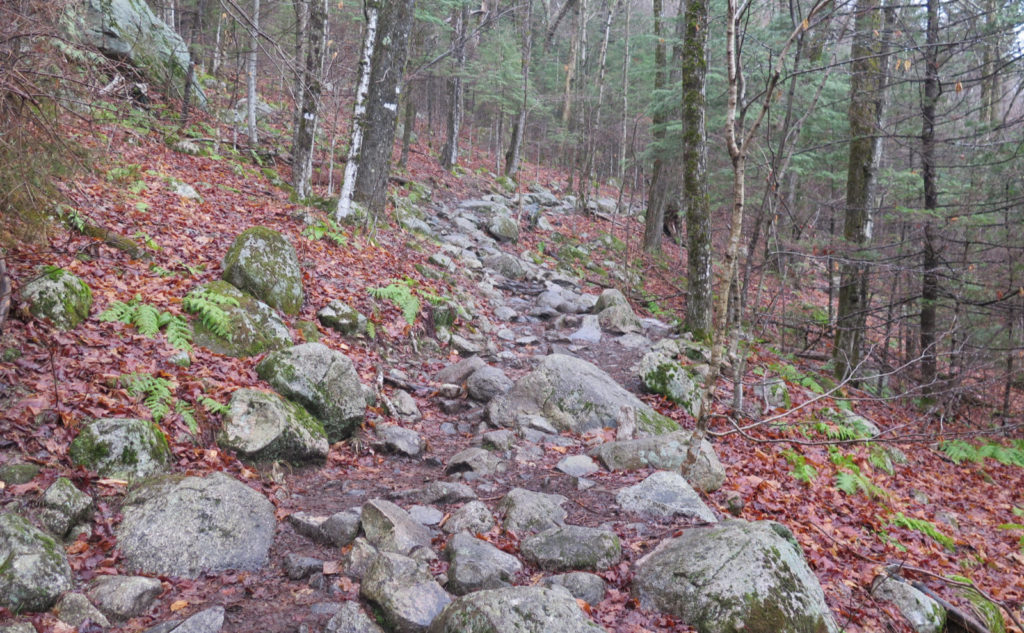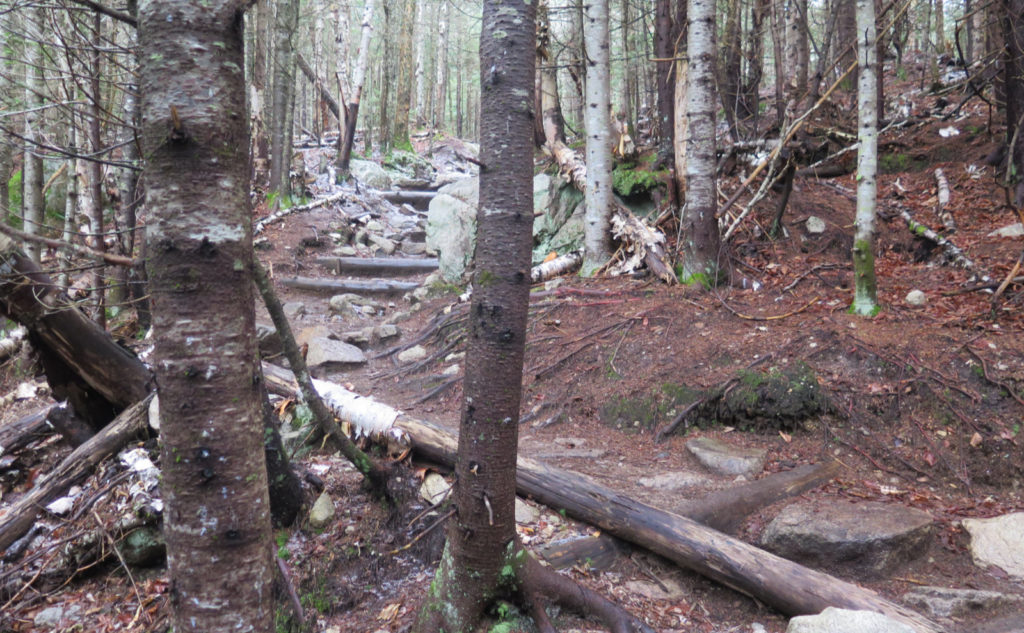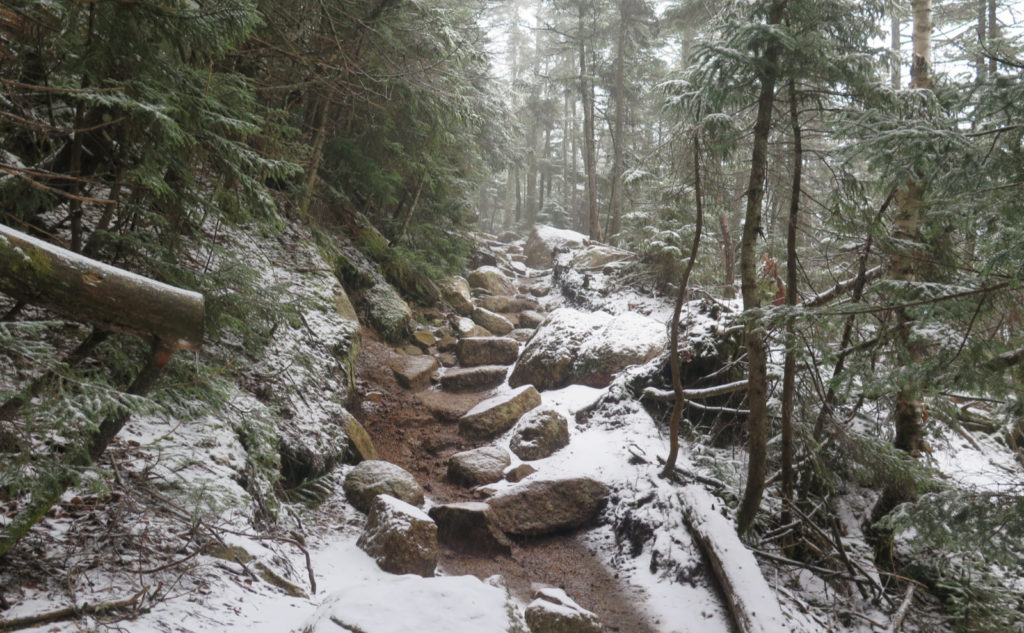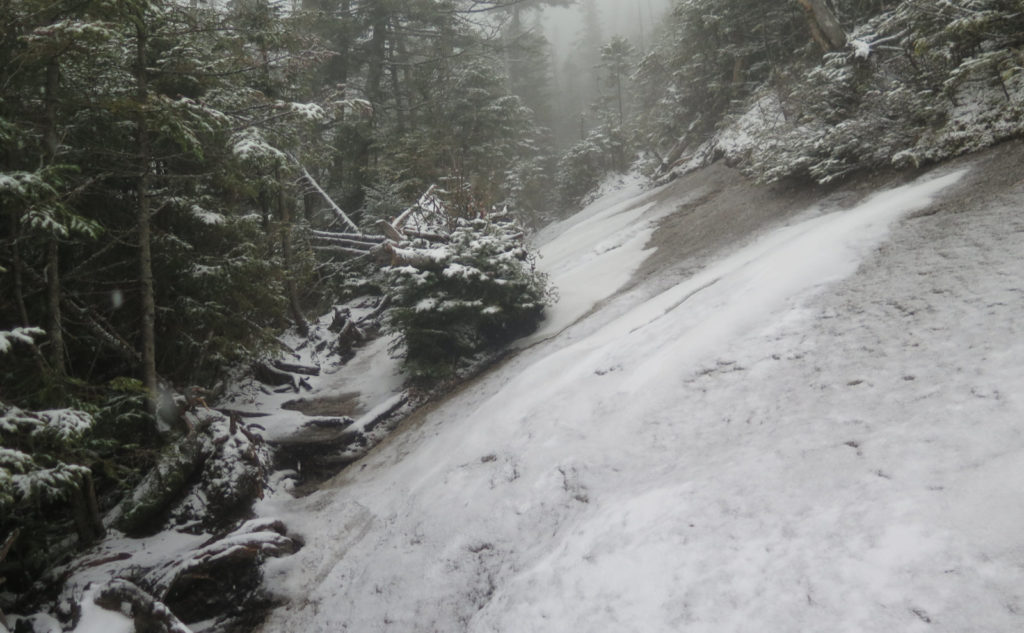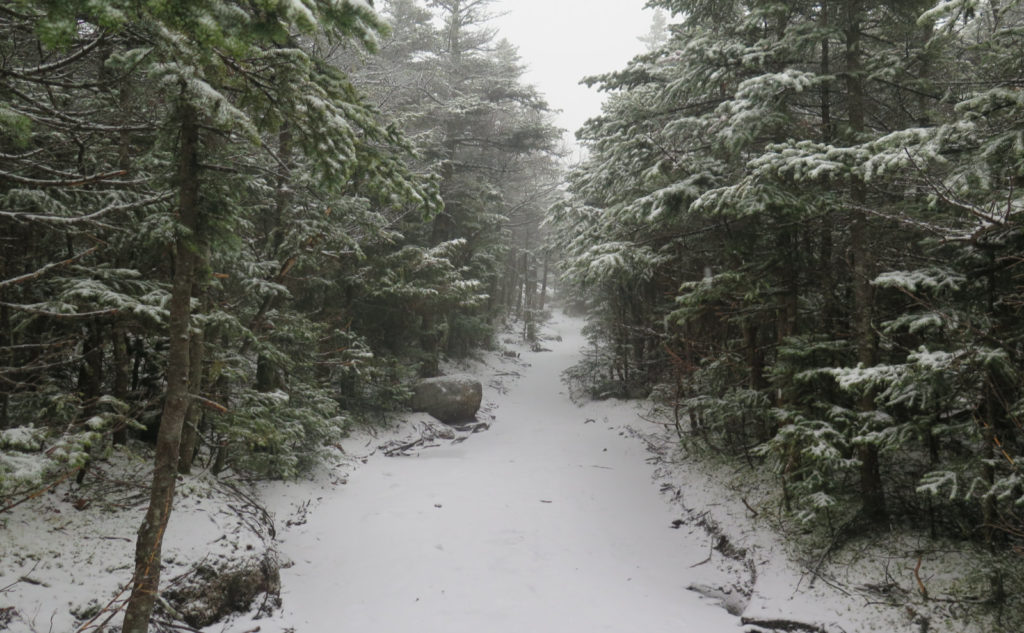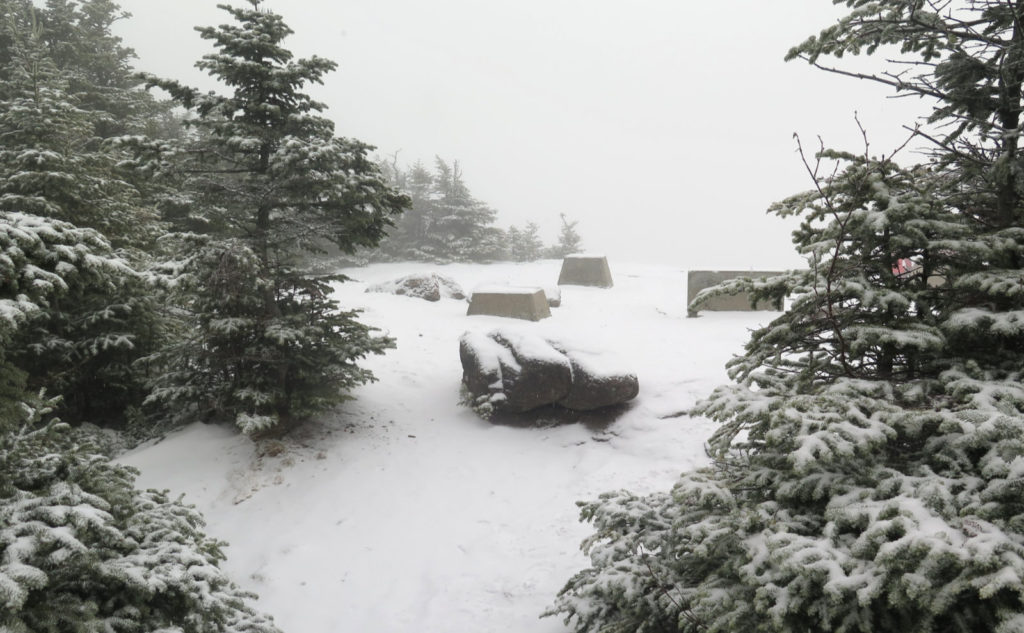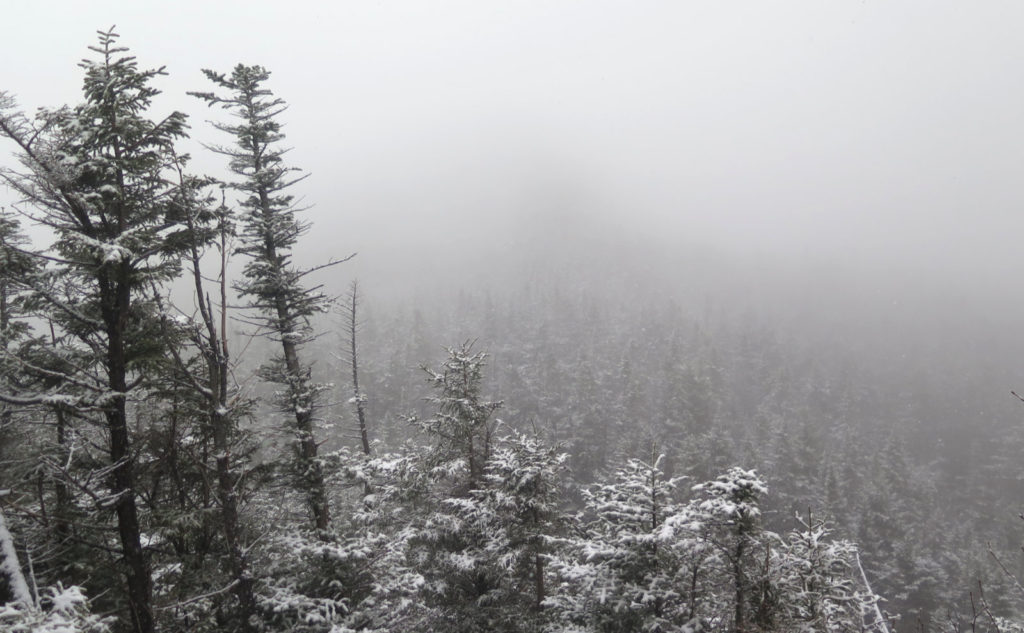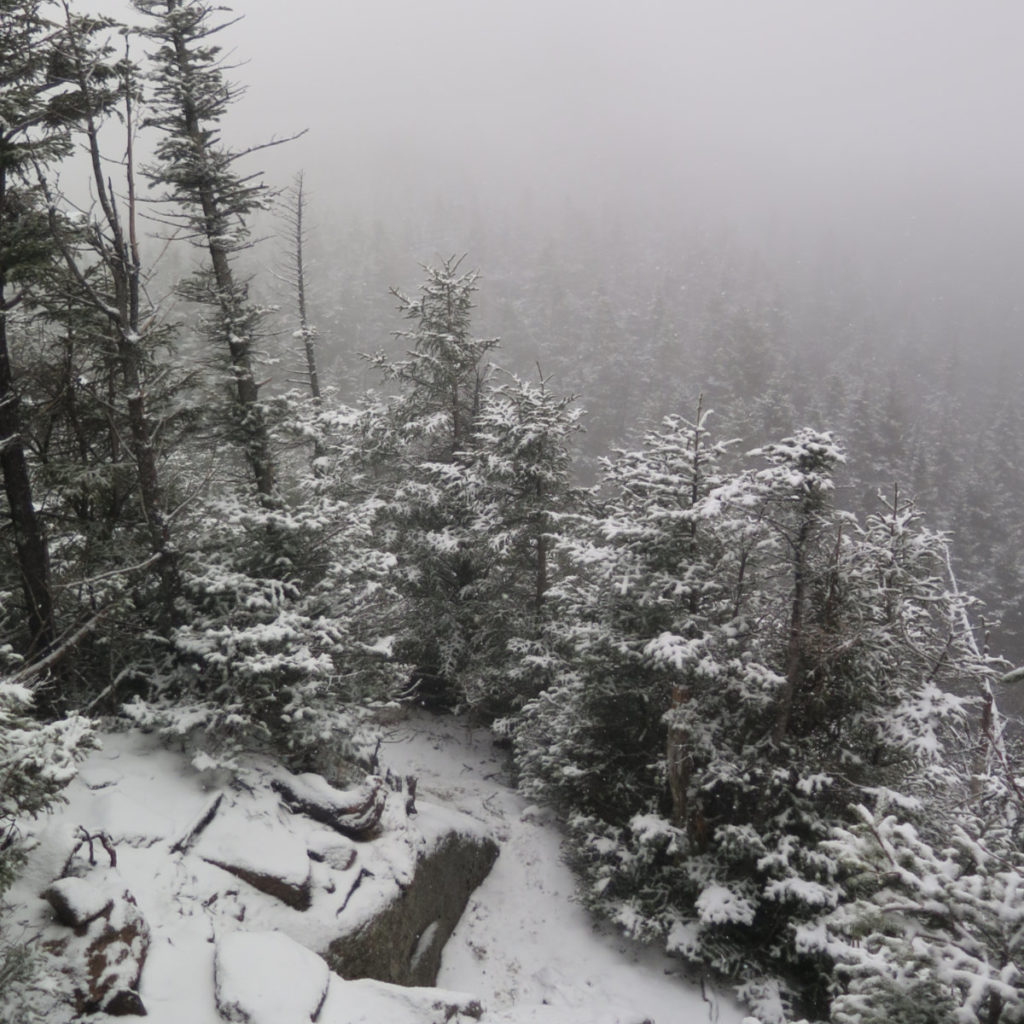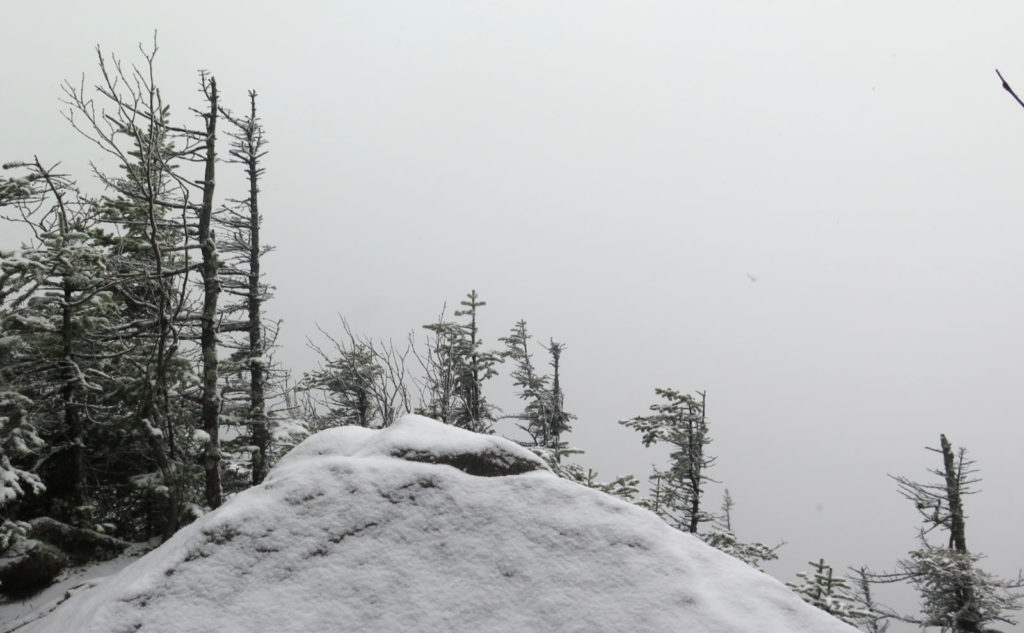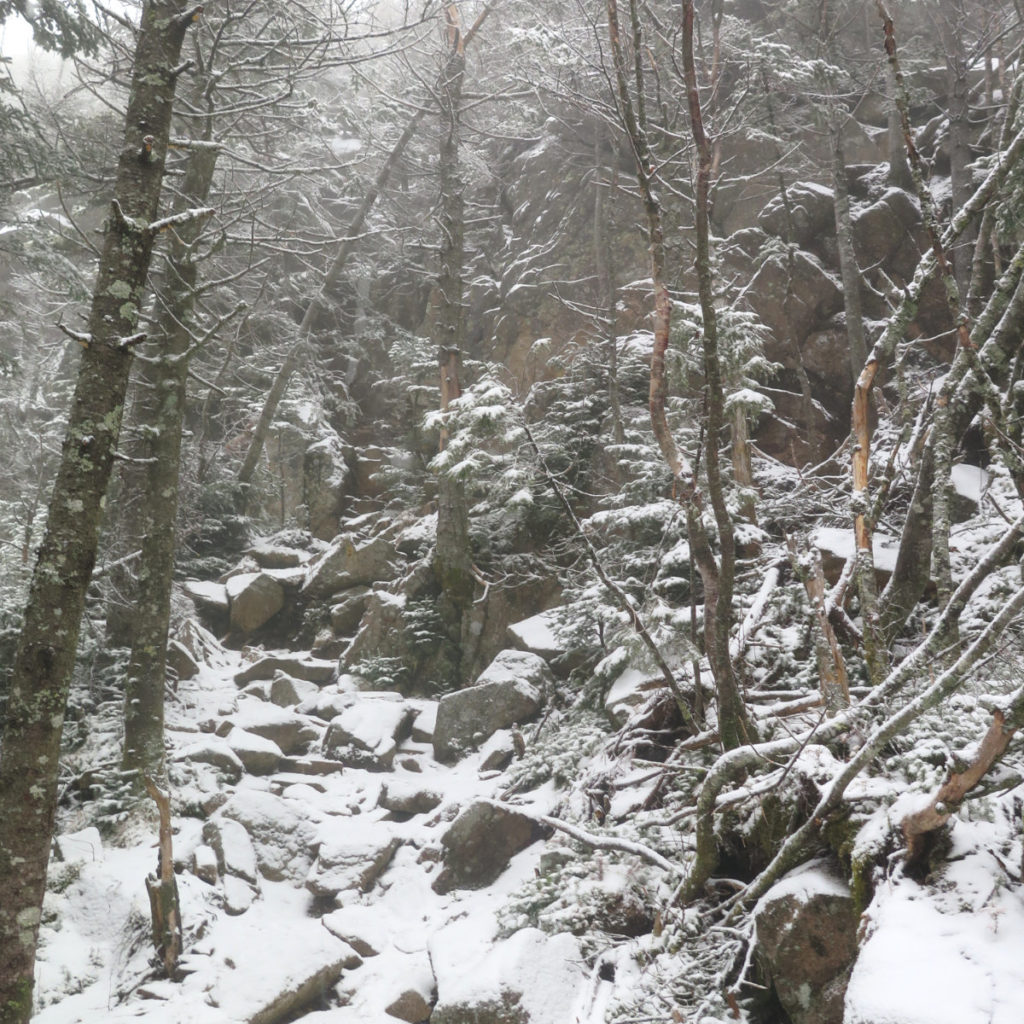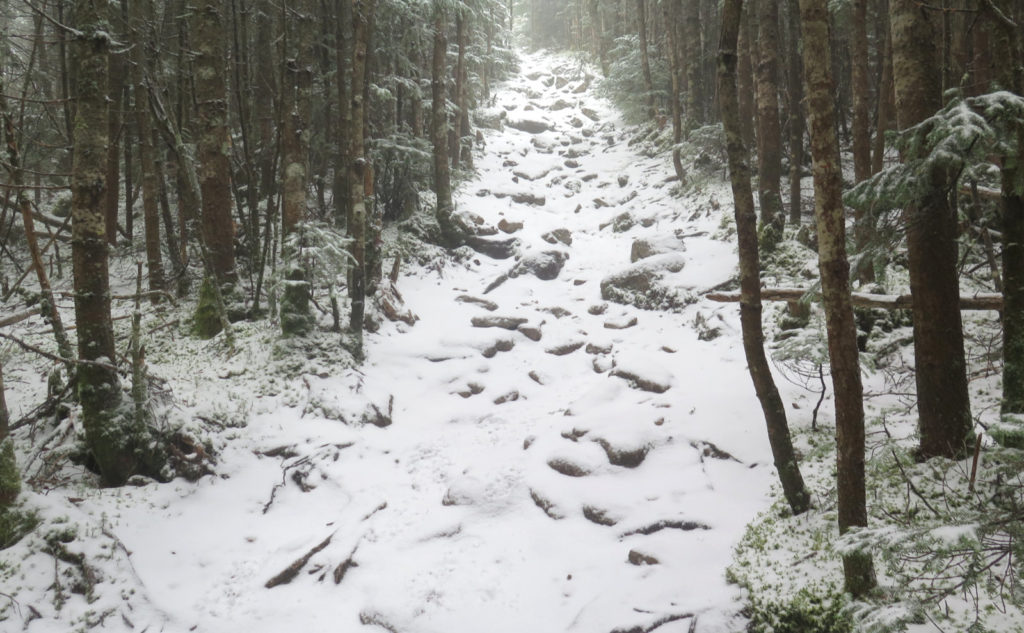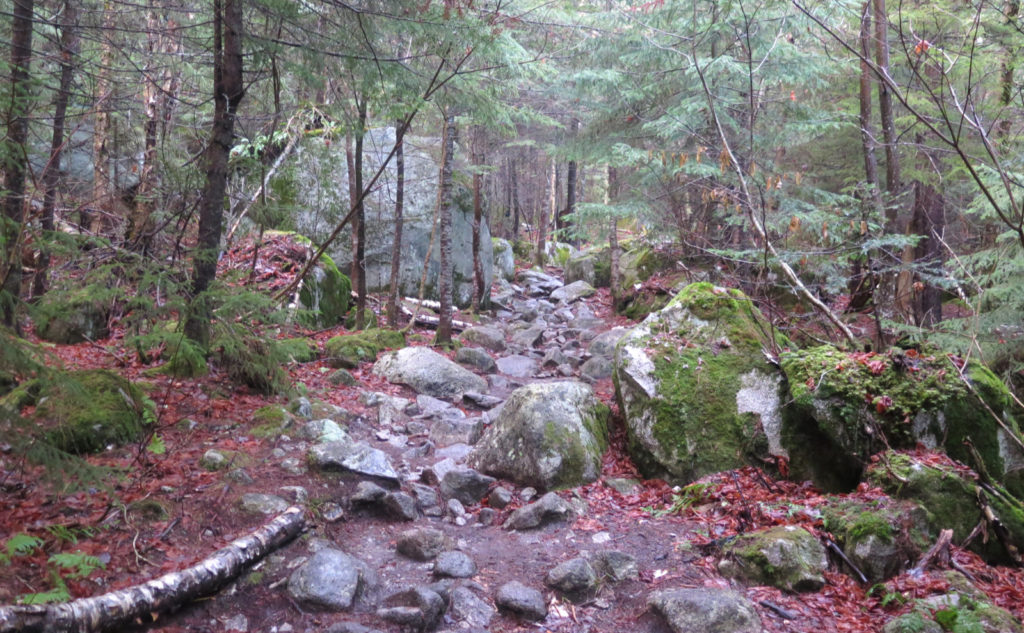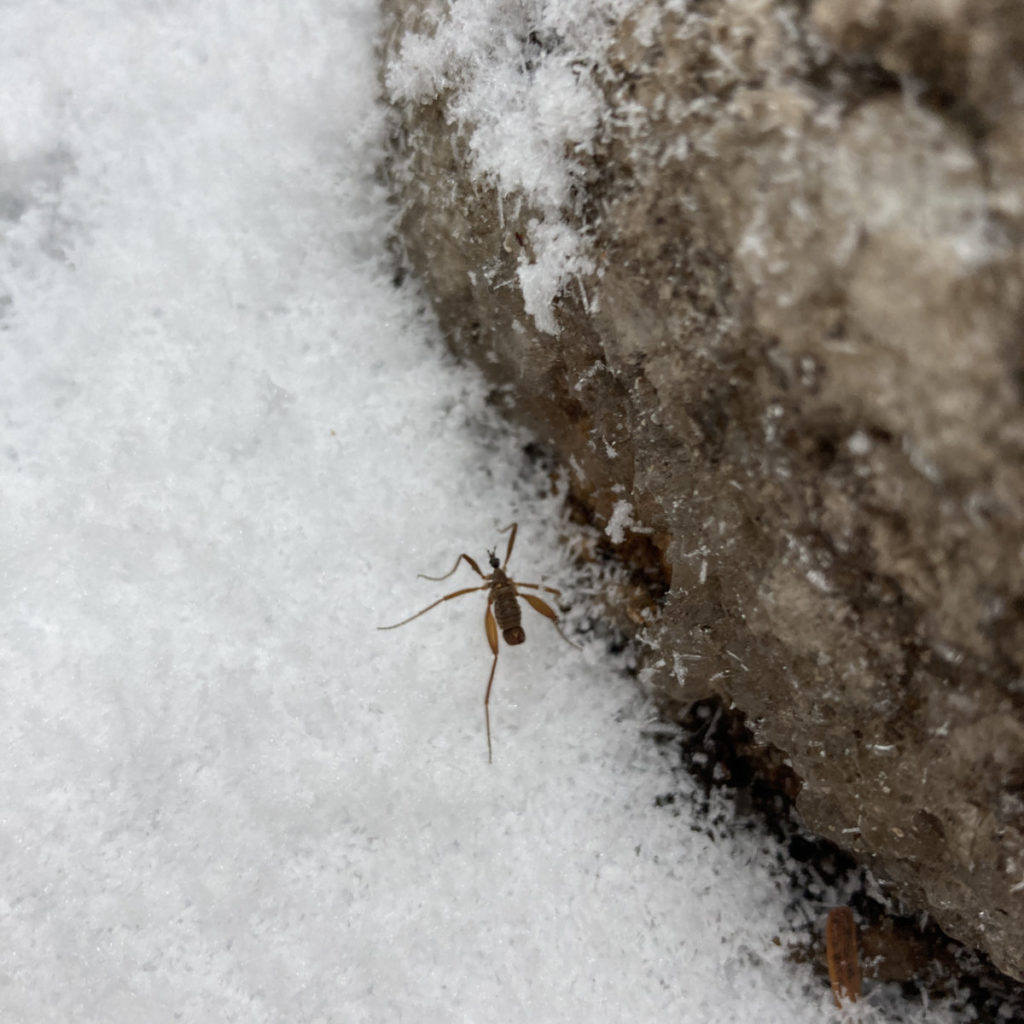 Nuts and Bolts: You can access Tripoli road two ways: either from Exit 28, and drive through Waterville Valley, past the Livermore trailhead; or take Exit 31, and you've basically landed on the road itself. From Exit 31, the trailhead is almost 6.5 miles down the road, on the left. From Exit 28, it's about 2 miles past Livermore, on the right. If you're not that excited about the suspension on your car, coming in from the north offers miles of bouncing around on a dirt road: if you've wondered what keeps the gates locked in wintertime, this is the reason. The trailhead is marked by a large sign, which should be very hard to miss. Parking is ample for almost a dozen or so cars.
Be advised: the gate could be closed any day now. If your plans include Tripoli Road, have a backup plan in case the gate is closed. For that matter, that should include Sawyer River Road, Garfield/Galehead loop, Zealand, and the other forest roads that are gated in the winter months. Check Trails NH for a quick glance, and if in doubt, call the ranger station, or just assume that if there's enough snow on the ground to plow, the gate's probably closed.