Mt Morgan Mountain (2,221 feet). Holderness, NH. 2023-03-07 (Tuesday.)
Via Mt Morgan Trail. 4 miles (approx) round-trip.
Low 30s dF throughout the day. Winds were obvious and chilly in the trees, moderately worse at the summit; in all, it just felt raw, cold, and unpleasant despite the "warm" winter temperatures. Cloudy all day long. Overall, the weather wasn't inspiring, sadly.
Trailhead: 1330. Summit: 1430. Car: 1515.
Sometimes, you need to get out, but hang low. 
Thinking about today, there were a few paradigms that flew through my mind. What to write about… in what context? But things boiled down gradually, as happens. For those who wonder, writing is hard. It's one thing to have a thought, but to put it to paper, in a cogent way that people will understand? Oh, and you want the same effortless lyricism as espoused by the Bard, or perhaps even Robert Frost? That's probably the hardest part. Jotting down thoughts is one thing. Making it so people get what you're saying? I write around 1,500 words every week. The greats will do that before lunch every day. So for me, there was a lot of ruminating and no shortage of self doubt. Believe it or not, it's actually pleasant. Don't shy away from the hard questions. It's a humbling and character building exercise.
The hiking? Mostly straightforward. It was a blustery day… Pooh! But unlike the five hundred acre wood, so much wasn't to be honeyed today. Indeed, it was agreed to be less than wonderful weather. Unlike almost all my outings, today I hiked with a dear friend and her intrepid hound Aster. He's a silly pup, given to odd habits, but who knows what really goes on between their ears? The day was marked by his strange outbursts, but at home, was playful and happy. This is why we love our dogs. They're weird, and often meat-heads, but wonderful all the same.
Le Petit Chien
Aster, as one would expect, was stalwart. We kept the day brief, because we didn't know how well he'd handle mileage. I expect he's sleeping soundly tonight — the drive home was marked by puppy snoozes, curled up in the back seat. Sometimes, the best experience of joy is vicarious. For the humans? The miles were brief, conversation bubbling, interspersed with odd moments of "damn, it's cold." Maybe not "cold" per se, but raw, and neither of us could truly warm up, no matter the effort.
I had a few thoughts on the day apart from the company and the trail. Mostly, my snowshoes. The snow was just crusty enough to be a boon and a bane. We didn't sink much. But… I was in my backup pair of Tubbs Katahdin 'shoes. Anyone remember those? I don't know for sure, but I'm confident they're at least 20 years old. No heel elevators, and the traction was… "interesting." Despite several weeks of waiting, MSR hasn't gotten back to me regarding my daily drivers. Ask me how I feel about that.
Moving on…
It was a few miles in the woods. On a mountain. Near a fine lake. Easy grades, and in the summertime, I'll be back to enjoy it in its verdant finery. This wasn't a hard trail, despite the few moments I had with my snowshoes. If the weather hadn't been so raw and unpleasant, we'd have done the loop over Mt Percival. In terms of effort? I mean, if you're accustomed to Waumbek, or even just Monadnock, this isn't a stretch. Cardigan? Yep, give it a go.
As I write this, Elgar's Enigma is on my playlist. I get to Nimrod, and… wow, tears. So too the mountains. The weather didn't cooperate, so no lake. On the other hand, I've been visiting "Golden Pond" for many years now. That boathouse with the slide on the roof? It was about ten years of seeing it from the water before I ever saw it from the land. Driving around that bend, no matter how many times, I still get a laugh about that tiny fact.
The day's weather wasn't the greatest, but I was still at home. It was a short outing, in terms of miles, hours, and elevation. Lately, I've been feeling a bit out of sorts, so this was precisely what I needed. Some things at work have really tossed a spanner in the works, and so there was that hanging over things, too. This outing wasn't a 4,000 footer, nothing on any of my formal lists. But a dear friend, intimate conversation, an enthusiastic pup, and a welcoming trail. Everything else in the world was playing second fiddle, at best.
As always, stay safe out there.
And please, deal kindly with others.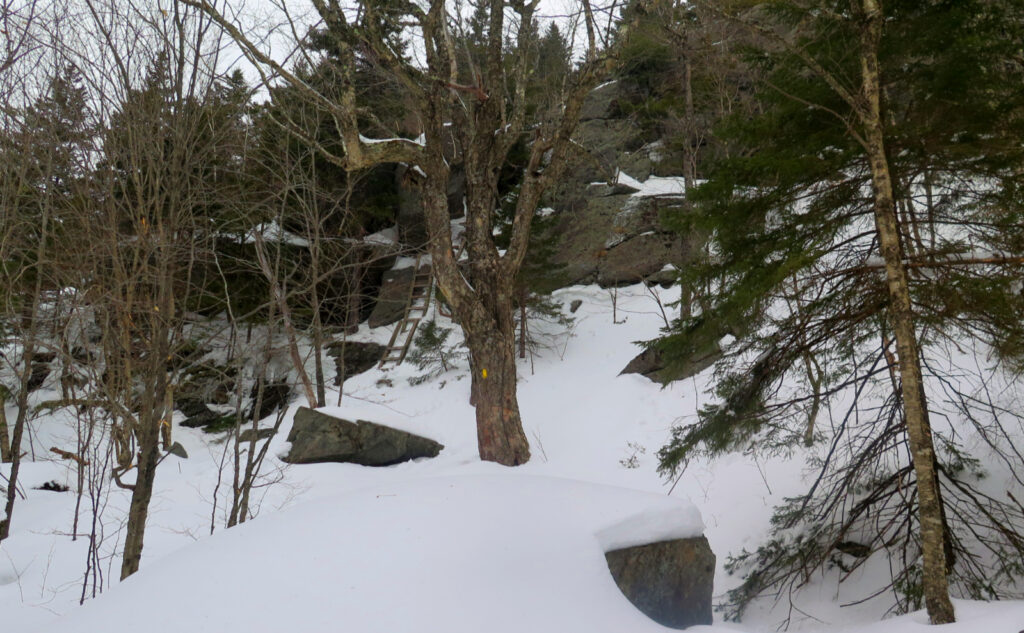 Nuts and Bolts: This is a lot like heading out to Whitehead or Passaconaway from the south. Get off at the Ashland/Holderness exit (24). Follow Route 3 until you hit Route 113, which breaks away to the left. You'll briefly be following the signs to the Squam Lake Science Center.
After that point, carry on 113, over the north side of Squam Lake. Please drive carefully; the road is windy and has plenty of ups-and-downs. (Visibility is measured in yards, not miles.) Once you pass Pine Hurst Road, keep your eyes peeled. The trailhead is about half a mile further, on the left. If you're not paying attention, you'll miss it. You're looking for a tiny entrance on the left. Don't expect the signage you might be accustomed to in the Whites. Parking is sufficient for about a dozen or so cars. Plan ahead on the usual busy weekends, and any time the weather is particularly clement.
Blazes are yellow diamonds, and fairly abundant. The trail isn't hard to find. Near the summit, you're given the option of taking the super steep route that involves a ladder, or going 0.3 miles around via the long way. I doubt even the most intrepid pup will manage the shortcut. The long way isn't at all a chore; it's just a bit more mileage, but not "ruff" at all. Fido will thank you. 
If you enjoy reading these posts, please subscribe — stay in the loop! Your email will only be used to alert you of new posts — typically 1-2 times per week. I will not use or share your email for any other purpose without your express permission. And feel free to share via social media using the buttons below.
Find me in the mountains, on this blog, or on Twitter: @Protean_Hiker https://twitter.com/Protean_Hiker/
Additionally, for all the cool kids who sit in the back of the bus, find me on Mastodon: https://mastodonapp.boston/@Protean_Wanderer
Help support this blog! Visit www.photos.proteanwanderer.com to buy some of my signature images.