Whiteface Mountain (4,020 feet). Sandwich, NH. 2022-06-07 (Tuesday.)
Via Flat Mountain Pond, McCrillis, and Rollins trails. 12 miles round-trip. (Includes a "quick" jaunt down Kate Sleeper trail to Downes Brook trail as an add-on.) Approx 3,200 feet elevation gain, not including the 600-odd feet on Kate Sleeper.
Temps were warm, in the mid-70s. Winds were noticeable in the trees at about halfway up, a refreshing light breeze on the exposed ledges. Overcast haze with some sun breaking through, becoming outright cloudy midway down from the summit.
Trailhead: 1000. Summit: 1400. Car: 1730. (Kate Sleeper took about an hour, round trip.)
Crossing the river to return to the wilderness.
When you least expect it, the trail provides. But it does so on its own terms, not yours. Last night, I was mulling over what to do. I'm at an odd point on the spreadsheet where I have a couple different long trips set up. And yet, none of them made sense, not the least because I don't have the free time to disappear for 2-3 days at a time. I needed something short and sweet, and ideally, compatible with the monthly count for my grid. I'm glad I'm doing this by spreadsheet, because I don't know how I'd keep my sanity otherwise.
And as luck would have it, I got another trail for my redlining. Woo-hoo!
Everything else? Eh… that's more nuanced.
One thing that I did get in spades was solitude. I met four people all day, which was nice. I think the big thing that helped was going up via McCrillis. This trail isn't a trade route, for sure. Not the least, but the water crossing wasn't trivial. Count the last time I was up this way for evidence of that. But it was quite nice to walk through mostly open forests for much of the day.
What, though, about the nuance?
Well, there wasn't much to see that anyone would call amazing. The day was full of subtlety, the views inward much more than outward. Starting with the thick, fog-like haze everywhere as viewed from the ledges, and continuing on through the utter lack of flowers and any fauna bigger than a baby toad. There was plenty of moose exhaust on the trails, and on this, what on earth is a moose doing up near the summit of Whiteface?
But there was other nuance. Not a lot of moss, but enough to soften edges here and there. Mud, but either it was dry enough to be supportive, or there were plenty of stones and roots to step on and keep feet clean. And while there was a lot of leaf litter, it was all dry on all the ledges, meaning there wasn't any slick leaf snot to make things slippery.
Is there room for imperfection?
I could see, through the haze, the contours of the intervale below, separating the Whites from the lower, nearby ranges — the Ossipees and the Belknaps. Mt Shaw and Roberts were visible as shadows, as was Red Hill. Sandwich, and Flat Mountain Pond beneath. Chocorua to the east. I could see the three big lakes — Squam, Winnipesaukee, and Ossipee, but that was about it. The camera of the mind had to fill in a lot of gaps, and anything beyond those landmarks were plain invisible.
But the camera of the mind did fill in those gaps. Without distractions, the forces that made today's geology were anything but invisible. I saw wonder as I visualized the glaciers carving and grinding their way across the millennia. And on the trail, I saw the old logging roads, stealth campsites, and other places where people have left subtle clues. While last week was the outing where I saw nature in wild abundance, today was a trip to see the other stuff.
Butterflies and… moose exhaust?
My morning started with eastern tiger swallowtails, and a monarch butterfly. The former were nearly always on the wing, and me without a chance to capture even a fleeting photo. The latter was more patient with me, and while I didn't get a "great" shot, I got something, which is better than nothing. I was hopeful for more, but the rest of the day featured baby toads. Oh, and the aforementioned moose exhaust, high up on the trail.
My big moment was crossing the Whiteface River. The last time I was here, it was raging. In my estimation, only a fool would have tried crossing, and that fool would have been quickly swept away, to be dashed against the rocks, never to be seen again. (OK, maybe not quite that severe, but it was still treacherous.) But today, the river was much more placid. Still moving some water, but I crossed with dry feet and nary a worry. A couple hours later, I reached the upper trail junction; the redline was mine. Little victories.
Not quite as big, but still happiness-inspiring? Finally, actually setting foot on Kate Sleeper, for real. (OK, at least the trail.) I'd long been reading what little exists about this mythical figure. Near as I could figure out, she kept a small inn, and agitated for the health of the forest. This doesn't surprise me much — people from Boston and New York were already coming to the Whites in significant quantity to get away from the "bad air" of the cities. If the mountains were being denuded on an industrial scale, that's not good for business.
Solitude… Sleeper… Stillwater?
In the whole day, I saw two people on McCrillis. (The other two were up on Rollins.) Number of people seen on Kate Sleeper? Precisely zero. Lots of moss. Oddly, for a trail that always struck me as a bit out of the way, it wasn't poorly maintained. Parapet Trail on Adams was waaaaay worse, by a country mile at least. Maybe this is the super secret route to the Tripyramids. No idea as of now… stay tuned. But either way, it was enjoyable having some real solitude without having to go far. On reaching Downe's Brook, it almost felt like Stillwater.
Beyond that? Well, the day wasn't about booking mileage, that's for sure. The disappointments were the transient ones the mountains sometimes throw your way. Sub-par views. Not a lot of flowers, nor a lot of wildlife. The semi-overcast light made it challenging (to say the least) taking photos. But all this is to be expected. On a long enough horizon, the plusses and minuses average out. The plusses stick in your memory, the minuses fade away. Someone mentioned McCrillis being the better trail than Blueberry Ledge. I'm not sure, mainly because I have to try Downe's Brook to Kate Sleeper.
Still taking them one at a time?
But the day did give me time to recall other trips where I mashed Whiteface and Passaconaway together. I think it's still valid to take the two on their own, because there are still fruits and gems to be savored.
The last couple months, I really needed to recharge. I ended up taking April off completely, and May was spent doing a lot of low-slung stuff in the Belknaps. I began feeling that hankering to get back to the Whites. Today felt like I was home again. As per usual, it wasn't "the perfect outing", but in its own imperfect way, maybe it was.
As always, stay safe out there.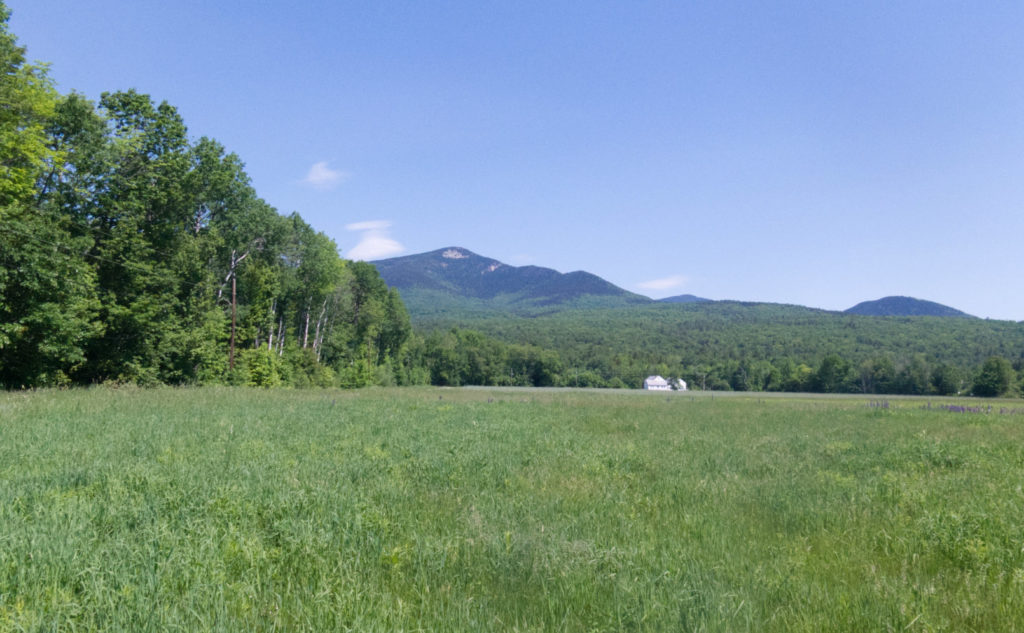 Nuts and Bolts: Probably the easiest is to enter "Bennett St and Whiteface Intervale Road, Sandwich" into your GPS and hit "go." Otherwise, make like you're heading to the trailhead on Ferncroft Road, and where Chase St makes a hard right, stay straight on Whiteface Intervale Road. Pass Bennett St, and the trailhead will be around 2/10th of a mile ahead on your left. It's not terribly hard to find.
Trailhead will be by the gate, and so too is the kiosk. Blazes are yellow and quite spare, also quite faded for the most part. That said, the trail isn't hard to follow. Just keep your eyes open. On the ledges, at least half the time, there was a blaze when I wanted one. But again, this isn't a hard trail to follow.
Note that McCrillis trail is a fall-line trail. Things are fine for the first half. You'll know you're going up for real, but it's not outrageous. The last 1,500 feet, however, are burly. The terrain isn't particularly rocky, but you'll be gaining a lot of elevation in a relatively short distance. The trail itself is largely a green tunnel, but it's an almost exactly south facing green tunnel. I burned through water much faster than normal. (See my comment about getting more water on the way down.) Plan accordingly.
The crossing over Whiteface River will be treacherous in times of heavy rain. Don't even bother if an inch or more has fallen in the past week. The river is narrow and the banks steep; there's no real room for the water to spread out and slow down much at all. The source is a fair sized pond that's pretty solidly 1,000 feet above the crossing, so there's no shortage of water coming down when it rains. It's a smaller, but equally frustrating version of North Twin trail. When it's running low, however, there are ample rocks of sufficient size that crossing should be relatively trivial, featuring dry feet.
Speaking of water… down low, the mountain is quite wet. In season, the bugs will be out to play. Wear bug juice accordingly. This year especially, authorities are forecasting a rougher than normal tick season; I've already found one two weeks ago. Deet and Picaridin both work quite well for mosquitoes and ticks. I like the latter, because it doesn't feel so greasy.
If you enjoy reading these posts, please subscribe — stay in the loop! Your email will only be used to alert you of new posts — typically 1-2 times per week. I will not use or share your email for any other purpose without your express permission. And feel free to share via social media using the buttons below.
Support this blog! Visit my photo website, and buy something beautiful and inspiring to hang on your wall! www.photos.proteanwanderer.com
Find me in the mountains, on this blog, or on Twitter: @Protean_Hiker