Mt Jackson (4,312 feet). Crawford Notch, NH. 2021-12-31 (Friday.)
Via Webster-Jackson Trail, Jackson Cut-Off. 5 miles round-trip.
40 dF at the trailhead, about 35 dF at the summit. Winds were non-existent in the trees, an almost imperceptible breeze at the summit. Sun and clouds throughout.
Trailhead: 1230. Summit: 1445. Car: 1600.
A jaunt up Jackson!  
It's the last of the year, and what fooled me was the long line of cars parallel parked around the Highland Center. Honestly, I pay such little heed to the day that I completely failed to notice that a. It's Friday, and b. It's a pretty major holiday. Duh. So much for having the mountain to myself.
That said, the nice thing about that area is that one parking area serves several trailheads, and each of those leads to yet another fine summit. Although there were a lot of cars down low, that didn't really translate into hordes of people rushing down the mountain as I was making my way up. I did see some number of people, but it wasn't like I'd have expected on the 4th of July weekend. Not that I'd likely have noticed it was a holiday, apparently.
Weather, or not
As I left the house, I had few indications the day would have turned out as it did. I'm not sure I'd even made it to the lakes having seen even a postage stamp-sized hole in the clouds. I do know that coming around into Twin Mountain, there was no shortage of sunlight streaming into the car, which was all kinds of pleasant. Coming across town, I was treated to dazzling views of Mt Washington and its neighbors, cast against a deep azure sky. What anticipation!
Into the notch, things seemed to be a tad more cloudy, but still feeling the warmth of the sun. Immediately off the roadside, I slipped and slid a little on some mush, but within about ten feet, the snow consolidated very nicely. With nothing heavier on my boots than spikes, I made easy headway across a wonderfully tramped-down trail. Thinking back to my afternoon spent on South Twin, this was pure heaven on earth.
A bit of a hike for a bit of a view
Jackson is a fine companion to its neighbors, but comparing it to Pierce, it's noticeably more strenuous. Somehow, the grade felt just a little steeper, and I felt like it was just that much more exertion. But after about 2 hours, a break in the trees gave me a cloud-obstructed "view" outward toward Mt Willard and Avalon, but down into the notch, things were relatively clear. Seeing the trees laid out across the mountain, all frost covered, was a treat. A short push after that short pause, and I was on the summit.
The view from the top was constrained to a hole the size of the Mt Washington Hotel and vicinity… it was a lovely day even without an expansive view. I'd had no shortage of sun streaming through the trees, many times golden hued. So what if I couldn't see more from the summit. It was almost spring-like at the beginning of winter. There will be plenty of colder days. No view, but shirtsleeve weather? I'll take it with a happy smile on my face.
As always, stay safe out there.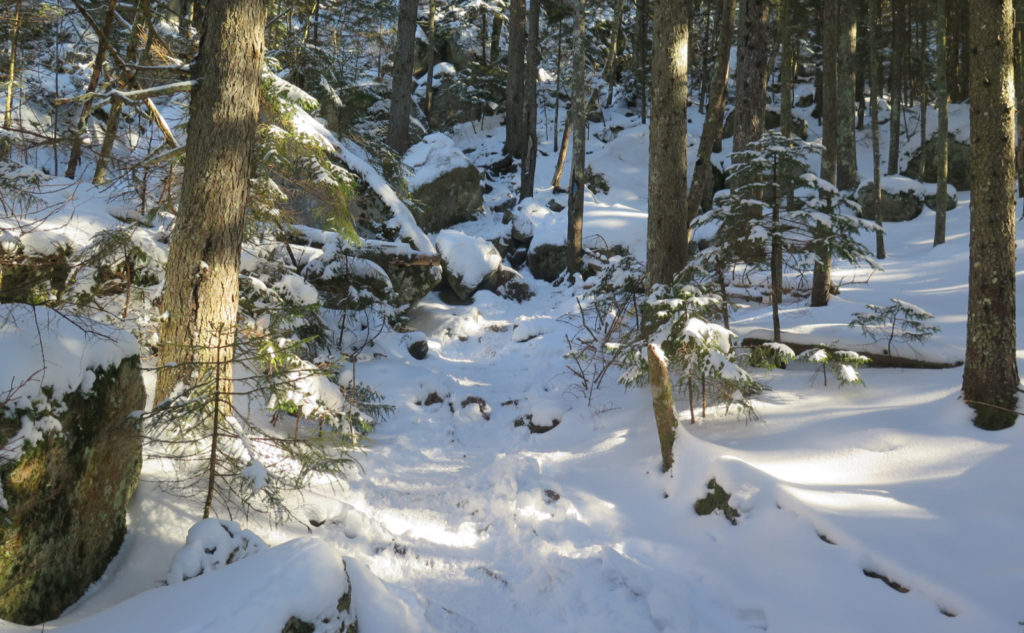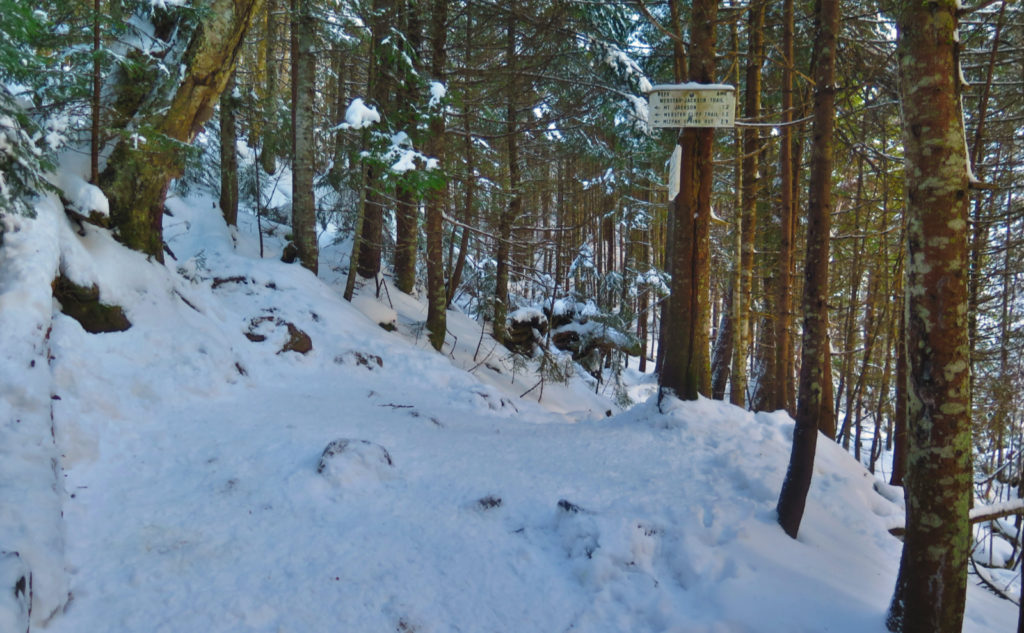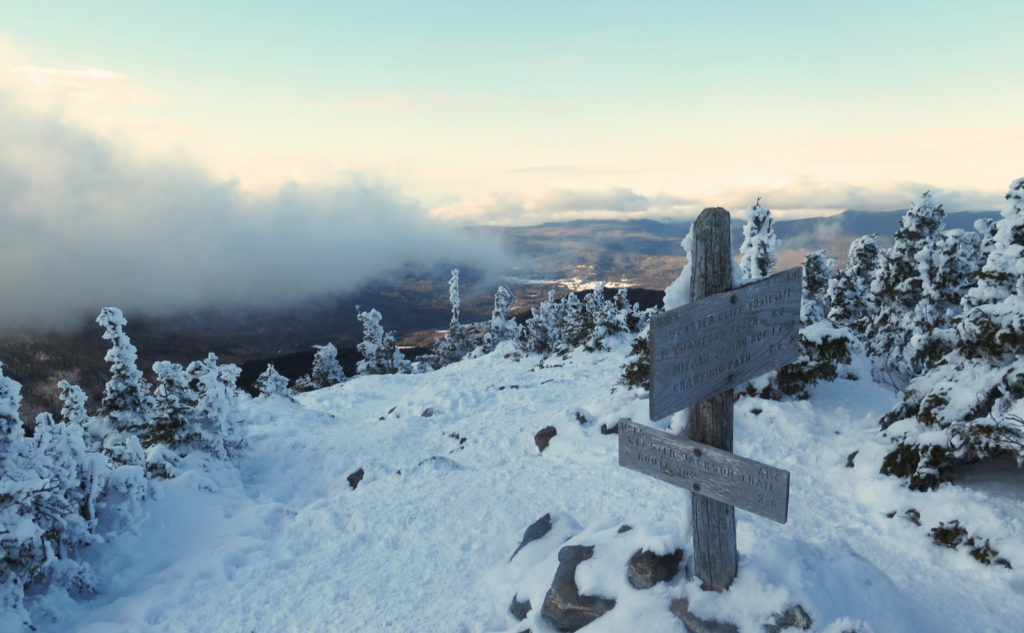 Nuts and Bolts: Effectively, you want to take 93 north, and get off at Exit 35, heading for Twin Mountain. At the four-way intersection with 302, turn right, and head toward the Cog Rail. Continue past the turn-off for the Cog, and a few minutes further down 302 will be Crawford Notch. Just past the AMC Highland Center, you'll notice a yellow Victorian-style train depot. Park. The trailhead is on the east side of the road. Look for a white sign.
Blazes are blue and occasional. A mile and a half up, you'll come to the junction where you can choose to summit Webster or Jackson.
Conditions, like mileage, may vary…
I never laid eyes on it today, but I was told by several that the col crossing between the peaks is quite reasonable. Bear in mind that these conditions can change at the next snowstorm. One person did seem to think that the half mile nearest Webster could stand to be tramped out a bit more. Overall, the warmth was actively melting the snow in the trees, and I can't imagine it wasn't having similar effects on the ground. Check the weather like a hawk before heading out, and I'd also suggest looking at New England Trail Conditions as well. And always be prepared to turn around if things exceed your comfort level.
If you enjoy reading these posts, please subscribe — stay in the loop! Your email will only be used to alert you of new posts — typically 1-2 times per week. I will not use or share your email for any other purpose without your express permission. And feel free to share via social media using the buttons below.
Find me in the mountains, on this blog, or on Twitter: @Protean_Hiker