An unexpected opportunity!
Mt Washington and Mt Monroe. 2019-02-07 (Thursday.) Via the Ammonoosuc Ravine trail, Crawford Path, Mt Monroe Loop trail.. Approx 10 miles.
Washington: 6288 feet, Monroe: 5372 feet.
35 dF at trailhead, 34dF at MW Observatory (approx 14:00). Winds in the 20-30 MPH range. Cloudy, becoming partly cloudy in the afternoon. RH at or near 100% for the entire day.
Trailhead: 1020. Lakes of the Clouds hut: 1230. Washington summit: 1400. Monroe summit: 1500. Car: 1710.
30 peaks remaining on the winter list.
Occasionally the cosmos tosses you a bone. And so, when the Mt Washington Observatory's Higher Summits Forecast showed today as being superlative, weather-wise, it was a no-brainer. I'd been mulling which of the Carters to hike, but those plans got shelved right quick. When, in the middle of winter, you get unseasonably mild weather in the Presidential Range, you grab ahold with both hands.
I wish I could get out of bed promptly, but I'm not that person. This manifested in a later than desired start. As things turned out, it was a slightly rushed hike, but I nailed all my objectives, which made me very happy.
All day, I was thinking back to when I hiked up Ammo last June. It was a drier day, but the mountain was shrouded in cloud almost all the way up. Today, much the same, albeit with a much wetter cloud. I couldn't tell if it was melt water from the trees, or whether it was outright raining. The observatory suggested there might be a light drizzle, so my answer never resolved itself completely. But the short of it was that I got a bit wet. No worries, as it was a warmer day out.
The first bit, to Gem Pool, was a very gentle grade, and I made swift passage, pausing only to take the odd photo and some video. Despite the low clouds, I found plenty to catch my eye, and had to start telling myself to keep moving, else I wouldn't summit so much as a cairn, let alone this mountain.
Immediately after Gem Pool, the fun started. Almost instantly, the trail pitched up rather sharply. The weather was already above freezing, so with that and the massive exertion to make headway, sweat was pouring off my brow. It felt good to push hard. The monorail path was in decent shape, although I say that in full light of the recent warm weather — the snow was "mashed potatoes" in many spots, with some post holes here and there. I was glad my snowshoes could span a lot of it.
As I got past the steep section to the not-quite-as-homicidally-steep bit, I noted the wind wasn't really an issue. No kidding, it was almost eerily still, and especially so when you consider Mt Washington is home to some of the fastest winds ever recorded. It was my opinion then, and still is now that the weather wasn't right.
I pressed on, and after a bit, I saw a rectilinear shadow up ahead. Last June, I saw that same shape resolve itself into the hut, but for some reason today, it didn't happen so well. The fog did seem a lot more dense today, which might have played a part. But there I was, first half of the hike done. Time to turn to the summit!
But first, I met up with a guided group; some guys from FDNY — the NYC fire department. They were a spirited bunch, very nice to chat with, and seemed to be making quite the day of it. I'd bump into them a couple more times before heading home.
Going up the Crawford Path, I minded the cairns carefully. Visibility was very much sub-optimal. But after a bit, I started to hear the crashing sounds of ice falling from the antenna structures of the observatory, and the summit buildings began to take shape through the cloud. Victory! I got my obligatory summit photo, courtesy of a couple other hikers I met up there, and then turned back.
I started thinking about Monroe. Early on, I had kinda given up on that one, on account of starting up so late. But here it was, early in the afternoon, with great weather and very decent trail conditions. And I was making quick headway. Checking the map, and seeing the Monroe Loop was only 3/10 of a mile, I set a deadline of three o'clock to summit. I'd remembered it was a quick out-and-back in June, but I'd forgotten just how quick. As it was, I stood on the summit about 15 minutes after passing the Lakes of the Clouds. The day was going better than expected!
With two peaks bagged, and evening approaching, it was time to turn for home. But one last surprise: the cosmic broom came along, and swept away some of the clouds. I spent a little more time than I'd planned taking some photos, and then headed down. There was some minor route finding to regain Ammo a little below the hut, but once I was on the trail, it was easy to follow again. And then I was back at the car.
Video will be in a separate post — stay tuned!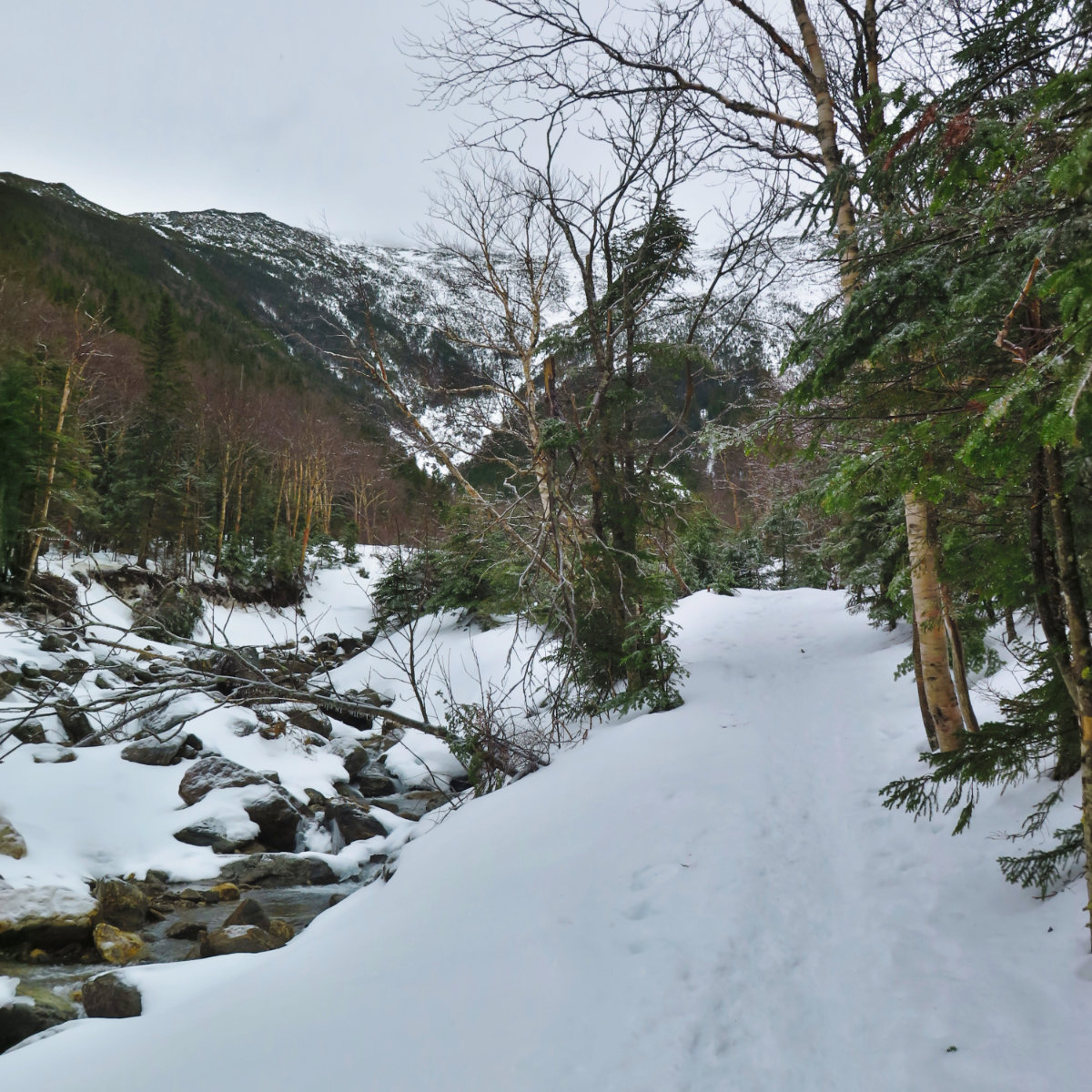 Hiking into Ammonoosuc Ravine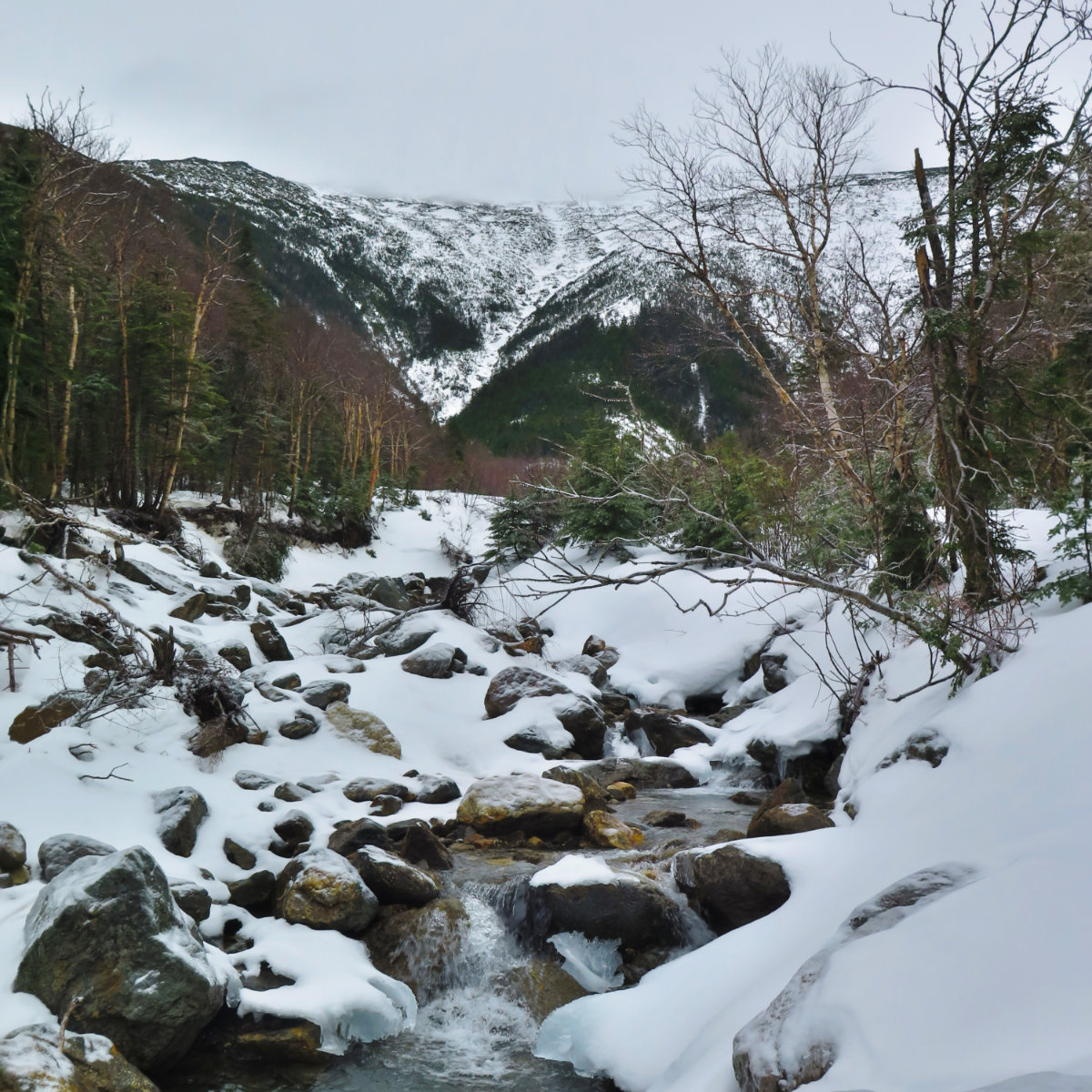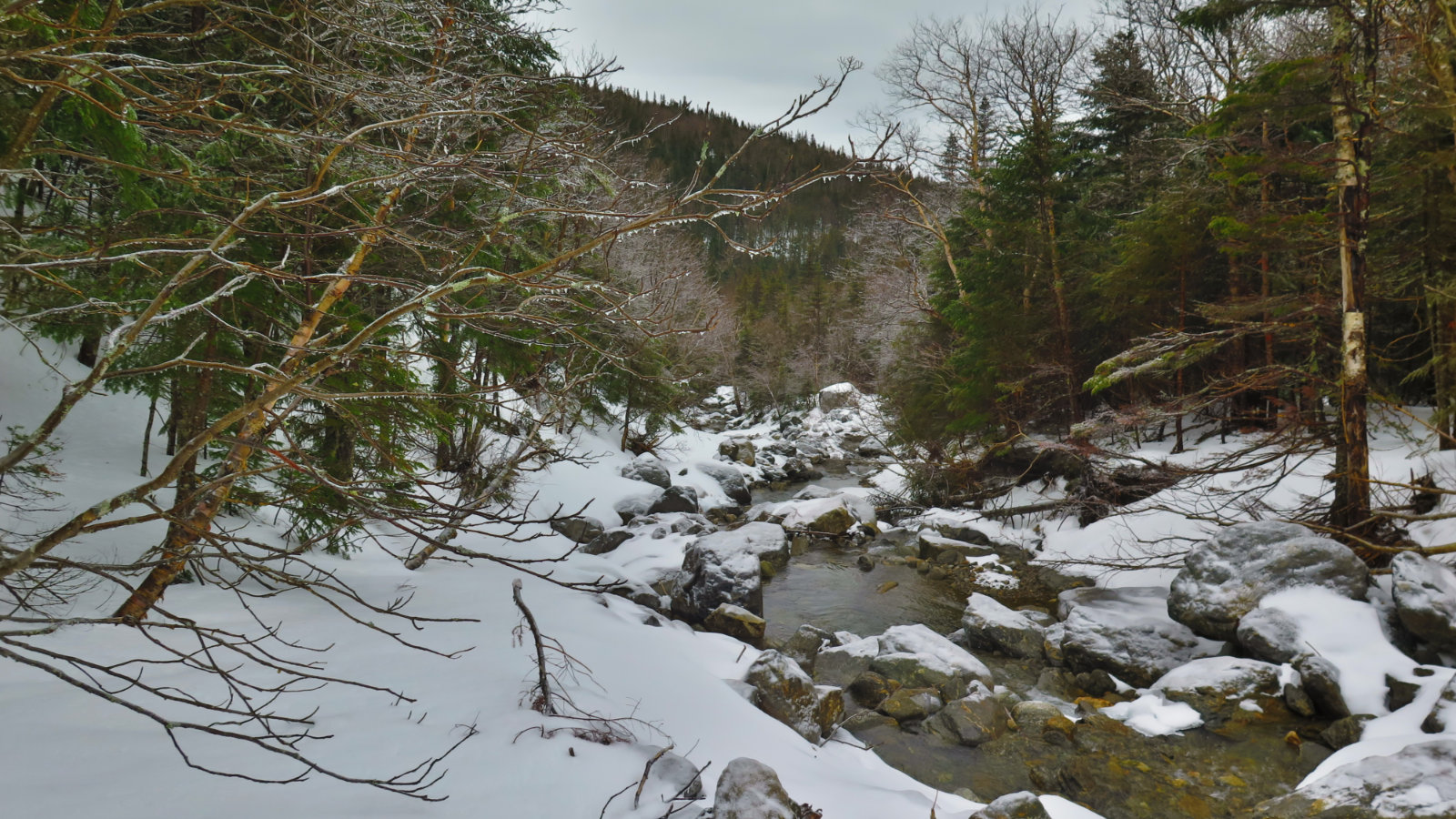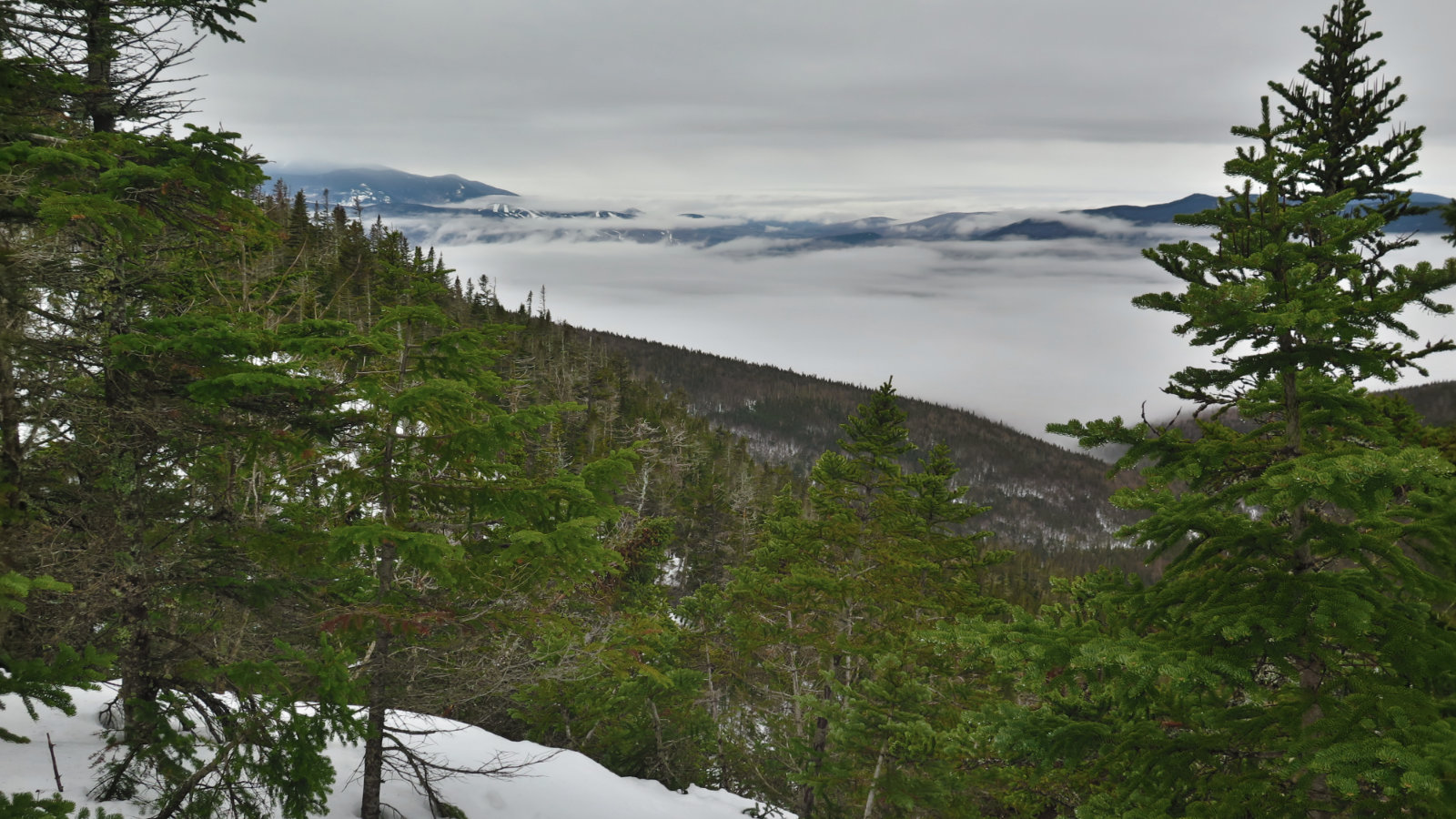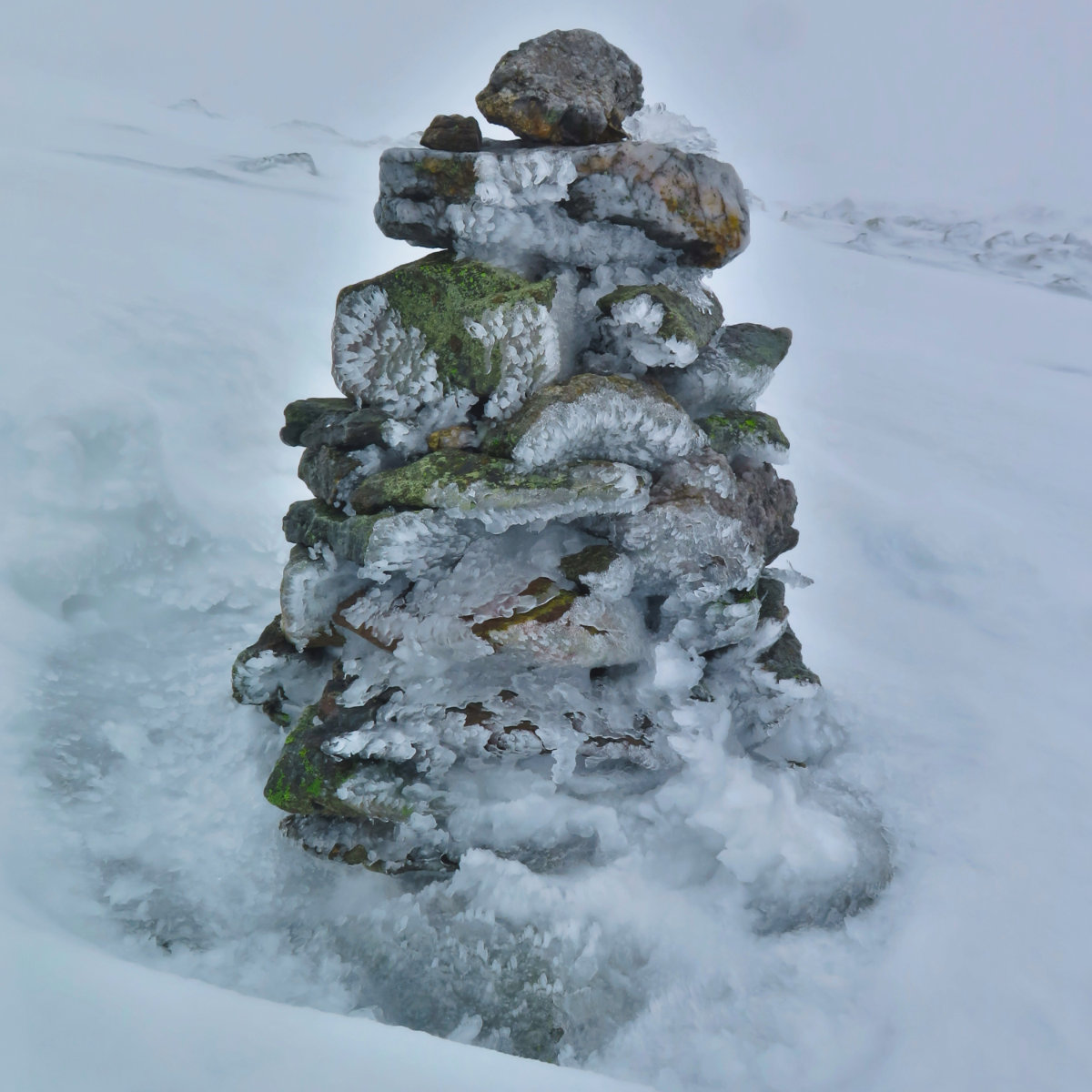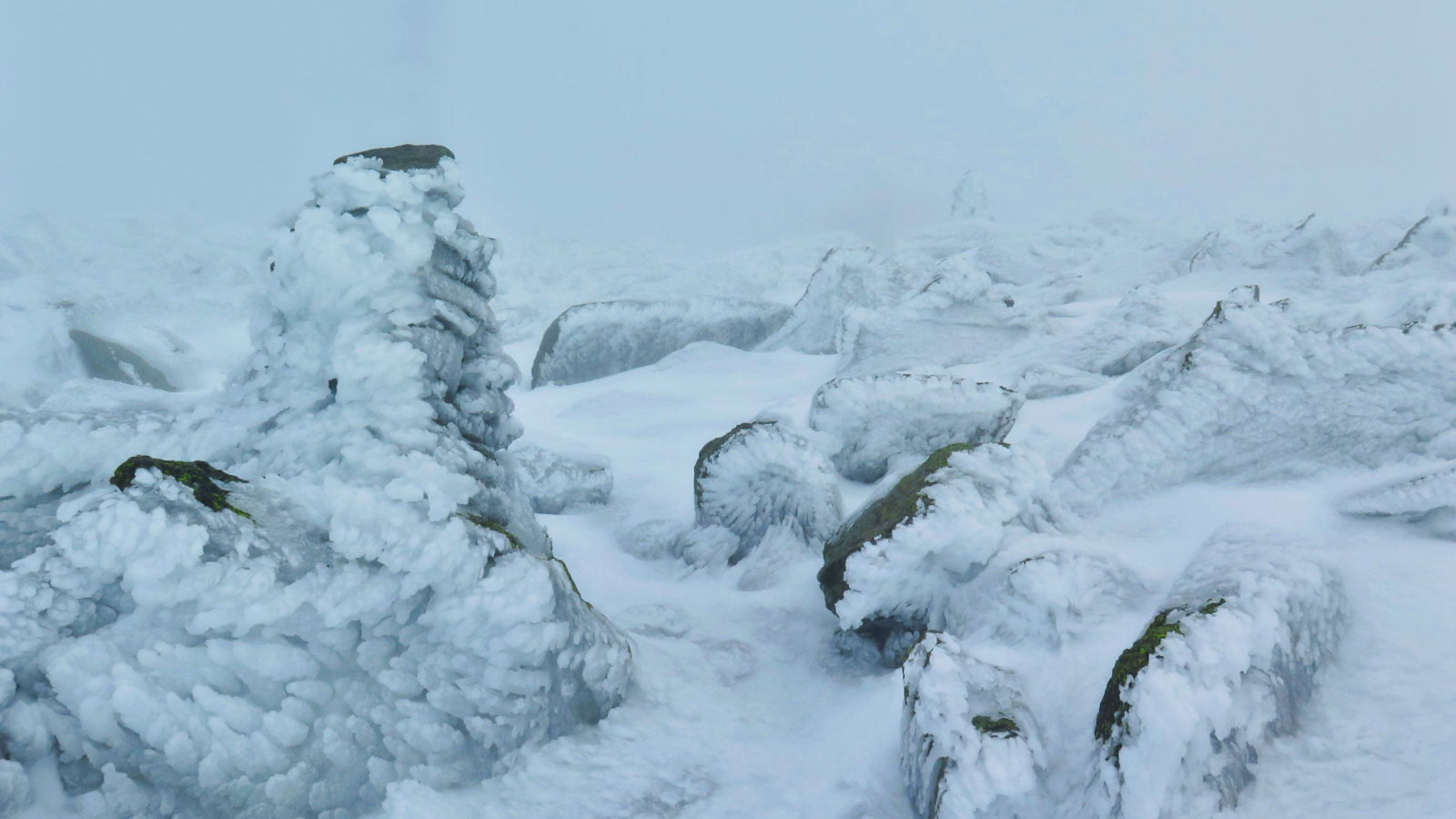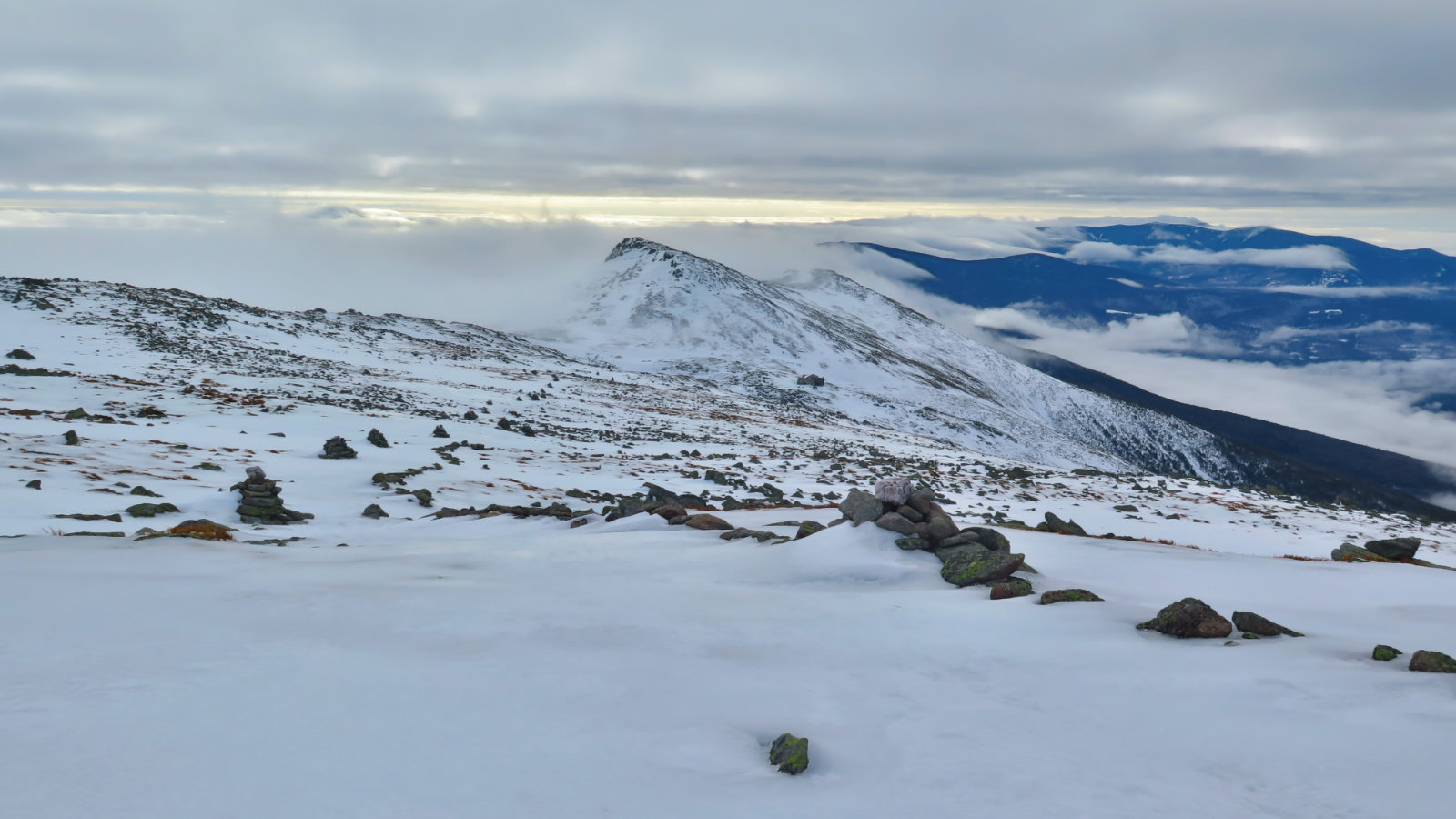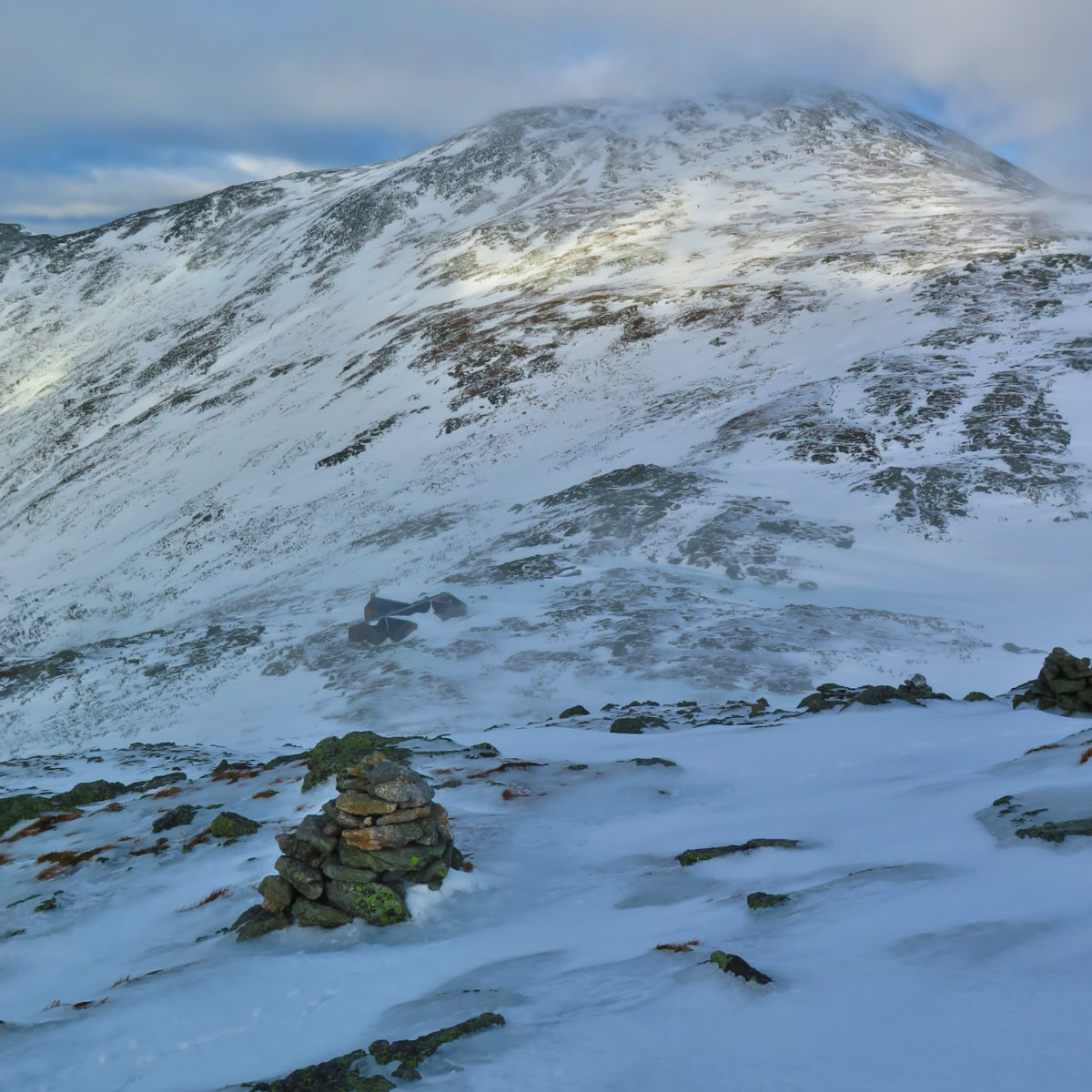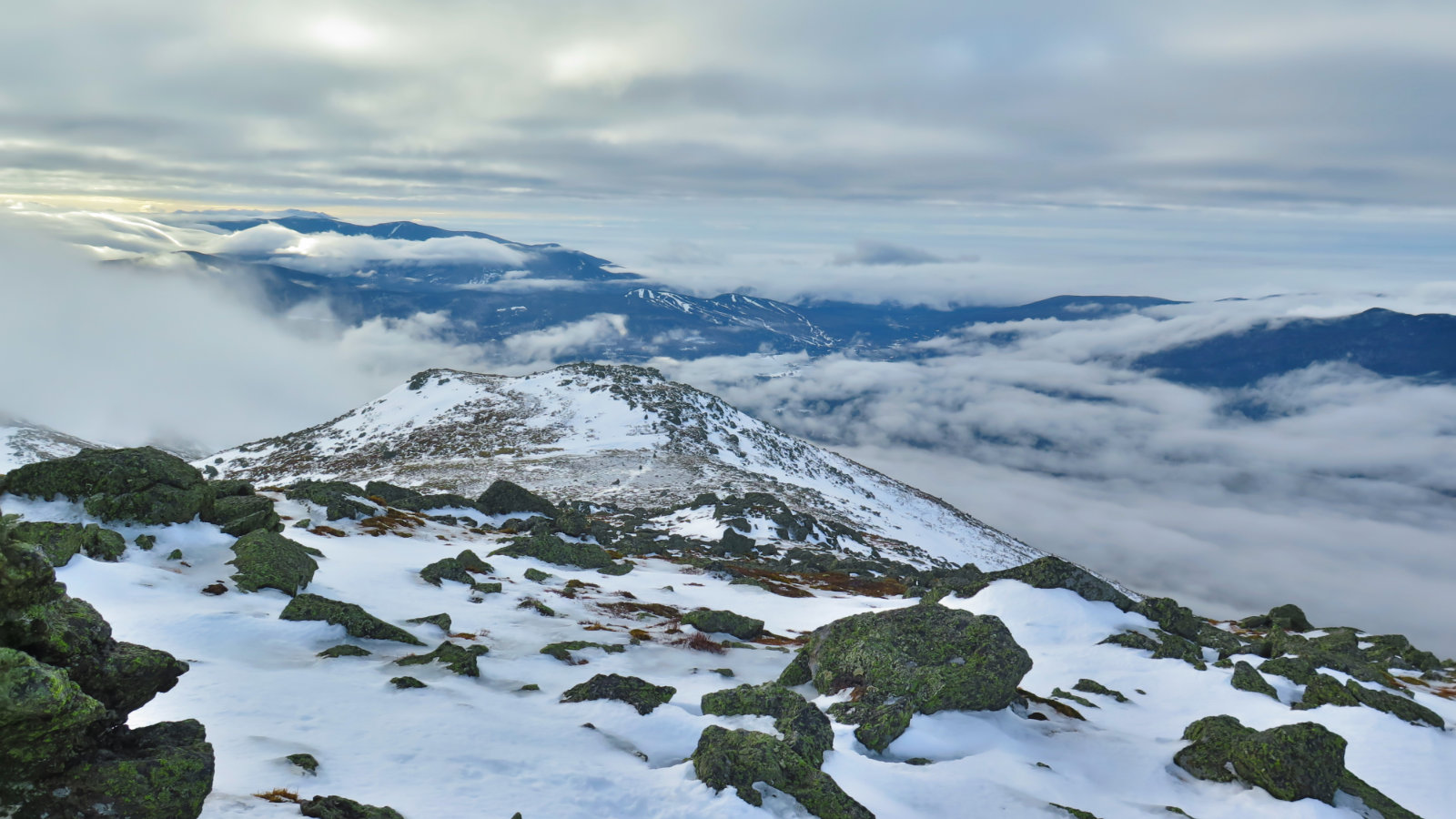 Nuts and Bolts: Ammonoosuc Ravine trailhead is plowed quite nicely. Parking is ample. Just know that with the piles of snow everywhere, you're looking for a sign that's near the latrines. Hop up onto a snowbank in that area, and you'll see it.
If you enjoy reading these posts, consider subscribing. Your email will only be used to alert you of new posts — typically 1-2 times per week. I will not use or share your email for any other purpose without your express permission.