Mt Jefferson (5,726 feet). Coos County, NH. 2021-03-10 (Wednesday.)
Via Jewell Trail, Gulfside and Jefferson Loop. 11 miles round-trip. 4,200 feet elevation gain. (Note: there is a climb of more than 400 feet on the return.) 
35 dF at the trailhead, with the mercury rising as the day progressed. Winds were non-existent in the trees, about 15-20 MPH at Gulfside, 30-ish at the summit. Very occasional thin clouds at high altitude, but otherwise unbridled sunshine throughout. In short, "a hell of a day to be in the mountains." If you weren't out hiking, be jealous. Today was one for the record books.
Trailhead: 1000. Jefferson summit: 1430. Car: 1730.
It's harder than you think. But the Great Gulf, folks!
There are so many ways I could have done this. One guy I met included Boott Spur in today's hike. A few included Washington and Monroe. Heck, I was considering doing that trifecta… even just strolling out by way of Lakes of the Clouds and Ammo. But I did an out-and-back hike. Nothing more fancy than that. 
Forget all of that. Today wasn't a bluebird day, because that notion falls tragically short of how awesome the day really was. Sunny. Yes. Clement. Yes. Clear trails. Yes. Tic boxes on some list. None of which talks about how perfect the day was. Yes, it really was that amazing. After a winter where I spent most days under complete cloud cover, and the scant remainder under mostly cloudy skies, this was a breath of fresh air. Wow, I can't tell you how much I needed this. Oh, and as Dennis Leary would say: "Two words. shirtsleeve weather." 
Jewels from Jewell
Jewell is a nifty route. If you're coming up from 93, it and Ammonoosuc Ravine trail are the two options to get to the area of Gulfside or Lakes of the Clouds. Neither is particularly technical. That said, where Ammo meanders a bit up the ravine before charging up the wall, things get going early on Jewell. It's mostly a fall-line trail with a couple of switchbacks, however, it goes up the ridge, rather than taking the "hockey stick" line through the ravine that you enjoy on Ammo. That has a big knock-on effect: from several points in the higher elevations, you get enticing glimpses of the surrounding mountain tops through ever thinning trees.
Although some parts are fairly steep, and the rest is just seemingly endless straightforward elevation gain, the trail isn't one of the hardest in the Whites by a long shot. It's not gentle, but there aren't any curve balls. You're basically on Washington's massif, with no real decisions to make until you've passed 5,000 feet. Climb on, and enjoy the views.
I will say, though, I feel like Jefferson is a tough nut to crack when coming from this direction. Probably mostly psychological, but coming up to Gulfside, then descending more than 400 feet, and then going back up 700 feet… it takes it out of you. My legs were utterly cooked by the time I was back at the car. Washington feels easy in comparison, as long as the weather is cooperative. 
Glittering greatness
One thing that stuck with me: It's a good mountain, for sure, but the summit is pretty anti-climactic. Really, do this mountain not for the summit, but for other things you'll see along the way. Fascinating rime ice on every cairn, and indeed pretty much everything else. Right now, the melting and thawing has made endless fields of ice-drops that catch the sun like jewels. Monticello Lawn was glittering! And while the best views of the Great Gulf aren't from the summit, you get plenty of breathtaking vantage points from the trail. Something I'd never seen before? How's about skiers going down the siding of the Cog Railway? That's hardcore!
And what about the more distant scenery? How's about views that took in Mt Mansfield in Vermont — standing on the shoulders of the tallest mountains in the Granite State, peering at the tallest in the Green Mountain state… wow! Carrigain, Lafayette, the Bonds, the Twins, Tom, Field, and Willey? Waumbek and Cabot? The Carters? Maine! The view was limited by the curve of the earth… and that gigantic hulking mass just the other side of the Great Gulf. Holy Toledo, there was a lot to see! 
Shirtsleeve weather!
The weather prognosticators got the forecast pretty much right. The sun was unbridled — there were just the slightest, wispiest occasional clouds here and there that cut the sunshine not one single iota. The temperatures were very unseasonably warm, which softened the snow remarkably by mid-afternoon. The wind did show up as forecast, getting fairly stout around mid-afternoon but never unruly. (I can imagine, though, that if I'd stayed above treeline much longer, I'd be rethinking that assessment.) I had my shirt sleeves rolled up until I was on Gulfside, but in the open, it got cold, so I rolled down my sleeves and put on my mittens. (Did I mention it was warm?!) Once back in the trees, I could doff mittens again. It was nice not needing tons of layers to stay warm, and it certainly added to the day. 
I spent much of the winter hiking on cloudy days, and maybe worse, it always felt like a sunny day came along two or three days after. It made for a long, extended exploration of things close to ground. And normally, close examination of the trail is fine by me. But week after week, month after month, it got old. Finally, I had my moment in the sun, and it was awesome. I did a lot of thinking about last winter on Mt Adams, and how that pooched the rest of the season. To no small degree, being in the northern Pressies feels different now. But it was great bookending the season — starting out on Madison, and now, on Jefferson — and all the nicer for having such glorious weather.  
As always, stay safe out there.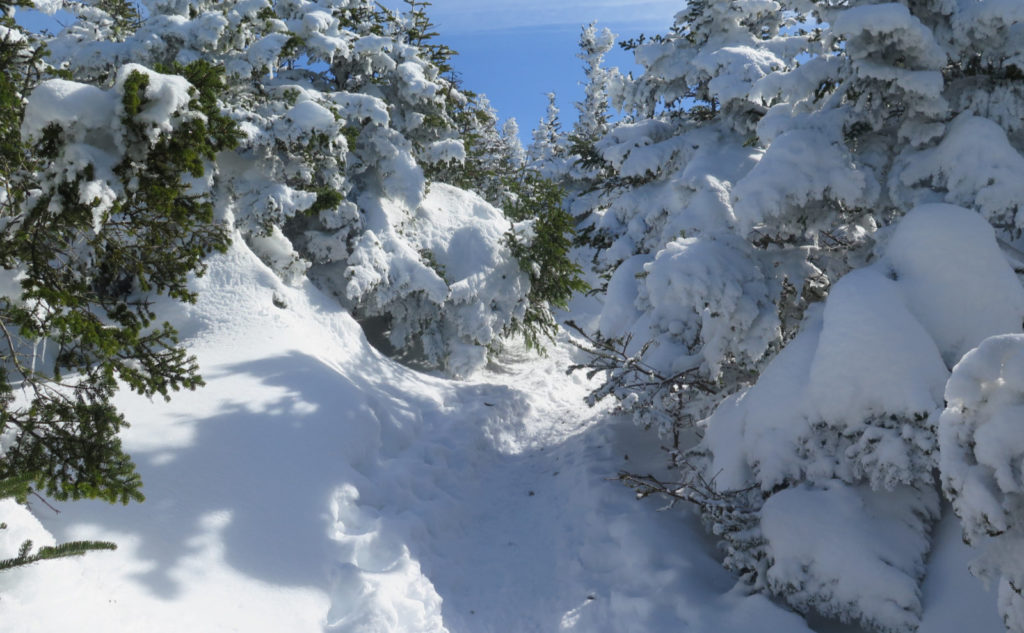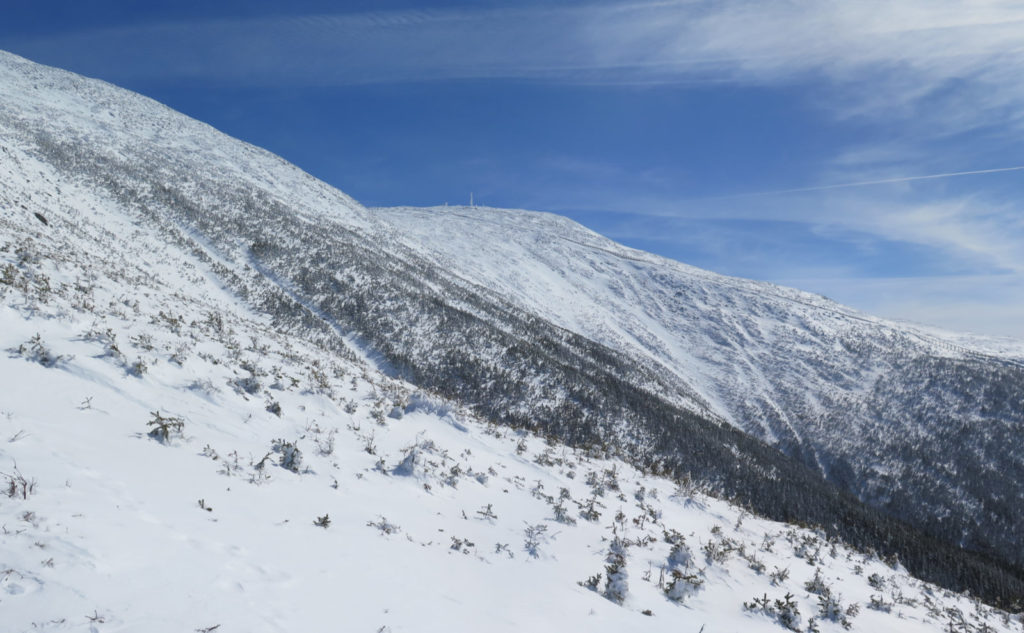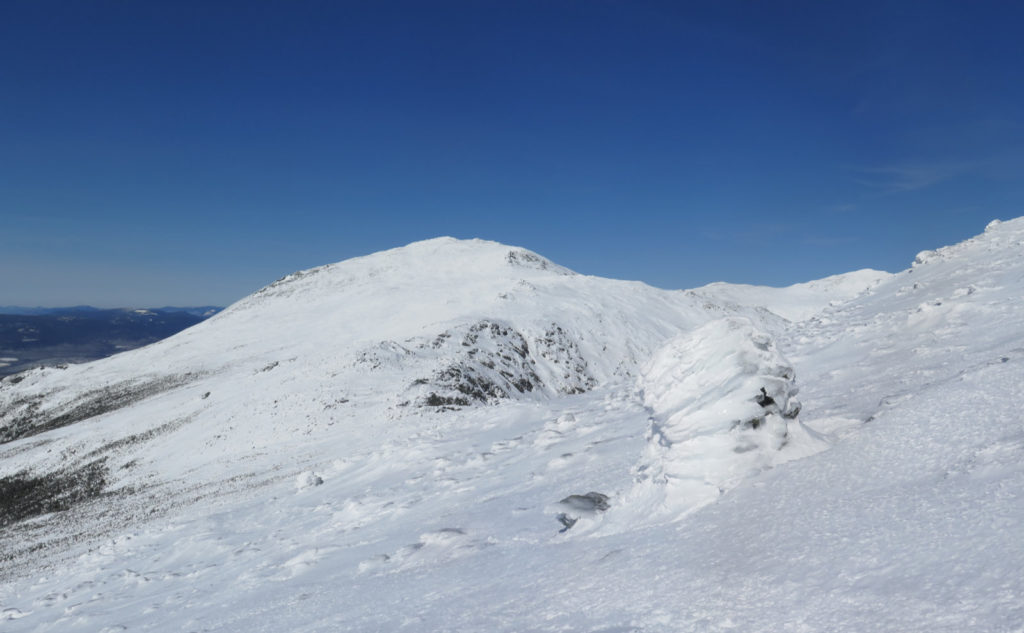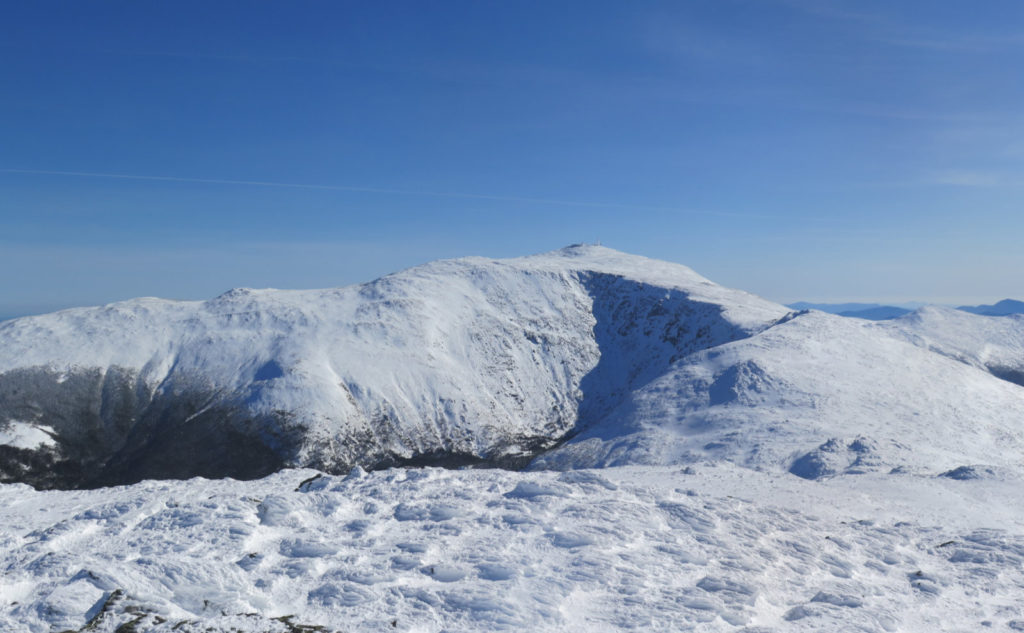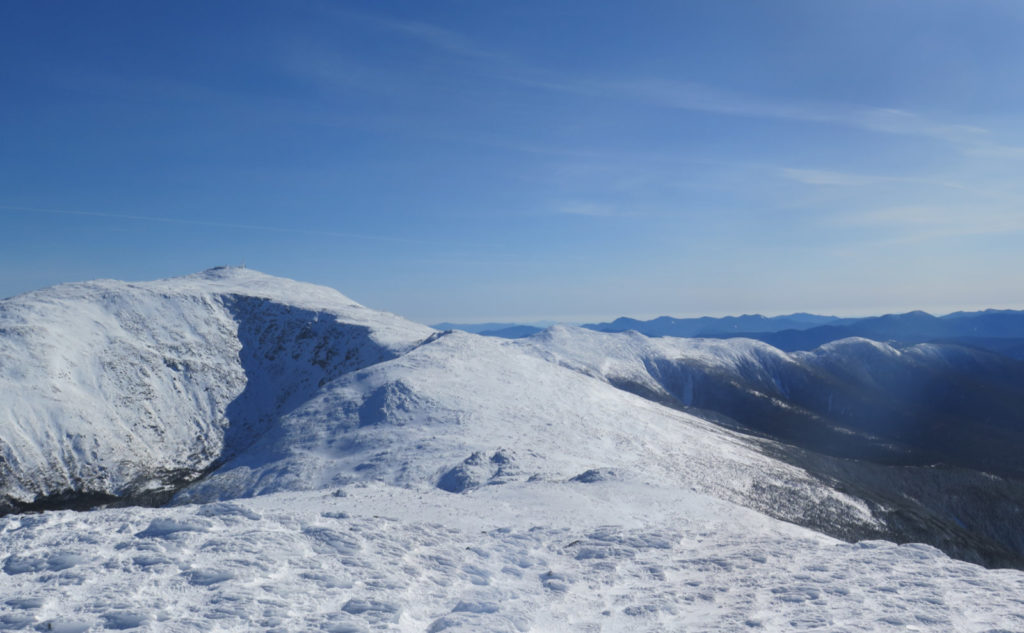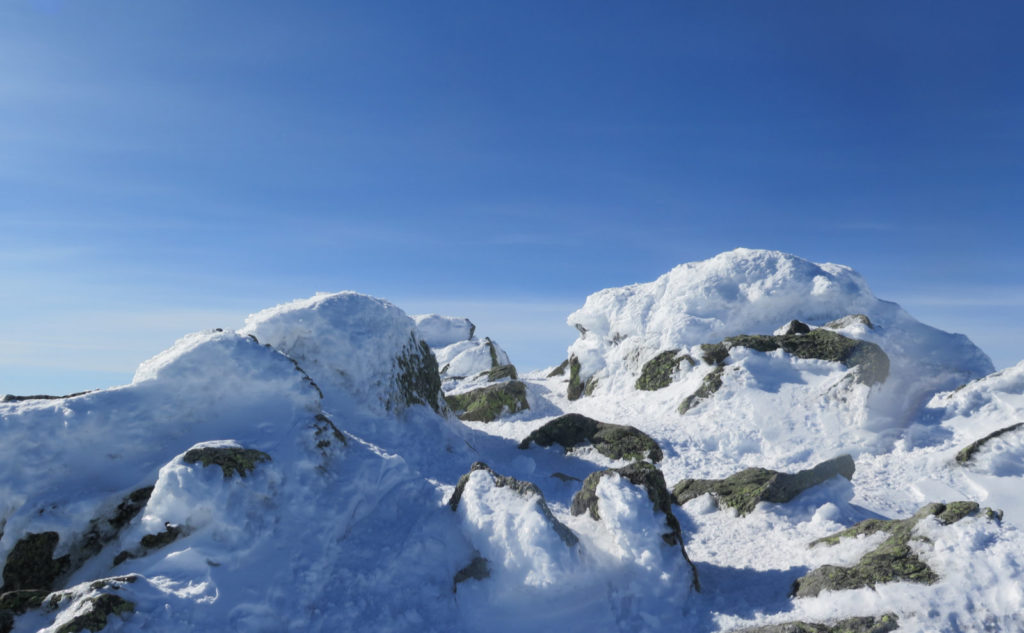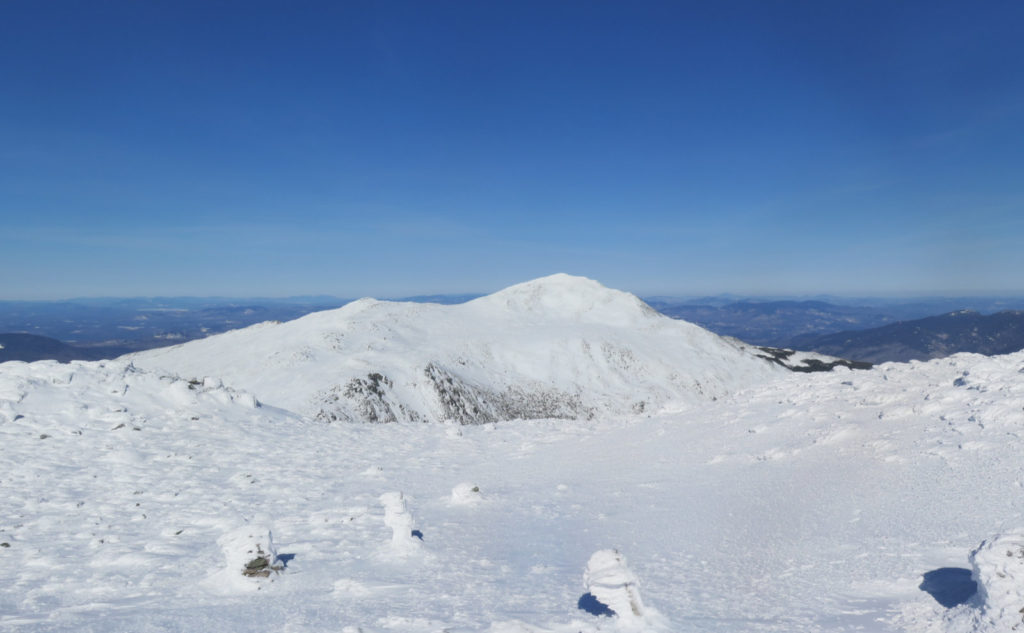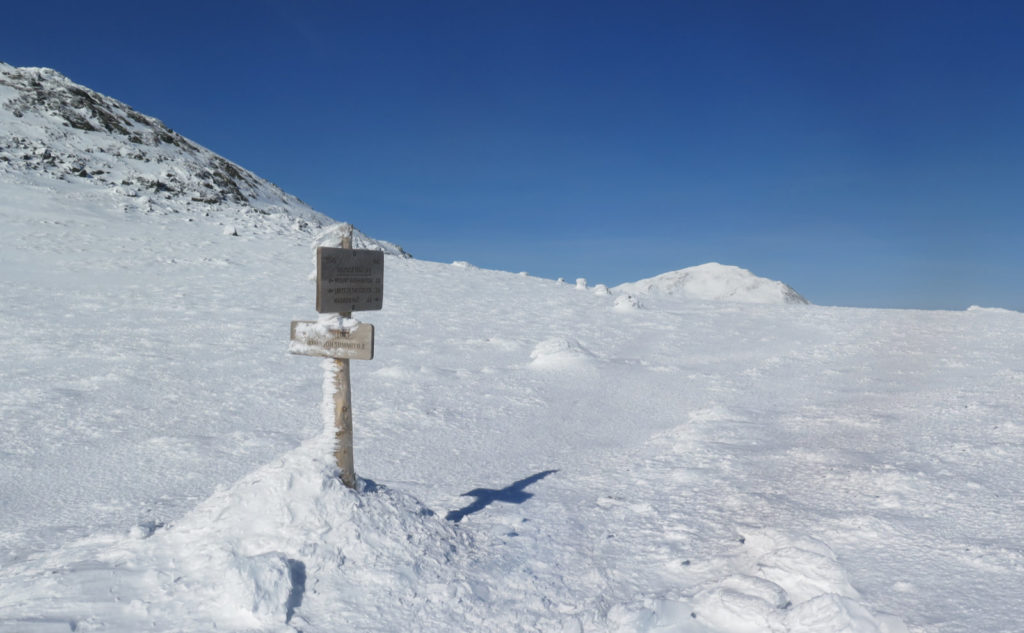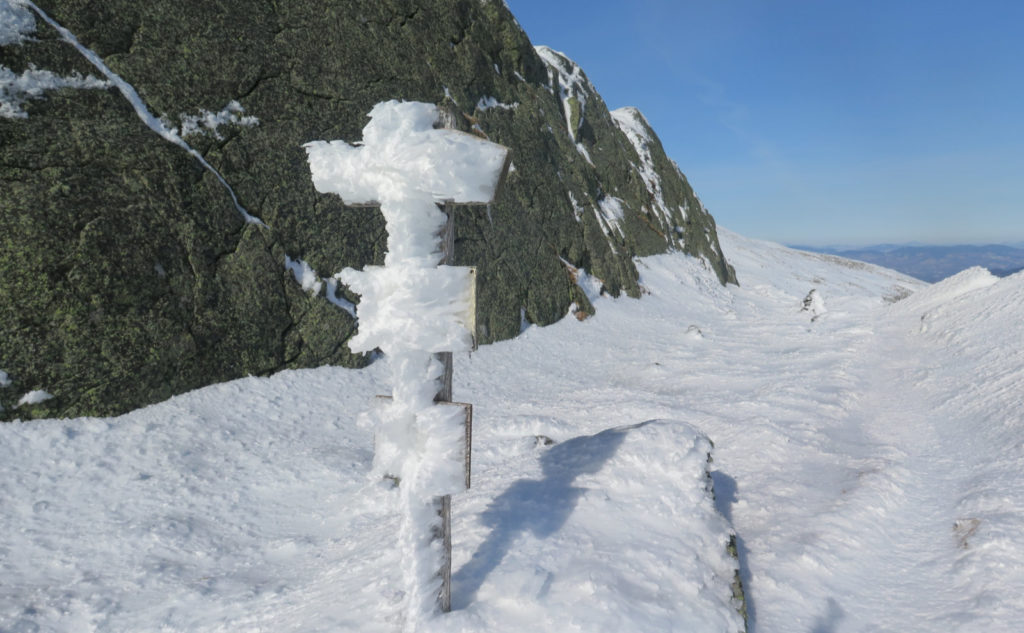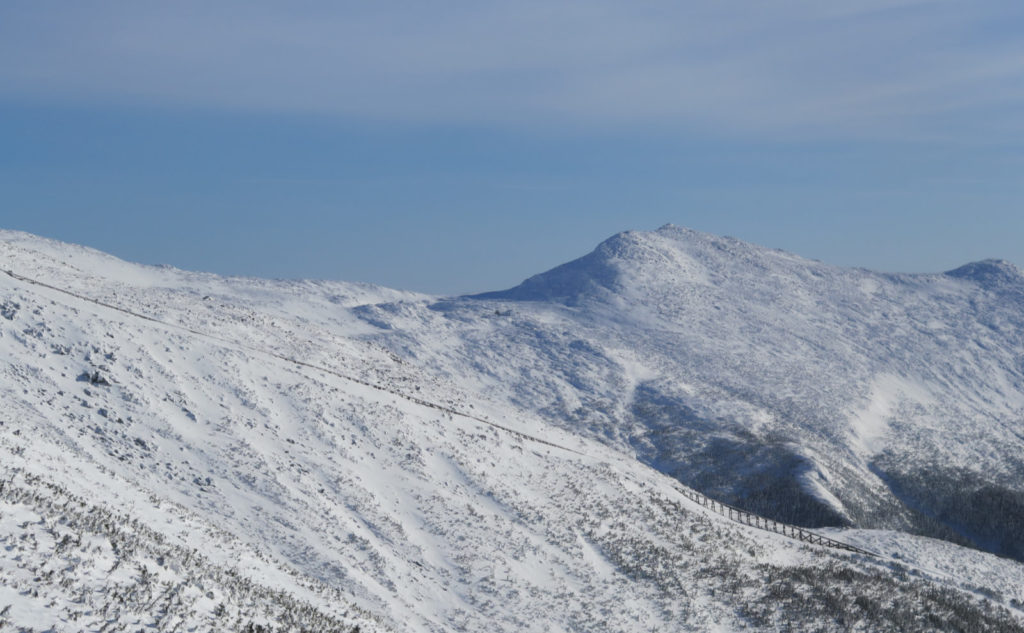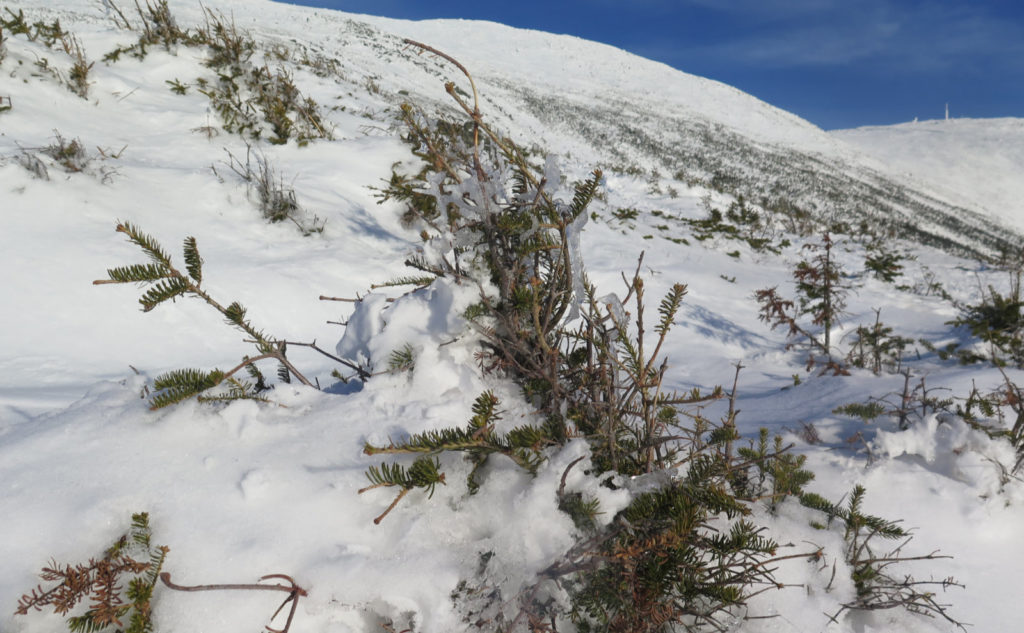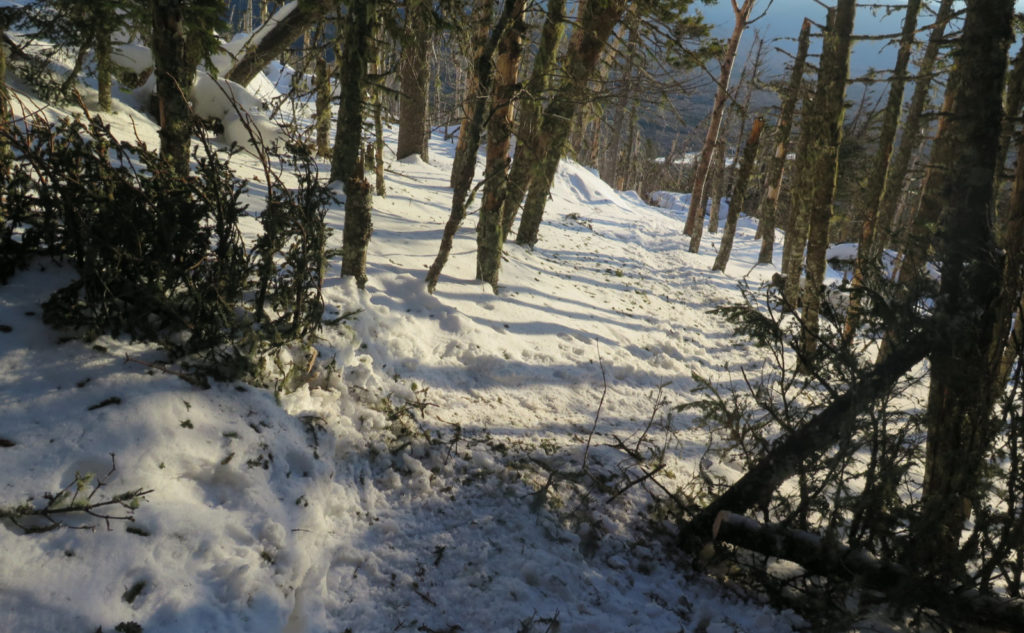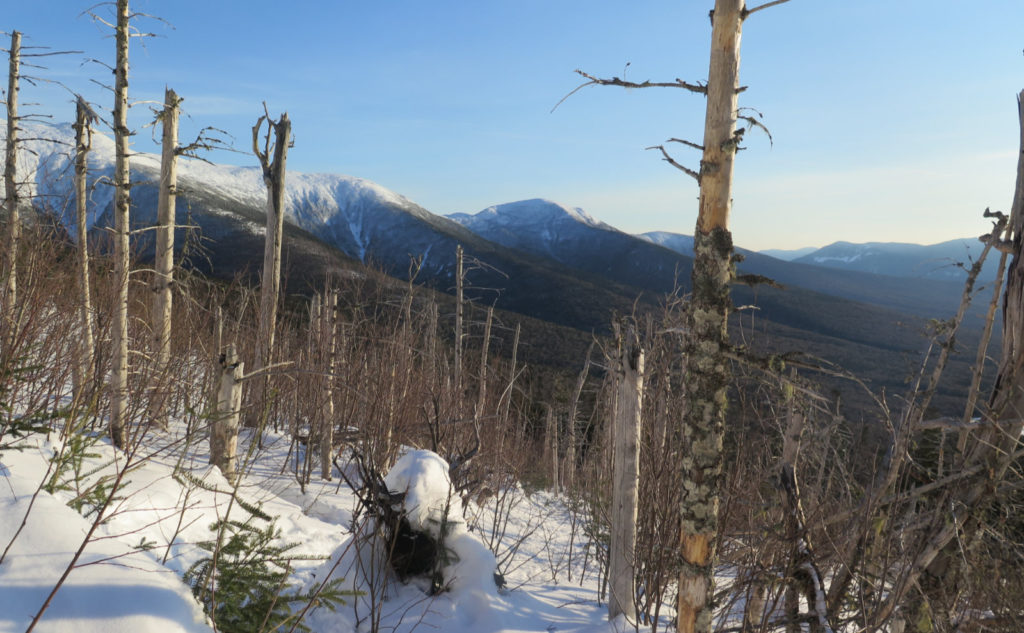 Nuts and Bolts: From 93, head to Twin Mountain, and at the 4-way intersection, turn right onto Route 302. Follow the signs to the Cog Railway. Ten bucks gets you parking. Right now, the trail from the Ammonoosuc Ravine trailhead isn't tramped out, so unless you're taking that trail, your option for going up Jewell (if you don't want to spend time and effort breaking trail) is to start at Marshfield Station.
The trailhead will be on the opposite side of the station house. There's no really good path to get there, however, going uphill is shorter than going around on the downhill side. There's a small, white sign with red lettering at the start of the trail, just on the other side of the railway tracks, and then some wooden steps heading down. 
NAVIGATING ABOVE TREELINE: As of this writing, cairns above treeline are coated with snow and ice, so they can be tricky to spot in some places. Some are spaced out a little further than you'd like. If the weather calls for clouds on the summit, be advised that navigation will be an issue. Especially on the northern portion of Mt Clay, and out past Sphinx Col, the wind has blown the snow cover thin, so don't count on just following everyone else's footprints. If visibility isn't good, consider coming back another day. 
The trail itself is well packed down almost everywhere. Many have gone up in spikes and done just fine. The first day of spring is just over a week away: as the snow softens, please consider using snowshoes to prevent post-holing, at least until we're seriously heading toward mud season.