Mt Pierce (4,312 feet), Mt Eisenhower (4,760 feet) Crawford Notch, NH. 2021-03-17 (Wednesday.)
Via Crawford Connector, Crawford Path, Webster Cliff Trail, Mt Eisenhower Loop. Approx. 10 miles round-trip.
40 dF at the trailhead, low/mid 50s dF at the summit. Winds were negligible. Unbridled sun throughout the day.
Trailhead: 1100. Pierce summit: 1330. Eisenhower summit: 1515. Car: 1730.
Lion meets lamb on a bluebird day.
March comes in like a lion, and goes out like a lamb. Or so they say. While the month that straddles winter and spring does indeed have a bit over a dozen days left, today was warm and soft like a lamb's fleece. I'll take it… as did many others who were on the mountain today. Indeed, although I didn't hear it actually spoken more than a couple times, "I'm playing hooky from work today" was clearly what happened a fair bit more times than that. Simply put, hikers came out from the woodwork.
Last week, I thought I got the most amazing day. Compared to today, though? Wow. No real wind to speak of. It's not like the air was dead still, but there was only the most negligible breeze in the exposed areas. Crossing the col, where the land funneled that breeze, it was a tad more spirited, but really, no, there was no wind. Clouds? I saw a couple contrails from jet planes way, way up in the sky once. There was no follow-up after that. (And happily, I also neither saw nor heard any military jets cutting up the sky.)
Once again, if it weren't for that huge pile of rocks in the way, I'd have spied several major peaks in Maine. That said, I saw Mt Mansfield in Vermont. Solar glare was the only thing keeping me from a clear view of Chocorua, Lafayette, and the rest of the usual cast of characters. Yep, the sky was gin-clear, to the point where glare was an issue seeing clearly at distance. 
Hard packed snow makes for easy hiking.
Heading up, the trail was a very dense glom of snow that had obviously undergone several freeze-thaw cycles recently. I'd packed my snowshoes, thinking of how I urged everyone to start thinking of snowshoes on warmer days, just to preserve a smooth trail. I never really needed them, because it was such hard-packed snow. Even when it turned to a bit of mashed potatoes in the afternoon, the base didn't suffer at all. Totally solid. And so I enjoyed swift passage with somewhat lighter feet. It was a nice change, and almost everyone else was similarly minded.
I enjoyed passing through the forest in particular today. Somehow, it felt more open and airy than I'd been experiencing lately. Sun dappled the trail as I ascended, creating anticipation of what I knew was waiting for me above treeline. There's a meteorological anomaly of sorts happening here. Looking back, of all the times I've hiked Ike, clement weather has ruled the day. I promise, I've not planned things out that way. If it wasn't these mountains, my other idea was Isolation, and I've had consistent good weather on that peak, too. Weird.
Summer crowds… in winter?
There were so many people out on the trail that it almost felt like a summer's afternoon on the mountain, just with a curious amount of snow for summertime. And everywhere, across all those miles, smiles. Pups? Yep, they were smiling, too. Indeed, so many happy dogs, you'd swear their little doggy hearts were about to burst with joy.
And those people? Let's just say winter brings out a different breed of hiker than you typically see in the summer. I mean, going out, expecting to be blasted by bitter winds, and all the while saying "I'm having the time of my life!" is a special kind of insanity. Today was the day the freaks ran to the hills and hooted and hollered in weather that we don't normally see around now.
One couple, just finishing a 3-day Presidential traverse, remarked how unpleasant the overnight was a couple nights ago, due to insane cold. "But it was fun." Overnight cold is one bridge I won't cross anytime soon, but I certainly appreciate the sentiment. Type II fun is some of the best out there. 
From one summit to the other
I descended from Pierce's summit, with its attenuated view (and yet, one that faces Washington) and entered the col. Hiker after hiker had told me the winds were non-existent, and that the sun was bright and warm on Ike's summit. There was no shortage of anticipation. And so I crossed. The snow remained firm, but as the afternoon progressed, the trail got spongy, heading to the consistency of mashed potatoes. Yes, you lose a little traction, and for me today, I had modest, yet persistent snow balling underfoot. But it's a welcome problem, for the fact that it heralds the arrival of spring. (Mud season is its own issue, but that's still a few weeks away.)
Approaching Eisenhower's mass, I was mildly dismayed to see its summit towering over the col. The descent from Pierce feels like almost nothing, but heading back up Eisenhower, there's at least twice the climb — more than 600 feet or so. That said, it's not very hard, just abrupt and straightforward. At this point, it's an old friend. I've done it enough that… oh, for heaven's sake, quit griping. But then partway up, the familiar wooden steps. Then the row of cairns near the summit, and the sky is truly almost entirely expansive. Anticipation… This is one of the things I love about this summit! Hooking around the east side, and coming over the curve of the summit… at last, the signature, huge cairn. Victory!
Views from the top were commanding, to say the least. It was truly a curve-of-the-earth day. I took some photos, and then it was time to head back down. A couple, who'd started a single-day traverse at 3AM this morning, had left their car at Ammo. At the trailhead, I gave them a ride, for which they were very grateful. It seemed a good way to finish a great hike on a great day.
On one level, I was a bit irritated that once again, I had an impossible time hauling myself out of bed. There was a nagging voice in my head, throughout the day, reminding me that nightfall was hanging over my shoulder. But at the same time, an earlier start would have meant the day didn't have the time to warm up fully. And one thing I noticed, rather incredulously, is that it did indeed get very warm — to the point where I initially didn't believe my thermometer. I'd have missed out on the mashed potato snow, and had a firmer tread way, but no "holy toledo, it's warm today!" And so, rather serendipitously, everything worked out in the end. The trail provides.
As always, stay safe out there.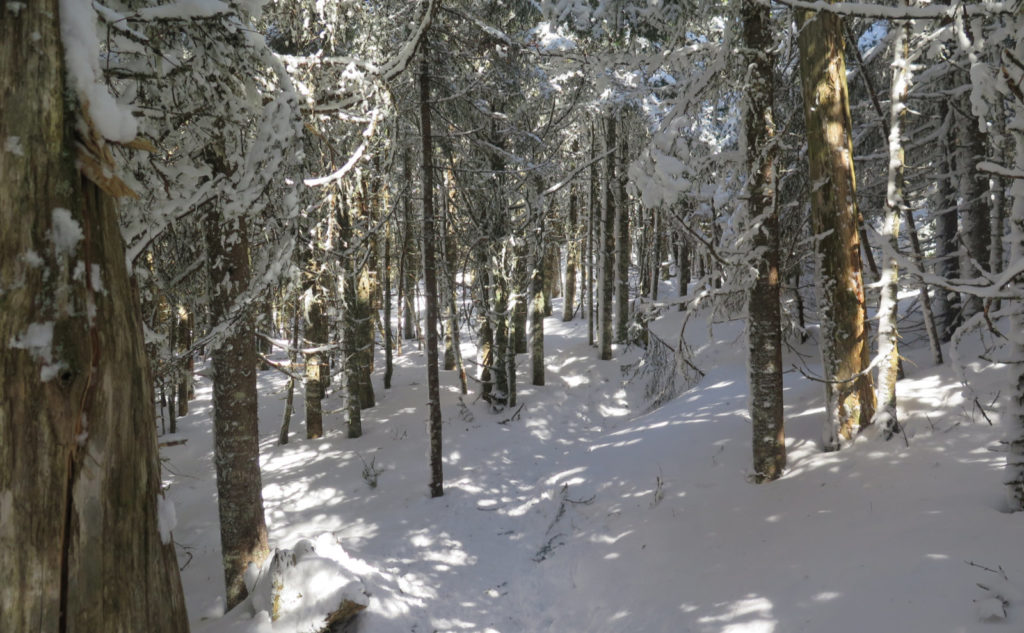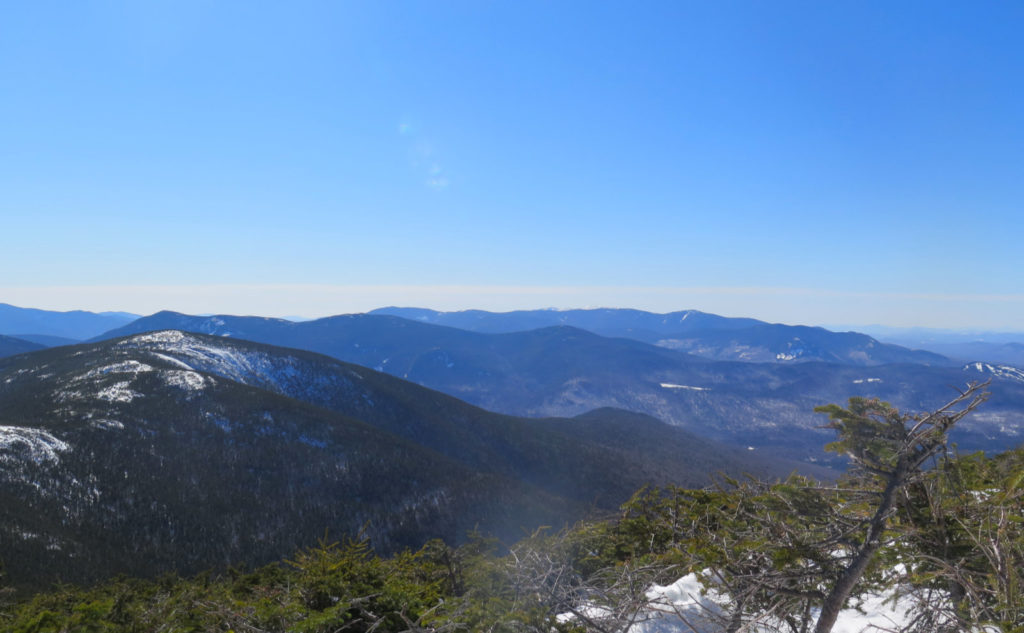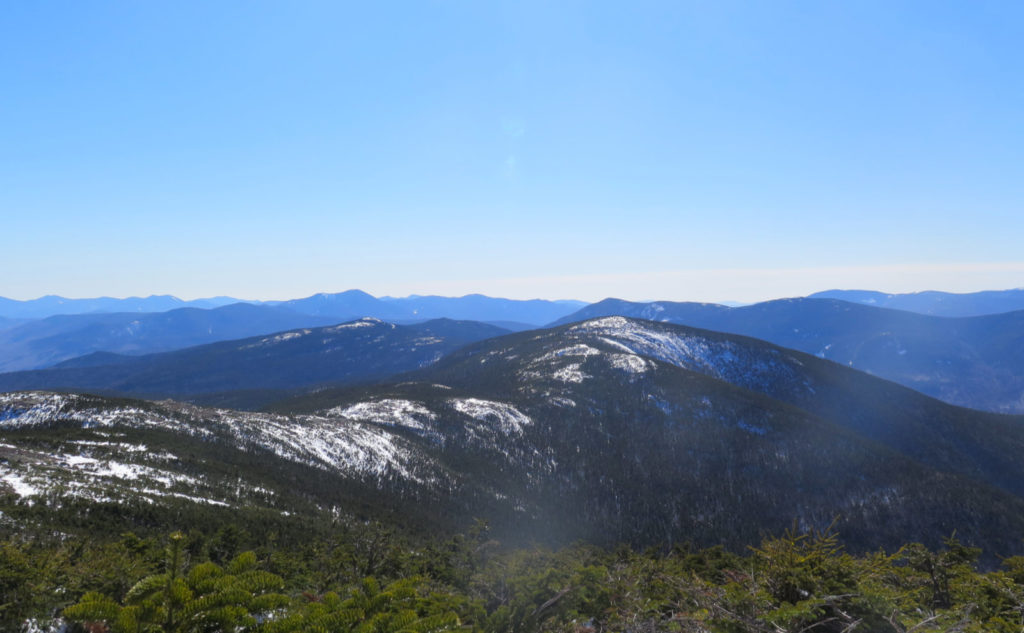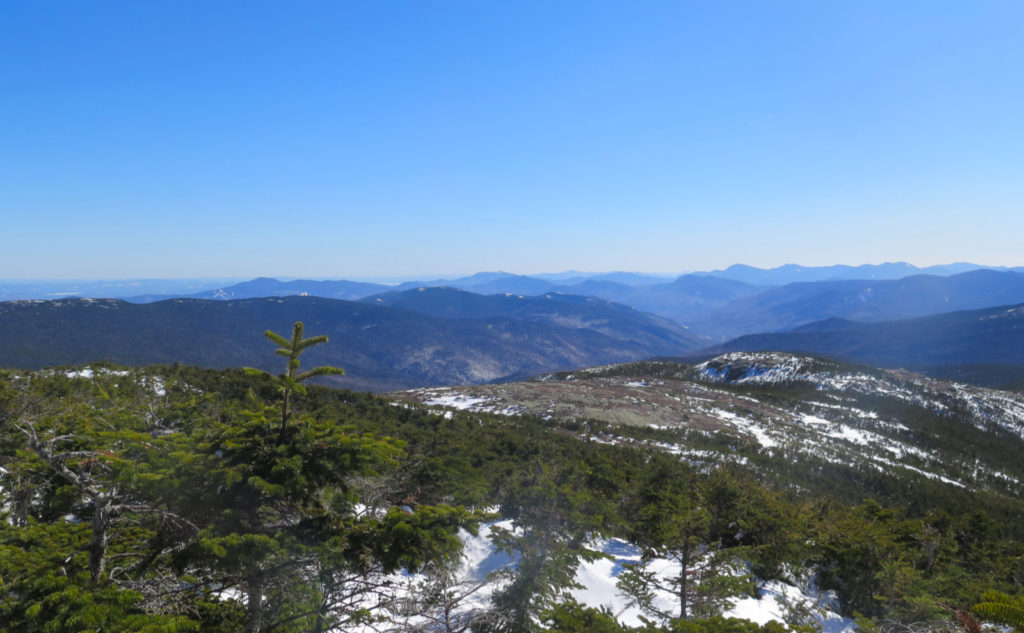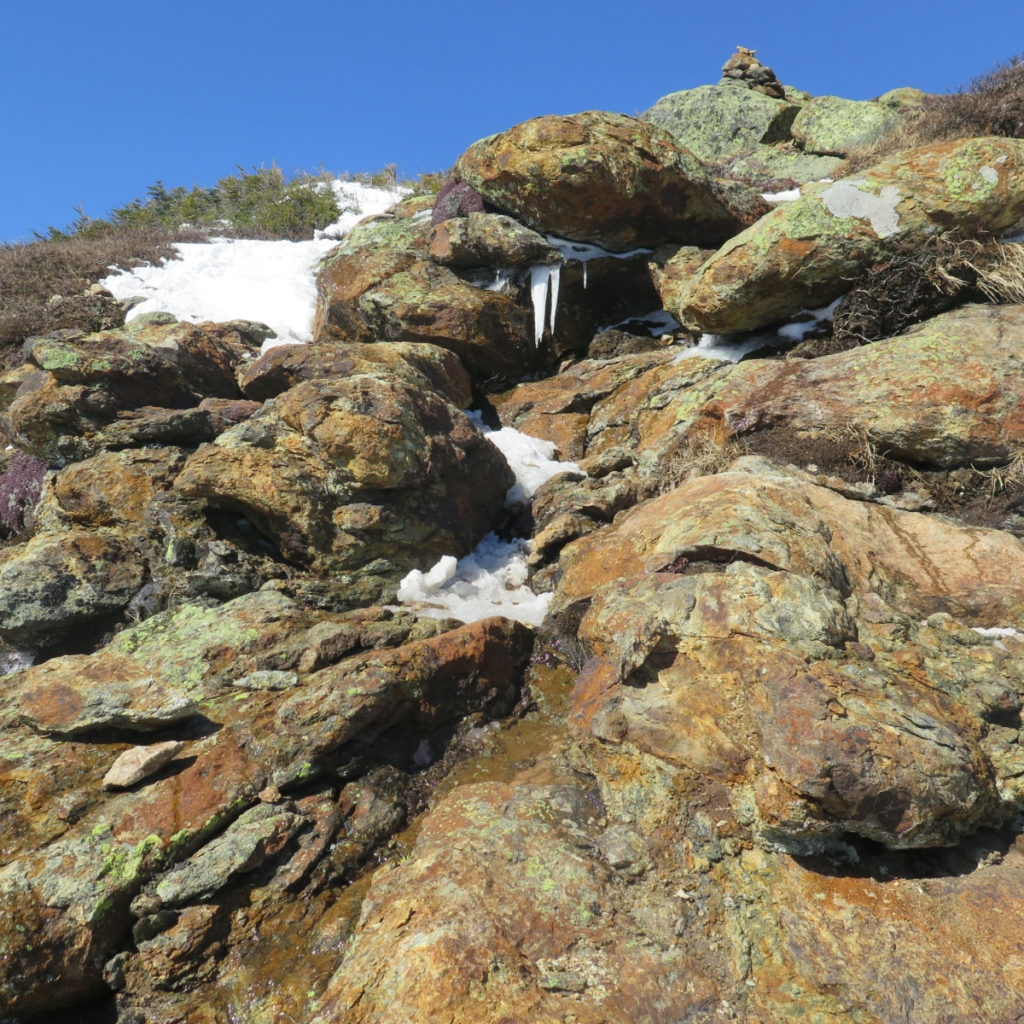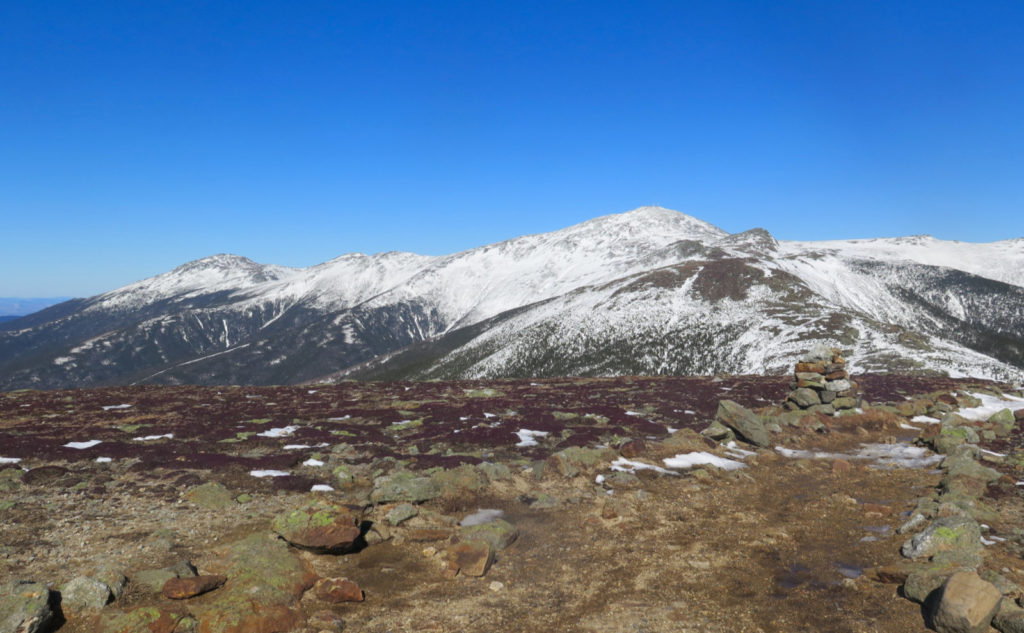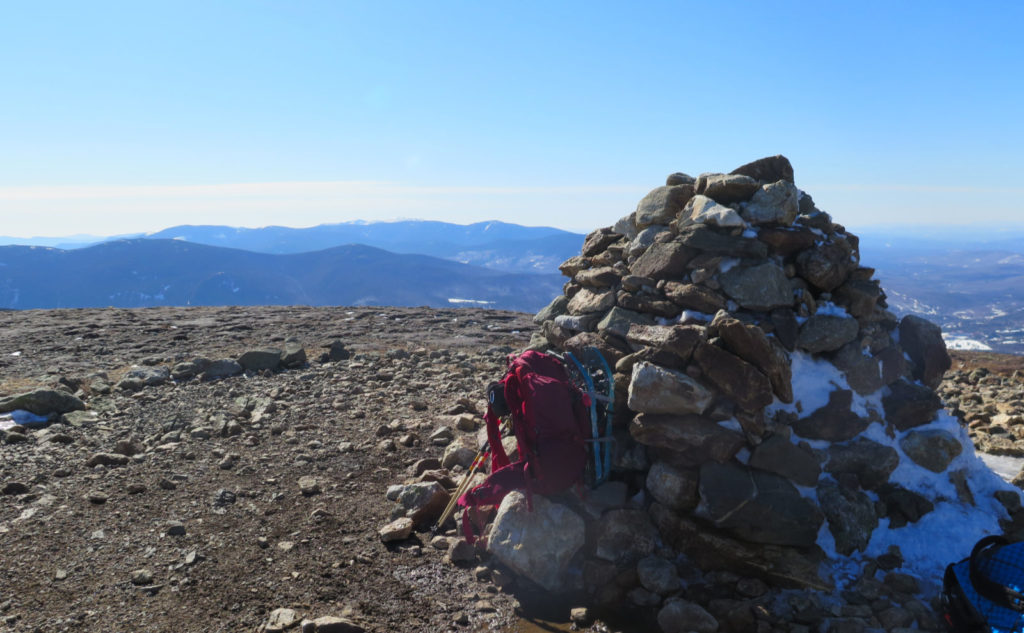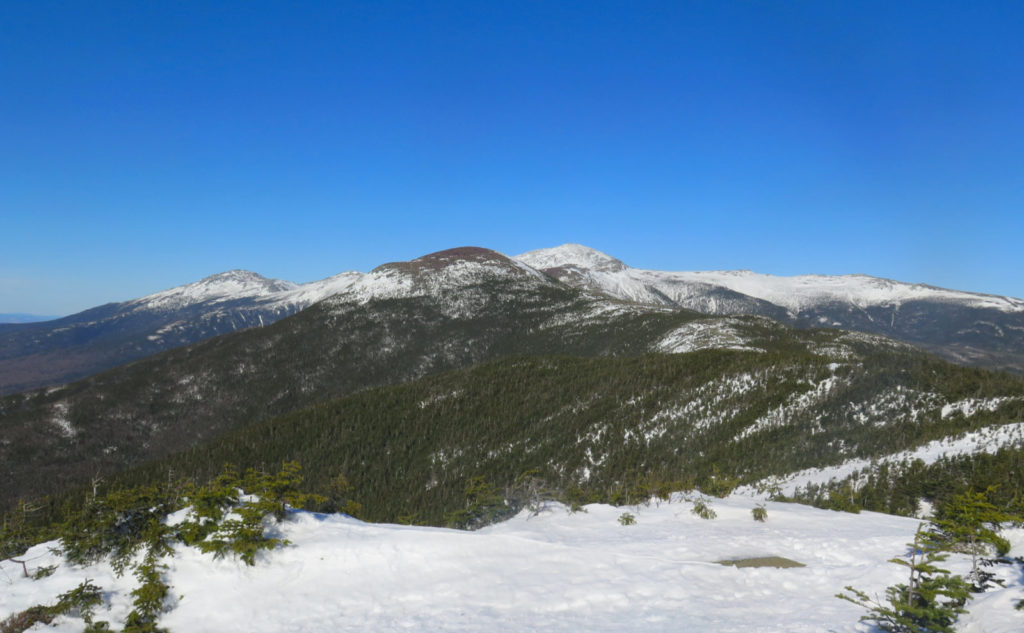 Nuts and Bolts: Crawford Path is accessed from the area of the AMC Highland Center on Route 302. From Twin Mountain, take a right at the 4-way intersection with Route 3. Follow south past Zealand, and about 3 miles past Fabyan, you'll be there.
As of today's visit, it appears the AMC is charging $10 per day to park at the Highland Center. With a WMNF parking pass, there is no additional fee to park at the Crawford Path Connector trailhead on Mt Clinton Road. Curiously, there doesn't seem to be much mentioned about this on the AMC's website.
Also note that the WMNF mentions Foster's Crossroads (the Valero gas station at the junction of routes 3 and 302 in Twin Mountain) is about to close in anticipation of demolition. (Projected re-opening of an entirely rebuilt building is around autumn. Supposedly, the aging building with delightfully creaky floorboards was off-putting to tourists from the big cities.) Because the current building is about to be razed, they've not obtained a supply of stickers this year. I got mine at the USFS Information Center on the Kancamagus Highway in Lincoln. (Just at the end of the ramp from Exit 32.) As an aside, Foster's Crossroads is selling off all their current inventory of snacks and drinks. The pickings continue to dwindle, but if you're in the area, they're good people and certainly deserving of your business. Give 'em a hand. Like everyone else up there, they got slammed by a downturn in business due to COVID restrictions.
The Crawford Path Connector Trailhead will be at the far end of the parking lot, to the right of the latrines. Blazes are blue and infrequent. However, the trail is easy to follow, and remains true above treeline. Be mindful that there are a couple places where the trail isn't completely apparent, and without realizing, you could find yourself walking across alpine growth for a dozen or so feet. When in doubt, look a bit more carefully, and you should be able to see the proper line.