Mt Jackson (4,052 feet), Mt Pierce (4,312 feet), and Mt Eisenhower (4,760 feet) Crawford Notch, NH. 2020-11-10 (Tuesday.)
Via Webster-Jackson trail, Webster Branch, Webster Cliff trail, Crawford Path. Approx. 12 miles.
50 dF at the trailhead, 65 dF at the summit, 55 dF back at the car. RH ranged from about 30% to 65%, mainly hanging out in the 40s in the higher elevations. Winds were negligible in the trees, about 10-15 knots at the lower summits, and a full-throated 30-40 knots on top of Eisenhower. Dew point was around 35-42 dF throughout. Sunny with clear skies for most of the day, with encroaching high level clouds after mid-afternoon. Unseasonably summer-like for the entire day.
Trailhead: 0900. Jackson summit: 1200. Pierce summit: 1330. Eisenhower summit: 1430. Car: 1640. 
Indian Summer? You Got That Right!
Except for the weather prognosticators, I'm not sure most people have any idea what happened. But it's been downright balmy this week, that's for sure. On many levels, to have summer-like conditions in November, a scant two weeks before Thanksgiving (and only a couple weeks after a snowstorm) feels absolutely wrong. But at the most basic level, one truism remains: waste not, want not. This entire week, I've been getting out at every opportunity. From what I've seen, great minds think alike. While not in summer-like droves, the trailheads have still been comparatively crowded. And yet, for all the people on the trails, it's not tourist season. Most of the hikers I've been meeting are either working on their 48 list, working on their grids, or taking their daily constitutional if it's their local mountain. In short, usually it's the diehards. Those who are committed. Or should be.
(And as I write this, hurricane/tropical storm Eta is rampaging 'round Florida. Who knows what it will bring in the coming days, and how people will react.)
After hiking Cabot, I had been planning on going up Waumbek to close out the northern peaks. But as happens, I looked at the forecast the other night, and decided to scotch those plans in favor of a longer outing. I had the day off work, and Waumbek is one of those peaks that doesn't take as much time as many of the others, so the choice was obvious. Time to go hike Ike!
As I progress through my fourth round of the 4,000 footers, accumulated knowledge makes changes in plans much more frictionless, much more comfortable. It didn't hurt that the overnight temps were forecast to be similarly warm, lessening risk if things went weird, and I was forced to hunker down for the night. It's something I wouldn't think about as much in summer, obviously, but as we move toward winter, it's necessary to think harder about contingency plans. One's destination should always be thought of as a safe return to the trailhead. Summits are optional extras. 
It was a quiet start to a wonderful day
I headed out from the car park at the train depot. The sky was deep blue and limitless, hanging as it did over Mt Willard and Tom. There was a sense of anticipation in the air as I shuffled down the Saco Lake trail, knocking out a short one for my redlining goal. On the far side, I looked back to the depot, and wow, that sky looked even better as it reflected in the surface of the still water, the yellow of the Victorian buildings standing in contrast. The songs of a few birds filled the air as they nattered about.
It was a short road-walk to the Webster-Jackson trailhead, and I turned uphill, crossing over ground still moist from the evening. It was rockier than I remembered it. Somehow, the sheer amount of clambering up rocks, ledges, and whatever else seems to get kicked out of my mind.
At the sign for Elephant Head, and again at Bugle Cliff, I took a moment to savor the views. They kept getting better as I ascended, and so my anticipation of the summit increased remarkably as I climbed up more rocks. But one thing that was notable is that each view of a nearby shoulder, or mountain, or whatever, offered a different apprehension of the underlying topography. In the summer, all this would be hidden from view by the leaves on the trees, but with them bare, it was much easier to understand the lay of the land. Sometimes, you can almost see the glaciers or the tectonic forces shaping the mountains. 
A quick sidebar…
On my way down from Bugle Cliff, I noticed someone had thoughtfully left a cloth facemask, fastened to a tree. It struck me as admirable that someone wanted to protect this birch. No, not really, of course.
If I was to characterize COVID masks as anything, it's as a pox on the land. I swear, finding all these discarded masks littered around is like a modern-day plague of locusts. And that wasn't the only one I picked off the mountain, nor the only one I've ever picked off the side of a mountain. Unfortunately, I doubt it'll be the last. The fact that you can buy them for a paltry sum means most people won't chase after them if they get grabbed by the wind. The one by Bugle Cliff was methodically fastened to the tree, using a stick to bind the ties together — someone intentionally littered. That's so completely no-bueno.
Folks, it may be a big ask for some of you, and that I understand. But for everyone else, just bring an old shopping bag or three. Turn it inside out (or not, they work both ways for this) and stick your hand inside, using the bag as a glove. Then you can pick up the offending litter, pull the bag over the trash, tie up the bag, and stick it in an outside pocket on your backpack. If you've ever seen someone pick up after their dog, it's the same thing, without the poopy "OMG this is gross!" factor. The gods of the mountains will smile upon you for cleaning up the joint. On your way home, nobody at the 7-11 is going to notice if you chuck it in their garbage.
OK, back to our regular programming…
Probably halfway up, I met a couple of hikers, husband and wife, on their way down. Pausing to say hi, it turned out my new friend had been reading my blog, and was quite enthusiastic to finally meet me in the flesh. Let me just say that this kind of reception is one reason why I do it. There's a lot of people in this world hurling all kinds of nasty words at others. Almost invariably on the trail, this convention is turned on its ear, which suits me just fine. We stood there on the trail, chewing the fat for a while, and although it probably pushed my timeline back by about fifteen minutes, I think it was time well spent. As we parted ways, he said it had been "a little slice of heaven" to meet me. I wholeheartedly concur: it's a very distinct pleasure to meet all of you, and I wouldn't give up one moment of it for the world.
Turning back toward the summit, there was a final push up some steepish slabs, the trees got a lot smaller as they do, and then I crossed onto the summit. I enjoyed the views, although it's interesting. You can see all around, like you can't do on the cliffs (obviously) but the cliffs allow a better view "straight down" into Crawford Notch. There's plusses and minuses to both, but it underscores that you'll do well to take the extra few minutes to scamper down those side trails. It's all about the vistas.
There's a benefit to an earlier start. Looking to the north, Pierce, Eisenhower, and Washington were almost outright shining in the sun. And nearer to me, Mitzpah hut was visible on the side of Pierce. The warm morning was becoming a warmer day, and the sunshine showed no signs of quitting anytime soon. It was an amazing day, and only getting better. I ran my gaze along the ridge, outlining my route. And then eagerly pressed on. 
Bog Bridge Mania!
I'd forgotten about the bog bridge. Or rather, I'd remembered that bit in the col, where you cross that swampy bit. But I swear, there's several miles of bog bridge, extending all the way to Eisenhower. I'd thought there was a lot coming from Hale, down Lend-A-Hand trail, but this clearly crushed that. And to be absolutely true, I was very happy for all of it. While we've had a lot of drought lately, the trail was still quite muddy in spots. Remembering the time in Mahoosuc Notch, when I watched an AT hiker take a step, and then see his leg disappear to mid-thigh in a mud puddle, I was sure to watch each of my steps. The worst was some mud coming up to my gaiters, thankfully. But wow, there's no shortage up there.
At the hut… well, it's not getting easier to see those buildings all boarded up against the virus. Yep, it's past season, but it still feels very weird. There was a camper at Naumann, and I hopped up the metal stairs on the hut, trying to get a view over the trees toward Dry River, but alas, that wasn't happening. The trees are far too tall.
And so it was back to climbing up again. I've done that hike, up from Mitzpah, at least a couple times already, and the soul crushing ascent is still soul crushing. It's a lot of vertical feet in a short span. I don't know if it was endorphins or what, but it didn't feel as long, though. Somehow, when I reached the point where the grade softened, it felt like only a few minutes had passed. (NB: it was actually about half an hour to reach the summit from the hut.) And in fairness, much of the climb is on something near enough to stone stairs, with a couple runs of wooden ladders. Partway up, there was a bit of bog bridge that traversed the side of the mountain, and I could get a half-decent view outward to Mt Carrigain. Nice. Its distinctive profile was backlit, but very easily spotted. And shortly afterward, the summit itself, and more views of Eisenhower, Washington, and so many more peaks than that. It was just about mid-afternoon, so with a sense of urgency, I kept going to Ike.
That col felt deceptive. On Pierce, you look ahead at what feels like this winding ridgeline, and somehow the distance gets distorted. I swore it would be at least 90 minutes to get there, maybe a full two hours. I endeavored to move faster, but the rough footing kept something of a cap on my speed. I mean, it's not like you can run full-tilt when there's rocky terrain. And so I pressed onward, upward. 
At last, the far summit!
Upward indeed! From afar, Eisenhower's dome is a prominent landmark, instantly recognizable, very symmetrical… and a heck of a very straightforward climb, including a couple wooden ladders. I wouldn't say it's hard, per se — that distinction belongs to something like Beaver Brook trail on Moosilauke, the North Slide on Tripyramid or the Hunt trail on Katahdin.
And then, the summit. I'd been feeling the wind all day. In the trees, it was never more than a soft breeze, and on Jackson, only a bit more brisk than that. On Pierce, it was more insistent, and it stayed that way as I crossed the col ascended Ike's dome. But now, I was on the summit itself, higher and more unprotected than I'd been all day. And the wind came to meet me in full effect. I have, of course, felt it much worse. On Katahdin the first time, it was so bad, I couldn't make easy pole placements, and every footstep was a considered move. Now, along with the unbridled sun, it was oddly refreshing, although a bit much to want to hang around very long. That said, I did take in the views that I'd been enjoying all day, just this time from a perch a few hundred feet higher. It was nice, to say the least. In the distance, clouds were beginning to line up, but it was still a three state view. Wow! 
Adams or Ike? You decide
With this hike, I've been on Ike's dome four times now. Standing on a summit doesn't get old, but particularly so with this one. It's said that the best views of Washington are from Adams, with the Great Gulf right there and all. I'm not sure. While Oakes Gulf isn't the same, it's further, and yeah, Monroe is in the way, the view from Ike has the sun at your back, and so your photos don't have that blown-out shadowy look. I leave it to the individual to decide. But I stress careful, first-person observation from both vantage points, ideally from multiple excursions. I think you're picking up what I'm laying down — they both stand up fine on their own particular merits. That said, from Adams, almost all other 4,000 footers are in two directions, while from Ike, they're all around. Again, you decide.
Hiking back never seems as hard, and especially coming down Crawford Path. I was racing the dying sunlight at this point, so I didn't linger on the summit — there was that very brisk wind anyway. Ascending from Pierce, I was thinking about the return as I picked my way through some rocky sections of trail, but somehow, it didn't seem as bad now. There's always that twinge of melancholy at the realization that my day of fun is winding down, but I had a lot of good times to reflect on. I passed through a forest that was starting to get a little more quiet, with the approaching night. As sunset neared, the nattering of the critters softened. Quietude, except for a soft whispering of the wind through the uppermost branches. It had been a very good day out, indeed.
As always, stay safe out there.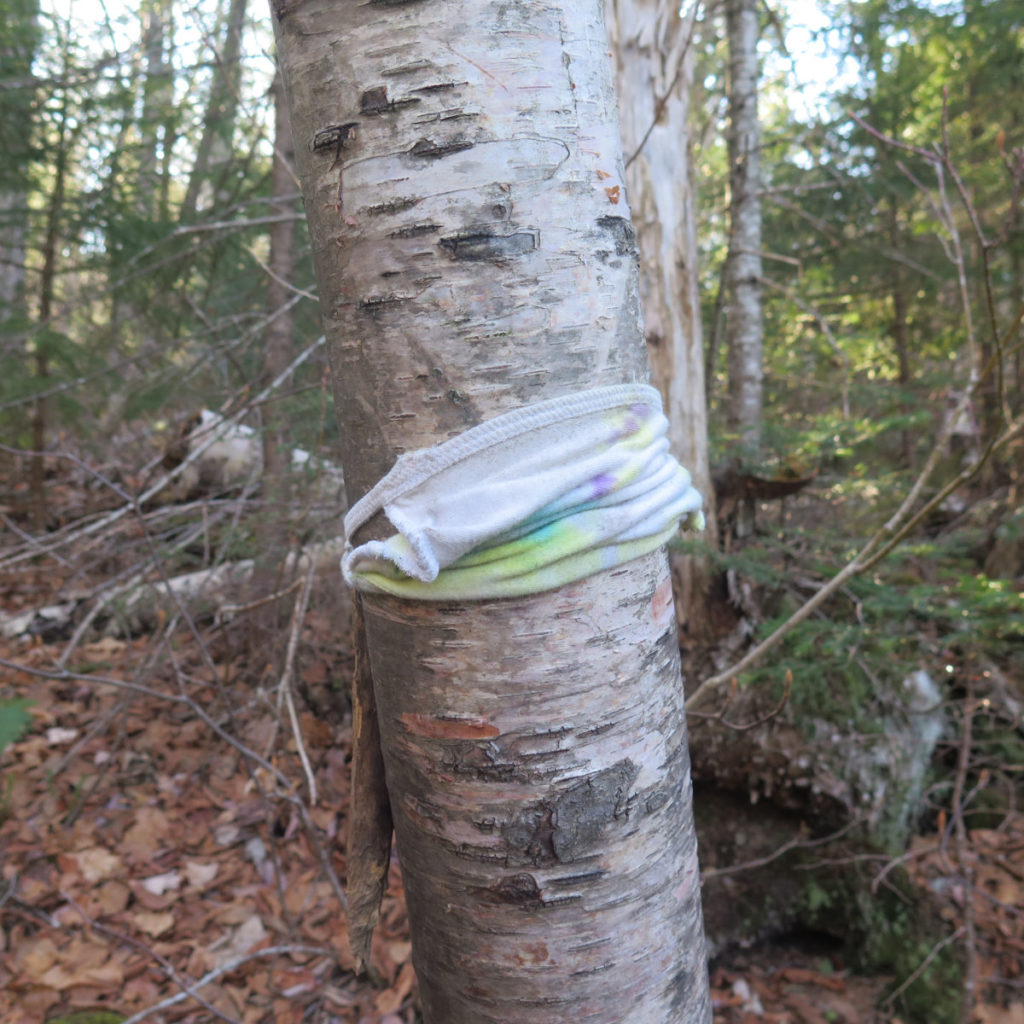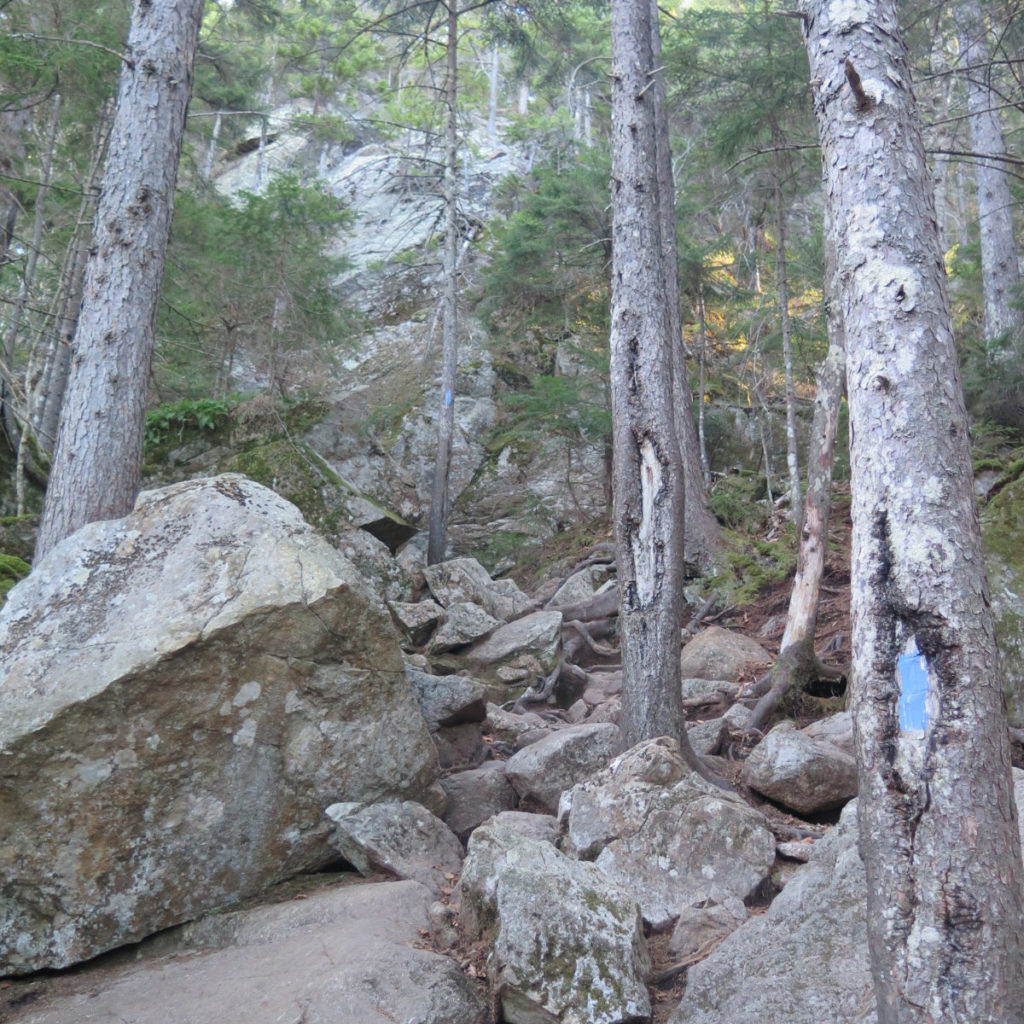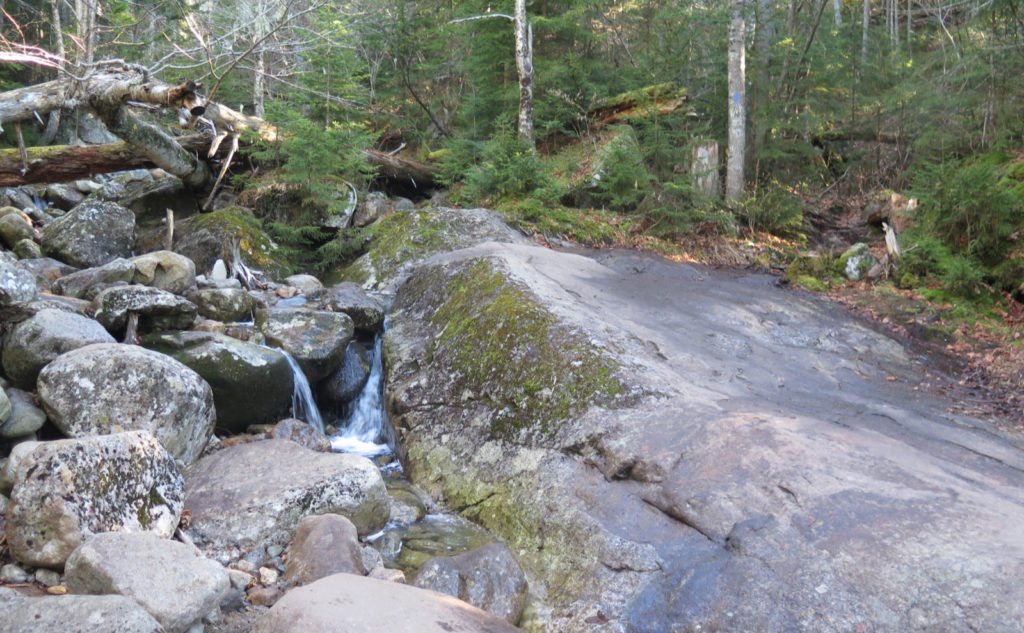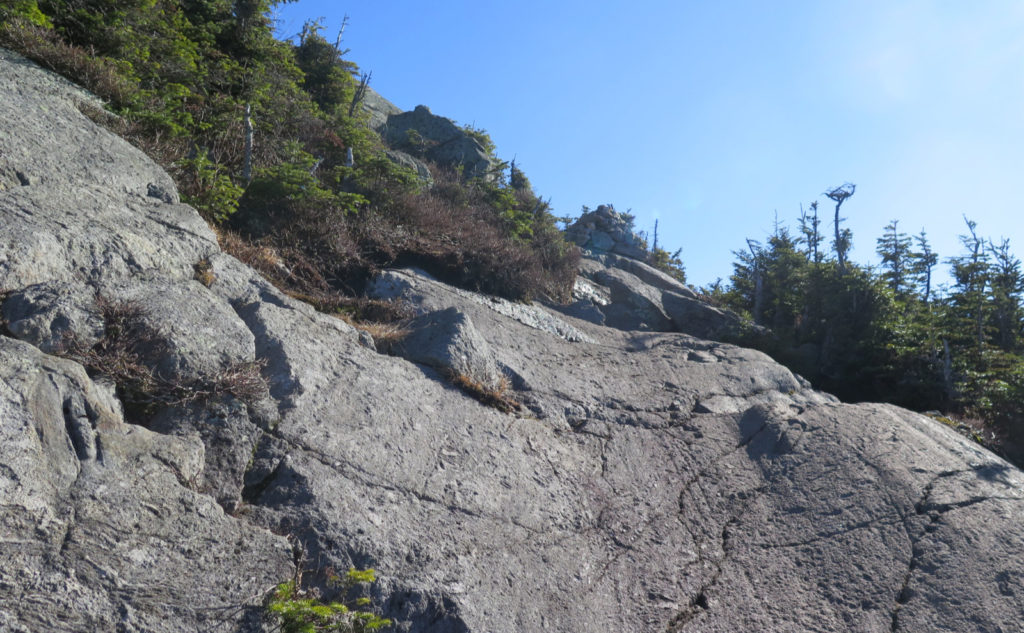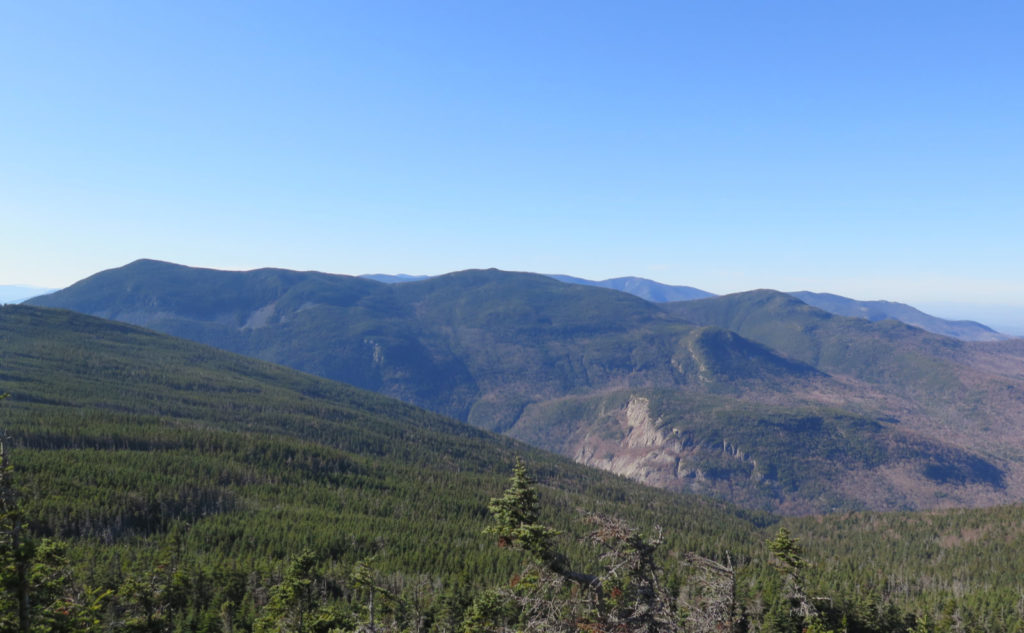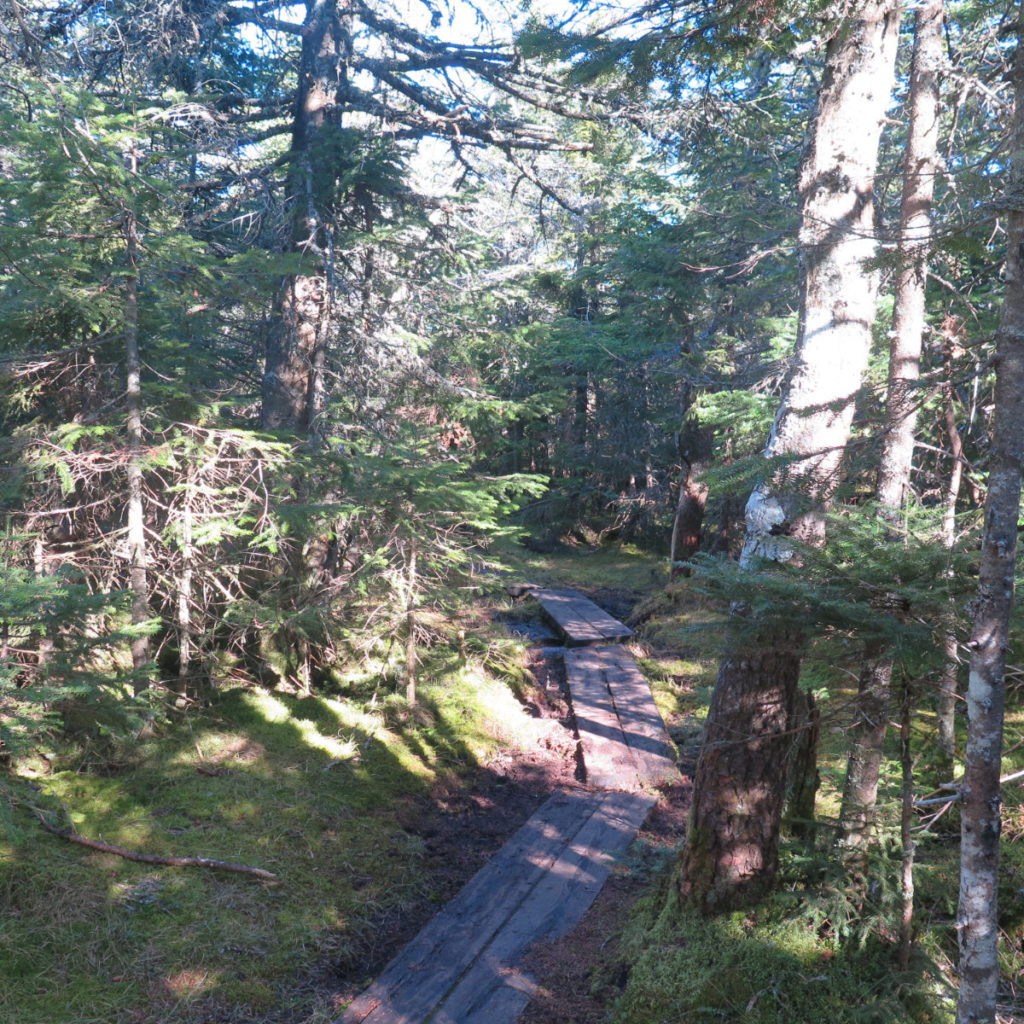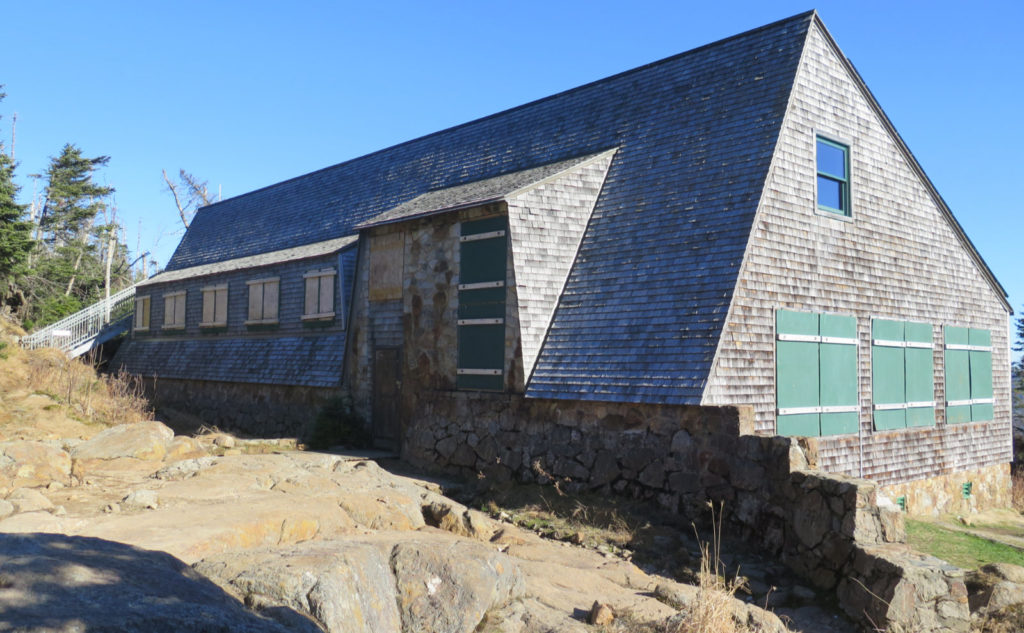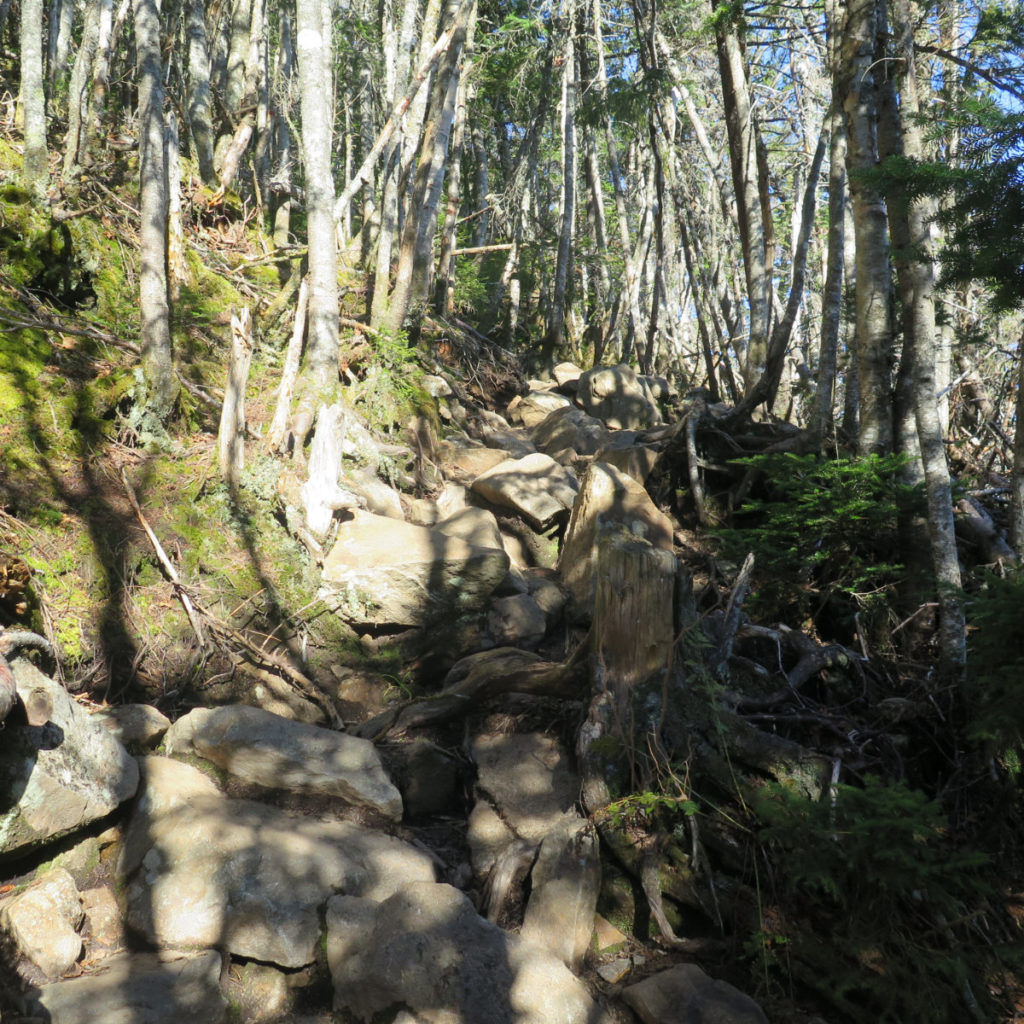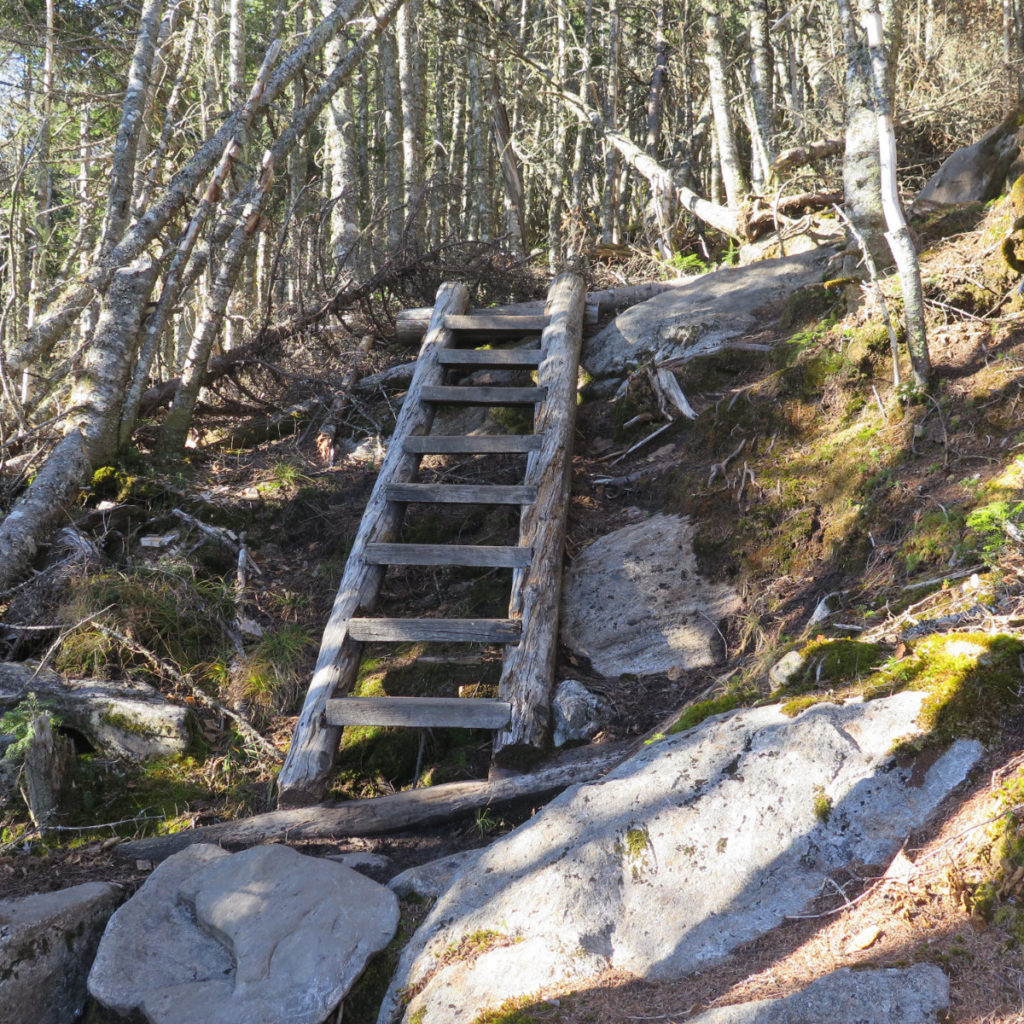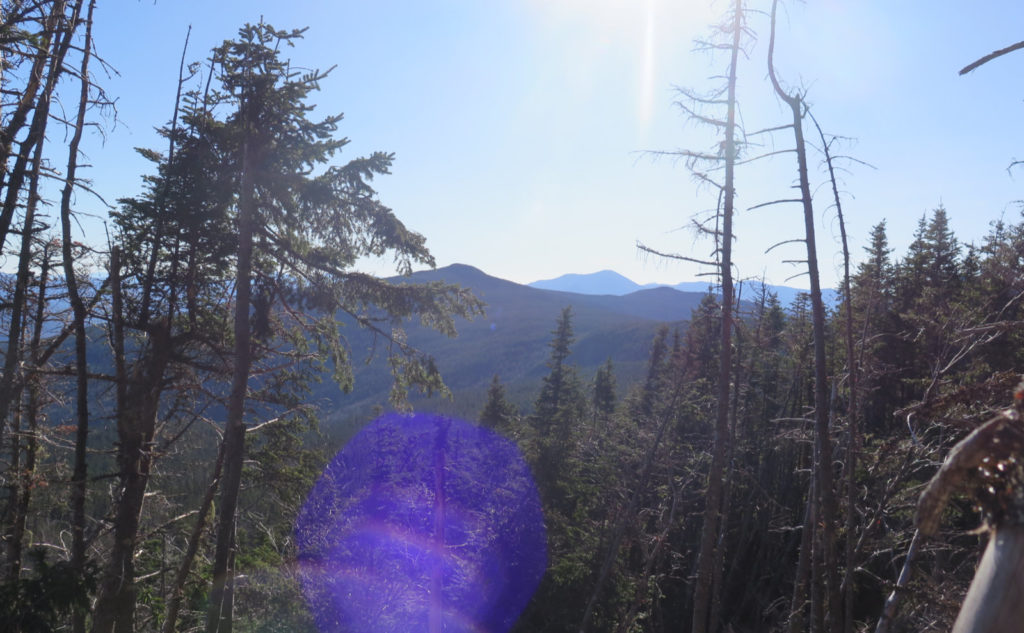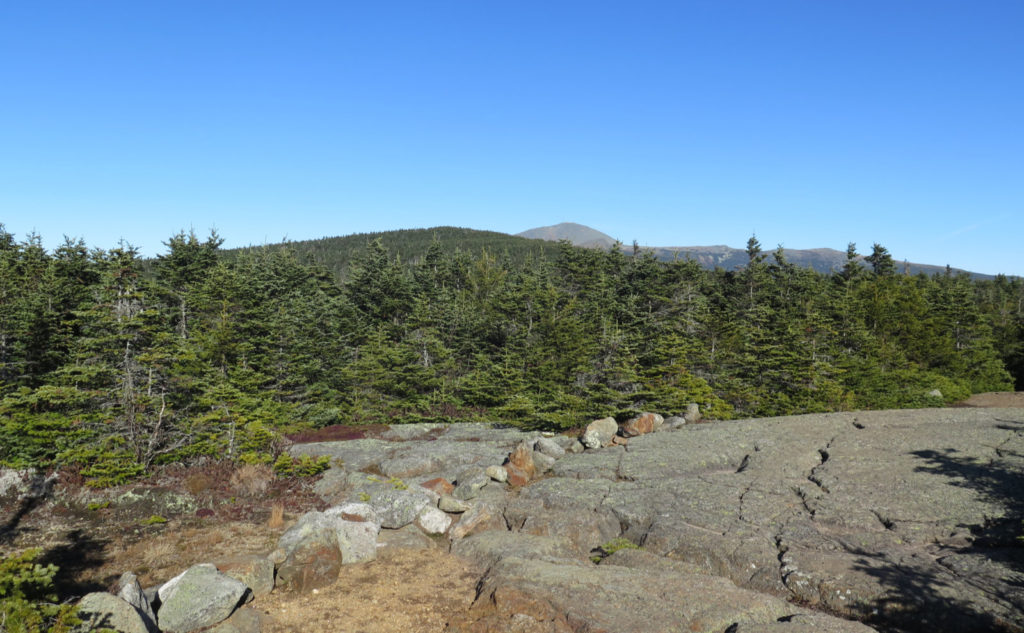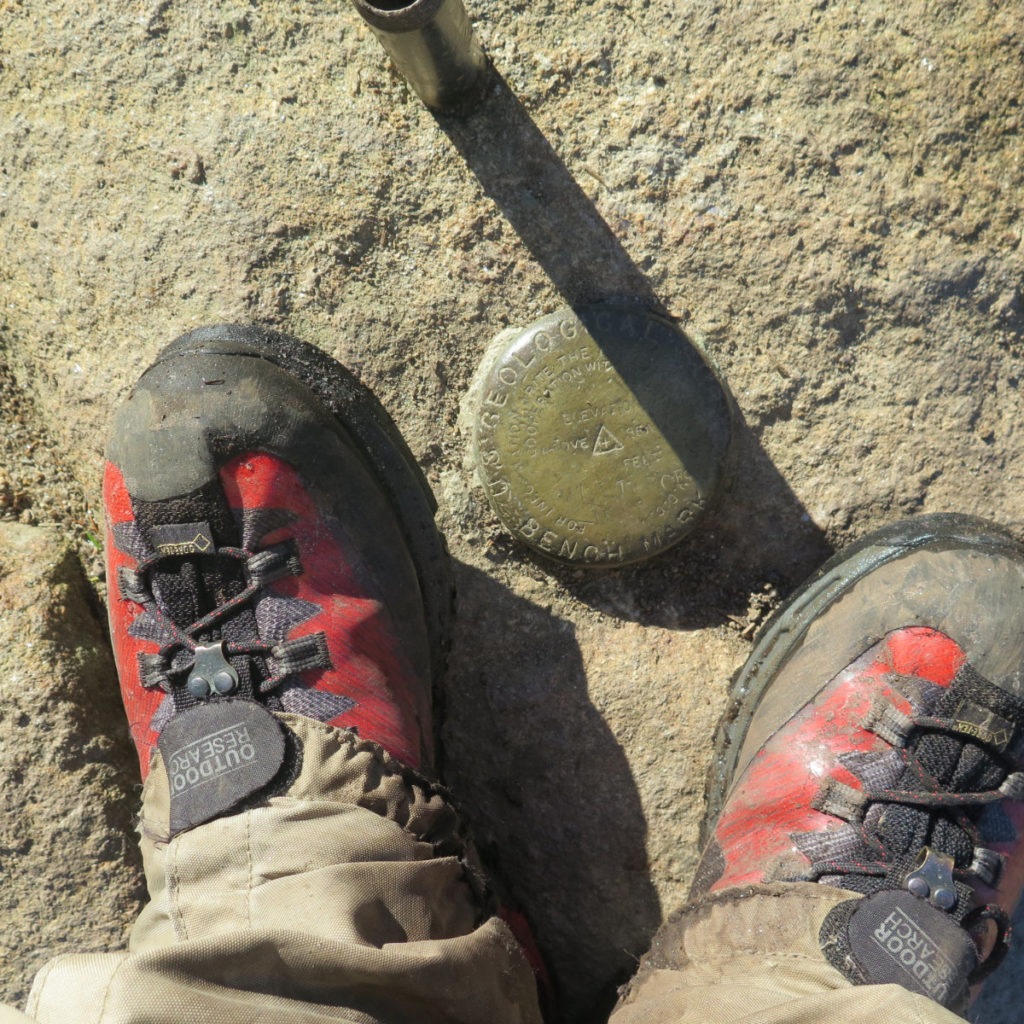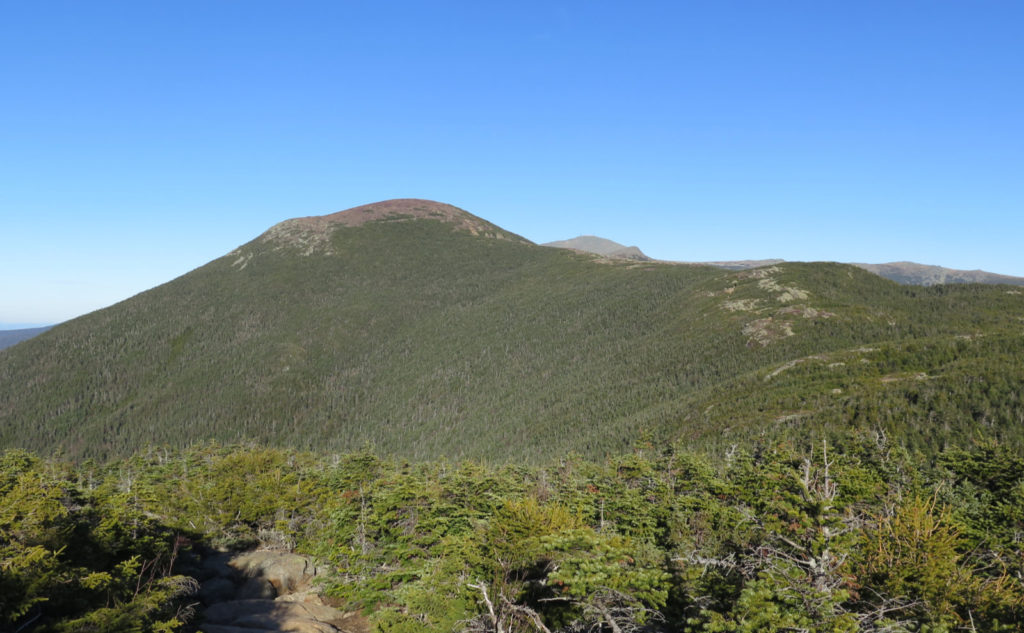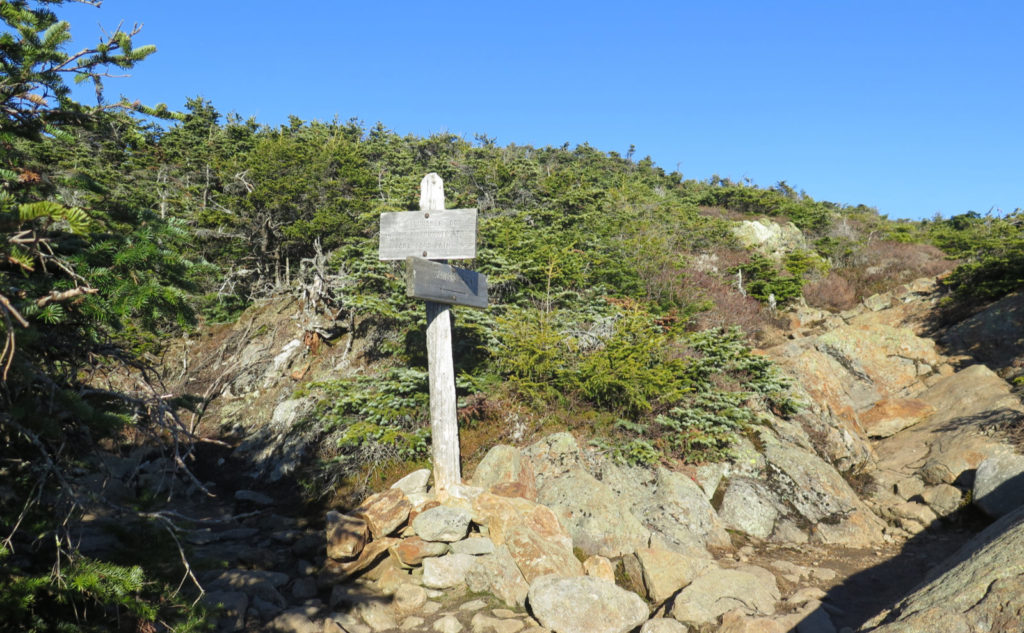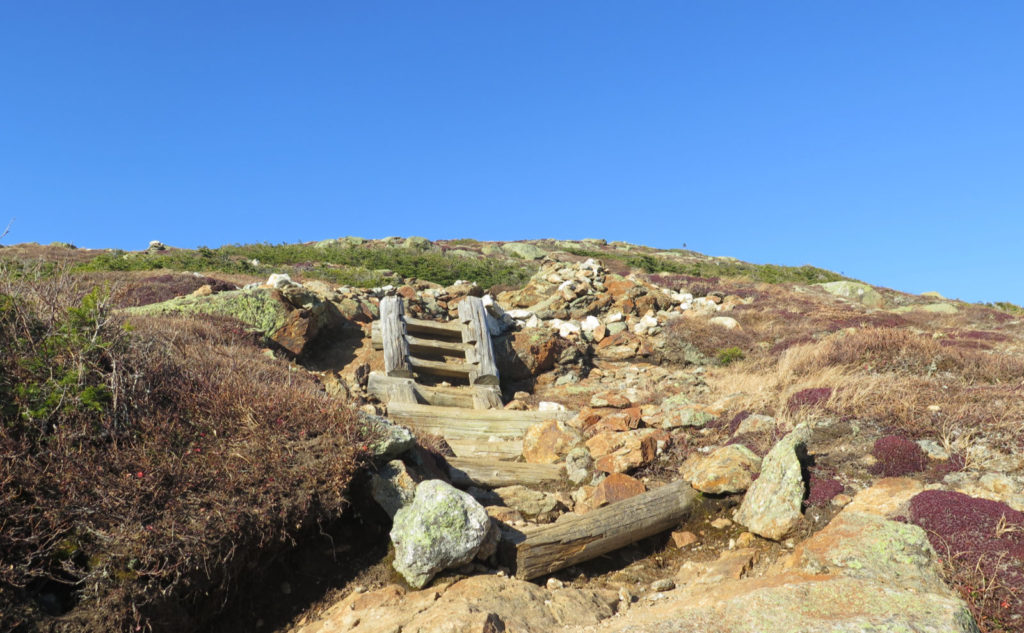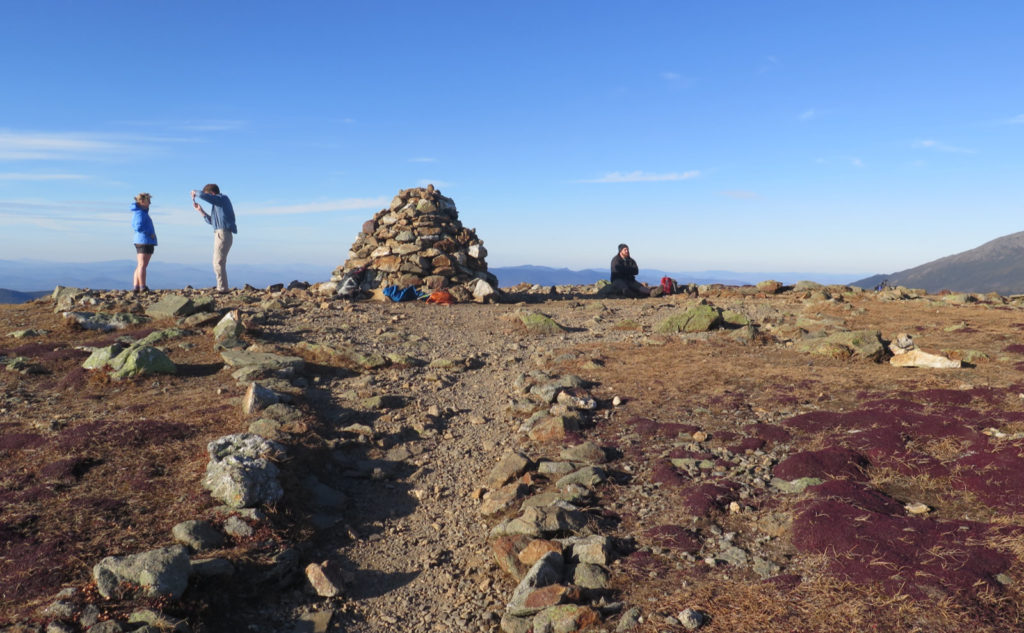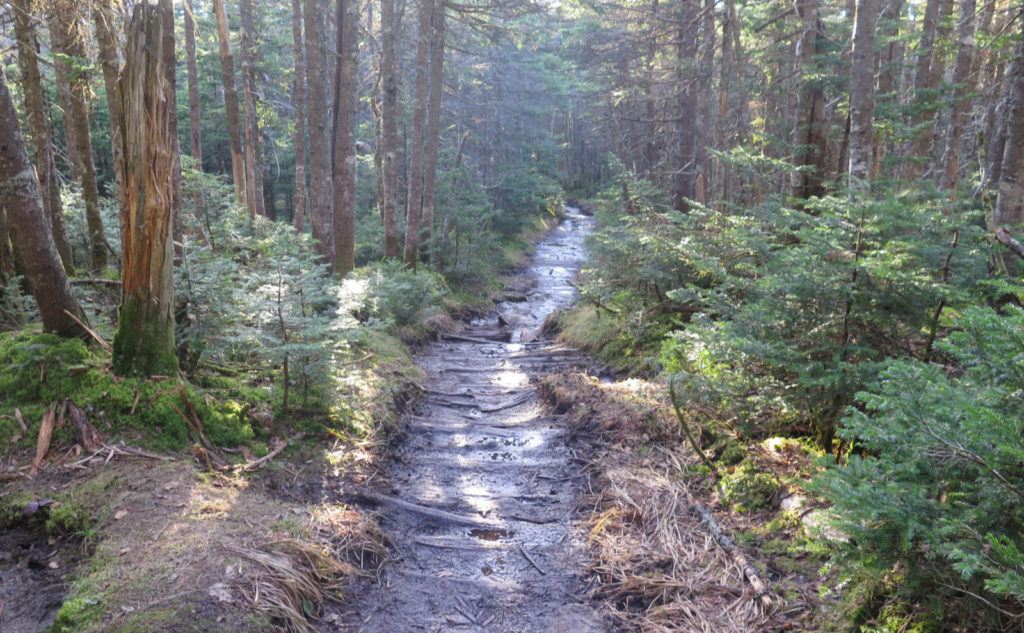 And they're good photos, worthy of a second glance…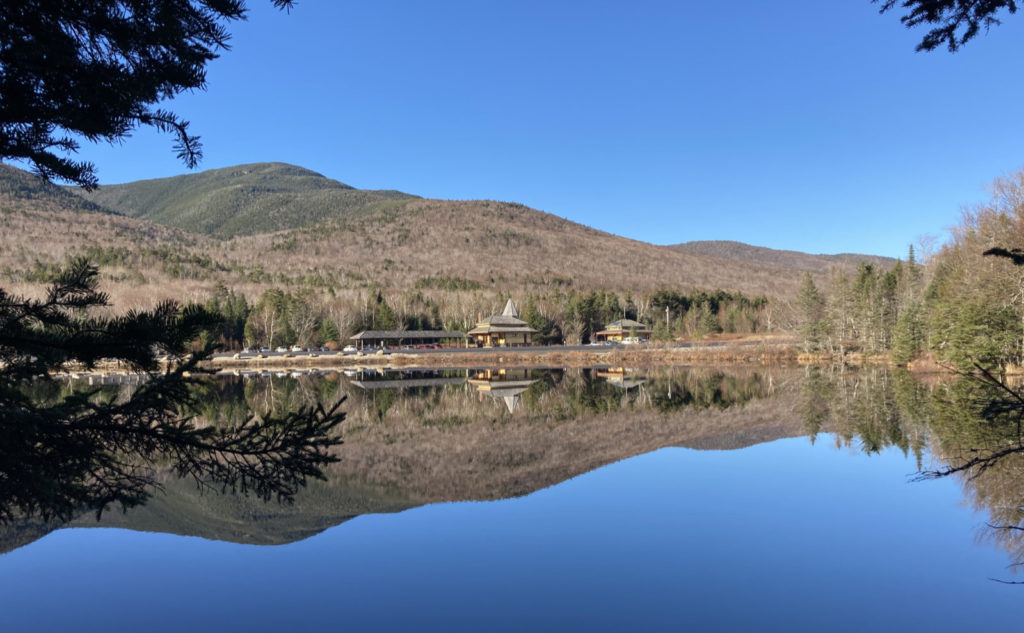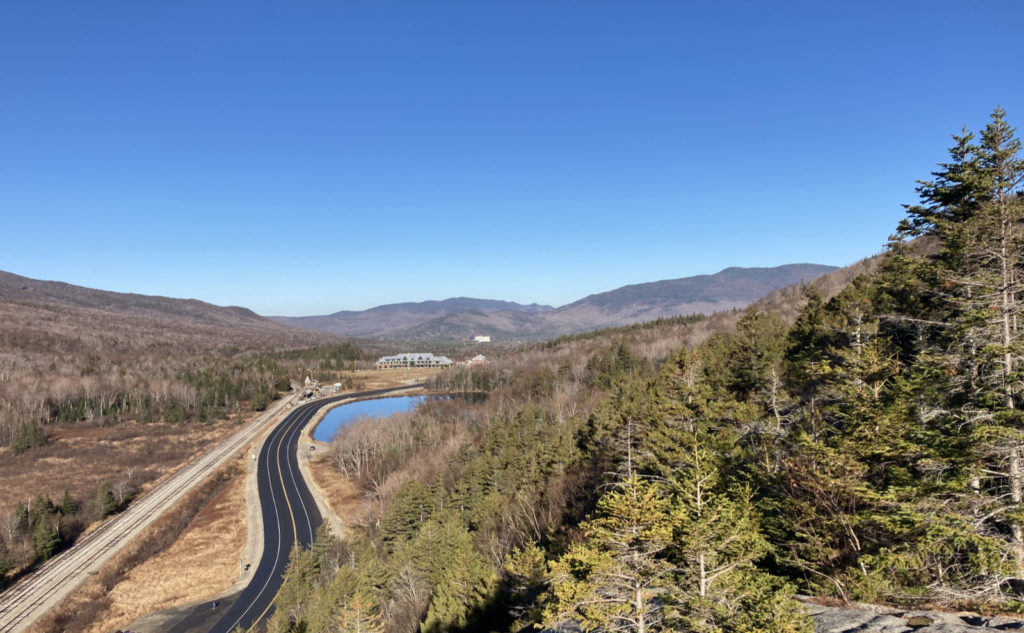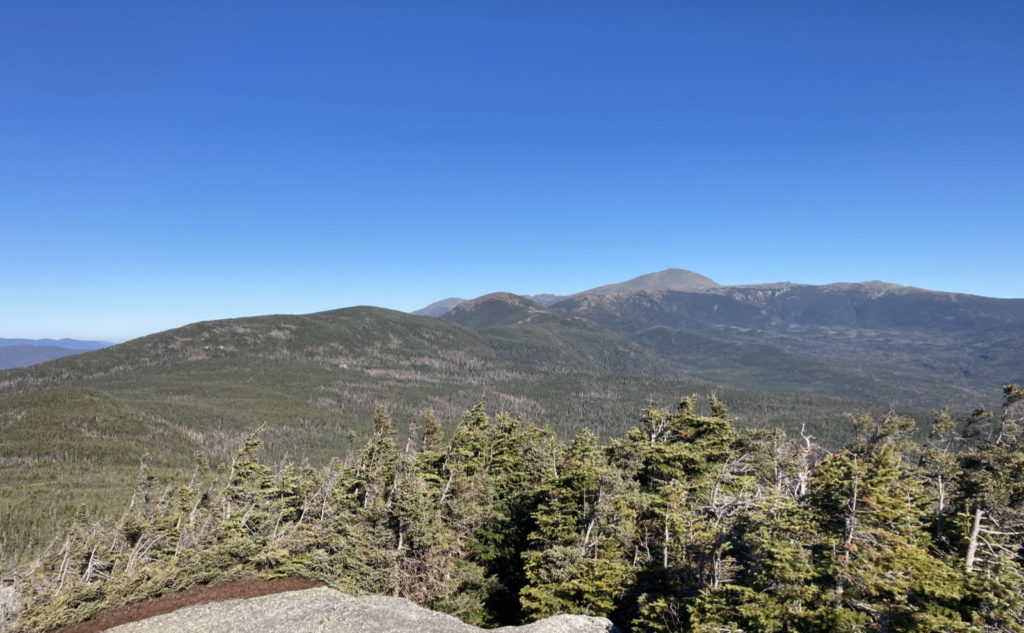 Nuts and Bolts: Doing the "loop" as I did will require a short bit of road-walk, but it's perhaps a few minutes at each end, all told — not like you're walking a mile or two between trailheads. Parking could be at any one of the obvious locations in Crawford Notch, and you'll be about as well positioned as at any of the others. 
The trails are, in all cases, pretty obvious and easy to follow at the time of this writing. Where blazes exist, they're blue for the ones connecting to the AT, and bog standard white blazes on the AT itself.
Find the trailheads on the eastern side of Route 302 in Crawford Notch, near the AMC Highland Center. From Twin Mountain, it's about a ten minute drive. From North Conway, budget at least half an hour. But the short of it is: when you see the train depot, find a (legal — be cool!) place to leave your car. The trailheads are within a few minute walk and not hard to locate.