Mount Hale (4,054). Bethlehem, NH. 2023-06-05 (Monday.)
Via Hale Brook Trail. 4.5 miles round-trip.
Temps in the low 50s, conditions were quite British; not much wind to start, but it got breezy from about 3,500 feet or so.
About 90 minutes trailhead to summit, a bit over an hour back down.
A day like no other. A day like any other.
Of the weather, I can only say this: it wasn't dry. I left the house this morning very much on the late side, but knowing I'd spend more time driving than hiking when all was said and done. Indeed, it was so. At my front door, there was a smidge of hope the clouds would hold firm their precipitation. But as I traveled north, the rain did fall, to varying degrees, never much more than a firm misty drizzle. There wasn't enough wet to get mad at the clouds. Only so much as yielded a minor despondency.
This wasn't a day to book mileage, nor was it a day for an epic outing. Instead, a medium. Neither here nor there, the day was perhaps trapped in a liminal space. A hint of excitement that never really resolved, yet tantalized, and vaguely satisfied. The tasting spoon at the ice cream stand. You know what's in store, but you never get to ponder whether the vanilla has a nice, nutty character intermingled with butterscotch notes.
(There is a special circle of hell reserved for those who try to hide bad vanilla behind gobs of sugar.)
I hiked Hale today in probably the worst way: up and down by the shortest, most direct line to the summit. The weather all but guaranteed I'd spend no time mucking about, looking hither and yon, perhaps even finding something. Then again, that's what I needed today. Mindless mileage, communion with dirt and frankly, pretty shitty weather. I think it was the last bit that curiously made the day. It's been awhile since I've been out in the rain, and while I neither needed nor bothered with rain gear today, at the same time, it evoked the thinking.
Over the past few months, I've started back where I began. I'm wearing out a new pair of running shoes. Absent truly horrific weather, if the sun rises, even behind clouds, I lace up my running shoes (Newton Distance 11s at the moment) and go pound pavement for awhile. My relationship with rain is what it is. Hiking should be no different.
(And about the wildflowers so prevalent on other trails? Le sigh.)
So it was a day where it literally took me about as long to get home than it did for me to hike up and down the mountain. What does that mean on a day with sodden weather, no view from the summit (even on a bluebird day!) and much less hiking than driving?
Right now, I can't say. But then again, what needs to be said? Hale Brook is a very simple trail. The water crossings are a breeze. The trail itself is a New England classic fall-line trail that makes pretty direct travel to the summit, and in really short order. But at the same time, what do you need? I leave it to the reader.
By the way, on cooler days, I can knock out a seven minute mile in the middle of a 5k, and my 50th birthday is well and truly behind me. Let me tell you how awesome that feels. Don't ask about fitness. Just do it. Trust me, it goes way past endorphins.
As always, stay safe out there.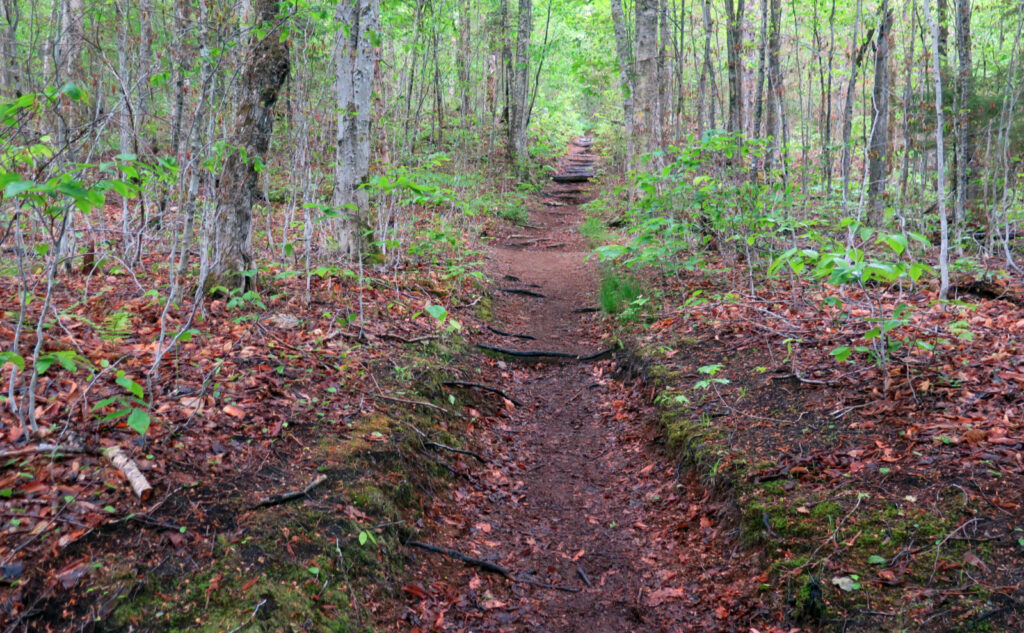 Nuts and Bolts: For warm weather hikes (those where the gates are open) take 93, and make your best time to Twin Mountain. At Foster's Crossroads (framed, sheathed, roofed, and very much heading toward back-in-business!) make a right turn onto 302, heading toward the Cog Railway. A couple miles down, turn onto the road to Zealand, on the right. A couple miles after that, find the Hale Brook Trailhead on the right. In the wintertime, park in the snowmobile parking lot a bit further down on the left, and hike in to the trailhead. It's pretty crummy, but that's winter in the Whites.
Trailhead will be "right there." Blazes are yellow and occasional. If you need blazes on this trail… I mean, this one is really apparent. Bring a map and compass, because that's what you do, but you won't need it. The trail shows itself quite clearly. If you're hiking for more than five minutes, and the trail hasn't shown itself to be headed "due up", you're not where you think you should be. Hale Brook pulls no punches. It's very much a fall line trail, with only a few switchbacks near the top. 0
If you enjoy reading these posts, please subscribe — stay in the loop! Your email will only be used to alert you of new posts — typically 1-2 times per week. I will not use or share your email for any other purpose without your express permission. And feel free to share via social media using the buttons below.
Find me in the mountains, on this blog, or on Twitter: @Protean_Hiker https://twitter.com/Protean_Hiker/
Help support this blog! Visit www.photos.proteanwanderer.com to buy some of my signature images.