Mt Monadnock (3,165 feet). Jaffrey, NH. 2023-06-19 (Monday.)
Via Halfway House and White Arrow trails up. A marvelous odyssey down involving Black Precipice, then over Monte Rosa and across to the Cart Path. Something approaching five miles round-trip. For those interested in a straighter shot, it's 2.2 miles from the parking lot up and down the Halfway House/White Arrow trails. But I promise, the more errant route is just a tad more interesting.
Temps in the low 70s. No real wind to speak of. Sun and clouds, haze blocking long views to the north.
Total time was about 4 1/2 hours… however, there was a lot of noodling around here and there, some backtracking, trying to nail down lengths of trail for a redline, and just poking around aimlessly and seeing things. A more direct trip could likely have been done within about three hours.
Under the verdant canopy, sheltered beneath the sky.
Sometimes I dash out in desperation, tugged by the apron strings of other things that need doing. Keep things simple and low key, try to get home quickly. Right now, I'm taking a class, so there's readings to be done, papers to be written, and so much on my mind. Dueling priorities. Cue the banjo music.
There was a little poking around on the way up. I'd decided to try the Halfway House side, knowing that in the recent past, it's been busy in warmer weather. I could scoot over to Gap Mountain and go up that way if the lot was full. As things turned out, I got to stick with Plan A. Which was nice, because I wanted to knock some trails off my list on that mountain. Of the major routes, I really only have Birchtoft left, since I've been keeping track. (I've hiked it years ago, but don't ask me when, or what happened that day.) Of course, there's a ton of tiny trails that I'll spend ages nailing down, but you can't say I've never set foot on the four sides of that mountain.
After a mostly straight-forward hike up, I was on the familiar summit again. I spent a little time recalling where the four USGS medallions were, looked around a little. Boston was visible, and all of the Green Mountains were right over to the west, laid out in tableau. The Whites, however, were shrouded in haze. I could see Manchester, but it's doubtful I could really see Concord, and the Lakes Region was basically invisible. Oddly, the views north just didn't come out to play. OK, I know visibility was good at least to Boston… 
It's easy when you know why, but you won't know why until…
There was a point, shortly after I jumped down off Monte Rosa, when I realized I was relaxing. That intoxicating moment of nearly narcotic bliss, when you know why you came, and how important it was to have done so. I danced across a series of stepping stones, just mindlessly ambling. The map showed a strange point, where Mossy Brook trail inexplicably changed into the Cart Path. Why? More or less, it seems to be where Cart Path came along, bumped into the brook, and that was worth renaming the trail. There's probably a better story, but that's how the lay of the land called it today.
That's not important. What made the moment was hearing a sharp snap. I looked up and saw a large rump of a deer, maybe two dozen yards in front of me. And moments later, it turned around and we locked eyes. Then it went back to browsing, utterly unperturbed. I leaned up against a tree, and just watched as it tucked into dinner. After it moved on, so too did I.
Hands of ancient stone…
Further down the Cart Path, I crossed an ancient stone wall, and thought a bit about the farmers who built the walls that criss-cross the mountain's shoulders in all the places. There are literally miles of these stone walls, each stone set by hand. How many lifetimes are contained in those walls?
And then, as if I wasn't having enough of an afternoon, I crossed paths with a porcupine. It was a bit more hurried than the deer, but still somewhat relaxed… I mean, it's not like it came after me. This was the evening of the herbivores.
The last half, I just scooted down the driveway. At that point, I was earnestly getting a bit tired. In fairness, it was a good outing by any measure. I had sterling views from Monte Rosa, even if the views to the north, from the summit, were a bit of a wash. And somewhere along the way, I did indeed relax a bit.
As always, stay safe out there.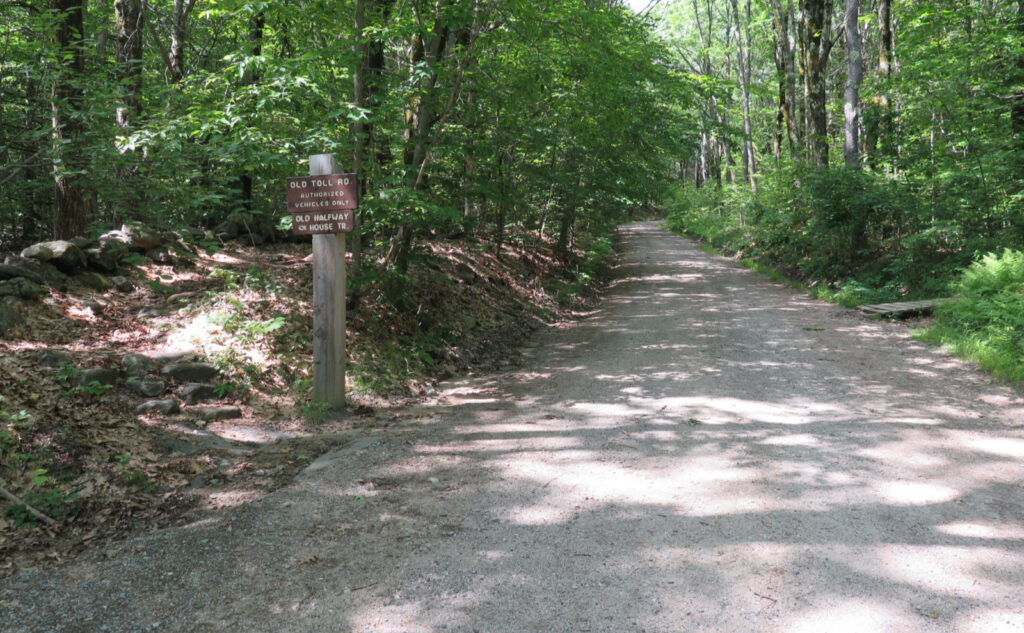 Nuts and Bolts: From points north and south, make your best way to Peterboro. In the centre of town, follow 202 South, and head into Jaffrey. From there, turn onto 124 and go west. From there, the state park sign two miles down on the right will be for Poole Road and the "main" entrance to the park. (This is where to find the White Dot trailhead.) For Halfway House, stay on 124 and about three miles more on the right, you'll see the parking area.
Trailhead is by the kiosk. Blazes are either white or yellow, and shaped according to the trail. White Arrow has… white arrows. Smith Summit has S shaped blazes. Other trails have plastic yellow rectangles. Most of the time, things are marked decently enough, but know that some trails don't post the sign until 50 feet or so down the trail, especially on the smaller trails. If you're sticking to the straight shot up, blazes shouldn't be much of a worry. Just look back periodically so you know what to look for on the way down.
If you enjoy reading these posts, please subscribe — stay in the loop! Your email will only be used to alert you of new posts — typically 1-2 times per week. I will not use or share your email for any other purpose without your express permission. And feel free to share via social media using the buttons below.
Find me in the mountains, on this blog, or on Twitter: @Protean_Hiker https://twitter.com/Protean_Hiker/
Help support this blog! Visit www.photos.proteanwanderer.com to buy some of my signature images.