East and West Quarry Mountain, North Straightback Mountain, Mt Anna, Mt Mack, Mt Klem, Mt Rand. Gilmanton/Alton/Gilford, NH. 2022-05-11 (Wednesday.)
Via Reed Road Trail, Quarry Trail, Red Trail. Approx 8.5 miles round-trip.
Temps in the high 60s, and up to the mid-70s throughout the day. Winds were negligible. Unbridled sunshine throughout the day, except when in the trees.
Trailhead: 1230. Car: 1730.
Fresh air to freshen the spirit!
As things turned out, winter took something out of me. I got into April, and the astute observer will have noticed that I didn't post anything, mainly because I didn't do any hiking that entire month. Between my feet having been demolished from being stuffed into crampons and snowshoes, and just mentally being tired from racing to finish my winter list, I needed to step back. Things weren't fun anymore, and I needed to figure out what happened.
But all things must pass, as has often been said. Mark Twain famously said something similar about New England weather, and true enough, the dark clouds did indeed shuffle off into the sunset. My feet became itchy once again. Maybe it was the warmer weather, but I found myself needing to get outside.
That said, "outside" didn't really mean "the Whites." I wanted to go somewhere different, without the weight of a long drive. The other lists I'm working on begged for attention, which was convenient, because I felt more interested in doing something on easier terrain.
Belknaps to the rescue!
Thinking about it a little, one thing pops out. A lot of my friends and colleagues think of me as a hiker of the harder stuff. And yet, some of my best days out have been on decidedly easier grades, with much less technical terrain. And to that end, I just spent five glorious hours where I barely walked across much stone at all. Yes, I broke a sweat at times, but those were short breaks, dotted along a long day out where grades were very gentle. In truth, I wish I'd gotten out about three weeks from now, when all the wildflowers would have been a huge distraction. I'd have spent a solid eight hours, languidly enjoying the scenery, both nearby and far away. But I had a great outing just the same.
Wow, what a balm today turned out to be. In one afternoon, I dispatched most of my Belknap Range list. I'd already hiked Mt Major in 2018, and on the other side, Piper, Gunstock, and Belknap later that year. Remaining are Mt Rowe and Whiteface Mountain, which will make me eligible for the Belknap Range Hiker patch. Oh the things we do for silly patches and certificates. But more importantly, I got outside, on a glorious afternoon. I made effortless miles under a verdant canopy, on soft, welcoming trails. I enjoyed a fantastic view of Winnipesaukee, and heard birdsong echoing through the trees. 
In short, I recharged. Those mountains were everything I hoped they could be, and more. I have no idea why it took me this long to come back.
As always, stay safe out there.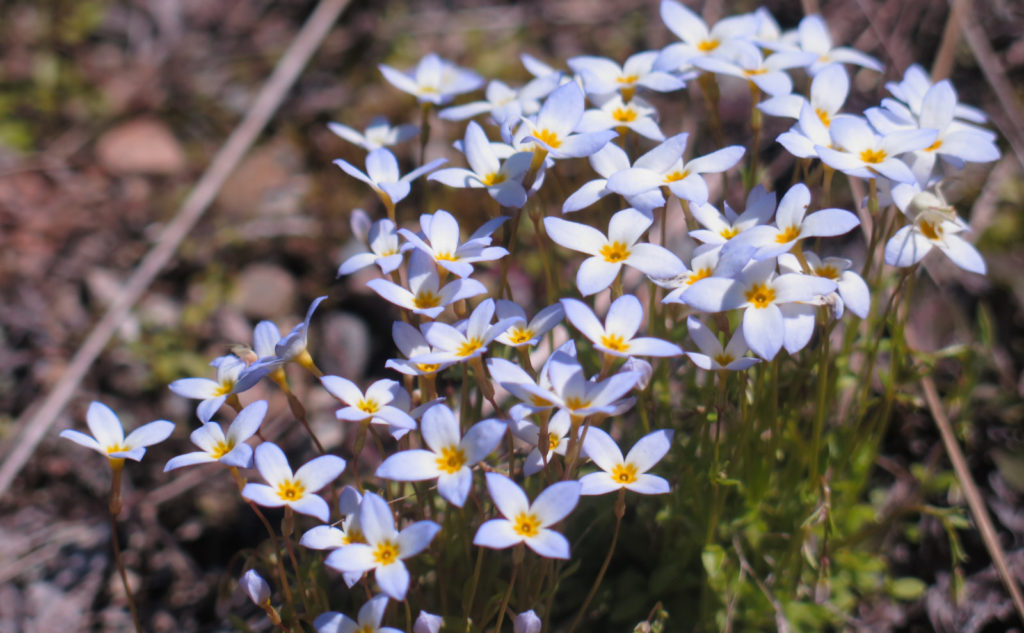 Announcement on photography! Over the years, I've been approached at various times about purchasing prints of my photos. At long last, I've done something about this. Selling my work has historically been a topic of much consternation. I have fun hiking, taking photos, and writing about it, and until now, it's been a labor of love. But the reality is that all this costs a sizable chunk of change, between web hosting costs, my WordPress account, and several other things. Finally, it came to a point where I had to do something. It was either sell work, or sell ads, and I really want to keep this blog ad-free for as long as I can.
While not every image on my blog is for sale (and really, a lot of it is just there to help tell the story, rather than be "art") there's still a great deal available, currently nearly 100 images. That picture of the red trillium? That's one. As I keep hiking, as well as revisit my archives, that number will get larger. Visit my other site, and help support my blog. http://photos.proteanwanderer.com
(Note, these are the first days of that site going live, so please excuse the inevitable hiccups.)
Nuts and Bolts: This loop nails down seven of the twelve peaks on the Belknap list, and keeps things inside ten miles. I elected to start at the Reed Road Trail, which probably provides the most direct access to the loop. To be true, there are a lot of other access points, including via Mt Major (east) or via Gunstock/Piper (west) so it comes down to how long a day you're looking for, and how many miles you want to hike. I'm not sure there are any other options (beside Reed Road) that keep the loop within ten miles and hit all seven of these peaks. The Belknap Range Trails Map does have a second page, where the various trails are described with distances and times.
Regarding the terrain: Pretty much the whole day had me comparing this to the Wapack Trail at some point or another. With the exception of a couple ledges here and there, the worst climbs on this loop are on par with anything you'd find, notably on Temple Mountain, in the Wapack Range. Around 85% of the time, I walked on leaf litter and duff, and the overwhelming majority of the time (perhaps also 85%) the trails were pretty flat, as opposed to rocky. I didn't do any real scrambling, though there are a couple places where someone of shorter stature might have a different experience. In short, if this is one of your first hiking trips in your life, you should have an easy day, with the possible exception of navigation (see below.) 
Trailhead will be further up the road than the parking area. Note that the designated parking area is "it." Going further up the road, you'll only see "Private Property" and "No Parking" signs pretty much everywhere. I had the sense that the neighbors are friendly to hikers, but that friendship was entirely predicated on respecting their wishes. Be an ambassador for the sport, and do the right thing.
Blazes are… mostly everywhere. That said, the Belknap Range Trail Tenders color-coded the trails and blazes well, but the junctions aren't always signed clearly, and occasionally, you'll be at a junction not knowing which way to go. There were even a few unsigned junctions here and there. A couple times, I went off-trail inadvertently, because the blazes were a bit thin in places, and where much of the forest is pretty open, sometimes the trail isn't as immediately apparent as you'd find in most places in the Whites. I'm not thrilled to have to write this, but GPS is the clearest option for navigation. The Gaia map (linked below) was what I followed, to good effect. Besides that, I suggest using both Gaia and the Belknap Range Trails Map in combination with the AMC's Southern New Hampshire Trail Guide, which has its own section on the Belknaps. It's worth noting that the AMC describes the trails as generally well marked, though some areas require care in navigating. There are a lot of trails in the area, and the maps can look a bit like a bowl of pasta in a couple places. What doesn't help is that there isn't a whole lot of consistency in signage, and in a few places, the signs are quite weathered and tough to read. If all you know is the WMNF signage… there's a bit of a learning curve here. Be forewarned.
If you enjoy reading these posts, please subscribe — stay in the loop! Your email will only be used to alert you of new posts — typically 1-2 times per week. I will not use or share your email for any other purpose without your express permission. And feel free to share via social media using the buttons below. 
Find me in the mountains, on this blog, or on Twitter: @Protean_Hiker