South Hancock Mountain (4319), North Hancock Mountain (4420). 2700 feet elevation gain. Lincoln, NH. 2022-03-31 (Thursday.)
Via the Hancock Notch trail, Cedar Brook trail, Hancock Loop trail. Approx 10 miles round-trip.
52 dF at the trailhead. 48 dF at Middle Hancock. 45 dF back on Hancock Notch Trail. Negligible breezes for the most part; on North Hancock, winds were a more stout breeze where the forest was thin. Cloudy with occasional sunny breaks, becoming completely cloudy by afternoon with a few sprinkles of rain here and there.
Trailhead: 1130. South Hancock summit: 1340. North Hancock summit: 1420. Car: 1620.
Fast as ice!
I didn't intend to set a personal best speed run today, but that's how things turned out. Looking back, it might have been a shade more comfortable had I slowed down a bit. Then again, the Hancocks have some immutable elements that will always be rough on the feet. Not the least, an insane climb and an equally insane descent. The words "fall line" have a particularly sharp definition on these peaks.
Looking at the weather, and what options I had open for the month of March, I finally decided that for peaks 29 and 30, I'd just hop on over to the Hancocks. The tough trail was still on my mind from when I did them a couple months ago, but hey, you can't always pick easy stuff. And besides, next year, I check off January and then don't have to worry about a snow and ice covered Hancock loop. Huzzah! 
Let's start off kinda sorta lazy, shall we?
A somewhat leisurely breakfast with some tasty coffee kept me from an earlier start. (Pro Tip: use a French press, and add a little powdered baking chocolate.) Arriving at the trailhead so close to noontime, I had a bit of worry about bumping up against sunset. I needn't have worried, as things turned out. But it set the tone. I hurried up the flat bit of the trail, and because I was still in White Rabbit Mode ("I'm late!") covered the final half a mile (and 1,000 feet of soul crushing elevation gain) of South Hancock in 32 minutes. What was I thinking? Clearly I wasn't budgeting my time.
But hey, sometimes I think of things that make more sense. Like that equally soul crushing descent, which took only slightly longer. (There's a sick amount of blue ice on both trails; descending was non-trivial. More in a bit on that.) It was pretty painful, owing to the steepness and me probably being more whipped than I was allowing myself to acknowledge. But at one point, I stopped thinking about the pain, and realized it was a fairly short hike overall, with most of it eaten up by hiking to and from the mountain. Sometimes you have to stop and think a little. Things aren't as bad as they seem. 
Zen and the art of not-seeing.
The views were "attenuated" by some form or other of water vapor. On the summits, clouds. I did get a couple breaks where I could see a bit out from the mountain, but it wasn't anything to write home about. In a few other places, the melting snow was creating localized patches of fog. Today was the day to turn the mind inward, because the gaze wasn't going very far outward.
I think of days like today, where a hike is a lot of sweat and pain, and not a lot of things to look at — either near or far — to make up for all that. Oh yeah, it's still basically wintertime, and while my crocuses are poking their heads up at home, there's still too much snow and frozen ground in the mountains to allow for the wildflowers that I love to see.
But all that keeps one humble and honest. You can't always get what you want. But in the longer term, these disappointments fuel our longer-range view, and those other things in life that don't go our way seem a bit less painful. We've been there already. The upside for today was that I was outside, in the Whites.
As always, stay safe out there.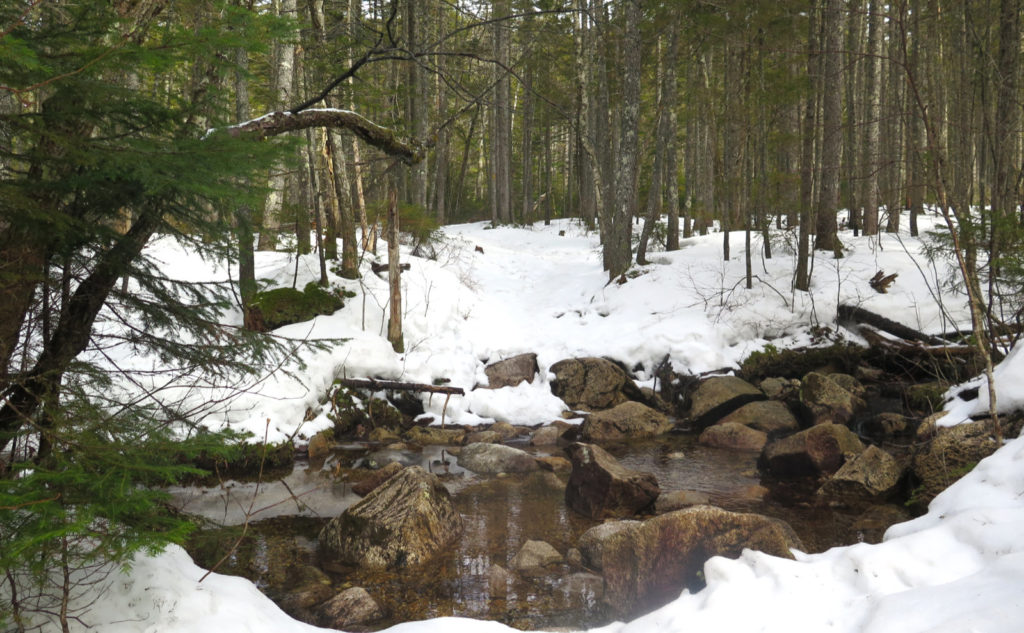 Nuts and Bolts: For a mountain that has a distinct "hard part", driving there is about as easy as it gets. Take exit 32 in Lincoln, and head east on the Kancamagus Highway. (For the directionally challenged, this means going past Loon Mountain, and the Lincoln Woods trailhead.) About 10 minutes in, you'll arrive at a hairpin turn about a minute or so after you pass the Greely Pond trailhead. On the east side is the entrance, marked by a very large yellow and brown sign. Right now, the snow has pretty much all melted away, leaving the lot clear to the pavement. 
Trailhead will be across the street. Walk toward the dead-end of the parking lot, and you'll see a small gate with steps leading down beyond. The trailhead is fairly easy to spot, and that's beside the fact that it's a good sized break in the trees. Blazes are yellow and there's a good lot of them, but for the most part, the trail is well tramped out.
Time Dependent Note: Right now, there's a very substantial amount of blue ice on the loop trail, notably where things are the absolute steepest they could possibly be before being outright vertical. On the uphill, this isn't as big a problem as on the downhill. However, as I write this, it's the very end of March; April is tomorrow. If you need these peaks for your April Grid, I highly recommend giving it until the second half of the month at the earliest, to give that ice a chance to melt away. It's very treacherous at the moment. Doable, but treacherous. Don't put yourself up to be hurt if you don't need to.
If you enjoy reading these posts, please subscribe — stay in the loop! Your email will only be used to alert you of new posts — typically 1-2 times per week. I will not use or share your email for any other purpose without your express permission. And feel free to share via social media using the buttons below.
Find me in the mountains, on this blog, or on Twitter: @Protean_Hiker