Mount Osceola: 4,340 feet. East Osceola: 4,156 feet. Campton, NH. 2022-07-07 (Thursday.) By Mt Osceola Trail (from Tripoli Road.) Approx 8.4 miles, round trip.
Trailhead: 1245. Osceola summit: 1420. East Osceola summit: 1500. Car: 1800.
Sun and clouds, no real wind at all. Temps in the high 60s/low 70s. RH between 50% and 60%. Dew point in the low 50s. In short, a glorious day to be out on the trail.
So I have two for my July grid. I have no regrets.
For some reason, I didn't look carefully at my grid spreadsheet of doom. I did indeed glance at the bit where it said June didn't have an ascent, and maybe I conflated the two months. Either way, I now have two for July. Mea magna culpa. But then again, the hike does indeed stand repeating, and so I will, at least eight more times. After today, yes, at least eight more times. The mild frustration is that I'm two behind on finishing July. Oh well. There are certainly worse fates than that. Work reminds me of that all the time. 
Knowing that this was a relatively short hop, I intentionally dragged my heels this morning, having a stellar breakfast, picking over the bones of the news, and even spending a little time gardening before I got going. While driving out Tripoli Road in the dark isn't a goal of mine, I'm not worried about coming off trail by headlamp. But that said, this isn't a hike that has great westward views, so late as I got going, I still wanted to get back to the main roads while it was still light out. 
Today was the joining of great weather with epic views. On Osceola, you need to make peace with the fact that the views are indeed limited. It's not like standing on the summit of Lafayette, or South Twin, or Bondcliff. They're not panoramic by any definition, failing mostly in the southern and western directions. And because the mountains aren't that tall, other, taller peaks will get in the way. 
But there's a huge "however."
Whether you come in from the north or south, the distance is so close to being the same that it doesn't really matter. The northern approach (from the Kanc) is much steeper, for sure. I was reviewing one of my posts from the colder months, and my observation remains that losing footing on that ice and snow can have you sliding down into next Tuesday if you're not careful. But in terms of distance, I think it's about half a mile or so different. Sneeze hard and you miss it. What makes one "more" than the other is whether you want the easy view first or second. That, and the pain you'll endure getting there. I mean, that northern side is steep, man. 
I made my way up from the trailhead, crossing mostly easy grades, although the footpath alternated between soft duff and occasional mud, with rocky sections that required a little dancing to navigate. The northern approach gets the elevation gain done in the shortest mileage possible, which has its virtues, but today, I was happy with the easy stroll, such as it was. (Let's face it, there's about 3,000 feet of elevation gain to this "stroll.") Somewhere early in the hike, there was a step-log on which someone had written (with magic marker) "KEEP GOING!" I mean, not like I needed the encouragement, but it was nice to have. And hey, it fit with the similar sentiment I found on Tripyramid.
The sun made periodic appearances, and the weather was unbelievably clement. Warm without being hot. Not at all humid. The kind of weather where you say "tonight's gonna be good sleeping weather." I wished I wasn't working tomorrow, else I'd be in amongst the trees, being sung to sleep by the various critters.
Over the top!
Come in from Tripoli, you get a view at the first peak. And it's a heck of a view. I crossed the summit, with the foundations of the old fire tower still keeping silent watch over everything. Looking down to Waterville Valley, with a smidge of Tecumseh way over on the right, Sandwich and Chocorua straight ahead, right by Tripyramid. I turned to the left, and had fine views out to Carrigain and Washington. Today, there were just enough clouds to make the sky interesting, but none of them fouled the view even one iota. (I bet the folks on the old rock pile were enjoying the rare view as much as I was.) 
I descended into the col, and after a bit, was reminded of the "feature" of this hike. Yep, the chimney. And true to my exacting form, I neglected to review my notes. I went right, and took the steep route down. Hoo-boy, until my feet were back on level terrain, the heebie-jeebies were in full swing. Folks, don't do that on the way down. It's fine on the way up, if you want the thrill, but it's a lousy descent. Take the left-hand side.
Over on the East Peak, things were… less than stellar in terms of views. I tagged the summit, and headed back. The one thing I neglected to point out is that just as you crest over from the main peak, heading down to the col, is that the view opens up to the north in fine form. And I longed to get back to it.
Scenes of the Pemi
Realistically, it's the western half of the Pemigewasset that you see from that vantage. But wow, wow, wow, what a view. I think I'm two for five on having fair weather for this hike. Today was the day that made me want every hike from now on to be on days like this. Just this afternoon, a hiker asked which of the 48 was my favorite. My classic answer is that it's like asking which is your favorite child. But I won't hide the fact that while I have fond memories of just about every mountain I've hiked, this is a part of the planet that holds a special place inside me. And I've no shortage of miles on my passport, for sure. 
One thing that made it amazing was the way that I could gaze, almost entirely undisturbed except for some haze, at Owl's Head — arguably the heart of the western Pemi. To the left, I could see the Kinsmans and Cannon, to the right, South Twin and the Bonds. Hancock almost close enough to touch. Garfield with its near-perfect symmetry. Heck, even Galehead stuck a sliver of itself up for review. I could trace, with a finger, some of the finest hikes in the Whites, almost without turning my head. Wow! 
I drank in the view until I'd had my fill, and then headed up that last bit to Osceola's summit. In contrast to my first visit today, I had the place entirely to myself. Lately, I'd been thinking about how I've not been spending much time on summits. This was a habit I took on from the AT hikers, who generally don't let much moss grow under their feet — 2,100 miles don't just hike themselves, right? But with the summit empty, and the warm sun, I decided now was a good time to sit down and gaze on Washington, and Carrigain, and Tripyramid, and Chocorua, and Sandwich. I probably spent fifteen minutes up there, which for me is an eternity. Already, I'd decided I wanted to spend more time gazing outward, not the least because the weather was so fine. It was everything I hoped it could be. 
The rest? Well, it was a hike back down, that might have taken a little over an hour. It's not tough terrain. I got back to the car, happy as could be. Not a long hike, and maybe if I clung to a tighter schedule, it might have been longer to drive up than to actually make miles on the trail. I'm glad I lingered at those outlooks, because that made all the difference. I can't overstate how amazing those views were today. Nor can I overstate how much I wish every next hike will feature views even half as amazing. "It was a hell of a day" fails to encompass just how awesome it was.
As always, stay safe out there.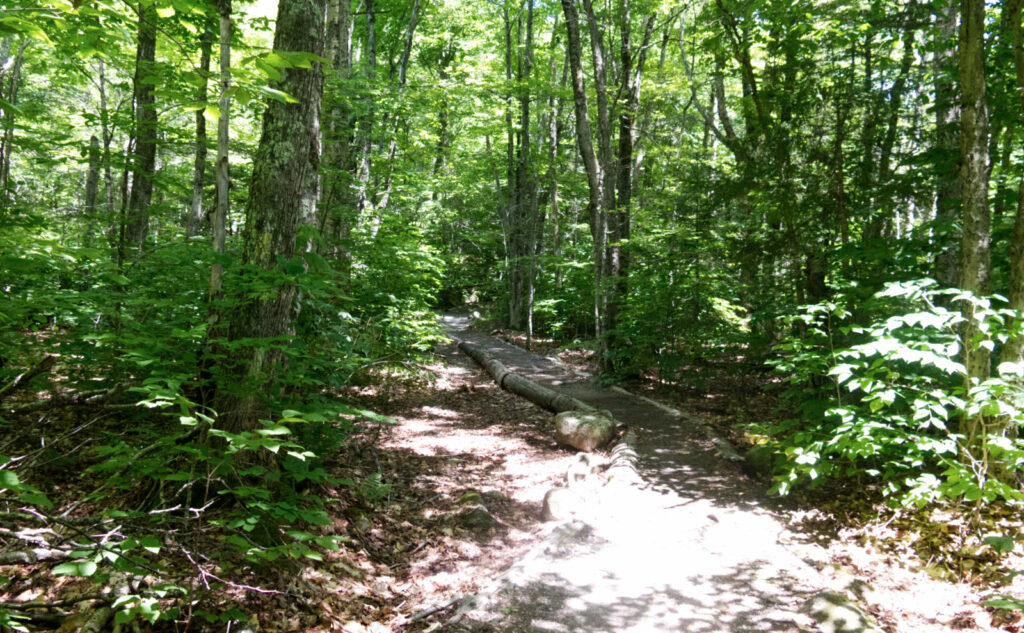 Nuts and Bolts: To get to the trailhead from Tripoli Road, take the Waterville Valley exit off 93. Follow to the east, and at the signs for the ski area, turn left. Where the road forks (left side will be for the ski area's parking, etc, as well as Mt Tecumseh) take the right side. A bit beyond will be the bridge to the right that will take you to the Livermore parking area, which accesses Tripyramid and Greeley Ponds Trail. Don't take that right, but stay straight: you're on Tripoli Road.
Trailhead will be almost three miles after the gate. Blazes are really immaterial: the trail has been kept up quite nicely — kudos to the maintainers for their hard work. At the split by the Chimney, going right (if you're above) will yield a harrowing descent, but to the left, things are a fair bit more moderate, even if they're still a wee bit harrowing. I recommend the steep climb for the ascent, as the descent is crazier than it needs to be, especially as a safer route lies just a few yards away. Seriously, a fall from any height on the right side can easily become a recovery, not a rescue. Climbing up is safer than climbing down: if you need the thrill, it's there when you head back up.
If you enjoy reading these posts, please subscribe — stay in the loop! Your email will only be used to alert you of new posts — typically 1-2 times per week. I will not use or share your email for any other purpose without your express permission. And feel free to share via social media using the buttons below.
Find me in the mountains, on this blog, or on Twitter: @Protean_Hiker
Photos for sale! Visit photos.proteanwanderer.com and help support this blog!