North Twin Mountain (4,760 feet) and South Twin Mountain (4,902 feet) with a short visit to Galehead AMC Hut. Via the North Twin Trail, North Twin Spur, and Twinway (AT). Approx 18 miles, including the 5 mile walk along Haystack Road (FR 304).
Trailhead: 1145, North Twin Summit: 1400, South Twin Summit: 1445, Galehead Hut: 1545 (left at 1600), South Twin Summit: 1645, North Twin Summit: 1730, Trailhead: 1950.
Rain, thunder and lightning, and fog. 65 dF throughout the day. Intermittent winds of approx 10 MPH on exposed summit areas.
For the love of the game.
It was a hell of a day to be out on the trail. I'd been gunning for a relatively high mileage day, chiefly because I'd been feeling a bit slack lately. But I didn't expect to get it in the form of the fire road gate being closed. Oh well. At least the walk to the trailhead was merely long, with a mainly decent roadbed underfoot. The fact that I'd done this before, with similar circumstances (albeit on a drier day) wasn't lost on me.
For those wondering, I had a chance encounter with a forest service guy. He wouldn't commit, but he did offer that he's expecting the gate to be open for the season sometime next week. The roadbed is soft and spongy in too many bits, and so they want to grade it before allowing everyone in. To that end, there was both a grader and a York rake staged on the road, waiting for a crew to tackle the problem. For this weekend, anticipate hoofing it to the trailhead. Remember to be an ambassador for the sport: take care to observe the "park on other side" signs near the gate.
The walk in was fairly unremarkable. But once on the trail, it wasn't long before I spied a few flowers. It wasn't going to be a day of stirring views from the summit, so I got attuned to looking down fairly early.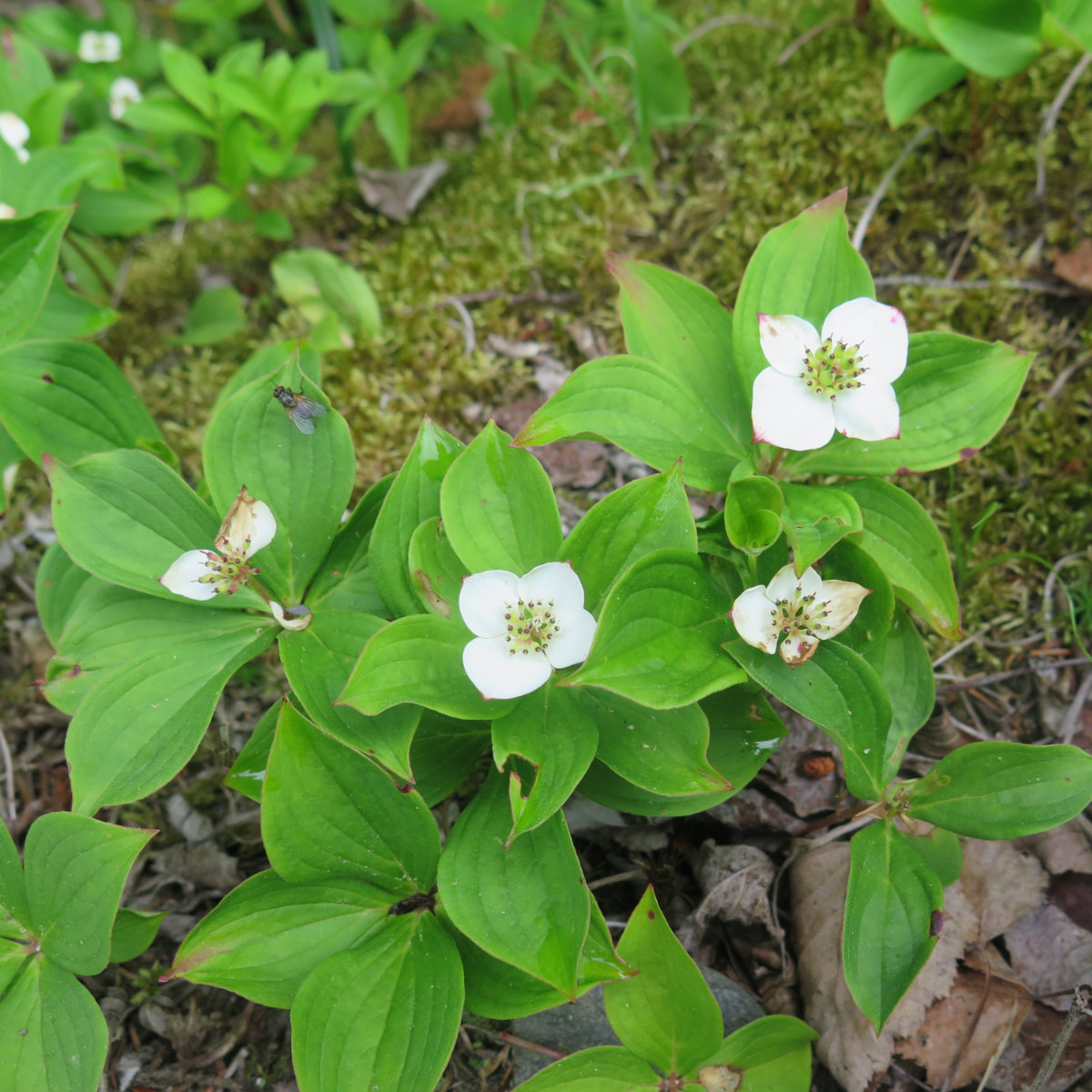 Crossing a footbridge, I enjoyed a mostly smooth trail, with a bed of soft pine needles. I made excellent time through the first two miles.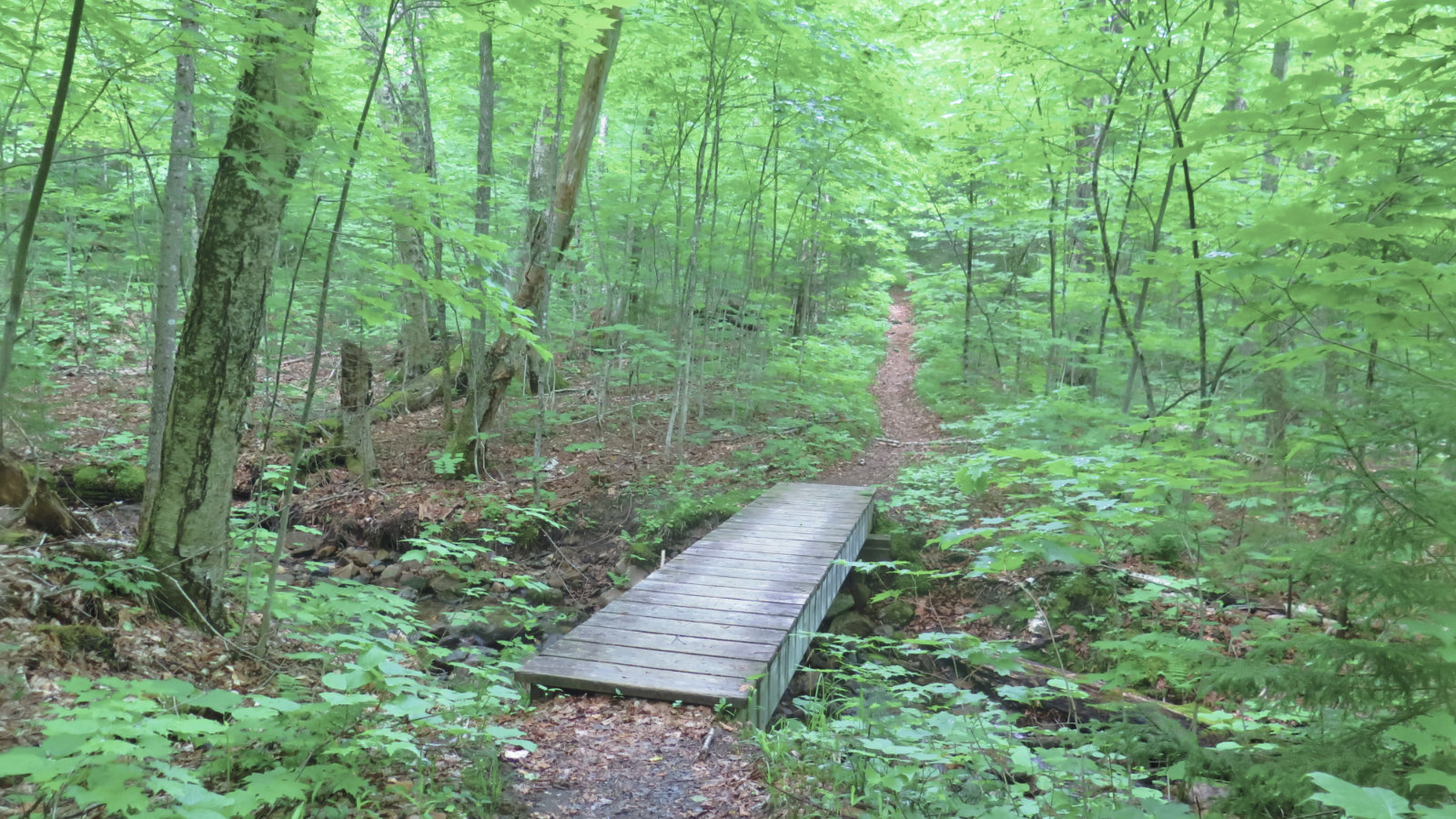 …And spied some hawkweed along the way. It was a dreary day, but the flowers were determined to put on a show and bring some color to the sodden landscape.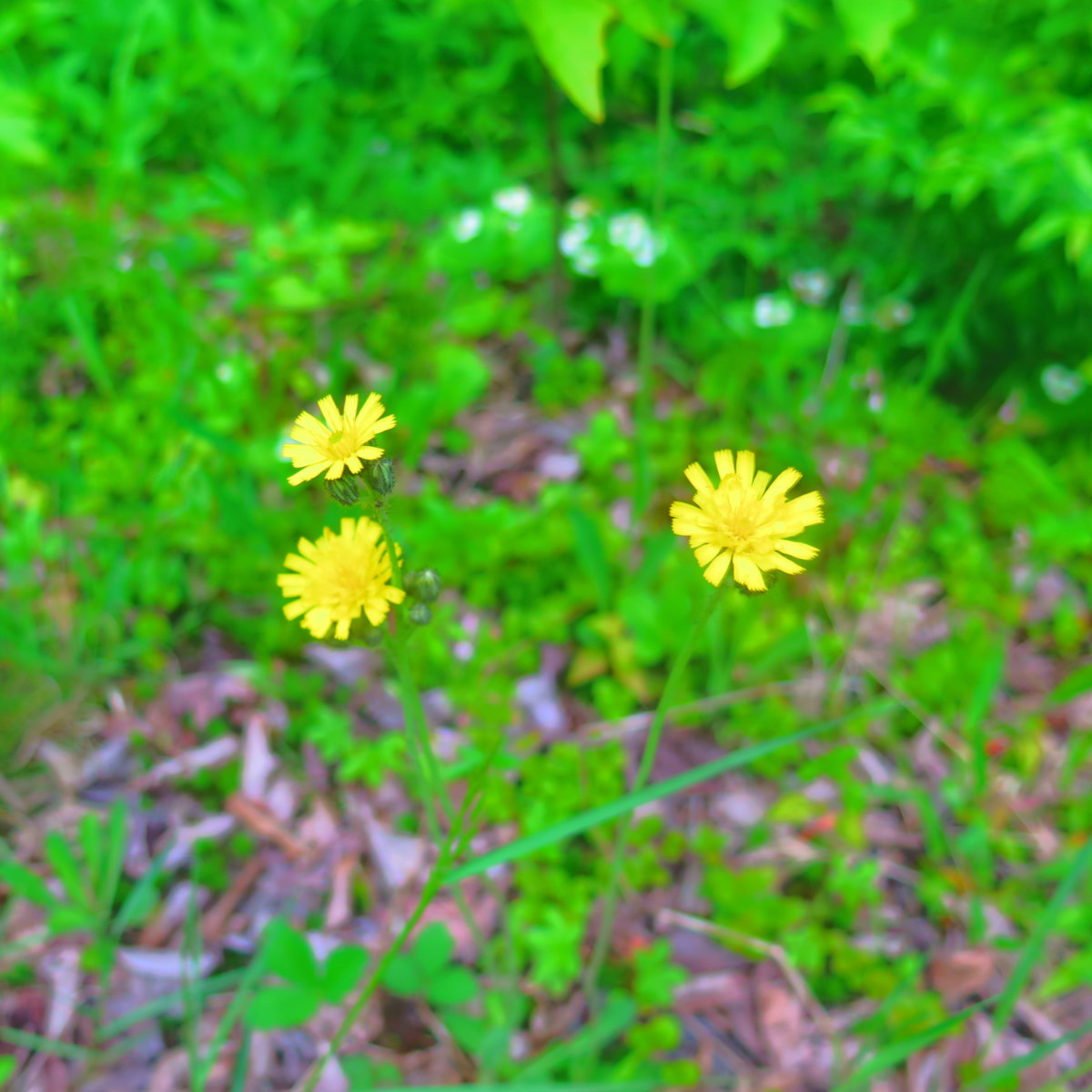 At the first two water crossings, I kept to the east bank, as mentioned in the AMC White Mountain Guide. I was able to skip them, and cross at the third ford, where the water level was ostensibly lower. It took a few short minutes, but I found a way to keep my feet mainly dry. Little did I know, the proverb "no man crosses the same river twice" would turn out truer than I'd want.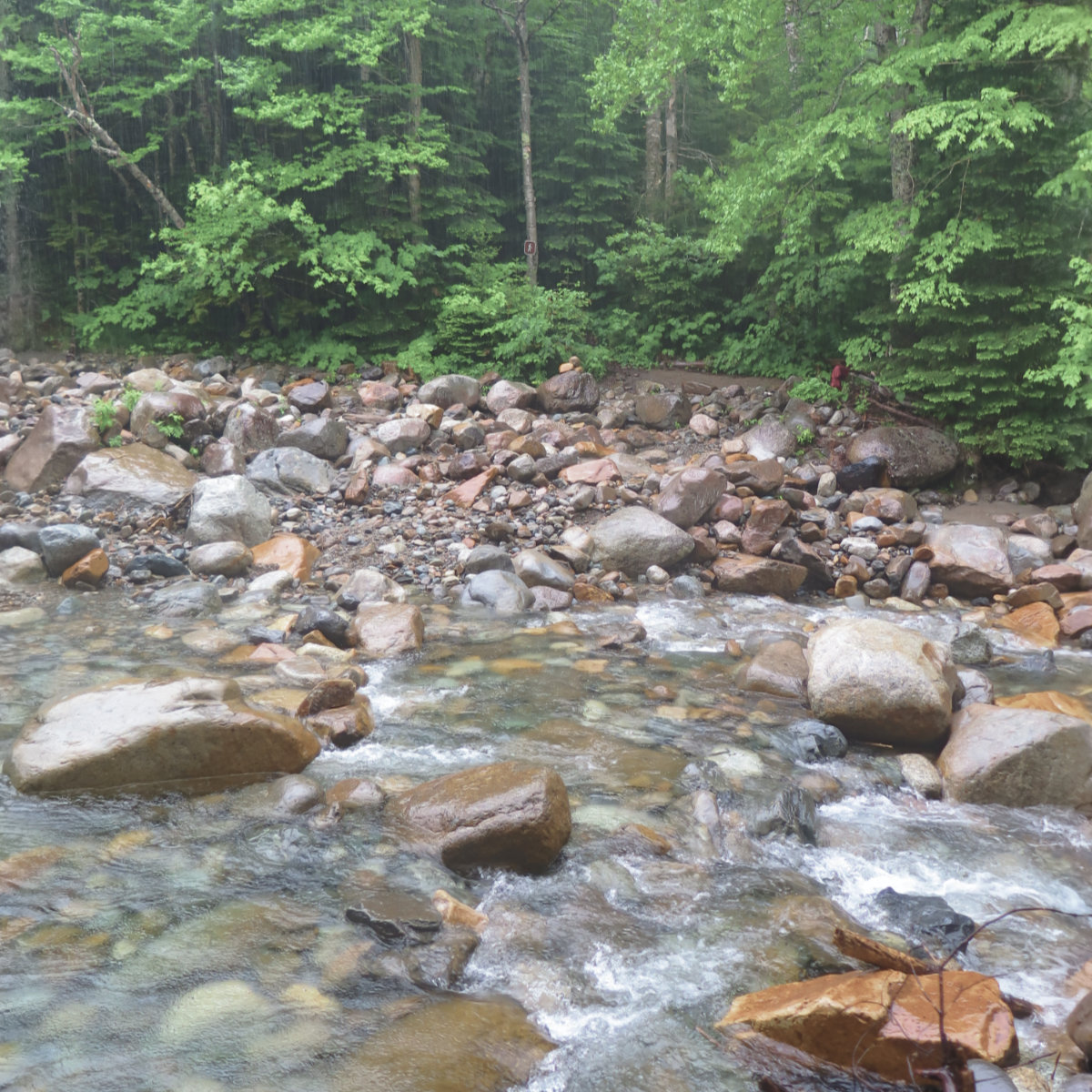 Shortly after crossing the river, things transitioned from a nice, soft and smooth bed of pine needles with a gentle rise, to a rocky trail that pitched upward and set my legs on fire. I'd forgotten that North Twin from this direction is a very strenuous hike. If there was a mountain I'd specifically dissuade a new hiker from trying, this would be on the short list of candidates. Whereas before I was making really quick time, now things went much slower. Not just the elevation gain, but also picking around the rocks, having to be thoughtful about where I stepped. Inattention could bring about a turned ankle in no time. I wasn't sure if the rain was soaking me, or if I was breaking a sweat, or both. Either way, that section of trail was hard work.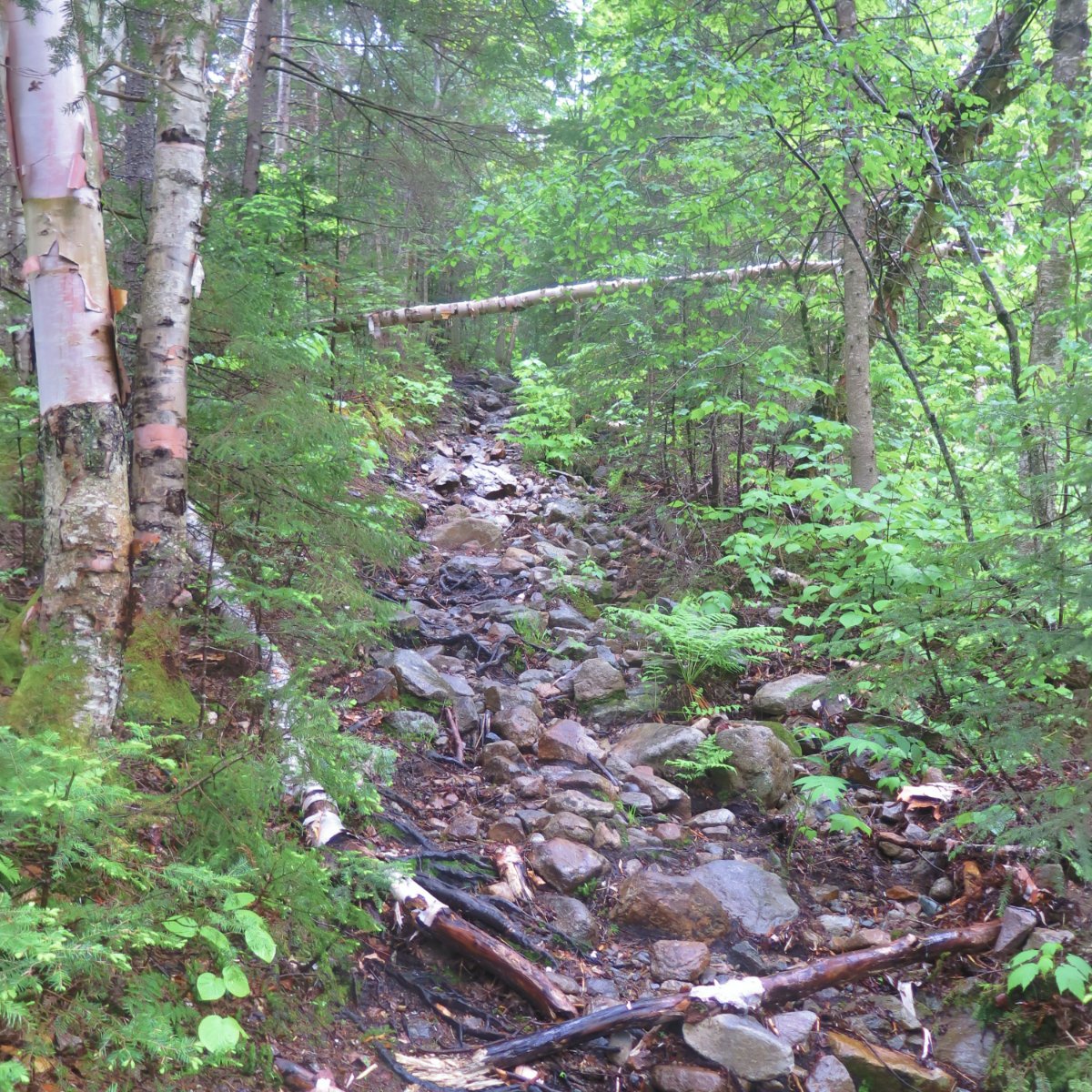 But eventually, I made it up to near the top, and the scenery became softer. Lots of moss off to the sides, copious ferns, and a jumble of other stuff that smoothed the edges. Forest bathing was in effect.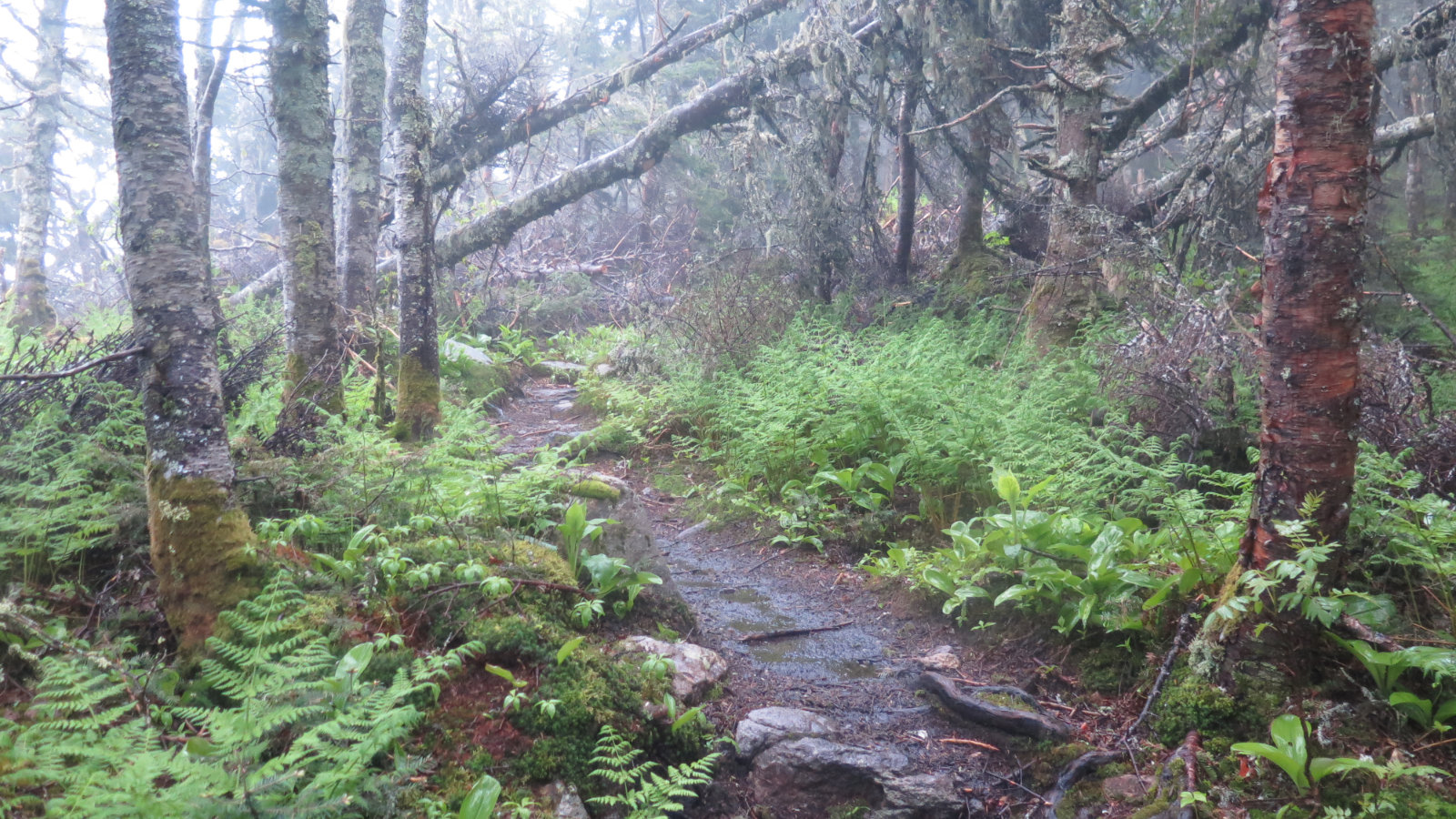 At last, I broke through the trees, and could see my goal, even through the fog. North Twin wasn't without views (were the skies clear) but most of them were at ledges, or at an outlook near the summit cairn.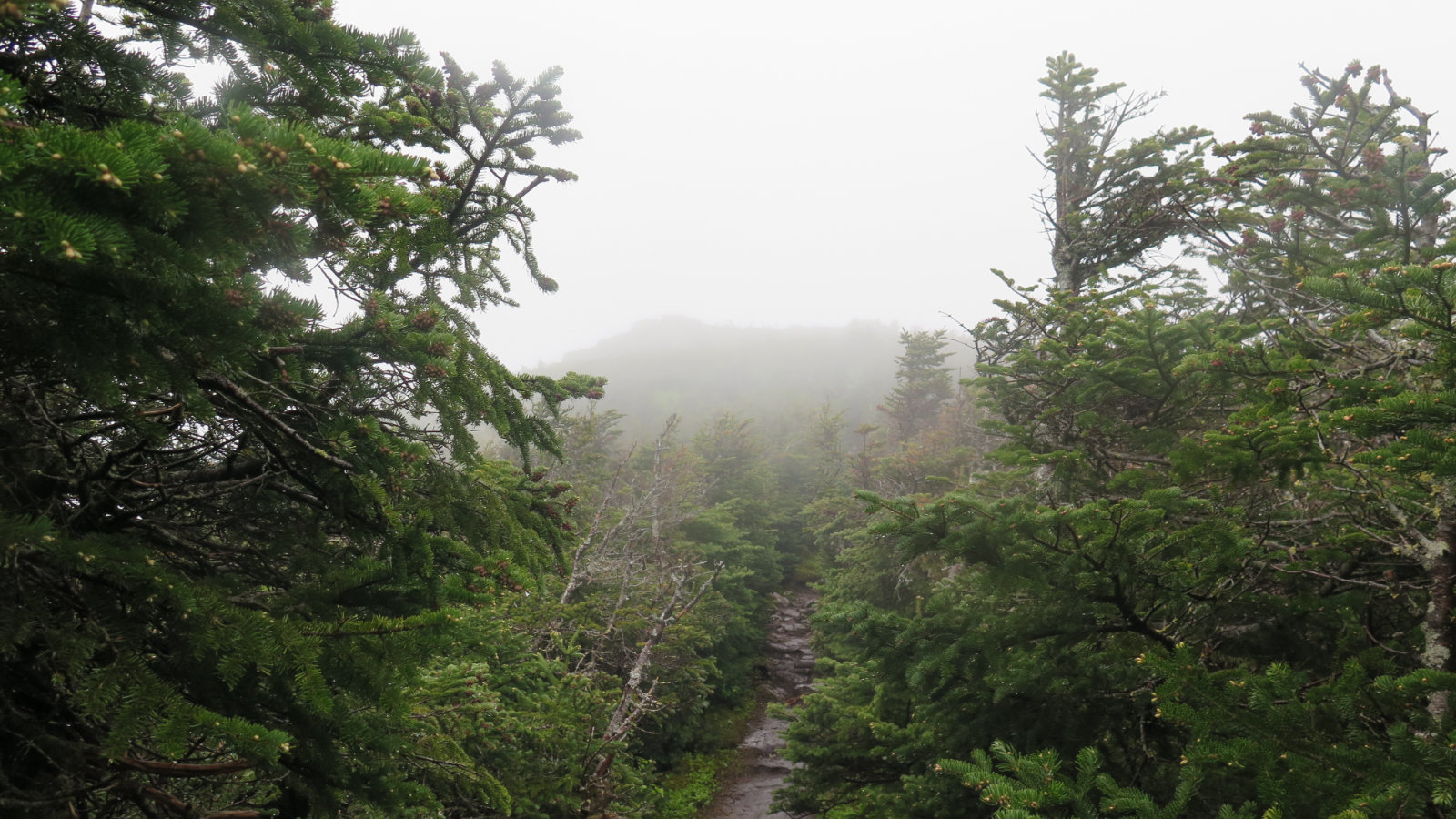 The trip across the col was fairly easy, and uneventful. Given how much I slowed down on the second half of the North Twin Trail, I was glad to have crossed the col as quickly as I did. The rain at that point had been soaking me from at least the trailhead, and the three mile mark found my gore-tex shoes inundated with water for some reason. (Thankfully, blisters were kept at bay by my coolmax liner and thick wool sock ensemble.) Crossing the Little River had been unremarkable — my feet were dry for quite a bit after. All I can think is that the rain running down my legs soaked my feet from above. Drat. But I was on South Twin's summit. I turned to the Twinway, and headed for Galehead Hut.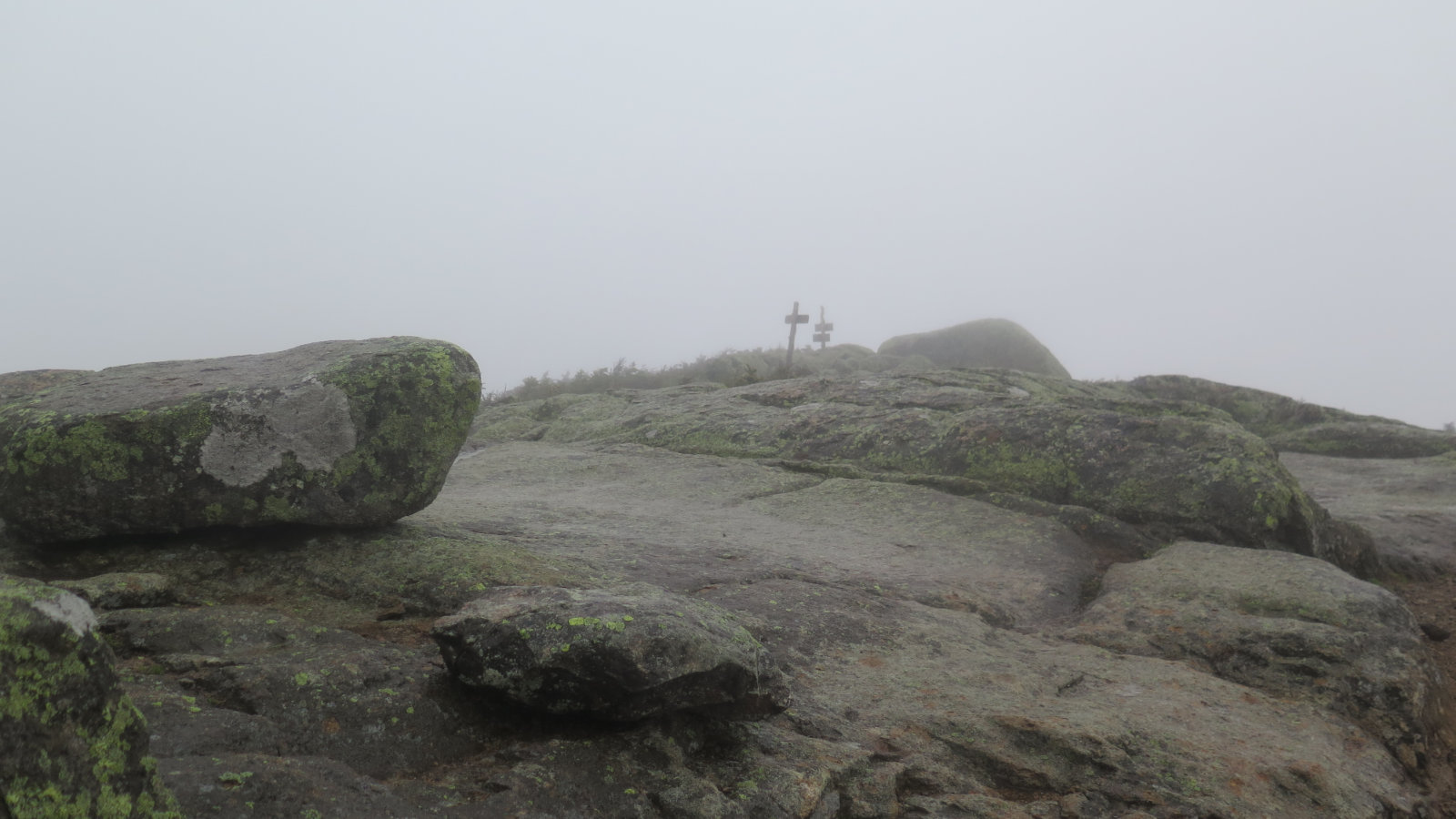 I heard the low rumble of what was likely a jet high above. I kept heading down a very rocky trail that was steeper than I'd have wanted. But around the halfway point, a new sound from above.
"Thunder is just music to my ears" said no hiker ever, particularly when high up in the mountains, and therefore, basically, sitting duck. I poured on the speed, but despite being on the downhill, the copious rocks and boulders conspired to slow me down. But in time, I stood in front of the familiar green "welcome, and come in" sign.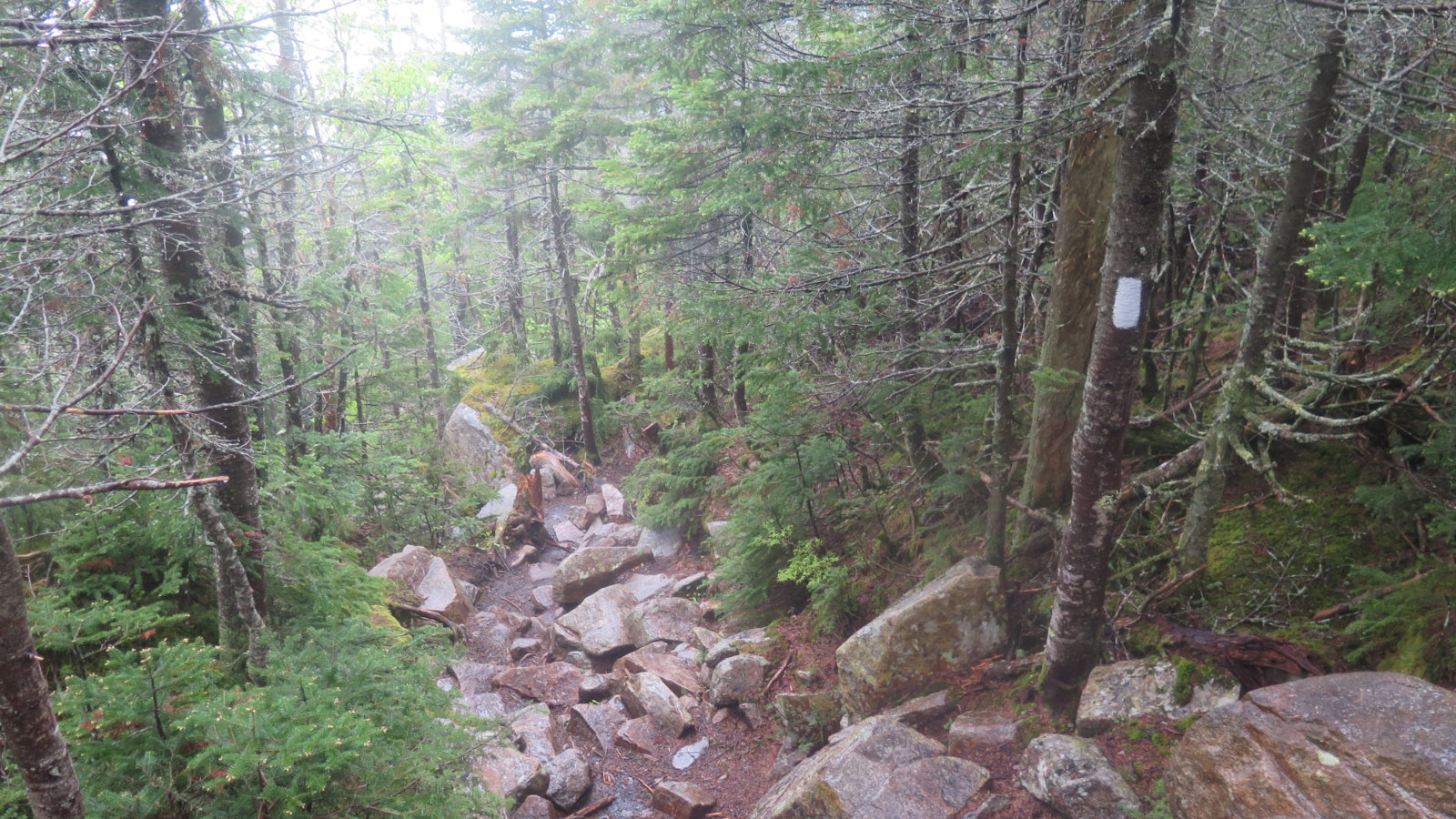 After about 15 minutes or so, the worst of the storm went elsewhere. I thanked the hut croo, and headed back out with full water bottles and a smile. I wasn't particularly drier, but a rest away from the rain was very restorative.
But the trails even wetter than before! Bits where I could have found a small rock, or maybe hug the bank to get past the puddles? Yeah, that luxury went away. But with my feet having been sodden for much of the day at this point, it mattered so much less if my feet were dry. Mind over matter: if you don't mind, it don't matter.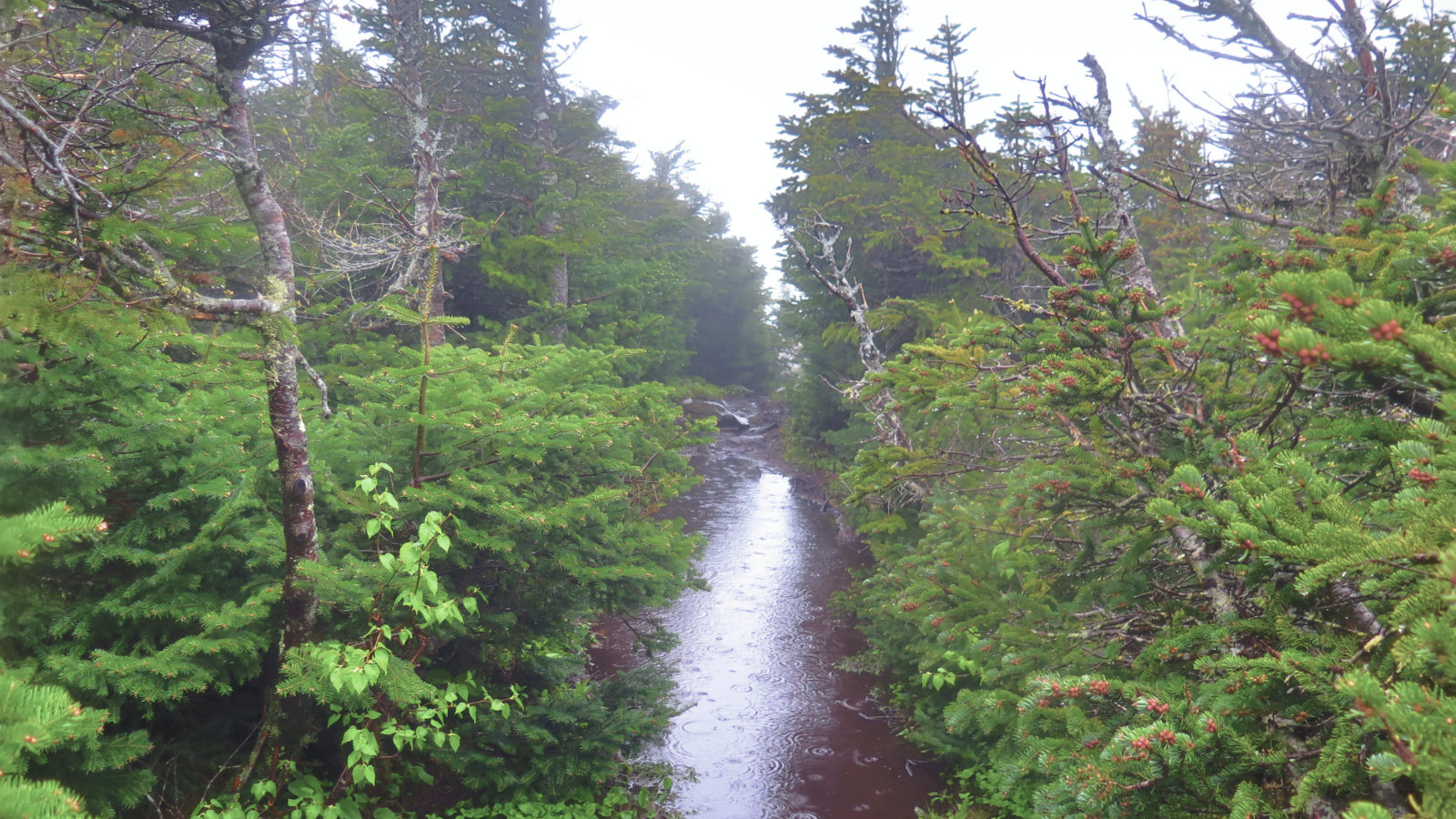 I saw this section and was happy to have remembered it from my last time up here. Don't ask: I just think it looks cool.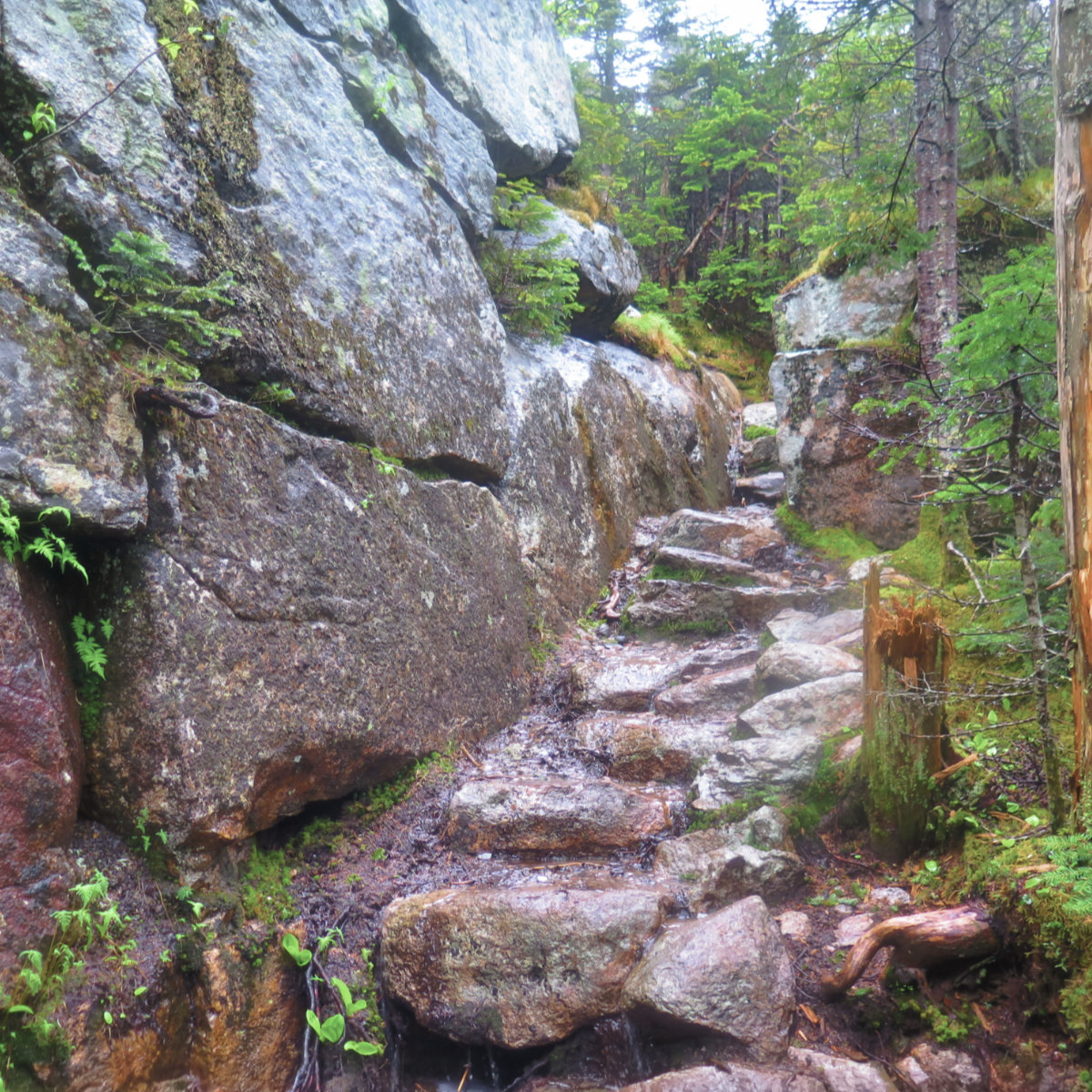 A bunch of hiking later, and I was back on North Twin Trail, just above the water crossing. When out of the corner of my eye, I spied a pink lady slipper. I'd seen them in wildflower identification books, but never seen one in the wild. What a treat!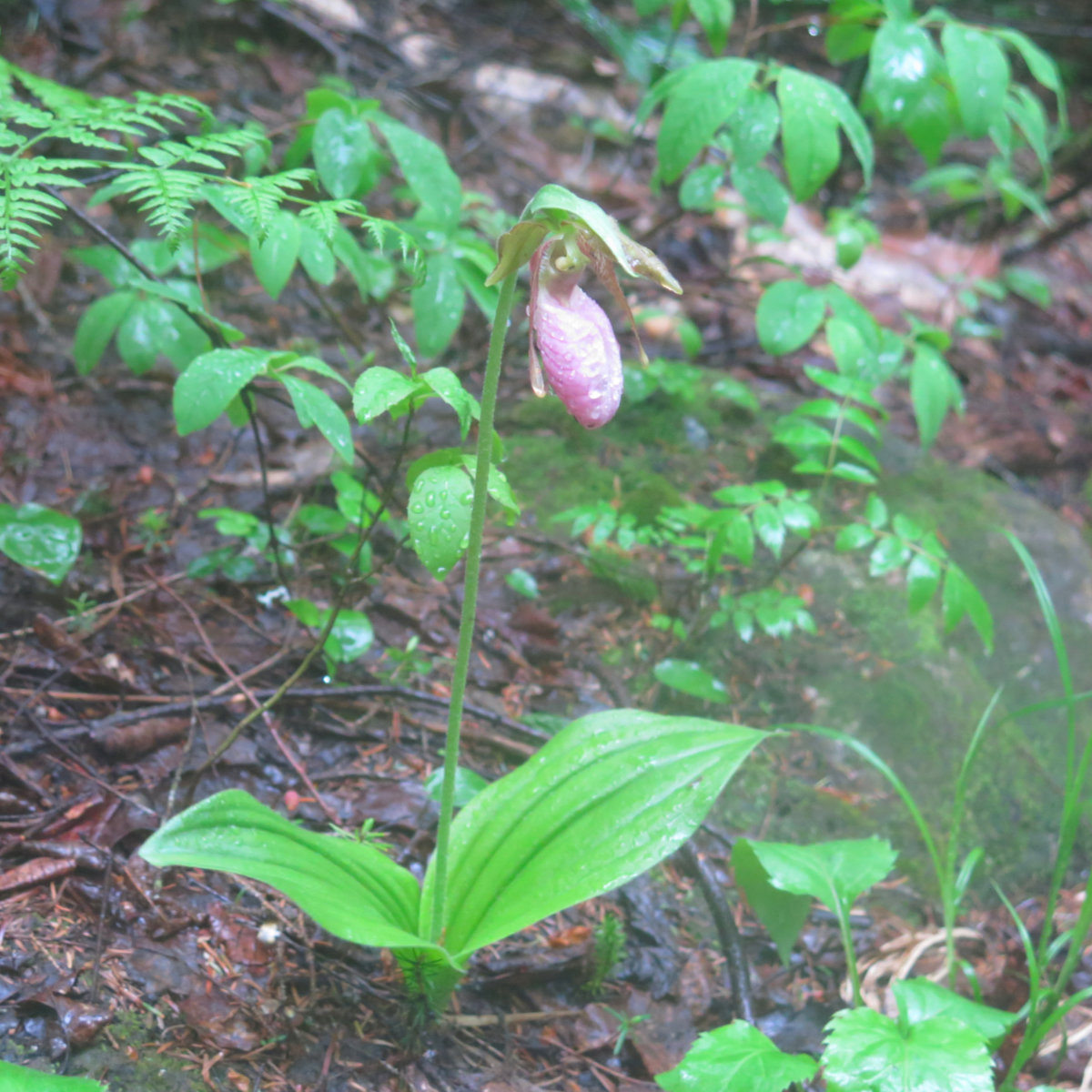 And nearby, a bluebeard lily. Nice.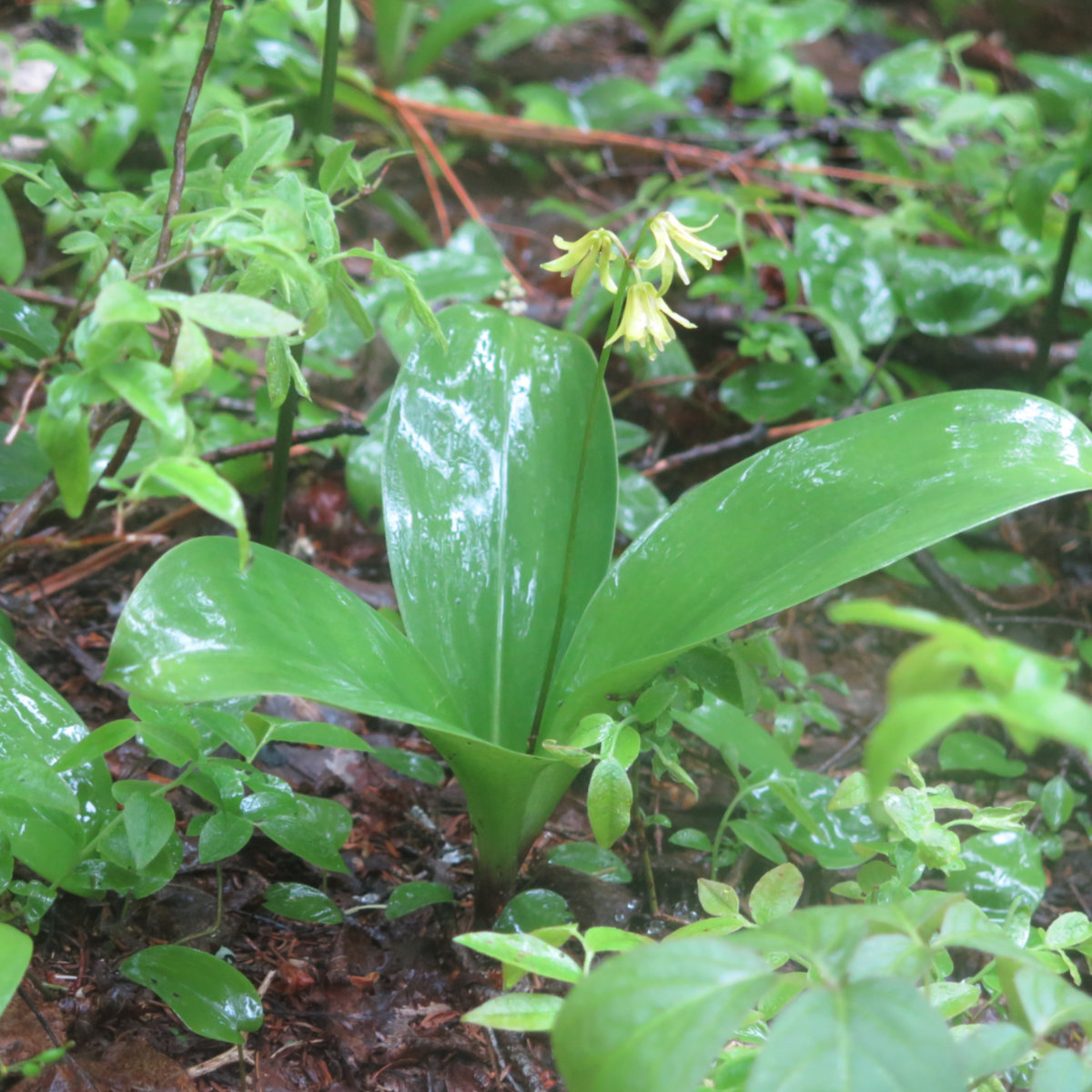 A little bit further down the trail, and I was back at the Little River. But I was going to have to ford that torrent if I was going to get home. The bugaboo was that the river was bigger. Wow, was it bigger. I wasn't going to get across by neatly stepping on stones — I noted the water level had risen about 4 inches or so, and several of the stones I'd used to cross were well and truly submerged. "If the trail is willing, and the river don't rise…" well, the river did indeed rise. It was time to make some hard decisions.
And so, with my feet having pushed through at least a dozen or so miles without any apparent ill effect from being soaked, I threw caution to the wind, picked a line, and just waded. I was in up to my knees, but footing was decent, and with my poles for balance, it was a few swift steps before I was on the other side. That being said, this kind of move is not at all without risk, so if you're facing a rain-swollen river, be ultra careful.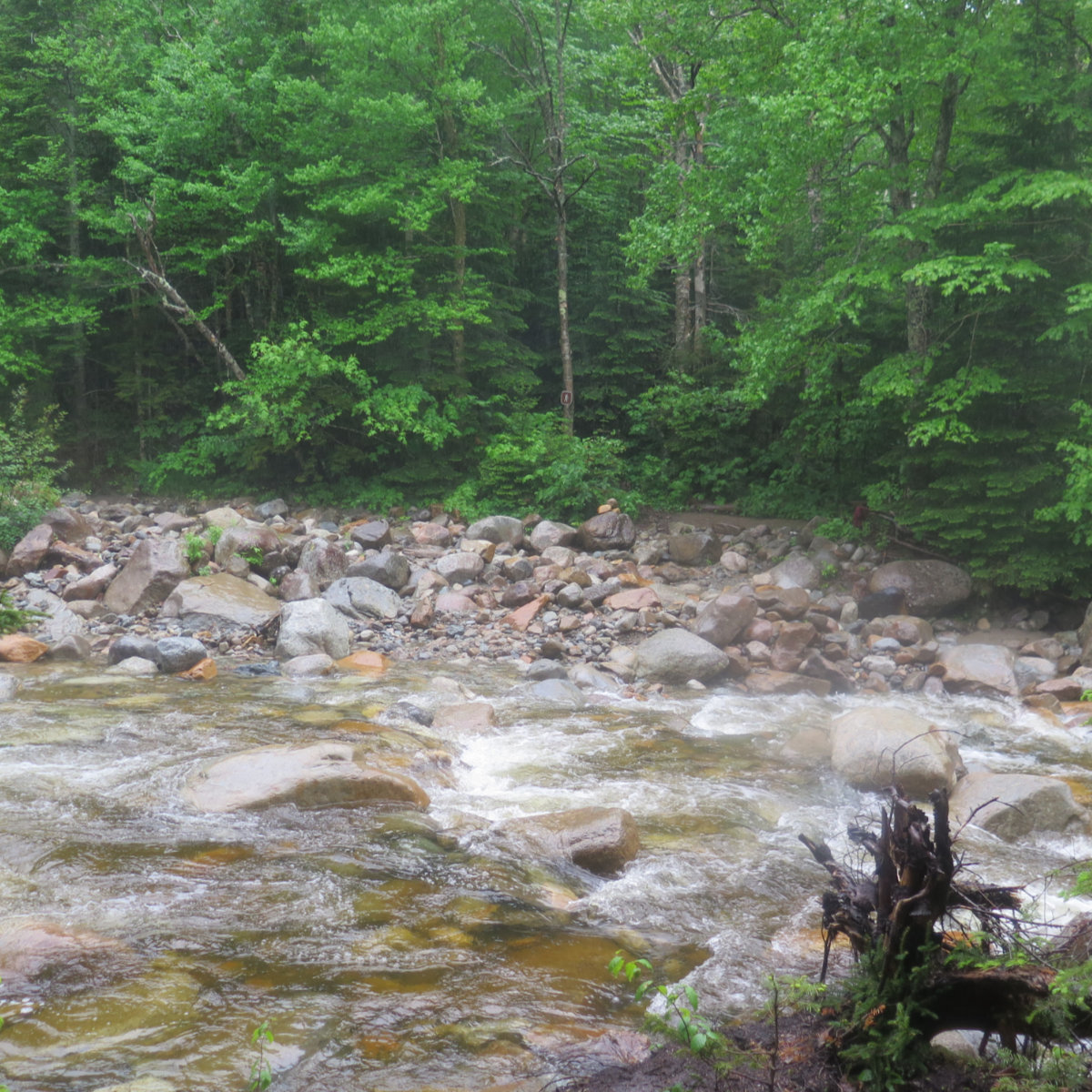 I traced my way along the east bank as I'd done before, and after that first crossing point, the trail significantly softened again. There was a lot more water on the trail, to be sure, but I was back to making fairly quick headway, which was good, because I was running out of daylight. But before long, I saw the trailhead sign, and was back on the fire road. Not long after that, and I was back at the car. A few mosquitos while I tossed things in the car, but then I was safely ensconced inside.
All in all, it was a good day out. A lack of torrential rain wouldn't have hurt, but any time my enthusiasm flagged, I reminded myself that being this wet was fine practice for hiking the Appalachian Trail — and there, I most certainly won't be able to pick and choose the weather or the mud. As they say, "no rain, no pain, no Maine."
I managed to find a flower I'd never seen before. I got another stamp in my High Huts book. And I had all the calm and serenity I could have asked for. Type II fun at its finest, and a hike that was a New England Classic if ever there was one.
At some point, I'll likely bag these peaks from the other direction, and on a day when the skies aren't cloudy and the view a bit more epic. We'll see how that works out. In the meantime, it's time to give this one a rest and plan my summertime 48 hikes.
Nuts and Bolts: The North Twin Trailhead is at the end of Fire Road #304. It's not terribly hard to find. Just off Route 3 (Daniel Webster Highway). Keep your eyes peeled once you're passing the Gale River, because the trailhead area comes up shortly thereafter. If the gate is open, there is ample parking at the trailhead for at least half a dozen cars.