Whiteface Mountain (1,565 feet), Swett Mountain (1,635 feet). Guilford, NH. 2022-05-17 (Tuesday.)
Via Whiteface Trail, Piper-Whiteface Link, Vista Trail. Approximately 6.75 miles round-trip. Approximately 1,900 feet total elevation gain.
65 dF at the trailhead, 65 dF at the summit. Blustery, with a modest wind felt in the trees. Partly cloudy to start, becoming outright cloudy later in the afternoon. Occasional brief rain showers of no real importance.
Trailhead: 1345. Whiteface summit: 1430. Piper summit: 1515. Swett Summit: 1600. Car: 1720.
Family friendly wandering with views galore.
Note: Today's hike was on Mt Whiteface in Guilford, part of the Belknap Range, below the southern border of the White Mountains. This is in marked contrast to Mt Whiteface in Wonalancet/Sandwich, part of the Sandwich Range, within the White Mountain National Forest. There is a difference of about 2,500 feet between the two summits, so it's important to keep the two separate.
I've really been enjoying myself lately. It's entirely likely this is because I've been doing some very non-challenging hikes. No stress, no strain. I'm exceeding my daily workout goal, instead of crushing it into tiny motes of dust. It's a nice change. And while the scenery isn't the endless panorama of unblemished mountain peaks as far as the eye can see, at the same time, there's been no shortage of views. Topping it all off, the violets are coming in like gangbusters, which is a lovely way to say "it's springtime in the mountains!"
There was a realization this afternoon that I do indeed miss being on Mt Washington and its neighbors, so at some point soon, to the Whites I must go. But for now, I'm enjoying sweating on the small stuff. It's a great change of pace. 
A brief note on tiny things…
Something I want to address right now, at the outset. It's tick season once again. Time to start wearing bug juice. I know a lot of people swear by DEET. There's also IR3535, and synthetic oil of lemon eucalyptus, both of which don't last as long. I prefer picaridin-based repellent; it's just as effective, and doesn't attack plastic. I think it's also a good idea to spray your clothes with permethrin as a second layer of defense. Getting Lyme disease is no fun. The mild bother of having to apply bug juice is a much easier burden to bear than Lyme. Protect yourself so you can stay outdoors.
OK, that's out of the way. And yes, for the record, I brought that up because when I got back to the car, I did indeed find a tick on my leg. If you've spent any amount of time outdoors in the warmer months, you know what kind of song and dance that was. And yes, also for the record, I did go nuts over every itch on the drive home. Good grief!
Seeing inward and outward…
So anyway, today was wonderful. Again with the mild grades and soft trails. In a bit of contrast to last week, this corner of the Belknaps felt like there were more ledges offering more expansive views. Oddly, it's not on the 52 With a View list, because at various points, I had views of Winnipesaukee, Mt Monadnock, the Uncanoonucs, Kearsarge, Ragged Mountain, and Cardigan. And most likely a few other mountains that I'm not recalling — I do get the sense that I saw much of the Monadnock-Sunapee Greenway without realizing it. 
I probably saw into the Whites, although it's also likely that some of the shorter stuff (yet taller than where I was standing) got in the way — the Belknaps aren't known for their towering heights. Indeed, the signature peaks of the Ossipee range are quite a bit taller. But that said, I probably also saw into Vermont and Maine, despite the haze. This is the kind of place that will reward a late autumn outing, when the air is cool and crisp.
Today was the day where I could just let my mind wander as I visited three peaks. Insofar as I planned on that much, there was an agenda, but aside from that, there was an easy feel to the day; almost like a wistful walk in the woods. Yes, there was a little climbing uphill. But these are gentle grades, entirely the opposite of something like Tripyramid or the Hancocks. As the day wore on, the birdsong became louder. Sublime. 
On navigating…
There's a very different feel to these trails. The formal quality of the Whites is non-existent. While you might know that Adams is cared for by the RMC, or that Passaconaway by the WODC, or Moosilauke by Dartmouth, it's only because their initials are carved onto the trail signage that's otherwise completely uniform, carved on CNC machines. There's a welcome familiarity to that sameness, but it has a feeling of rigid formality to it. (On that note, the federal government does indeed have manuals on how trails should be constructed, including all the various markings. As you can imagine, it makes for delightful bedtime reading.) 
In the Belknaps, there's much more evidence that Joe made these signs, while Bob made those, and Sally made the others. They're hand painted, for sure, and there's not a lot of formality. There's a huge sense that things got done in their way, when they got done. In the Whites, you're hard pressed to find blazes other than white, yellow, and blue. In the Belknaps, how's yellow on green? Purple? It's a different approach to trail maintenance, with the sense that hands and hearts did this.
And that leads to my thoughts on navigating those trails. I never realized how easy I had it in the Whites. Heck, even in the NH state parks, like the Monadnocks and so on. They all have a uniformity to them, and once you learn the peculiarities, it transfers from one trail to another. But the Belknaps have tossed that out the window. I'm glad for that, because it's kept me on my toes. 
Thinking forward…
Across the way are Roberts and Shaw. They've been on my to-do list for some time now. It's entirely likely I'll just stick with this area for the rest of the month… maybe dip into June even. I'd like to think the Ossipee mountains will get their hooks into me in the same way as the Belknaps. But that said, it's very likely that I'll spend the summer in the Whites again. Letting my mind wander this afternoon, I was recalling encounters with AT hikers, and that's an irresistible part of my imagination. And a to-do item still to be fulfilled. 
And thinking of the nearby scenery, maybe some more kayaking. It's been some time since I've been to Newfound, Squam, and Sunapee… and I've never paddled on Winni. So yes, the summer is coming.
As always, stay safe out there.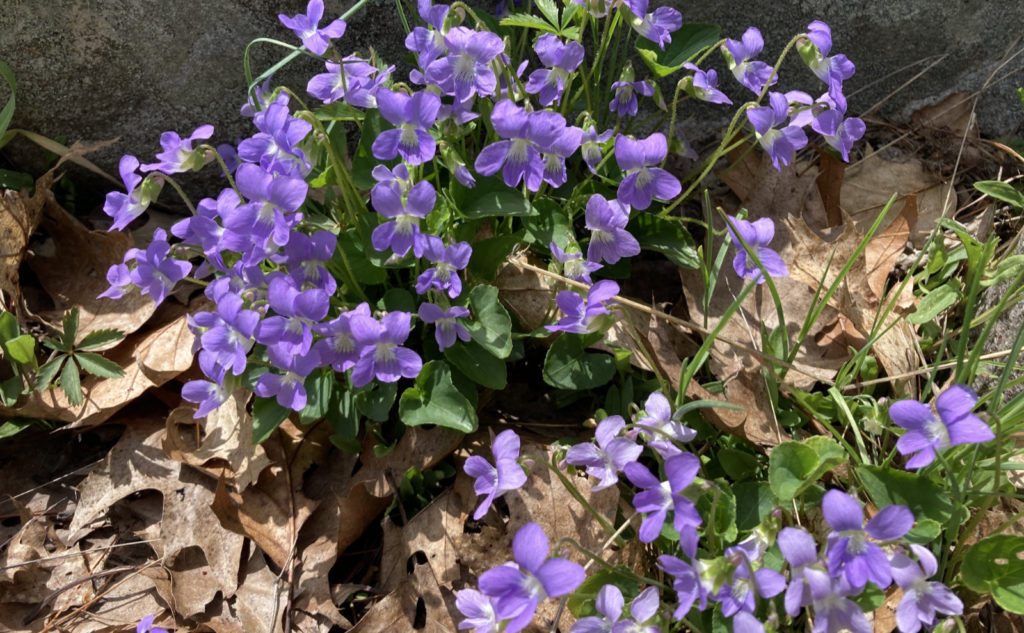 Nuts and Bolts: The trailhead is at the end of Belknap Mountain Road, accessed from NH Route 11A in Guilford. You'll be near the schools, sight lines aren't great in several places, and the road is very much residential, so drive carefully. At the end of the pavement, the road has a small turn-around, at the far end of which the road becomes Class VI. Park in the cul-de-sac and walk from there. Parking options closer to the trailhead are functionally non-existent, and besides, it's a one-minute walk.
On the left, you'll see a small, hand-made sign pointing out the hiking trail. You'll be passing through private property, with so many "No Trespassing" signs that you'll have no doubt what the neighbors think. The trail is fair game, but I'll imagine the landowners could shut down access in a hot minute, so be an ambassador for the sport. After about 100 yards, you'll come upon the trail kiosk, and from there, you're off to the races.
Trails are blazed, and for the most part, amply so. Junctions have adequate signage. There was one part where the cairns were ambiguous (it was a very broad ledge). If you're using Gaia, that'll show the way. But otherwise, if you've not found a painted blaze within 50 yards, look hard at where you think you are. Note that blazes are differently colored for the various trails, but for the most part, the changes are obvious. As I mentioned, the area has none of the uniformity and predictability of the Whites, so stay on your toes. 
The Belknap Mountains are, for the most part, "family friendly." That said, some trails are a bit more strenuous than others. Swett Mountain, while visibly lower than Piper by a long shot, has quite the scramble at one point. I found Whiteface to be a very friendly hike, and the ledges could make for quite a lunchtime outing. (I leave it as an exercise for the reader to determine if Piper has even better views.) Of course, check the map, look carefully at the contour lines, compare with hikes you've already done, and come to your own conclusions. Thankfully, on that trail, there isn't much of a surprise lurking in the contour interval, unlike a lot of trails in the Whites. (OK, most trails in the Whites.)
If you enjoy reading these posts, please subscribe — stay in the loop! Your email will only be used to alert you of new posts — typically 1-2 times per week. I will not use or share your email for any other purpose without your express permission. And feel free to share via social media using the buttons below. 
Support this blog! Visit my photography page (photos.proteanwanderer.com) and buy my work! Photos are available from hikes in New Hampshire, Vermont, and Maine, and span dozens of mountains, with subject matter ranging in size from whole mountain ranges, down to the tiniest of flowers. There's something for everyone!
Find me in the mountains, on this blog, or on Twitter: @Protean_Hiker