…Even in your backyard.
If you know me, you know what I do for a living. If you haven't met me yet, do so. But in the meantime, leave it at "I work a very high stress job." When I get out into the mountains, it's as much so I can keep on doing my job as it is anything else. Work is pretty gritty much of the time, so I seek truth and beauty where I can get it.
We've been having a spell of weather lately. After an introduction to winter that was entirely snooze-worthy, the Granite State has been making up for lost time in the snowfall department. All that said, it remains to be seen what seasonally above average daytime temps will do to the reality on the trail. But regardless, given the weirdness, I'd been thinking about hiking today, but gave it a pass. The conditions were too much in flux. It felt irrational to hit the trail. Some might say my threshold is too low. I think I'm just being respectful of the SAR teams' time and effort. Besides, the mountains will be there tomorrow, when the sun might be shining a tad more brightly. Hiking in a warm spring rain can be delightful. In a winter freezing rain? Not so much. Especially when the forecast called for spirited winds.
In any case, I'm counting my lucky stars that I did stay home. Had I gone out, I'd have missed this. A Cooper's hawk came to visit my neck of the woods. Had I not gone down to the kitchen to make some espresso, I'd have missed it. A chance look out the window saw a large black shadow swoop down in a manner very uncharacteristic of my usual crowd of feathered friends. And then, magic happened. Truth and beauty came knocking right on the window. Almost literally.
I'd been wondering why the usual bevy of songbirds hadn't been visiting the feeders lately. Now I know why. Cooper's hawks enjoy a nice meal of robins and similar birds. I'd prefer if they'd like tucking into a nice, tasty rodent instead, and leave my birds alone. But alas, I have no say in the matter. Nature will do what nature will do. My feeder has been attracting goldfinches, titmice, woodpeckers, cardinals, and even an odd wren lately. Orioles in the warmer months, with their striking plumage. Raptors? Thankfully they're not here on the regular, though they do make appearances higher up in the sky from time to time, soaring gracefully on the wind.
But while it was visiting (and hopefully, not for long) I had a good long look at this handsome fella. Quite regal, actually. Hey, there's a cornfield on the other side of those trees. Why don't you go find yourself some nice, tasty mice? I promise, you won't be disappointed.
All this is to say, make yourself open to good fortune. Surprises lurk beyond every corner. The best come when you least expect it. And know that minor inconveniences often make the best memories. My mob of songbirds will be back shortly, once the hawk realizes there's better hunting elsewhere. Similarly, at Baxter, there were loons that woke me up every morning at about 2AM with their screeching. I wouldn't give any of it for the world. Truth and beauty is everywhere.
The trail provides.
As always, stay safe out there.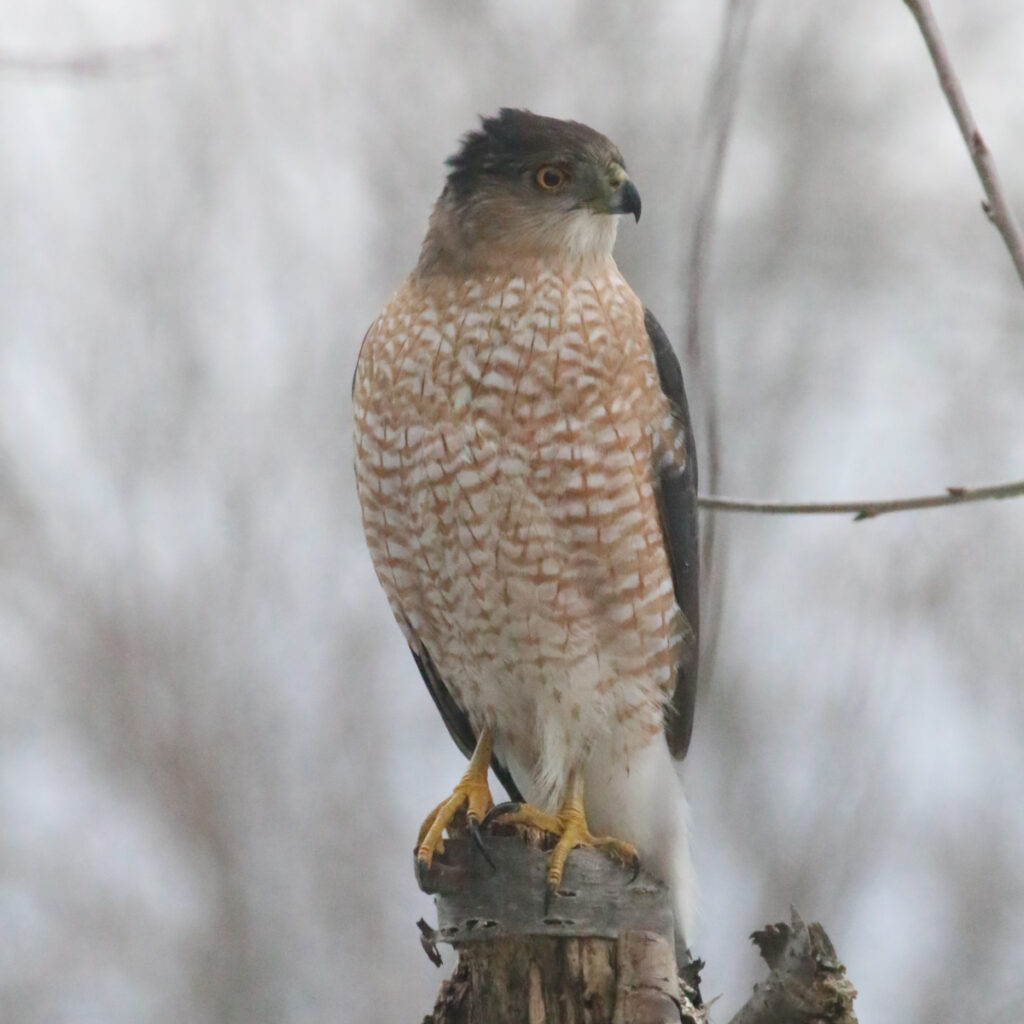 If you enjoy reading these posts, please subscribe — stay in the loop! Your email will only be used to alert you of new posts — typically 1-2 times per week. I will not use or share your email for any other purpose without your express permission. And feel free to share via social media using the buttons below. 
Find me in the mountains, on this blog, or on Twitter: @Protean_Hiker https://twitter.com/Protean_Hiker/
Additionally, for all the cool kids who sit in the back of the bus, find me on Mastodon: https://mastodonapp.boston/@Protean_Wanderer
Help support this blog! Visit www.photos.proteanwanderer.com to buy some of my signature images.