South Twin Mountain (4,902 feet). Bethlehem, NH. 2022-01-21 (Friday.)
Via Gale River Trail, Garfield Ridge Trail, Twinway. 11.2 miles round-trip.
Low single digits at the trailhead, 10 dF at the summit. 3 dF at car. Winds were non-existent in the trees, a nearly non-existent breeze at the hut, and a barely felt breeze at the summit. Unbridled sun all day, with skies becoming dark after sunset.
Trailhead: 1015. Galehead Hut: 1245. South Twin summit: 1345. Trailhead: 1630. Car: 1700. Note, budget time for a mostly flat road-walk of about 1.6 miles to get from the parking area at Rte 3 and Trudeau Road, to the trailhead, via the fire road during the winter months. Also be advised that snow machines are allowed use of the fire road.
Frozen Fingers but a hot time!
Looking back, it was almost two months to the day since I did this hike last. What snow there was back then tended to "moist" and frankly, that day was a gigantic, miles-long slushy mess, with a lot of smiling through the tears because I'll be damned if I let a trail break me. But a little further back lies the frustration of trying this one from North Twin last January; oddly, on exactly the same day! (Believe me, I didn't overtly plan it to be so.)
That said, I think I found my new favorite way to get up South Twin during any time where the river has risen. I have two months where it's reasonable to think the river will be iced-over, and two where I'll just do a Pemi loop (and thus, skipping around the matter entirely) so beyond that, I'll be hitting this route at least 2-3 more times. At least in the snowy months, the hike up the Twinway isn't hard at all, except for its steepness. As far as footing, it's quite nice, actually, if the snow covers up all the rocky bits. Which today, it had. Indeed, it was pretty darn good, if a tiny bit slow. OK, a lot bit slow. It's a rare day when I log less than a mile in something approaching an hour. The rate of rise on that trail is murderous. Outright homicidal.
Today? Two months ago?
I don't have much to say about this hike that I didn't say two months ago. Instead, I'll say a few things about the weather. And starting out, the defining characteristic is right there at the top. It was so damn cold. As I write this, I'm long since back home, and my hiking duds are in the laundry basket, with me having had a piping hot shower and a (hot) bite to eat. And in spite of all that, I'm still feeling that bone-chilling cold. Jack Frost hasn't let go at all yet. Just to be clear: Bone. Chilling. Cold.
I got a slightly later start this morning than I'd have preferred, at least on paper. Until I got to the trailhead at the end of the day, I wasn't positive I'd be back at the car without breaking out my headlamp. About a mile into the hike, I'd decided the later start was better, because in exchange for cutting it close in terms of twilight, the sun had a little extra time to warm things up before I got started. A brief stop on the Kanc on the way in showed this made an observable difference. And yet, even my prized Arctic mittens, which have never failed me, were straining to keep up.
Is there a silver lining to all that ice?
That said, I can thank the clear conditions for the frigid temps. And after last week on Carrigain, I think next time, I'll bundle up a little more if it means having an amazing view like I enjoyed today. Hoo-boy, the view was only clipped by the curve of the earth. The days when the sky is so blue… it's endless. When you turn one way and basically see the AT heading into Maine. And then the other way, you see the Long Trail in Vermont. Between the two, is that Canada out yonder? Probably. It's days like this where I see mountains off in the distance, places I went after I did my first 48, and think "it's been too long." When I think about the Long Trail and say to myself "maybe this year." (As an aside, I caught myself today, thinking about a new essay, this one for the Winter 48 list.* It's coming. Stay tuned.)
What about the trail? That was the main event, right?
Heading out, I enjoyed a wonderfully tramped-down trail. I was actually a bit surprised it was so good. Making excellent headway along the first couple miles, and even after things started to pitch upward, I really didn't slow down that much. I made it onto Garfield Ridge Trail, and got a brief reprieve from the steeps. And then things went upward again until I was at the hut. Stepping out from the trees, I was greeted by the most fantastic view of the western side of the Pemigewasset Wilderness. The sun had come around, and was casting the kinds of shadows across Franconia Ridge that made all the details pop out. Nice.
I didn't hang around much, but turned to the main course. There was that brief sag heading up South Twin, but that really doesn't do much except compact the distance of the climb. I was comparing this with some of the other insane climbs, like Wildcat E, Beaver Brook Trail (on Mt Moosilauke) or Flume Slide Trail. On South Twin, you go up about 1200 feet in 3/4 of a mile. That's the textbook definition of pain right there. It was absolutely my slowest mile, for sure, with the obvious exception of Mahoosuc Notch. (Some may argue, but I think that was one of my most fun miles of trail.)
Hello Sunshine!
There's a weird thing about the summit. It feels like you're in the trees, almost there, and then, all of a sudden, you go from trees to expansive view. And that's exactly what happened. I popped out of the trees, and saw everything I wanted, from here to the curve of the earth, all around. I saw Carrigain. Old Speck. Mansfield… and something north of 20 of the 4,000 footers. (Frankly, I lost count.) It was amazing, and humbling, all at the same time.
I headed back down, and at the hut, sat on the benches for a short spell, gathering some thoughts. It was a good bookend to what is at once the hardest part of the hike, but also the most scenic. I'm not sure how many people realize that South Twin misses being a five-thousand footer by less than 100 feet. It's a great vantage point, where you can see so many things. And having a "near 5,000 footer" in just that spot only serves to maximize the view.
This was one of those days. I could have easily punted this into tomorrow, and perhaps had slightly warmer weather. But that would have probably come at the cost of some of the view, mountain weather being what it is. Yes, that part of the trip was unpleasant. But there it is. I had a magnificent outing, at the cost of a bit of comfort. I'll take it.
As always, stay safe out there.
*Regarding the 48 In Four Seasons list, which the eagle-eyed will note, I might be eligible for: I still have to (formally) maintain some trails. I will always advocate everyone doing what little bits of trail maintenance are needed "in the moment" as one happens upon them. But for the committee, there are formal requirements. For those who chafe at "arbitrary" requirements, remember that the 48 list in its earliest incarnations was dreamed up as "the game" by Miriam Underhill. So yeah, "it's only a game." Take a deep breath, and don't forget why we do these things.
Nuts and Bolts: Head up 93, and get off at Exit 35. Drive around route 3 as if you're headed to Twin Mountain. When you see a trailhead sign on the right, followed by a bridge crossing the Gale River, slow down. Your next left will be Trudeau Road, and there will be a sign for the Town of Bethlehem's various services. Assuming the gate is closed, which is typical for the snowy months, park.
There is a small parking area at the corner with Trudeau Road (on the north side of the road). Leave your car there, cross the road, and walk more than a mile and a half down the fire road. Note that about a quarter mile down, there's a split that heads downward to the right. Stay left. About a mile and a half down, you'll see another split, going hard right. (There's a hiker sign with an arrow pointing to the right.) Follow it, and shortly thereafter, you'll cross a bridge over the Gale River. Just past that is the trailhead. If you're lucky and the gate isn't closed, there's a parking area just beyond the kiosk.
Trailhead will be behind the kiosk. Blazes are blue until you hit the junction with the Garfield Ridge Trail, which is the Appalachian Trail. At that point, until the hut, blazes are white as they normally are on the AT. Entrance to the Twinway is pretty obvious, and the blazes remain white.
Should you decide to bag Galehead, the Frost trail, logically, should be blue, but there isn't much need for blazes on that trail. Just make sure you don't go down Twin Brook Trail and you're sure to hit the summit in short order. (Seriously, one trail goes up, and the other goes down. Both do so rapidly and unquestioningly, so if you're not going in the right direction in the first few minutes, now's the time to check your math.)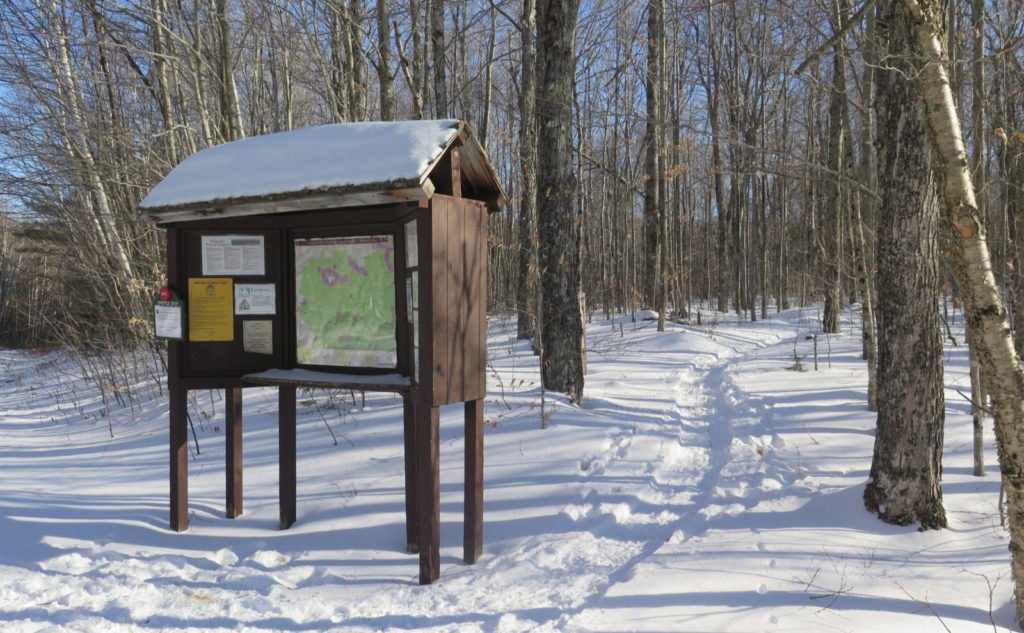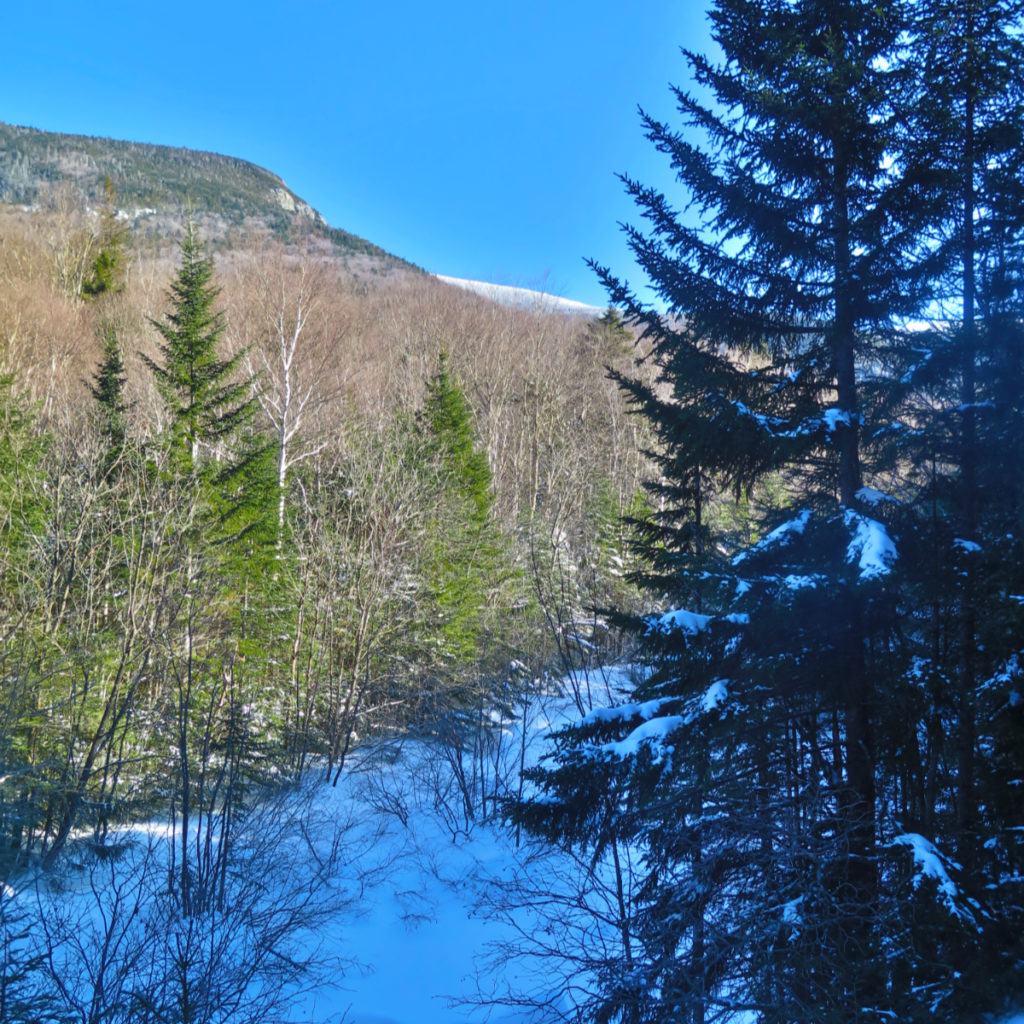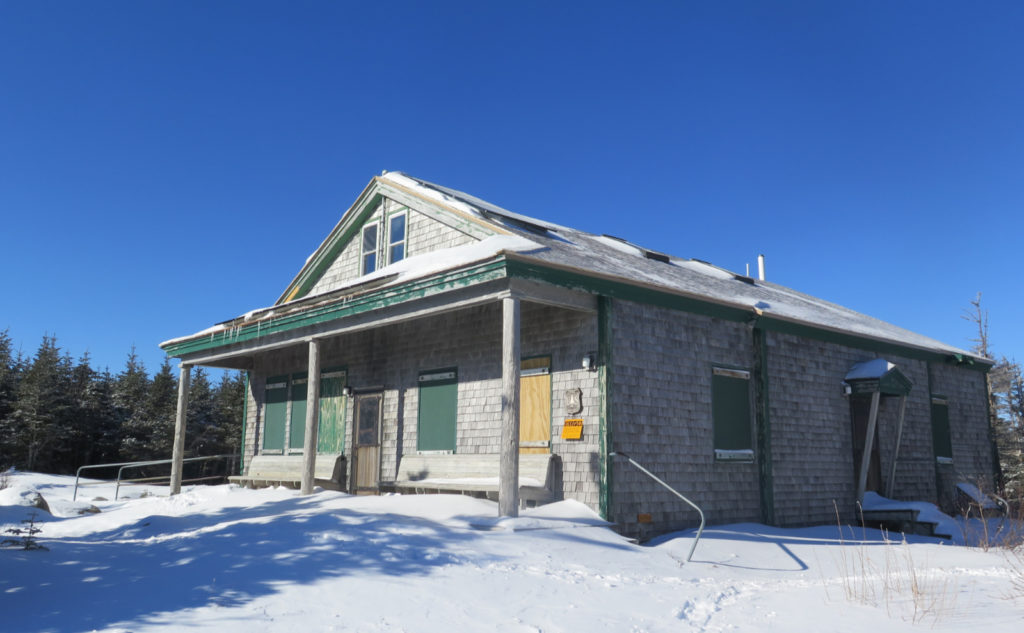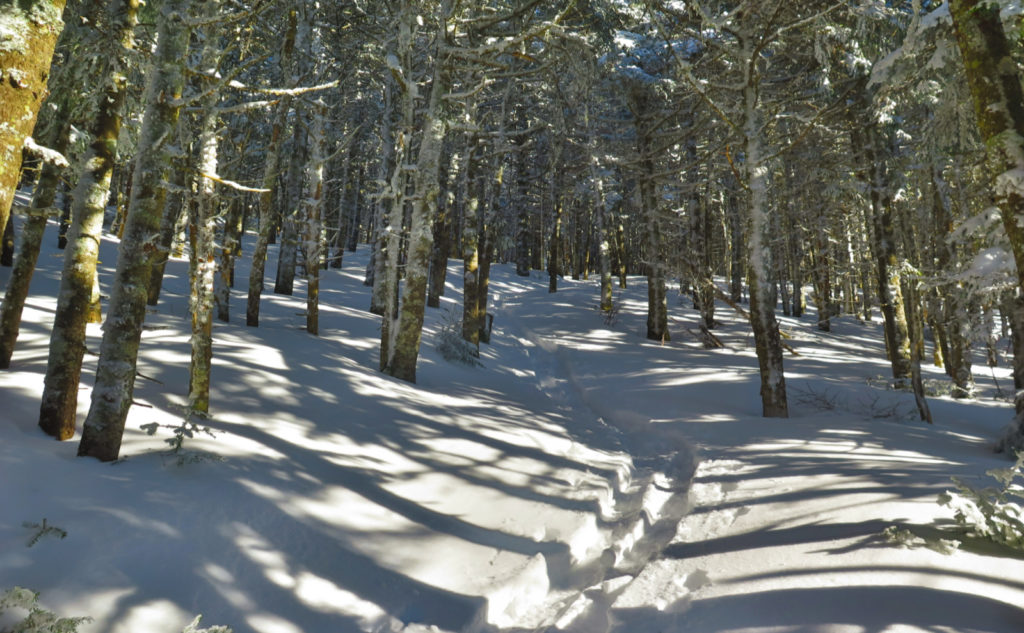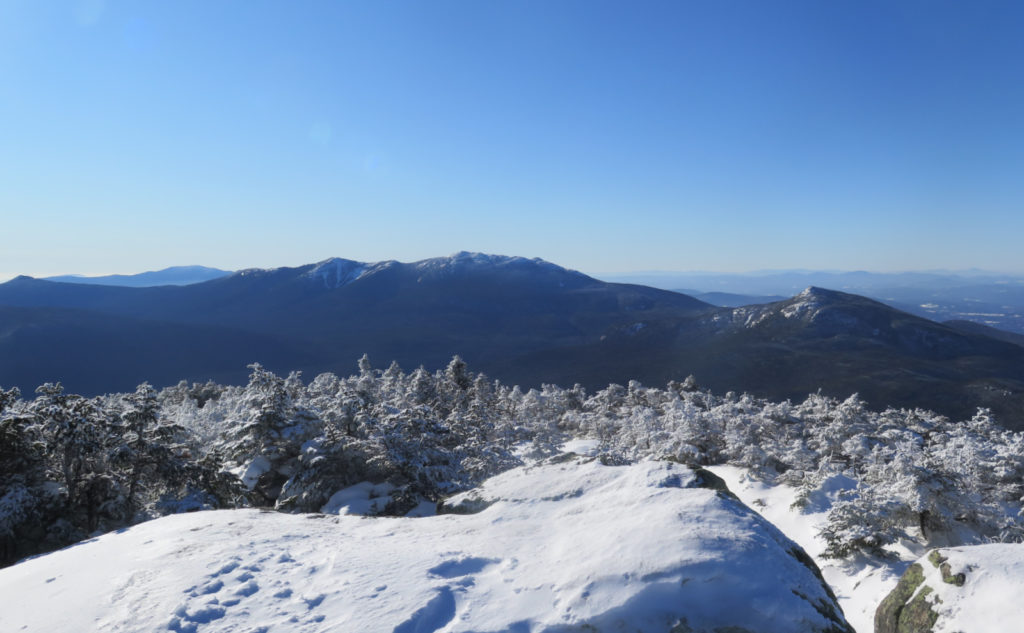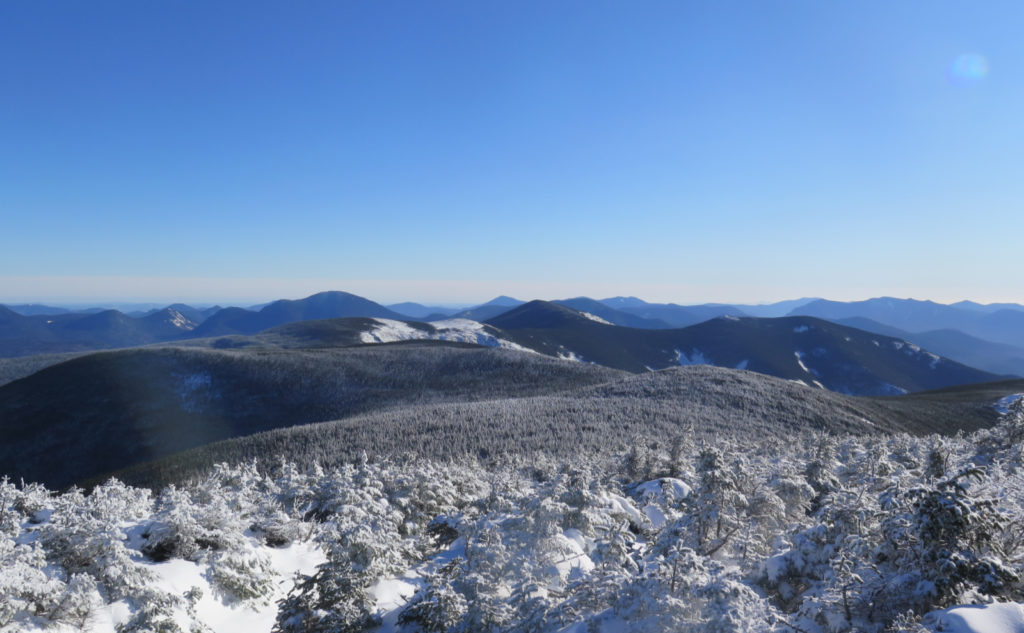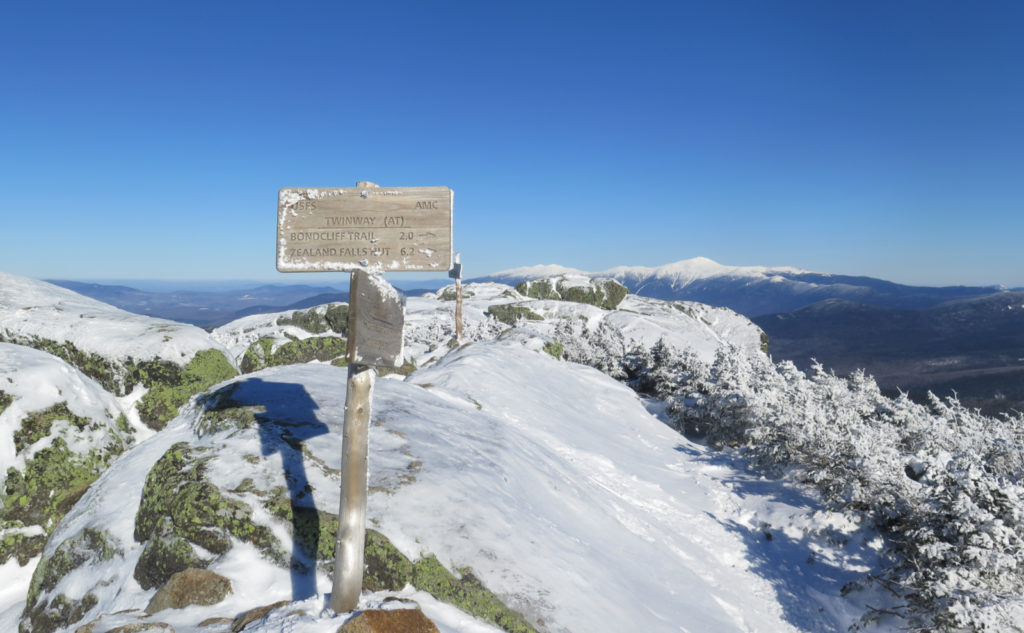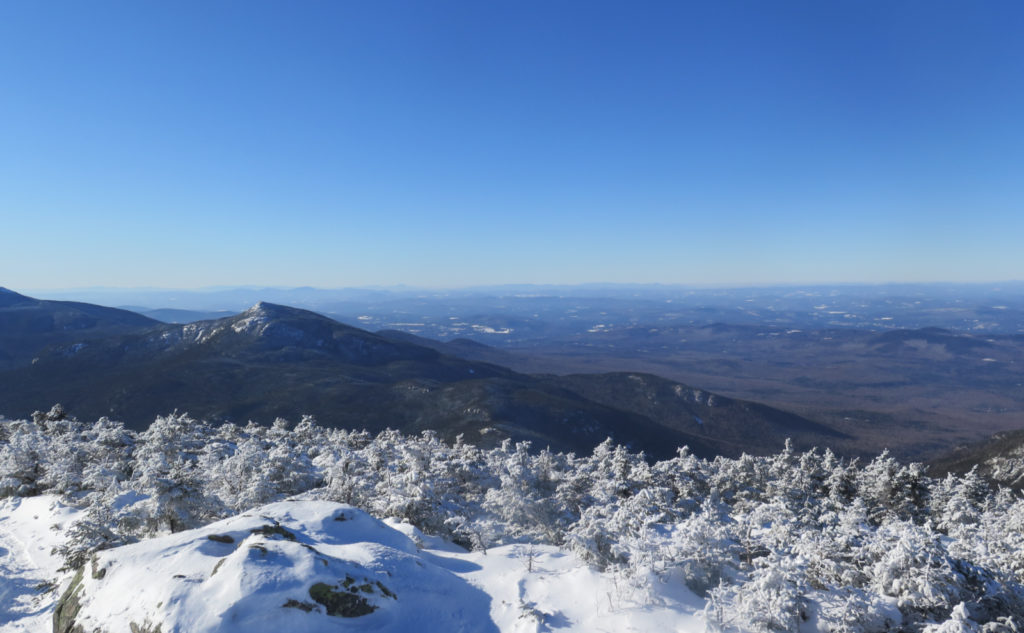 If you enjoy reading these posts, please subscribe — stay in the loop! Your email will only be used to alert you of new posts — typically 1-2 times per week. I will not use or share your email for any other purpose without your express permission. And feel free to share via social media using the buttons below.
Find me in the mountains, on this blog, or on Twitter: @Protean_Hiker