Mt Carrigain  (4,700 feet). Livermore, NH. 2022-01-13 (Thursday.)
Via Signal Ridge Trail. 10 miles round-trip; additional 4 miles road walk. From route 302, approximately 3,300 feet of elevation gain.
23 dF at the trailhead, 29 dF back at the car. (Oddly, it was 35 degrees in Bethlehem on the drive back, but by the south side of Franconia Notch, the mercury had plummeted back down to 29, before rising back into the low 30s by Thornton-Campton.) Winds were negligible for the most part, but were a felt breeze at the summit. Cloudy throughout; ceiling was around 3,500 feet on the way up, rising to nearly 5,000 feet by the time I was back on Signal Ridge, and going a fair bit higher as I descended.
Parking at 302/Sawyer River Road: 1000. Trailhead: 1100. Summit: 1400. Car: 1700. Note: in winter months, budget an additional 2 miles each direction due to the gate being closed. Sawyer River Road runs uphill from route 302 to the trailhead, and is open for snow machine use.
Is Signal Ridge a desert?
There was a point where I was thinking about Humphrey Bogart. Funny how things pop into your head sometimes. In this case, it made more sense than you'd think. One wouldn't think of a desert while trudging through a snowy landscape, especially in New England, which isn't nearly as wet as Seattle, but it certainly isn't as dry as Morocco. I like to think we've got all four seasons, all on vigorous display at times while mainly keeping things to Goldilocks levels.
Views? That can be a different question. We get all four seasons, and spread across enough days, you notice that we get cloudy days and sunny days in roughly equal measure. Somehow, I typically seem to be on Carrigain whenever the views are shortest. I can think of several other peaks where, even on cloudy days, I've seen for miles, but on this one, I seem to have a bit of a drought. 
Reflection before action
As I was having my coffee before leaving the house, I reflected. I was eight peaks away from having my fourth round of the 4,000 footers list, and completing my first winter round. According to my spreadsheet of doom, not long after I finish winter (which should be by the end of February) I'm already about halfway into my fifth round of the list.
The side note to all this is that it all underscores the lingering frustration that I lost an entire season (plus a bit) by breaking my ankle a couple years ago. Watch those sports injuries, folks. Stay safe out there — it's what keeps you outside, enjoying the things that matter in life. 
I have to admit: my enthusiasm before I left the house was cooled a touch by the impending road walk. Two miles, uphill, in the snow. True, I was shod, but there could conceivably have been bears. All joking aside though, I did indeed enjoy it in the end. I got to the trailhead sooner than I expected, and that uphill isn't a terrible grade. With the brook nearby providing some company, along with an open forest and things to look at all around, the miles melted quickly. It definitely didn't hurt that someone drove a snow machine up there within the past few days. And so it was that I got to the trailhead in a good mood. 
Not much additional snow, but just enough
That said, Signal Ridge trail wasn't all peaches and cream. I'd read a few of the more recent trail reports on New England Trail Conditions, and all signs were pointing to a good day. I'd left my snowshoes in the car, having read most people used Micro Spikes with good effect. Lightweight crampons would make for easier travel. Of course, winter conditions are a tremendous variable. 
Since those reports, some new snow had fallen, and everything is quite a bit less than consolidated at the moment. Footing was fine in the lower stretches, where it's a flat approach across old railway beds. I made great time across those opening couple miles. But after about 3,000 feet of elevation, I was of the opinion that snowshoes would have made traction much better.
I'd chosen my Hillsound lightweight crampons, and I'm starting to think there's very specific use-cases for them. If the snow is dense, the smaller teeth can get an outsized grip. But if it's not, then they're not your first choice. All day, I was wishing I'd strapped my snowshoes to my pack. Note to self… 
Time for some fun!
I got to the water crossing, and the fun began. I don't know why, but I seem to always forget that the uphill portion of this mountain doesn't really let up at all, or at least not until Signal Ridge, when it's a brief pause before the final push… that's all of a few dozen yards away. And you're already about ninety percent of the way there, so your first real opportunity to get a breather is when you're sitting on the summit.
There aren't great viewpoints along the trail. Some mountains have a few here and there — going up Tecumseh, there's a couple places where the trail gets close enough to the ski trails that you can pop out here and there and have a nice vista. Whiteface has its blueberry ledges. Despite its height, if it weren't for the tower, Carrigain's tree-covered summit would be devoid of almost any kind of view. 
That said, here and there, the trees were thin enough as I ascended to offer a window outward. And I began noticing that I'd soon be in the clouds. People talk about the magnificent views of the Presidential Range from the summit. If I'd never been on the summit on a nice day, I'd say those people were misinformed. For some unfathomable reason, my luck never seems to last on this mountain. 
Across the ridge, up to the summit
Sure enough, as I bounded across the ridge, home of one of the best outlooks in the Whites, I was inside the ping pong ball yet again. I've spied this very mountain from so many places in the Whites. I should have been able to see so many peaks surrounding me. There should have been cake. That's hiking in New England.
I met up with some hikers at the summit, and we shared some thoughts about the lack of view. But then, magic. A pair of feathered friends flew in, and we spent some time feeding nuts and raisins to grey jays. As many times as I do this, it's always a treat. Sometimes the best views are the ones within arms reach. 
Heading down, I crossed Signal Ridge again, and… well, I wouldn't call it luck, per se, but there was a small break in the clouds. Wisps were blowing across the view, but for a brief moment, I could see the tower on the summit. Around me, the ceiling was lifting. I still couldn't see out to any real distance, but at least it wasn't so claustrophobic. It was a moment. Fleeting, but real. Keeping with the theme, I was back on the road walk, and for a moment, the moon was my companion, before being swallowed up by the clouds.
Sometimes, the only views are the ones within arms reach.
As always, stay safe out there.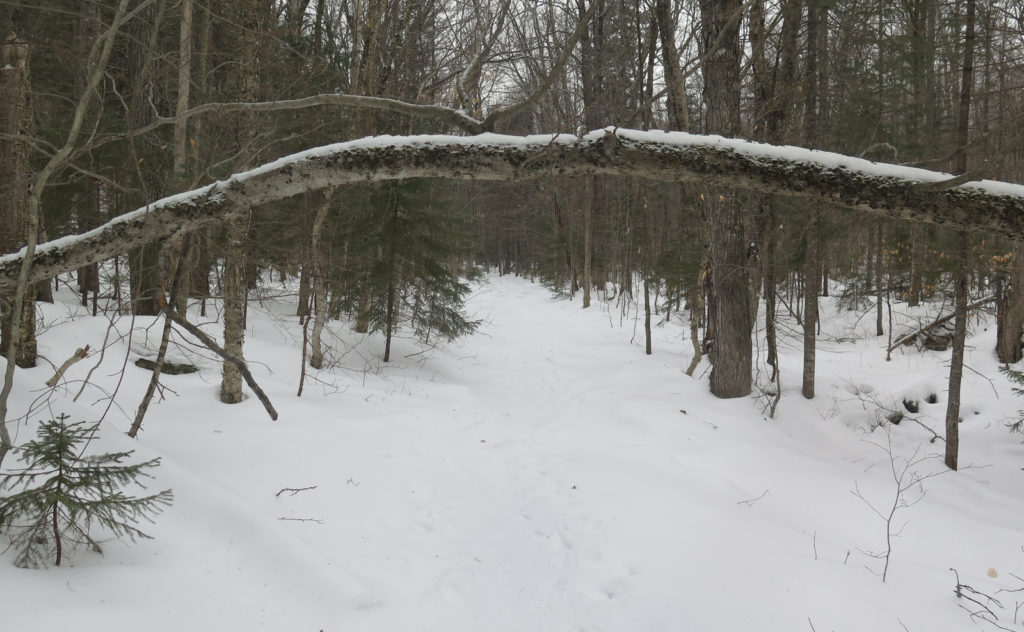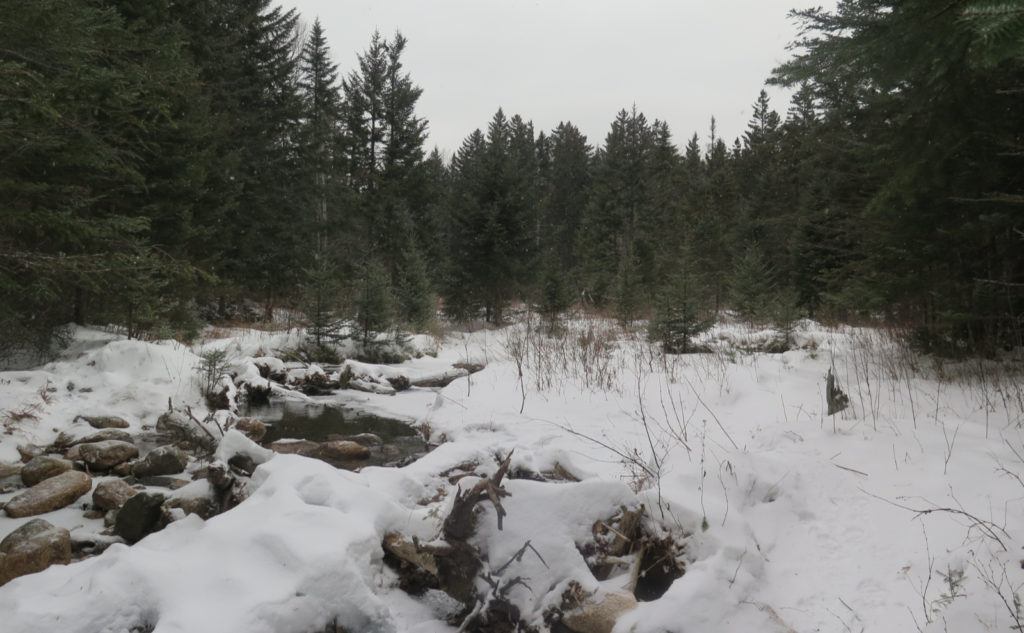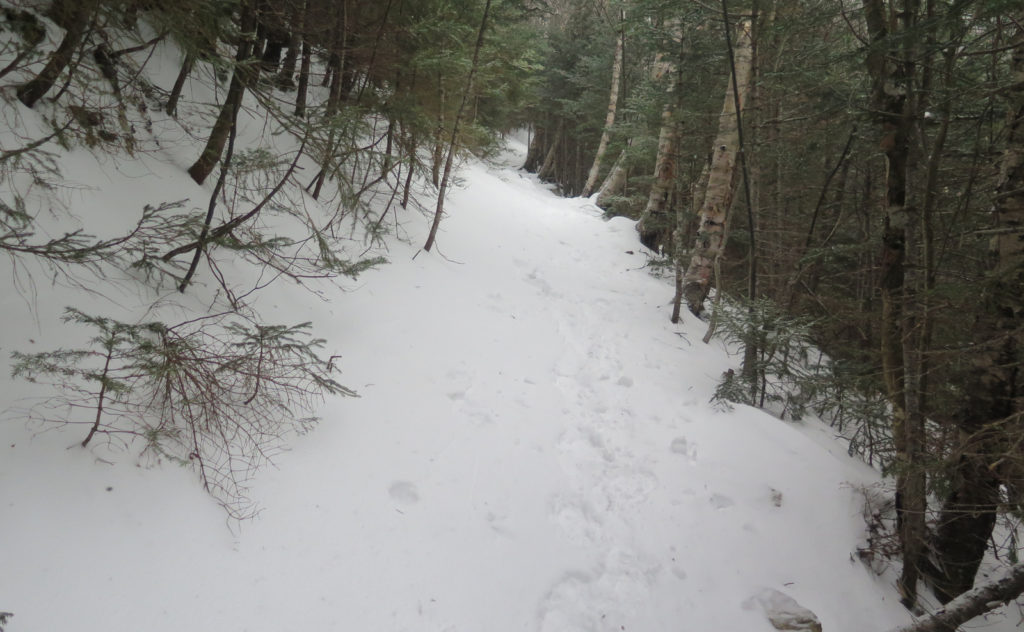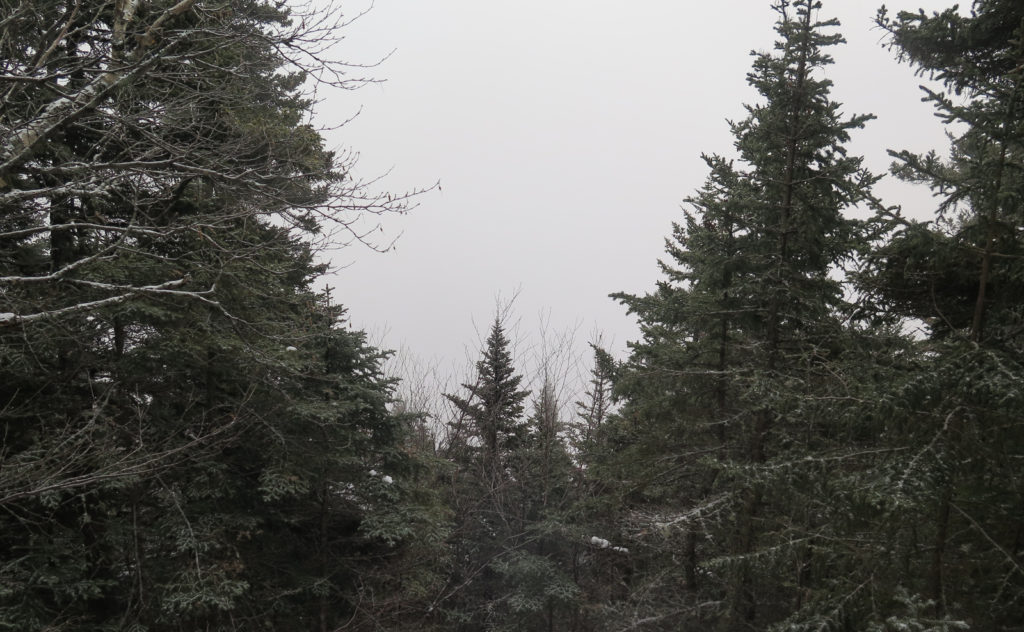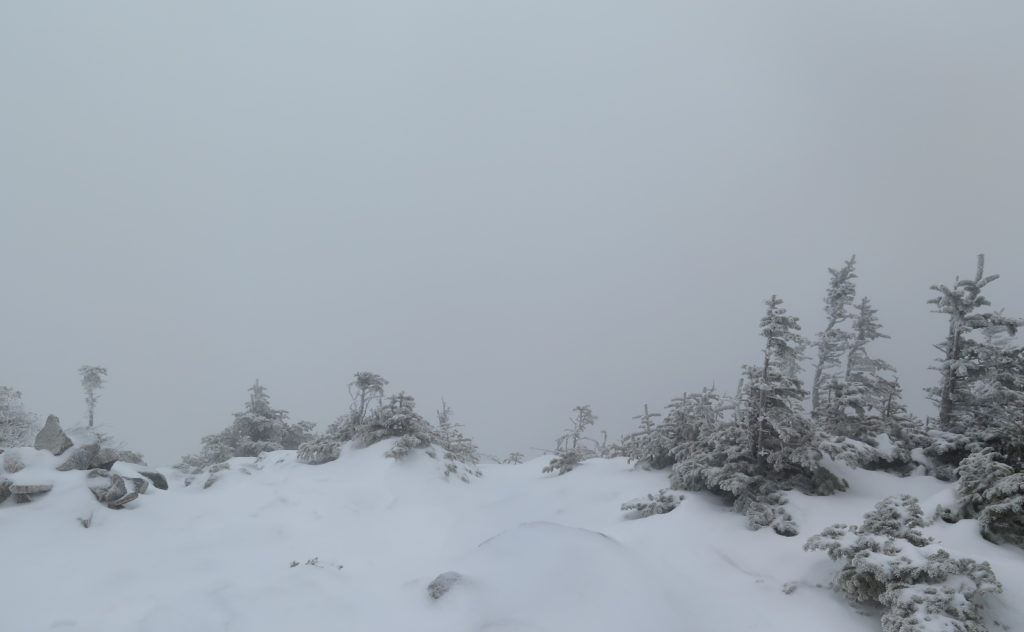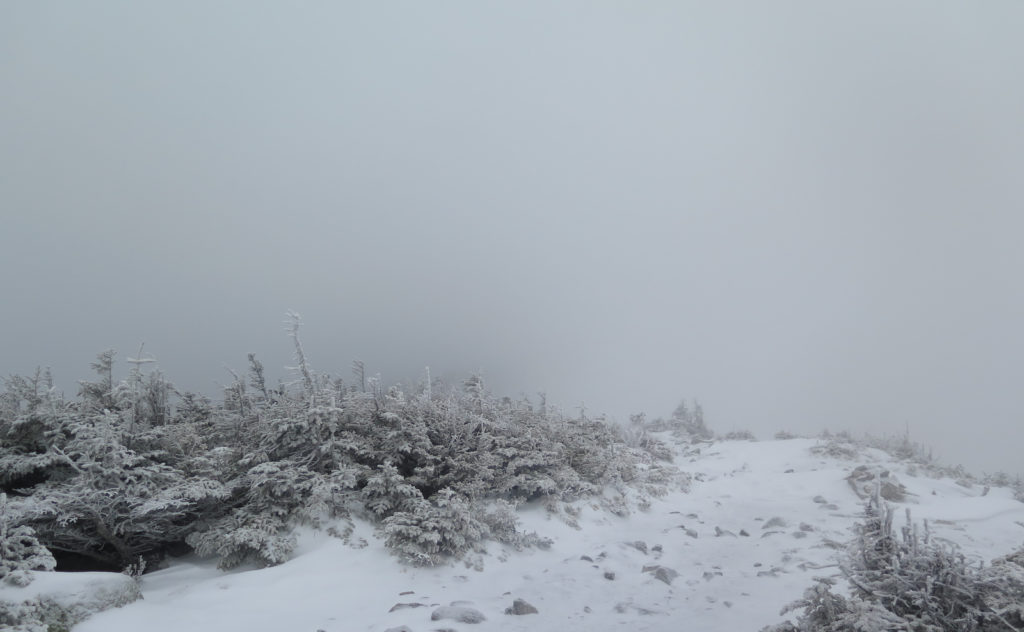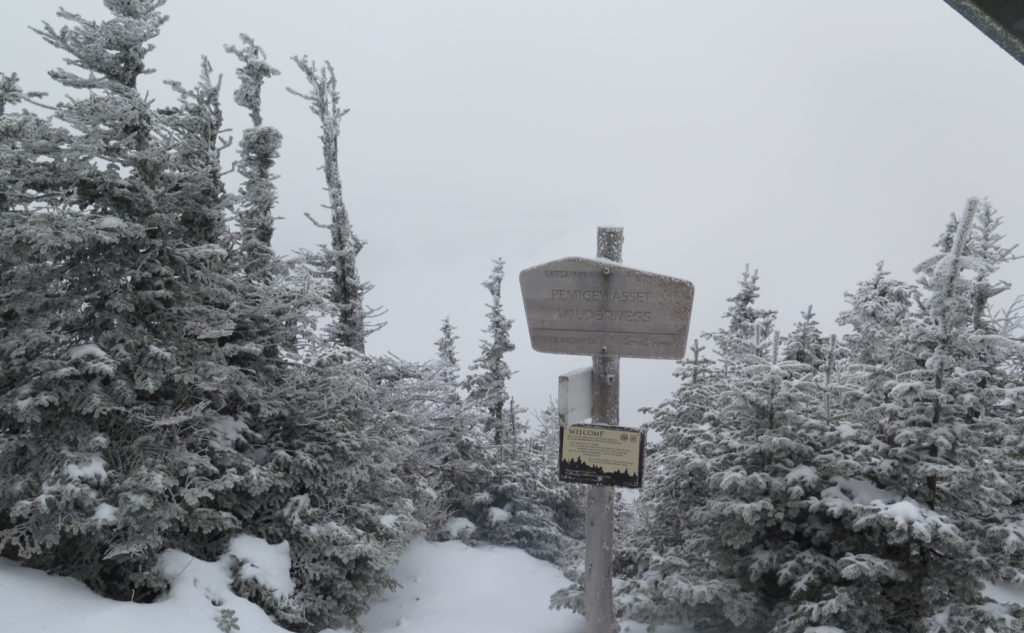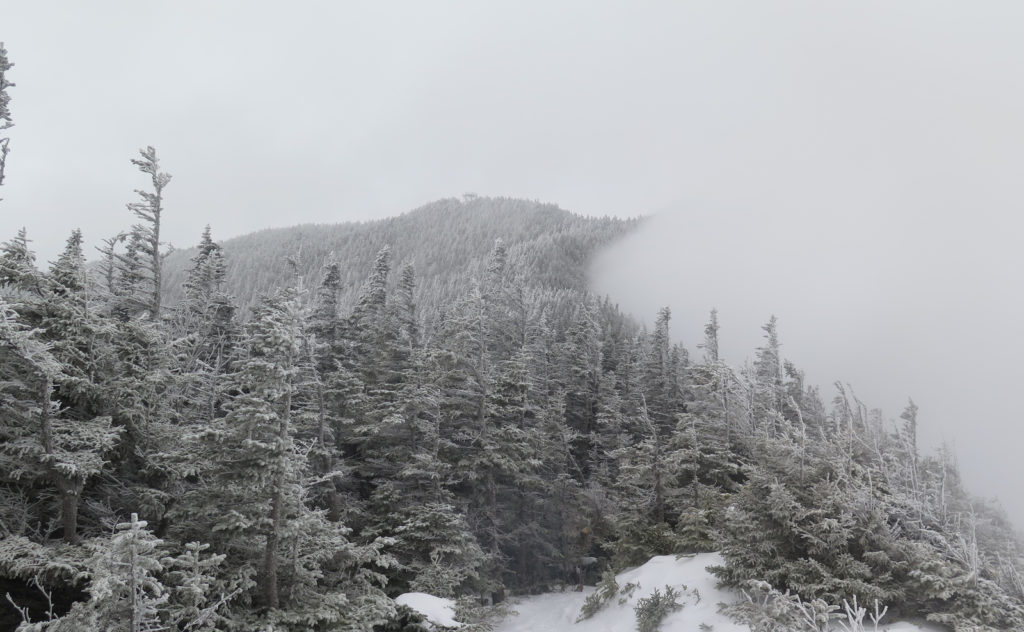 Nuts and Bolts: Drive up 93 to Twin Mountain, and continue on to the junction with route 302. Turn right, as if you were heading to the Cog Railway. Continue past, and about 10 miles or so beyond the AMC Highland Center, keep your eyes peeled. You'll pass the Notchland Inn on the right, and a little over a minute or so later, a large-ish brown sign on the right, with a large "P" (parking) marks Sawyer River Road. In winter, the gate is closed, so park in a small lot that's a couple dozen yards beyond.
Note that there is a trailhead kiosk in this small lot, and beyond lies what looks like a trail. That trail will take "the low road" alongside the Sawyer River, but while it's currently tramped down, it does meander much more than the road, and there's no shortage of fallen trees to navigate. I'd give it a whirl only if you have plenty of daylight, and are familiar with backcountry navigation. Everyone else, I recommend just walking up Sawyer River Road. As of this writing, some snow machines had made a nicely packed down footpath.
If you enjoy reading these posts, please subscribe — stay in the loop! Your email will only be used to alert you of new posts — typically 1-2 times per week. I will not use or share your email for any other purpose without your express permission. And feel free to share via social media using the buttons below.
Find me in the mountains, on this blog, or on Twitter: @Protean_Hiker https://twitter.com/Protean_Hiker/