Mt Tripyramid: North (4,180 feet) and Middle (4,140 feet). Waterville Valley, NH. 2023-05-08 (Monday.)
Via Pine Bend Brook Trail, Mt Tripyramid Trail. 9.6 miles round-trip. 3,400 feet elevation gain.
Low 60s dF at the trailhead. High 50s at the summits. Winds were negligible in the lower elevations, a felt and slightly uncomfortable breeze approaching the summits and in the col. Sunny to start, with a haze that thickened up by the end of the day, not quite becoming cloudy.
Trailhead: 1245. North Summit: 1530. Middle Summit: 1615. Car: 1945. Approx 7 hours.
Sometimes enigmatic, sometimes sublime, always real.
It's been a few days of mild chaos since I hiked this, so I'm writing down my memories of the day. And as usually happens when I put off the trip report, things get glossed over when they might have been more acute in the hours after. There were aches and pains, because this is still Tripyramid, not Welch-Dickey. But the distance of time offers a perspective that things weren't as bad as they felt in the moment. The last mile on that mountain is steep and strenuous, except in those places where it isn't. 
What did define the day was the quickly crumbling monorail, found above about 3,000 feet, all the way up to the ridge between Scaur Peak and North Tripyramid. An hour hiking that solitary mile? Annoying, but that was the reality. It was just springtime crummy footing, without anything to be done about it except suffer it with a smile. 
Promise of the upcoming
Getting out of the car and feeling the sun in wild abundance is always a treat. Seeing the early buds on the trees, the anticipation unfolding above stood in stark counterpoint to all the dead leaves on the trail below. Set against the azure sky, the air was heady with the aroma of promise. Those first couple of miles, striding across the lower, flatter part of the mountain gave a sneak preview of the coming summer. Hey, it's not too early — as I write this, we're less than six weeks away!
The trail pitches sharply upward in that last mile to the ridge. Mercifully, it's just about a single mile, and then you get a fairly long breather before making the last push to the summit. That said, the climb will extract its pound of flesh, even if it's not terribly technical. On the ridge, the rest, and this bit always gets me. There are tantalizing glimpses north where through the trees, you can spy a sliver of Mt Washington, but few points where you can actually get a good look. Such is life. 
Après la montée, le reflet
The summits were their usual selves. This day, the rocks were bare even if the areas around weren't. But again with the promise of the approaching summer. My crystal ball has been in the shop for awhile now, so I can't say with any real authority, but I suspect the micro spikes will get packed away for good by June, the way things seem to be going. One thing for sure, if the trilliums and violets I saw down below are any indication, winter's grip upon the land hath no further lease for at least a few more months.
Back at the car, time to pack away gear and hit the road. But on the way, between Kancamagus Pass and the Pemigewasset Outlook, I saw a very large, rugged member of the deer family merrily cropping grass by the side of the road. Every time I see a moose, I obviously think of Boris and Natasha (though to be true, I didn't spy a flying squirrel this day) and I always look at them as the creature that was pieced together using stuff found in the bottom of the spare-parts bin. When you see a whippet, everything about it is all sleek lines that fit together. A bunny has a similarly unified appearance. A moose looks like… oh, why not glue this onto that just because.
And with that, I headed back home, not the least thrilled to have a little daylight left, but also a fine afternoon on which to ruminate for awhile.
As always, stay safe out there.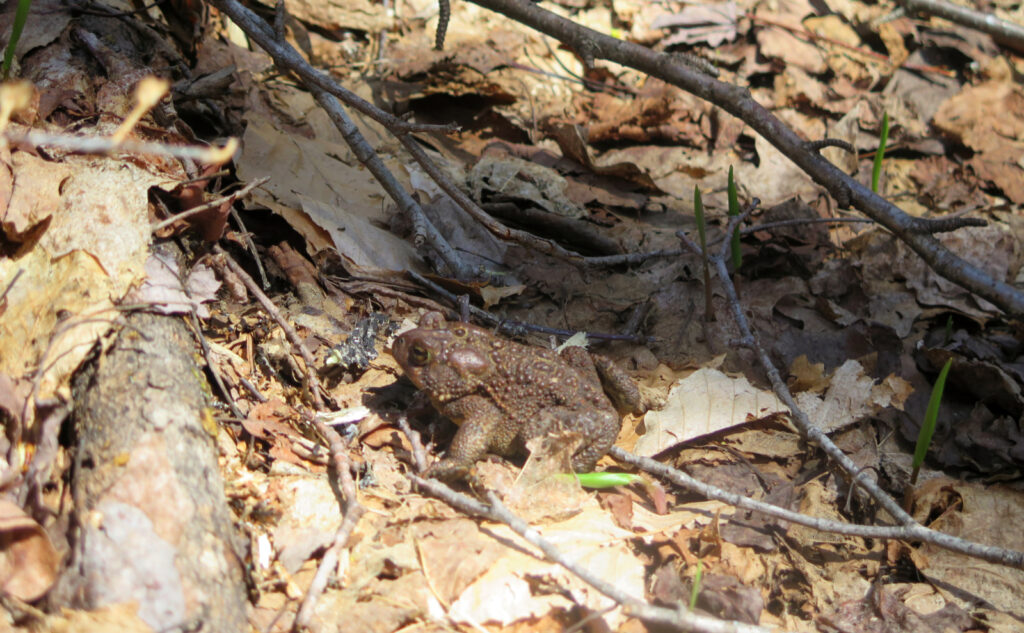 Nuts and Bolts: Find the trailhead about a mile west of Sabaday Brook picnic area, and about 15 miles out of Lincoln. Once you're at the hairpin turn, it's about 5-7 minutes drive-time, depending. Park alongside the road. Be aware that the shoulder is wide enough to park on, but it drops off fast. In wintertime, this trailhead isn't ploughed, so if your plans include hiking the trail from bottom to top, you'll need to park at the picnic area and road-walk the mile or so to the trailhead. Last I was here in winter, the snowbank was the size of a delivery truck, and just a thin sliver of the sign was visible.
Blazes are yellow. For much of the hike, you'll be in the Sandwich Range Wilderness area. Don't expect abundant blazes, as you'd expect on the AT, or some other trade route — they're pretty thin in number, but oddly, if I needed one, usually they were there. Route finding isn't hard, but it's not the most improved trail you'll ever see.
Note: More than a few bits of trail are soggy, and follow natural drainages. If mud is your mortal enemy, this is not your trail right now. There is mud, there is more mud, and there is even more mud than that, and it'll likely persist into June before things start drying out. If you're the intrepid sort who has banger Gore-Tex boots, please try to stick to harder surfaces when possible, and just gun straight through it if the other option is widening the trail (and hence, causing more erosion.) 
If you enjoy reading these posts, please subscribe — stay in the loop! Your email will only be used to alert you of new posts — typically 1-2 times per week. I will not use or share your email for any other purpose without your express permission. And feel free to share via social media using the buttons below. 
Find me in the mountains, on this blog, or on Twitter: @Protean_Hiker https://twitter.com/Protean_Hiker/
Help support this blog! Visit www.photos.proteanwanderer.com to buy some of my signature images.