Mt Moosilauke (4,802 feet). Benton, NH. 2023-05-02 (Tuesday.)
Via Glencliff Trail and Carriage Road. 7.8 miles round-trip, 3,300 feet elevation gain.
48 dF at the trailhead, "damn, it's cold" at the summit. Winds were negligible in the trees, about 30 MPH at the summit with frozen snow daggers flying everywhere, aiming straight for my face regardless of whether I was facing into the wind or away from it. (I swear, this actually happened. Those buggers were homicidal!) Dry to start out with, although it was plain from miles away that the summit was socked-in. Precipitation that went from wet to frozen as altitude increased.
Trailhead: 1310. Summit: 1600. Car: 1840.
A Test of Snow and Flowers.
This was a long outing. Not in terms of hours, but in terms of conditions. I'm not sure I was being serious with myself, but a couple times, I found myself asking what the heck I thought I was doing, and was it an idea to turn around? It was a wee bit blustery at the top, and that didn't make things fun up there. I hesitate to call this booking mileage, so maybe it was Type II fun. That seems to make more sense.
Starting out, things were very straight forward. The conditions were dry, even if the clouds were a bit low and possibly hinting. I made quick work of the first 3,500 feet, at which point I donned my micro spikes. The monorail was surprisingly solid, given the five inches of rain we got in the last two weeks — that lasted all the way to the summit, which was nice. A couple hundred feet before that, I had to navigate around a blown-down tree that fell lengthwise up the trail, but that was it. There are a surprising amount of blow-downs, but what makes them notable is that all but that one were out of the way. Either high up, or a quick walk-around, or a jump-over or that sort.
As I mentioned, the monorail was nice and firm, with a soft topmost layer that gave good traction. I think I postholed exactly once, near the summit, but that was as "lousy" as the trail got in terms of snow. That said, the mountain is shedding a ton of water every second, and there were about a dozen feet of trail in a couple sections where a drainage ran smack down the middle of the footpath. Oh goody. 
Never underestimate the ability for things to get weird.
Up top, once I was above treeline, things got very spirited. Once I hit 4,000 feet or so, the monorail turned to outright snow everywhere, and the rain which had been falling turned to undeniable snowflakes that were flying everywhere. Crossing the ridge at about 4,500 feet, where the trees are short (not quite krumholz) the wind was present, even if I was shielded from the worst of it.
And then, I was out of the trees, facing the worst of the wind's lash. The snow was wet, plentiful, and painful on the face at 30 MPH. It's not entirely freezing up there, but I could see the falling snow was actually accumulating on the ground. Every molecule of my body was questioning my life's decisions. Visibility was awful… I mean, just another idle Tuesday afternoon on the AT in the Whites, right? Mayday was just yesterday… isn't it springtime now?
There were some slushy steps here and there, reminding me that springtime in the mountains has wildly varying definitions that don't always square with the daffodils down below. The one saving grace was that the footing was never sketchy, even if everything else was. The fog was such that when I finally saw the summit sign, I was a bit surprised it came so soon. Really, there was nothing to tell you how far you had left until you were right there. 
When you're done, there's no sense in sticking around.
At this point, there was absolutely nothing anywhere to provide so much as a whit of protection from the wind and those icy daggers that were happily homing in on my once placid countenance. I think I managed a rictus grin at one point, trying to convince myself that it wasn't that bad, actually. Look at that view… ten feet in front of me. I grabbed what pics I could, and high-tailed it out of there.
I know it was a bit of time, but somehow, it felt pretty quick before I was back below the monorail. The rain remained a presence, and because of it, I felt a bit chilly until I got back to the car. But between me and it was a very pleasant surprise. 
Spring surprise!
On the way up, I'd noticed a bit of stuff growing on the sides. Some very nascent trilliums, maybe what'll be a Carolina spring beauty in a couple weeks. Somehow, I seem to know when to look to the sides of the trail. On the way down, I kept seeing more trilliums, the odd spring beauty here and there. And then, some yellow violets, and they were out, looking lovely. Spring, it seems, has sprung in the town of Benton, regardless of what was happening up on the summit. 
And then, as I continued, the chill of all that snow, the stings of all those icy daggers, it all fell away. The trail provides.
As always, stay safe out there.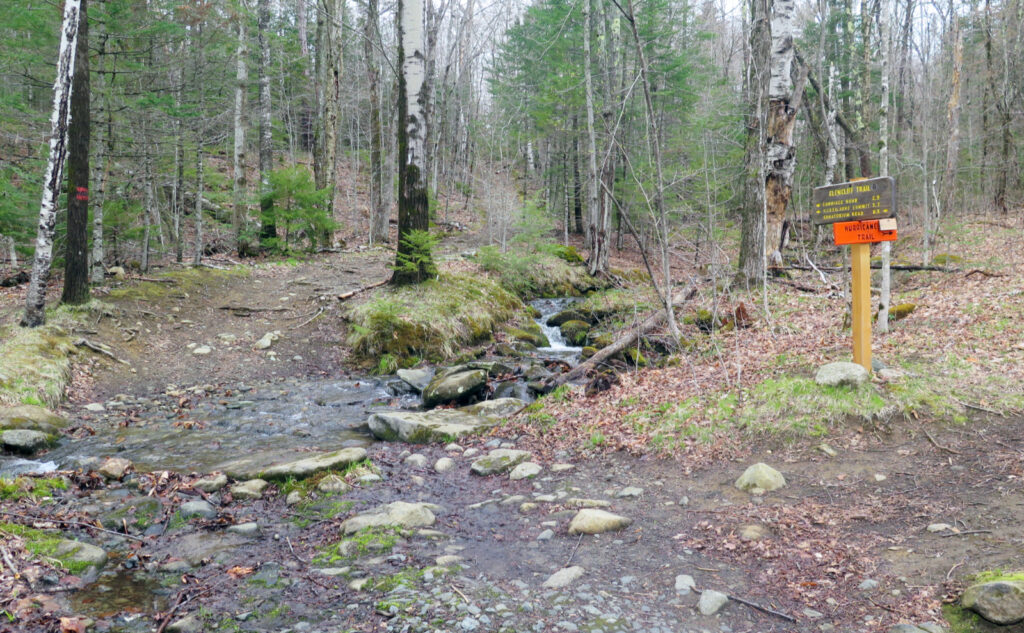 Nuts and Bolts: Moosilauke is likely one of the most accessible of the four thousand footers, being less than 2 hours from the NH/MA state line. The trailhead isn't quite as easily found as those in Franconia Notch, but Moosilauke isn't hard to get to. 
Follow the Tenney Mountain Highway, which ends at a rotary. Take the first exit, which is Route 25/Mt Moosilauke Highway. Follow this through Wentworth and into Warren. From the rotary, it'll be about 20 minutes until you're in Warren. Once in the center of town, keep the Redstone Rocket on your left, staying on Route 25 (as opposed to 25C) and go another three miles, until you see High St on your right. On the far side of High St is a small church.
Trailhead will be about another 3/4 of a mile on the right. If you've gotten as far as the old folk's home, you've gone a bit too far.
Mind that the AT comes in from the right around 200 yards after you left the car. If you make this mistake on the way down, the road walk isn't terrible — about 50 yards or so. Around the summit, take care at the junctions. A mistake not corrected quickly will easily put you at the wrong trailhead, on the wrong side of the mountain, with a painfully long walk back to the car. Following the Glencliff/Carriage Road route, you'll be on the AT until the base of the mountain; if you're seeing the 2×6 inch white blazes, you're on the correct path.
If you enjoy reading these posts, please subscribe — stay in the loop! Your email will only be used to alert you of new posts — typically 1-2 times per week. I will not use or share your email for any other purpose without your express permission. And feel free to share via social media using the buttons below. 
Find me in the mountains, on this blog, or on Twitter: @Protean_Hiker https://twitter.com/Protean_Hiker/
Help support this blog! Visit www.photos.proteanwanderer.com to buy some of my signature images.