Mt Tom (4,051 feet) Mt Field (4,340 feet) Mt Willey (4,285 feet). Crawford Notch, NH. 2022-07-30 (Saturday.)
Via Avalon Trail, A-Z Trail, Mt Tom Spur, Willey Range Trail. Approx 10.6 miles round-trip.
At the trailhead, temps in the 'notch were around the mid-70s. Up on high, things were remarkably cooler — hovering around 70, plus or minus a degree or two. Down low, the air was pretty much still. In the higher elevations, the wind was unmistakable above the trees, and was a very felt breeze on the trail (read: in the trees) most of the time, with occasional moments where it was outright windy. If that wasn't enough, I left the house under clear blue skies, but over the Whites, a layer of clouds that might have been all of 5,000 feet in altitude. In short, it was unseasonably chilly, and views were very attenuated.
Trailhead: 1130. Mt Tom summit: 1300; Mt Field summit: 1400; Mt Willey summit: 1520. Car: 1730.
Accept what you don't expect
You have to accept what the mountains offer if you're going to get anywhere in the Whites. Even the most casual observer will have noticed that about 1/3 the days are sunny, 1/3 are rainy, and the rest are somewhere in-between. Odds are overwhelmingly in favor of something cloudy, on a long enough time frame. Make peace with this fact, and you're good to bag a few summits.
So it was that I set out this morning, on a hike that I presumed would take about half a day. I anticipated lots of daylight, if not sun, which is pretty much what happened. Keep the expectations appropriately modulated, success. This is a fairly easy hike, so barring a serious calamity, it was reasonable to expect a good outing. Which is pretty much what happened. Not "great", but still fine.
Rocks, roots, lumps, bumps.
I'd forgotten about the trail, though. If one looks only at the rise v. run, the easy expectation would be that this should be a quick hike. And yet, nothing I could do got me easy mileage. The trail is rocky and rooty, with lumps and bumps over something that felt like at least 3/4 of the whole shebang. I never got to open up a decent stride for very long, which caused a small amount of frustration.
That said, there are a few spots that make for good viewing. It's true that there are a couple outlooks. One each near the summits of Field and Willey, one along the trail to Field. But that's just three. One can't forget that down low, there are a couple cascades that are worth checking out, and for those who lack stamina to ascend to the summits, these are destinations in their own right. Bring a filter, because that water is absolutely clear, cold and delicious.
On past trips, I felt like the forest was more verdant, and that might have been the case in wetter months. Being July, rain isn't exactly a thing, and that has its effects. On the other hand, I wasn't contending with mud. So there's that. I saw little in the sense of flowers, but again, it's July. I did see a few tiny wood sorrels, but that was about it. Bluebead lilies were "out" but not blooming. No bunchberry. Meh. I'm pretty sure I heard a spruce grouse at one point, but never got eyes on one.
Listen to stillness, right?
On that note… I'm loath to say people should do this and not that when hiking, except where safety is concerned. But when most behave one way, maybe that says something. I came across a group of hikers, doing a call-and-response campfire tune while hiking. From a distance away, it was hard to hear anything, least of all the woodland creatures. As I approached, the ones in front couldn't hear the folks in back saying "move to the side." Ooof. I'm all for youthful exuberance, but this was a bit on the loud side. Isn't the forest all about the tranquility and quietude? How about listening to the critters?
As I passed, I did indeed ask "hey, has anyone heard any wildlife around here?" hoping they'd (gently) get the net. Not so much. Maybe I should have told them that you have to listen carefully, or else the bears (wolves?) will sneak up and attack. Alas, I wasn't that version of me today. As it was, I noticed a bit later that they left their packs in a pile while they ran up Mt Tom, with no signs of a bear-hang. It's been awhile since I've heard of bears tucking into wayward backpacks, but it's happened in the past, and hikers have been stalked by bruins seeking sweet morsels. Lighten your load for those quick spur trails, but be bear aware. Yogi and Boo-Boo are better off without those pick-a-nick baskets!
Things went mostly as hoped after that. The people I came across over the rest of the day were more the typical hiker. One guy told me about his son, who did the AT in 2020, the PCT last year, and this year, is hacking away at the CDT for his triple crown. Wow! A hiker from (I'm guessing, based on the t-shirt) Bowdoin, who came up the hard way, from Ethan Pond. Yikes! And several pups, thrilled to be outside. Nice.
Maybe listen to history instead!
I ran across Field and Willey, savoring the views of the eastern Pemigewasset Wilderness — that area around Stillwater Junction, the Lincoln Woods Scenic Area, and Shoal Pond. I thought about Livermore, the town created by the Saunders family to support their logging operations in the nearby Sawyer River valley. And of Zealand, the area intensively logged by JE Henry. Sometimes, if you listen, you can hear the history.
Looking down on those woods, it's easy for me to visualize the towns of days past. When you drive past the condos around Loon Mountain, or at Bretton Woods, think about how those homes and their roads were built on the sides of mountains. Then look out from those vistas and wonder what might have happened if the Weeks Act hadn't been conceived. If all that land had just been sold off to the lowest bidder, as once did actually happen. If the village of Livermore hadn't been dissolved. Because they're so preserved, the Whites are indeed a special place.
Here and there, take in what views show up.
To the east, I saw the majesty of the Webster Cliffs, and the Saco River stretching out on its way. The clouds were really close, blocking out much of the Presidential Range, but looking south, things opened up. At one point, I might have spotted Chocorua. Whatever. The lower peaks rolled, and their sides were soft and verdant with all the trees. This was a day for views "down", and not "out." On that, I wasn't disappointed. I could have gazed at the eastern Pemi for hours, and likewise, my eyes could have meandered along with the Saco for miles.
As summer opened, I'd hoped to nail down a bit more of my July list than I did. Doing a Pemi Loop instead of a Presidential Traverse obviously didn't help. But there it is. Somehow, the list will survive. I have no regrets. I hiked what I needed to this year. Today, I reflected on the history of the Pemi, much as I had during my loop last week. On the one hand, you have to take what the mountains give you. But at the same time, sometimes you find that it's exactly what you need. The trail provides.
As always, stay safe out there.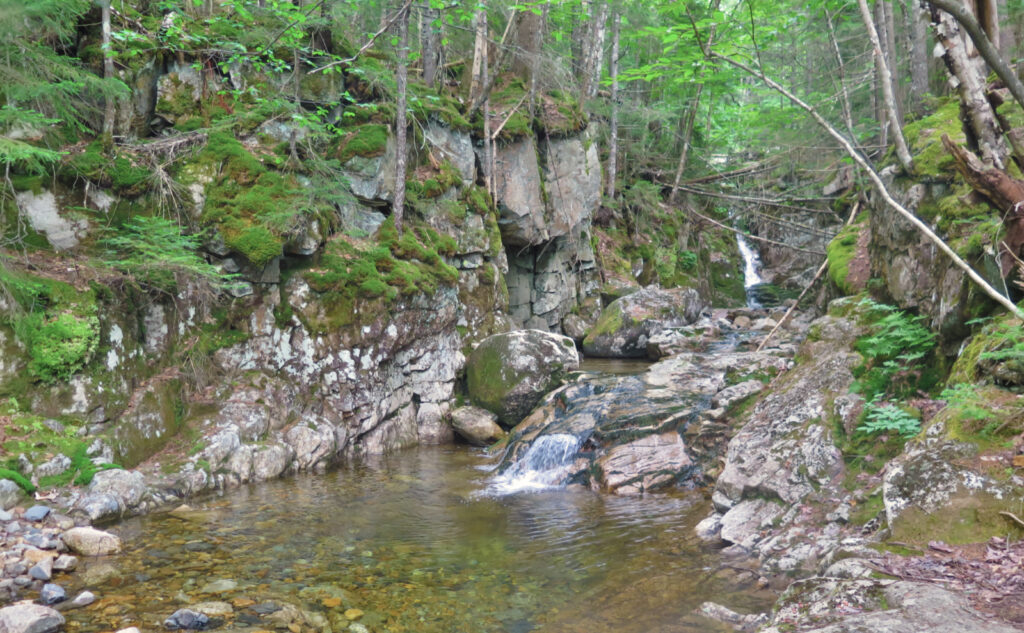 Side Note: Cruising past the kiosk at the end of the day, I noted two water bottles that had clearly seen better days, as well as a paper coffee cup (with plastic lid and two tea bags), some plastic cord, and a pair of mis-matched fleece gloves, one of which was basically perforated. Oh, and a little toddler's pink glittery shoe.
(I wish I didn't have to bring this up, but someone carefully laid out a facecloth on a log, as if to dry, near the Mt Tom Spur/A-Z Trail junction. And then abandoned it. Why?)
I'm of a couple minds on leaving things at the kiosk. Stuff like today's "haul" was unquestionably junk. The coffee/tea cup was someone being lazy. The water bottles? One had broken parts, the other was just plain beat up. And the gloves were just worn out; "holey", spent velcro, and that kind of thing. Honestly, I think those things were stuff that no-one will try to look around and find ever again, and so worthy of the trash. The mountain certainly doesn't need it. (Don't get me started on the pox on the land that is discarded face masks.)
But where is the other end of that line? Someone's wallet? That goes to the local police, and hopefully on to its owner. OK, that's the other obvious bookend. But what about the middle-ground? When is the kiosk just a repository for stuff that will never be reclaimed? (That toddler's shoe? I left it at the kiosk. Mom will probably get junior new shoes, but maybe junior, aghast at the loss of something glittery, raised enough of a stink that the family car turned around and went back to the trailhead. What kiddo doesn't adore glittery stuff?)
I'm interested in your opinion. Please comment with your constructive thoughts. (Keep things civil. I reserve the right to review all comments, and insanity will be swiftly booted.)
Nuts and Bolts: This one isn't hard to find. Take exit 34 off 93 (just past Cannon ski area) and follow Route 3 into Twin Mountain. At the lights near a Valero gas station, turn right onto Route 302. There will be a few signs pointing to Mt Washington and to the Cog Railway. Coincidentally, you're also heading toward Bretton Woods. Go past all that, and continue to Crawford Notch.
Just as you drive past the AMC Highland Center, notice a yellow Victorian-era train station on the right. Park anywhere in this area, as you're (legally!) able. Note that when the weather is particularly clement, especially weekends, this will be much easier said than done as the day progresses.
The trailhead is behind the train station. Walk across the tracks (taking care to check for oncoming trains — this is a working railroad) and you should see the sign for the trail. Signs are white, blazes are white, yellow, and blue; and somewhat sparse. The trail itself is fairly easy to follow. The one caution is at the "big" water crossing, about 1,000 feet from the Mt Willard trail. If you pay undue attention to your footing, it's not hard to go up the brook, instead of crossing it. You'll end up at Pearl and Beecher cascades. If so, carry on up the trail uphill; it rejoins the Avalon Trail before long. And enjoy the cascades while you're there. They're worth the time.
If you enjoy reading these posts, please subscribe — stay in the loop! Your email will only be used to alert you of new posts — typically 1-2 times per week. I will not use or share your email for any other purpose without your express permission. And feel free to share via social media using the buttons below.
Find me in the mountains, on this blog, or on Twitter: @Protean_Hiker