Cannon Mountain (4,100 feet). Franconia Notch, NH. 2022-08-04 (Thursday.)
Via Lonesome Lake, Kinsman Ridge, Hi-Cannon, and Dodge Cut-Off trails. Approximately 6 miles round-trip.
90 dF at the trailhead, 75 dF at the summit, high 80s back at the car. RH was soupy — classic August in New England weather. Winds were negligible in the trees, a pleasant breeze on the observation deck. Sun and clouds throughout.
Trailhead: 1300. Lonesome Lake: 1400. Cannon summit: 1600. (NB left summit: 1700.) Car: 1900.
Seeing through the haze.
Sometimes, you wonder if being tossed into the jaws of a Sarlacc, or maybe even left for dead in the sands of Arrakis, might be preferable to hiking on an oppressively hot day. But Boba Fett escaped the Sarlacc, and Paul Atreides… well, go read the book. (It's complicated.) And so hiking on a day when you're swimming in your own sweat is just something you do. Horribly hot, hazy, and humid happens on the high hills of New Hampshire.
I had a bold plan: to start after lunch, in the hopes that by late afternoon, the heat would have broken somewhat, and perhaps the wind would pick up a little and take the rest of the edge off. It was a great plan, on paper that is. In execution… it was a hot day, without much relief on the way up. I'm pretty sure I lost about five pounds in water weight. I thanked my lucky stars that the wind was indeed present on the summit. At least I had that.
Looking back through the memories
This was the last peak on my first run of the 4,000 footers list, and today, I mostly hewed to how I did it back then. Yep, I skipped the trip to the Kinsmans, and (perhaps obviously) didn't go trekking over the Cannonballs, either. But that steep bit up Kinsman Ridge trail from the south. Ooof. For some reason, I thought that was buried in the Cannonballs, but I guess I was wrong. 
I did do the Kinsman Ridge trail another time, when I ascended from the north side, and then descended the south — coming back around by the Pemi Trail on a glorious day. Descending that trail… also ooof. Maybe more so. 
Coming down Hi-Cannon, the thrills from those exposed ledge traverses was every bit the same. Climbing down that ladder? Yep, that too. I'm pretty sure most of that trail was done at "dog slow" speed, because it's rough, with a lot of climbing down things. Just descending the mountain from that side was plain slow and painstaking. But thrilling. Those memories endure.
Looking out toward infinity!
When you stand on a summit, looking over all the adjacent peaks with the wind in your hair and the sun on your face, and you feel a connectedness… that you could fly with the ravens over the earth. Yep, that was a couple weeks ago, during my Pemi Loop. Ah, those clear skies, where I could spot peaks in every direction. Views out today? Not so much. Infinite haze was the order of the day. 
Today, I could see across Franconia Notch, sure. But that haze was thicker than roofing tar, and visibility was visibly vacant… that is to say, views were vanquished by vapor. I think saying 20 miles is being charitable. I could see the outline of Adams, but virtually nothing in Vermont. The Osceolas were dull shadows. Even nearer areas that should have been verdant were noticeably tipped toward blues and greys. 
That said, given the things I did see, I'm very glad to have been on the mountain today. Indeed, I'd have missed out on seeing some beautiful butterflies, and some enchanting dragonflies. (The latter were the size of baseballs. Wow!) All were either at Lonesome Lake, or at the summit, with not much else going on during the gap in-between. Really, the butterflies were that striking, and the dragonflies weren't bad, either. Take time to observe the small things, because it's surprising how much of a lift they give you when you need it most. Butterfly wings do indeed have transformative powers. 
And that summit view? I mean, yeah, very much an abbreviated view. But I hung out up there for about an hour. Franconia Ridge looked great. The aforementioned insects were intriguing. The vertigo-inducing views down into the notch from the Rim Trail were thrilling. I found myself thinking "I gotta get back" several times, but still lingering. The views from the ledges on Hi-Cannon trail that were perhaps even more vertigo-inducing? Yep, I hung out there for awhile, too. Let's just say that today's hike was about the unusual views.
Some success, despite swimming in sweat.
I ended up clearing off two unhiked segments from my redline list, which added to the day. A re-do on my first trip up this mountain (up by way of Coppermine Col, and down Hi-Cannon) felt proper — reacquainting myself with two of the steepest trails I can think of. Not that there's an easy way up Cannon, but somehow coming up from the ski area feels like cheating. Today felt like paying my dues.
There was a lot of quiet today, once I got above the AMC hut. Even at the summit, I felt like there was only about a dozen or so people. It was a lot of work, and for the distance covered, I spent a lot of time just getting up and down the mountain. I think my plan for beating the heat might have worked better on Jefferson, coming in from Caps Ridge. But in the end, it didn't matter. There were small things that kept me distracted, which suits me just fine. 
And of course, on the drive home, I drove through two separate instances of thunderstorms, with numerous ground-strikes of lightning. Adding insult to injury, the temps were in the mid-70s all that time. D'oh! At least I got to see purple coneflowers in the median on the drive up. Le sigh…
As always, stay safe out there.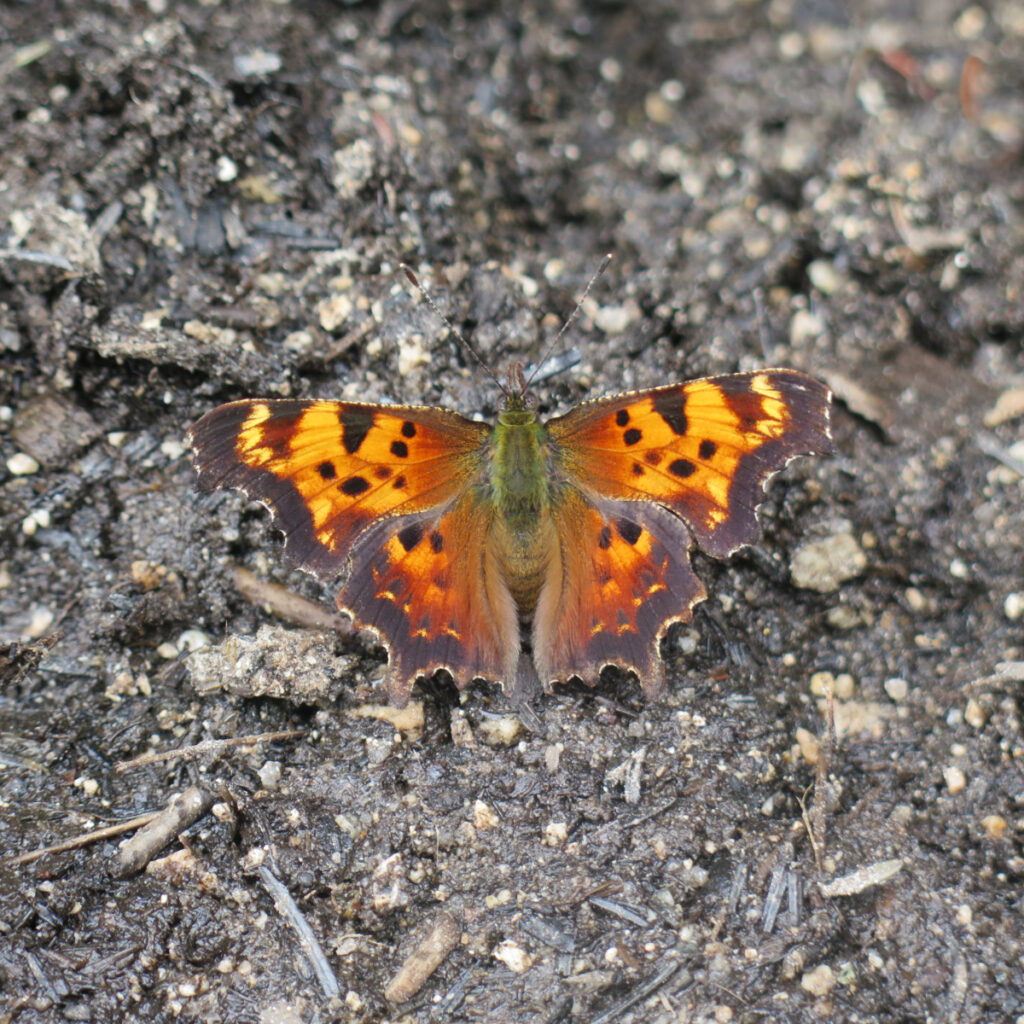 Nuts and Bolts: For these trails, you need to go to the Tramway Exit on 93, and come back around. At the moment, there's a sign for a "trailhead" just south of the Tramway interchange. That's actually for the Profile Lake parking, and unfortunately the state hasn't replaced the sign yet. Take the next one down, which is about two miles down. You're looking for Lafayette Campground. Signs to the trail are pretty obvious from the parking area. The campground itself has amenities including flush toilets and running water in the warmer months. Outright civilized!
Besides all those modern conveniences, they also have garbage barrels everywhere around the campsite, and if the summit lounge is open, there's some in there, too. I ask anyone while hiking to leave the mountain in better shape for your having passed through. Pick up whatever you find, whether it's yours or someone else's. This goes especially for Cannon. No need to worry about bringing "foreign" garbage home (or at least to the local gas station) on this mountain. Carry a small baggie with you and you can toss trail trash before you even get to your car. If everyone did this, that mountain would be pristine, top to bottom, within a weekend.
Blazes are white for any part of the Appalachian Trail, and either yellow or blue elsewhere. As of this writing, the trails are in such shape that you really don't need to worry about the blazes all that much. Junctions are generally well signed, and most of the time, the way to go is self-evident anyway. At the summit, things are a little weird around the buildings, so be mindful of where you are.
Note that to mess up where you start your descent could send you to the north side of the mountain, while your car will be waiting for you on the southeast side. In that case, the Pemi Trail goes from the ski area parking lot to the Lafayette Campground, and I think total elevation gain on that trail is all of about twenty feet. It's not hard mileage. Keep Route 93 on your left, and you shouldn't go wrong.
I set this route up to bag a couple outstanding trail segments for my redlining. One can very easily descend the whole way via Hi-Cannon trail, and that's a fine way to go. Don't feel limited by my occasionally convoluted routes.
If you enjoy reading these posts, please subscribe — stay in the loop! Your email will only be used to alert you of new posts — typically 1-2 times per week. I will not use or share your email for any other purpose without your express permission. And feel free to share via social media using the buttons below. 
Find me in the mountains, on this blog, or on Twitter: @Protean_Hiker