Franconia Brook Trail, Lincoln, NH. 2022-08-12 (Friday.)
Via Lincoln Woods, and Franconia Brook Trails. About a dozen miles round-trip.
64 degrees, cloudy. It felt colder out than I'd have preferred.
More than one wants to bear?
I'd planned on circumnavigating Owl's Head for awhile. Work had been a bear lately, and so with enough time off to do so, I decided to hike up from Lincoln Woods, spend the night at 13 Falls, and at some point, cross over the obvious bit of Garfield Ridge and get the entirety of Franconia Brook Trail and Twin Brook as well. I'd wind up with three trails for my redline, and no shortage of R&R. I was fine with not bagging a peak. Really, it was all about disappearing for a bit. Redlining was icing on the cake.
So it was that I got to the trailhead, albeit fairly late, even for me. I'd slept well, but in my dreams, kept seeing bears for some reason. In the morning, despite thinking "I'd better get to the trailhead," I just couldn't get out from under the sheets. This turned out to be a good thing as I'd find out later.
Getting to Lincoln Woods on the weekend even a little late has its effects. I saw a lot of traffic in Concord, most of which disappeared in the area of the lakes, as expected. But hey, that's not everyone, as anyone knows. Stupendous numbers of people have condos in the mountains, and it's summertime. But hiking down the trail, quietude did eventually show up.
You'd think parking was enough excitement.
Past the bridge over Franconia Brook, I met up with a USFS ranger, who mentioned a bear at 13 Falls. Apparently, it shredded one of the bear boxes a couple days ago, and got some tasty human food — bad news bear. He advised me to hike up Franconia Brook ("hang your food if you're staying the night") and so that's the way I went. Good for me, as I'd find out.
People that you meet…
A bit beyond Lincoln Brook, I met a hiker on her way back. She'd been approached by a bear while eating lunch at the tentsite. Hollering at the wayward bruin seemed to do the trick, except the bear came back about half an hour later, and this time, didn't seem as frightened of the human. Yikes! What's up with that?
This was where my hike ended. I might have gotten half a mile up from where Lincoln Brook cut off. Maybe a little more, but not much. Grrrr…
It's one thing if I were to cross paths with a bear by chance. But I'd have been hiking toward an area with a known problem bear, and one that appears to have become habituated to humans. No thank you; it's not in my risk management plan. I doubt it would have been a real problem, but even the slight chance that it might… I mean, it already made Swiss cheese of a bear box.
Licking the wounds of my outing, I reflected on the totality. I got a lovely walk out in the woods, and in a favorite spot in the Whites, to boot. On the return, I enjoyed delightful conversation with that hiker. The outing wasn't a complete wash by any stretch. Walking along ages-old railbeds was amazing on its own. And there were bunchberries alongside the trail near the pond, where I turned around. Some color on the trail! So I had to be flexible in my plans. What of it?
Thinking about errant bruins…
I dearly hope this isn't the end of that wayward bear. But the whole lot underscores a simple fact. Bears aren't inherently evil or vicious. They're goal oriented. At this point, Yogi has a couple months to go before hibernation. Any bear would be trying to get every single calorie it can. You would be, too.
Finding food once flakes fly isn't as easy as it is now, and human food is intentionally engineered to be delicious and massively energy dense. Bears have an over-developed sense of smell, and we're not terribly subtle with our tasty treats. They know we're coming, and they know what delightful deliciousness is in our packs.
A fed bear is a dead bear. Our food is delicious, our bark much worse than our bite. (A fish cop with a shotgun is the obvious exception, though a bear never has time to understand this fact.) They get bold over time, and ultimately cause problems. Once a bear gets habituated to human food, it's pretty much impossible to un-ring that bell. Better to not ring the dinner bell in the first place. Store your food in a bear box, get a bear-proof canister or an Ursack. Absent any of that, do a bear hang. (Here's how to make a PCT-style 'hang.) Just know that a lot of the Whites features trees that grow within inches of the next one, so hanging your food won't be a universal option.
And so, what of it all today?
A perfectly good outing gets scrubbed by a wayward ursine mammal. Where's the redemption in all that? What's the payoff? There was, after all, a lack of achieving an objective, right?
To be fair, yes, I didn't hit my explicit goals for the day, even remotely. I wanted to get at least a couple trails knocked off my redline list. That got scotched. As far as spending the night in the mountains? Yep, pooched that one. With the exception of maybe half a mile of the Franconia Brook Trail, I didn't set foot on much new ground.
And yet…
I could enumerate a lot here. To be fair, I'm not sure there's much new on the Lincoln Woods Trail. That old horse isn't getting any younger, nor do I imagine it doing so anytime soon.
Black Pond bushwhack became my favorite way to Owl's Head, ever since the suffer-fest that was my first trip up that peak via Lincoln Brook Trail. Crossing thigh-deep water that was one single solitary degree above utterly, outrageously cold created a lasting memory. Even when my last summertime trip was in August, when I had no reason to fear a water crossing would be anything but entirely pedestrian, it was by the bushwhack.
Today, I didn't turn left at the Black Pond junction. I carried on up the Franconia Brook Trail, which I hadn't set foot on in a few years. In short, it was fun. I reconnected. I found things I probably didn't notice the first time around. Though I never made it to Hellgate Brook, I made it past the first pond, and gazed upon the shoulder of Bondcliff. Thinking back, I was precisely in the place I gazed upon, looking down from West Bond last month; letting my eyes wander over the contours of the valley below, dreaming of what lay beneath the forest's canopy. Powerful.
And now, there I was! I walked on old railway sleepers, imagining things as they were a century ago. I marveled at the men who thought a train should go so far into the wilderness, and then had the audacity to made it so. Just thinking of the sheer effort all that took… wow!
Ding-dong. Ping-pong.
Trips have come to mind, where I didn't get what I wanted. Too many times standing inside the ping-pong ball, robbed of a view. How many times up Carrigain without a view? But how many times up a mountain, thinking I'd get no reward, only to see something far greater? I'm still thinking of the red Columbine on Gunstock, or the butterflies on Cannon. Pink lady slippers, ghost pipes, blueberries. Tiger lilies near Tripyramid. An iris that I spied in Baxter State Park. Or the undercast on Jefferson. Pure magic.
Today, I walked across history. Times too numerous to count, I looked at the lay of the land, and saw how the trail was laid upon those abandoned railway beds. Every time I stepped over a drainage… whenever I saw a cut through a small slope. Those were the times when the labors of all those workers were acutely visible. There wasn't a moment in between when I could forget them.
What of hiking without achieving a "goal?"
In Puccini's opera La Boheme, there's a scene in the first act where Rodolfo is totally gunning for Mimi's affections. He doesn't have two cents to rub together (he's a Bohemian, right?) but as a poet, he's quick to tell Mimi, he has riches in his hopes and dreams that are far greater than the gold held by any of the crowned heads of Europe.
That's hiking, in a nutshell. The rewards are huge, even though intangible, and probably mostly when unexpected things happen. And those riches are so much more so than any pile of gold hidden in a Swiss vault, or buried under Smaug. I didn't get what I'd planned, but I still walked away with what I wanted. Green colored gold, indeed.
As always, stay safe out there.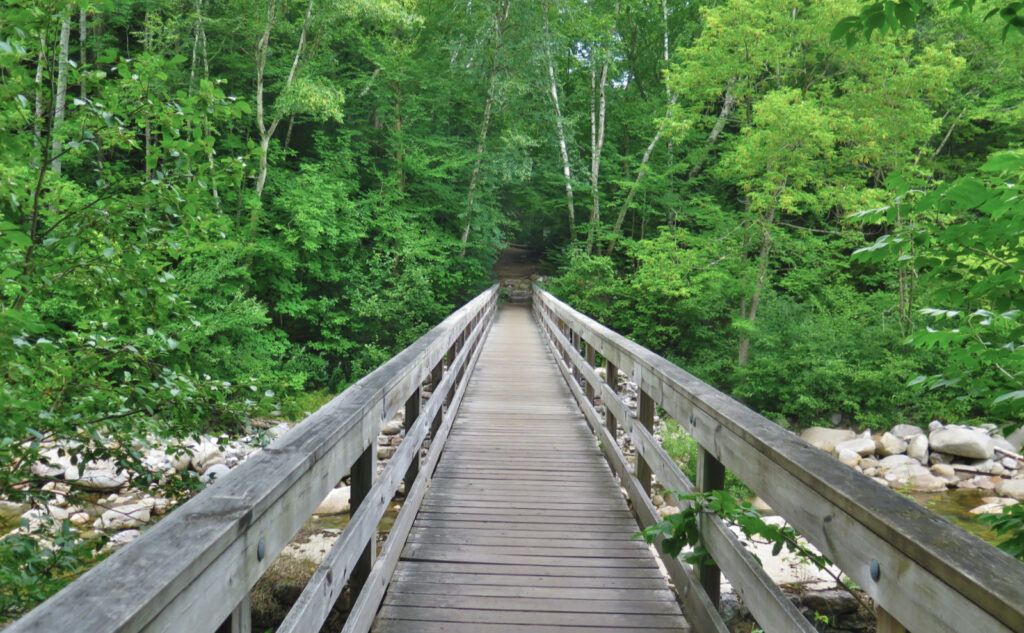 Nuts and Bolts: Lincoln Woods is about five miles down the Kancamagus Highway from Route 93. Take exit 32. Parking lot is on the left (north). Get there early on weekends, because the parking lot fills up fast.
Trailhead will be across the footbridge near the ranger station.
The hard part of the hike is the distance involved. Overall, the trail (or at least as much as I covered) was almost entirely on old railbeds. As such, there wasn't any significant elevation change, and most of the terrain was very flat and unremarkable. That said, the further I got from Lincoln Woods, the more I experienced outright solitude. Past the footbridge over Franconia Brook, I might have crossed paths with about 8-10 people, tops. Self-sufficiency is a must out there.
If you enjoy reading these posts, please subscribe — stay in the loop! Your email will only be used to alert you of new posts — typically 1-2 times per week. I will not use or share your email for any other purpose without your express permission. And feel free to share via social media using the buttons below.
Find me in the mountains, on this blog, or on Twitter: @Protean_Hiker