McCabe Forest. Antrim, NH. 2023-03-20 (Monday.)
Variable mileage; it's easy to get a couple miles round-trip without retracing your steps.
45 degrees all day, not a cloud in the sky, and no wind. Spring has sprung!
Denied in Deering, Allowed in Antrim
I've been enjoying taking it easy the last couple weeks. I might let this run into next week, but I'm starting to hanker for the big summits again. Stay tuned.
In other news, I got a package from MSR today. It wasn't my bindings (although those are on their way) but it was some deck repair patches. I'd mentioned that the area under the heel was starting to wear thin, and they said for short money, they'd send out patches. Some Gear Aid glue is all I needed to add on my end. That's going to be tomorrow's project. It's not that big a deal, but for almost no effort, I can forestall a problem that will likely emerge next season. It's a bit frustrating that things took this long but there it is. At least I'm getting to the finish line. And not the least, but hey, my snowshoes lasted very nearly five full seasons. They certainly don't owe me anything, especially as I've "lovingly" beat the hell out of them.
There was a funny realization that emerged from this afternoon. I went to Deering to hike Hedgehog mountain, driving up to the northern trailhead. As I bumped along a muddy, soupy Class VI puddle of slime masquerading as a road, I didn't think much of it. A lot of New Hampshire remains unpaved. It's a thing up here, perhaps even a point of pride, and I have no beef with this fact. Indeed, to folks like myself, it's a selling point. Keeps the riff-raff at bay. 
But the melting of the snow is at a point right now where I just didn't feel comfortable with parking options. I'm confident that I can get my car out of a jam, but at the same time, I don't need to prove it at every opportunity.
Lumps and bumps, mud and crud
Driving over to the other trailheads, in vain hope that things would turn out better, I spent more time on dirt roads than paved; certainly more than I'd planned. Pro Tip: when you see auspicious names like "Pan American Highway", or "2nd New Hampshire Turnpike" or that kind of thing, don't assume it's a modern, improved road. I've driven on the Pan American in Costa Rica, and it's in much more drivable shape than the 2nd New Hampshire Turnpike as I write this. I began to have thoughts that Deering might have more dirt roads than paved. Get home, look online, and no kidding, dirt outnumbers pavement by around 2:1. Huh. I'm impressed. As I said before, it's probably a selling point. If I had a 4×4, I'd absolutely live in a place like that. (Fun fact: the turnpike was chartered in 1799 and completed in 1801, stretching from Claremont to Amherst… and from there, one could get all the way down to Boston.)
But alas, I merely have front wheel drive. My Rocinante has been a very capable and stalwart performer for almost 300k miles, but I know her limits. So after being frustrated by an inability to even reach a shaky detente with the mud and slime, I chucked my plans for the glorious day out the window, and started toward home.
Silvan solace. Equinox. Vernal veracity.
As luck would have it, I stumbled on the McCabe Forest, which totally checked my biggest box for the day: take a stroll in a Forest Society property. The familiar logo beckoned. I reviewed the map at the kiosk, and set out. The day was saved! 
This isn't the biggest hike you can go on. It's also not the shortest, although it's probably in competition for that honor. There are no great, expansive views, but the sublime is certainly on display. The Contoocook River meanders past, and the trail comes up close enough to its banks. You're never so far from the road that you'll hear absolutely no road noise, but it does fade rather quickly into a dismissible low pitched whoosh. I want to come back in the warmer months, because I got the sense that birds and wildflowers will be exploding shortly. Perhaps even some butterflies and other interesting insects and critters. 
There's more to explore
If you go to the Forest Society's webpage, https://forestsociety.org/reservation-guide you can find dozens upon dozens of sites where you can get out for an hour or three. Sometimes more. Mt Major isn't entirely covered by the Forest Society, but a fair bit of it is, and you can spend most of a day tramping around on that mountain. Much of their holdings are Lakes Region and south of that. North of Tamworth, it thins out a lot — understandable, because almost 800,000 acres comprise the Whites, Nash Stream Forest gobbles up another significant chunk of forest, and north of that, New Hampshire tapers down pretty quickly. 
But why are you tramping though the woods? To attain a "status" peak? Or just to get outside? If the latter, try some of these lesser known destinations. You won't be disappointed… I assure you. Even the "paltry" 189 acres of McCabe kept me happily busy for an afternoon's outing.
As always, stay safe out there.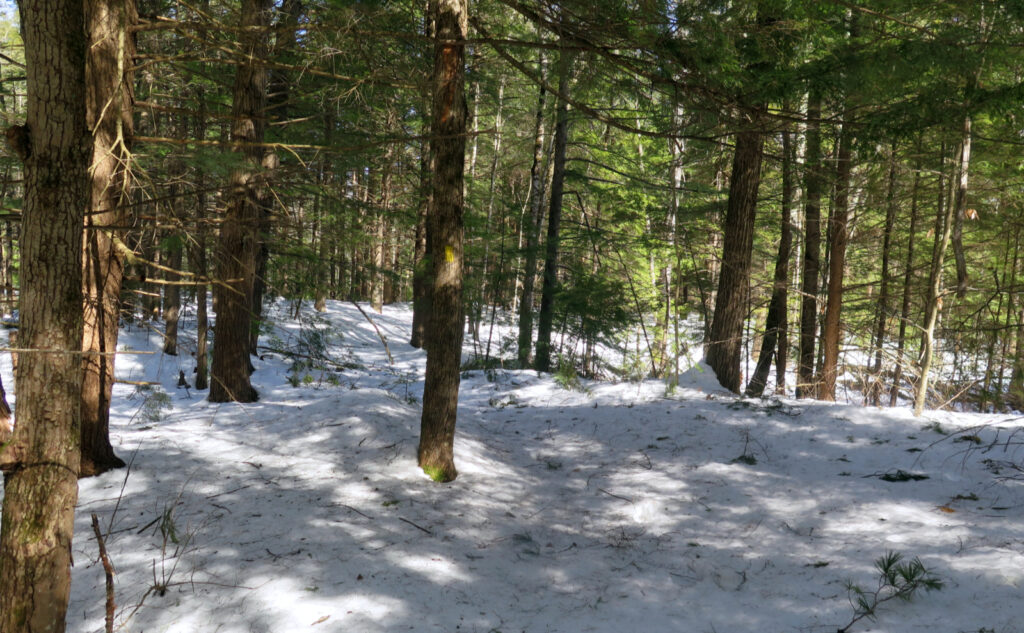 Nuts and Bolts: Make your best way to Antrim. One easy route (for those coming from Nashua and vicinity) is to pick up route 202 in Peterborough. (Obviously, from Concord, pick up 202 and head west/south.) North of Antrim's downtown by about a mile is the trailhead, on the east side of the road. There's parking for at least half a dozen cars, maybe more if people don't mind being cozy.
Trailhead will be by the kiosk. Blazes are yellow; none other than that, regardless of what trail you're on. The forest is bounded by 202 on the western edge, and the Contoocook River on the east. If you're not sure where you are, it's not a long bushwhack to the west before you're at the road.
If you enjoy reading these posts, please subscribe — stay in the loop! Your email will only be used to alert you of new posts — typically 1-2 times per week. I will not use or share your email for any other purpose without your express permission. And feel free to share via social media using the buttons below.
Find me in the mountains, on this blog, or on Twitter: @Protean_Hiker https://twitter.com/Protean_Hiker/
Help support this blog! Visit www.photos.proteanwanderer.com to buy some of my signature images.