Mt Cabot (4,170 feet) and Mt Waumbek (4,006 feet.)  2022-10-30 (Sunday.)
Via the York Pond trail, Bunnell Notch trail, Killkenny Ridge trail, also the Starr-King trail. 16.8 miles round-trip, across two discrete hikes.
30 dF at the Waumbek trailhead, 50 dF at the summit. 50-ish at Cabot trailhead, likely 60 dF at the summit. Winds were non-existent on Waumbek, a felt breeze on the highest parts of Cabot. Almost 100% sunny — only gauzy, high level clouds. A very pleasant day to be on the trail, indeed.
Waumbek Trailhead: 0830. Summit: 1020. Trailhead: 1200. Cabot trailhead: 1300. Cabot summit: 1530. Car: 1720.
Note: due to a hectic bout of life, this post is out of sequence with how the last couple of weeks have been going. 
At a certain point, you wonder.
I did this hike, though in reverse, in 2018. At this point, I have no clue why, other than to work out that I could do it. It's a very rough day. There are a lot of miles, and while Cabot doesn't even nearly compare to (say) Signal Ridge trail, it still doesn't give up the goods without any resistance. In both instances, you're still hiking up a four thousand footer, and collectively, this hike will take its pound of flesh from you.
This time, though, I do know why I did it. There's the basic "to see if it's that hard" reason, which is probably good enough on its own. But truly, it's more greedy than that. It's the last of October, and if I did the two in one day, it sets me up quite nicely to have a quicker time of nailing down the remaining ten October hikes on my grid list next year. And ten is a nice round number. After that, I'll have October to work on redlining, 52 with a view, or whatever else I fancy. Always with the lists.
That said, moving forward, I'd only do this pair-in-a-day as a curiosity. Both peaks are worthy of their own hike, their own individual examination. Nicely, they're short — which is why I was able to lump them both into one day — so you could take a very leisurely walk to their summits, thoroughly, thoughtfully, and purposefully enjoying every single sight along the way. I've been on each mountain six times so far: trust me, there are things to see along the way on both mountains.
But what about it was hard?
If I were asked to make a list of five of the four thousand footers that were good beginner hikes, these two would easily make the list. But "easy" is only if each is taken on its own. Combined, the hike is a whole different animal. Make no mistake: I did more miles in this day than I did on any single day of a three-day Pemi Loop, and with about half the elevation gain. At least by the numbers, that's a lot of hiking. The next morning, I was still feeling the burn. 
I've run several half-marathons, and a full marathon. I gladly sign up for 13.1 miles of running. It's fun, and (to me, at least) relatively easy. (I'm no speed demon, but I can turn in a respectable sub-2 hour time.) Just by miles, these two peaks easily blow past the half marathon distance. I won't say it's the same effort as a marathon, but it sure felt like it was going well past my usual effort for the half. It's a lot of hiking in a day; Cabot didn't make it a simple outing, for sure. Not complex, but not simple. 
The White Dot trail up Mt Monadnock is the first taste of New Hampshire hiking for most people. Anyone seeing masses of people on that summit won't be disabused of that sentiment. Starr-King trail up Waumbek is a pussy cat in comparison. Sure, Starr-King is longer by mileage, but there's no scrambling, and the slope is milder. And hey, partway to the 4,006 foot peak, you get fine views of the northern bits of the Presidential Range, which is awe-inspiring. I'm at a loss for why Bostonians want to go to Jaffrey in greater numbers. Maybe it's the shorter drive? The fact that Mt Washington gets in the way of seeing Boston's skyline from Waumbek? Who knows, but then again, who cares? Generally speaking, it's not a crowded summit. 
Obviously, the hard part of this pairing is Cabot. By themselves, either hike is pretty tame. But Cabot has mileage, and a big part of it is a long walk up and over Bunnell Notch. After that, things tip somewhat firmly upward, as you ascend the last thousand feet in around a mile or so. Hikes like that, where you make a mad dash for the summit in a relatively short distance, always seem to take it out of me. So these seventeen miles make for a long day. But taken individually, it doesn't need to be a hard trek.
Redeeming qualities abound.
Ascending Bunnell Notch remains a draw. I don't know why I missed it five other times, but the trail follows a line that allows you to really visualize the notch through the trees, and when you're past height-of-land, you can look back and really get a feel for the difference between the eastern and western sides. Seriously, once you see it, you're not going to miss it next time. Given the differences in weather and such that I've experienced on Kinsman Ridge, I'm going to be paying more attention to this in the future.
Cabot's summit itself has the cabin. Somewhat recently, the structure got refreshed — a lick of paint, some new cedar shakes on the roof, and a general fluff-and-buff. The first time I saw it, I thought "no way" but now it looks like a cozy retreat, if a bit spartan. Interestingly, someone posted some laminated photos from the 60s, displaying the old fire tower, and the cabin from a couple different views. It's a nice time capsule. One of these days…
And Waumbek is just Waumbek. It's an inviting hike, easy on the legs and back. Not much in the way of views, but here and there, you get to see things. I'm given to wonder what things would be like if the cabin on the summit of Starr-King were still there. I know that old fireplace gets use from trampers. What if there were four walls around it once again? What was it like, back in the day?
So yeah, I did a hike. I'm at 255 for my grid, and I have ten left in October, which if the mountains are willing and the river don't rise, I should have wrapped up by this time next year. Stay tuned. 
As always, stay safe out there.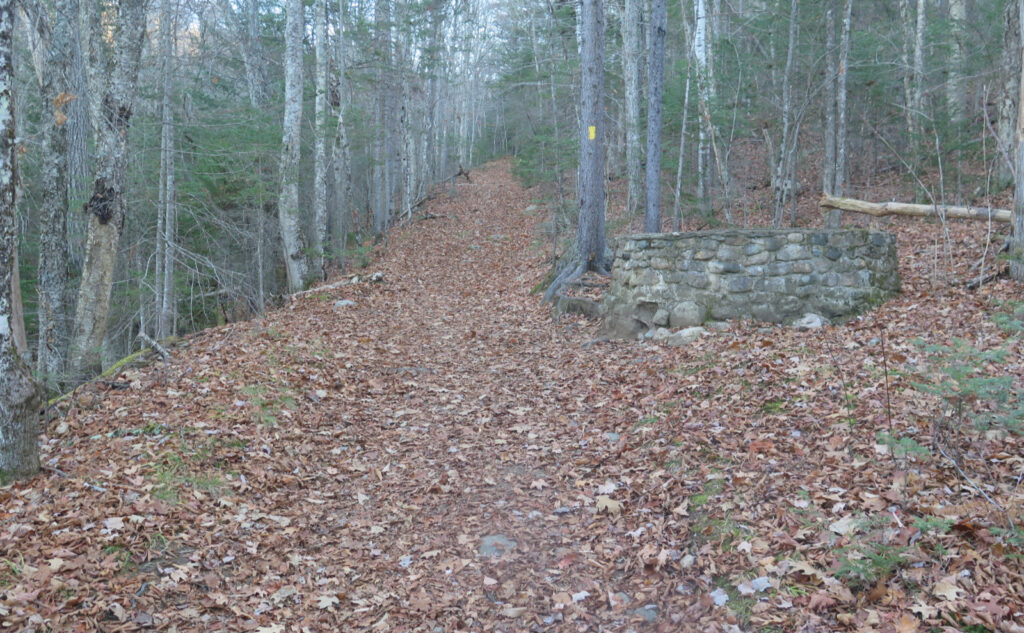 Nuts and Bolts: Waumbek's most popular route up is from Starr King Road in Jefferson. From Foster's Crossroads in Twin Mountain, continue across 302, and a few minutes later, turn right onto 115 (AKA Owl's Head Highway.) Follow that until you get to 115A, on the left, which goes by Meadow's Road. (If you pooch it, just continue until you hit Route 2 in a few more minutes and turn left.) At the end of Meadow's Road, make a right onto Route 2, and Starr King Road is about 90 seconds to the east, on the left side of Route 2, just after the gas station. 
For Mt Cabot, head to the Berlin Fish Hatchery; entrance is in the town of Milan, just off 110. Take route 16 north from Gorham into Berlin. Follow the signs for Mt Jericho State Park, but go past the park's entrance. Follow 110 into Milan, and not long after, find the big brown sign for the hatchery on the left (west) side of the road. Five miles down York Pond Road (yes, it's that long) you'll bump into the fish hatchery. Go past the buildings, following the signs for the trailhead. Head down the dirt road for about a mile and a half, and you'll see the trailhead on the left. 
Cabot seems a long haul, just to get to the trailhead. It is, and I don't think anyone would mince words about that simple fact. But the juice is very much worth the squeeze. One day on the drive in, as I just broke out of the trees and came into the fish hatchery area, a bald eagle swooped around my car, all the while looking about as big as the front door to my apartment. (It probably was.) Holy Toledo, that was a sight I'll take with me to the grave. When everyone else is hunting for a parking spot at Appalachia trailhead, you're enjoying solitude and making your own memories. That long drive does a fine job at separating out those looking for a quick Instagram hit from those who… yep, you know who.
If you have a decent carrier, you should be able to get a cell signal for much of Waumbek. As I write this, there are a couple potholes in the last 100 yards or so to the trailhead that can swallow a sarlacc and its brother in one gulp. (No kidding, I think these are the worst I've seen this season, and probably last season, too.) But otherwise, the trailhead is very near civilization. If your car does indeed get swallowed whole, you're within a five minute walk to the main drag.
The same can't be said for Cabot. Note that you'll park several miles from the main road. I'm not sure they can even spell "cell signal" at the fish hatchery. So if your car isn't in good repair, think about where you're going. On the plus side, there weren't any sarlaccs, nor did I spy any sand worms. No word on the demigorgons, but I think you're safe on that one. In short, the road is in good repair, for the most part.
If you enjoy reading these posts, please subscribe — stay in the loop! Your email will only be used to alert you of new posts — typically 1-2 times per week. I will not use or share your email for any other purpose without your express permission. And feel free to share via social media using the buttons below.
Find me in the mountains, on this blog, or on Twitter: @Protean_Hiker
Help support this blog! Visit www.photos.proteanwanderer.com to buy some of my signature images.