Wildcat Mountain E-A. Jackson, NH. 2022-11-05 (Saturday.)
Via Wildcat Ridge Trail, ski trails. Approx 8 miles round-trip, excluding the road walk.
Temps were in the mid-60s throughout the day. (Even at the end, the MW Auto Road temps were about 65 degrees.) Winds amounted to a pleasant, light breeze in the trees, more breezy in exposed areas, nothing that would count as any kind of robust wind. Clouds were weird: it felt like they were hanging around the mountains, but if you looked toward the north, there was plentiful blue sky, and until mid-afternoon, there was often some sunshine coming from the south.
Trailhead: 1200. Wildcat D summit: 1400. Wildcat A summit: 1500. Wildcat D redux: 1700. Car: 1820. 
What's with the weather on Wildcat?
It was a strange bit of weather today, to say the least. If the sun wasn't kept in check by the clouds, I'm pretty confident the temps would have been north of 70. All this in the first week of November. Winter's first day is about a month and a half away, and we're still enjoying summery weather. What's up with that?
Since hiking the entirety of that bit of the AT that runs from Pinkham Notch to the Rattle River trailhead in Shelburne (and in one day, no less) I'd been wanting to hike up and possibly down from the E side again. I ran out of daylight at the decision point to head back down that way, and it struck me as imprudent to continue with that plan, so I just descended by the ski trails and walked back to the car by way of the road. 
As an aside, I don't much like hiking on ski trails. You can tell within moments that they're meant to have ten feet of snow hiding their faults. Besides which, you're heading down a strenuously steep downhill, with little to control your descent other than your legs. It gets tiring quickly. Within very short order, you come to appreciate all the hard work done by trail maintainers on the conventional hiking trails. 
Things to see for a short while.
Some fantastic views were to be had on the way up E. Washington's summit was hidden from view, but at least the ravines were on mostly-full display. But that wouldn't last: by the time I was on A peak, the clouds had descended into Carter Notch, and even seeing the hut wasn't a clear shot. Obviously, a day more suited to introspection. That's OK. I met some enthusiastic canines, and was very pleasantly surprised to meet a human that I'd met on Cabot last week. "Fancy meeting you here!" 
One thing I didn't know until I looked it up: the Wildcat Ridge trail actually starts at the side of Route 16, not at the Lost Pond trail junction. Crossing the Ellis River can be sketchy (this is highlighted in my AMC guides going back to 1931) hence the AT starts that mile or so to the north and goes behind the pond, eliminating a potentially rough crossing. It was doable today, but I could certainly see how it could be quite treacherous with just a little more water flowing past. Might be fairly pedestrian in, say, mid-July or something. 
Occasional fangs and claws from those cats.
I'd forgotten this, but the col between D and C is pretty significant when heading toward Carter Notch — the middle Wildcat rises more than 200 feet above Wildcat D's summit, so there's a climb there. C-B-A is a quick jaunt, and E is almost a meaningless distinction when you cross the ski lift area to the summit of D. The two hundred feet of prominence must happen, and it's in that col for sure. But there it is.
Although I say "meaningless distinction", and while D and E are sometimes known as the "wild kittens" given their lower heights compared to the other three, you need to remember a couple things. E rises up fast, and if you look at a topo map, you realize that this is one of the steeper trails in the Whites. There are also those bits where you're climbing up very steep terrain, hands and feet required. That kitten has some sharp teeth. Don't judge it by a diminutive nickname. But it's perfectly fair to judge it by the views you'll get from its exposed ledges. Some of the finest in the Whites for sure, making it well worth the sweat and toil.
As always, stay safe out there.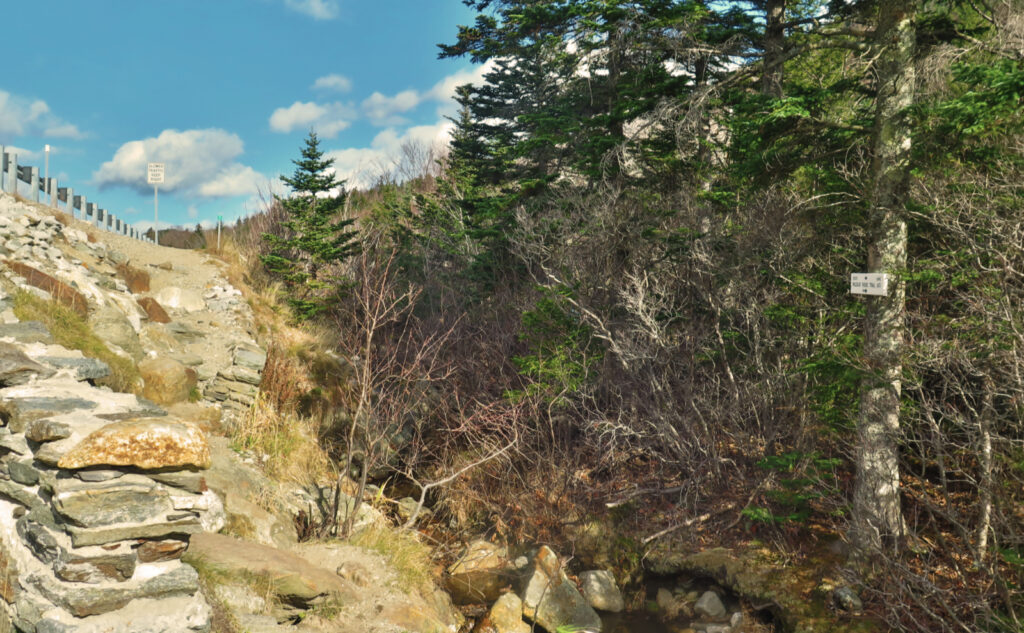 Nuts and Bolts: As for most four thousand footers, take 93 north past Franconia Notch, and take exit 34, following route 3 to the four-way intersection at Foster's (now just a hole in the ground) Crossroads in Twin Mountain. Pass through the intersection, and in a few miles, turn onto route 115 in Jefferson. Right turn onto route 2, follow that into Gorham, and then make another right onto route 16. Trust me, this is the "fast" way, going up and around. Park in the Glen Ellis lot, which is about a mile south of the Pinkham Notch AMC center. The sign is on the west side of the road, and it's not huge, so keep your eyes peeled. 
From the parking area, head east to the kiosk, and you'll see a tunnel going under route 16. The "stealth" trailhead for Wildcat Ridge trail is just on the other side. Your very first move is to cross Ellis River. Pay attention to the weather for the days preceding: you want a relatively dry spell, because that little stream does get jacked with little provocation. You might be better off parking at Pinkham Notch, and taking the Lost Pond trail variation. It's a short road walk, though, so if you realize you need to change plans, all's not lost. 
Note: the map below is of the entire traverse, from Pinkham Notch out to Shelburne. Use the relevant portion as needed.
Almost all of this route is on the AT: blazes are the customary 2×6 inch vertical white stripe. If you take the ski trails down, obviously that's nothing to do with the AT, and so don't expect typical blue blazes.
Back in 2019, I traversed the whole thing from Pinkham Notch to Shelburne. The Rattle River Hostel offered rides for short money from their place to the notch, making it a very easy one-way hike. Unfortunately, they closed their doors this past summer. It was great while it lasted…
Hiking up Wildcat E: Think hard about going down. It's not terribly treacherous if the weather and lighting is on your side. But there are more than the usual number of places where you've got some exposure to the wrong kind of risk. Walking back to Glen Ellis by way of the road isn't terribly long. Hiking down a ski trail isn't pleasant, but it's a lot easier than cussing your way down some of those ledges. The fact that steps were cut into the rock in many places (and done long before the convenience of battery-powered tools) should tell you this isn't your average trail.
If you enjoy reading these posts, please subscribe — stay in the loop! Your email will only be used to alert you of new posts — typically 1-2 times per week. I will not use or share your email for any other purpose without your express permission. And feel free to share via social media using the buttons below. 
Find me in the mountains, on this blog, or on Twitter: @Protean_Hiker
Help support this blog! Visit www.photos.proteanwanderer.com to buy some of my signature images.