North and South Kinsman Mountain (4,293 and 4,658 feet, respectively). Easton and Franconia, NH. 2019-12-12 (Thursday.)
Via Mt Kinsman Trail, Kinsman Ridge Trail (AT). 10 miles round-trip.
20 dF at the trailhead, 10 dF at the summits. RH ranged from about 50% to 75%. Winds were negligible in the trees, about 15-20 knots at the summits in the exposed areas. Dew point was in the single digits throughout, rising to the high single digits as the day progressed. Partly to mostly sunny throughout. 
Trailhead: 1010. North Kinsman summit: 1315. South Kinsman summit: 1345. Car: 1625. 
The trail provides, yet again.
Given the lovely weather I enjoyed today, I was very hesitant to look at what the stats were for Mt Washington today. I mean, the prognosticators on top of the old rock pile aren't infallible, right? We've all been on top of something, shaking a fist at the heavens, saying "well, they totally blew it." It happens. But when I did look, I saw they nailed it pretty well. The winds on top were indeed more than I'd have wanted to deal with today. I made a good choice. 
And so it came that I pulled into the Mt Kinsman trailhead parking area, where back in July, a kind soul gave me a lift back to my car, parked at the Reel Brook trailhead. As I wrote then, the trail provides. Today, it was solitude and stellar views. 
From the parking lot on to the summit, the trail did its level best to afford a pleasant walk. The various guides describe the trail up as being fairly moderate, and for the most part, it is. Near the top, it does get a bit steeper, but overall, it's not a hard trail — much of the lower section follows an old truck road. Thinking back to the summer's crowds, this was certainly a good way to ascend. I packed my snowshoes to foil the gremlins, but wore my light crampons throughout. The trail was a bit weird, in that about 90% of the time, I was on either ice or very hard-packed snow. But in the lower half, every so often, there would be a stretch where I was on dirt and leaf litter. At least it wasn't the drifting powder I struggled with on Mt Washington. 
Crossing Mossy Falls brook was straight-forward, but required a little bit of snooping around. Crossing Kendall (formerly Flume) brook, the rocks weren't spaced advantageously, and I ended up walking across ice, testing every inch with my trekking poles before stepping forward. (On the way down, I ended up scouting a little further downstream and found a nicer way across.) I pressed on through glades, and old spruce and fir stands. Movement was almost effortless. 
I got to the top and was treated to amazement: Franconia Ridge and Cannon Mountain were laid out in tableau, bathed in golden sunlight. Following a long, graceful arc, Liberty and Flume to their south. To the northeast, Cabot, Starr-King, and Waumbek in the distance. Wow! I turned for South Kinsman, and before long, the hulk of Moosilauke came into view. I never tire of seeing that mountain. 
On the way back, it felt a lot easier to get distracted. Through the col between the two Kinsmans, I kept getting views of the north peak and glimpses of its cliffs. Occasionally, Franconia Ridge. It was an act of will to move on; I had to remind myself that daylight was scarce, and the days wouldn't lengthen for a bit more than a week. But finally, I was back at the car. 
To be true, I'm feeling the weight of having Washington stuck on my list. I'd like to knock it off Autumn this year. No reason, just for the sake of neatness, and perhaps having a third 48 done by the time I start the AT. And yet, I keep reminding myself that it's perfectly "legal" to knock it off any month for my grid. Yep, head games. 
That being said, I've done the Kinsmans three times now, and today was a very fun outing, in spite of Washington. My only gripe was from not leaving the house an hour earlier. I'd have liked a bit more time to explore the Flume, or Bald Mountain. There's supposedly the remains of an old hut to check out. As always, there remains plenty of reasons to come back. The trail provides.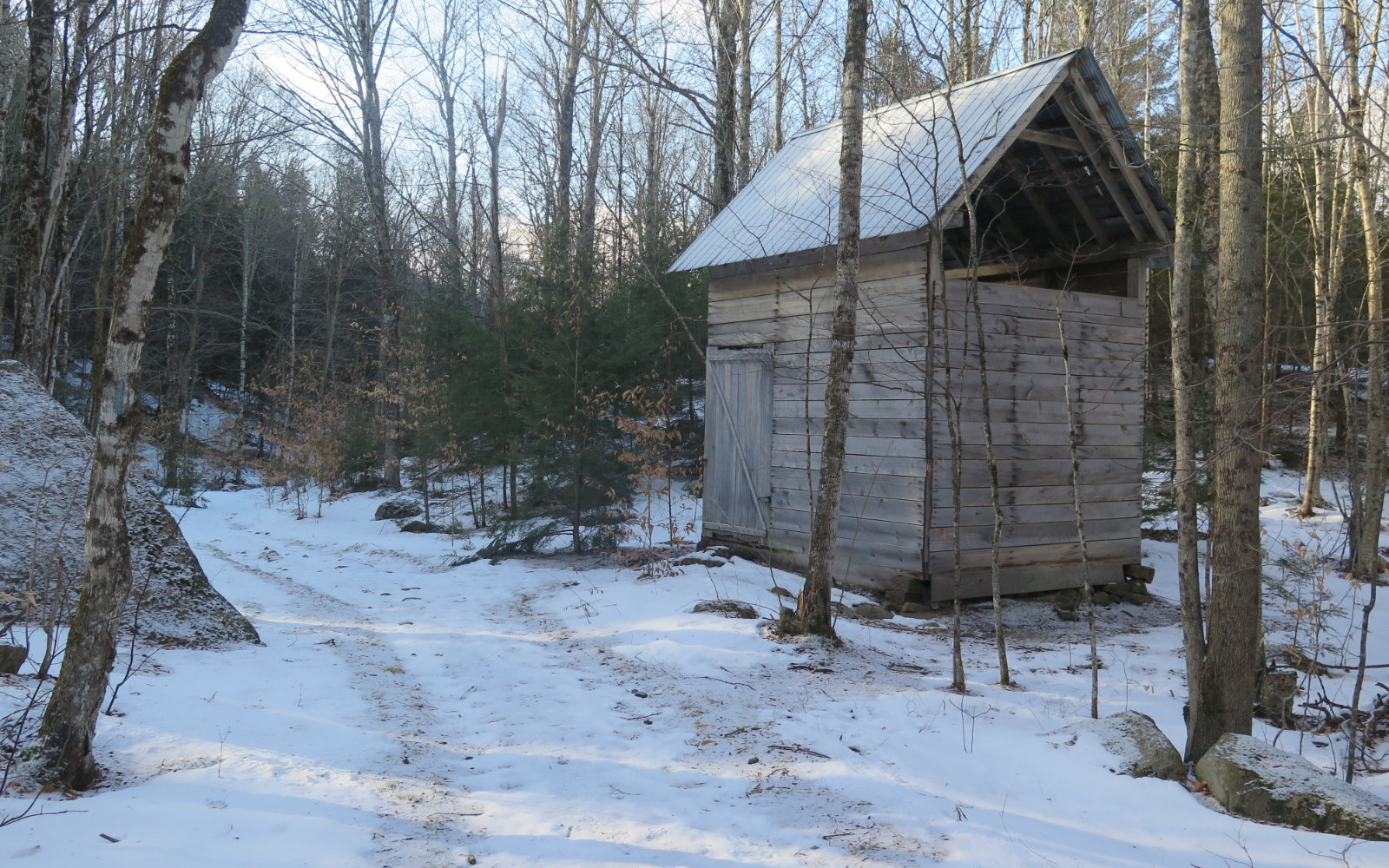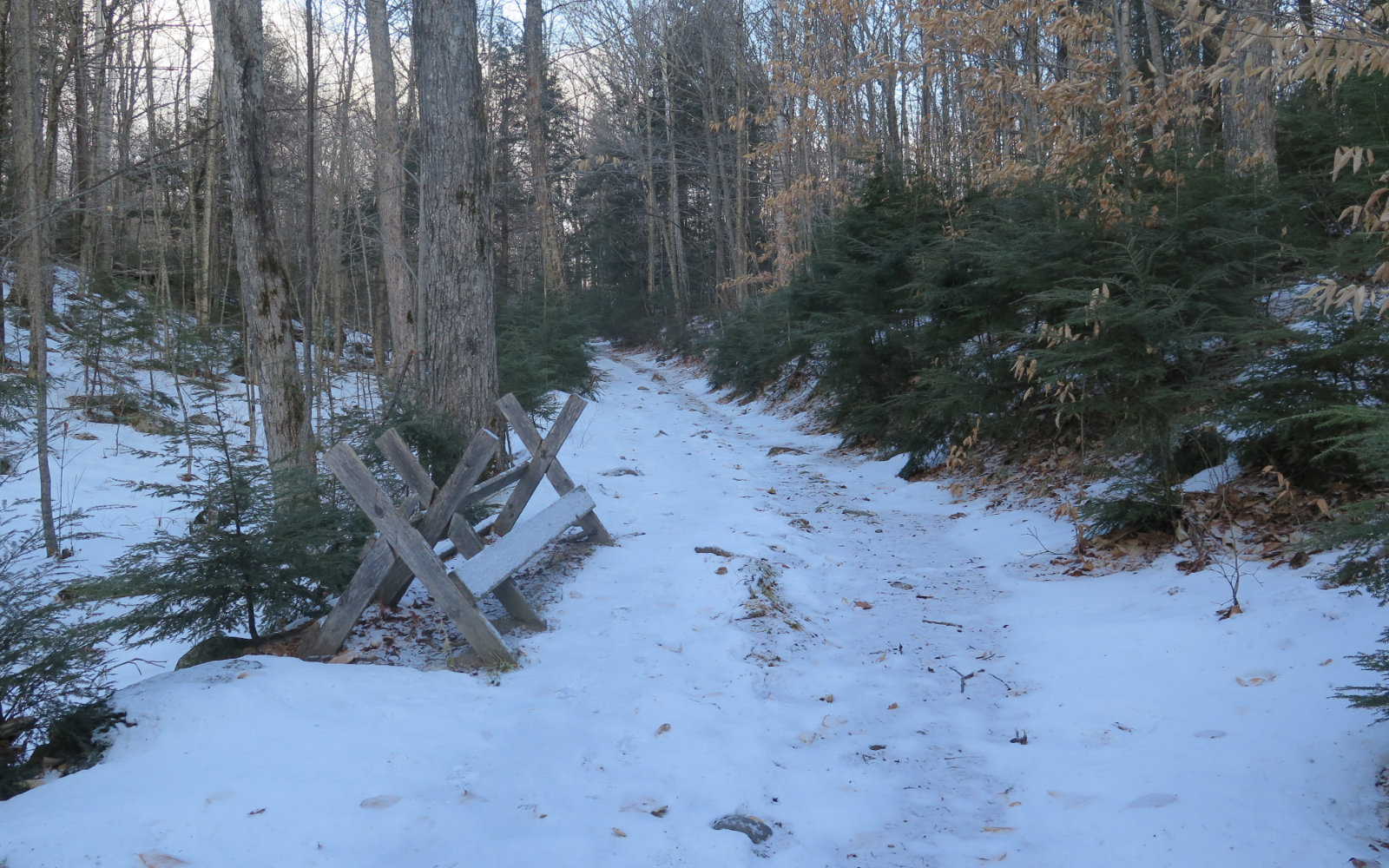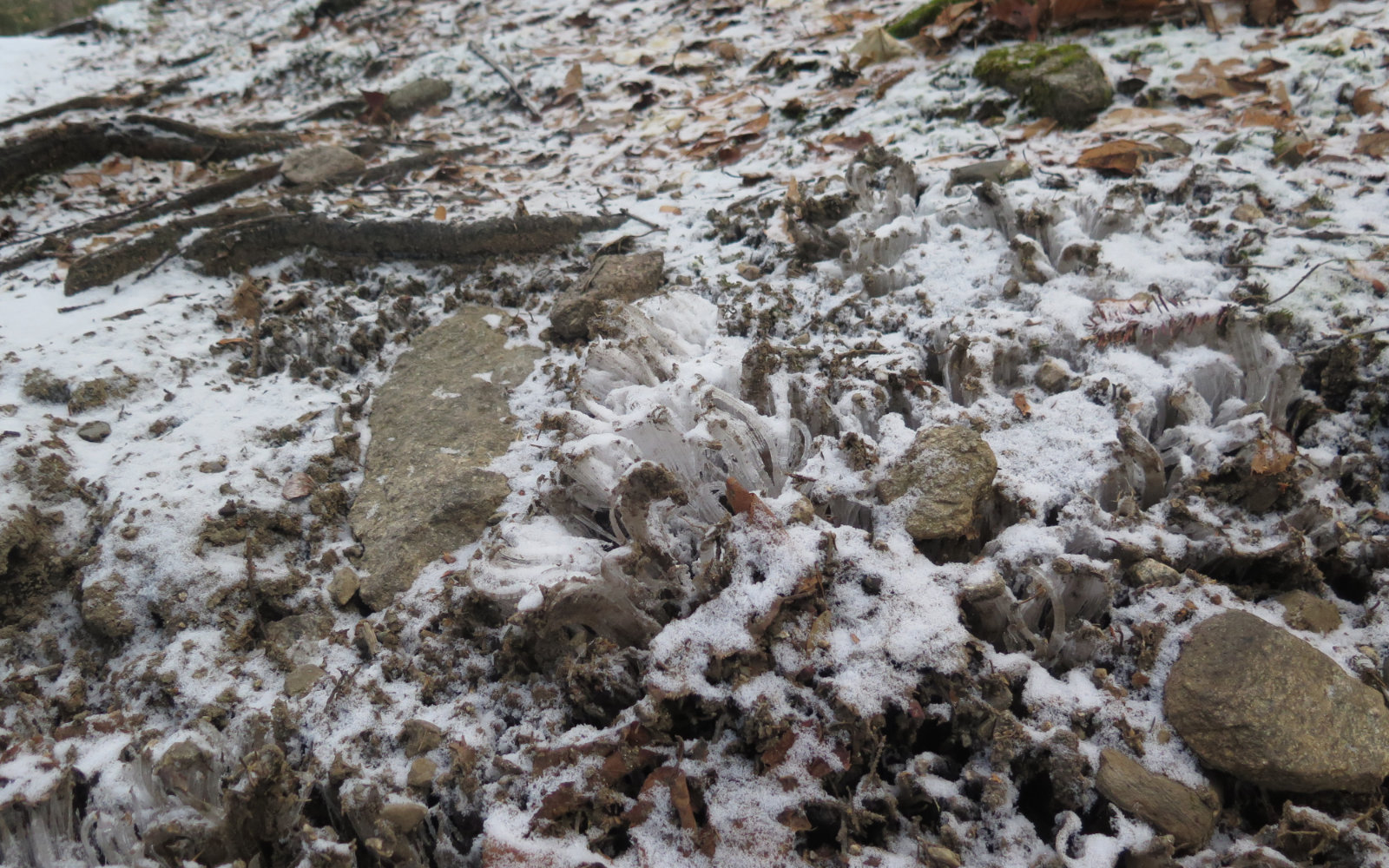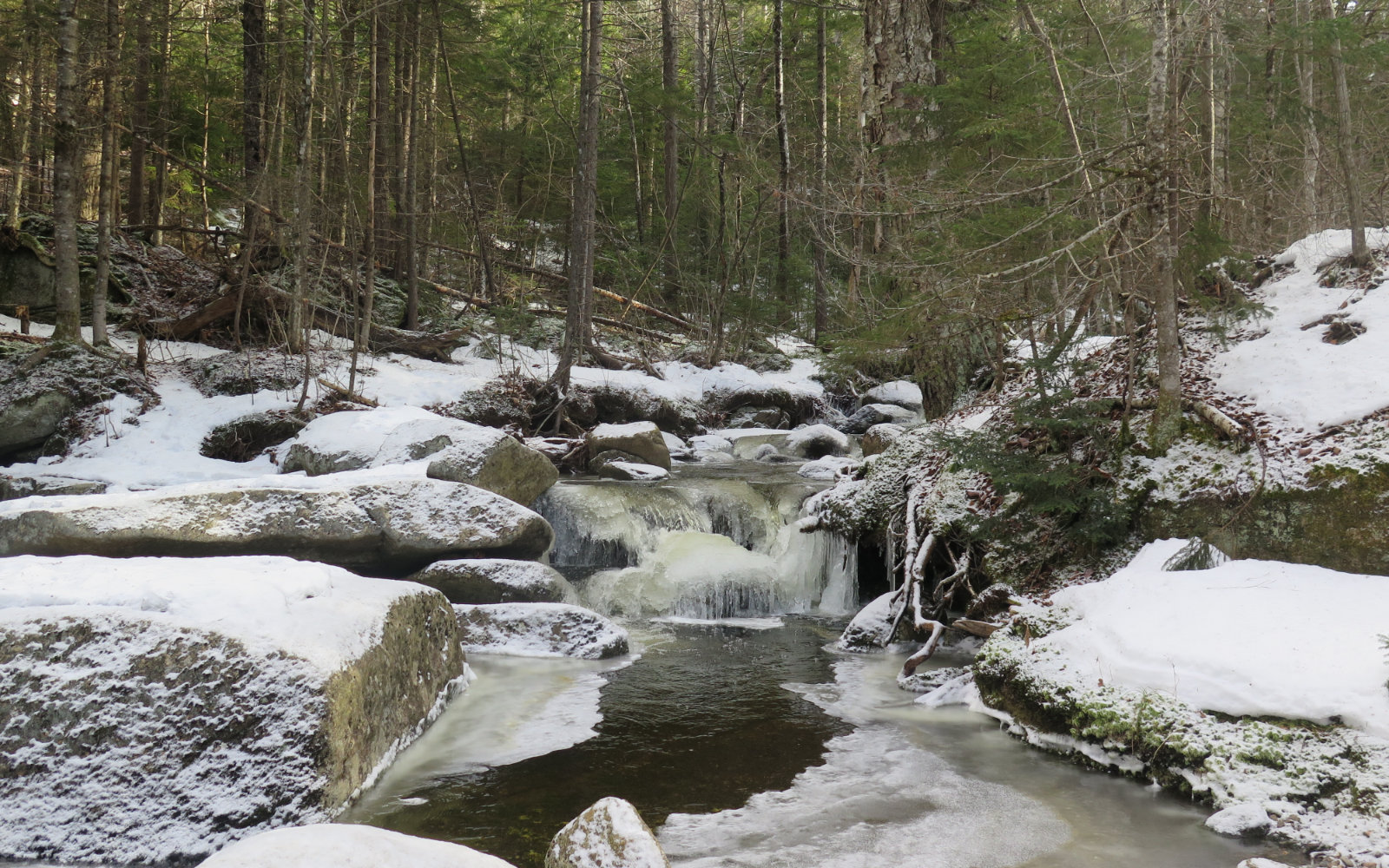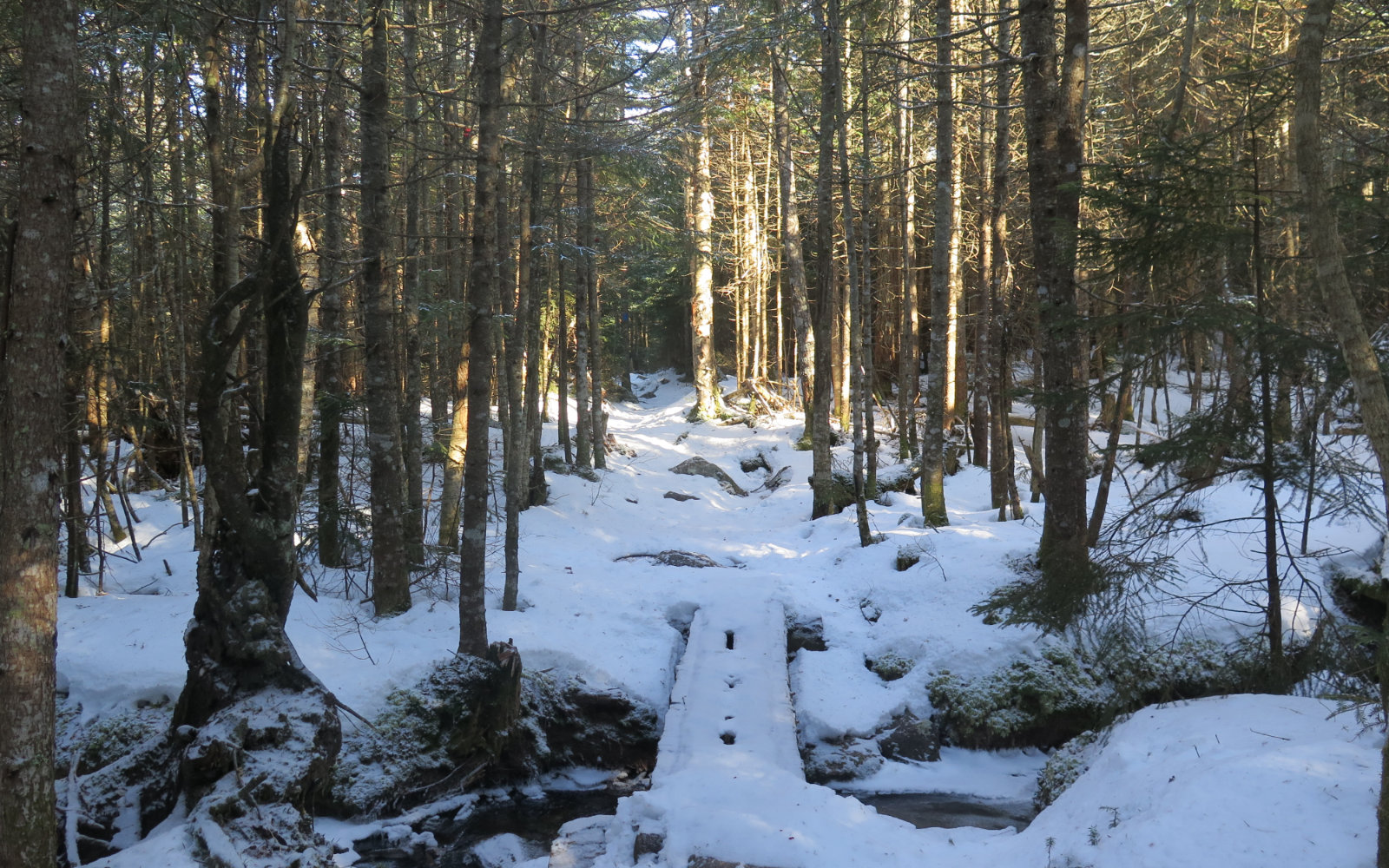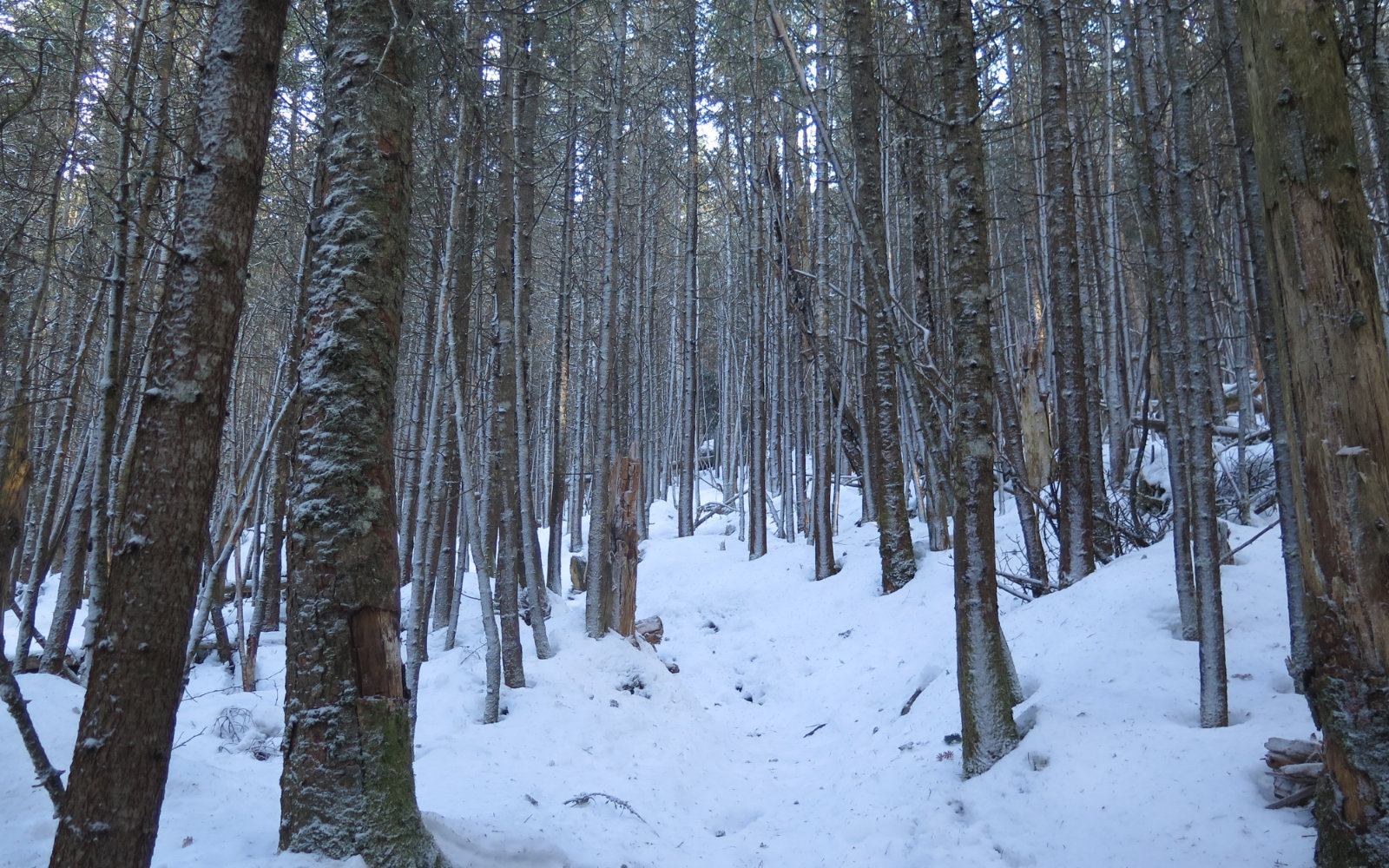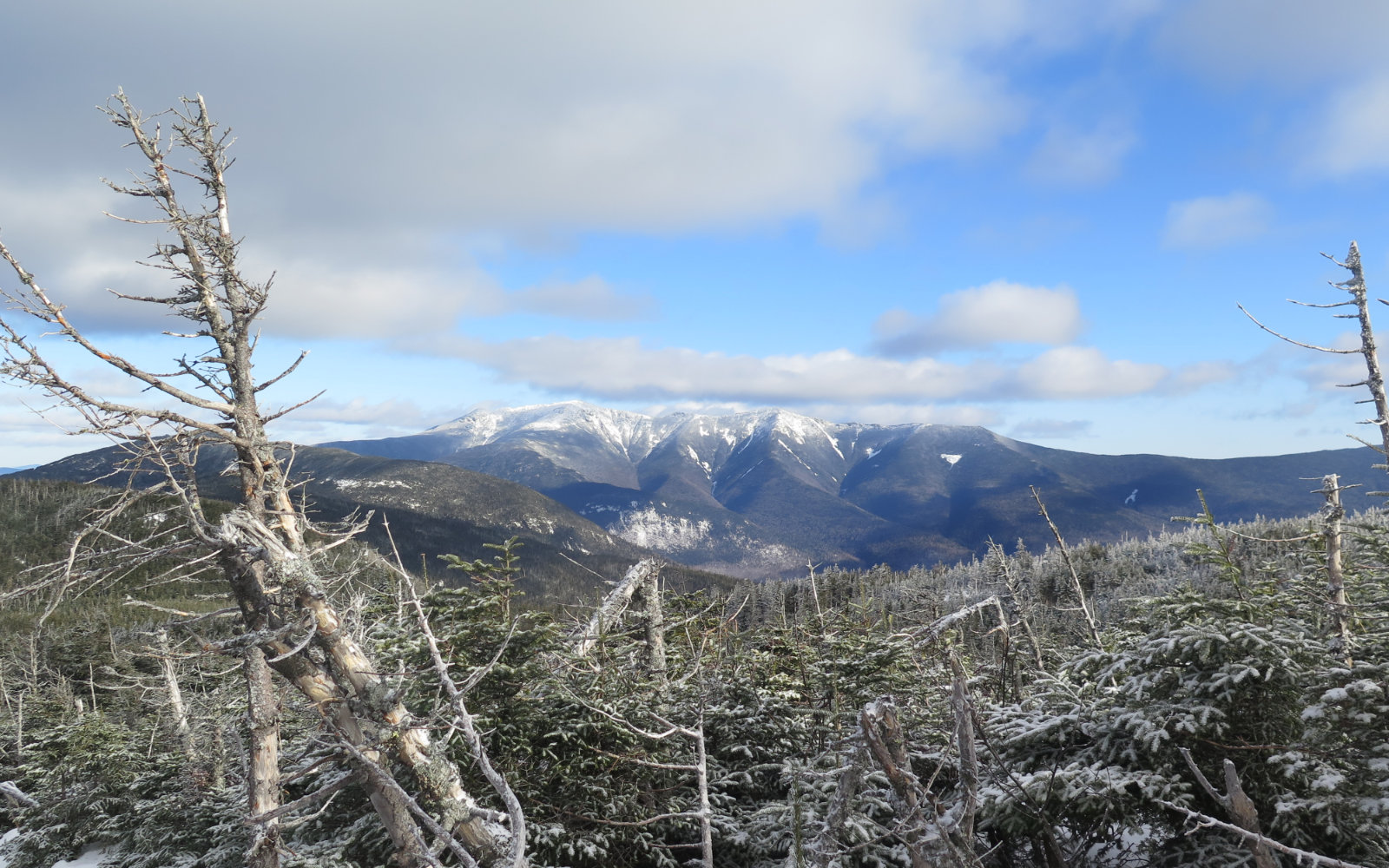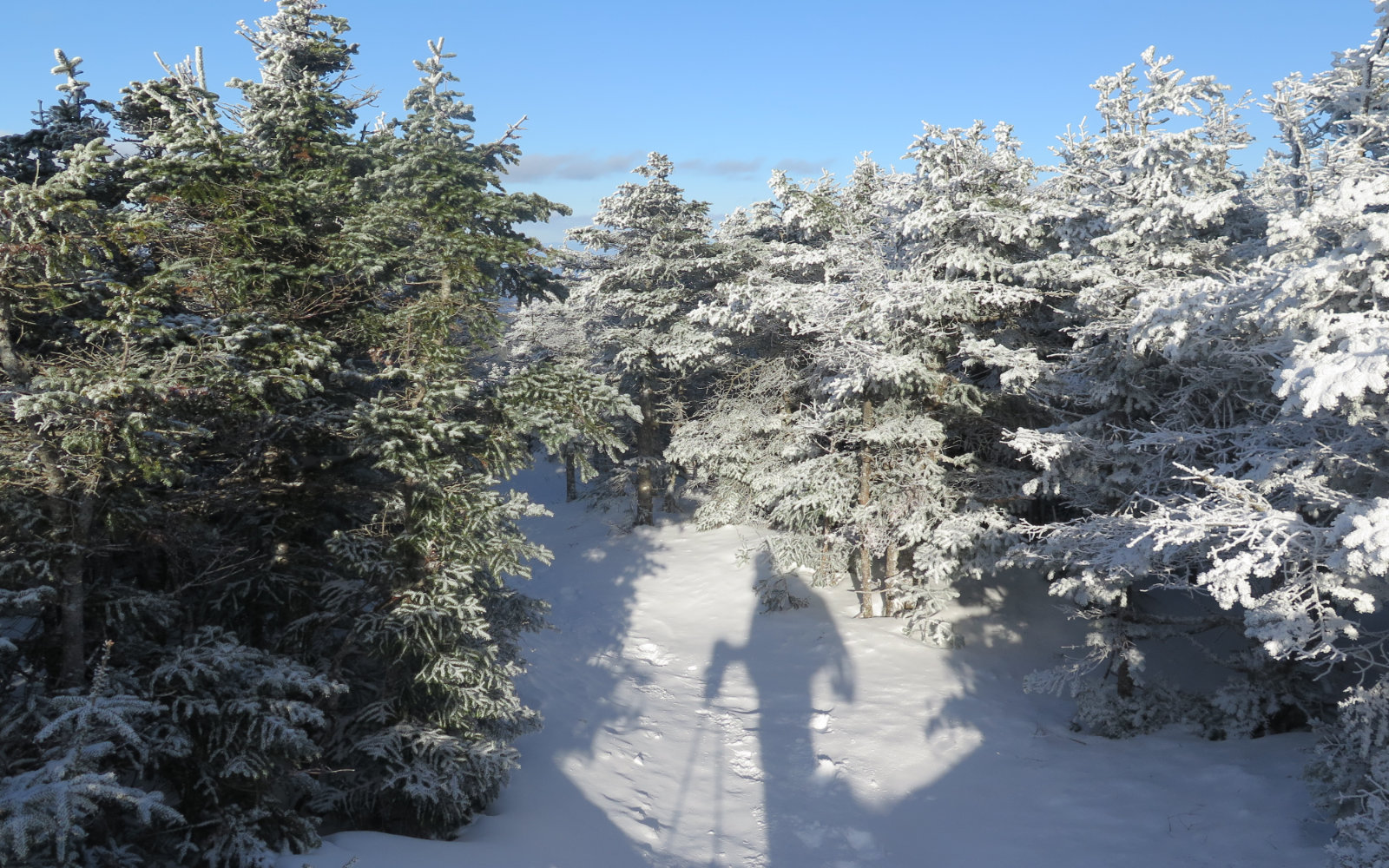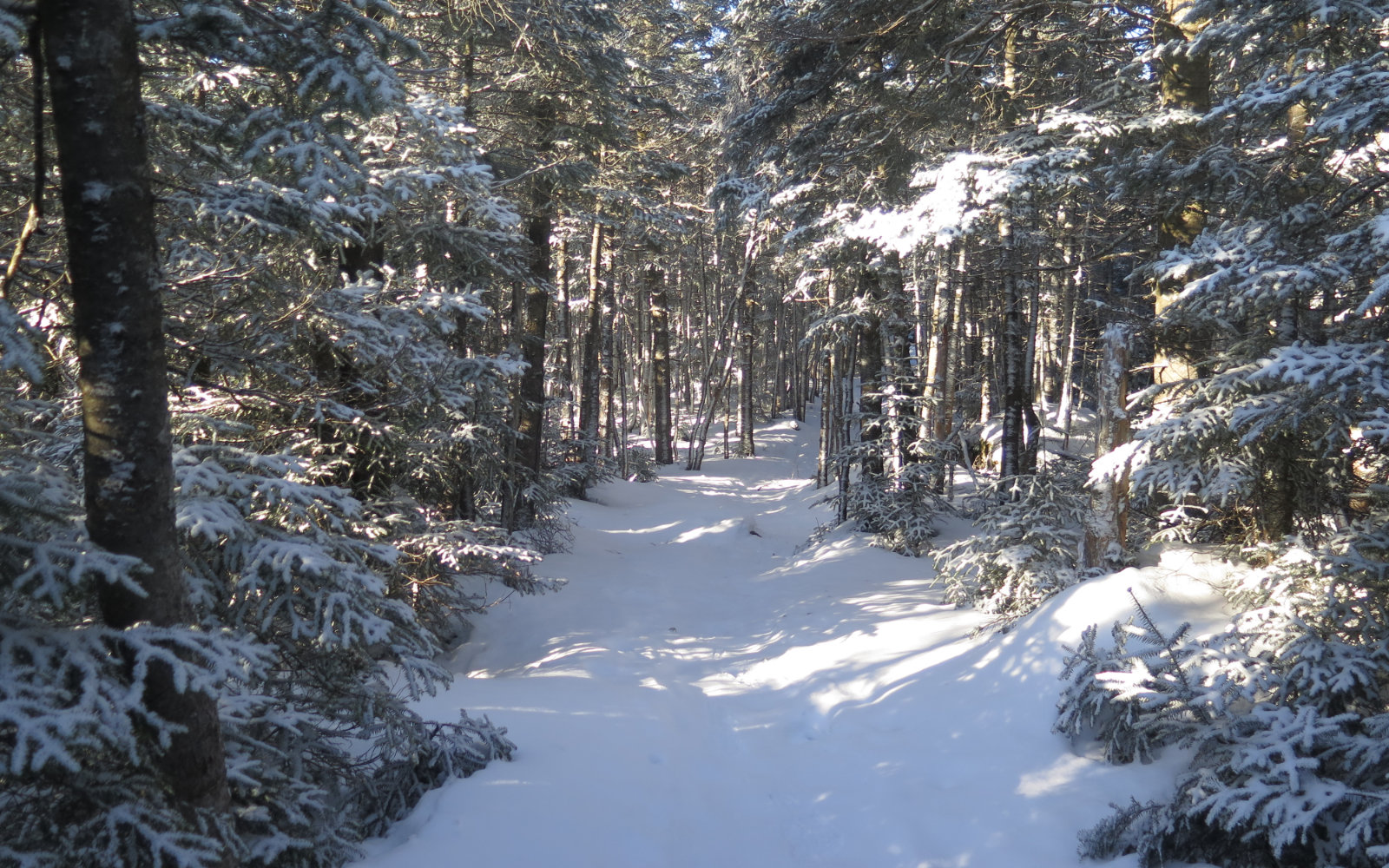 Nuts and Bolts: Take exit 32 off I-93 (the Kancamagus Highway, in Lincoln) and head west. Stay on 112 until it intersects with 116, and then head north toward Easton and/or Franconia. As you pass from Easton into Franconia, be on the lookout for the trailhead sign. If you see a tennis summer camp, you've gone about 100 yards too far. Currently, the lot is paved in ice, so a. beware as you drive in, and b. have at least YakTrax handy for the puttering about you'll do in getting ready. The weekend forecast features at least one day of rain, so all this might be moot. YMMV.
Trailhead will be right in front of you, but it's a smaller sign than normal, and it's pretty weathered. There's also no "bulletin board" trailhead signage of the sort found in places like Ammo, Zealand, and so on. On-trail, blazes are blue until Kinsman Ridge, where they become AT-white, and generally plentiful. Be aware that down low, there are a few side trails (mountain bike, etc) that branch off here and there. And there's the truck road that splits off to the right on your way down. The blazes will keep you on the correct path, but be mindful of them. Overall, though, it's not hard to stay on track. Just keep your wits about you and you'll be fine.
If you enjoy reading these posts, please subscribe — stay in the loop! Your email will only be used to alert you of new posts — typically 1-2 times per week. I will not use or share your email for any other purpose without your express permission.