Even better than hoped! 
Wildcat Mountain A and D peaks, Pinkham Notch, NH. 2019-05-16. (Thursday)
Via ski trails, and Wildcat Ridge trail.
55 dF +/- mainly cloudy with some sun late in the day. Wind at upper elevations was approximately 5 knots.
Ski area base: 1150; Wildcat D summit: 1320; Wildcat A summit: 1500; back at car: 1735.
Approximately 10 miles there and back again.
So this was fun. About a year and two months after first doing this pair, I pulled into the parking lot ready to do it again. The obvious difference was the lot was barren, as were the slopes. There was a maintenance guy driving a tractor, but that's the only human I saw at the ski area. Eager to get going (and this, despite getting out of bed very late) I charged up the hill.
The mountain is actively shedding its excess snow for the season. All throughout the day, the sound of babbling drainages, cascading over rocks and whatever else, was a pleasant soundtrack to my hike. The first half or so was mainly bare ground, with mostly avoidable patches of snow here and there. I bare booted across a couple of them, but it wasn't a big deal, apart from an ongoing sense of "will you hurry up and melt, already?!"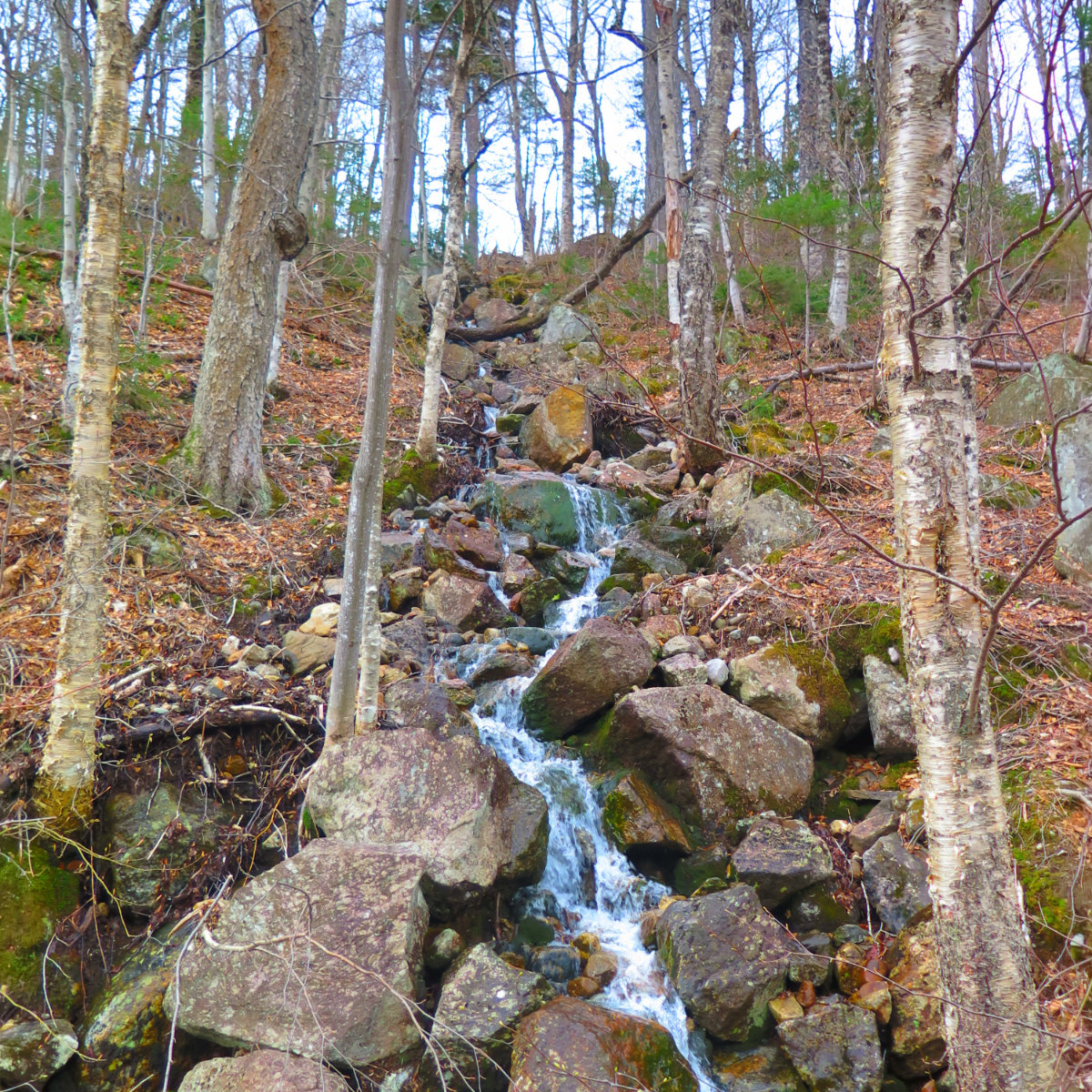 An hour of hiking later, I was dripping with sweat. At the halfway point on the mountain (more or less — there was a building, perhaps for snowmaking) it became obvious that it was time to don my Hillsounds. The snow was perhaps a few inches in most places, but all the same, it was still there.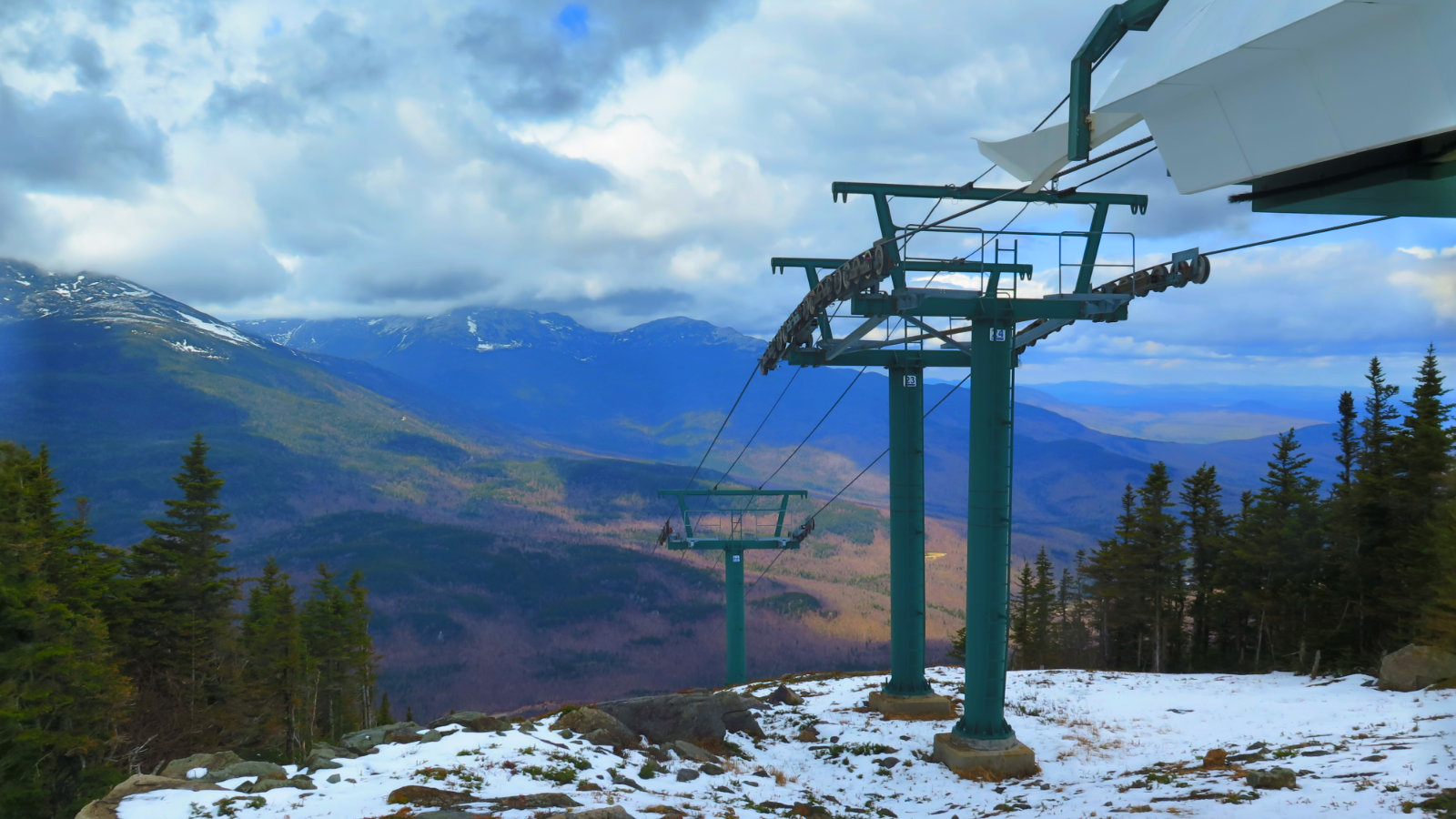 Finally, the summit. It's a bit eerie to see the lift not doing anything. But the views from the top, especially over to the Wild River Valley, were quite nice. (Note, those views were behind me as I took the above photo.) I poked a bit up the trail toward E Peak, and it seemed to be a mostly firm monorail. Some people had post-holed at some point, but I found the snow to be reasonably firm.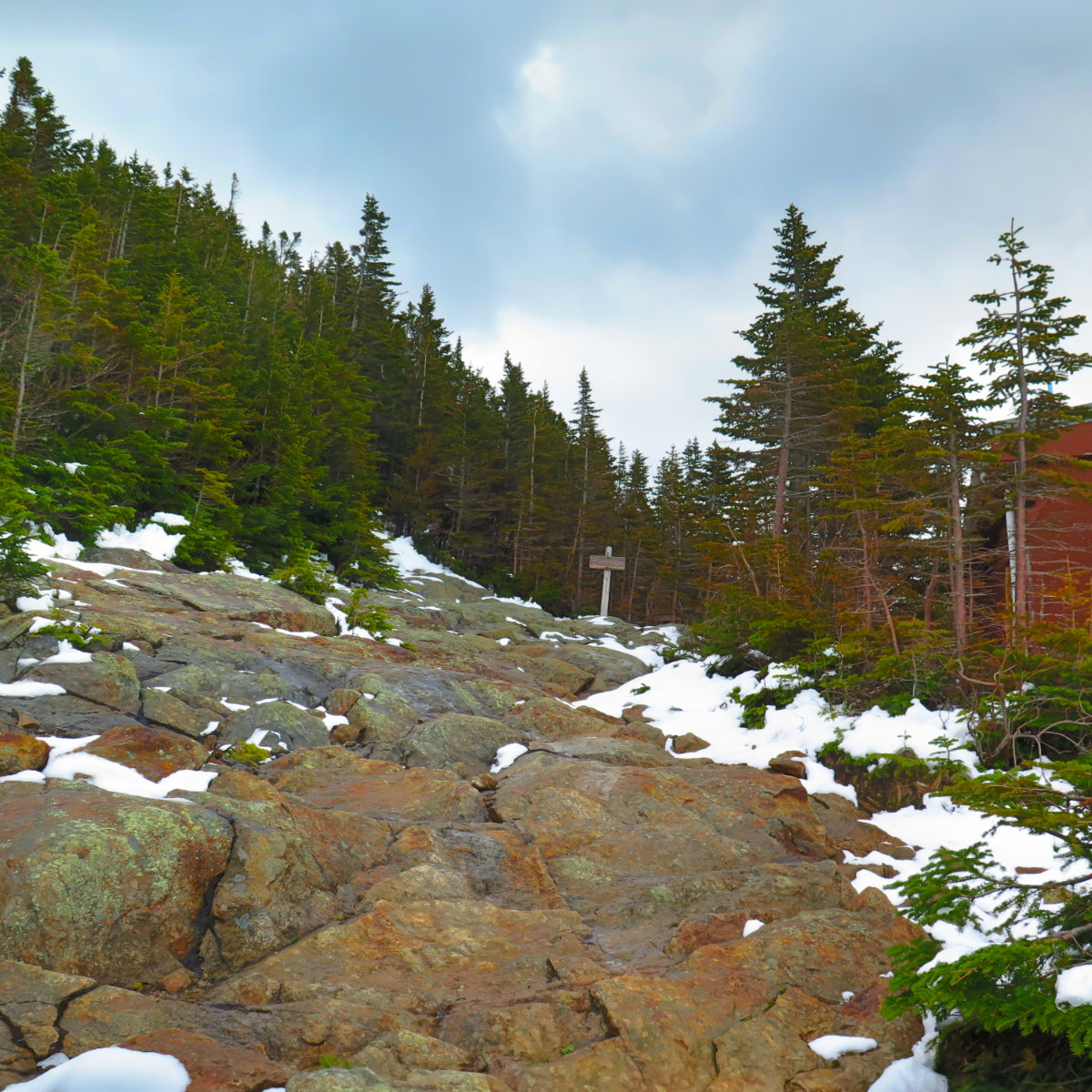 Back at the junction, I headed up toward the viewing platform. Last time, I saw a few songbirds, but alas, today was not to be. The observatory was socked-in cloud, so I gazed over toward the Carters, and then pressed on toward A Peak.
I'd read a report on New England Trail Conditions that the monorail was somewhat deteriorating. Obviously, it's closer to its nadir than its zenith, but all the same, the conditions were actually pretty good. The 'rail is quite a bit narrower than it would have been in, say, February, but stepping smartly, I had no problems with post-holing. Snow was a fair bit of mashed potatoes, but overall, the conditions were excellent, especially this late into springtime. Occasionally, the trail was melted down to mud, but I never really wanted for traction.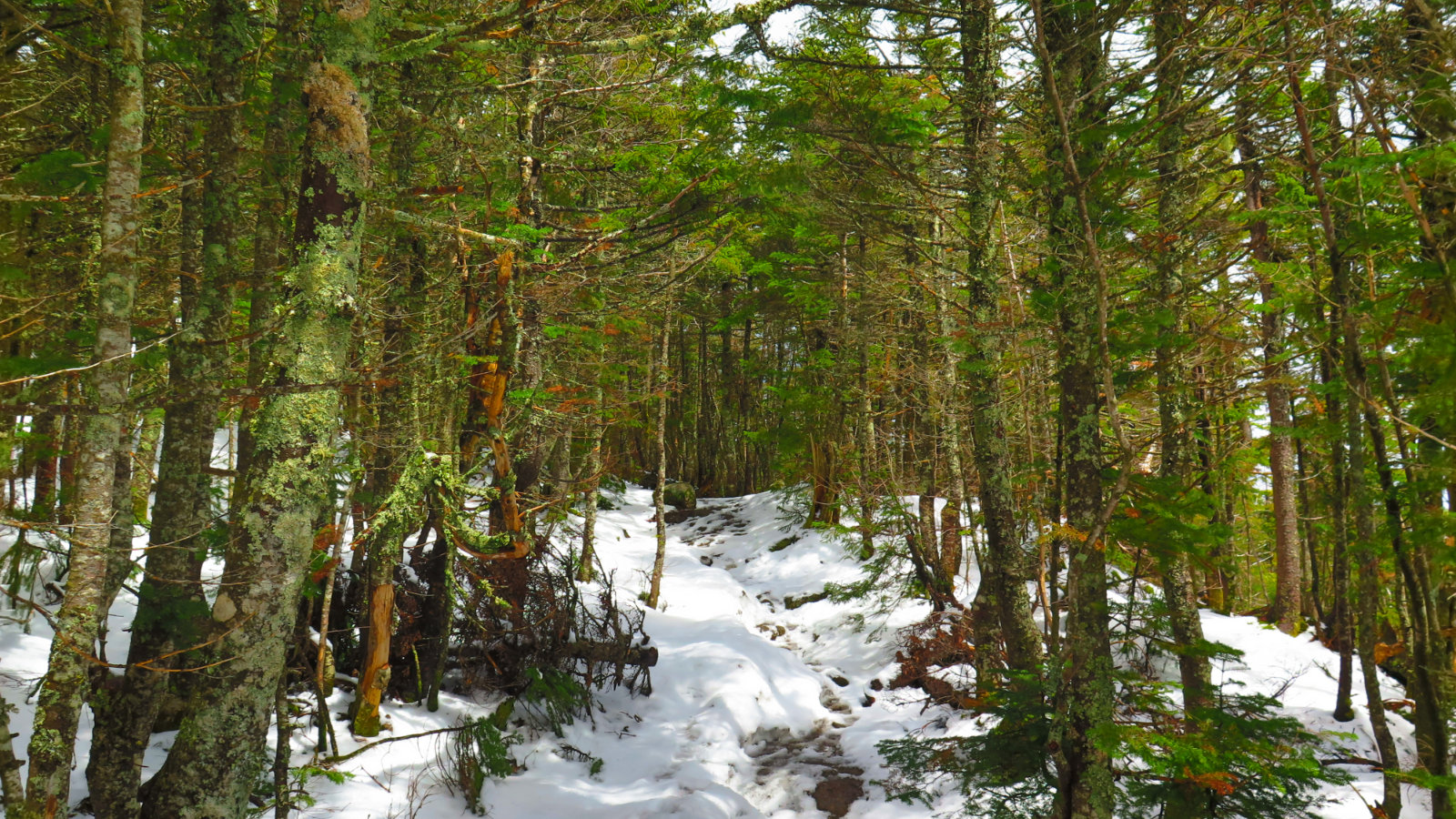 The big disappointment, obviously, was Washington. Always wore a hat. Sometimes, it was higher up than others, but it was never a bluebird day for the guys in the observatory.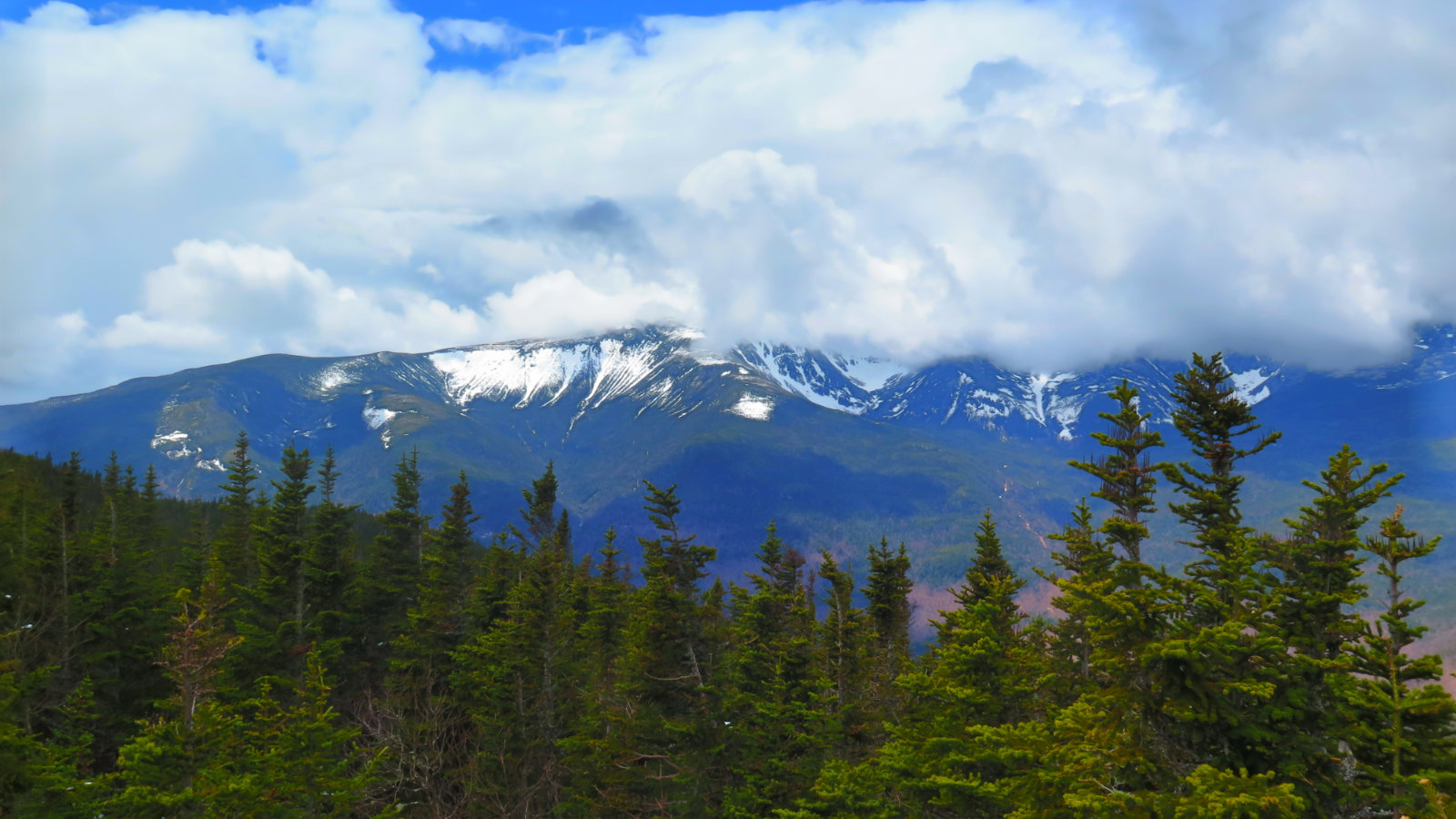 Coming off the top of D Peak, the trail goes pretty quickly down into the col over to C Peak. It's not hard going, but I can imagine that in summertime, when the trail is dryer and firmer, it will be a nicer hike. The saving grace is that all the ups and downs are short. That's not just relative. This isn't like doing Tripyramid or South Carter or Tucks. And after C Peak, the way going across B Peak was very easy. A Peak was a quick pop up, but again, a short pop.
On my way across the ridge, I heard voices ahead, and then met up with four young women, enjoying the day. They'd been doing the same as me, so we shared a few quick thoughts and then got on with our respective hikes.
Despite being treed-in, there was a view of A Peak from the trail.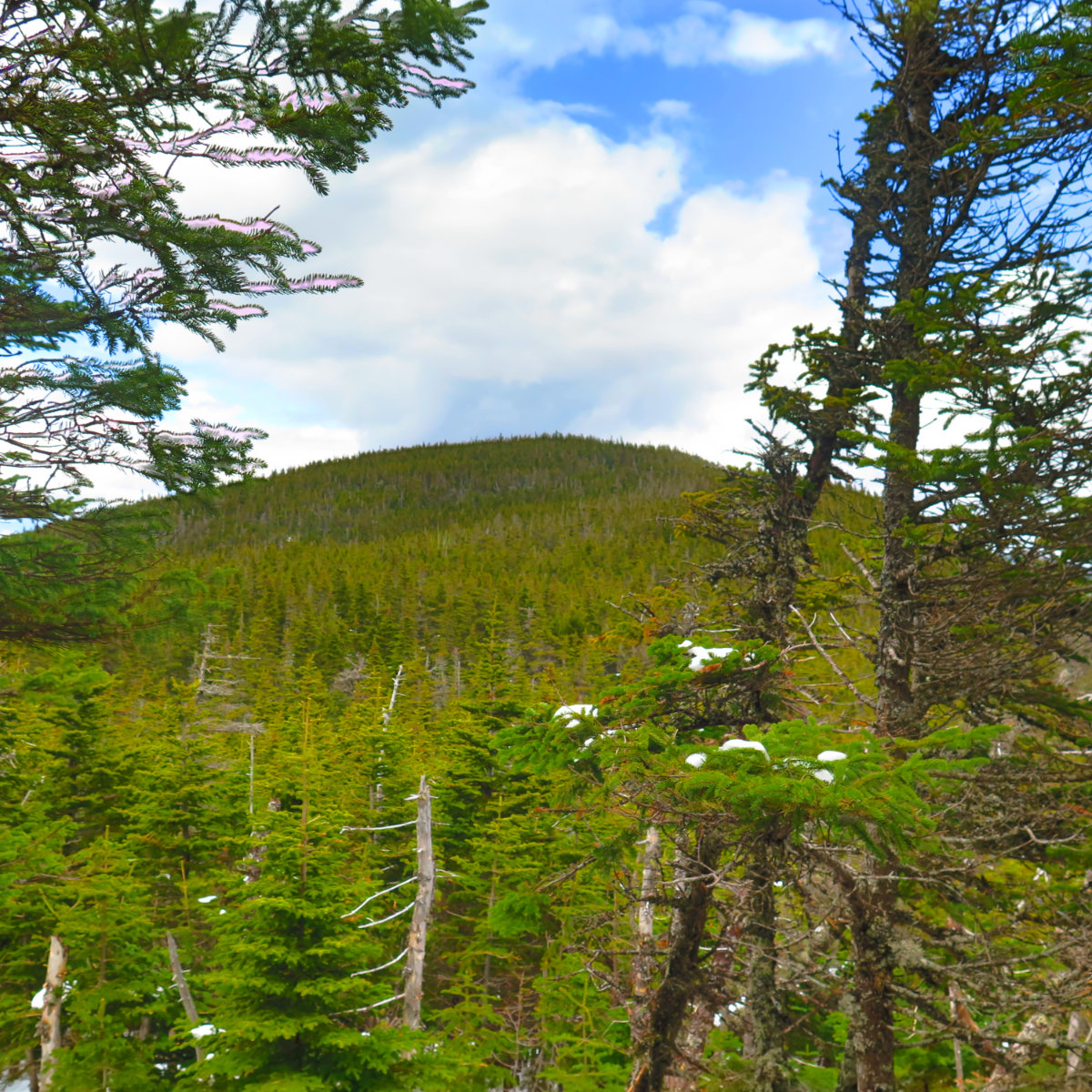 And then the view. It's a few steps from the trail, and breathtaking.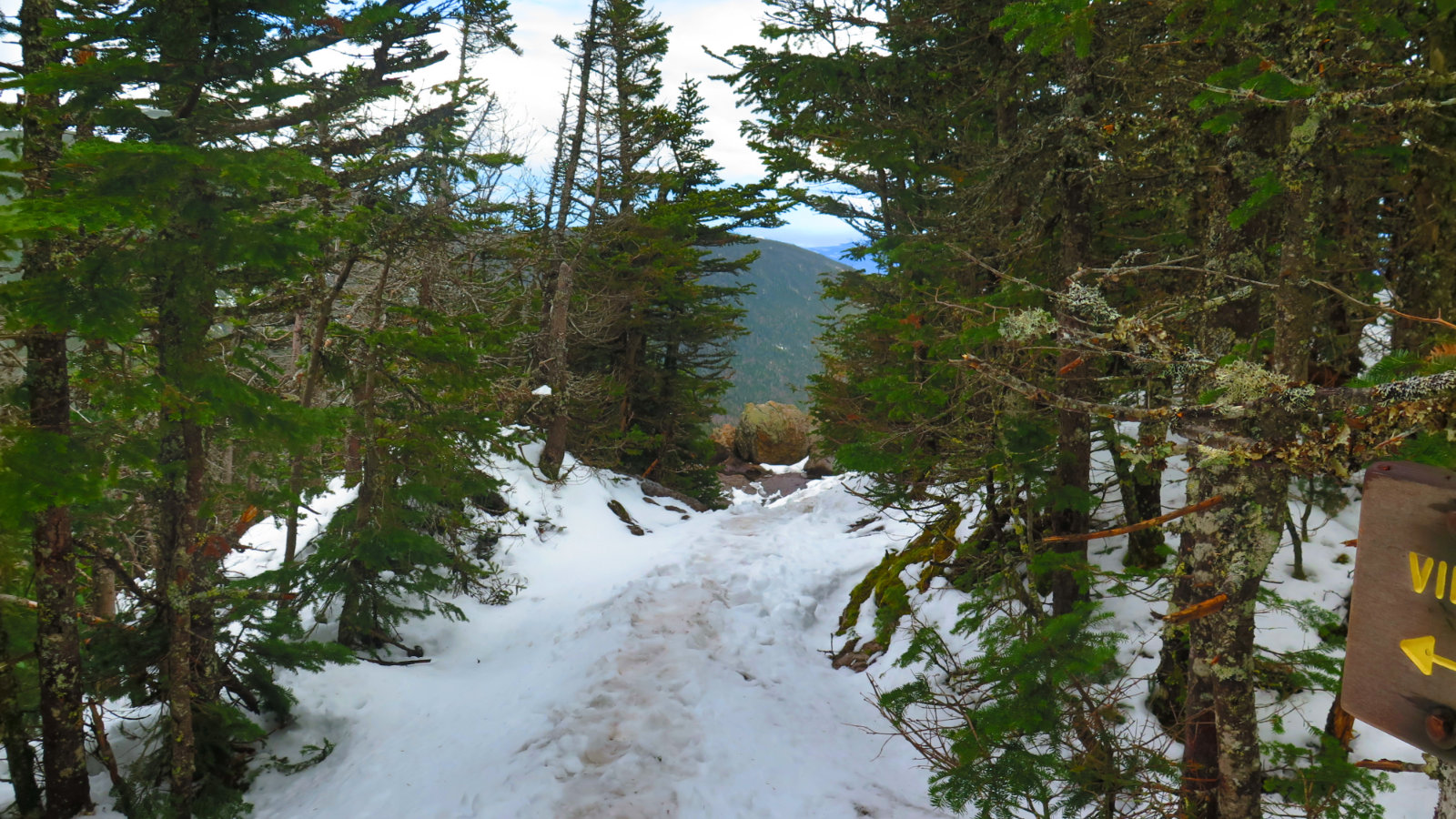 The ledge is about the size of a dining table, quite irregular, and yes, there's a drop-off. But if you're going to see down into Carter Notch, and perhaps spy the AMC hut down below, you have to get closer to that edge than just about anyone would possibly want. It's totally worth it.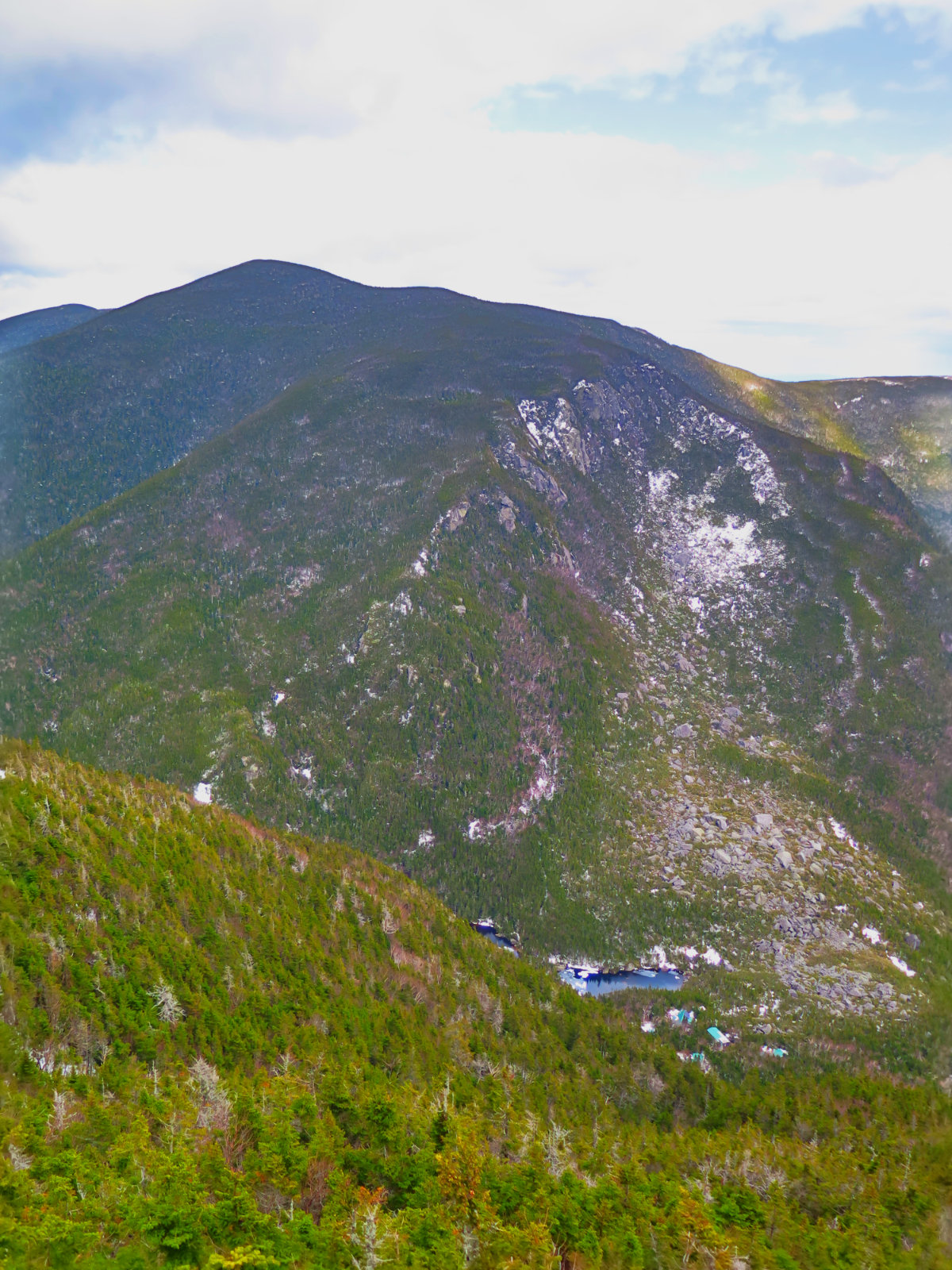 The weather that Washington was experiencing, and occasionally kicking across the street at me, was primarily limited to the immediate area. Nicely, the views out of the notch were fine. If the sky wasn't hazy, I'd have seen for many more miles than I did. And at one point in the day, I saw Moosilauke, Carrigan, Bond, and Flume.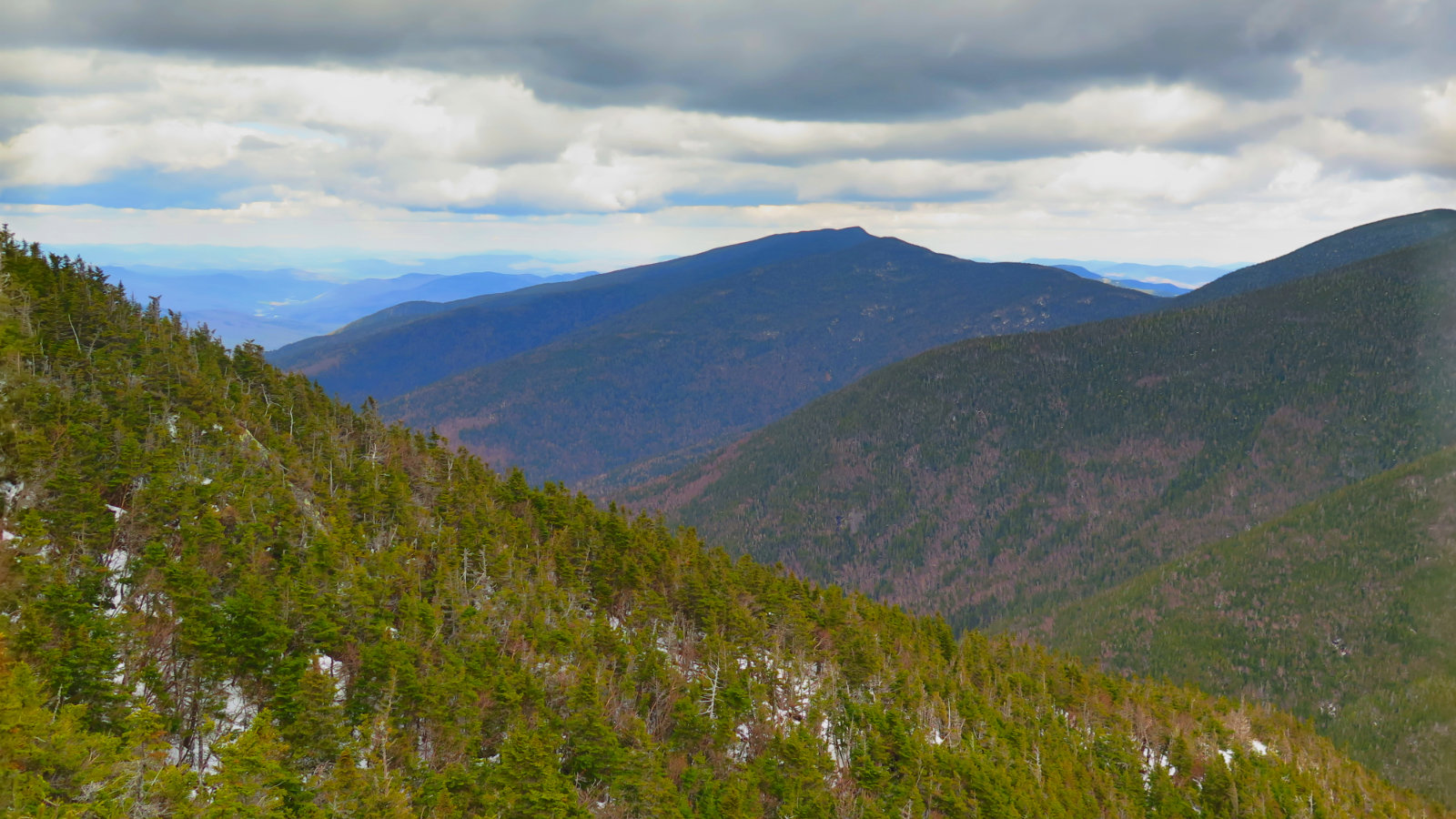 A rustle in the trees, and this guy: a slate colored junco. Didn't sing a song, nor did he take nuts and dried berries from my hand. But nonetheless, he was a sharp looking fella, and that's good enough.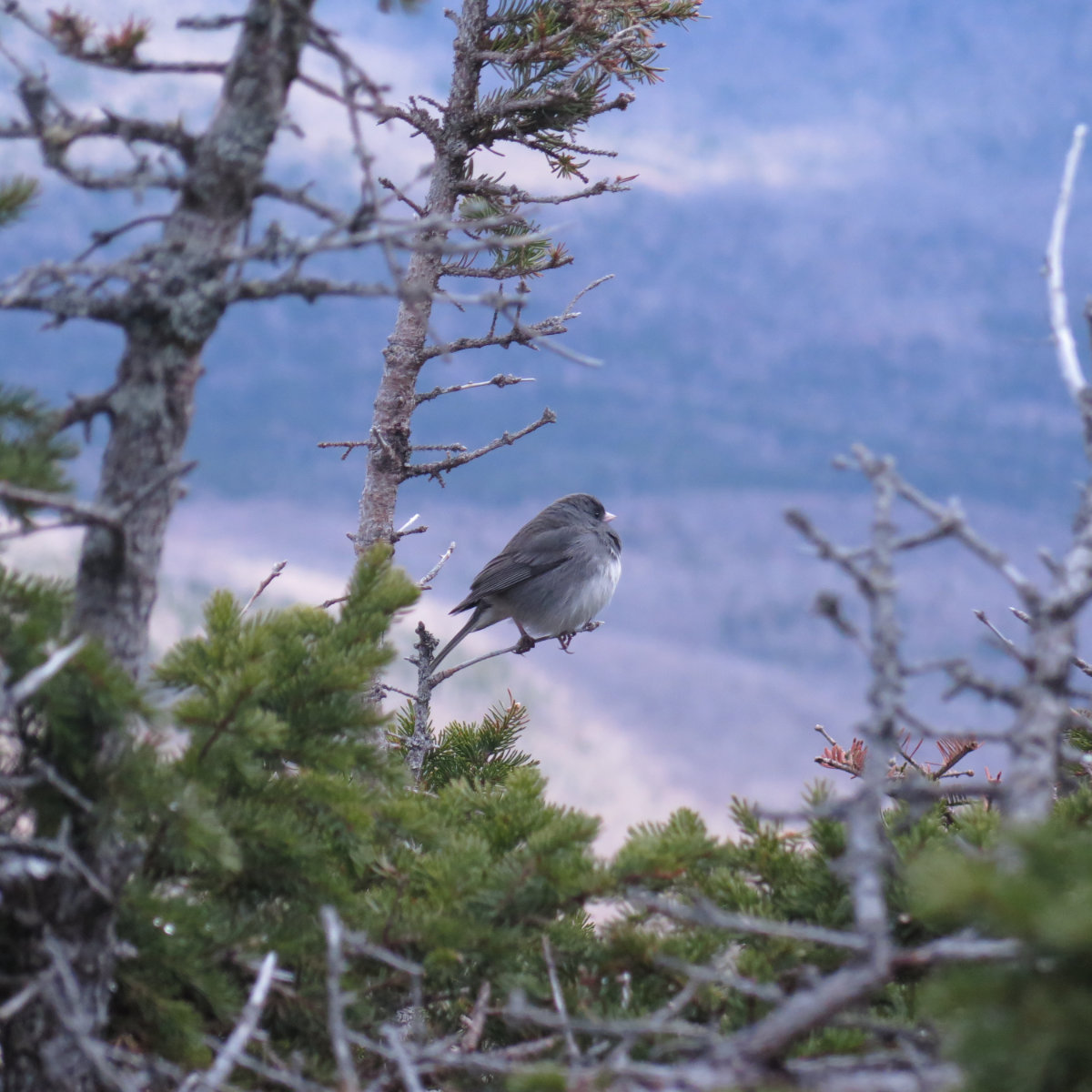 And with that, it was time to turn back. A Peak is about 200-ish feet higher than D Peak, so the return was mainly downhill. I made swift time, passing familiar white blazes. Many were at the usual head hight, but some were down near my knees.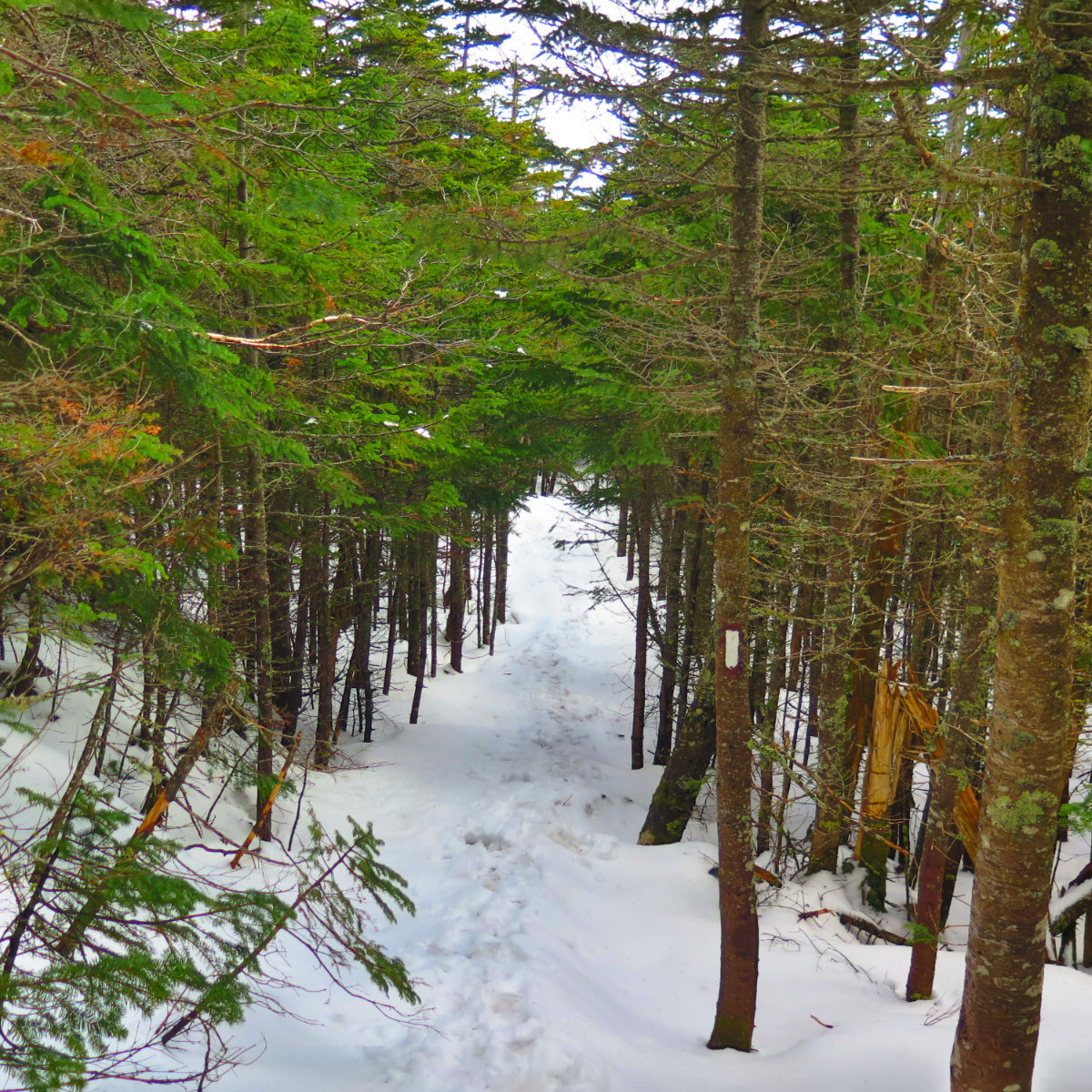 I was amused to see some puncheon along the way. Last I was up here, the stuff was covered over by probably two feet of snow.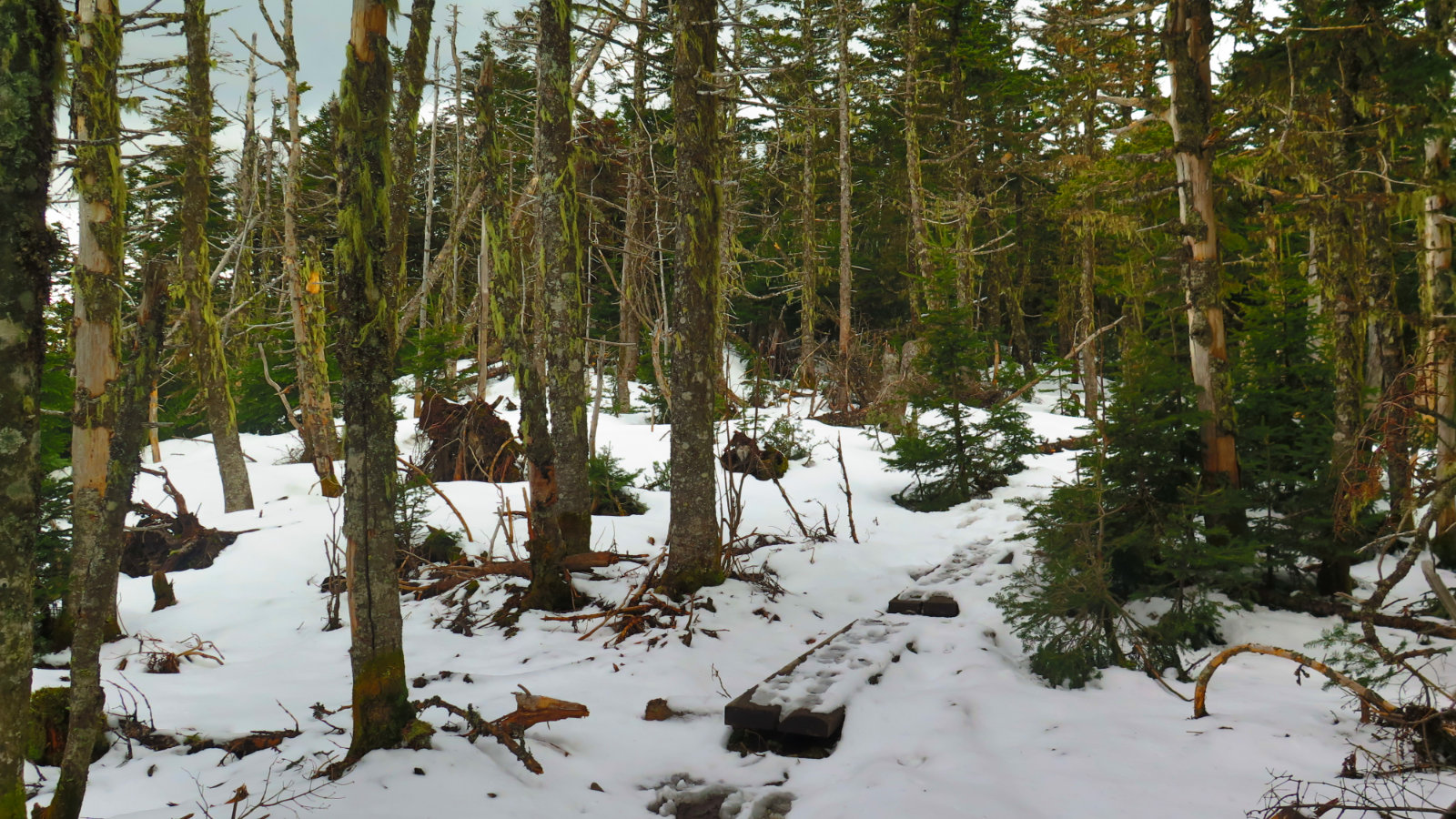 Getting back to D Peak's viewing platform, Washington was even more shrouded than before. There had been some light drizzle here and there throughout the day, and this was no exception. Not enough to get wet.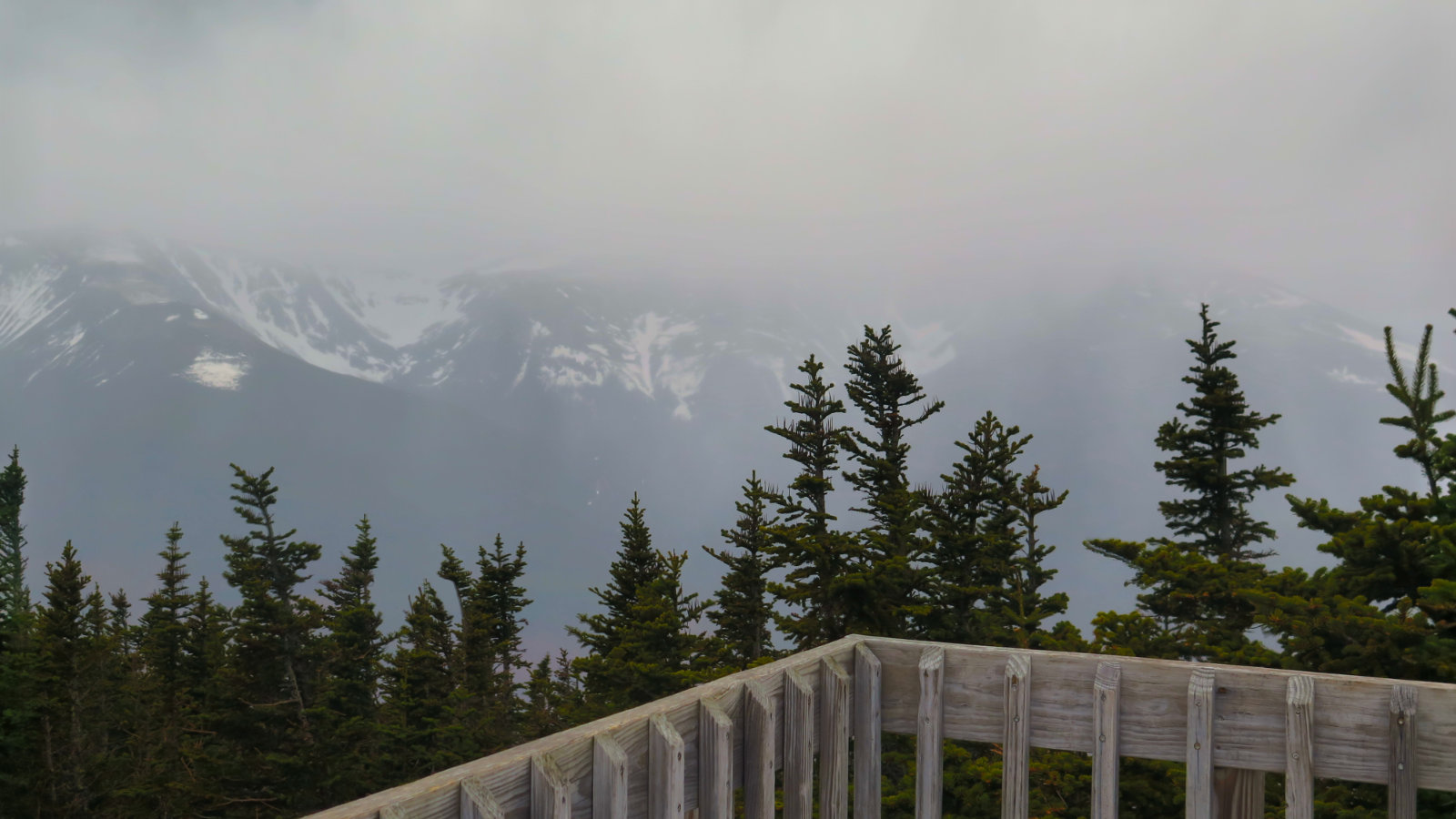 The hike down the mountain felt more painful than anything else. I suspect it was a combination of being on a ski trail (no steps, no switchbacks, you feel the whole hill.) But thankfully, it was just a little over an hour before I was done and back at the car.
It's a fun mountain. I knocked the whole thing out in under six hours, soup to nuts, but that being said, that view of Carter Notch makes the trip worth it, just for that. And yet, there's the ridge, a stellar view into the Dry River Wilderness from D Peak, and occasional views of the northern pressies. So despite its brevity, that mountain has a lot to offer. I can't wait to see it in summertime.
Nuts and Bolts: Take Route 16 south out of Gorham, for about 10 miles. The ski area is on the left. Park in the ski area lot, and then, on the other side of the lodge, head to your left, toward the ski patrol hut and the high speed lift. In the wintertime, you need to have a $10 hiker pass in order to be on the ski trails, and you'll be asked to use Pole Cat (the easiest trail on the mountain) to minimize painful interactions with skiers. Obviously, that won't be the same in the summertime. Today, I took the straighter, steeper line up and down, but that meant sticking to blues trails and black diamonds. Aaaannnd that's much harder on the knees. So beware and choose wisely.