Four Peaks!
Wildcat Mountain A and D peaks, Pinkham Notch, NH. 2018-03-12. (Monday)
Via Polecat ski trail, and Wildcat Ridge trail.
35 –> 25 dF +/- and cloudy. Wind at upper elevations was 2-5 knots.
Ski area base: 1030; Wildcat D summit: 1250; Wildcat A summit: 1415; Wildcat D summit (redux) 1530; back at car: 1630.
Approximately 10 miles there and back again.
It was an unconventional ascent to the ridge. Then again, three of the 4,000 footers are on ski areas. So why not climb up to the ridge via a ski trail? As it turns out, this is a formalized route. Go to the ticket agent, cough up ten bucks, and you get a day's access to the mountain. Take the Polecat trail, keep to the outside of the overall way up (basically keep left) and keep an eye pointed uphill for any errant skiers. Nicely, all the patrollers and skiers I encountered were enthusiastic about my climb.
And I was enthusiastic, too. I mean, even with the clouds, there was still the stellar backdrop.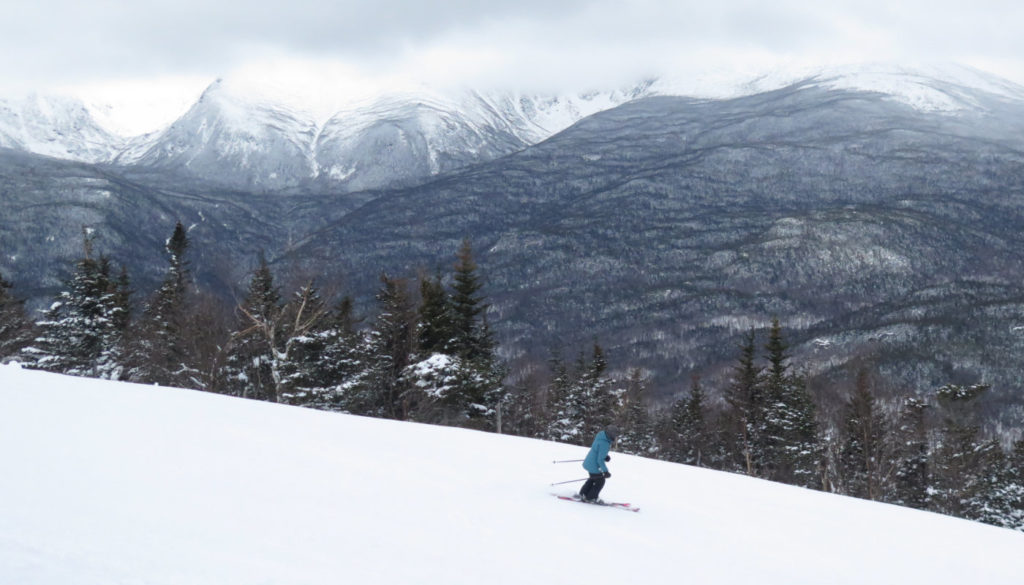 (Mt Washington, with Tuckerman's Ravine on the left.)
Yes, the trail was groomed. Yes, it was still a lot of effort to drag myself to the top. It may have been a ski trail, but I was on the hoof, not the lift. And so it was more than two hours and a lot of sweat to get to the top of D — roughly analogous to any other hike I've done. Behind the Ski Patrol shack is a trail that goes about 50 or so feet due "up", and at the top is the true summit, with a large wooden observation platform. Views of Washington would have been fantastic were it not for the clouds, so I pressed on along the ridge.
Not a lot tells you that you summited the C and B peaks except your own intuition that you've finished ascending and are now descending. One thing that is noticeable is the net elevation gain. A is around 400 feet higher than D. And a lot of that is steep going.
I'd been a bit worried about the time throughout. It was a long drive up, and consequently, I got a relatively late start. (Good thing Daylight Savings Time began yesterday.) As things turned out, I made good time, and not terribly long after lunch, I was rewarded with a view of Carter Notch. The AMC map does not do this justice. The little unrecognizable rectangle toward the bottom of the image is the hut.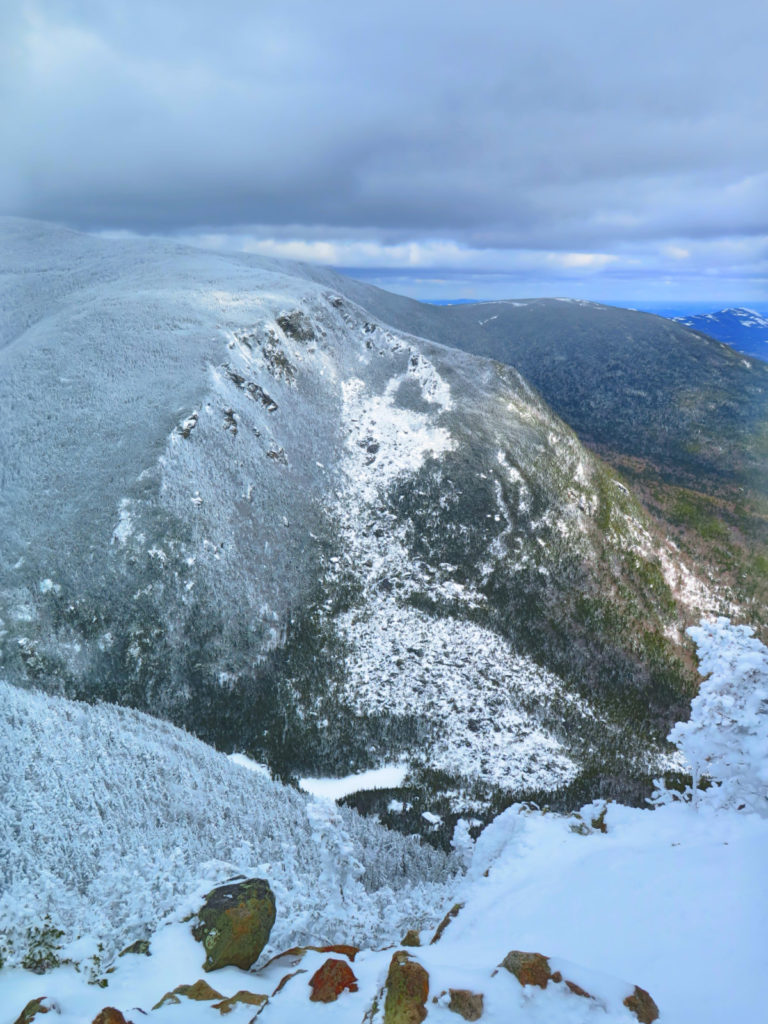 Needless to say, this completely and utterly disabused me of any notion I'd tack on Carter Dome to today's hike. Wildcat's summit proper is tree covered, but there's a vista just a few steps to one side. A dinner plate-sized sign points the way.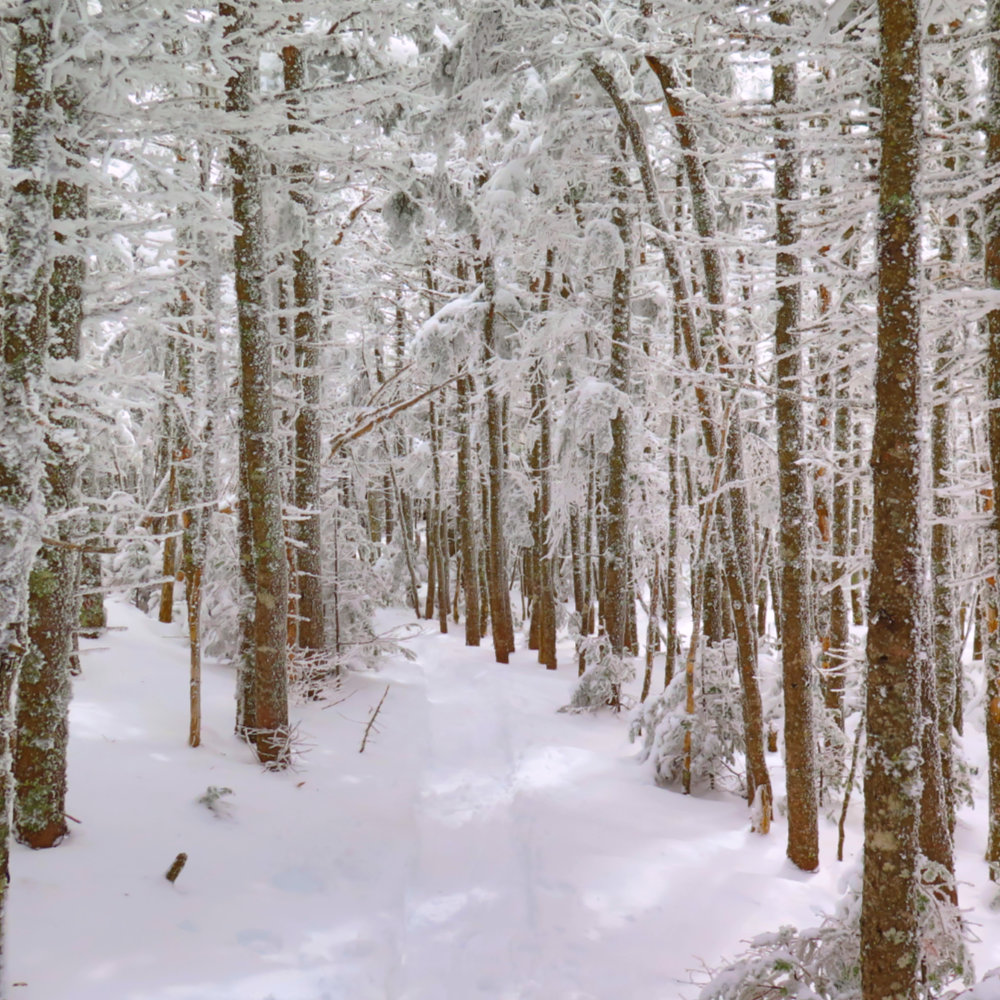 I'd been hiking under cloudy skies for much of the day. But on the return, the clouds lifted for a brief moment, and the trail began to glow. This picture is only a crude approximation of how magical that light was.
Also, you can see the delightfully packed trail I had to follow. That must have been at least half of why I made such good time. OK, that and the fact that I shamelessly took the opportunity to glissade down several sections. We're getting a metric boat-load of snow tomorrow, so I'm doubtful even the organized snowshoe track will be discernible when all is said and done.
A side bar on snowshoes: Up until now, I'd been using my ancient Tubbs Katadhins. They're fine on rolling hills, but on steeps, they show their limits very quickly. In recent hikes, I'd been noticing people wearing various flavors of MSR Lightnings, and was impressed. The other day on Passaconaway, I was finding myself sliding around a lot, while the others in our group were much more sure footed. So this morning, I took advantage of the late start, stopped by IME and got a pair of Lightning Explore 'shoes. They weren't cheap, but you get what you pay for. I do indeed attribute my easier way going today to the new gear. Televators and traction that make you as sure footed as a mountain goat does a lot to make miles go away with much less effort than expected.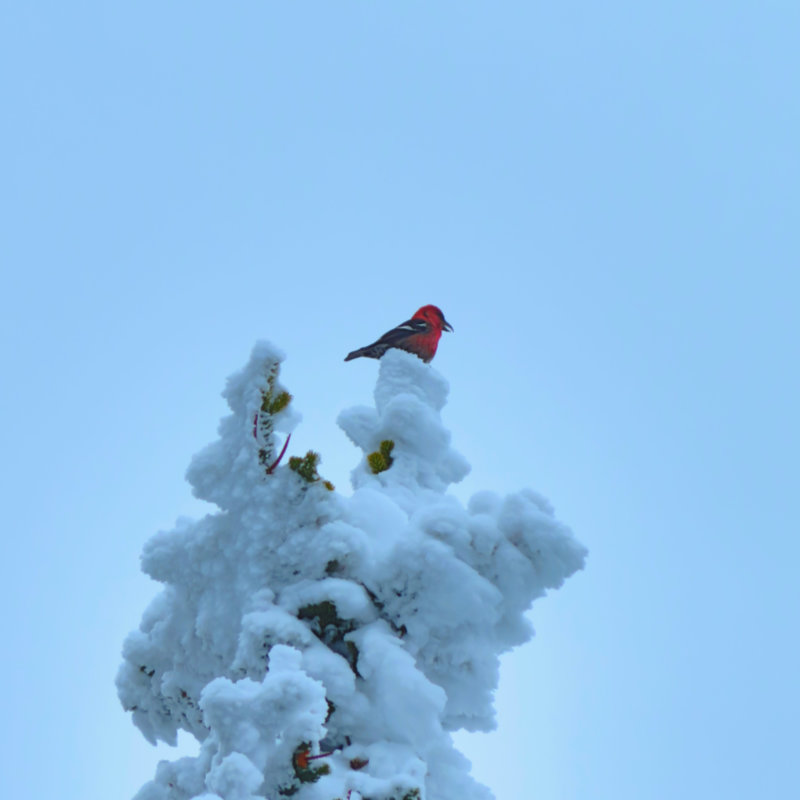 Back at Wildcat D, I saw this critter: a white winged crossbill. It prefers conifers like spruce and hemlock, and its beak has an extended curve to pick seeds out of cones. Not pictured is the yellow-green missus, though she darted in and out, too. There must have been 20 of them, all chattering about. Spring is coming. The daffodils will be out shortly.
By the time I got back, the ski area had about half an hour left before they shut down for the night. Some more enthusiasm from the people I encountered, and a fairly quick descent to the car. A lot fewer skiers meant I had more leeway in picking my line, which made the trip down a bit quicker. Amusingly, a couple kiddos asked about my snowshoes, and one made my day by remarking "I thought those were really short skis." It's the little things.