Long. And did I mention two ascents?
Mt Whiteface and Mt Passaconaway, Wonalancet, NH. 2018-03-10. (Saturday)
Via Blueberry Ledge, Rollins, and Dicey's Mill trails, loop.
25 dF +/- and cloudy with snowfall. Wind at upper elevations was 2-5 knots.
Trailhead: 0930; Whiteface summit: 1240; Passaconaway summit: 1540; back at car: 1900.
Approximately 3.6 miles to Whiteface summit, 3.5 miles to Passaconaway summit, 4.6 miles back to car. Approximately 11.7 miles total.
Again, I got to the mountain later than I wanted. The drive to the trailhead wasn't as near to the high speed roads as with other recent hikes, and that didn't help. I'm remaining sanguine about that last bit. Quiet is golden. What irked me was the utter failure to pack my hiking boots, so I did the hike in work boots. Oh well.
The snow was fluffy, though packed down a fair bit — most of my initial ascent was in crampons, and I made good time. Along the way, saw a number of trees that were scratched to hell either by bears or some other wildlife. The ledges were concerning on paper, however, this all faded when I got there. Yes, they're challenging, but it was nothing like the train wreck of an outing when I tried the north slide on Tripyramid. In just a few minutes, I was on top of them, and for a fleeting moment, had a stellar view of Squam lake. This was the one good view I had all day.
The top of Whiteface was very windy despite the trees, and temperature management became a slight issue. I had a quick snack, made a few adjustments, and pressed on, swapping into my snowshoes on the way. It's worth pointing out that Whiteface is a tree covered summit, but it's also not very prominent. In Steve Smith's book, the way you know you've summited is "if you start descending, you've gone past the high point." A very New England way to define it, and really, that truly is the way it presents.
(I know there's a lot of fuss and bother about postholing and crampons v snowshoes. Without diving into that debate, where I was walking in crampons, there was no significant postholing. Most of the snow cover on Whiteface was either fairly thin, or fairly consolidated.)
Shortly into the transit over the ridge to Passaconaway, I saw the peak and was instantly demoralized. It's far. The link between the two is a little more than two miles as the crow flies, which on flat ground, I could cover in a bit under an hour with snow on the ground. But you descend more than 500 feet, and have to make it all back up again in short order — it feels like you're making a whole new ascent, especially when compared to Tripyramid and the Osceolas. But that's what you get, and that's what you do.
I did get a few glimpses into The Bowl, but they got wiped out by clouds and snow before long. (Per the NH Division of Forests and Lands, The Bowl represents some of the granite state's few old growth trees — apparently, that area has never been logged.)
On the way down, I met up with three lovely people, two from Providence, and one more local to the Whites. I joined their group, and we had a fantastic time where the miles just melted away. They regaled me with stories of their hikes in the Adirondacks and in Colorado, and everything was good.
(Fairly early on, I'd passed a couple groups and got indifferent responses from them. Anecdotally, I've found usually it's the older set that comes across as generally more warm and friendly, and today was another data point in support of that.)
After a few switchbacks, we got to the summit of Passaconaway — tree covered with no cairn or sign — and decided "this is the place" based on a lack of any more "up" in the immediate area. Took some pictures, and then headed back down.
Sunlight ran out eventually, despite Daylight Savings Time being this weekend. We turned to our headlamps, and carried on. With the snow, our beams lit up everything around very well. Found our cars, shared some parting thoughts, and made our ways homeward. If I see these folks again, I'll count myself truly lucky. They were good people. On a good mountain.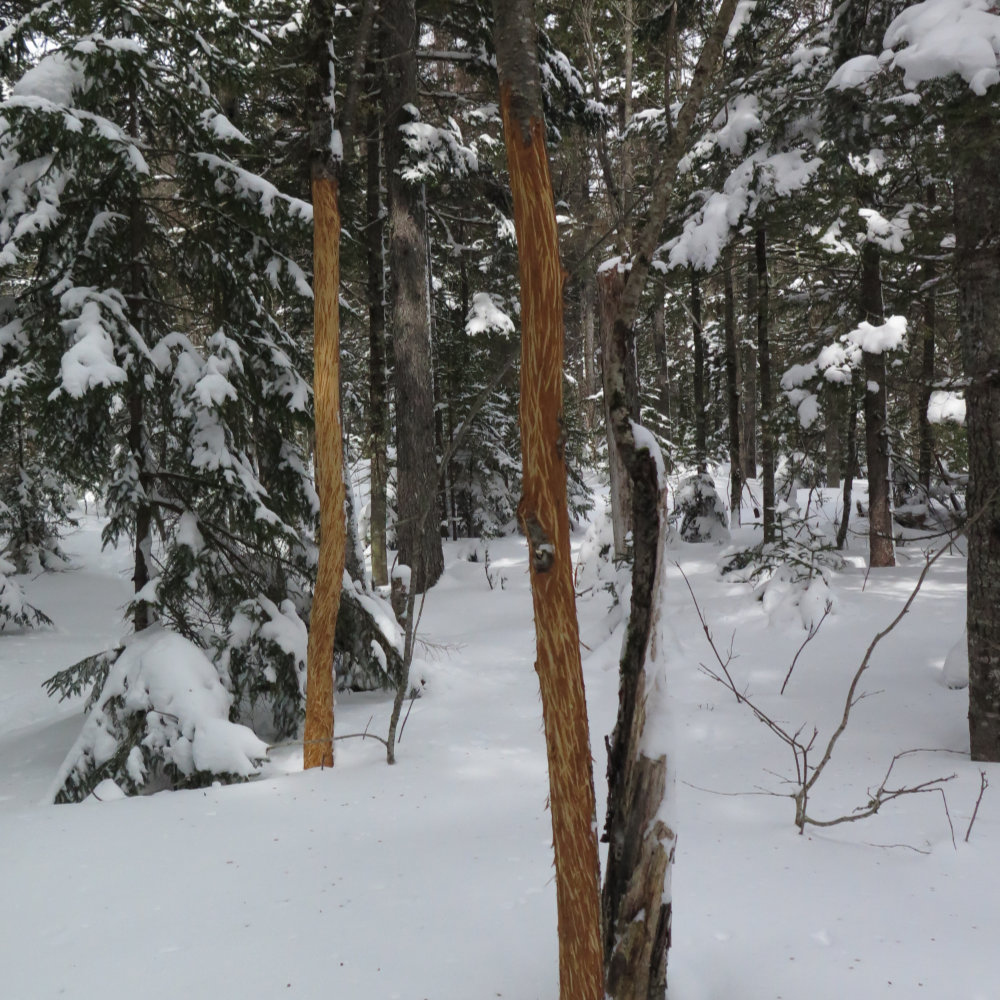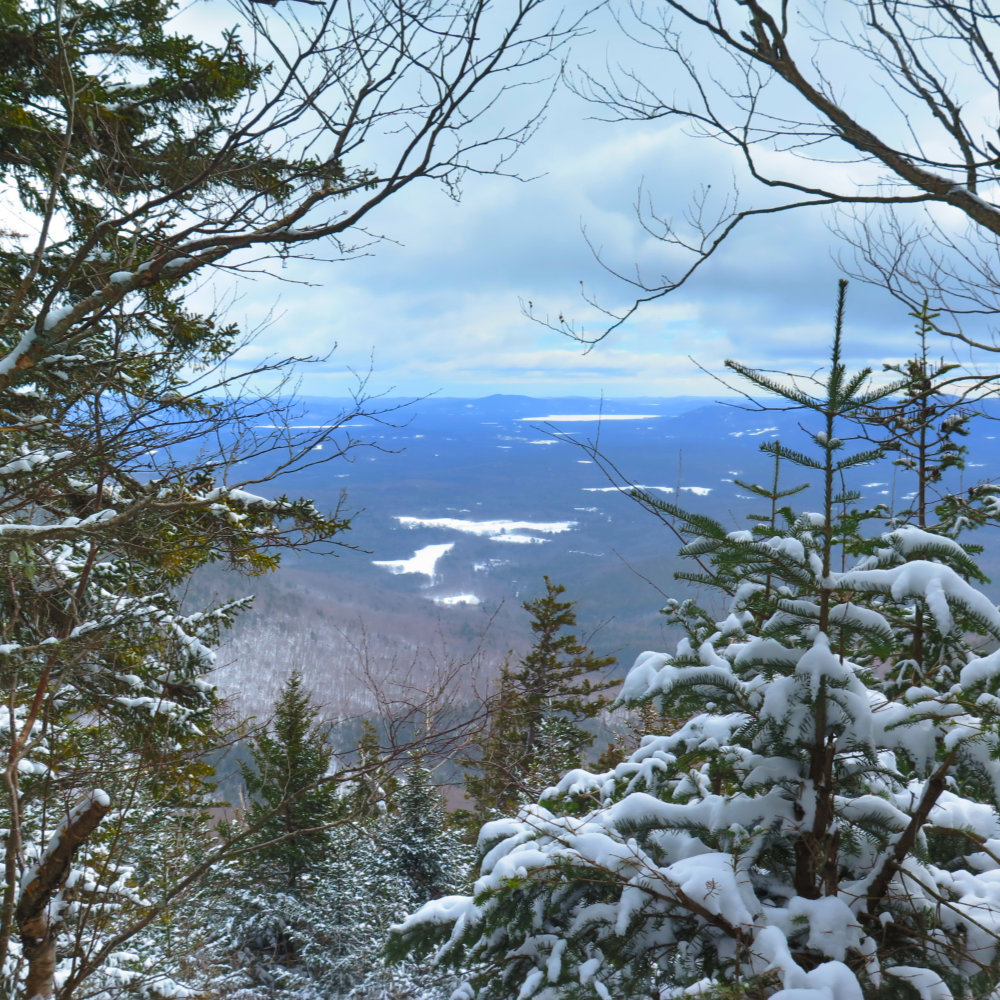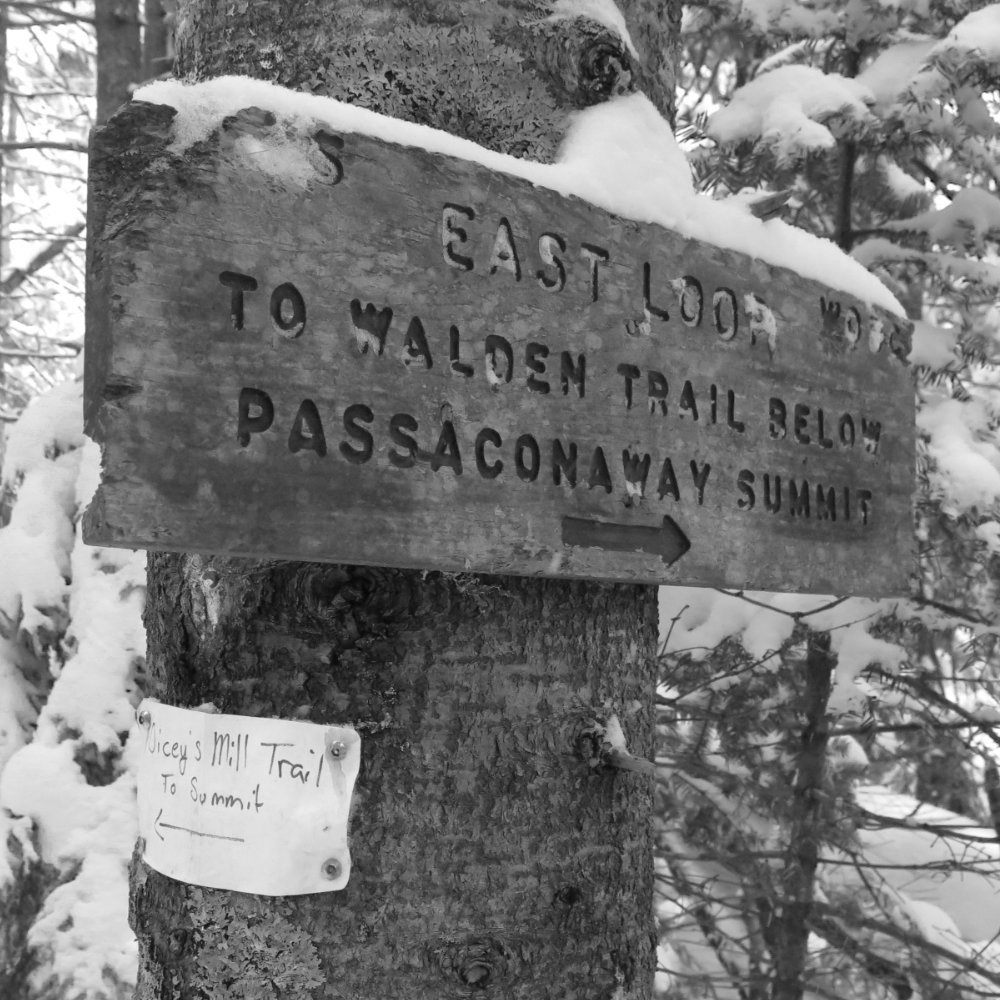 …and with that, I closed out the Sandwich Range mountains.