Up via Wapack, down via Marion Davis. Partly cloudy, temps in the mid-50s.
It was a lovely day to be outside. Weather was very temperate, and the trails were mostly clear. I made it a little over halfway up Wapack trail without 'spikes on my boots, but at a point, there was section of the trail that was entirely ice, about 75-ish feet long, and if that wasn't enough, water was running across its surface. A more frictionless surface does not exist outside expensive research laboratories. The ice up until that point always had conveniently spaced roots, rocks, or some other traction aid, but not here. Begrudgingly, I fitted the MicroSpikes to my boots.
As it turned out, the Marion Davis trail was largely ice-free, but instead, there was a lot of mud. The 'spikes wrought their magic, ensuring trouble free passage.
On the way up, there was an interesting tree where all its branches bent down; almost as if they'd given up trying to reach out to the side and look stately. On the way down, the sun caught a patch of moss — golden honey light diffusing through a rich, verdant bed. As much as I kept telling myself that there's still a month of winter to go, it was as spring-like a day as anyone could want.
The view from the summit fire tower could best be described as "patient". If one waited with a spyglass, it was possible to see Boston and other points to the south. To the north was thick fog/haze/low clouds/whatever, and so seeing Mt Washington was a non-starter. Monadnock, to the west, looked sublime in the afternoon sun.
The parking lot is iced-out finally, though how long this lasts is anyone's guess. Full-team workouts for the Red Sox were on Monday, so "winter's grip hath a short lease" in any case.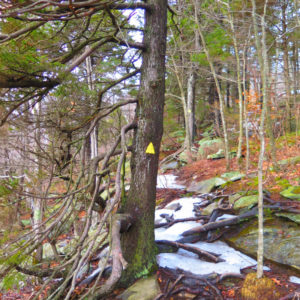 Wapack Trail, somewhere in the lower half. 

Marion Davis Trail, somewhere around half-way.