Skatutakee and Thumb Mountain (1,998 and 1,978 feet, respectively). Hancock, NH. 2020-04-15 (Wednesday.)
Via Thumbs Up, Thumbs Down, and Harriskat Trails. Approximately 5 miles round-trip, three hours.
Approx 48-52 dF. Essentially no wind. Variations on partly sunny throughout. A cool early spring afternoon.
A lot for just a little!
This is a hike that I kept thinking I should have done earlier, but the weather today was just right for this hike. So I don't know how I'd reconcile those two things. Enough that I had a good day out, and it's one that I'll do again. You should try this one if you haven't already. And if you have, do it again. For those observing COVID-19 social distancing, this is a good one. Stepping aside to allow others to pass shouldn't be terribly difficult over most of the trail. And I don't hear about this one being even a tenth as popular as, say, Mt Major or Mt Kearsarge. It's noteworthy that Monadnock is easily within ten miles as the crow flies. But it felt a world away.  
By the time I got back to the car, I'm pretty sure I expended about the same amount of energy I did hiking up Pack Monadnock, then over to North Pack, and back again. That is to say, it was a comfortable hike, with not a lot of climbing (no "serious" uphills at all) and yet, the vistas were thrilling. For the record, I hiked the loop "widdershins" although if you went clockwise, there wouldn't be any difference in energy expenditure, nor would there be any difference in complexity. This is an easy hike, no matter which direction.
Something that really left an impact was that the parking area had maybe half a dozen cars, max. For a relatively short drive, I got a lot of solitude; given another month or so, there will be a lot to see once everything is growing like mad. And yet, you might just get some time to yourself. 
Both mountains share a common base, but are monadnocks — for those unfamiliar with the term, it's a mountain that rises out of functionally flat ground, with no supporting ridge. Getting back to today, both mountains are located within the Harris Center for Outdoor Education, which is a non-profit dedicated to conservation research and education. In line with their mission, one notices the proliferation of "No Hunting" signs everywhere on the drive in.
On the way in, I crossed the Contoocook River via Covered Bridge #8. The state has this to say about it. I thought it was neat that the town line bisects the bridge. I don't normally like using the on-camera flash, but here, it lit up the sign nicely. It's not much of a bridge, but there is history behind it.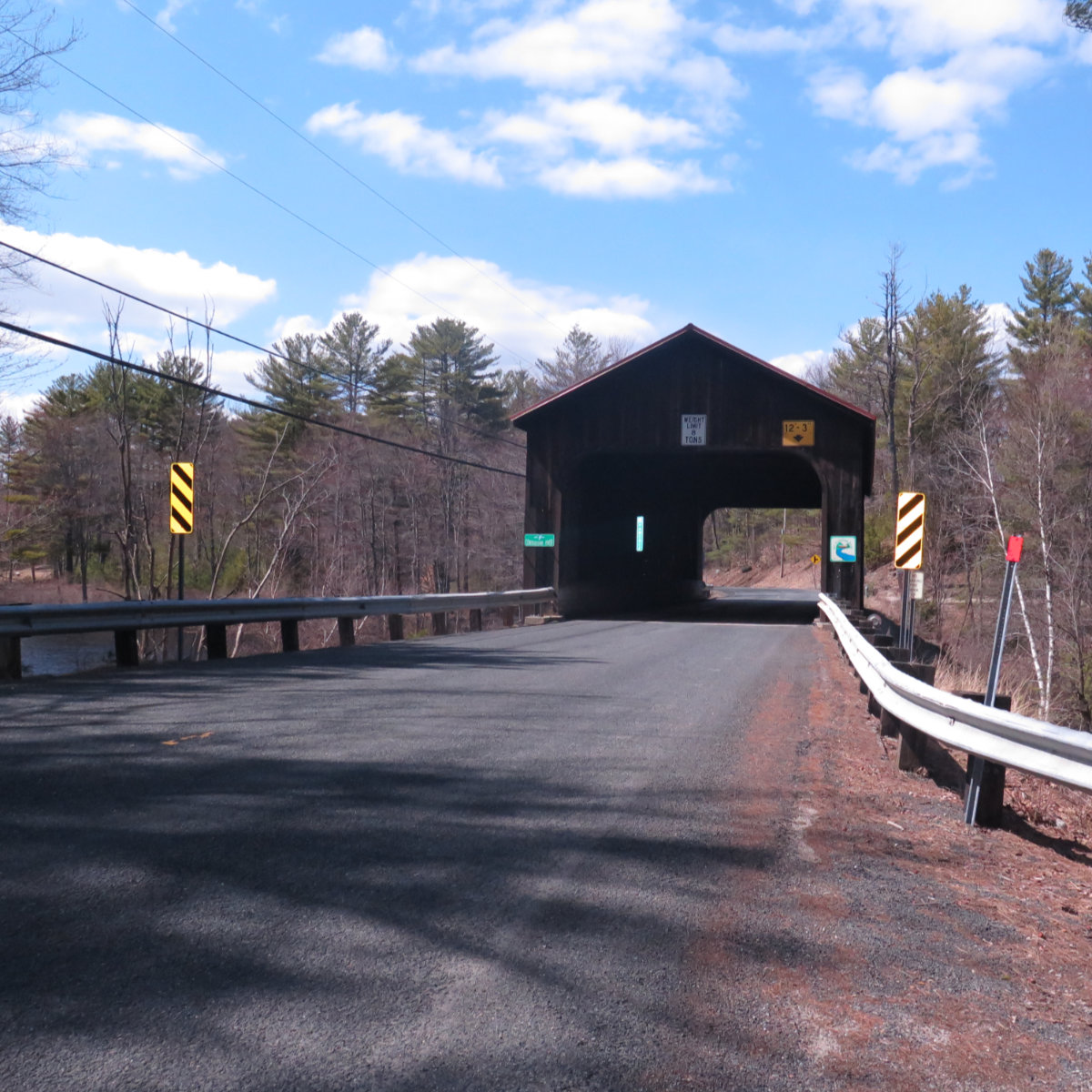 (Author's Note: at this point, paragraphs and photos are going to be mixed, apropos of nothing in particular. I wrote pretty non-linearly today. But bear with me.) 
I got underway, and after stopping briefly at the signboard, I crossed the street and hit the trail. Blazes were ample, and the trail was almost completely carpeted with leaf litter and duff. It's not hard to follow. However, it's springtime, which means mud, and today there was no shortage. A lot of water is comin' down the mountain, and apart from the more organized streams and drainages, there are plenty of places where long stretches of trail have been reduced to mud puddles. You're going to want to take it slow, and consider your moves, so as to minimize your impacts — be mindful, as always, about trail erosion. Be a good ambassador for the sport!
Anyhoo… I passed through largely deciduous forest. A lot of the usual stuff — some beech, some birch, mostly the usual other hardwoods. As I ascended, a lot of spruce showed up to the party, taking over more and more the higher I climbed. One that I recall in particular, on my way back to the car, had to be old-growth. I'll estimate the diameter to be in the range of 30 inches, easily. It was a very stately tree, and I would expect that at the very least, it pre-dated the Industrial Revolution. Nice.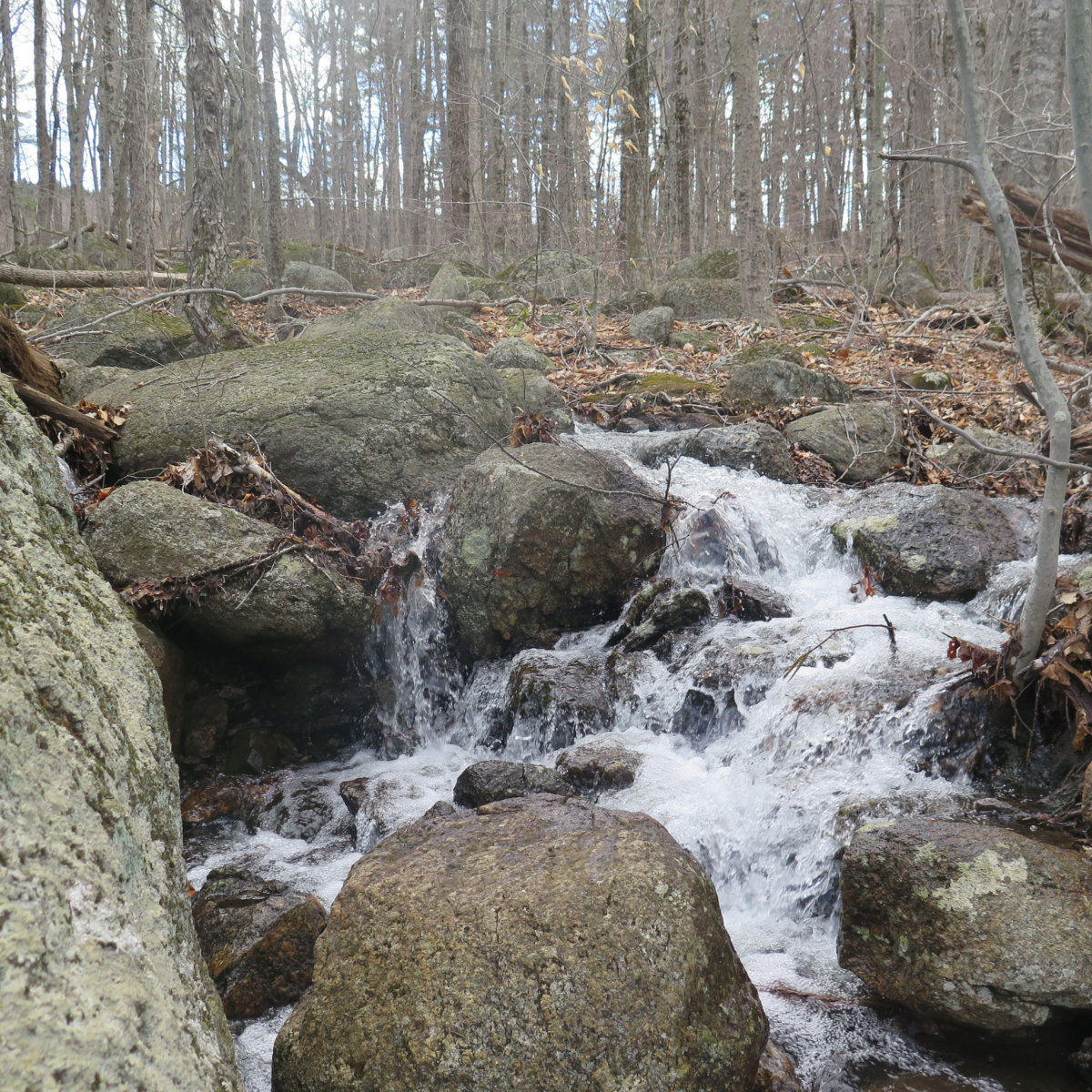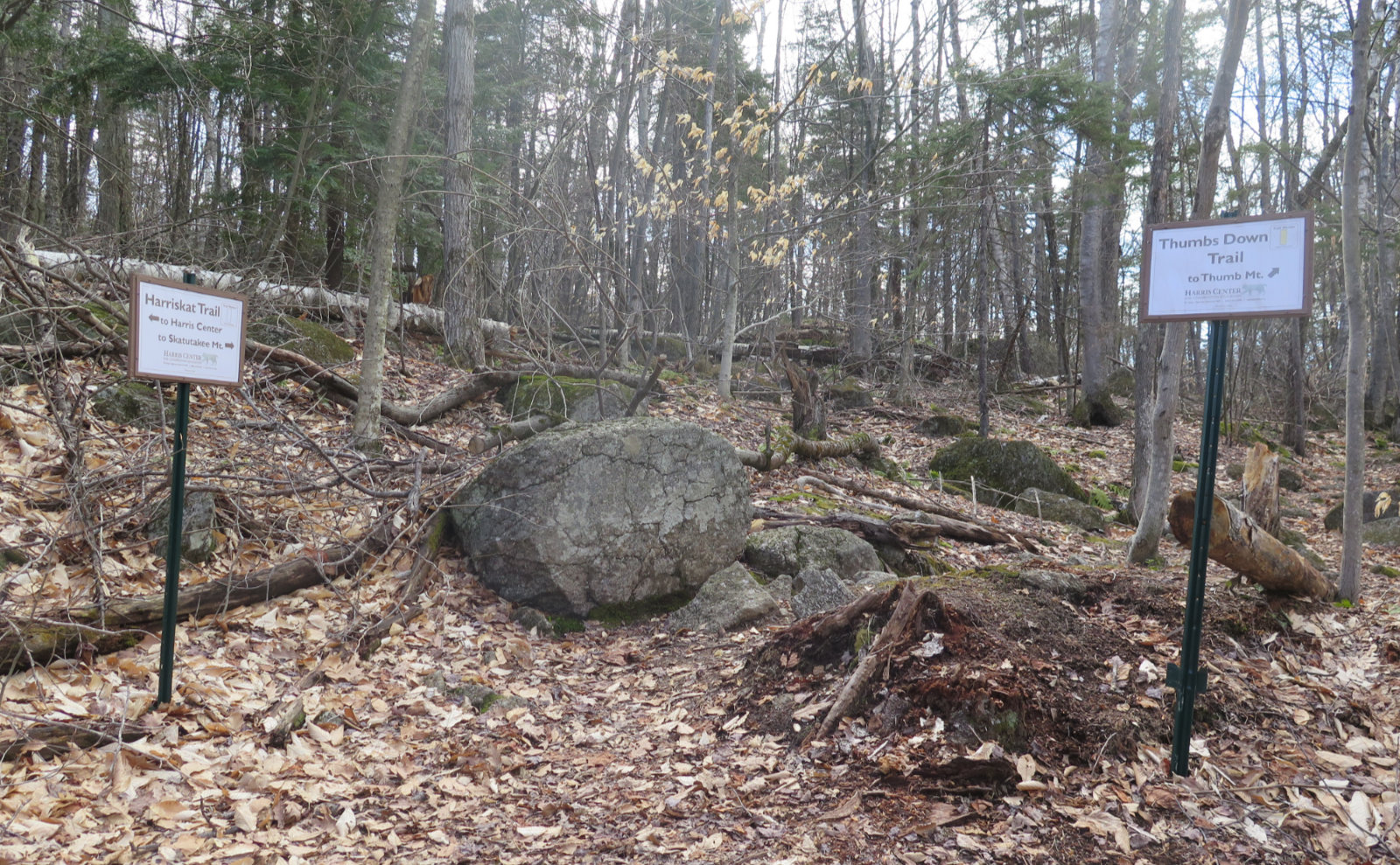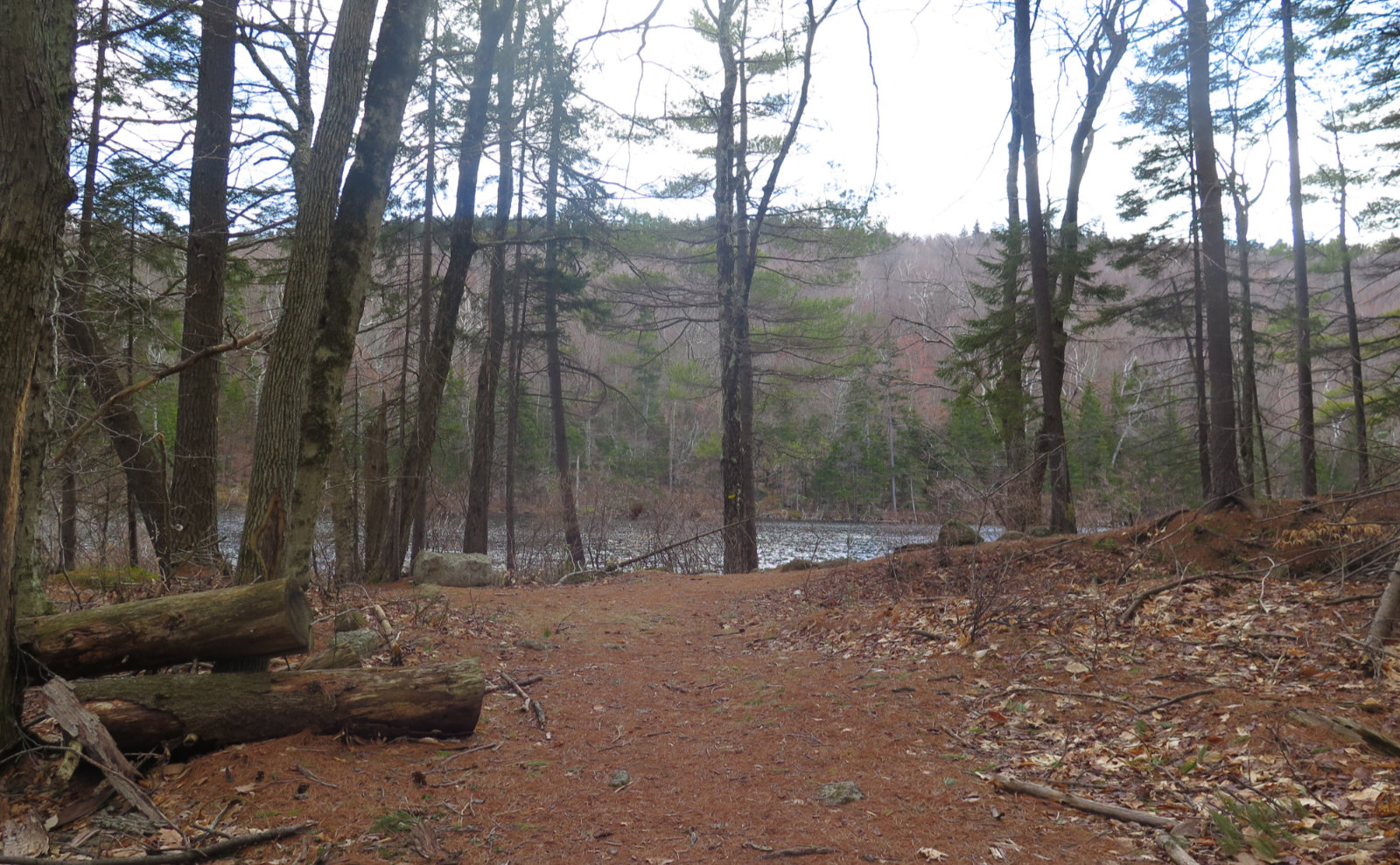 Along the way, I noted areas with a lot of boulders, some merely the size of refrigerators, others the size of small cars, a few that were quite a bit bigger. In some areas, the moss grew deep, soft, and wild; in others, thinner and more restrained. The wetter spots sported ferns; green but not properly woken up yet. Everything indicative of how the forest will look in a few weeks. Even in its nascent state, still rubbing the sleep from its eyes after the long winter slumber, it invited contemplation. Not quite the forest bathing one finds in May and June, when the verdant hues are many, but still restorative.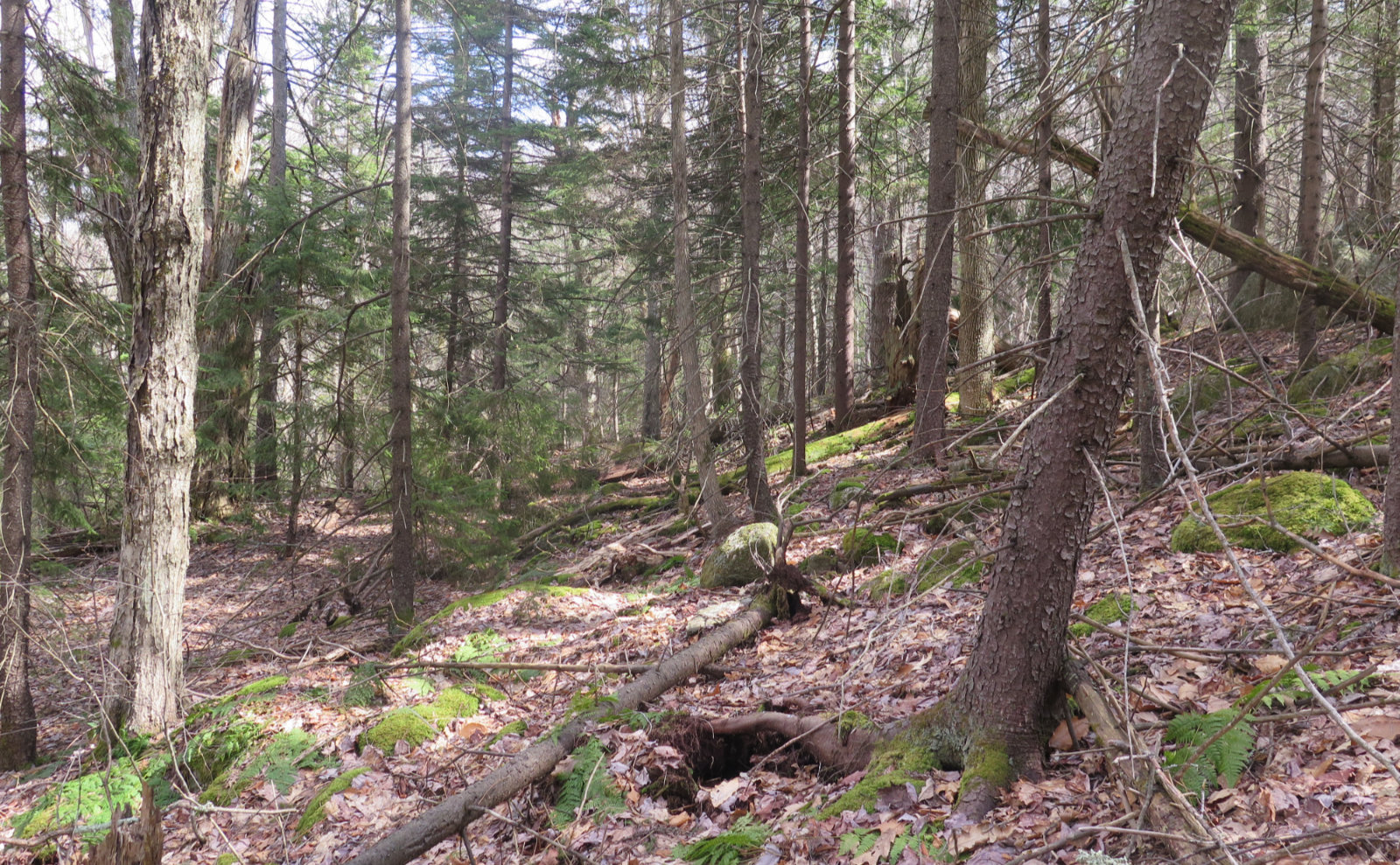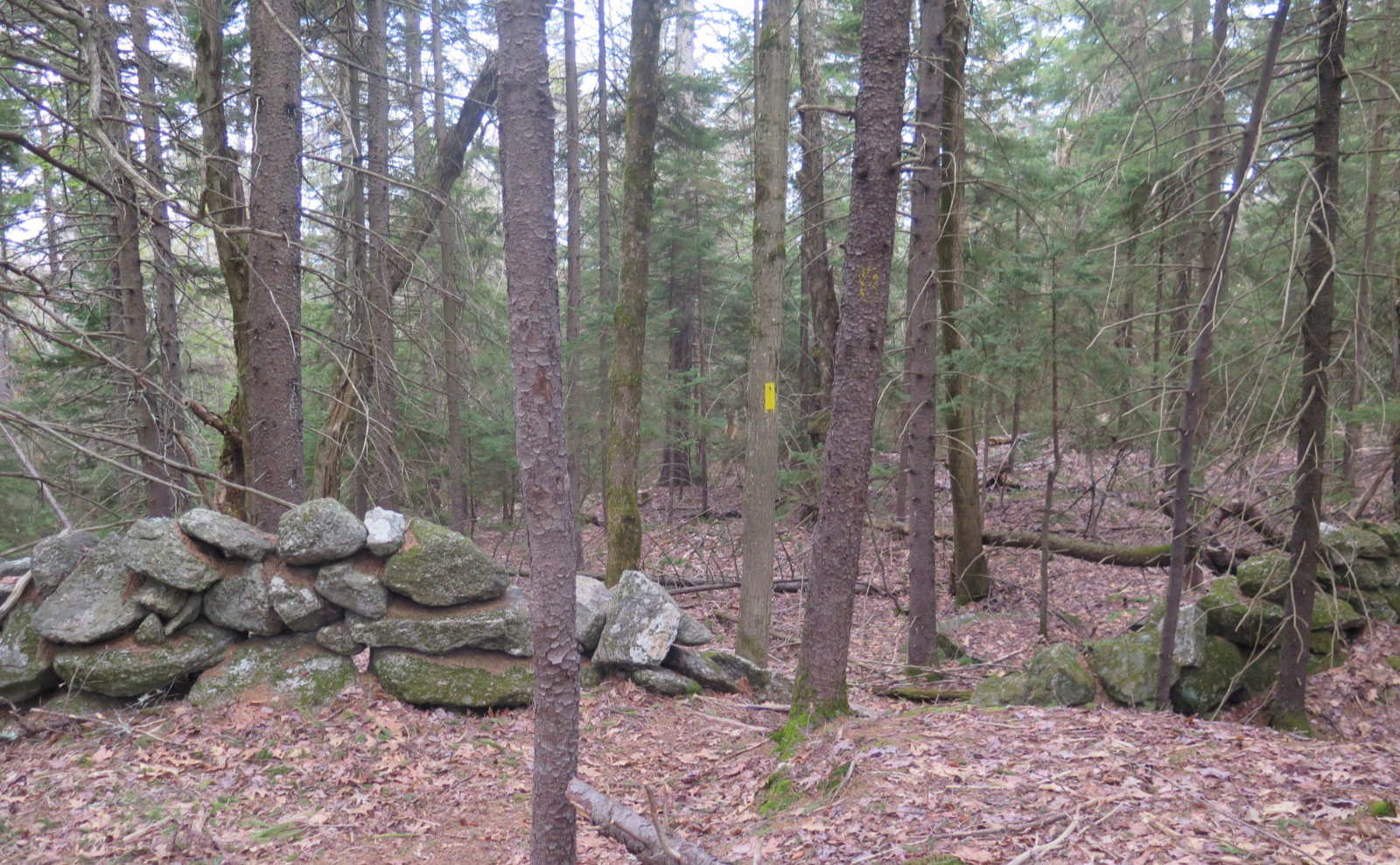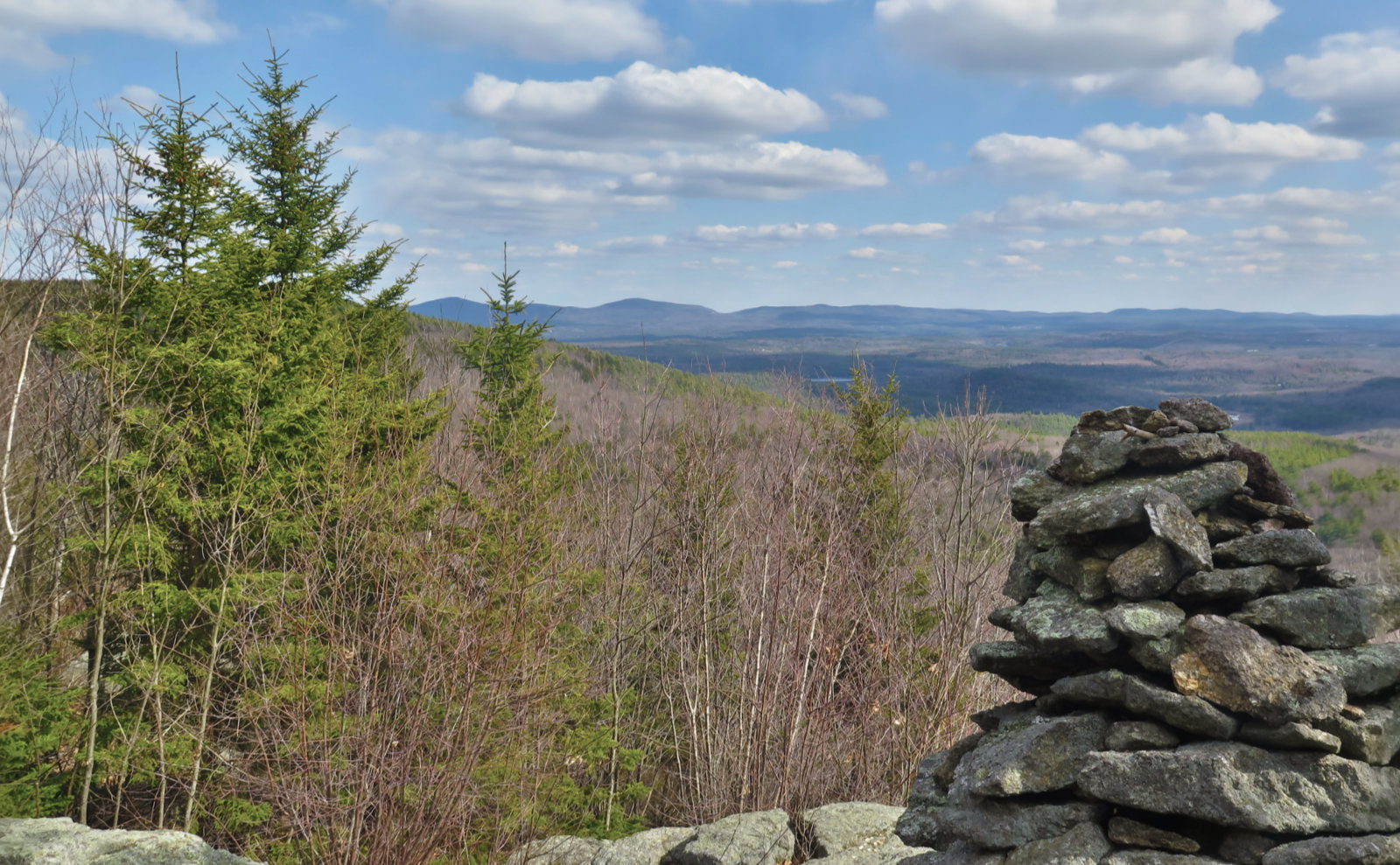 And relating to that, I noticed the forest had the character of a good wildflower romp. There's a lot of trees, for sure. Right now, the canopy is still very bare, and a lot of light makes it to the floor unimpeded. Given a short amount of time, the early risers will be coming in soon, and trampers will be able to enjoy round one. Then as the weather gets warmer, dappled light will take over, and we'll see round two. And by then, it'll be full-on summer, and a green, leafy chaos will ensue. The birds I heard overhead, nattering about, will raise their voices to total cacophony before long. It'll be good, I'm sure; certainly worth another visit.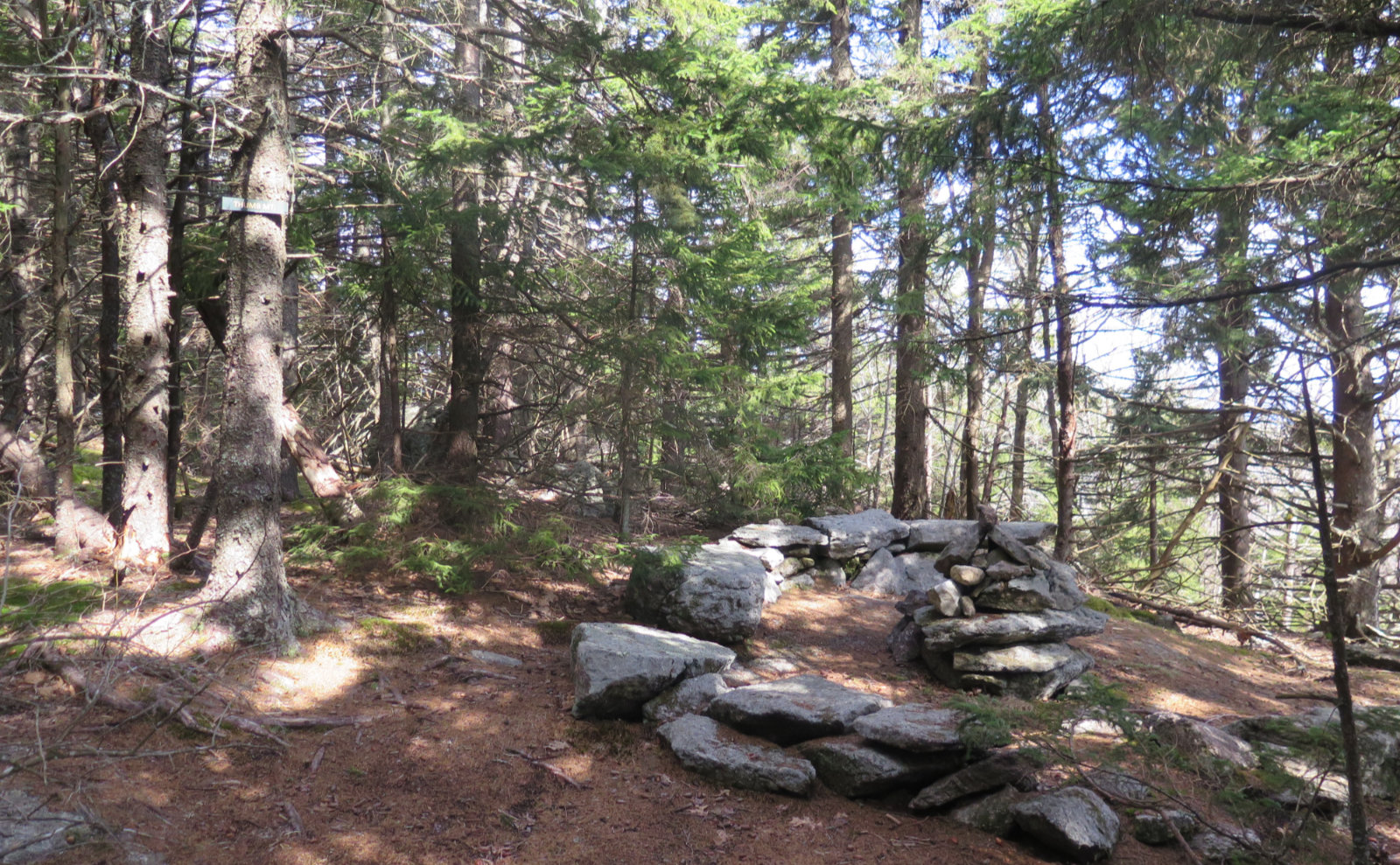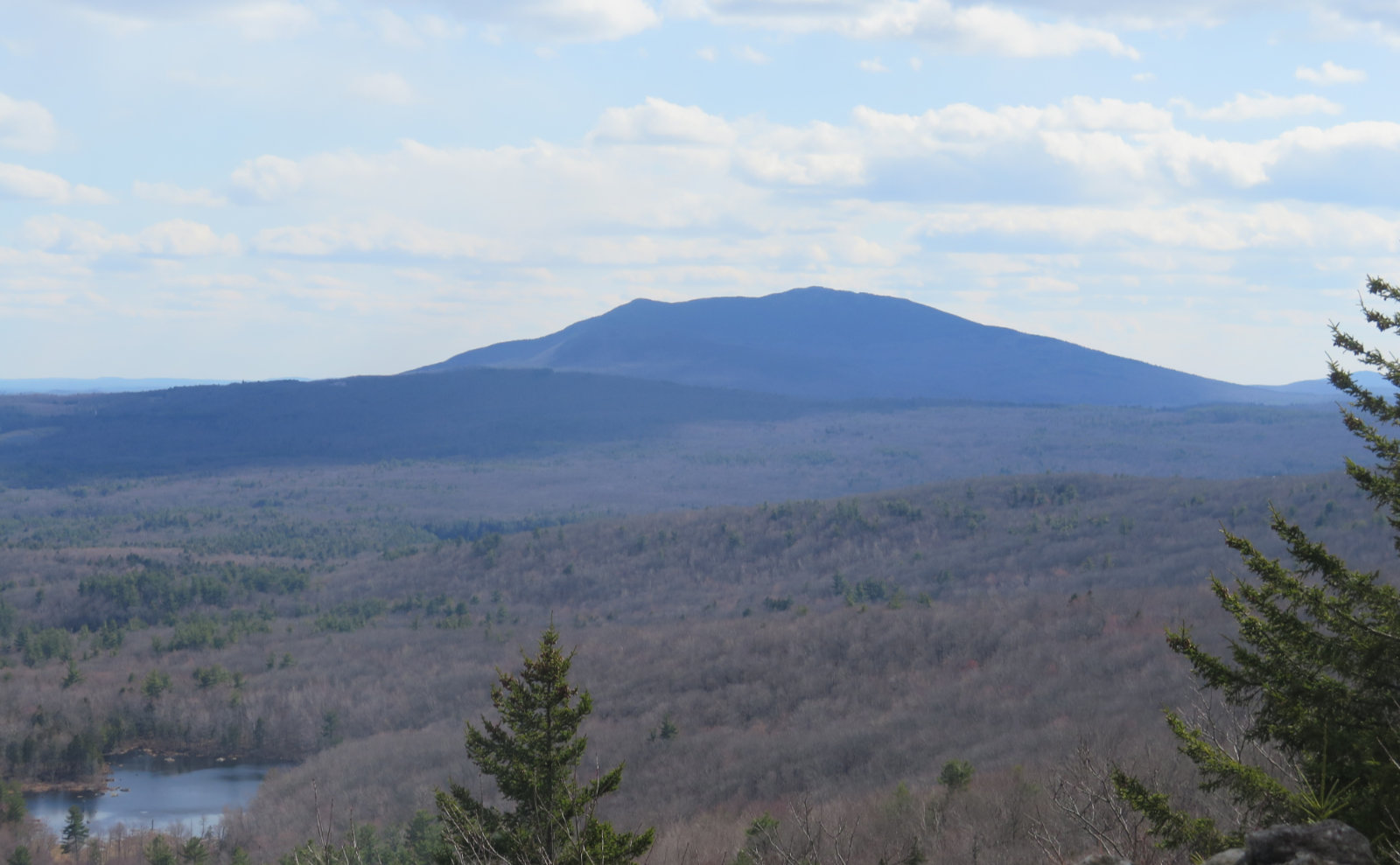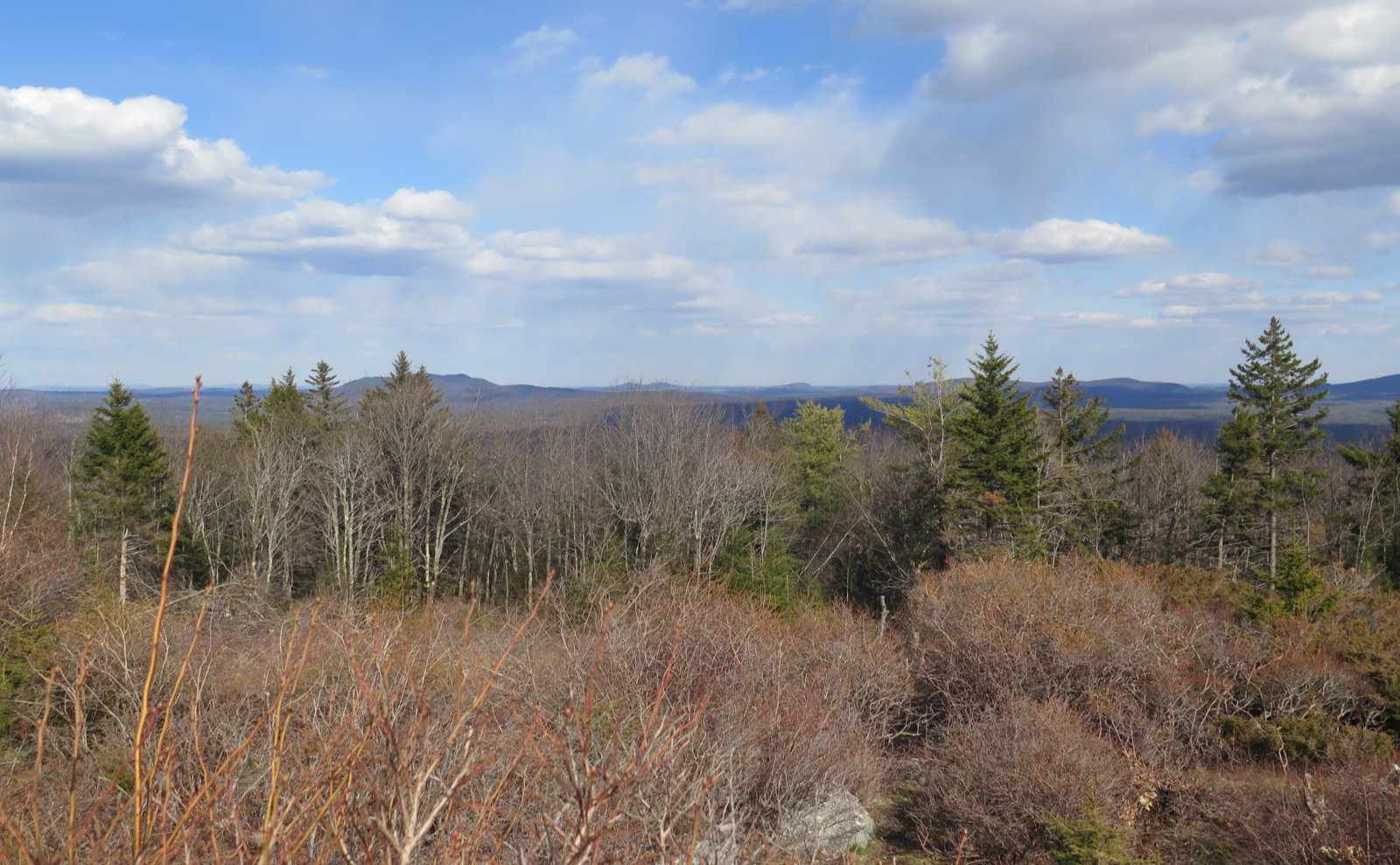 Both peaks were blunted by time and tide. But both featured vistas of nearby Mt Monadnock, the Wapack Range, and as far out as Mt Wachusett in Massachusetts. Thumb had a small circle of stones around a cairn, unquestionably set up as seating. Skatutakee had a broad plain just off its summit, with sweeping views. Today wasn't quite a bluebird day, but the clouds were still puffy. From a few, I could see precipitation falling, but not quite reaching the ground. On this morning's news I'd heard about this phenomenon being expected today, but never expected to be able to see it so clearly. Wow!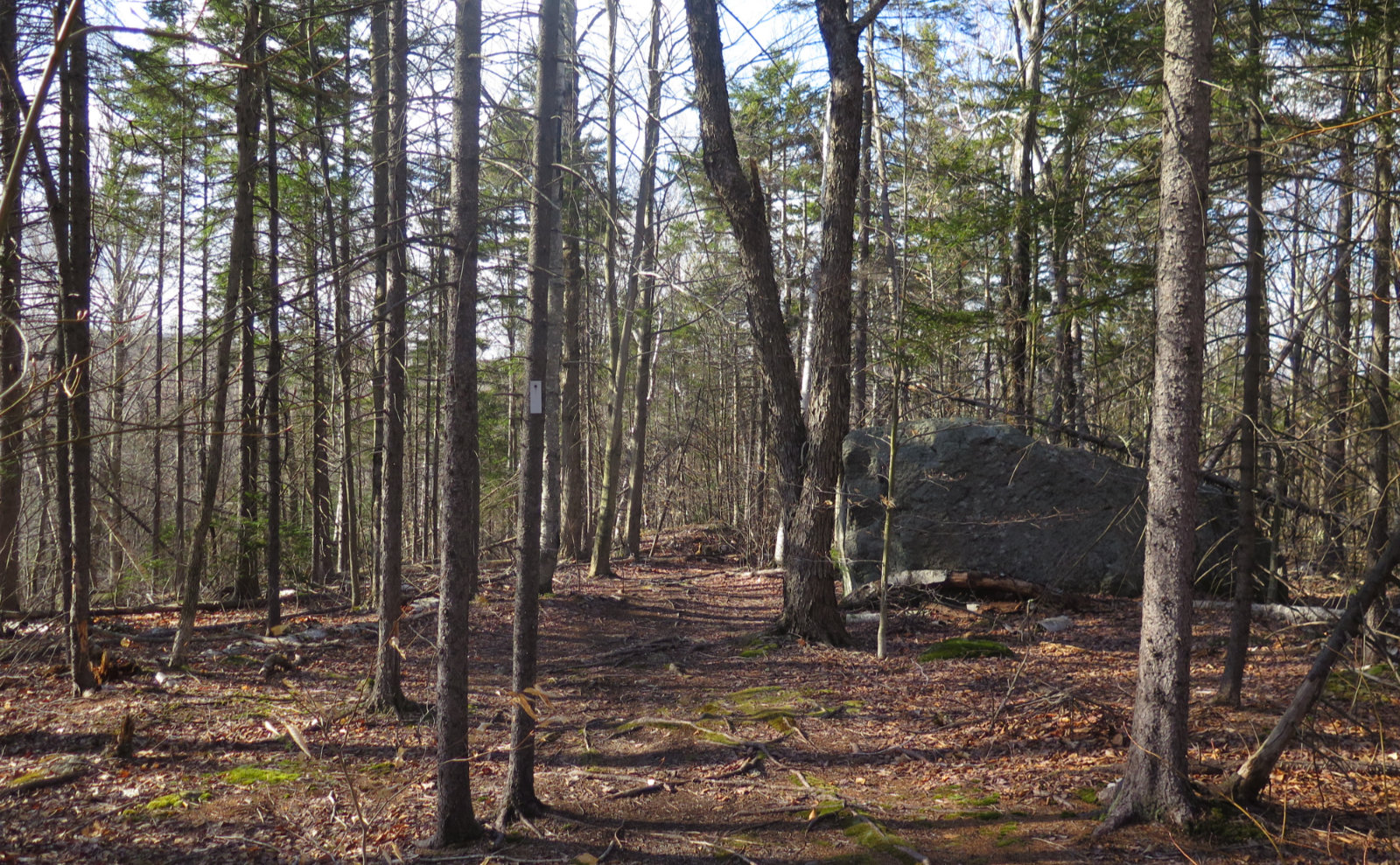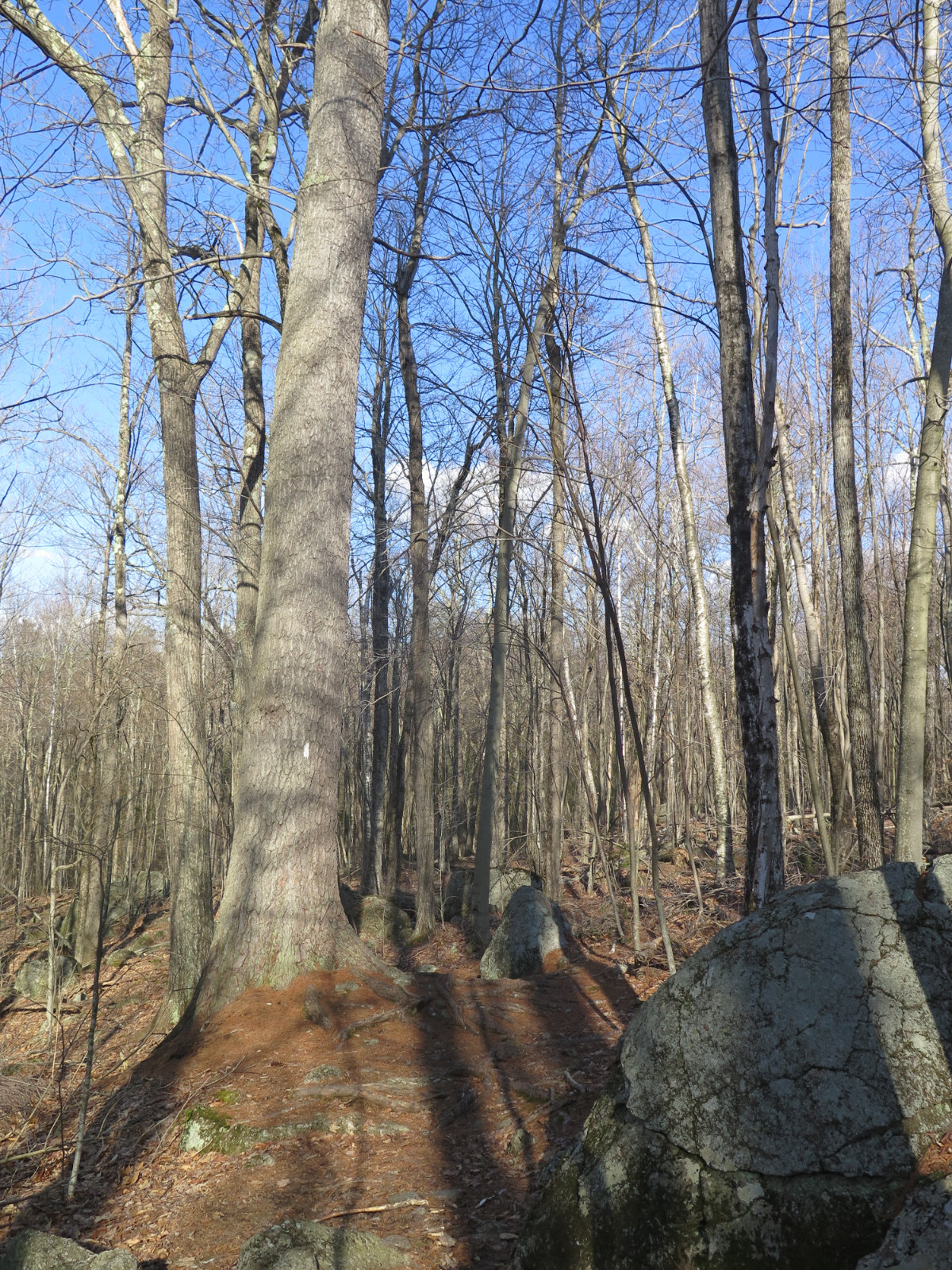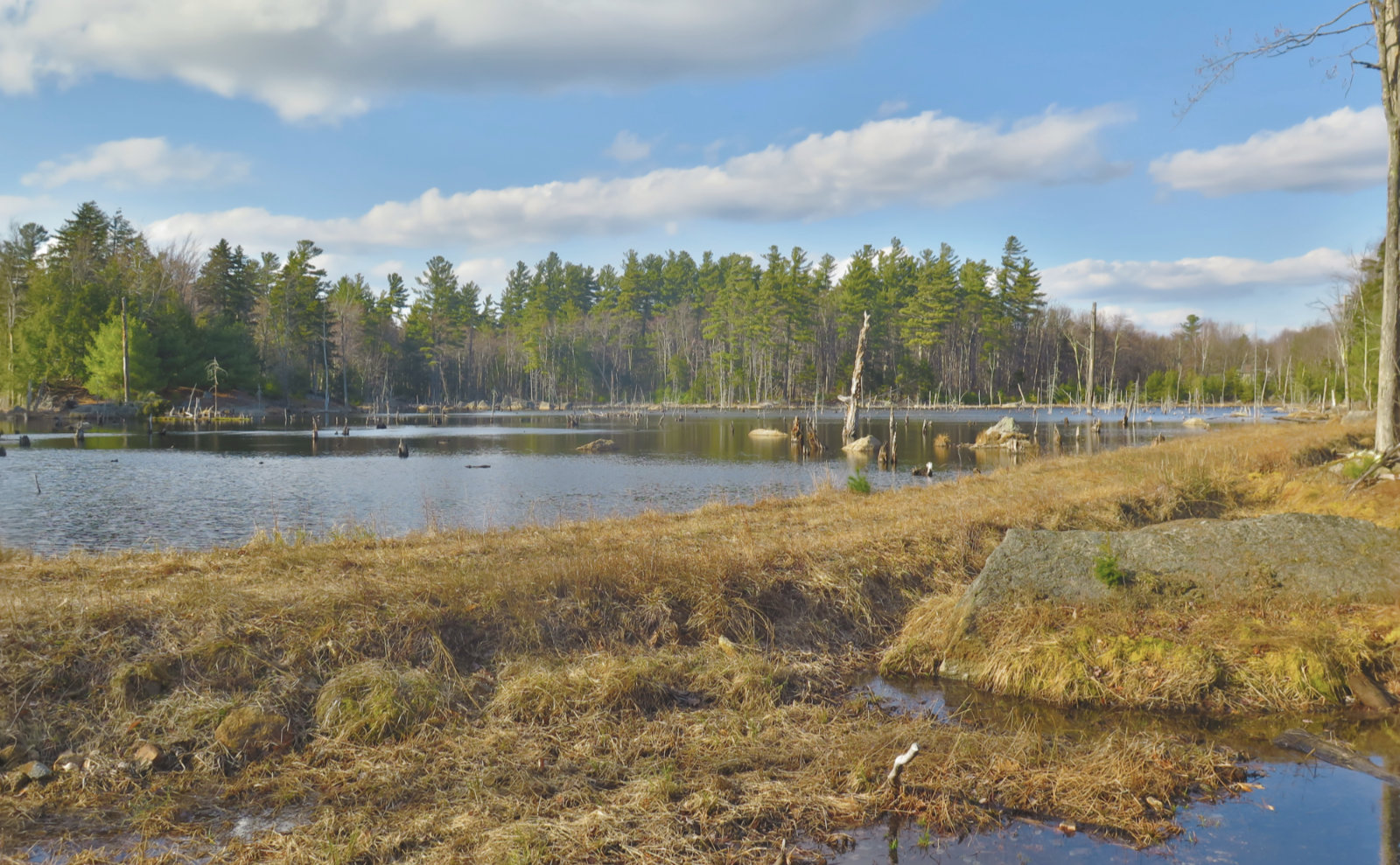 Today's outing was exactly what I'd hoped for. I'd found it by chance, just leafing through guidebooks. But even reading about it, I was excited. It fell nicely in the goldilocks zone. An easy trail, with a lot to see. Not too long, but long enough to justify the drive. And even the drive out and back was short and easy. The trailhead is not particularly hard to find, but at the same time, it's not exactly on the beaten path. Not quite off it, either, but you can tell it's not the place to find Mt Monadnock-style crowds.  True to that, I saw just over half a dozen people all afternoon. 
It has none of the thrills of the Whites. You won't look down an endless chasm like the Great Gulf. It's highly unlikely that you'll ever experience an undercast. But instead, you'll enjoy an intimate moment with a pair of lovely mountains, with an abundance of things to delight your senses and calm your soul. For me, that was everything the doctor ordered. 
As always, stay safe out there.
Nuts and Bolts: The Harris Center for Outdoor Education is located at 83 King's Highway, in Hancock, NH. Not far from Lake Nubanusit, and on the way, I crossed Route 202 shortly before arriving. Plugging the address into my GPS got me there right quick. There are a few tiny cafes in the area. Consider supporting those local businesses during your visit. 
Trailhead will be across the street from the parking area. It's not entirely intuitive, but if you use Gaia, just follow the arrow. Blazes are white on the "thumb trails," yellow on Harriskat. Both the trails and the grades are, for the most part, mild to (at absolute most) moderate. You won't be doing any of the level of scampering over rocks that you might be accustomed to elsewhere. Blazes? They're everywhere. If you can't find them, it's the middle of the night, and you forgot your flashlight. If you're not using Gaia, you can find a trail map from the Harris Center here.
If you enjoy reading these posts, please subscribe — stay in the loop! Your email will only be used to alert you of new posts — typically 1-2 times per week. I will not use or share your email for any other purpose without your express permission. And please help spread the word — share this post via your social media using the buttons below. 
Find me in the mountains, on this blog, or on Twitter: @Protean_Hiker