Pratt Mountain (1,817 feet) to New Ipswich Mountain (1,881 feet). New Ipswich, NH. 2021-06-02 (Wednesday.)
Via Wapack Trail. Approx 6.5 miles round-trip.
Temps were in the mid-70s throughout. Winds were negligible in the trees, barely making the grass sway at the worst of it. Overcast, and slightly hazy, which clipped the long-distance views considerably.
Approximately 2 1/2 hours.
Not much left further south this far north of the border.
In fairly bright news, the plantar fasciitis is heading off into the sunset fairly consistently, day by day. It's not all gone, and one of the docs I've been consulting with has reminded me to diligently stay the course — it comes back with a vengeance if you push it too hard, too soon. So plans are to keep on the easy side of things for a couple more weeks and then gently ramp things up. Right now, I'm lightly challenging myself, in order to strengthen accessory muscles. But everything in moderation. And so, more of the Wapack. I'm almost done: I can do the rest of the big stuff in a single, slightly ambitious outing. There's one bit, north of the Windblown Camping area, that's largely flat, and pretty short, as well.
Today, though, was almost more remarkable for the drive it took to find the trailhead. More on that in the notes below. But in any case, wow, it wasn't as straightforward as I'd have liked.
I'm going to let the photos do the talking. This was, for one who loves looking around, a very fertile hike. The warmer weather, not to mention the recent torrential downpours, has woken up the forest. I saw flowers, bugs, birds, and lots of other stuff. Views outward were attenuated by some haze, but that didn't matter. There is plenty to see on this section of the trail, as long as you keep your eyes peeled. The short of the trail itself is that you've done the hardest work on Pack Monadnock. About 85% of today's outing was on soft duff and leaf litter, with occasional stretches crossing stone slabs. There aren't as many views as there were last week, but still, there are a couple where you can take in Monadnock and Watatic. And interestingly, for some reason, the bits that went by the pond somehow reminded me of Katahdin. Weird.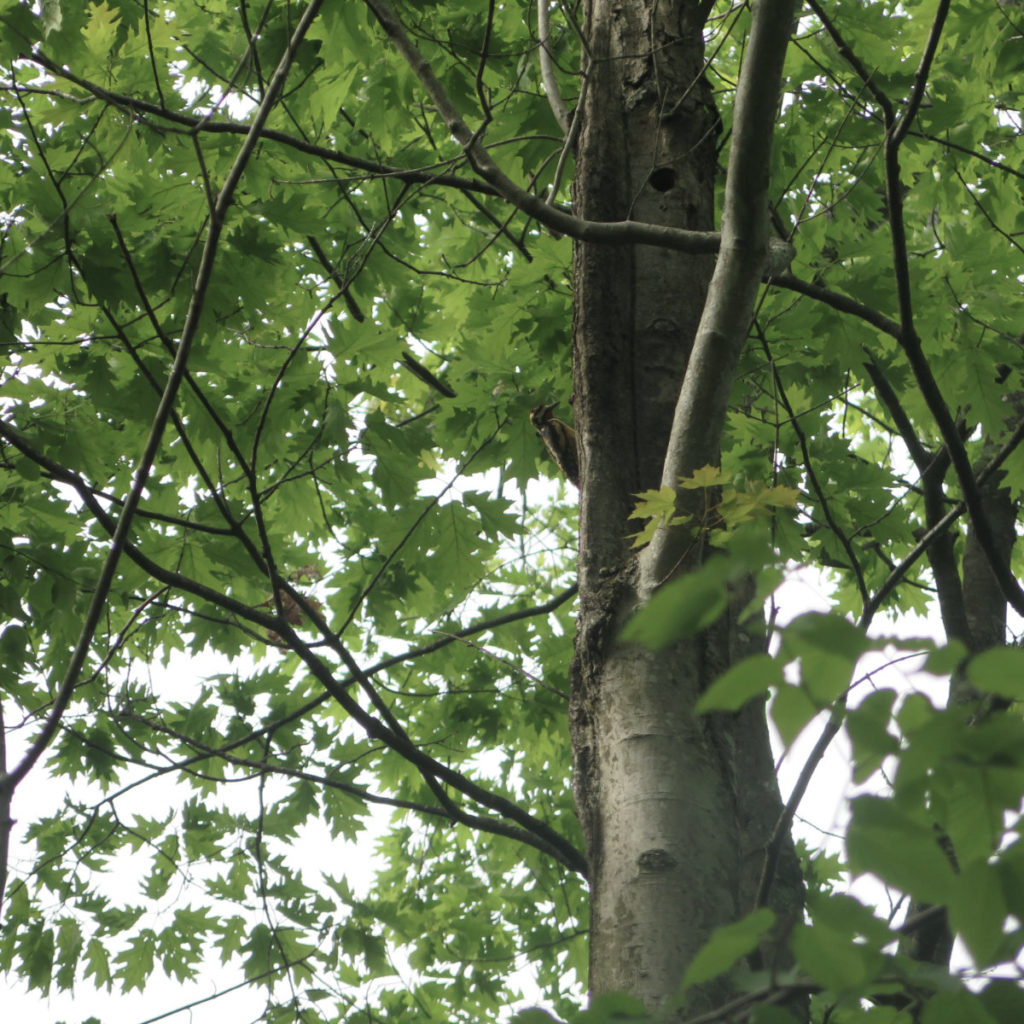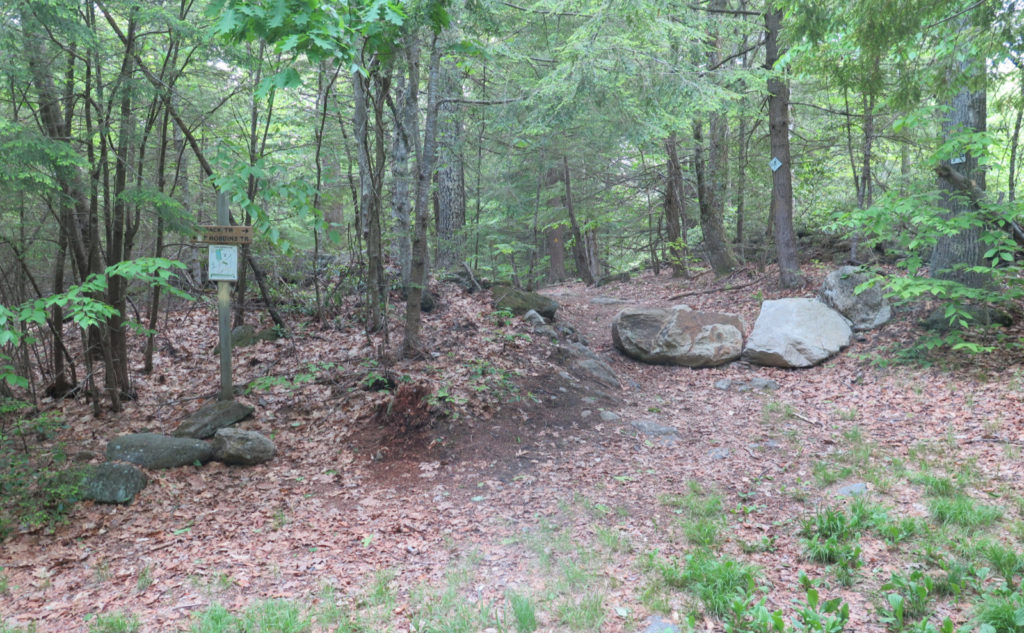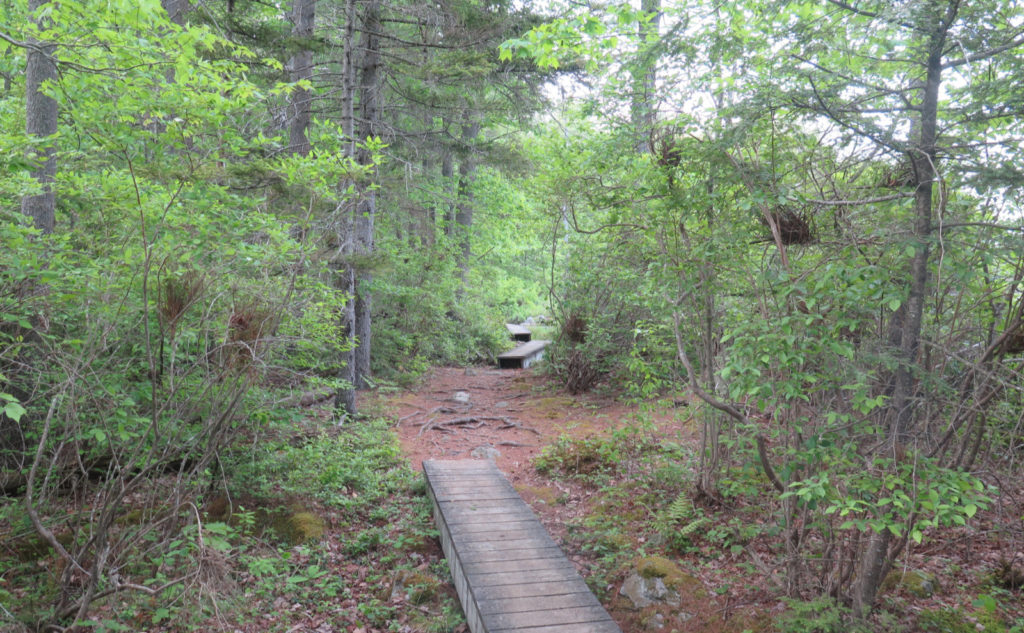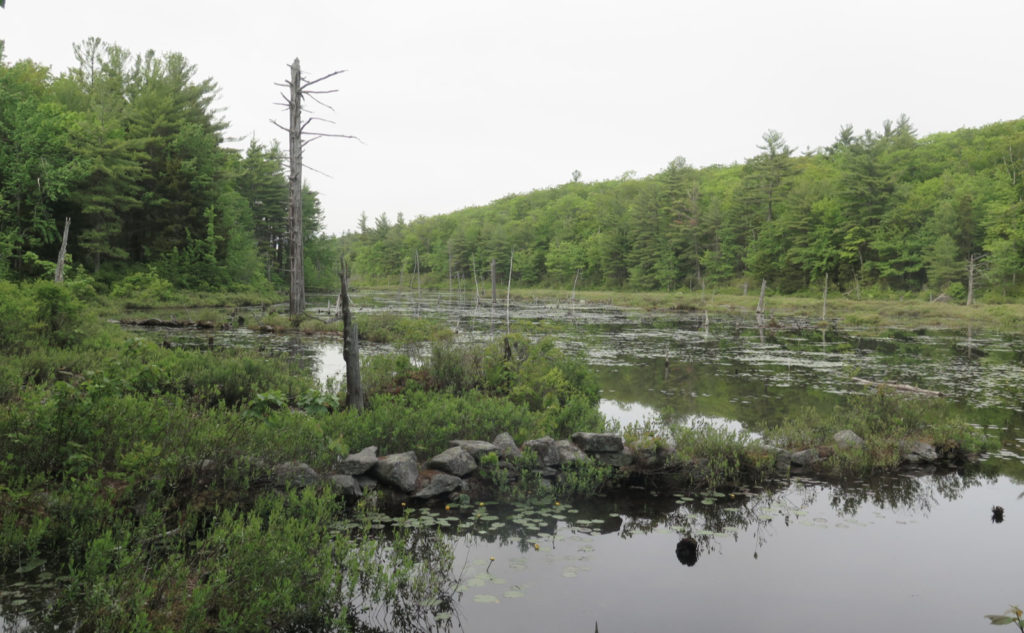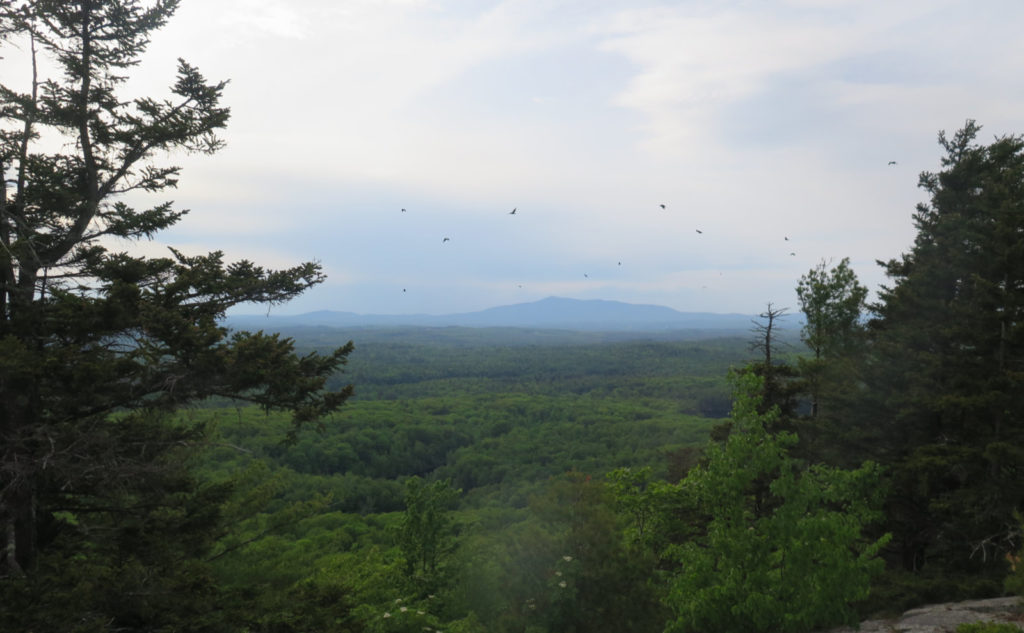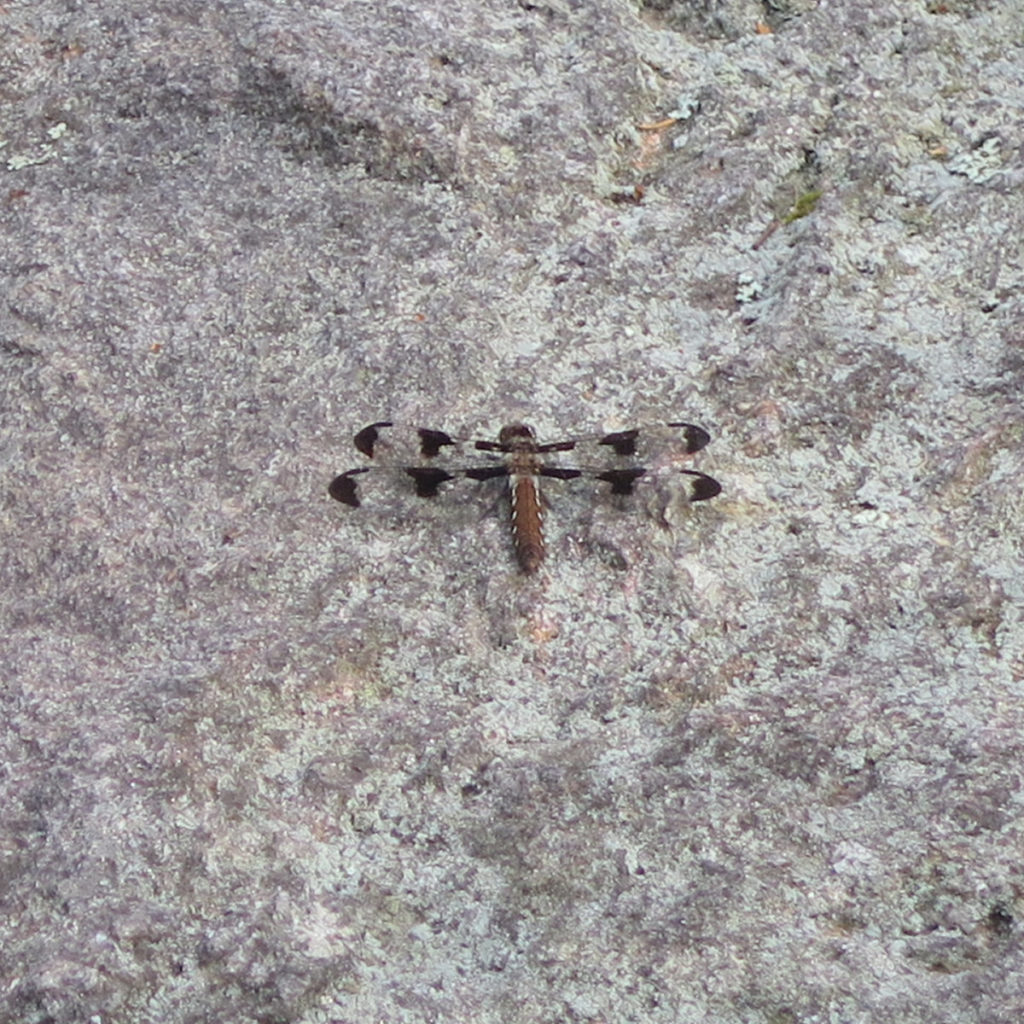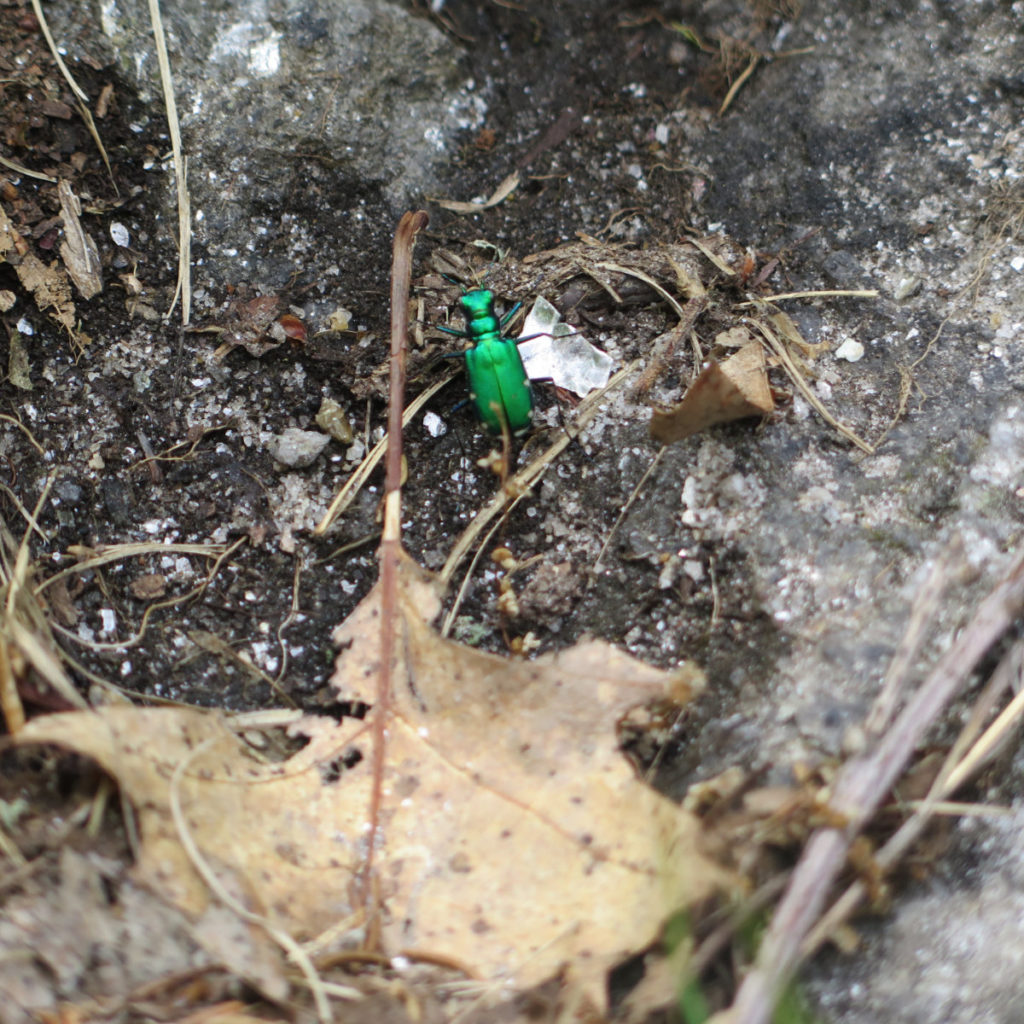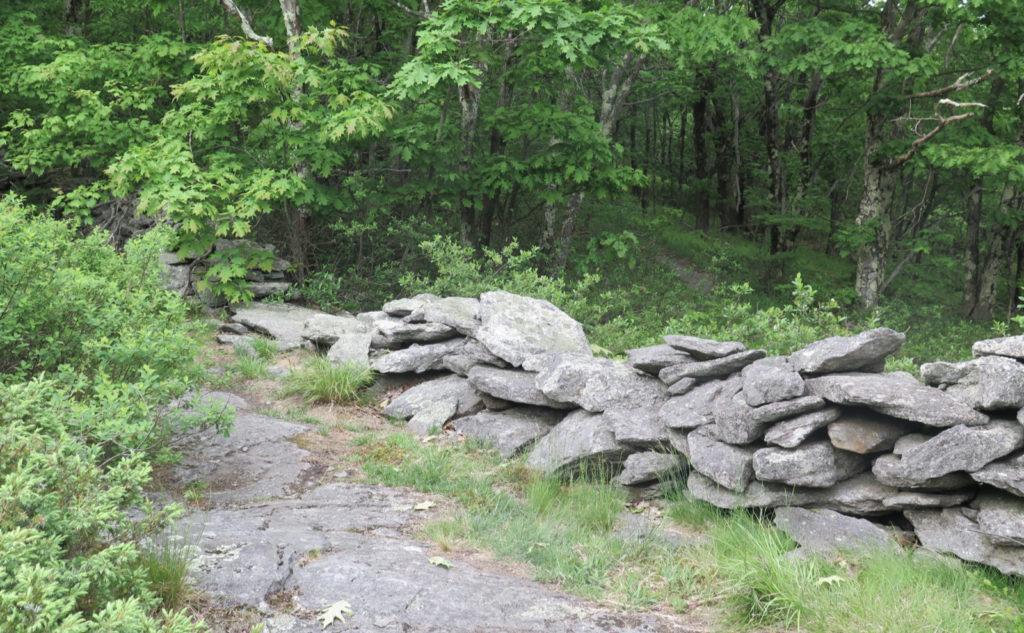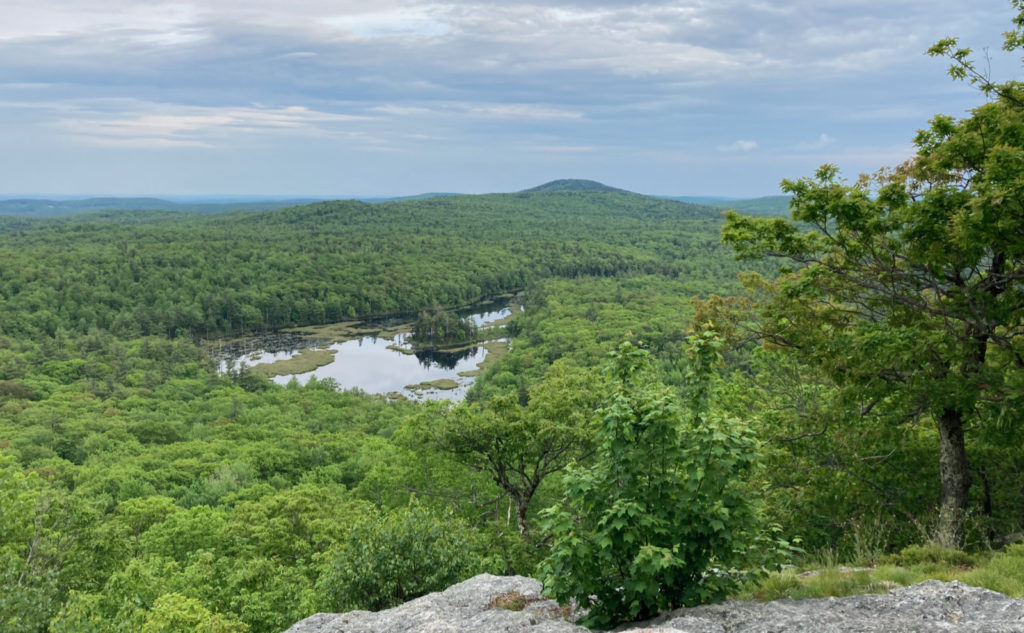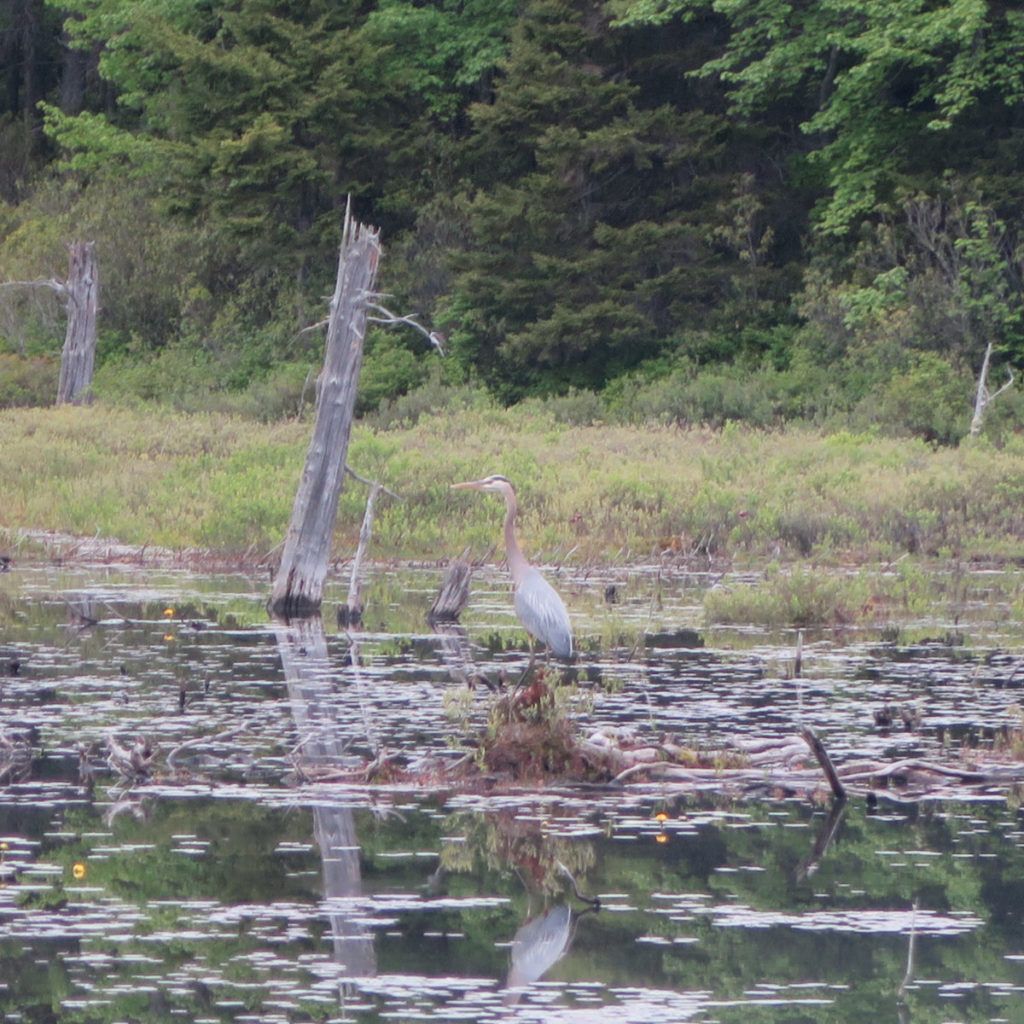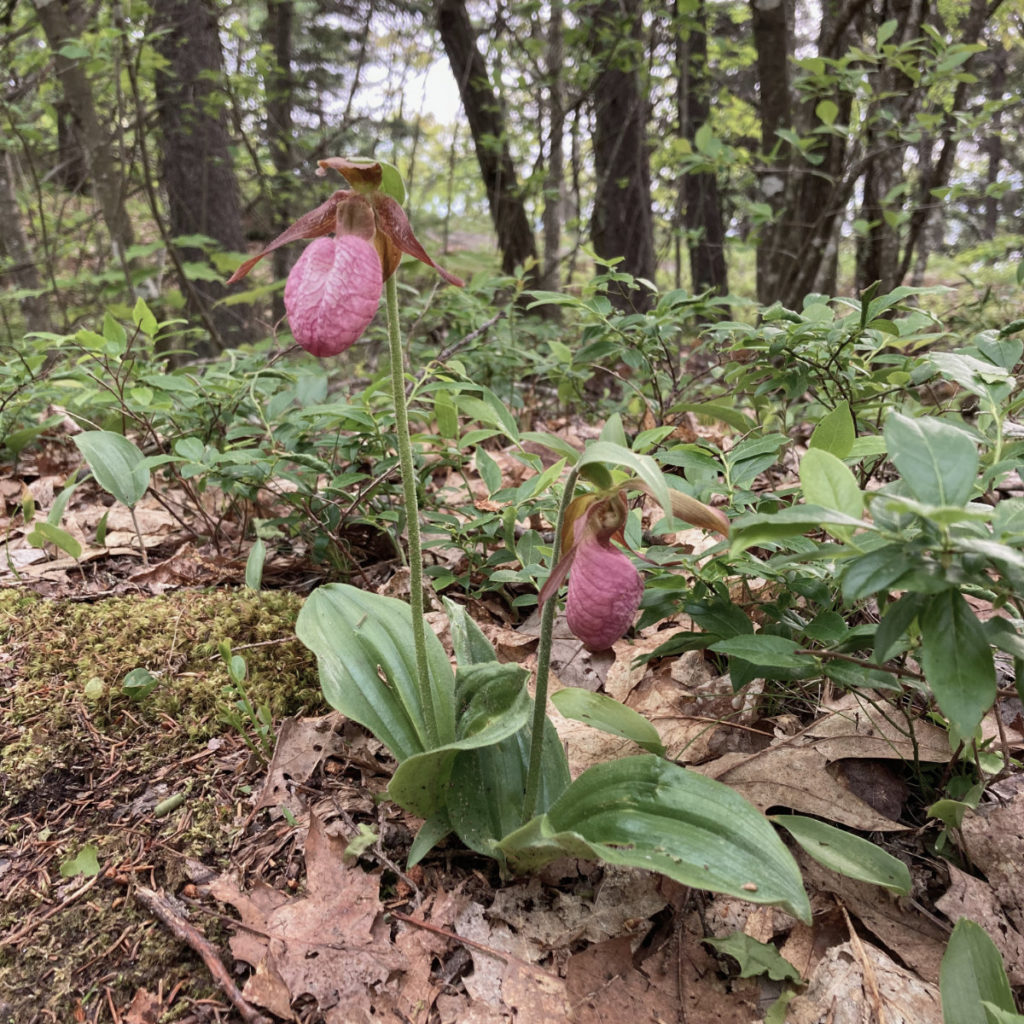 As always, stay safe out there.
Nuts and Bolts: Don't make my mistake: come in to the trailhead from the east. An easy way is to go west, out on 101, and in Peterborough, turn south on route 123, and then go through Sharon into New Ipswich. Take a right onto North Road, and at the junction with Wheeler and Locke, continue straight: the road now becomes Poor Farm Road. (There's a utility pole with four road signs, but they're a bit obscured by leaves at the moment.) Poor Farm Road tees into Binney Hill. Take a right, and drive until you see the parking area on the right, about 2/10 of a mile down. The road deteriorates very rapidly afterward, going from Grade VI to "we're not in Kansas anymore" in about 100 paces. Follow the road for around 3/4 of a mile, and there will be a small sign indicating the Wapack heads off to the right. 
There is a kiosk that you'll pass along the way; taking that trail to the left will bring you south, still along the Wapack, to its terminus on the summit of nearby Mt Watatic, in Ashburnham, MA. Curiously, it has almost nothing about the trail itself, focusing instead on re-wilding efforts that are being undertaken.
Blazes are yellow triangles and are occasionally found. Generally, you won't need them. The trail is fairly obvious and well maintained. As always, bring a map; you can purchase one at the Friends of the Wapack's website for fairly short money. The guidebook has a lot more about the trail than just route descriptions. Information about the geology, flora and fauna, and the history of the trail are packed into its 64 pages, complete with color photos. The map is waterproof and tear resistant. Nice! 
Note that if you use Gaia GPS, a lot of routes to the trail are shown on their map. Most, if not all, are private roads; effectively people's driveways. While I had a nice chat with one very understanding resident today (seriously, he keyed me into a lot of unpublished access points known only to locals) at the same time, the unstated message was "a lot of people value their privacy." As always, be thoughtful. Much of the trail crosses private land, and it's only through their generosity that we get to play there. Be an ambassador for the sport.
Also, while the Wapack is a "long-ish" trail, it's really meant for day use. Apart from the Windblown Camping area, there is no overnight camping. Similarly, landowners will take a dim view toward campfires. Again, be awesome, not the wrong kind of YouTube fodder. 
If you enjoy reading these posts, please subscribe — stay in the loop! Your email will only be used to alert you of new posts — typically 1-2 times per week. I will not use or share your email for any other purpose without your express permission. And feel free to share via social media using the buttons below.