North and South Kinsman, Franconia, NH. 2023-08-27-28 (DAY.)
Via Mt Kinsman, and Kinsman Ridge trails. Overnight at Kinsman Pond tent site. Around 10 miles round-trip.
Weather was clement for late summer. Temps in the 70s for the daytime, and in the 50s overnight. Not terribly warm or cold. The skies at night were clear, with a bright moon obscuring the Milky Way — brighter stars were still visible in abundance.
Easy and hard take many forms. Sometimes not the ones you'd expect.
Sometimes moving forward requires embracing the rough. Sometimes rough comes in unexpected forms, leaving you wondering. When your life has revolved around lists, always chasing an ideal, rough can get strange. And so, I set out from the trailhead to hike up to Kinsman Pond, spend the night, and do the two peaks the next morning. Mundane, or maybe getting out of my comfort zone?
Open your mind to the idea that by doing something so mindlessly easy, I was actually getting out of my comfort zone. The previous week, when I hiked the eastern Pemi Wilderness, those trails were long miles unseen by me. Relatively speaking, this is common for me. This time, I was forcing myself to slow down and accept short mileage (none of which ticked off anything on any of my lists) as a worthwhile outing. At least I was spending the night under canvas… except as you'll find out, not really. Even that was an uncommonality.
Once again, looking back, in the hopes that I can look far into the past
Given the amazing night on Garfield that I enjoyed last year at this time, I wanted to see if I could do a repeat. While it wasn't quite the same, I did have a spectacular outing, and the both the stars and the moon were lovely, seen from the shores of the pond with the mountains nearby. In a remarkable contrast to my last outing, the trail was dry to boot! Score!
Kinsman Pond is… modest, to say the least. It's not the smallest out there, and to that end, I'd say it's about on par with Ethan Pond, Nancy Pond, and probably even Unknown Pond. The mountains encroach, and you're not going to get expansive views. At about 9 at night, still at the trail junction, some distance above and about half a mile by trail away, I could hear the college groups who had yet to learn of "hiker midnight." But by about 10, the kids had drifted off to sleep, and I went out to the rocks on the shore to gaze overhead into the abyss. My eyes easily found Cygnus overhead, and I sailed around the stellar sea from there.
Sometime later, I crawled into my sleeping bag in the shelter, and drifted off to sleep, the astral wanderers overhead still front-of-mind. Carl Sagan's "Pale Blue Dot" singing me to sleep, harmonizing with the terrestrial critters nearby. Heavenly. When you see the stars over the mountains, a handful of sapphires tossed onto a black velvet duvet, you know how tiny we really are. The cosmic humbling is, in its way, comforting. Though it may be small, we have indeed our place in the universe. Wow.
Everyone starts somewhere, though that may be hard to remember sometimes.
Something that made this outing a bit different: I slept in the shelter. More often than not, I prefer to sleep in my tent. Hey, I paid a lot of money for it, and not the least, but it does keep the bugs at bay very nicely. This time out, the college groups had descended like a plague of locusts, and the tent pads were closed out. Not just that, but they very completely packed both their fears and their aspirations for an Instagram-worthy hike. 
The bear box was crammed with damn near everything, including fuel canisters and at least one pineapple. First, what bear ever broke into a food stash and leapt at the chance to tuck into a fuel bottle? And second, "you're going to pack out those pineapple rinds, right?" Because a bear will indeed taste those sugars and want ever more of them. And hey… a pineapple? Holy hell, what have we become? (In fairness, chatting with the organizers, they were making sure their charges were practicing leave-no-trace, and the site manager had a chat with them about hiker midnight, which cleared that up.) There were a couple AT hikers at dinner; we commiserated. I'll leave it at that.
End of semester cramming! (Just without the cold pizza.)
With my summer consumed by school, I'd wanted to make up for a bit of lost time by cramming some backpacking trips into the mini break between semesters. I'd thought I was taking things a little easy by not diving into a full-on Pemi Loop, and while my legs are keeping up, I think the sopping wet trails plus relatively high mileage conspired to leave two nasty blisters under my feet after each of the first two outings. Gah!
And so, for my third (and probably last) trip this season, I wanted something very obviously easier. I was vacillating between Chocorua and Kinsman. In the end, Chocorua got edged out by a forecast of nicer weather on Kinsman. As I recall, I think the prognosticators called for the clouds breaking an hour or two earlier to the west that night. That's precisely what I wanted. I'm a cheap date. Give me some stars overhead. Let me gaze billions and billions of years into the past. That's all I need.
Looking back on the past weeks' hiking, I did a lot of miles. I'm thinking about the near endless cobwebs, many of which I took directly to the face, on Shoal Pond trail. (And to be true, I saw several on my Kinsman pond hike, too.) Some number of those miles were indeed arduous. More than a few times, I questioned my life decisions. Why do we put up with miles of mud, rocky, uphill, painful? Rain, cobwebs to the face (and spiders down your back) and whatever else? 
August proved once again to be those miles that draw you through mud and crud, and yet, you emerge clean on the other side. As sometimes happens. Beware. I didn't spot a deer, though I saw no shortage of moose exhaust. There were birds singing in the trees (and those noisy college students missed every single one.) Occasionally, there were views, though most were attenuated by boisterous clouds. There was, at least a couple times, an undercast, and all the magic that brings.
I didn't get out nearly enough this summer. This is going to be a thing for the near and medium term, tempered by breaks in the academic calendar. Assume my posts (and by extension, hiking) will be about that frequent. Obviously, more as I'm able. (Ask me how I feel about that.) 
For whatever it might turn out to be worth, I tried to compensate by backpacking as much as possible; those results are yet to be determined. But for now, I can at least say that I got more done than most, in terms of making the most of this past summer. Not that I'm in a race with anyone, but at least I can say I got off the sofa a few times.
Occasionally, the best you can do is just get out there. I did, and it was good. Chasing a dream is chasing a dream, no more than that. But sometimes, lowering your expectations isn't necessarily a bad thing. Sometimes it leaves a little room so you can be surprised at what's out there. And in that, you can learn a little more about yourself.
As always, stay safe out there.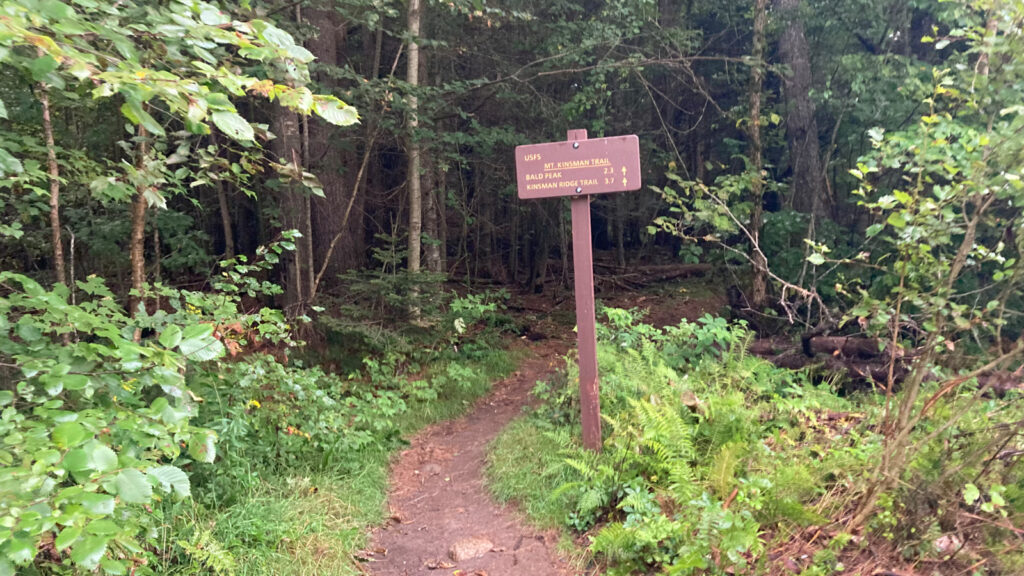 Nuts and Bolts: Take 93 north to the Kancamagus highway — exit 32. At the light, turn right, into Woodstock. Keep on 112, heading west. Take 116, heading into Easton, and drive for a few minutes. The trailhead will be on your right. If you hit the small airport, you've gone too far. (Indeed, if you pass a tennis court on your left, stop and turn around.)
The trailhead is off the parking lot, and blazes are largely irrelevant. The trail is easy to follow, and well signed. Grades are pretty easy. A nice side-trip to Bald Peak is an easy 10-15 minutes off the main trail. Views of Moosilauke and out to Vermont can be had if conditions are favorable. As always, bring a map. Note that as of the time I'm writing this, an overnight at an AMC tent site is $15. They'll thank you for exact change. Bring greenbacks — I'm not even sure they can spell "Venmo." It's kinda nice like that.
If you enjoy reading these posts, please subscribe — stay in the loop! Your email will only be used to alert you of new posts — typically 1-2 times per week. I will not use or share your email for any other purpose without your express permission. And feel free to share via social media using the buttons below.
Find me in the mountains, on this blog, or on Twitter: @Protean_Hiker https://twitter.com/Protean_Hiker/
Help support this blog! Visit www.photos.proteanwanderer.com to buy some of my signature images.