Squam Lake. Holderness, NH. 2021-09-08 (Wednesday.)
About 2 miles round-trip.
Temps were in the low 80s. Winds were light initially, picking up a bit in the afternoon with some associated chop. Sun and clouds throughout.
Fun in the Golden Sun.
A coworker had the bright idea to go out and play. Not being one to miss such a golden opportunity, we set about planning, and paddling made sense. The weather is still great, and we're not going to have many more days like this before long, so "strike while the iron is hot" as they say. Or more to the point, go paddling before the water freezes. We'd originally thought we'd go see what was up at Livermore Falls, but seeing that the temps there were in the 60s, Squam became the sensible option, and it's roughly in the same area.
Some time ago, I had a friend who rented a cottage on the lake with her mom every year, and so Squam is quite familiar. Back then, we were utter fiends. A short trip usually meant paddling to the far side and back, often returning with the last sunlight of the day, and this would have been in July when the days are still quite long. Today was going to be shorter, but we planned on having no less fun. 
Weigh the anchor!
We set out from the Squam Lakes Association ramp. On my more recent trips to the lake, this has been my preferred launching site. It's easy to get to, the people are lovely, and I really dig the SLA's mission. Setting out, we paddled across an inlet that was loaded with lily pads, some of them blooming. The sun was out, even though there was a fair number of clouds dotted about. 
Turning to the northeast, we set a course for Moon and Bowman islands, not really sure what we'd find, but intent on exploring. It was a good distance: not too close that we didn't feel like we did something, and yet not too far. It's been awhile since those heady days where I'd paddle for half a dozen hours with aplomb. My coworker? She's still somewhat new to the sport, and it's bad form to break partners until they've had a chance to build up a little. We were both happy with how things turned out. Things were definitely in the goldilocks zone.
Put a hiker in a boat, all he sees are rocks.
I never tire of paddling on that lake. Geologically, it's extremely interesting. From above, you can almost see the glacier carving out the lake. From within, the lake is dotted with glacial erratics seemingly everywhere. Below, it's not long before you're looking down on a huge field of boulders. And all around are the mountains. To the north and west, the Squam Mountains, to the east, Red Hill, which I hiked a couple years ago. And to the south, hills that pepper Meridith. I can't say for sure, but it felt like we were paddling in a big ring dike. Many of the rocks I saw were granitic. Something tells me I'll be doing more research on that. But it's neat, seeing mountains all around like that. I could almost picture the ancient volcano.
We got out to Moon and Bowman Islands, which are set up for overnight camping. I'm not sure how the timing would work, but it'd be neat to try and squeeze in a trip before the end of the season. After puttering around for a bit, we got back going, and headed back in. After not having done much kayaking in far too long (the last couple short outings notwithstanding) it felt like a good amount of time being out, working muscles that haven't been worked in seemingly ages. 
Row, row, row your shell!
Approaching the launch, we came upon some Holderness students in their rowing shells. As it turned out, they were just starting to learn how, and to that point, one confided she was from Sun Valley, Idaho, where they don't really do this kind of thing much. Years ago, I did some volunteer work for the Head of the Charles Regatta. Ever since, rowing has had a spot in my heart, so it made me happy seeing the next generation learning the art. Hopefully, one day, they'll line up in Boston, waiting for the moment the starting official calls out "OK, full pressure! Have a nice race!"
There are many times when I'm out tramping around, where I think "boy, it'd be nice living closer to all this." Today was precisely that. It was warm and sunny. King Neptune was in a good mood. (And to that, we grabbed some floating garbage — it's good to keep his dominion clean.) Bobbing on the waves is very therapeutic; I can feel the stress slide off my shoulders once I get about ten feet off shore. So yeah, once again, it'd be nice living closer to all that. One of these days…
As always, stay safe out there.
Nuts and Bolts: Squam Lakes Association is at 534 US Route 3 in Holderness. Take Exit 24 in Ashland, and at the bottom of the ramp, turn right. Stay on Route 3 South. Just after Little Squam Lake, you'll enter into Holderness, and maybe a mile or two after that, you'll see the SLA on the left. It's a low-slung brown building with a small parking area in front.
Note that cell service and internet access is extremely spotty, bordering on outright non-existent. I can say from personal experience that this has been the case for years, and I'm not sure it's going to change. Bring cash, and appreciate the fact that life moves at a different pace than you might be accustomed to. And beyond paying for parking, please consider supporting the association. It's inexpensive, and the work they do for the greater good is huge.
There is a put-in for motor craft just outside town on Route 113. From my experience in the past, kayaks aren't particularly welcome here, especially on a busy day. Using the SLA's ramp is free, however there's a $5 charge for parking.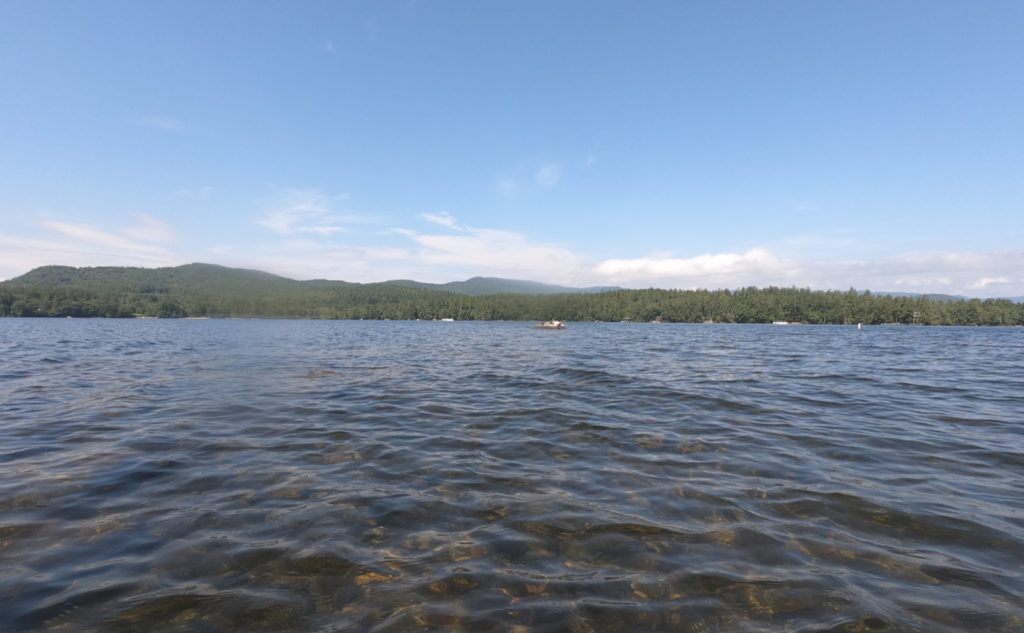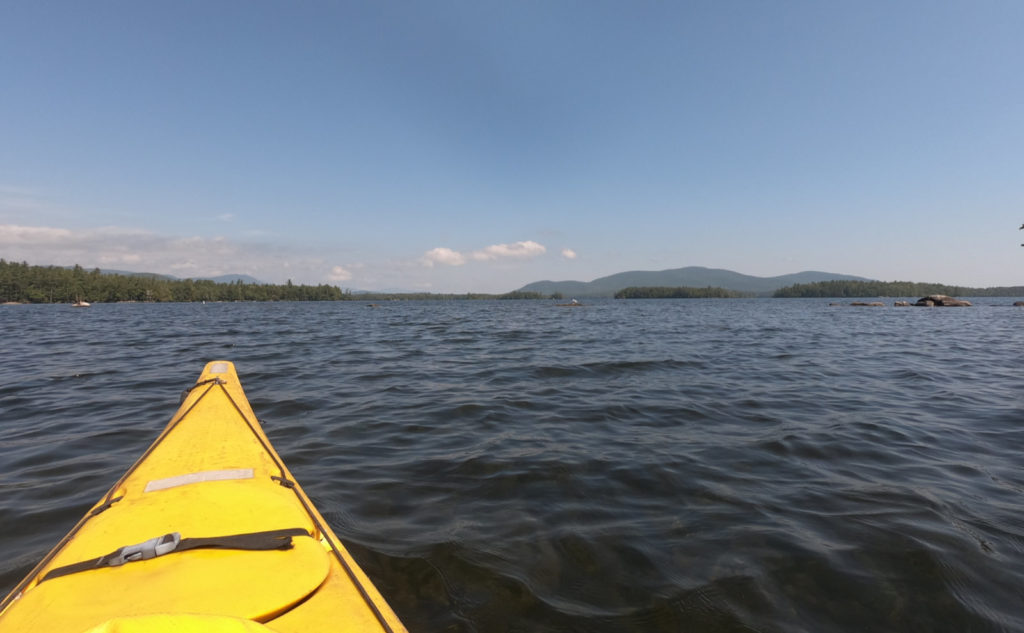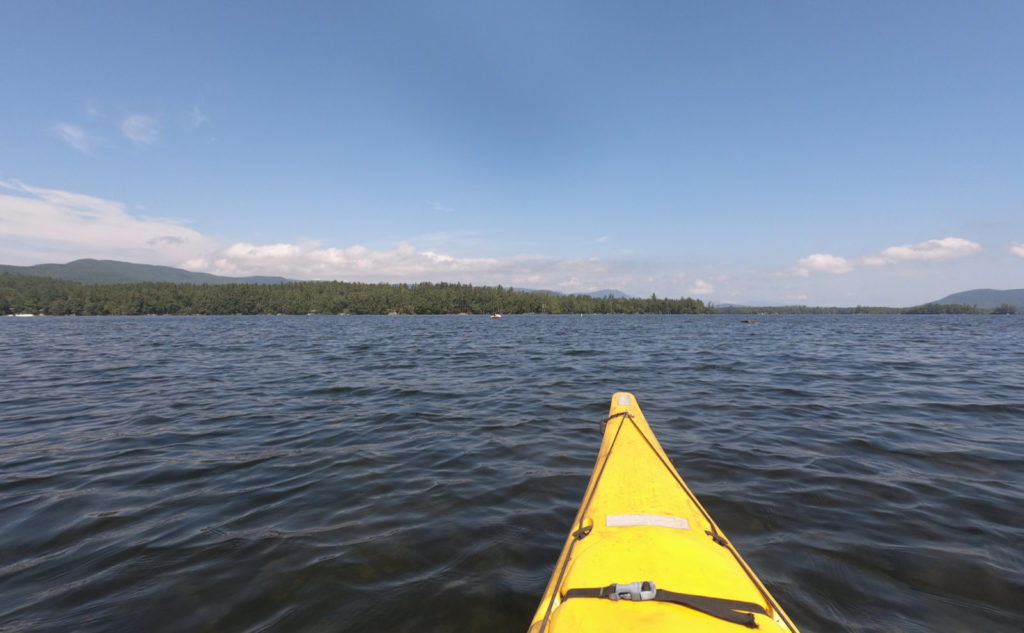 Safety at sea!
As an aside… Squam is a lake, bordered on all sides by land that is relatively nearby. That said, it's New Hampshire's second biggest lake completely within the state, and realistically, that doesn't matter when you consider that by any metric, it's not a small town pond. There's more than enough room for a thoughtless motorboat driver to build up a crazy amount of speed, and while most such craziness tends to happen on the next big lake to the south, it still happens. Not the least, but someone wanting to go fishing "over there" just wants to make headway. 
Hiking safely requires certain skills. Some of them, notably reading the weather and assessing risk, are transferrable. But Squam is big enough that you really should be versed in basic seamanship. As I mentioned (and it's even included on the SLA's website) cell service in the region is patchy at best. If you're in trouble, help can be a very long swim away. It's weird, because just casually looking around, it's hard not to see someone's summer home "right over there", but you can really be on your own if you get into a pinch. 
Squam is big enough that distance can become an issue. Paddling to a destination can find you a solid mile from your destination, and while it's usually an easy half hour to hike that distance, if you find yourself doing the doggy paddle, most elite swimmers can cover a mile in an hour. The unprepared? That could be a very different kettle of fish. Compounding that might be the effects of hypothermia, and submersion can hugely accelerate that. Wind? There's a lot of nothing getting in the way, so even a light breeze that gets easily broken up by trees on a hike can be a force you'd rather not deal with when you're out paddling. And if a pop-up thunderstorm blows in? It's you and Thor (NB: the Norse god of thunder) and not much of anything that can shelter your soggy state of affairs. So be careful with the weather. Don't become the lede on the evening news.
If you enjoy reading these posts, please subscribe — stay in the loop! Your email will only be used to alert you of new posts — typically 1-2 times per week. I will not use or share your email for any other purpose without your express permission. And feel free to share via social media using the buttons below.
Find me in the mountains, on this blog, or on Twitter: @Protean_Hiker