Mt. Moosilauke (4,802 feet). Warren, NH. 2020-10-08 (Thursday.)
Via Gorge Brook Trail, Carriage Road, and Snapper Trail. 7.5 miles round-trip, 2,500 feet elevation gain. (Not including a road walk from the parking area to the lodge.)
45dF at the trailhead, about 35dF at the summit. Winds were around 3-5 MPH in the trees, 20-25 MPH sustained on the summit with gusts in the low-30s. On the col to South Peak, the wind was solidly in the 40-42 MPH range. Sun and clouds to start, becoming completely clouded over by lunchtime.
Trailhead: 1230. Summit: 1530. Return to Ravine Lodge Trailhead: 1800. (Does not include time spent on the road-walk.)
It was cold, cold, cold… crazy cold and cloudy.
Today, I trekked out to Woodstock, and then further west to Dartmouth Outing Club's Ravine Lodge. The lodge itself is closed, but the adjacent Gorge Brook trailhead that leads up Moosilauke isn't in the slightest. It was a good outing, albeit a tad cold and very windy at the summit. Winter's coming, it would seem. The Mount Washington Observatory called for cold temps and high winds, and they certainly nailed it. Moosilauke is the first big thing that winds from the west slam into. I'm glad winds stratify, because although they were pretty quick were I was, they were forecast to be much faster (as much as double!) at the observatory. Yikes!
It was cold, crazy cold, and occasionally, there were a few flakes falling. Overnight, wind-driven moisture created all kinds of rime ice all over the upper elevation forest — mainly the krumholtz, but a few taller trees, too. On transitioning into the alpine zone, I was greeted by an amazing sight, with all those frosted treetops. Wow! If there was a silver lining to the weather, this was indeed it, and a fine one at that.
Hikers had been telling me all morning that the trails were glazed with ice, but by the time I got there, the morning sun had mostly demolished the ice on the ground. Which was good, because my MicroSpikes were back at the car. (It felt a little early to keep them on hand, but obviously that just changed.) Unfortunately, the morning sun was just that, and by the time I set foot on the summit, the clouds had been building up for a couple hours — they were impenetrable overhead. Oddly, to the east, there was a spot, probably in the neighborhood of the western portion of the Pemigewasset Wilderness, that had fairly constant sun. Or at least it seemed that way anytime I got a chance to peek in that direction.
It was a day where views were attenuated by low hanging clouds, so I contented myself with looking downward. Lots of clubmoss still bright green, and while upper elevation ferns were well past their prime (aka brown and dead) the lower level stuff was still verdant. And of course, up top, there was all that rime everywhere, with its attendant wind-driven patterns. So with the company of a trailside brook early on, there was a bit of forest bathing, some mental housecleaning, and a loosening of the daily stress that had accumulated all week long.
Recently, I'd been feeling the itch of not having hiked the AT as I'd planned. Not at all by chance, I found myself on a short mile of it as I traversed the ridge to the Carriage Road. No thru-hikers this trip, but I bumped into a couple guys, one of whom planned on going up to Grafton Notch. Given the chilly weather, I couldn't picture myself doing that hike, but at the same time, it gave me pause for thought about what could have been. No sense dwelling on it. We chatted for a short bit about hiking, and a couple other things, before going on our respective ways.
Apart from that, the way up saw me crossing paths from time to time with quite a few hikers and their enthusiastic pups. Gorge Brook trail isn't particularly hard, and for these four legged hikers… let's say they were completely in their element, living their best doggy lives. In hindsight, it seemed like today was defined by a lot of dogs on the trail, which is fine by me. As Groucho Marx said, outside of a dog, a book is man's best friend. Inside of a dog, it's too dark to read.
Over the past couple weeks or so, I've been noticing it's been crazy windy out. Unfortunately, this has stripped the best of the fall foliage off the branches almost as soon as it hits the stage. And coincidentally, I've seen blow-downs a bit more than normal. And so, along the way, I spent about ten or fifteen minutes or so, and cut back a couple of those blow-downs — ones where they were significantly blocking the footpath. This had a knock-on effect for me: they were both balsam firs, and after a few minutes, that was all I could smell. No complaints there.
I was able to knock off a couple trails from my redlining list. I've also officially hiked Moosilauke in all four seasons now. It was cold up top, but that was probably to be expected. All in all, it was a fine day out.
As always, stay safe out there.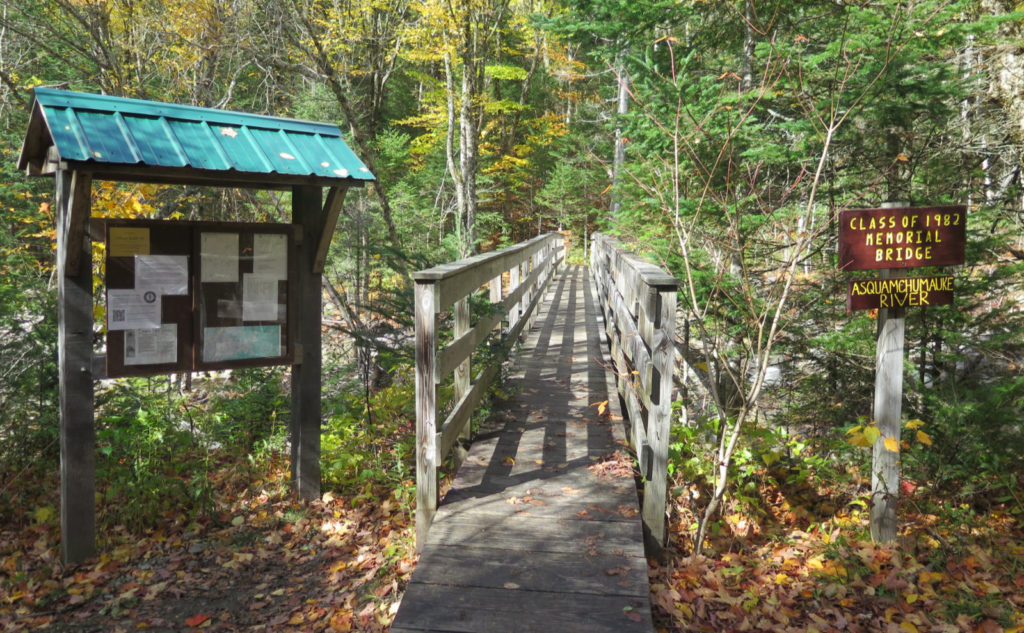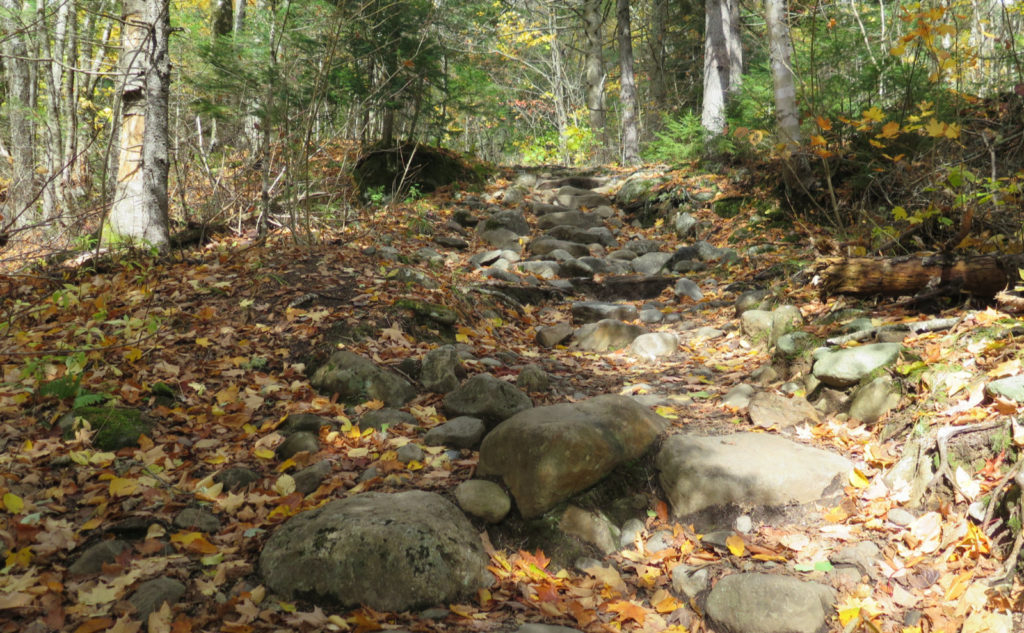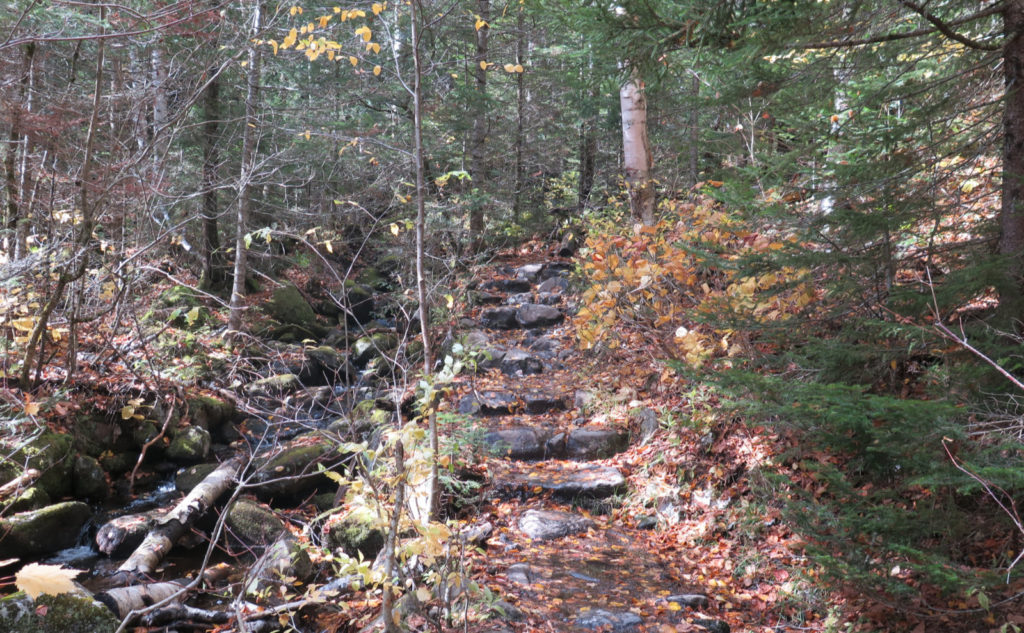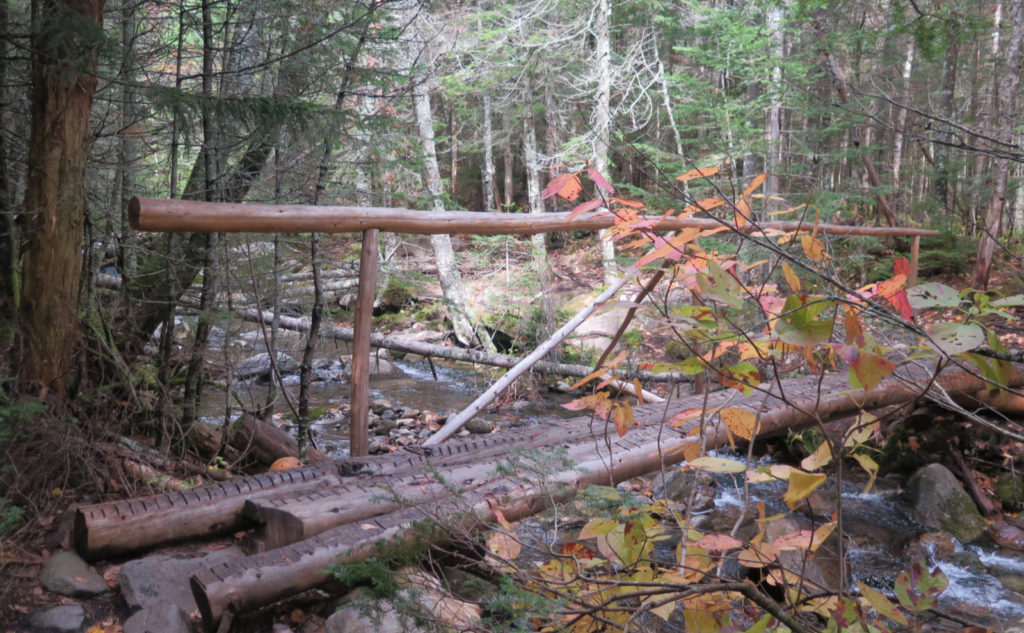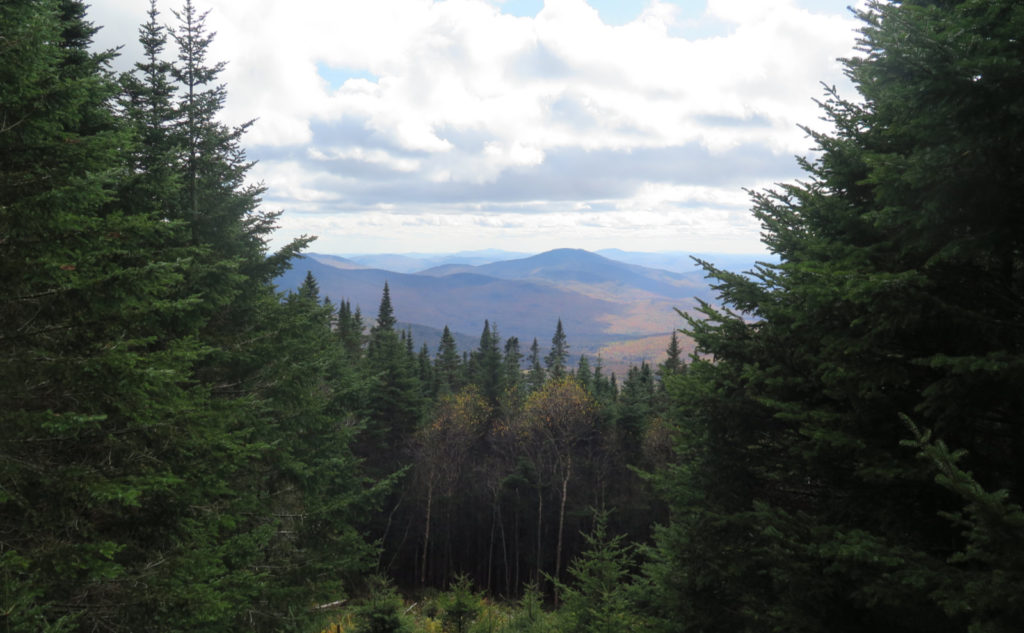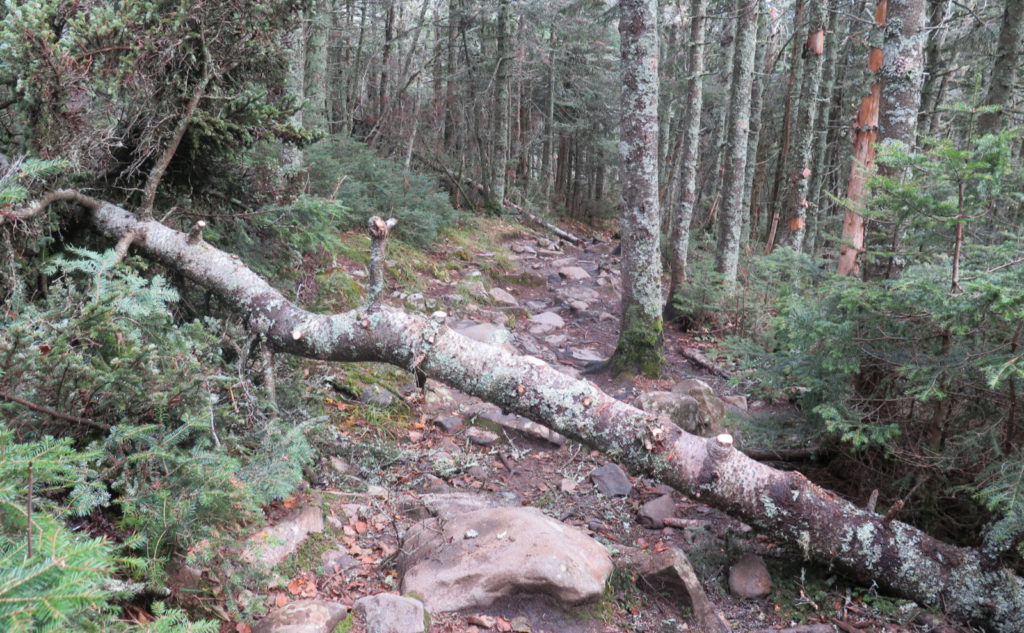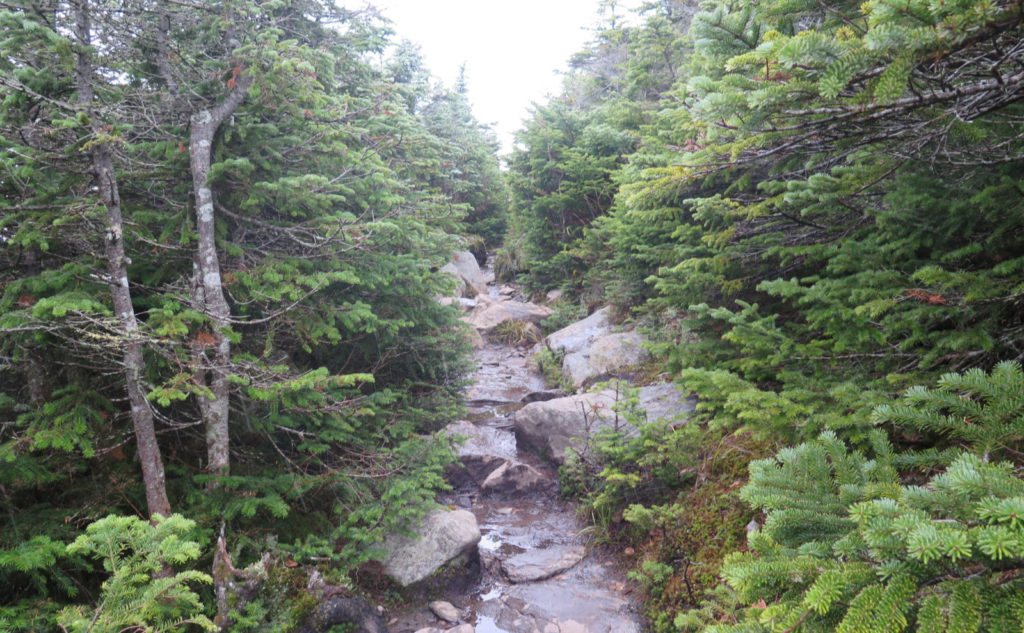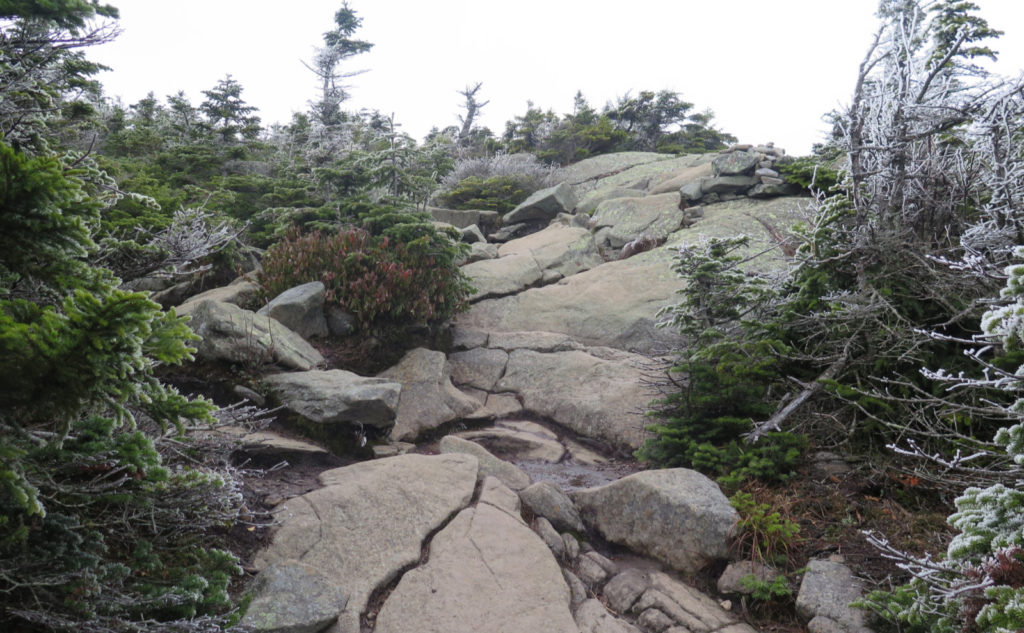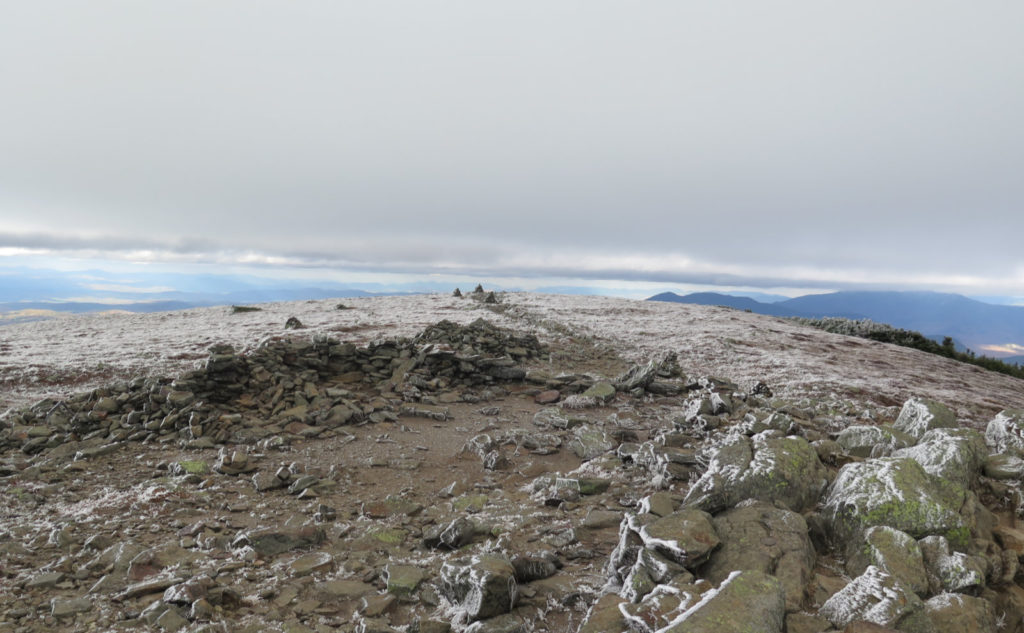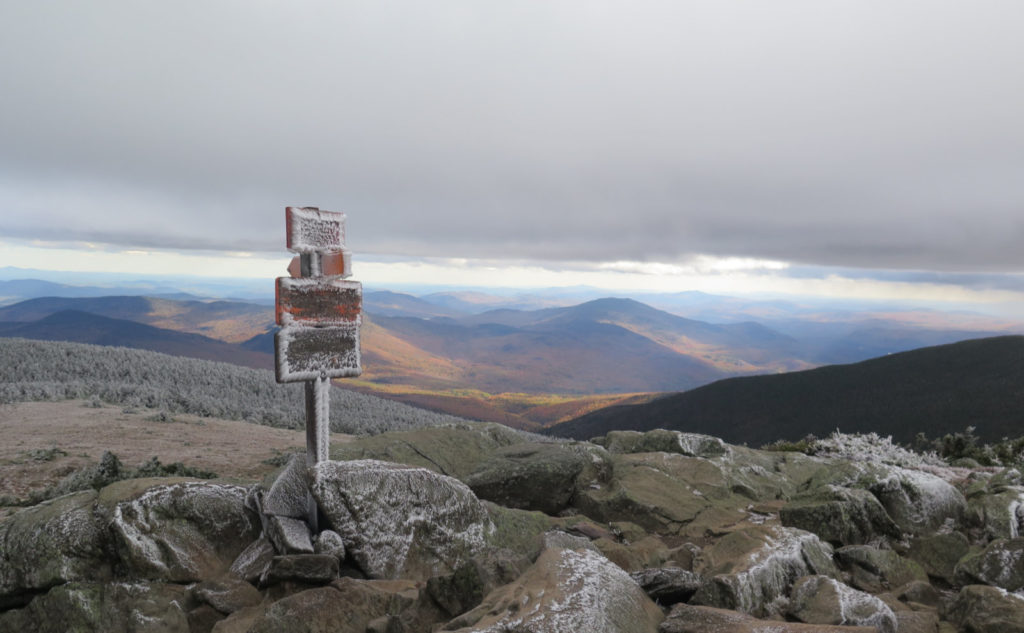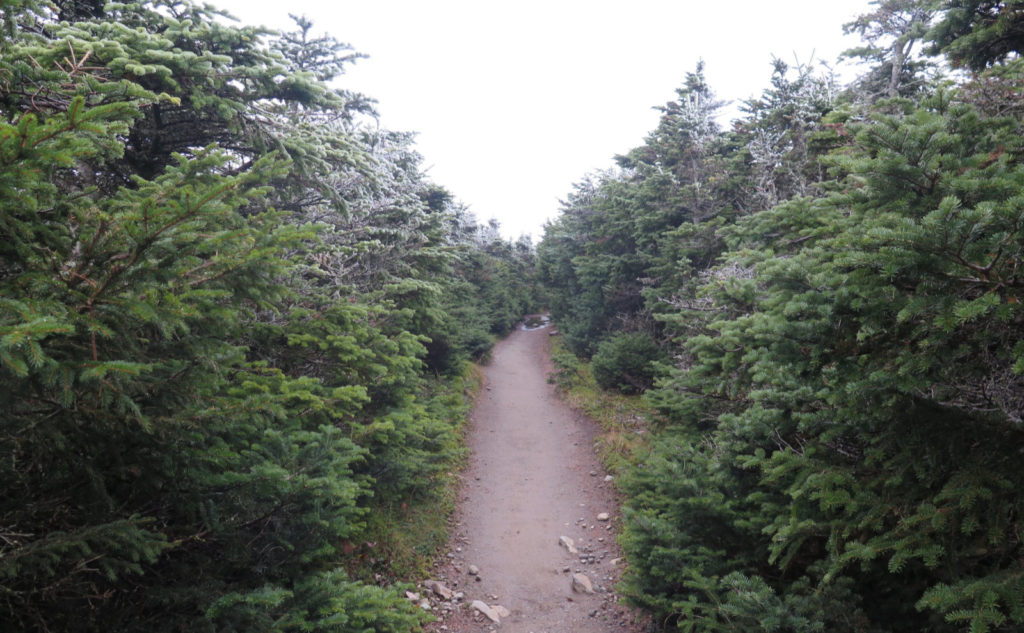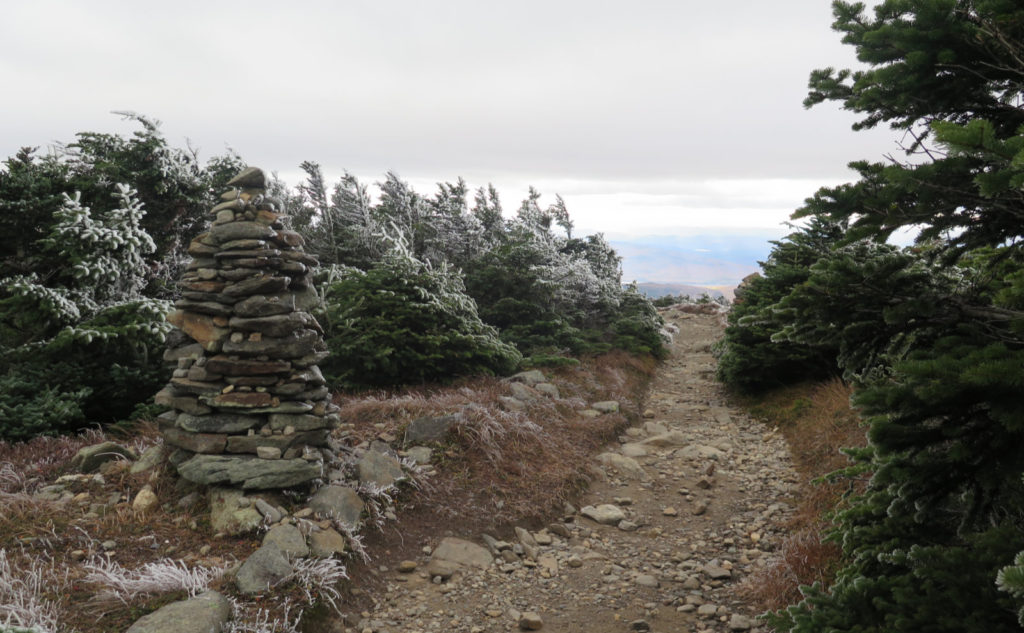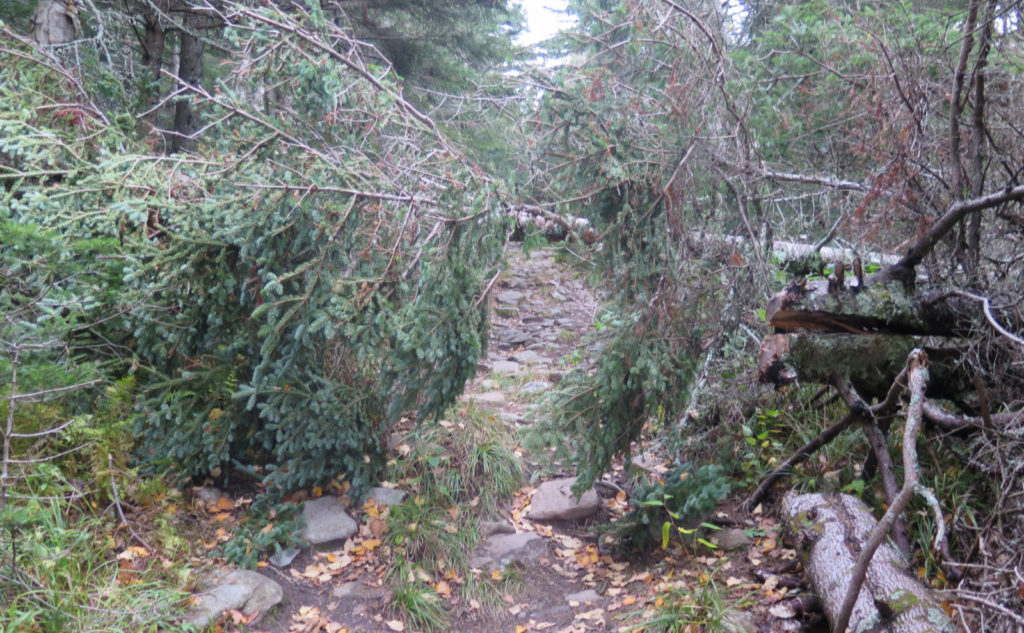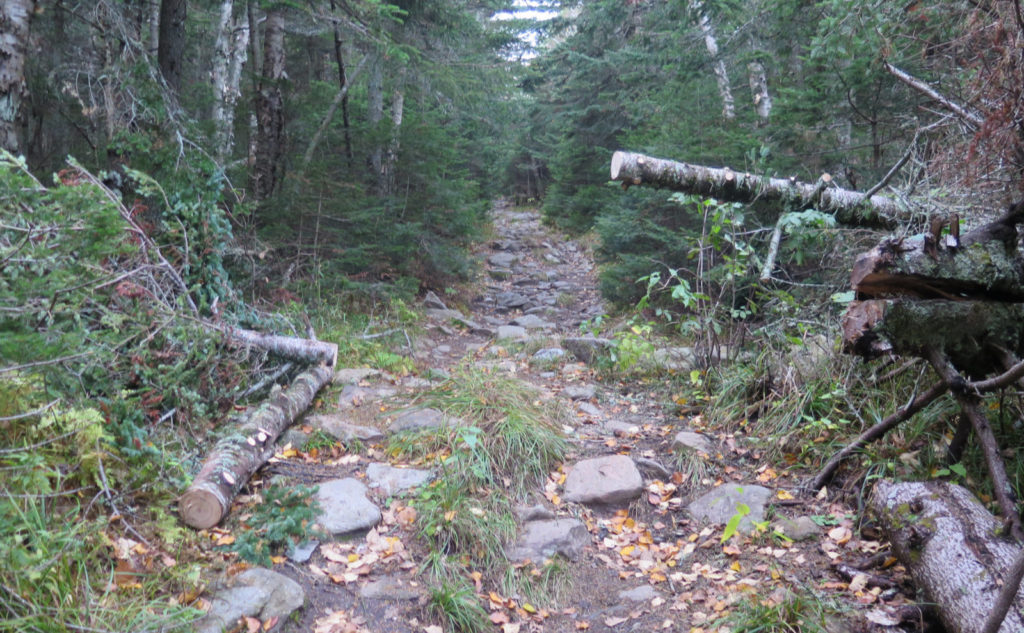 Nuts and Bolts: Getting to Ravine Lodge is pretty simple. Take exit 32 off 93 — the Kancamagus Highway — and head west on 112 into Woodstock. Turn left onto 118 (Sawyer Highway) and follow that for about half a dozen miles. When you see Ravine Road on the right, turn. It's unpaved, so beware.
There are signs all over the place regarding parking, and they make it clear that you either park in the areas allowed, or someone will come along and take your car away for safekeeping. Obviously that kind of valet parking will make for a more complicated trip home, especially if the weather turns sour. You might have to walk a little more, but there's plenty of legal places to leave your ride along the side of the road. I saw all make and sundry of vehicles on the way in, and on the way out, I didn't see anyone had left critical parts of their undercarriage behind, if that's testament that safe parallel parking on a fire road is possible… 
The gate to the lodge is closed, so expect a walk of about a mile to get to the trailhead. Once near the lodge, signs are obvious as to which way to go. Essentially, you're walking to the far corner (opposite side) of the building. (Also note that if you've been to the lodge in years past, due to COVID, there are no hiker services at the current time, save for a porta-potty nearby.)
The trails are well maintained and easy to follow. Above treeline, there are cairns, but those are really the only trail markers apart from trail junction signs. But this isn't a hard trip to navigate in the slightest. Apart from that, the description in the AMC book is pretty spot-on. All significant water crossings are currently extremely well bridged. Everything else is at the level of a mud puddle. 
If you enjoy reading these posts, please subscribe — stay in the loop! Your email will only be used to alert you of new posts — typically 1-2 times per week. I will not use or share your email for any other purpose without your express permission. And feel free to share via social media using the buttons below.
Find me in the mountains, on this blog, or on Twitter: @Protean_Hiker https://twitter.com/Protean_Hiker/