On a long-lost ski area.
Saddleback Mountain, 4120 feet. Saddleback Horn, 4023 feet. Sandy River Plantation, Franklin County, Maine. Temps ranged between 70 and 85 degrees, sunny/cloudy, pleasantly breezy above tree line. RH approx 50%
When I was doing the 48, having a dozen or so peaks left felt different than now, doing the 67. It just feels like there's less weight… less of an urgency to finish. But finish I will. I'm eager to get back to the Whites, which are very much a spiritual home.
And so I was in a laid back, yet goal-oriented mindset as I drove out, four long hours to get to the trailhead. We've put men on the moon. Surely, we can put the mountains in more easily accessible locations, right? But the drive went through some very picturesque landscape, so it wasn't like I had nothing to look at.
I'm making a quick sidebar. Not all was scenic. There are a lot of economically depressed towns on that road. Speaking with a colleague who grew up in Rumford and maintains ties there, many people in that part of Maine have it pretty tough. So that bit about putting men on the moon… maybe we could solve some problems closer to home? Maybe?
Anyway. I drove to the former ski area, and found plentiful parking by the lodge. I'd wanted to hike in via the AT, from the roadside trailhead, but it's a longer route and time conspired against me, so the only other realistic option was to go up the ski trails. It's about 90% clear which way to go from the parking lot, but just walk toward the ski trail that the lodge faces, follow your gut, and you'll find an obvious footpath heading in the right direction.
Once underway, I opted for Grey Ghost and Tricolor — most people will do the same, because that's the blindingly obvious line, made even more blindingly obvious by the placement of several "Uphill" signs along the way. If you ever feel lost, just go up. Everything will shake out just fine. (For the uncertain, there is a ski trail map on the side of the lift building near the lodge.)
The beauty of that line is abundant. The wildflowers are in bloom everywhere. Partway up, raspberries were there to be enjoyed (nice and tart!) and at any break, one had only to turn around to enjoy breathtaking views of the lakes out by Rangeley. You're hiking on a ski trail, and therefore it's going to be all uphill, all the way, but it's relatively short with clean and predictable footing throughout. And did I mention wildflowers?
Summiting, I was overcome with a familiar feeling, and finally, I could put words to it. The familiar white blazes on either side beckoned. A voice called to me… I could just turn right and head to Springer, or keep going left and be at Katahdin. Regrettably, those plans are stuck waiting for now.
The views all around were amazing. The lakes below me to the west, and the mountains to the north and northeast were plain to see as the day is long. I enjoyed clear views of the Crocker mountains, Reddington, Sugarloaf, Spaulding, and Abraham.
And then I looked down to the col between me and The Horn. I was excited to press on, because something about it looked so inviting. I knew deep inside that I'd have fun making that crossing. And it was everything I hoped. Views to either side in abundance.
The way across had a couple brief scrambles, but otherwise, had solid footing. There was a fair bit of soggy mud, but whatever. My shoes are Gore-Tex, and I had gaiters on top. Bring it. But those views kept coming, and then I was on top of The Horn. 56 peaks down, 11 to go.
I took a longer walk back, pausing a lot to take pictures of the wildflowers that wowed me on the way up. I'm glad I did. There was so much to see at that level. Side note, I'm having trouble with identifying many of them. If anyone is a botany Jedi, I'm happy for your comments.
There was a background sadness to the trip. At the top, I saw a sign on the ski lift making mention of the area's closure. The lodge had all its furniture in the cafe area, looking ready to serve at a moment's notice. The warming hut partway up the mountain still had sofas everywhere, and the Ski Patrol station stood at the ready. It seems like this is going to be the status quo for awhile more. A quick look on the internet shows no end of drama in the sale of the resort, which is a shame. If a place like that were in my backyard, I'd ski it for sure.
It's a beautiful area, but it's also about 5 hours from Boston, and there are a lot of other ski slopes between the two points. The paper mill in Rumford seemed to be humming along, but the economically precarious position of that area is acutely felt. We've put men on the moon…
There are more pictures of the general Rangeley Lakes region, but those will be posted separately. Stay tuned.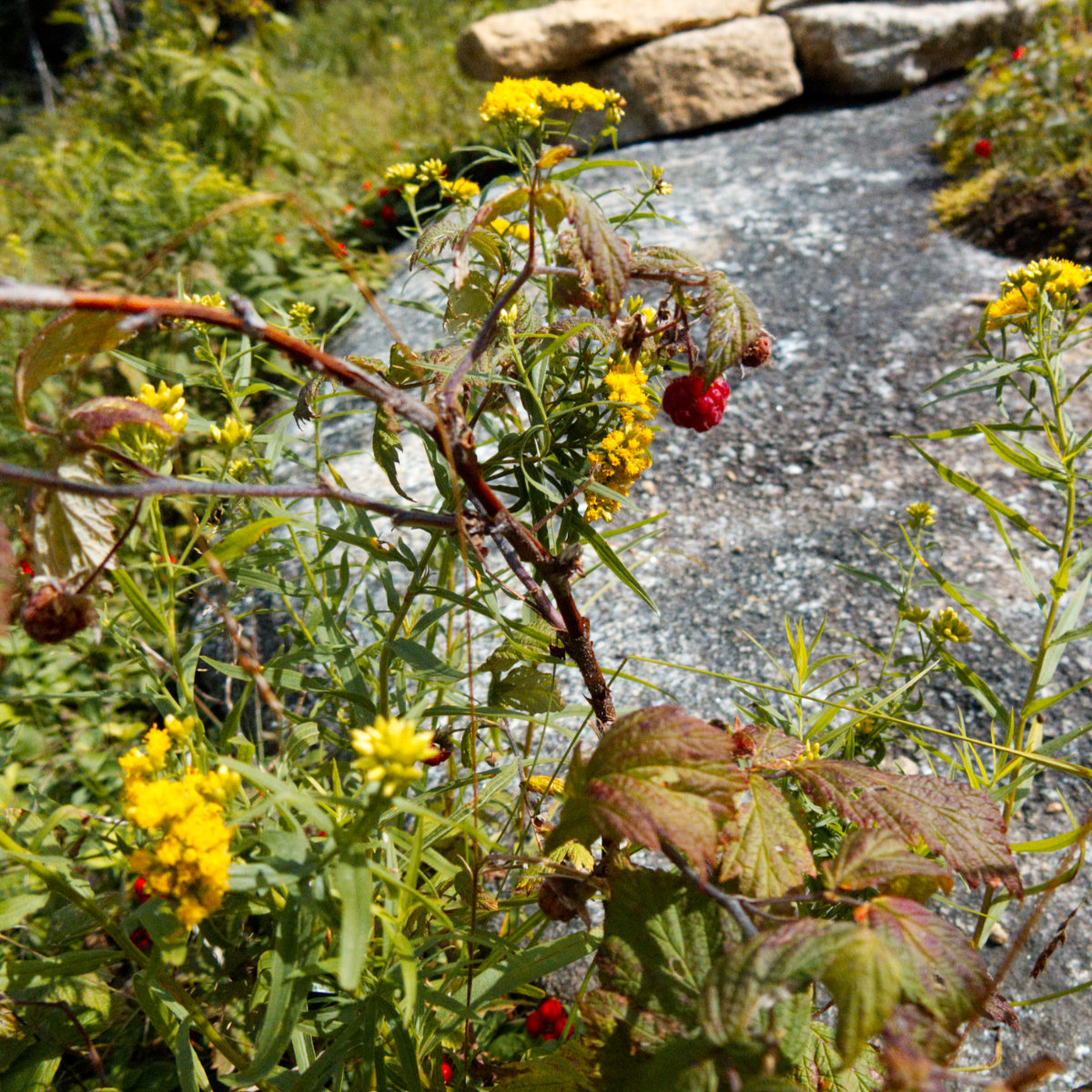 Raspberries!